Recharging batteries in Iceland (yes... Iceland again)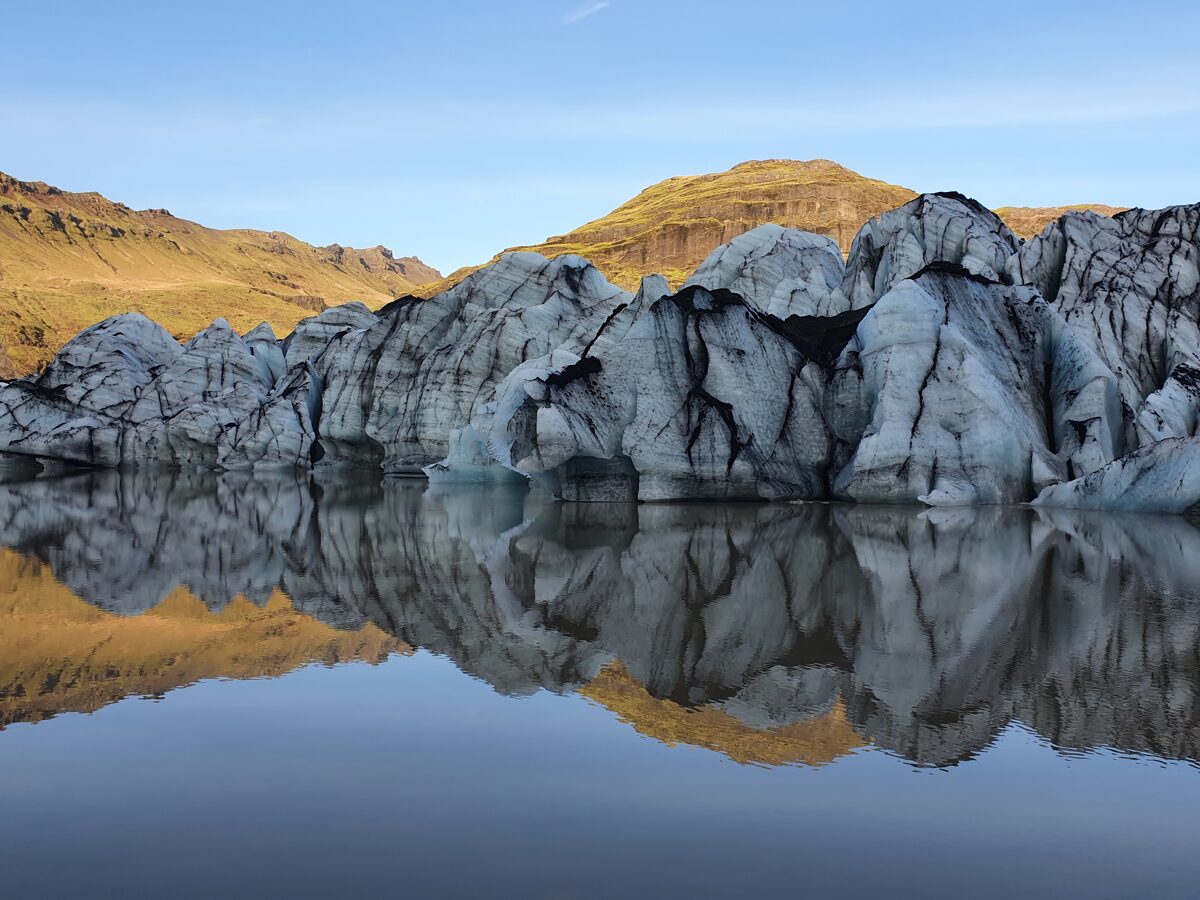 We went to Iceland in the beginning of November for a very short trip of 5 days. It was my 6th trip to this magical place (second this year). Did not have lots of expectations. It was really just to change the scenery, recharge batteries and enjoy things this country is offering (and yes, with a hope to see the Northern lights again).
---
The trip started with a bad surprise - our flight from Brussels was delayed with no guarantee to make the connection in Copenhagen. We really had no wish to stay in Copenhagen and worry about all the consequences - would the covid test still be valid, what about paid and not used hotel and most important of all - a missed evening in a hot tub with Northern lights above the head. But we made it! But our luggage didn't... Luckily I had taken with me in the hand luggage my hat and gloves and a decent jumper. We got a crappy essentials kit from Icelandair - everything made in China and more for men than women (if men can have a shaving foam then why no makeup remover for women???).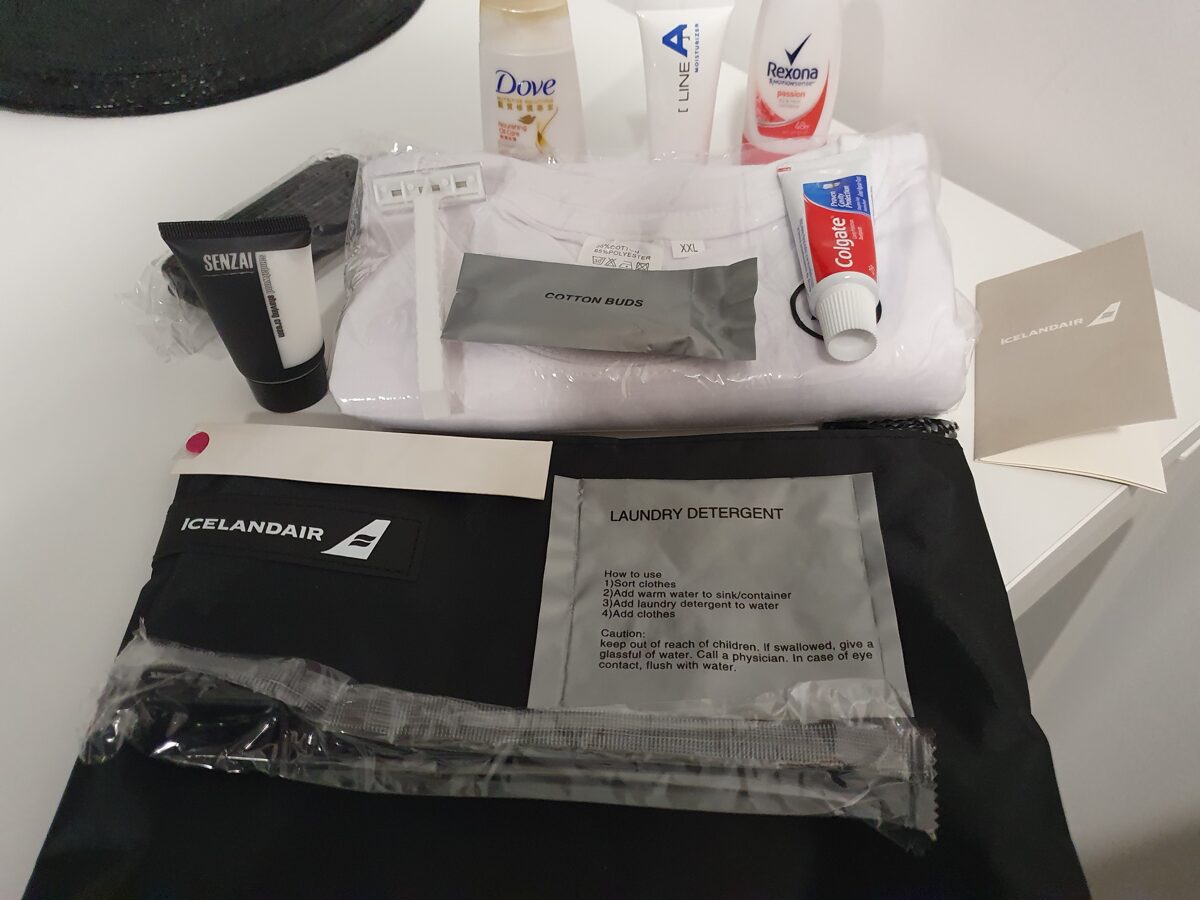 It was very disappointing but could have been worse with a night in Copenhagen... So we enjoyed the hot tub and then the Northern lights appeared above our heads! We had missed a crazy solar storm a few days ago but were happy to see the green lady again.
It did not take us long to decide to go to the Gardur's lighthouse to check out the lights. There was just a little but... the warm clothes were in the suitcase and so was the tripod... Hm... anyway, off we went! The lights were dancing above our heads all the way till the lighthouse. We had never managed to see the aurora at this place, so the dream came true! No pics were taken with camera but we could truly enjoy the experience. So in the end it was a gift!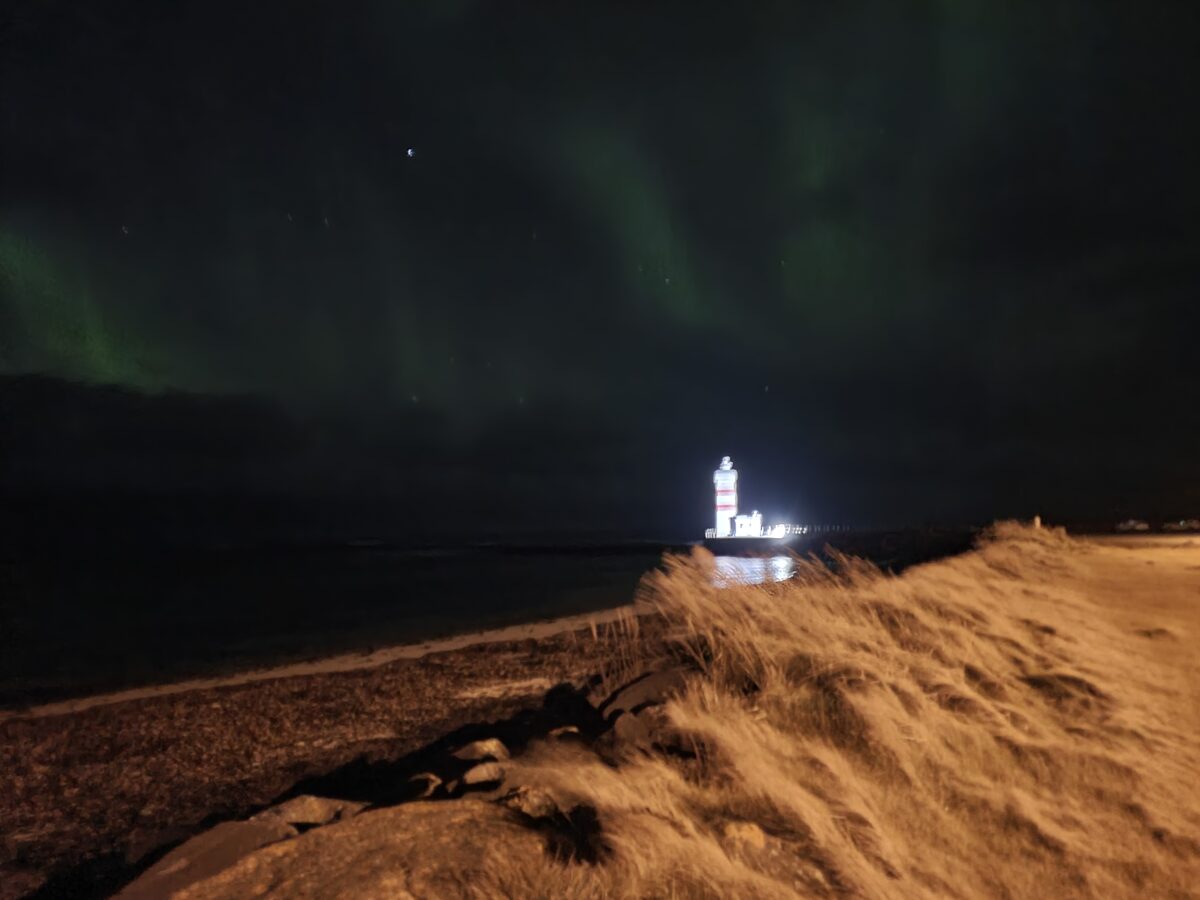 The next day our original plan was to see the volcano again. We had seen it erupting in May (and that was more than AMAZING); it went quiet in September but the area is still active and the views are impressive. There was no way to do the walk without appropriate clothing so we just walked in freezing wind to the valley with the newest lava - still fuming.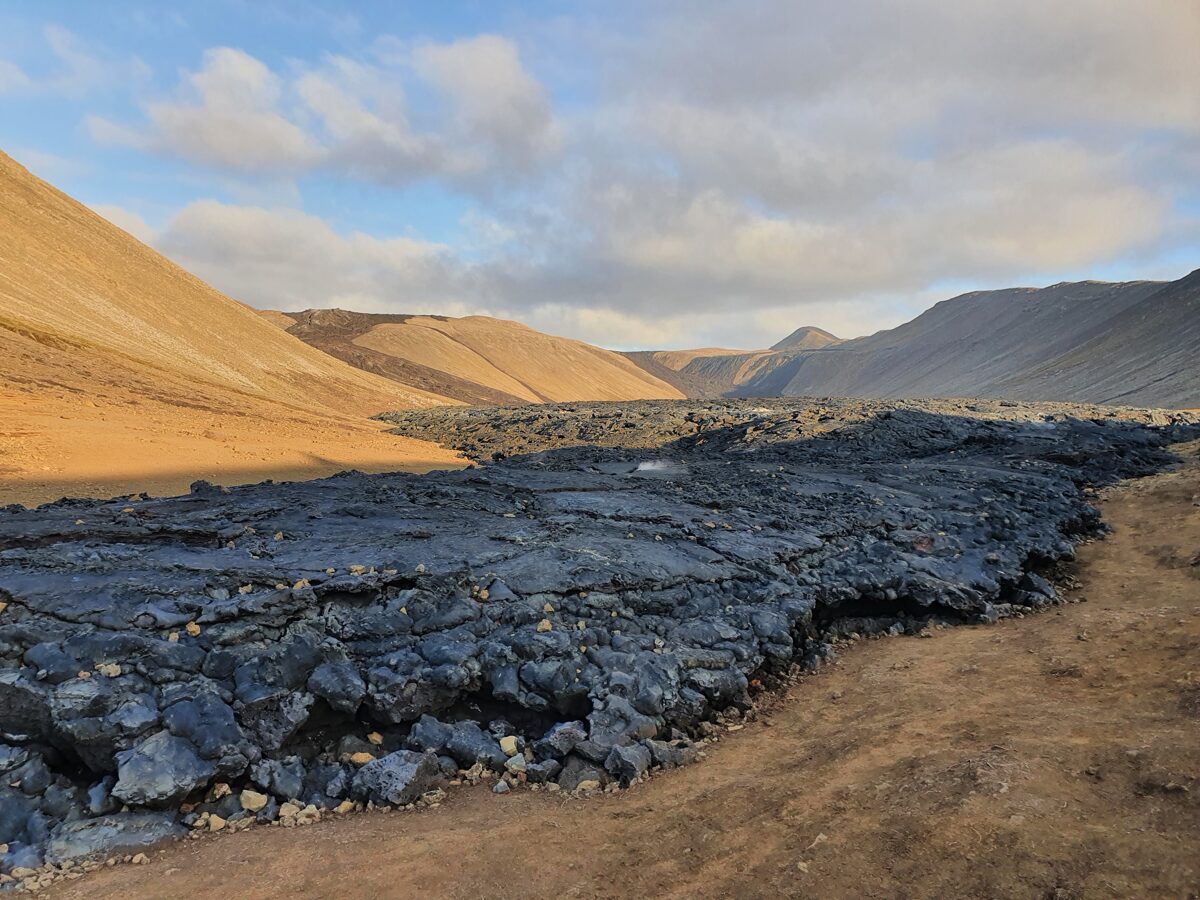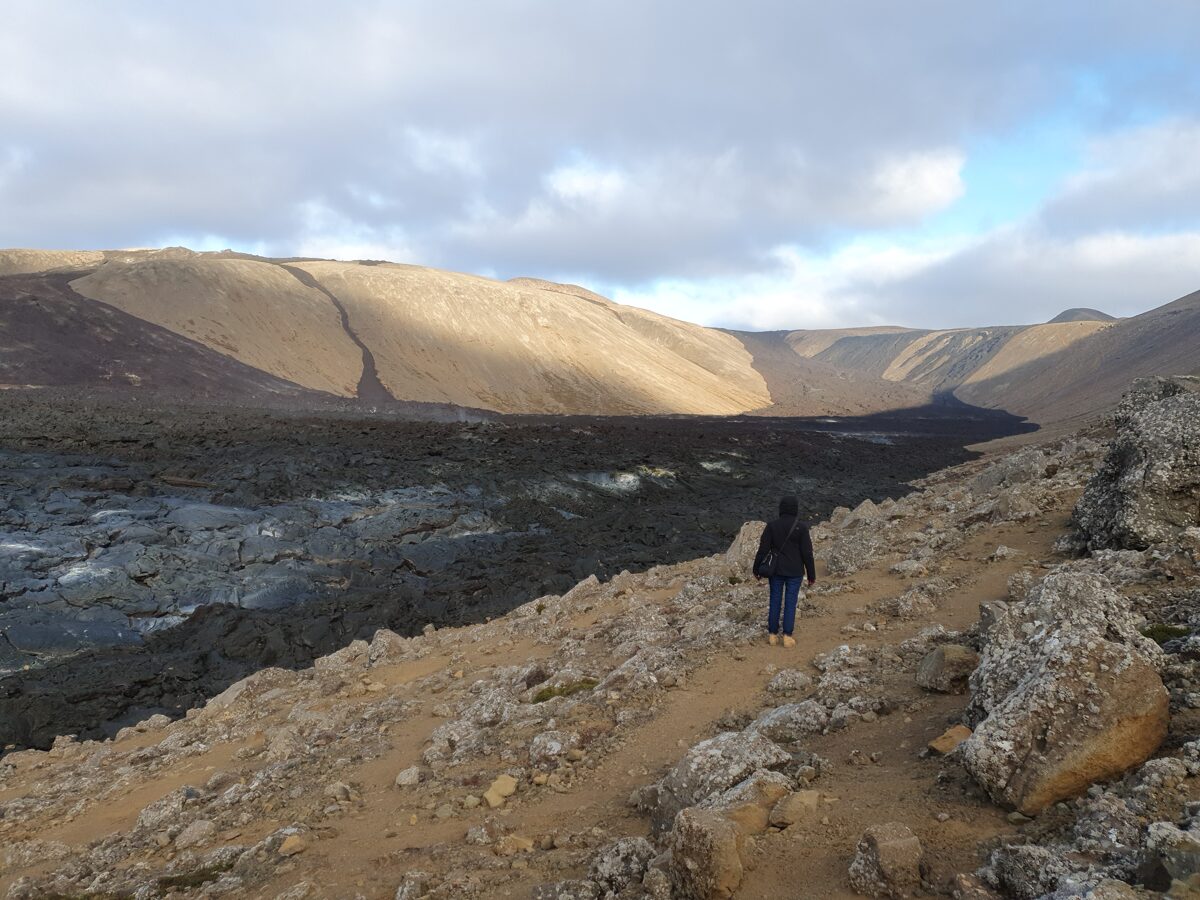 I had read that somewhere in Thorlakshofn there was a whale washed on the shore, so we decided to check it out. That was one sad and the same time impressive view. We visited a whale museum in Husavik and had seen all the skeletons and, of course, I knew they were big but to see it like that in full size was impressive. It was a fin whale - second biggest whale after the blue whale. The longest measured fin whale is 25 m. I estimate that the one we saw was 17 m or so. Fin whales can live up to 140 years! Normally it's dangerous to approach such a whale washed ashore as due to gasses it can explode any time but this time the whale had been already badly hurt and the intestines were floating just next (not a very nice sight as you can imagine).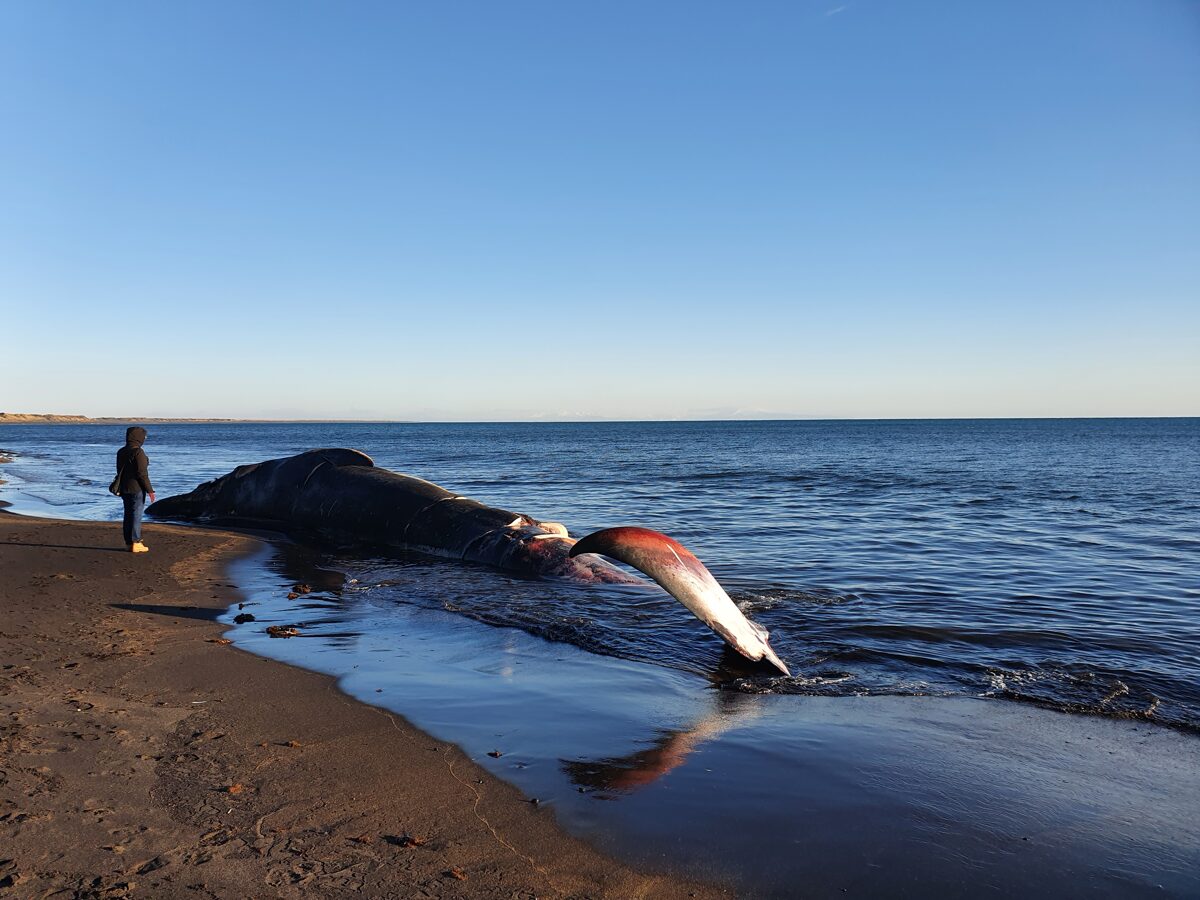 In the evening we recuperated our luggage - what a relief to get warm pants and the stock of wine!
The next day we went to see the volcano from the trail A. The change in a few months time was impressive, almost like another planet, the paths were overrun with lava and new roads were made. It was a really great feeling to be back. It's not possible to get close to the volcano anymore as the lava has swallowed the closest accesses but still you can get many lovely observation points. The volcano was still active as gases were fuming and active sulfur patches were visible everywhere.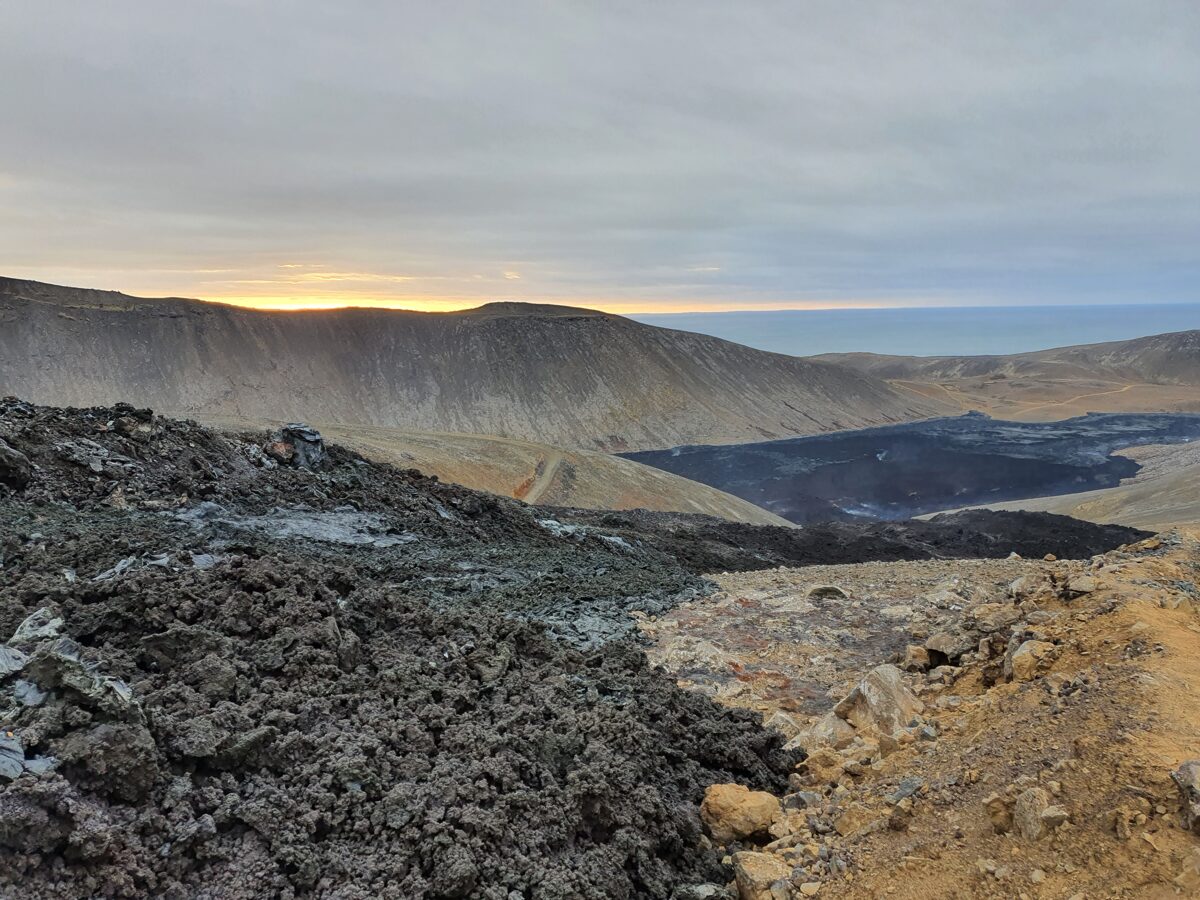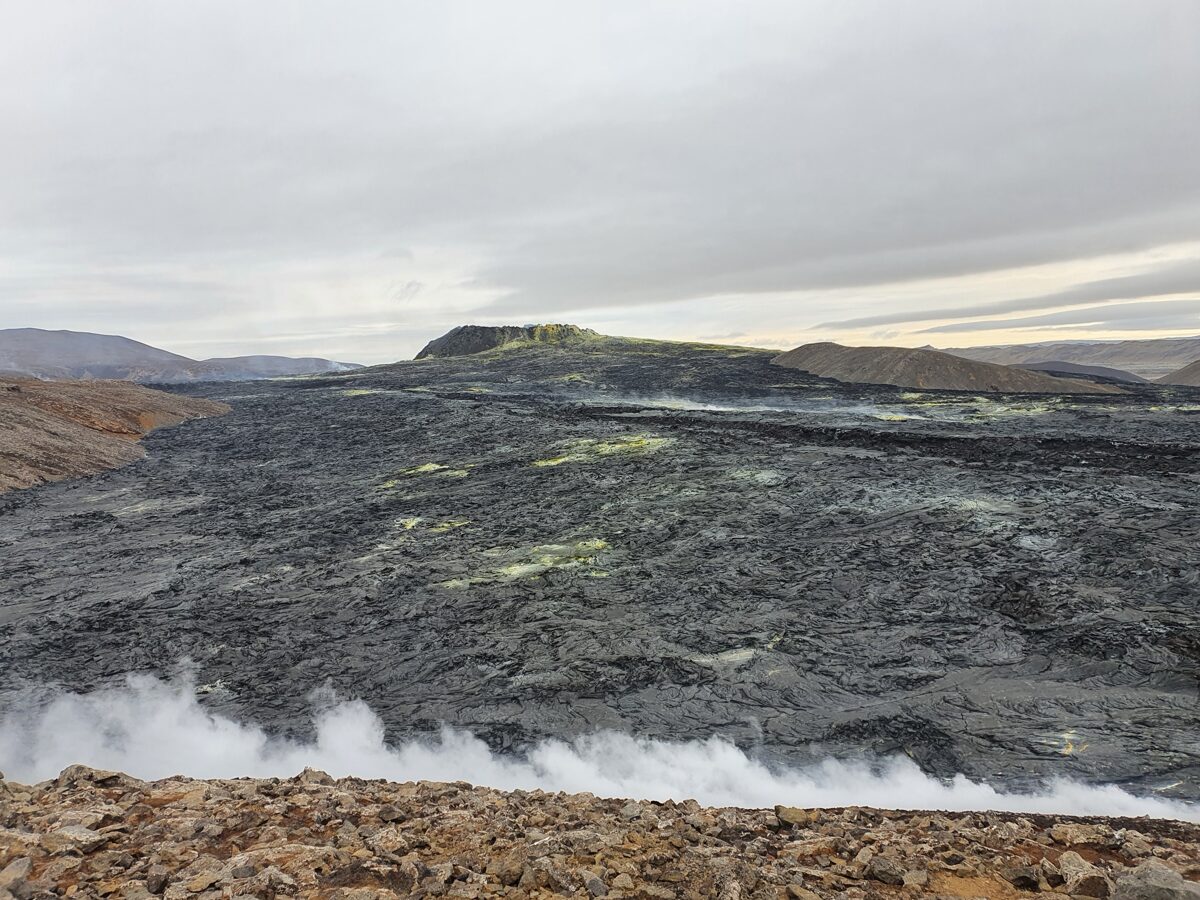 Do you see the little hill on the right? That's the hill we were sitting on in May to enjoy the mother nature's best show ever!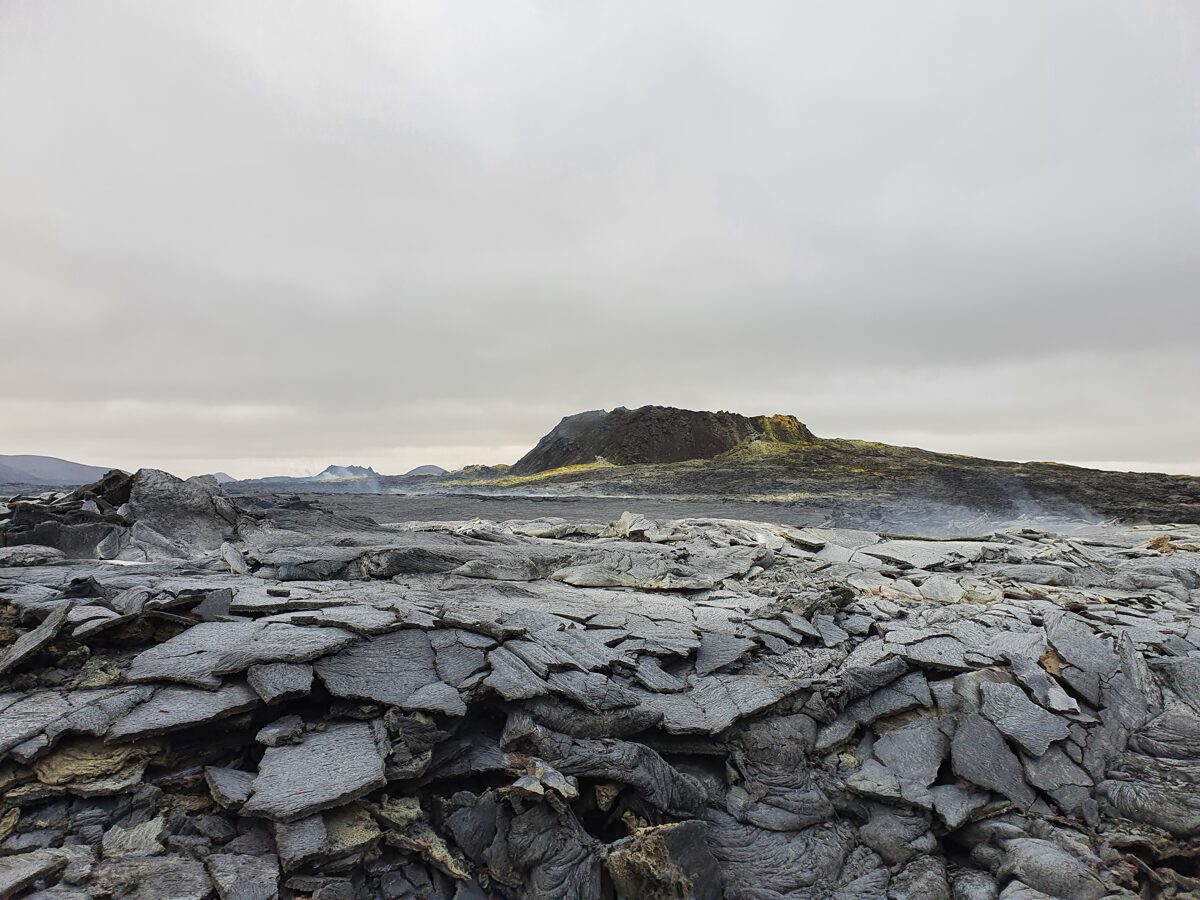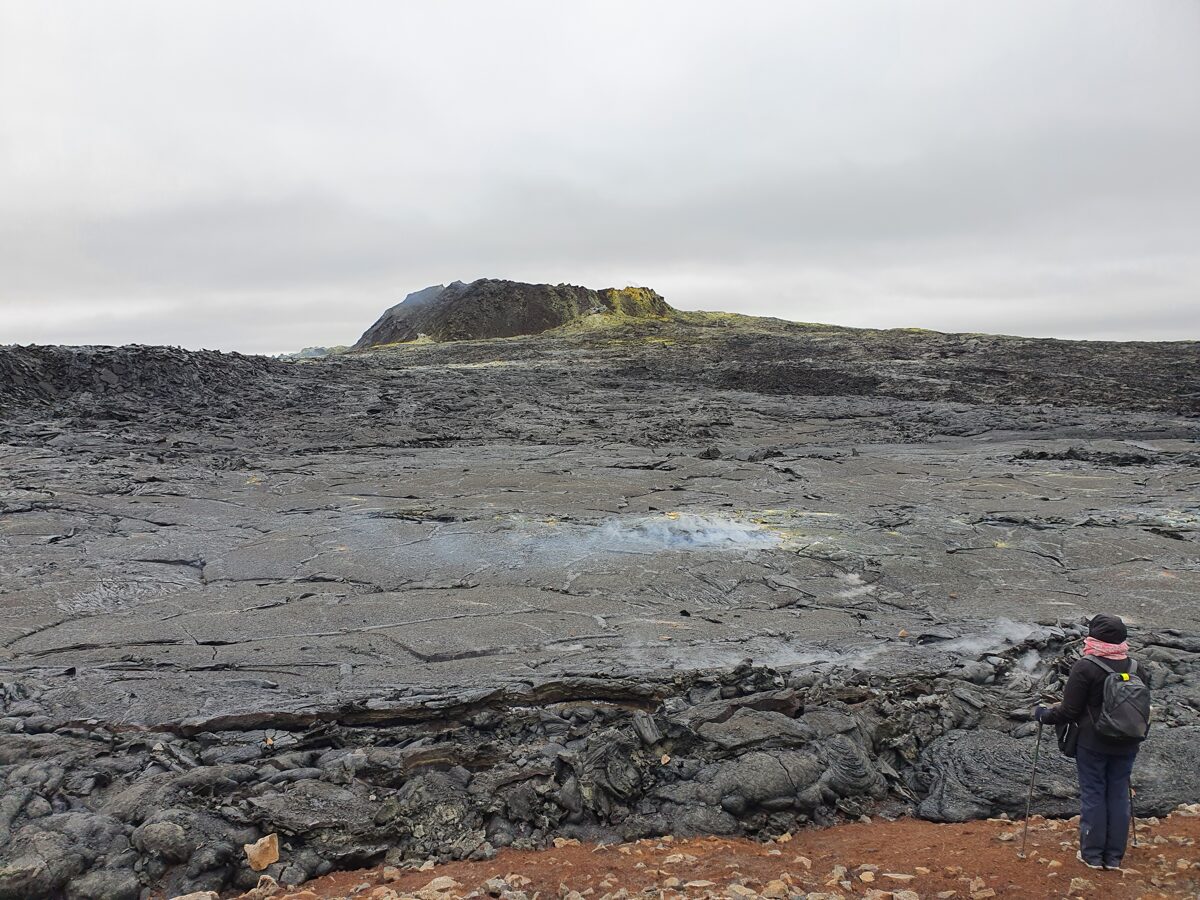 Most people nowadays use the path C as the parking is closer and the walk is shorter but I still believe that the old path A gives the best views. There were also a few idiots that walked to the crater... young French stupidos... Iceland would get even richer if they fined anyone who would attempt to check out the crater. But that's the beauty of this country - everything is about your own responsibility and common sense. Want to get amazing drone shots from inside the crater - go! Want to fall in a lava pool with 800° - go!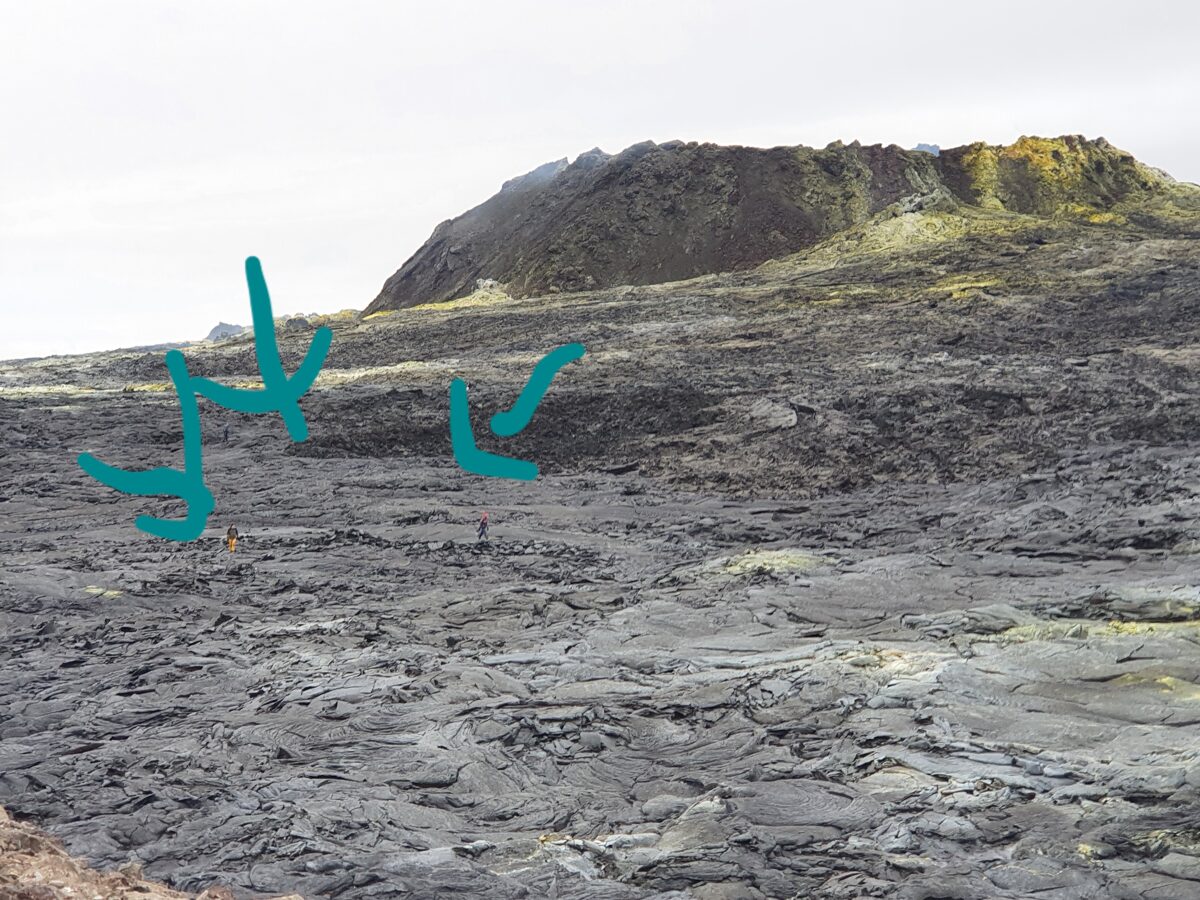 The evening promised a good chance for the aurora so we went to Valahnukamol as we thought it would be pitch black there. Besides us there were some Spanish photographers and later a rude Italian group spoiled the whole beauty - screaming and shouting and flashing the headlights into everyone's faces, they though they were the only ones there. But karma is karma and the best aura dance was actually before they arrived :)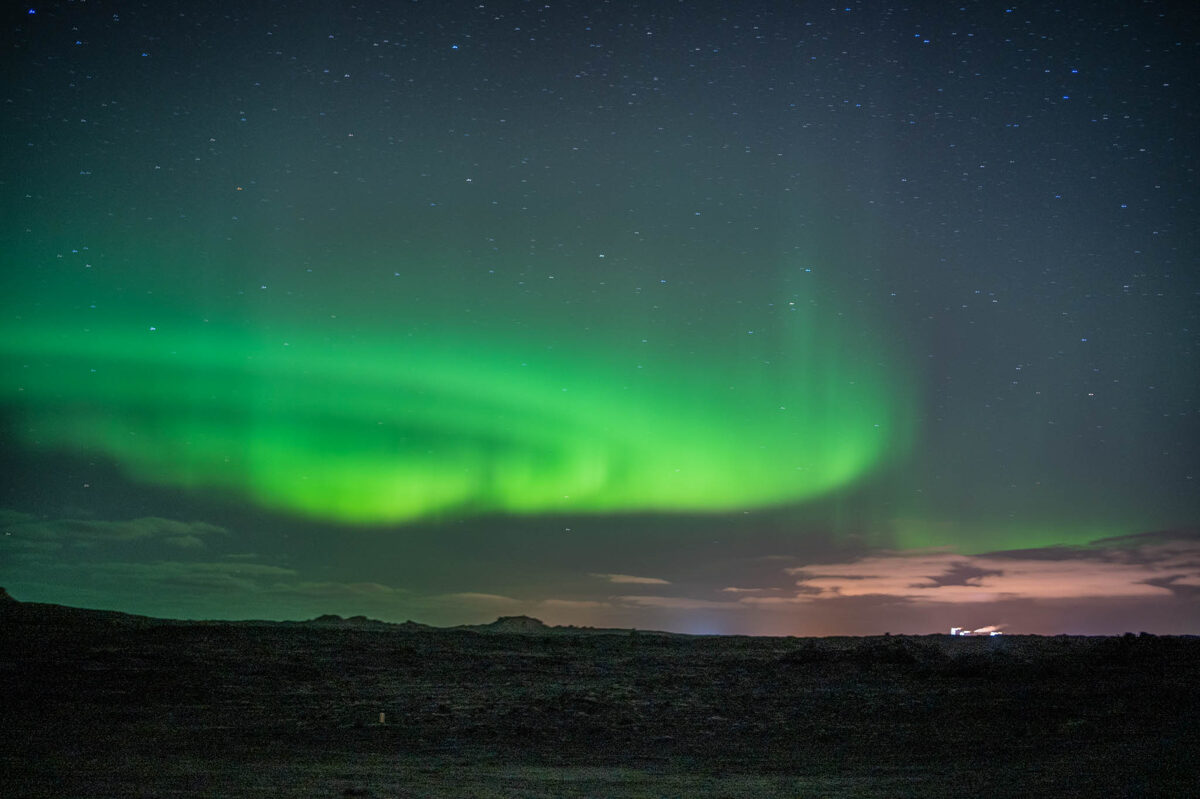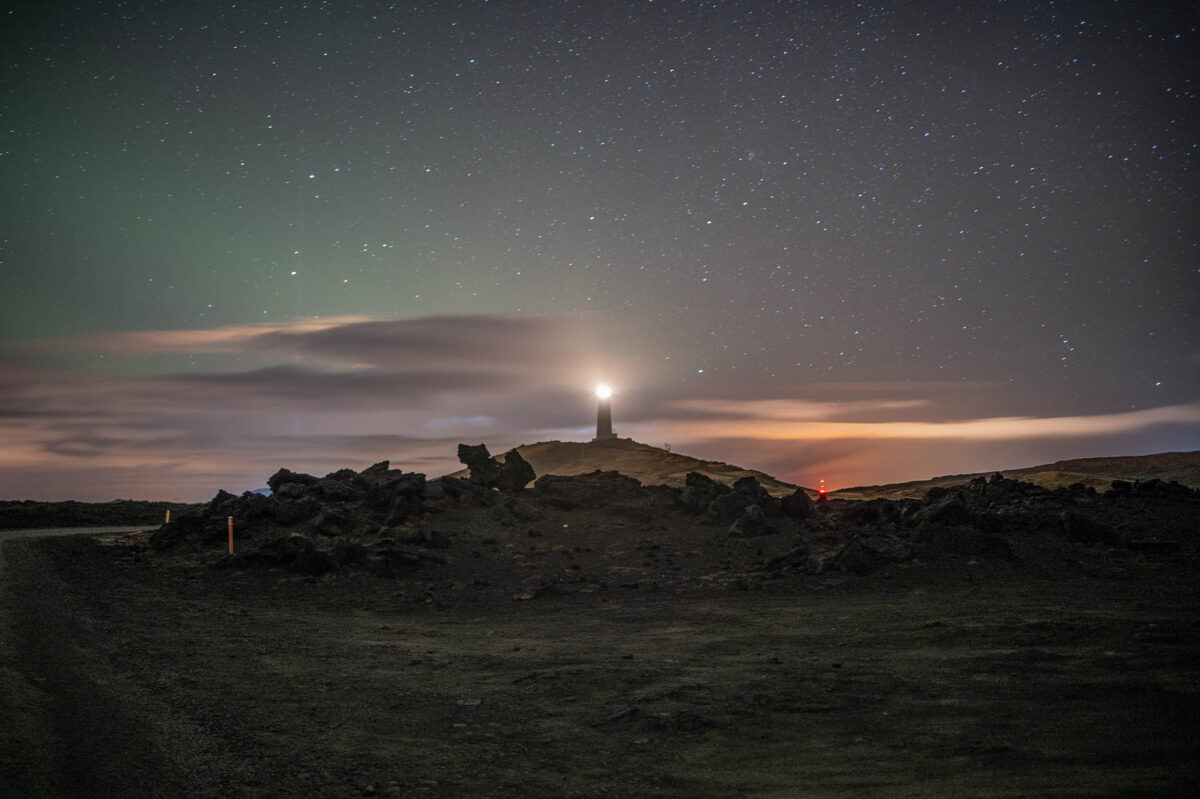 The next day we checked out the path C, the sky was grey and it was even raining a bit but the temptation to see the volcano from a different vantage point was too big, so off we went. On the way we also debated that perhaps it would have been smarter to go to the south, after Vik as in the night there would be a mini geomagnetic storm and it's the place without clouds... So a perfect place for the aurora hunters... The days in November are not long so, you really have to make fast decisions and if you need to drive somewhere, it takes time. Luckily there was no snow nor crazy wind that day.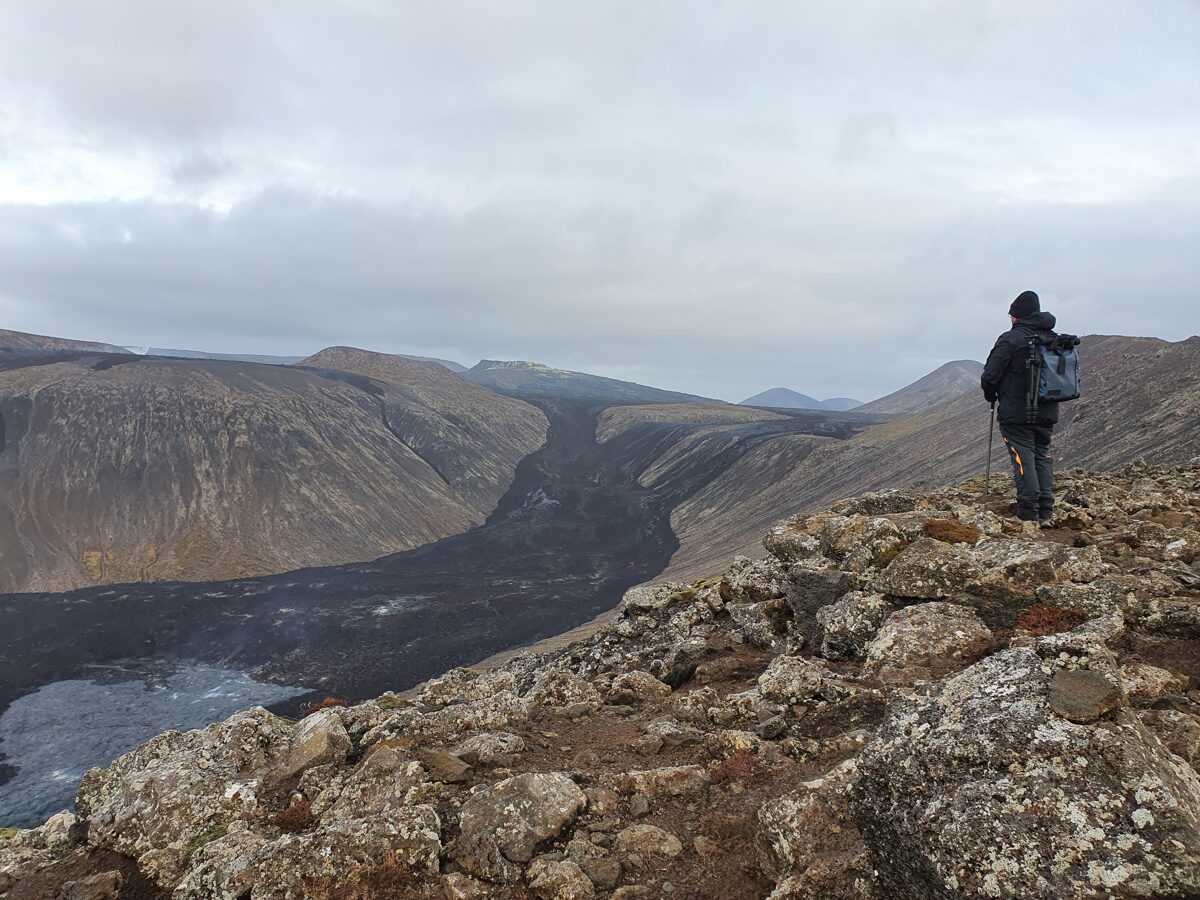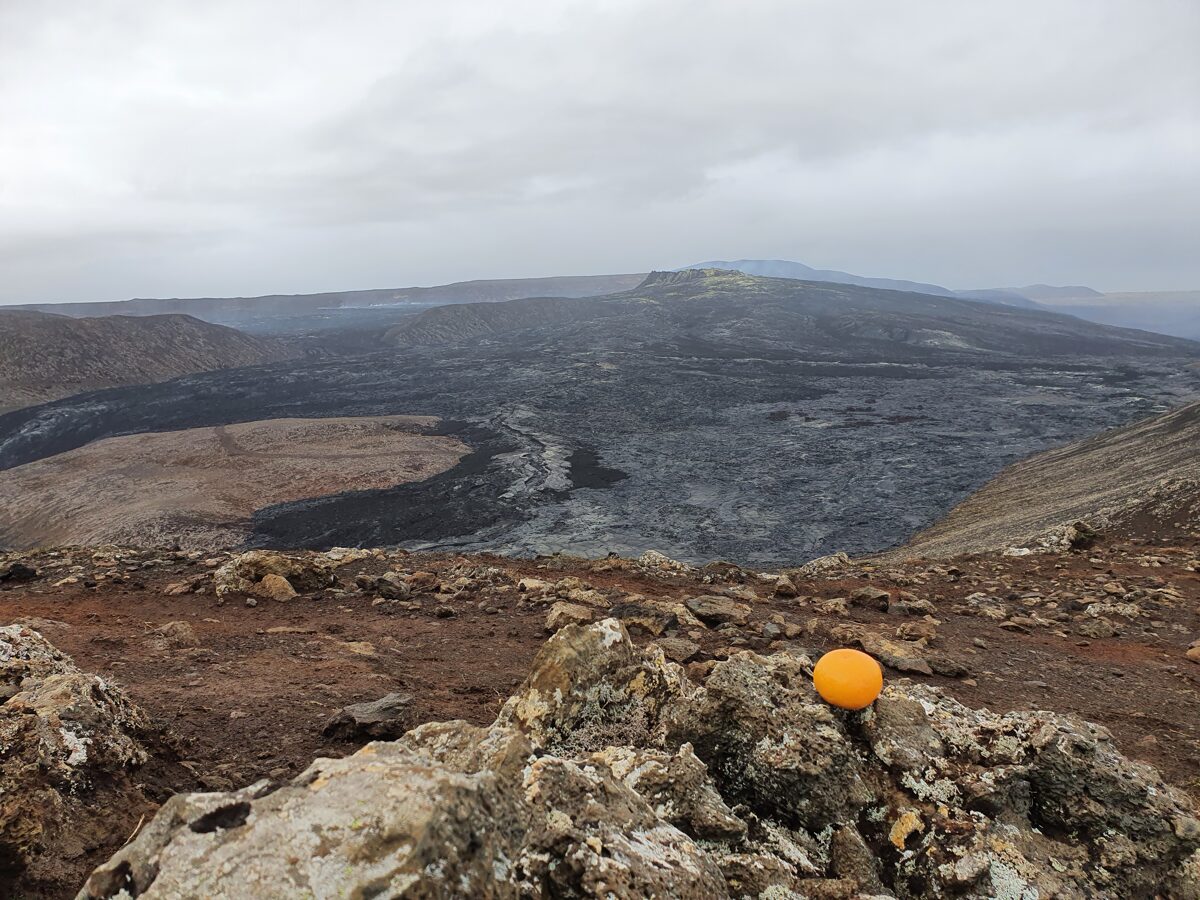 How about a lunch with a view?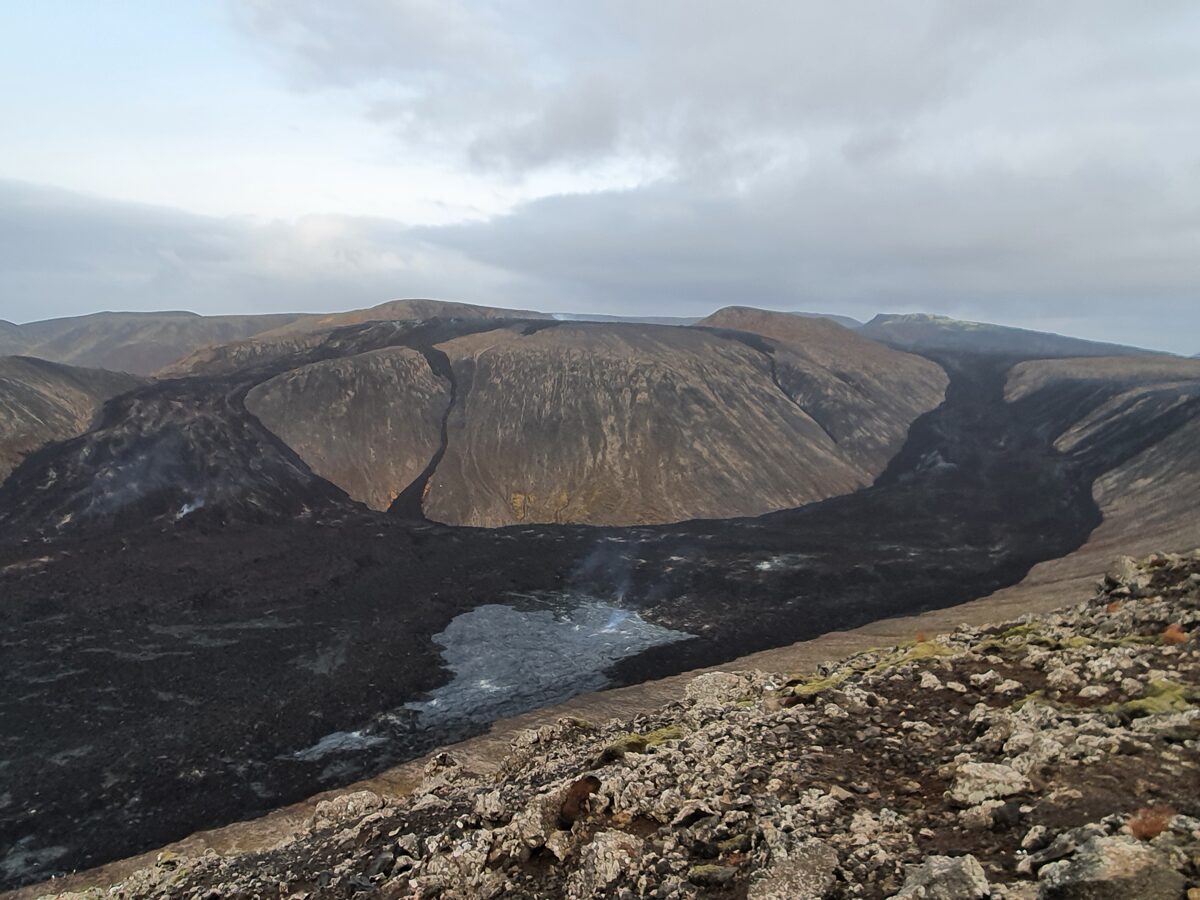 The views on the volcano were superb again and despite the weather we spent quite some time on the top. And then we decided that perhaps we should go to Vik too... Vik is a 3 h drive... So we went to our hotel, packed in a speed of light and left. Before Vik the weather was not promising at all, low clouds and even rain. I had checked all the possible weather apps to try to predict what was coming, not an easy task as all the apps were showing different information. Especially the cloud coverage is tricky because it's not that predictable. When we arrived in Vik, it was a perfect timing to get our one of the favorite ever burgers in Smidjan and check the weather forecast. For Vik it was not conclusive as it was just on the border of rain clouds. So we decided to be crazy and drive one more hour east to be sure not to have clouds. Driving in the night is not for the faint hearted. Trucks and Icelanders in general don't respect any speed limitations and don't even change their long lights to the short ones!
We were happy when we had finally arrived in the Fosshotel. It was in the middle of nowhere but you could see that the tourism had picked up again, it was full of tour busses, mostly for Americans. Ohhhh, this was Iceland I did not miss! We were so privileged to have seen it without the crowds and I had no wish to share the beauty with anyone. It's very selfish, I know :)
The sky was clear, the KP was 5 but the app was showing a very low chance of seeing the lights... hm... how comes??? The Northern lights are about patience, good weather and luck. So we would just walk around, check from the balcony, go out again, check again. Many were doing the same as us. And nothing... Well, almost nothing, there was bit of a green pattern but no swirls at all. The KP was still high but the chance low... I even decided to get up in the night and check again to see if really there was nothing... well, nada!!! That's the thing with natural phenomena - they appear when they appear and we humans can just be lucky or not... Later I checked that the Northern lights oval that night did not go as low as Iceland, go figure why...
The next morning was really beautiful and finally we saw where we staying. We knew that we had a long drive back, so decided to take it easy.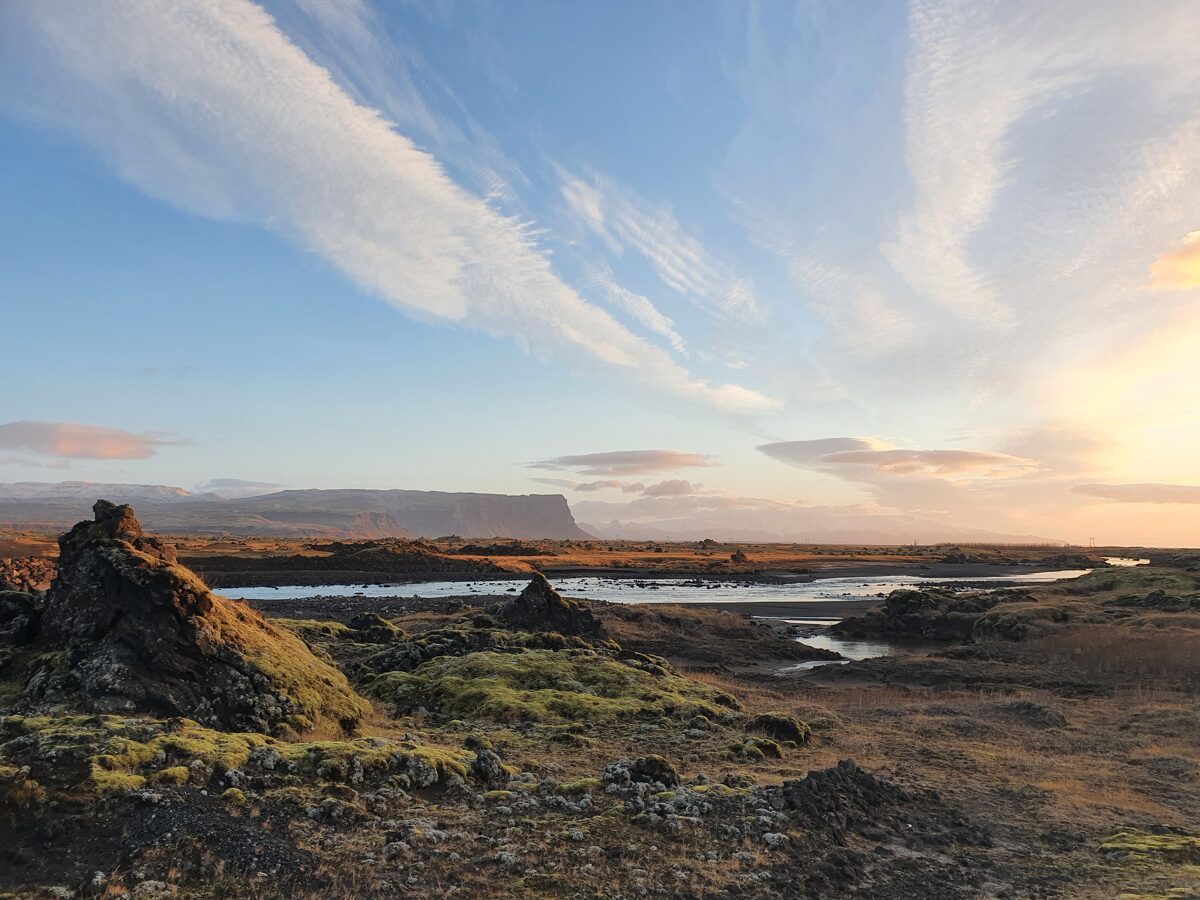 My husband had not seen yet the Fjadrargljufur canyon, so we made a stop. There were quite many tourists there, almost the same number as I had seen in October 2019. Still the place is very beautiful. Also knowing that famous Laki is not that far makes the place even more magic.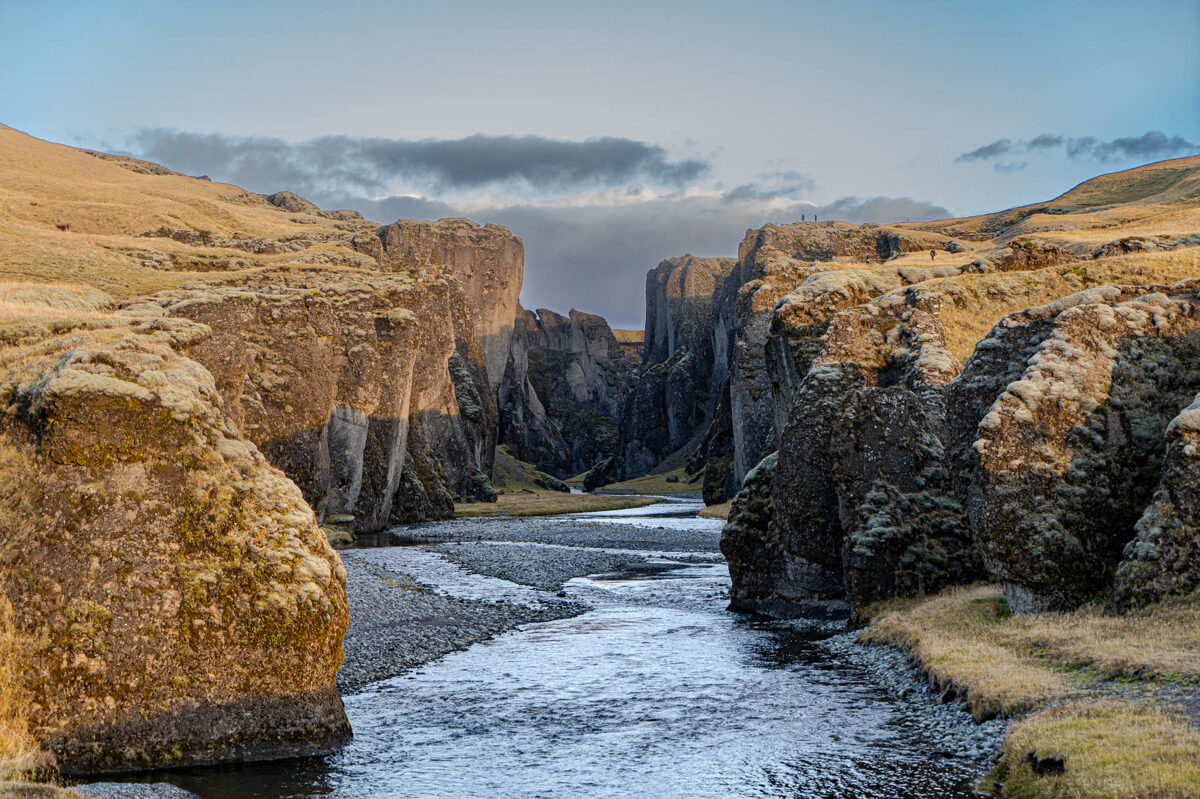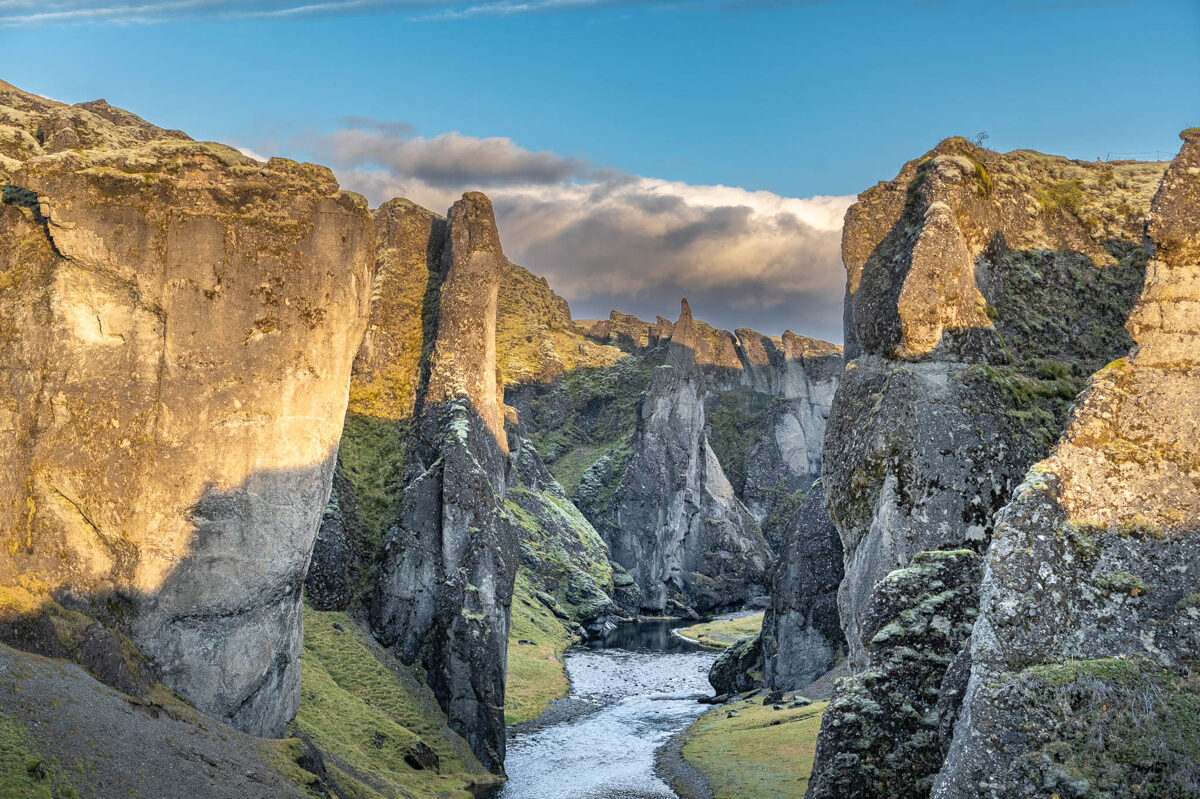 As Reynisfara was on the way we decided to make a stop there. We though to get some snacks in the supermarket in Vik and that was a baaaaaad idea. A tour bus arrived just after us and the shop was totally swarmed with people. And clearly it was not the first bus as the shop was literally empty and you had to fight for the last sandwich left. I can just imagine how this place looks like in summer and before Covid... Reynisfara was not better, almost no parking (and there is a loooot of place). As we had arrived, we still decided to make a quick stop and have a lunch with one of the best views in the world. It was a beautiful day, so the waves were not raging. And it was interesting to see the place in a different weather. Instagram dudes were trying to get the best shots and that was quite some entertainment. But our conclusion was clear - we were so lucky to have seen this place WITHOUT anyone last September (see the blog post from 2020).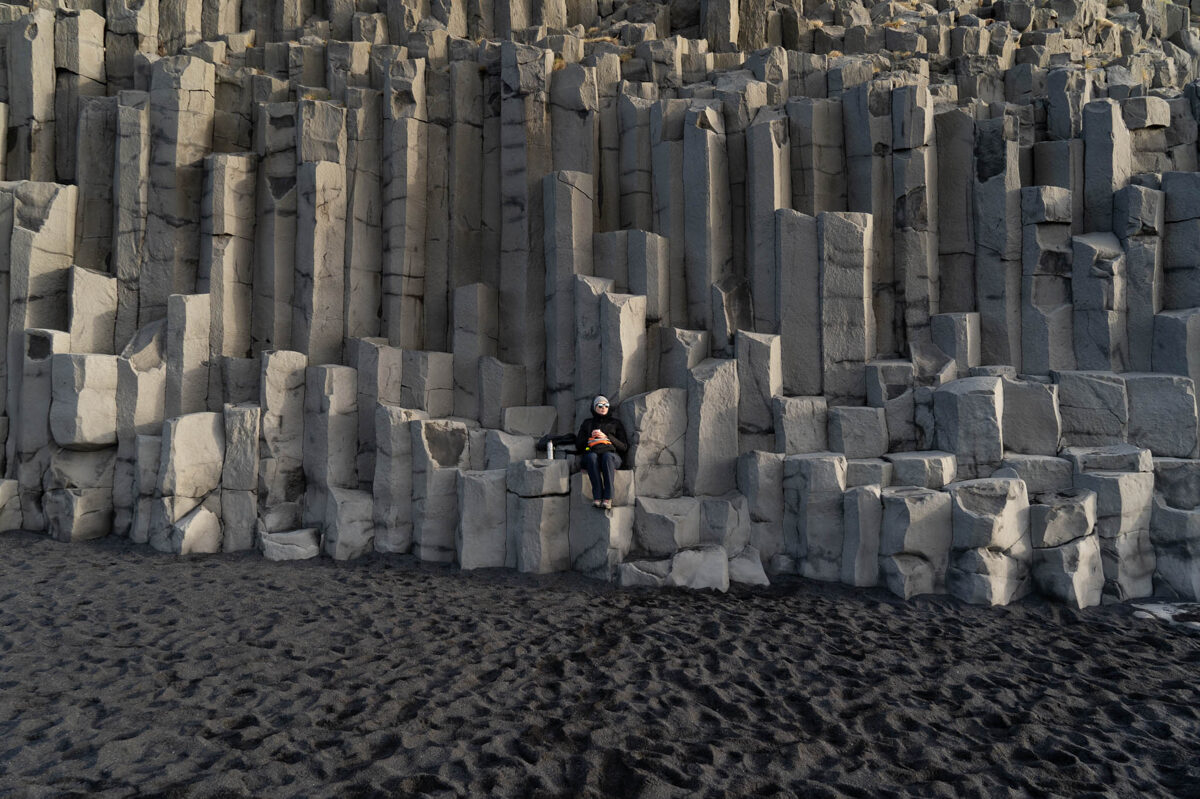 On our way home we passed again the Solheimajokul glacier. I had seen it already twice, both times in gloomy weather so we decided to check it out with a full sunshine! Wow, what a sight! The place was just magic. The authorities have re-organised the path. Before the notice - "don't go further" was much closer and now it's next to the glacier itself. The message is clear - don't walk on it alone and without equipment. A few groups were there to do the glacial walk - looked very cool and interesting. We just checked out the glacier from it's front. Please don't go in any caves! The cave that we saw and some people went into while we were there collapsed a few days ago. Luckily nobody was hurt but it's just dangerous.
We spent there hours I think, just admiring the ice formations, the floating icebergs and perfect reflections. So we decided that this part of the trip was the compensation for the Northern lights that we missed.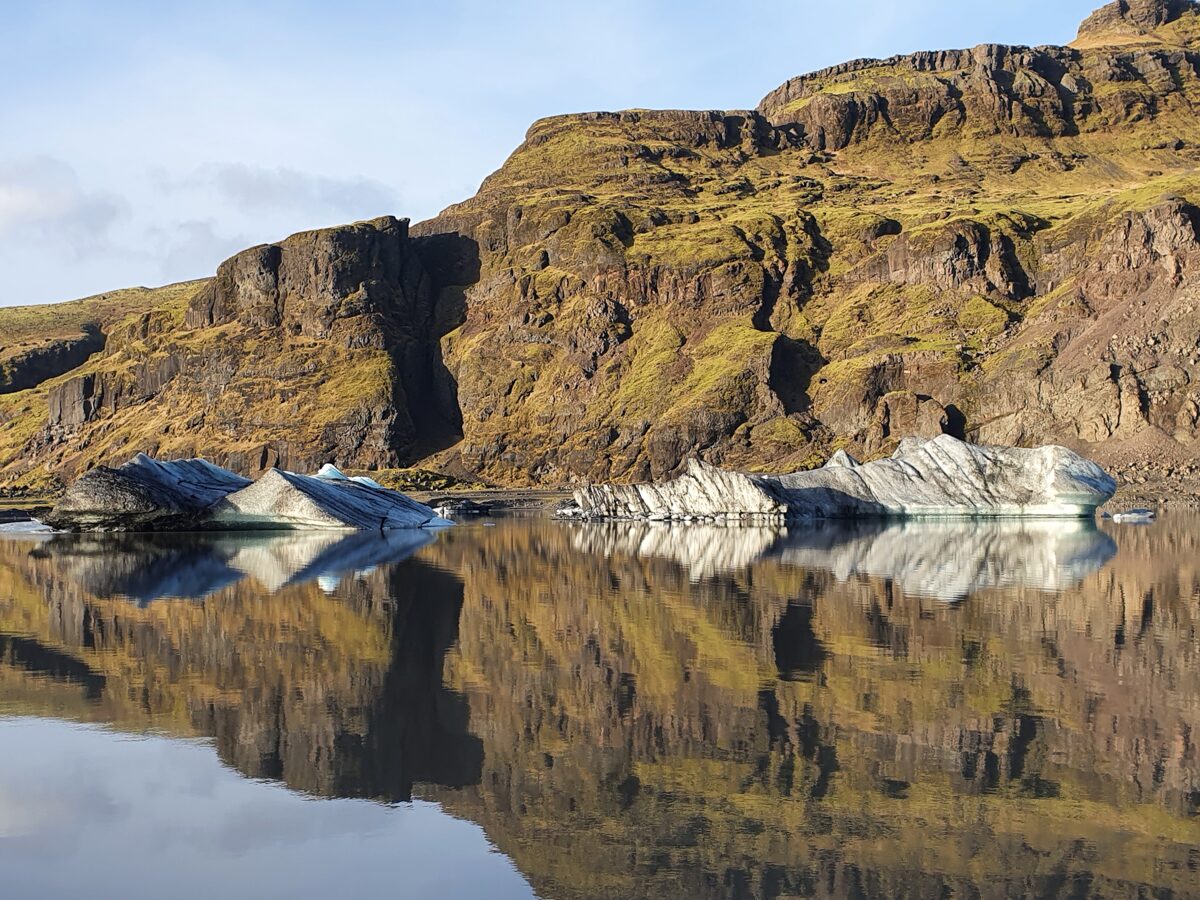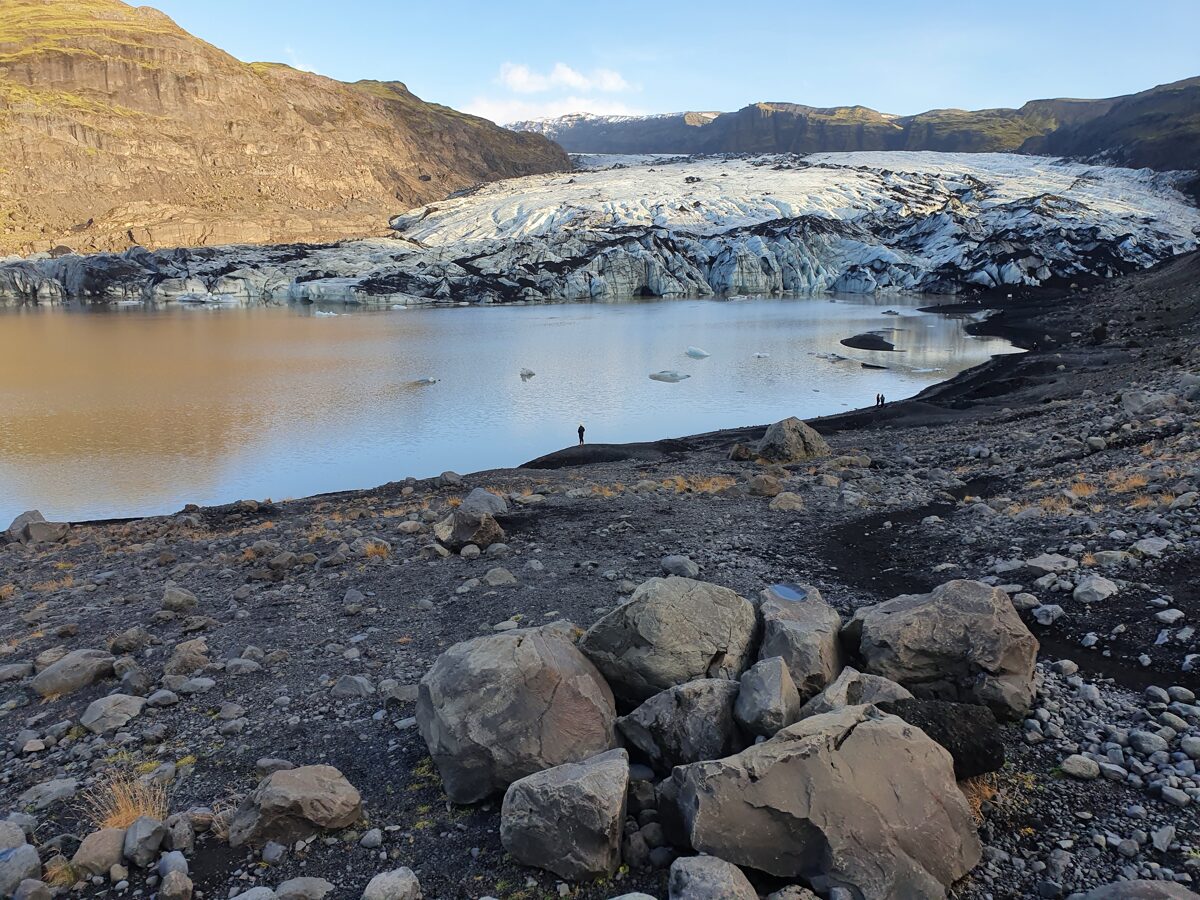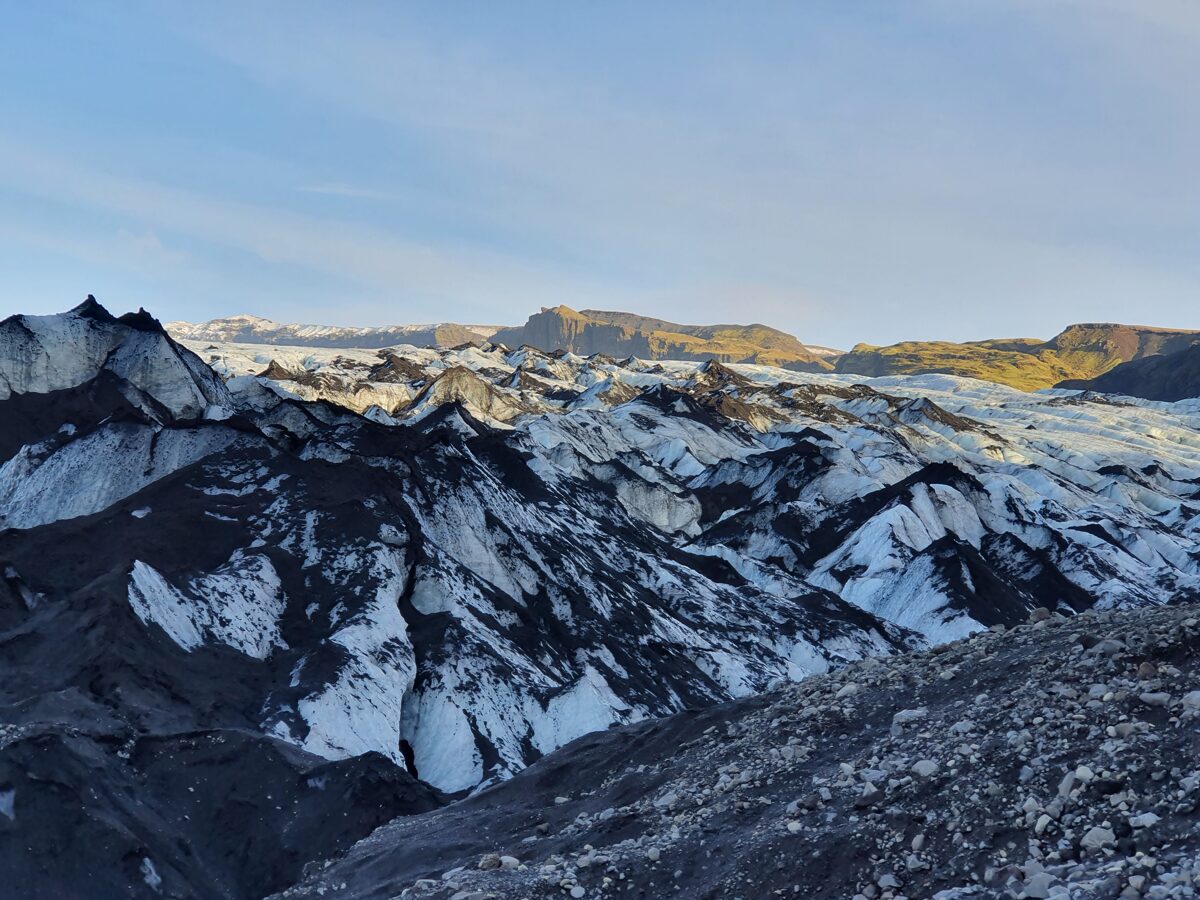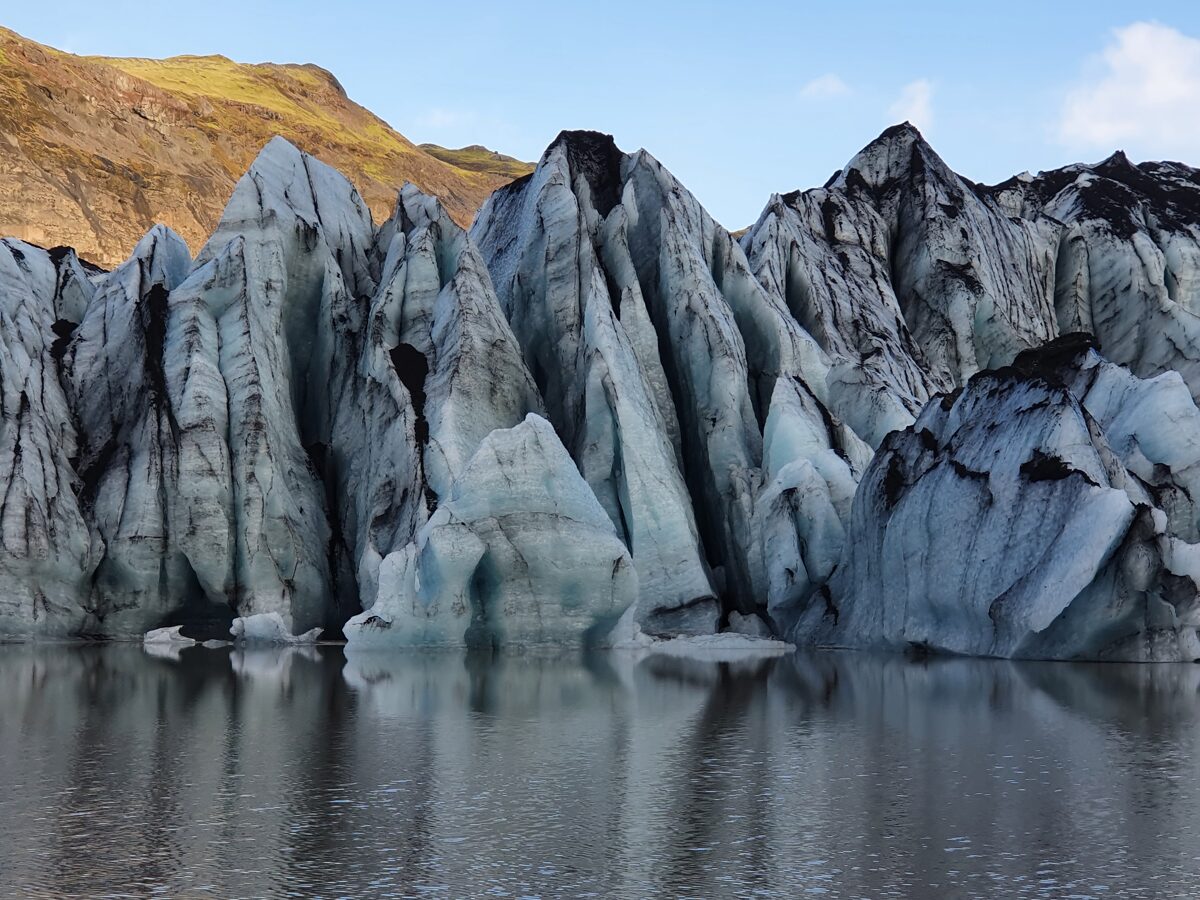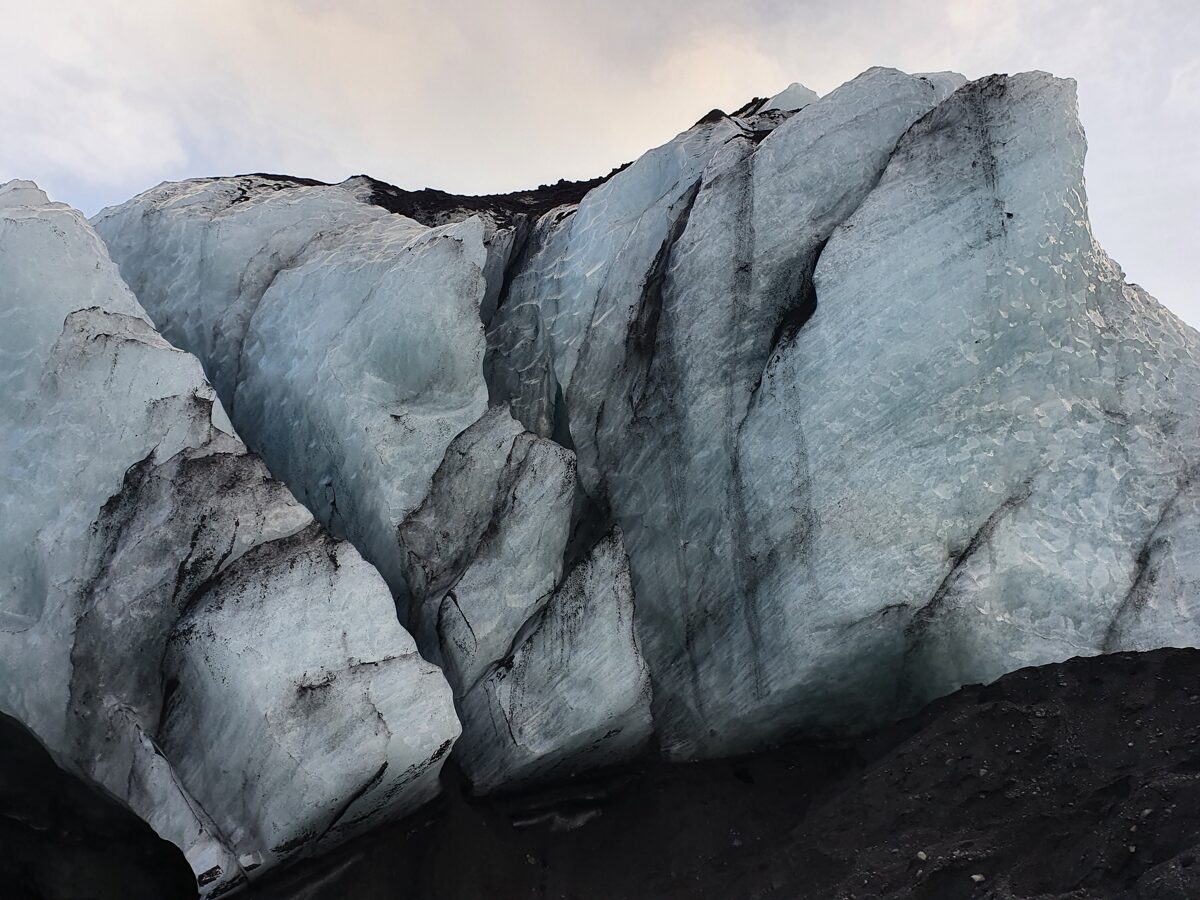 When we got back to the hotel we enjoyed the hot tub again. Ohhhh, that's always my favourite part after a day of exploration!
We had to get up super early the next day to catch a plane and a snowstorm was announced. Indeed, the winter had arrived and it was snowing like crazy! The road was barely visible and super slippery. All the flights were delayed... well, that I was surprised about. If there is anyone who should be prepared for this weather is Iceland but apparently not... Anyway, we thought that we were very lucky not to get that storm during the stay because then there is not much to do and you really need to stay put as it's too dangerous to drive anywhere.
So to go to Iceland in November is a bit of a bargain as you never know what kind of weather you will get. I think we were extremely lucky as in 5 days we saw Northern lights twice! And it was so good to have the fresh air, enjoy the ocean and the volcano and an amazing mushroom soup in my favorite lunch place on earth - Hja Hollu in Grindavik. Our stay in Comfort & Rest in Sandgerdi was flawless, I just love the place there - everything, including the hosts, is perfect.

So Iceland never disappoints if you stay away from the classical tourist routes and activities. I cannot wait to go back as there is still so much to see and discover.
P.S. Some of the pics are taken by my husband :)
P.S.2 Do you like what you are reading? Then please subscribe to my blog's news and you will be the first one to get a new blog post with many practical in your email.


3 comments
- Recharging batteries in Iceland (yes... Iceland again)
Steven Bott - December 29, 2021 at 4:19 pm
Great read, I wish I could put as much into each of my blog posts. Been to Iceland many times, so can never get enough of blogs/photos/videos. Enjoy...
Raul - December 30, 2021 at 5:11 pm
Thanks for sharing Dace! I was also there in November :) my first time, but not last...
Oliver K - December 30, 2021 at 11:25 pm
Wow, what a trip! The photos look like screensavers! Amazing scenery. Are there any trees?! Looking forward to the next post!
Leave a reply