Lofoten's postcards from the arctic circle in Norway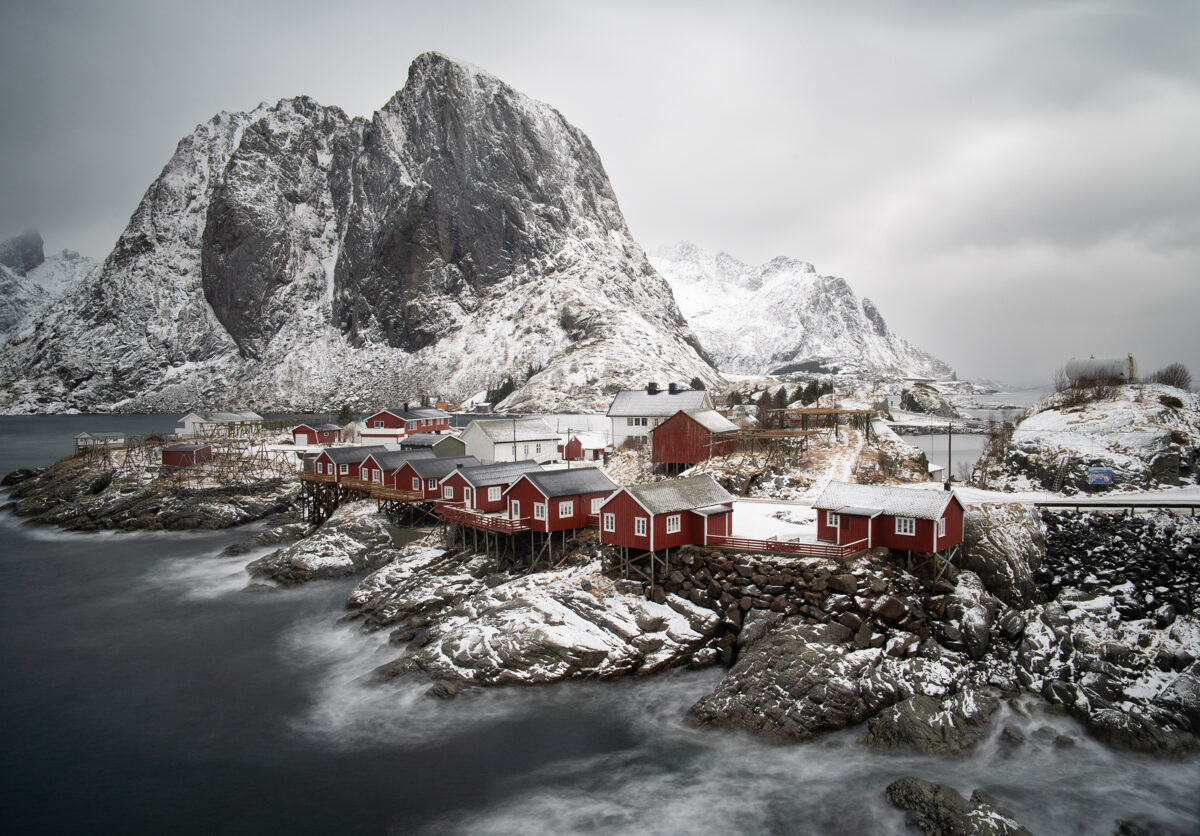 Pic by Gilles Servais

Lofoten is a well know destination for nature lovers and should be on the list for anyone loving north. Initially there was a plan to visit Lofoten in autumn but we went to Iceland instead, so had to catch up now! After a thorough research, I realised that winter is indeed the perfect timing for visiting Lofoten. You can get there by plane, by ferry or by car. We had chosen not a common way to get there. We flew to Tromso trough Oslo and then took the Hurtigruten ferry for 17 h to arrive in Svolvaer.
---
There is no quick way to arrive to Lofoten so one way or another you need time and patience. But let me assure you - it's all worth it as it's simply AMAZING! We landed in Tromso and the northern lights immediately greeted us above our heads (how cools is that - to wait for a bus and see the green lady dancing above your head?). I already mentioned in previous trip report that the easiest and cheapest way to get to Tromso centre is by public buses, don't be fooled by all the commercials of fly bus when you arrive! Our ferry was at 01:45 so we had some time to spend in the evening. There are some luggage lockers at the ferry terminal if you want to leave your suitcases there, it costs 10 euros per locker for 24 h. We had a great dinner at Graffi Grill (you can even leave your suitcases there), check out their cheese cake and you can thank me later! And then the waiting for the ferry started... People were slowly starting to arrive. And the green lady showed up again.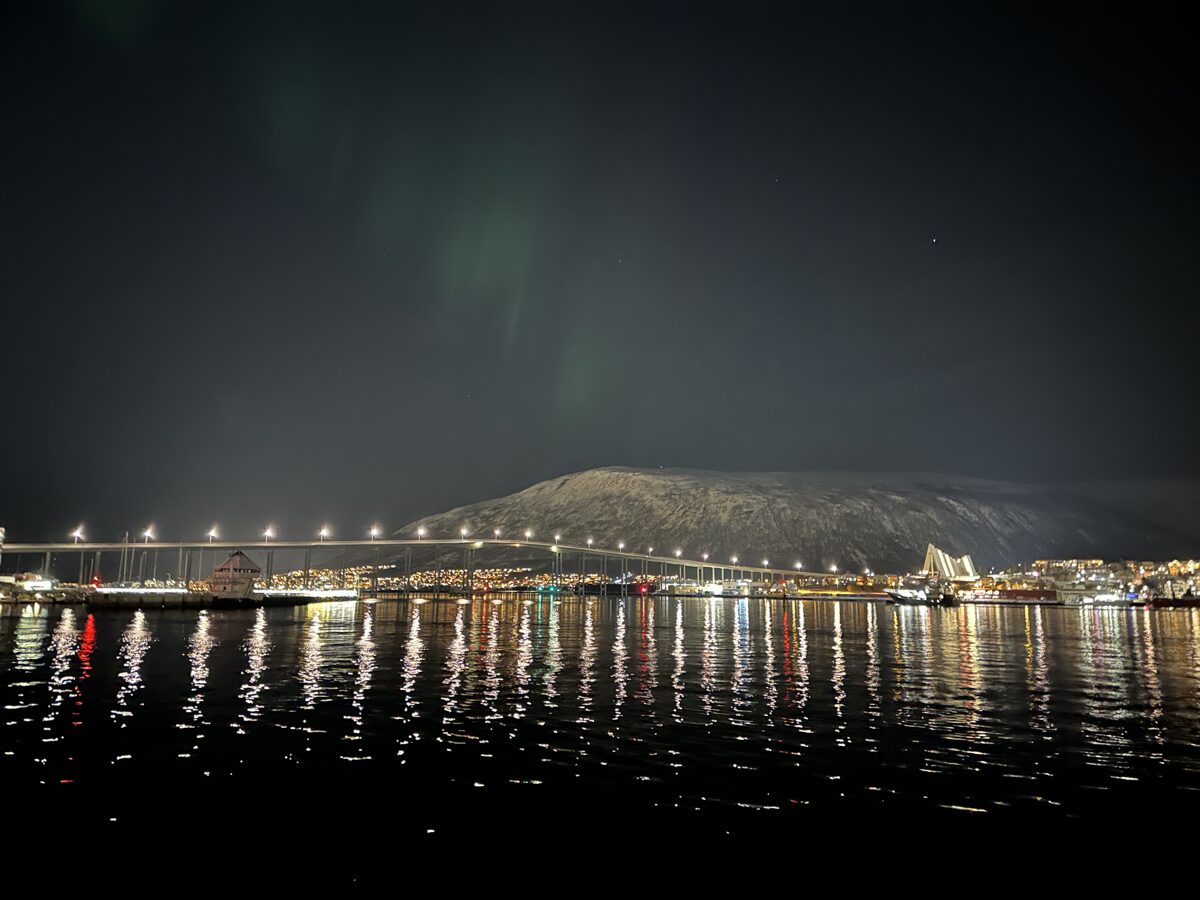 It was funny to see some people jumping from joy to discover northern lights. Well, the show was not comparable to what I had seen before. And little did I know that that that was (almost) all we saw of NL for the whole trip... hehehehe...
Lofoten is more cloudy than Tromso, so if your objective is to see the NL, stay around Tromso or go to Alta in Sweden.

As the ferry was approaching, the terminal became more like a Ryanair queue... We could not understand why people would already queue 40 min before! Well, we understood later - the check-in on the ferry was a disaster and took ages... so ruuuuun if you don't want to wait. That was a big unpleasant surprise. You had to pull your heavy suitcases up steep stairs, then wait on the stairs until a girl squad would check you in (everyone would get an offer for an upgrade - so imagine the waiting time!). Nobody was helping older people with their luggage... When we mentioned that to the staff, we only got a comment "You know, it is very a popular ship"... What is that service??? Waiting in the queue was quite entertaining, for example, a lady came and said that somebody was already sleeping in her cabin... We had chosen not to take a cabin, you can do so if the trip is less than 24 h. So for the night we had to find a nice place to sleep. Our ship was NordNorge and there was plenty of space in the common areas, even small sofa.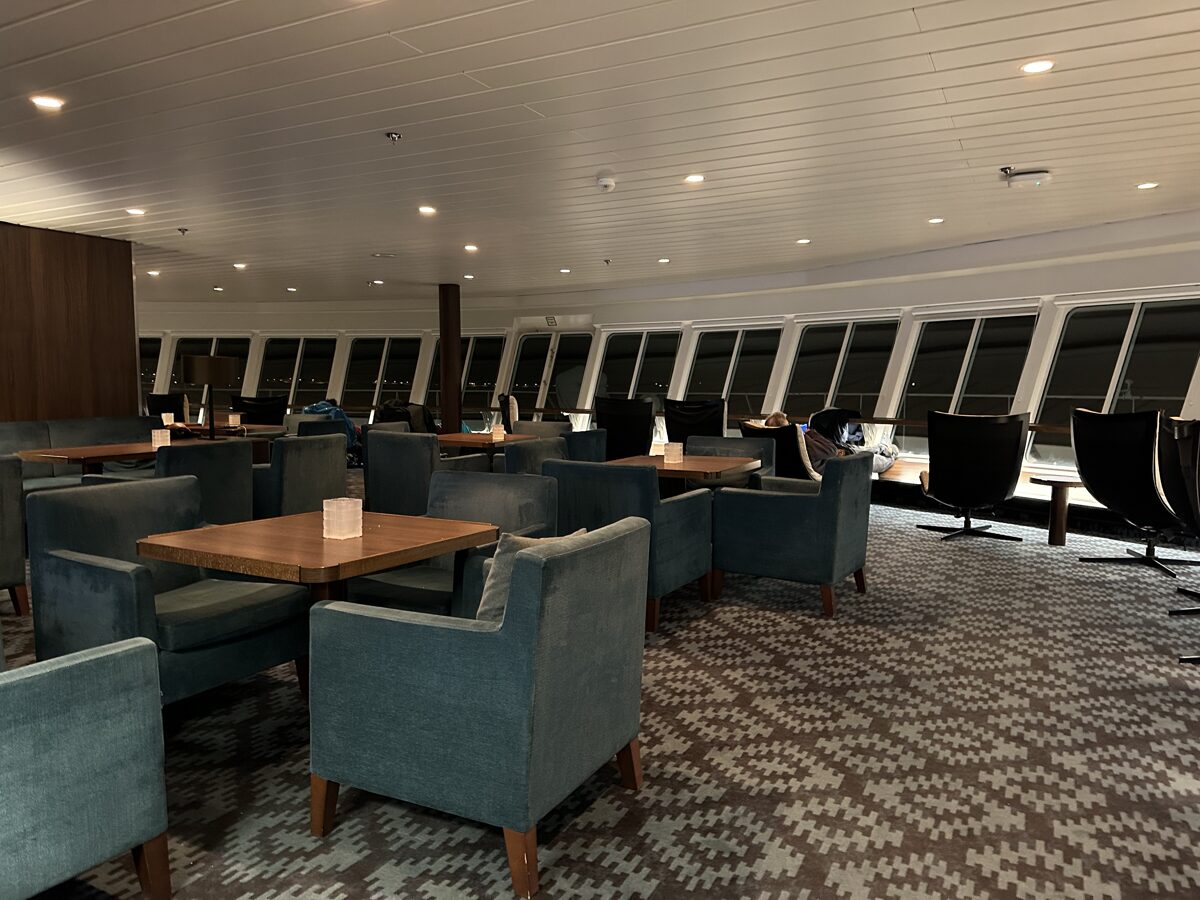 There were some other people who had decided like us to embrace the adventure. Everyone had plenty of space but sleeping was not easy as the ferry would stop at small ports also during the night and there was quite some noise. Also the vacuum cleaners start singing around 5 am.

We had booked breakfast as I thought it was a nice way to kill some extra time of the ferry. Have to say it was royal! Definitely did not expect it to be so good! It's also a perfect people watching place - captain's table was just next!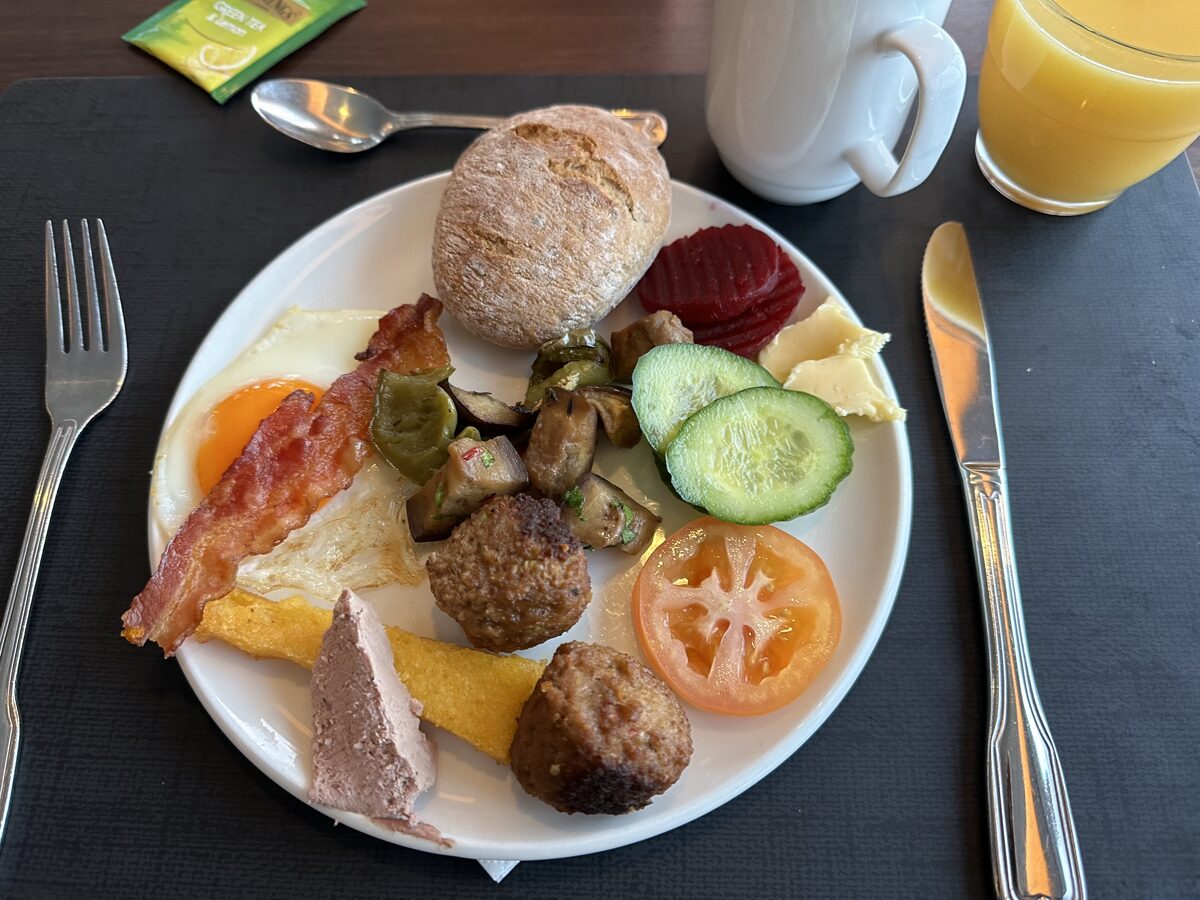 The sunrise was lovely and we knew immediately it was a good idea to take the ferry to get the most of the trip! The scenery was wowowowowow all the time!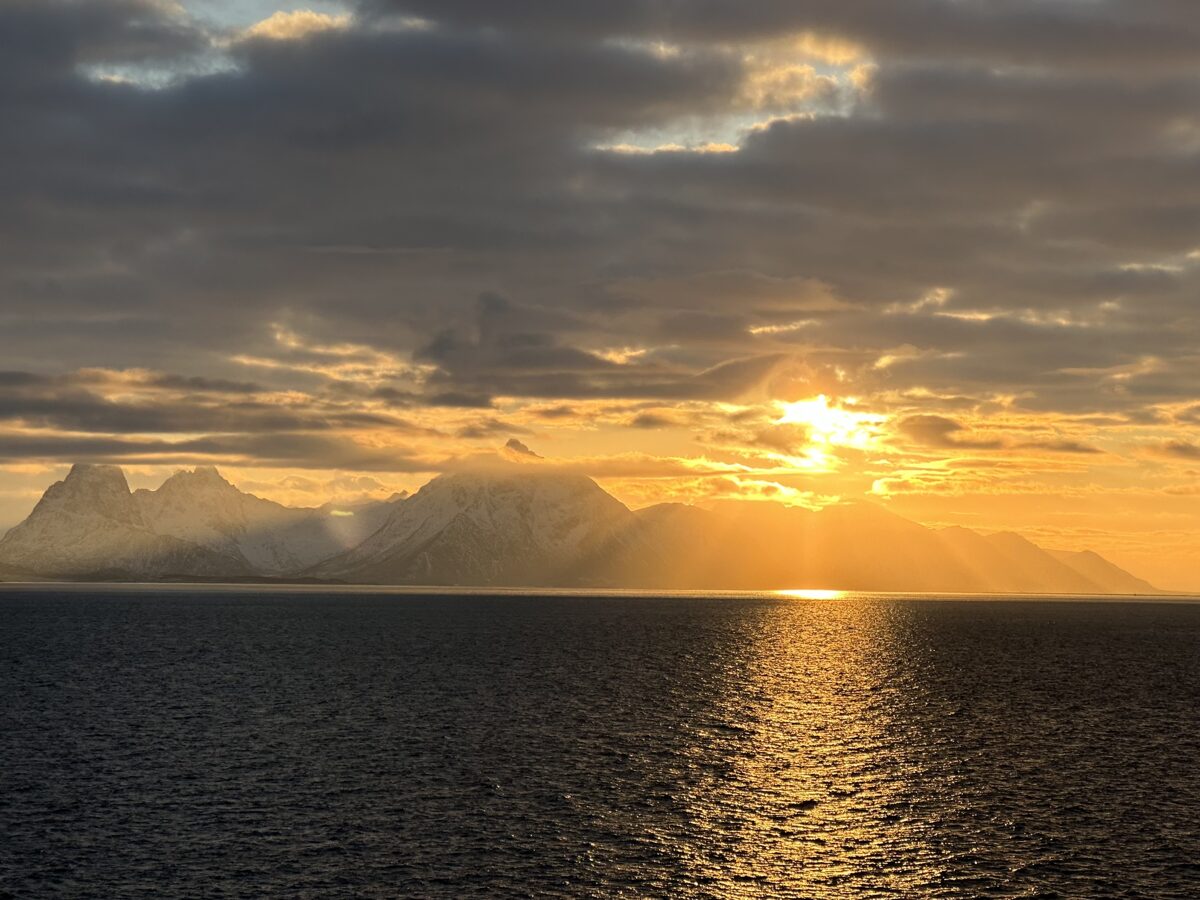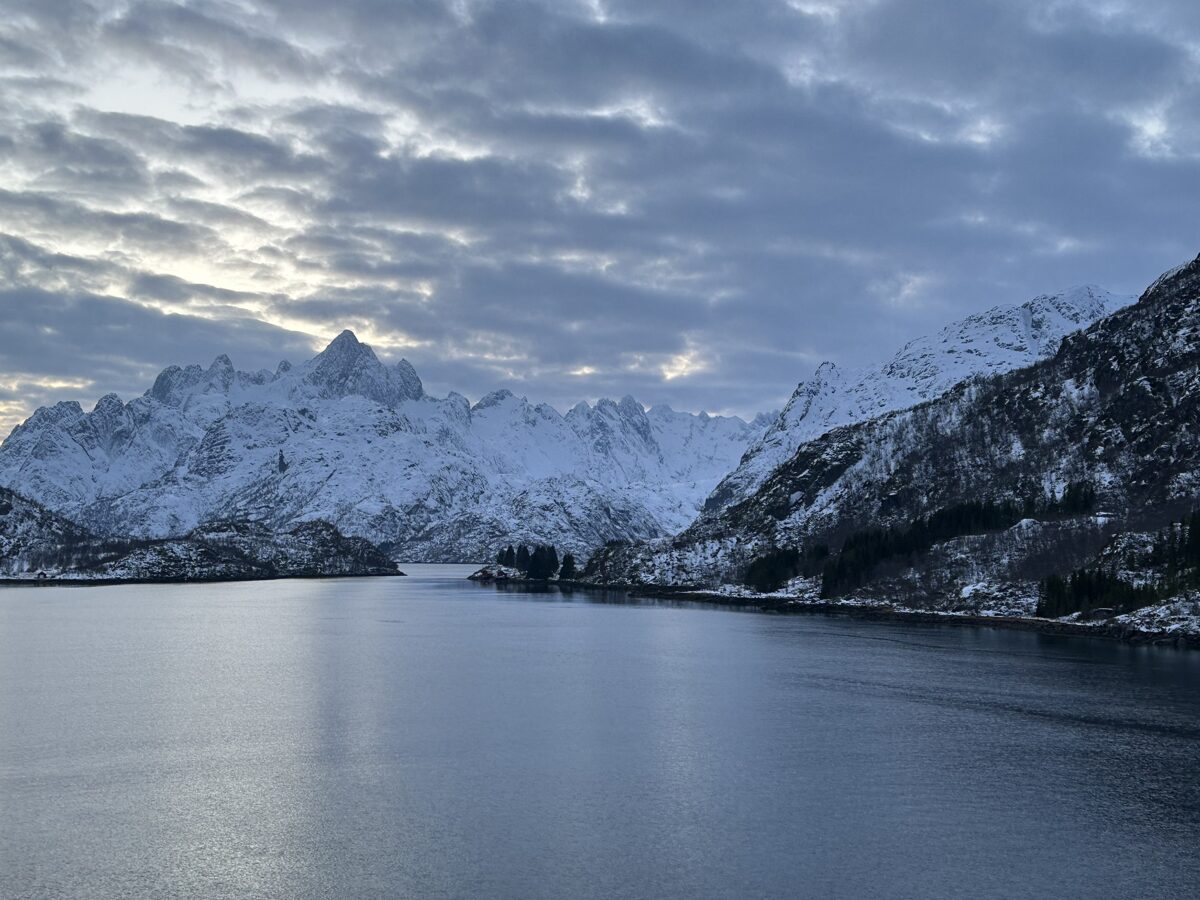 In our 8 day trip it was the sunniest day of alll. And... what is better than a hot tub with an amazing view? There was also a sauna (but no view). The hot tubs were quite popular during the day so we were happy that we went early.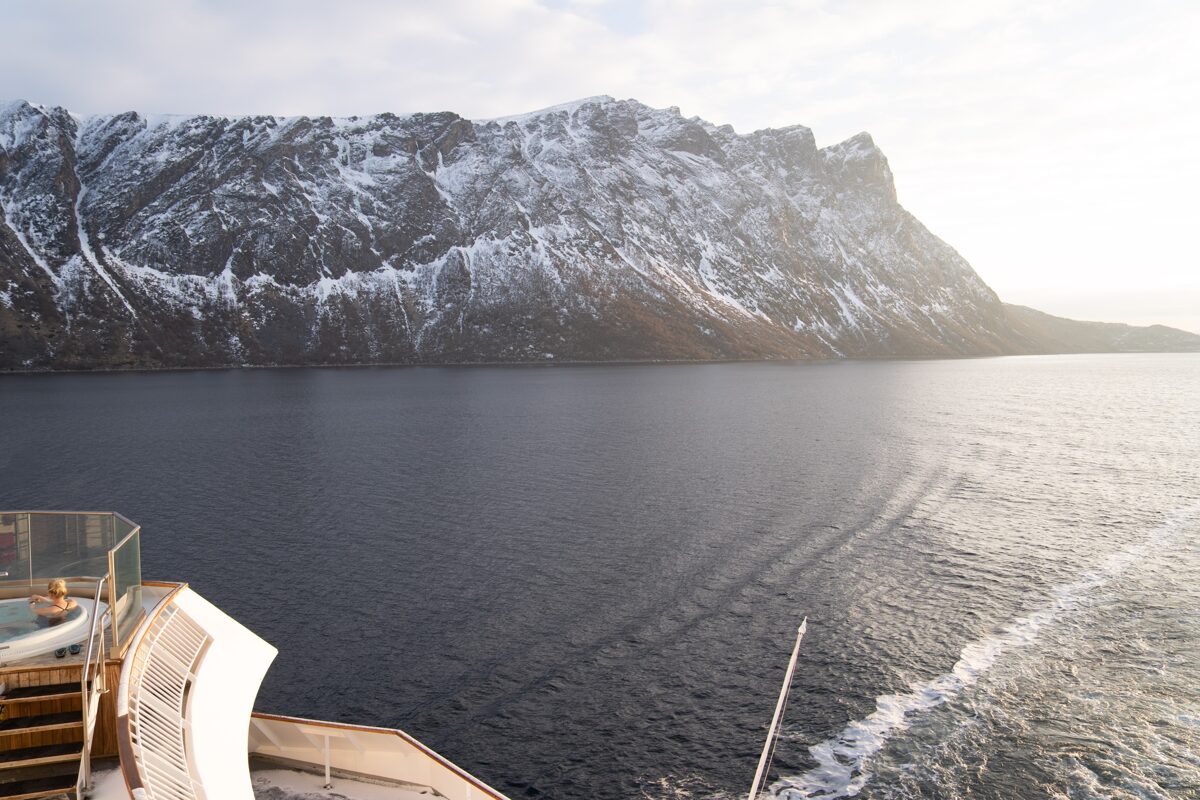 Hurtigruten is a 130 years old route that initially was used for post and goods transport, over the time it added the cruise options and now it's a mix of both. For the cruise you can travel north or south, it takes 11 days both ways. The cruise passengers were mostly older people. Usually there are some activities that people can do or, if there is a point of interest, there is an announcement and then explanation on the deck. We joined the flag waving (a coordinated action where passengers from the ferry would wave to passengers coming back from a day trip) and a Trollfjord party with waffles.
From Tromso to Svolvaer there are a few stops and only one is 1 h long at Stokmarknes. We thought it was a possibility to get some food, oh my... don't you ever go to Spar there! So be smart, enjoy what Hurtigruten has to offer!
During the summer months the ferry would go in the Trollfjord - a narrow and beautiful fjord, in winter we just went till the fjord and could have a quick peek into it.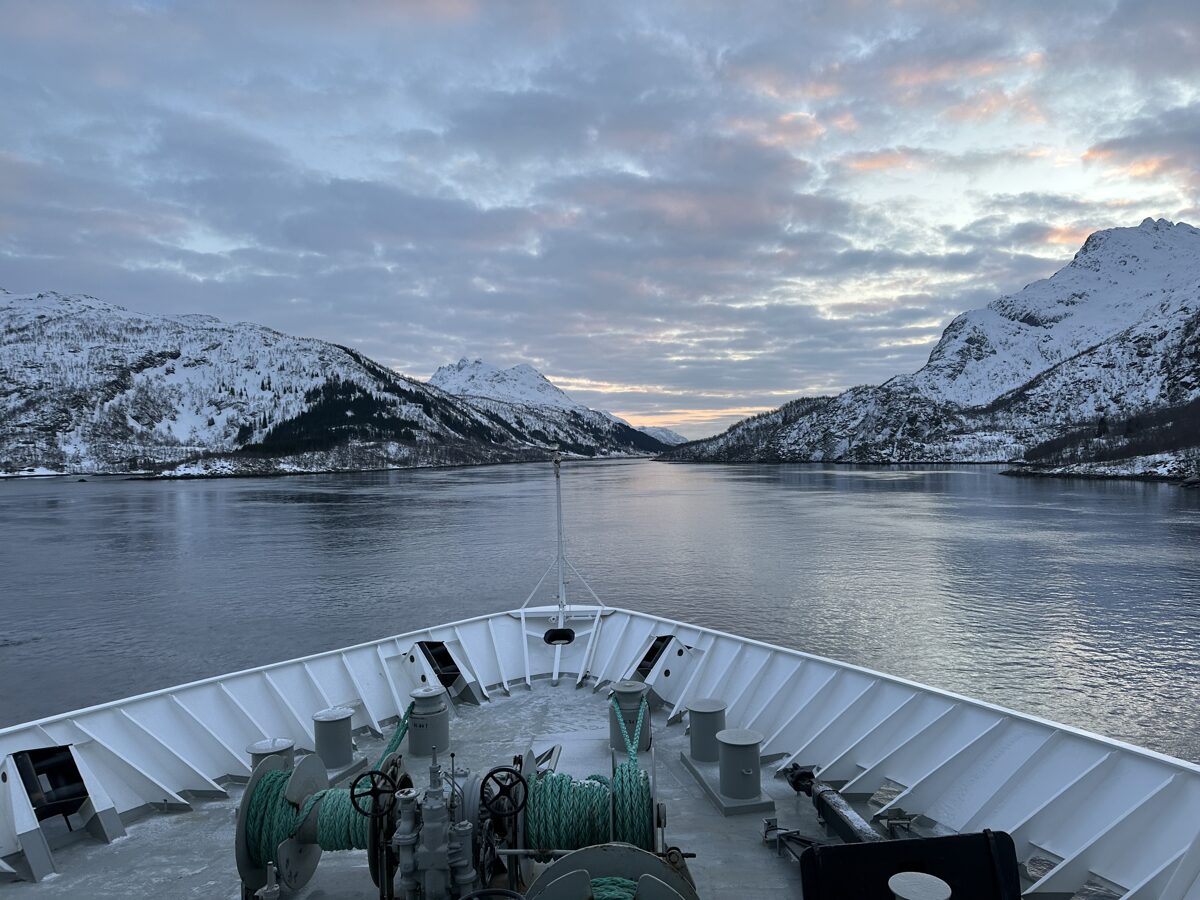 There is a whole bazaar around it though... There was a troll party at the open deck where you can get a troll drink and waffles with troll sperm... (that's how we called a weird but tasty pink topping...) Nobody really knew what the troll drink was, some said it was tea with a shot, some said it was a hot chocolate... well, all we wanted was to get the cute mug! We did but with an effort and it's probably the most expensive tea ever :)
We thought that the ferry ride would feel very long but it did not! The amazing scenery just keeps you busy all the time and you can change the location for the best views.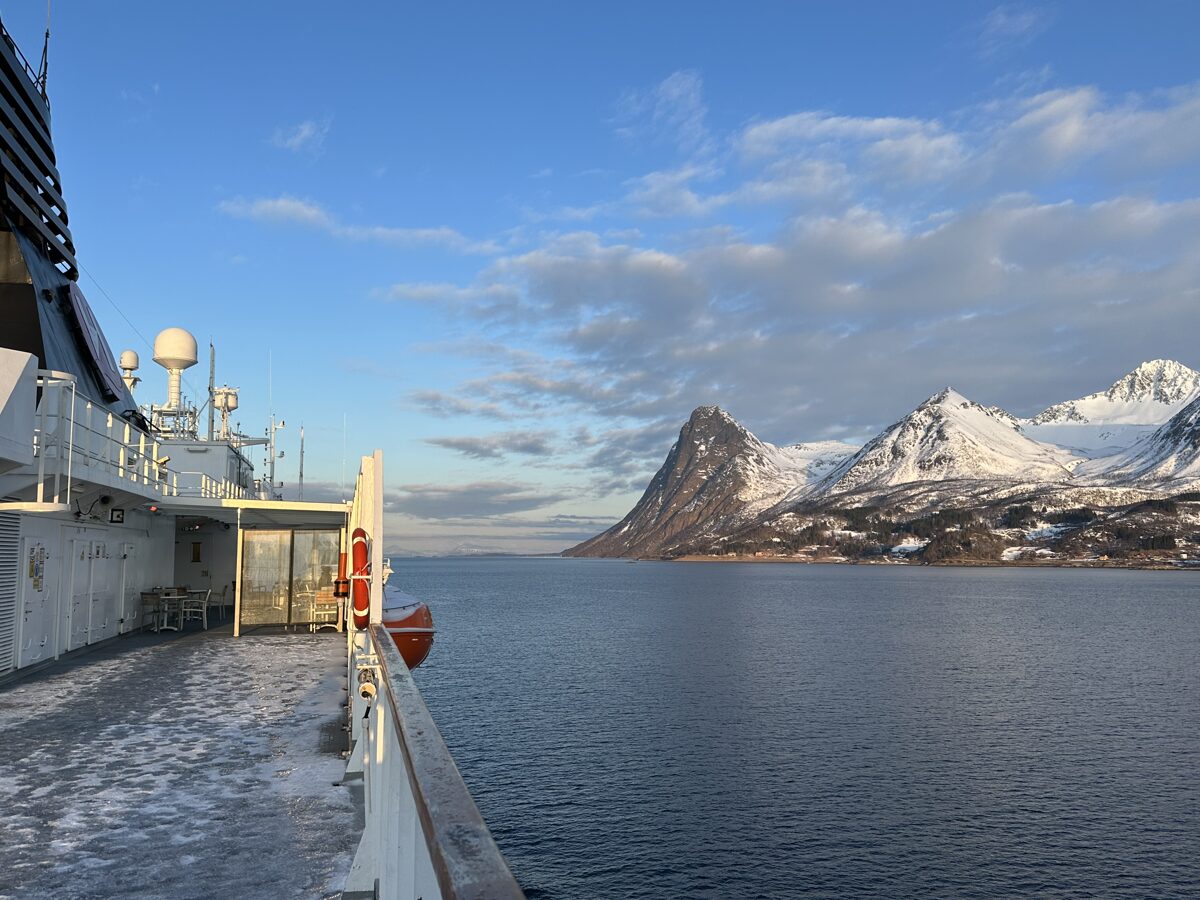 We arrived in Svolvaer around 18:00 and it was already dark. We stayed at the Smart Hotel just in front of the port - a perfect place and location if you just want to crash and have a good night's sleep. The town felt very sleepy in the evening without much action.
The next morning we picked up our car at Hertz and were ready to explore. The weather was still amazing so we decided to get the best of the day.
The first stop was at Henningsvaer. There is a big chance you have seen the very famous football field from the top. Note, drones are forbidden there but we saw some people using them.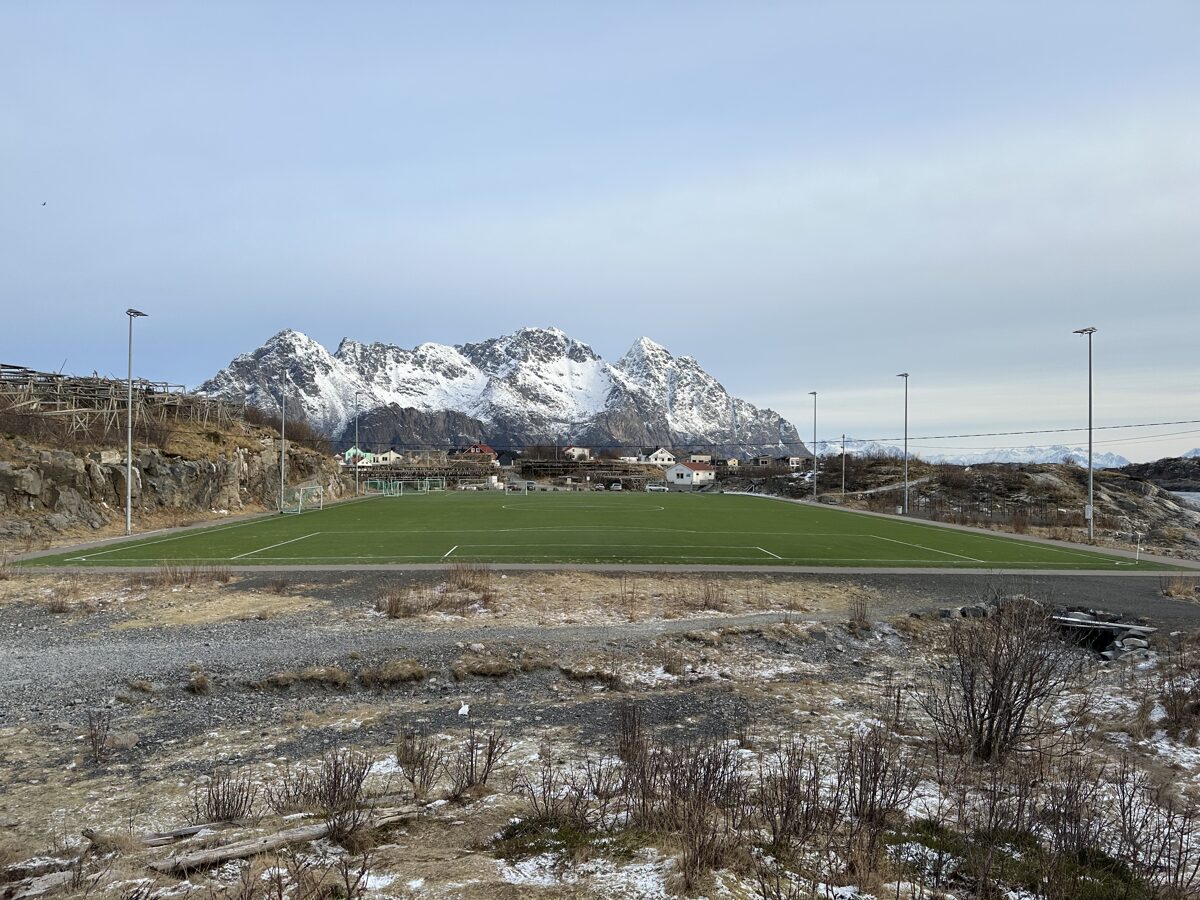 The village itself is really charming!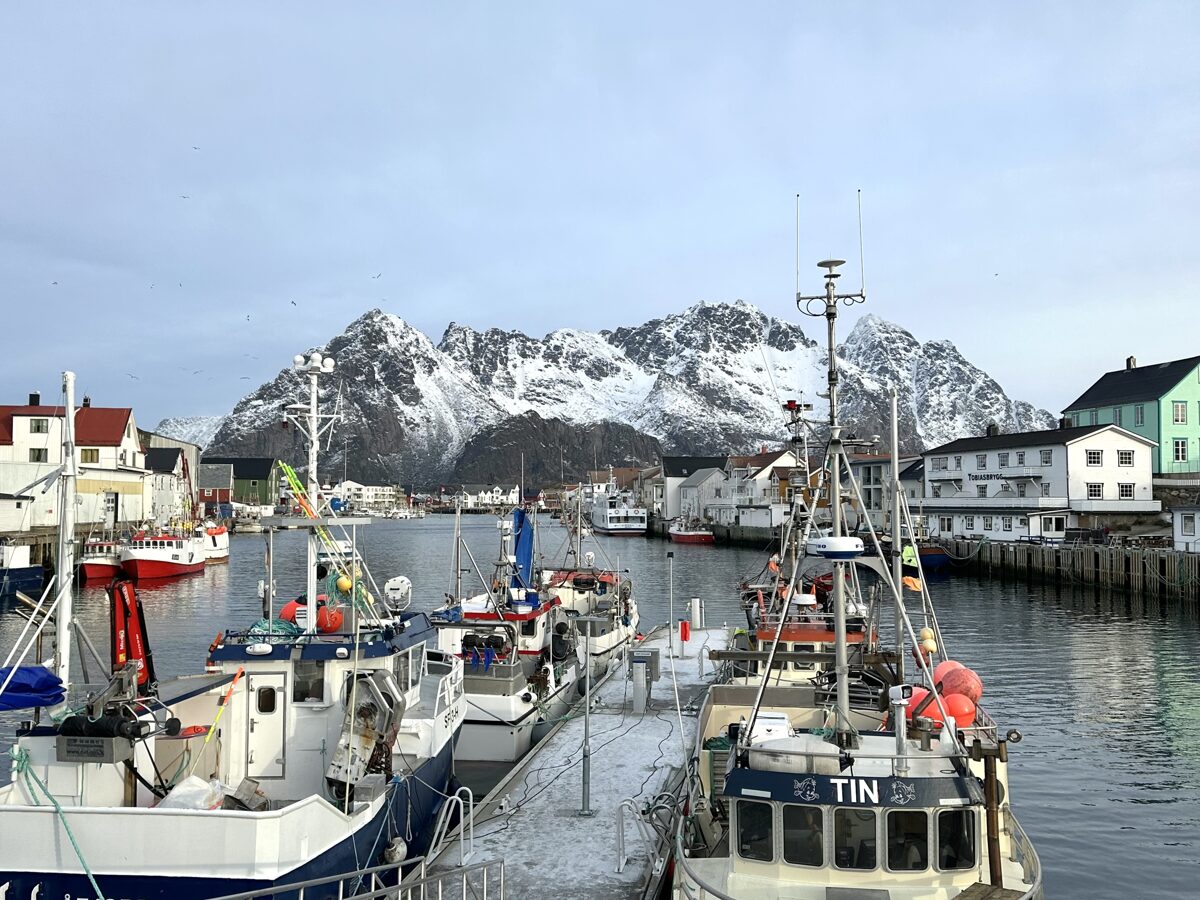 We were attracted immediately by the stacks of fish hanging there! Fresh fish were being hanged next to the ones who had been there for a while, so it was an impressive sight. Could feel the smell, of course, but was not too bad. Stockfish is considered "money that stinks" in Lofoten as it made the region very rich. Lofoten is a perfect place to dry the fish - it's not too cold that they would freeze and not warm enough that they would rot. After they have been dried in the wind, they stay a few months also indoors. Then the most of them are shipped to Italy and Algeria!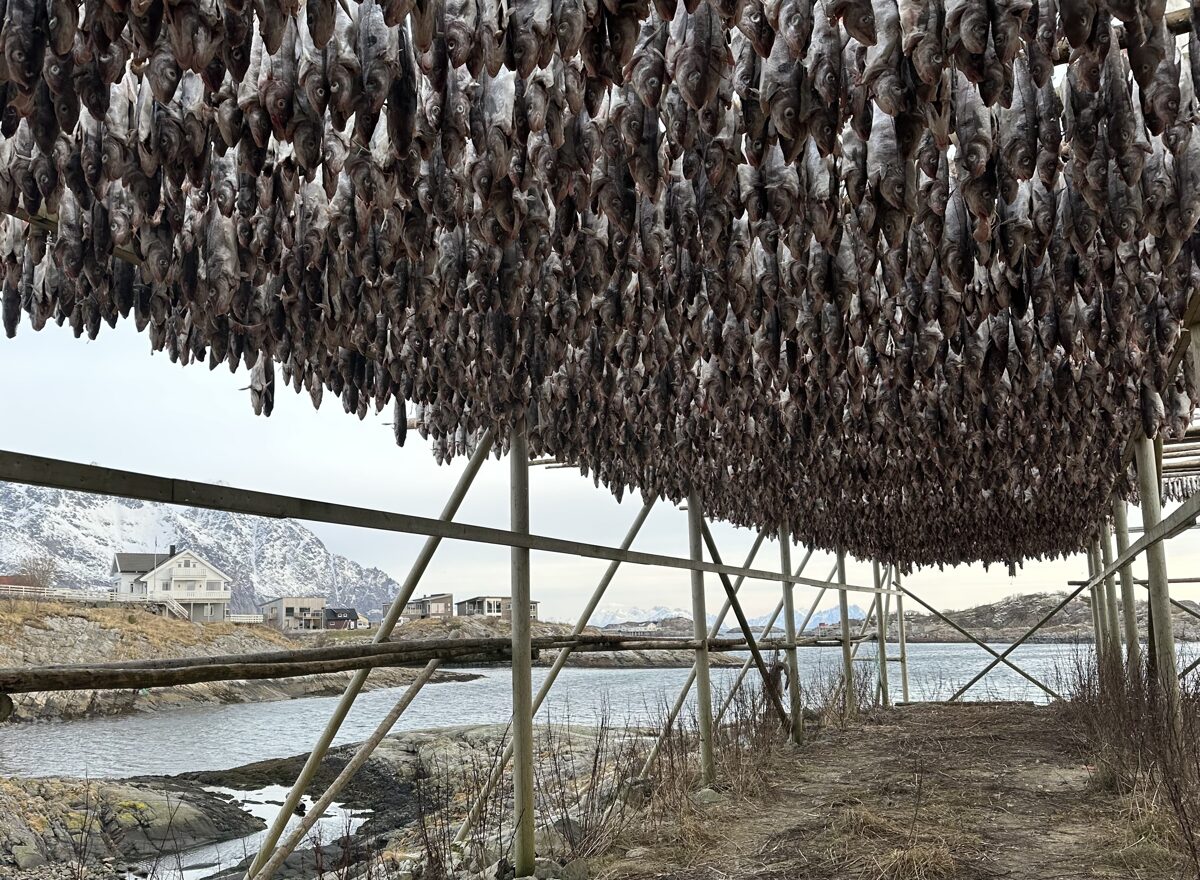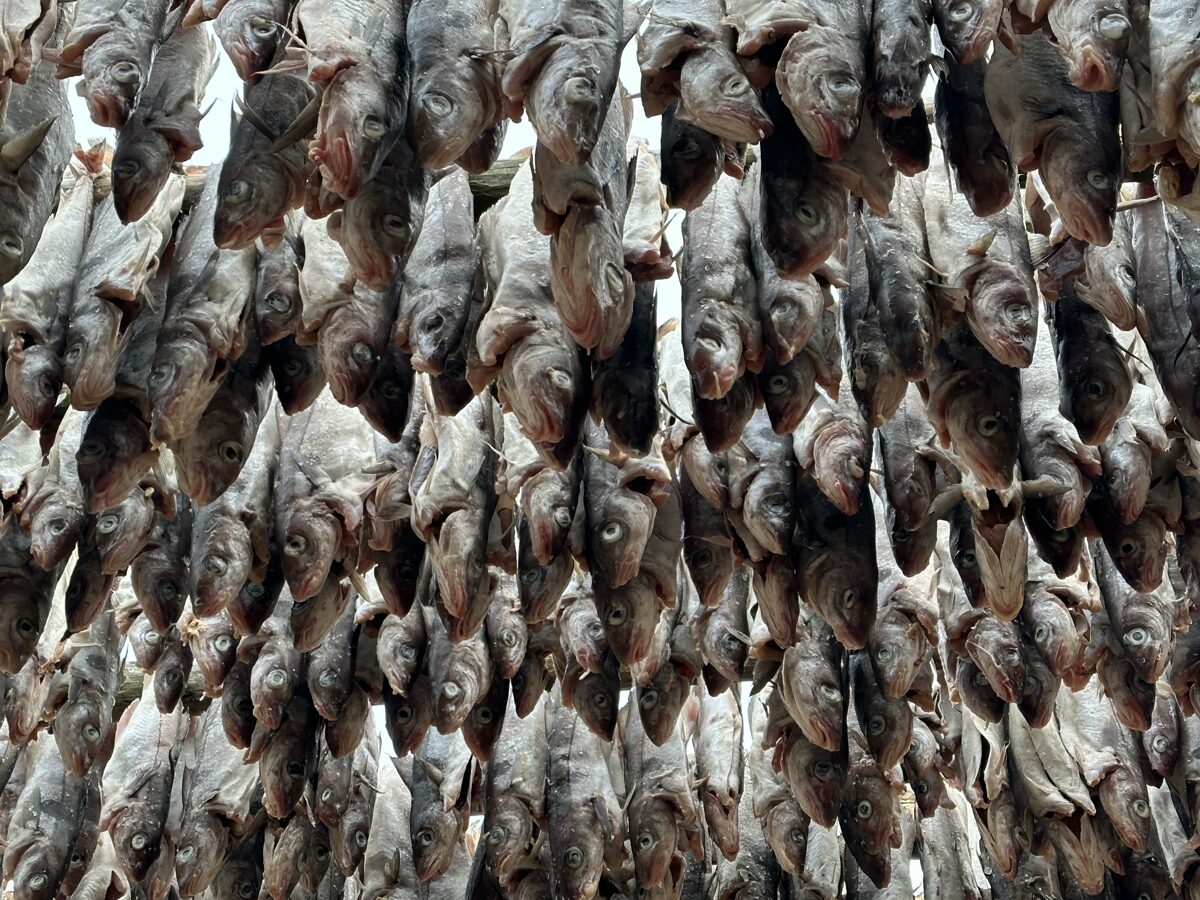 Our final destination for the day was Reine. We stopped at Leknes to get some food and cinnamon rolls and then headed to Uttakleiv beach. The weather was starting to change. When we got to the beach the wind was extremely strong. We still managed to walk a bit in the direction of Haukland beach - crampons were a must! Note that there is a parking fee.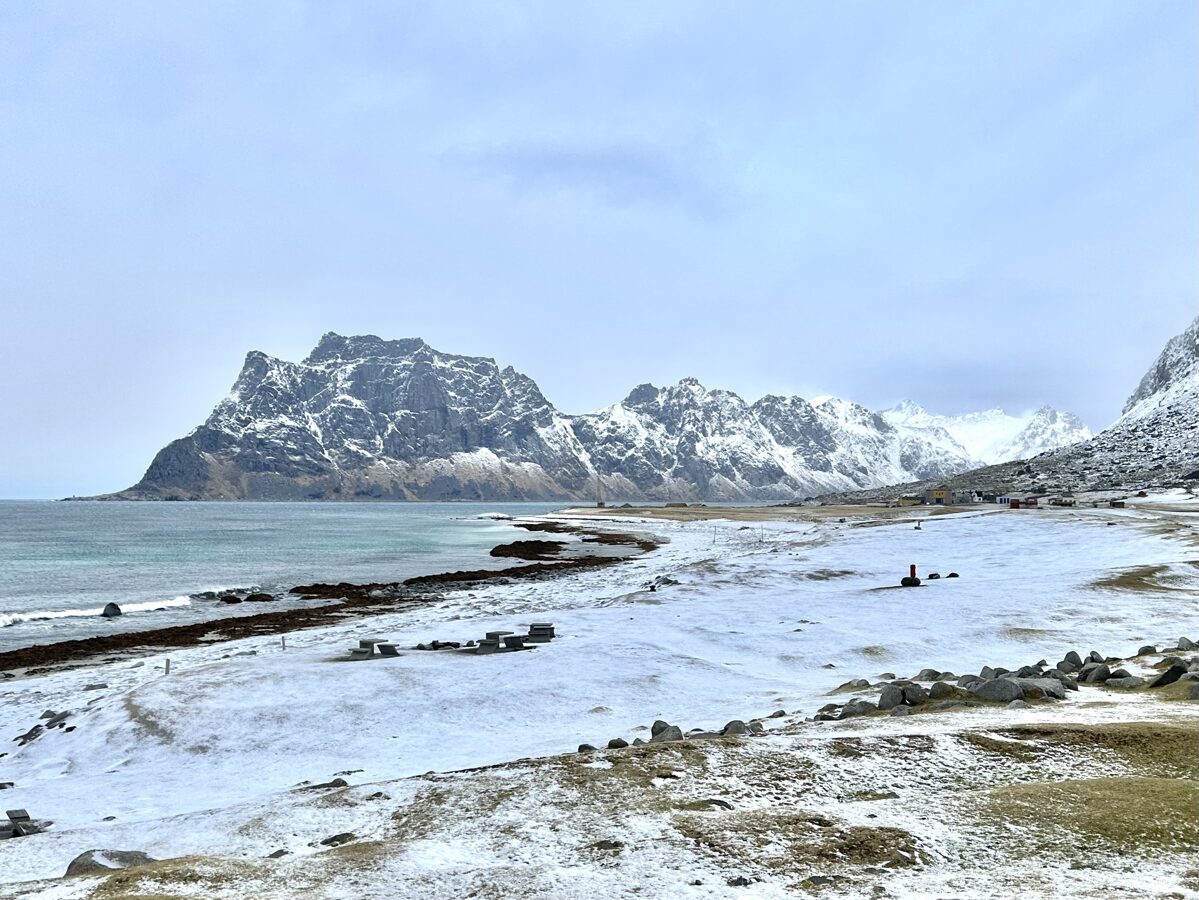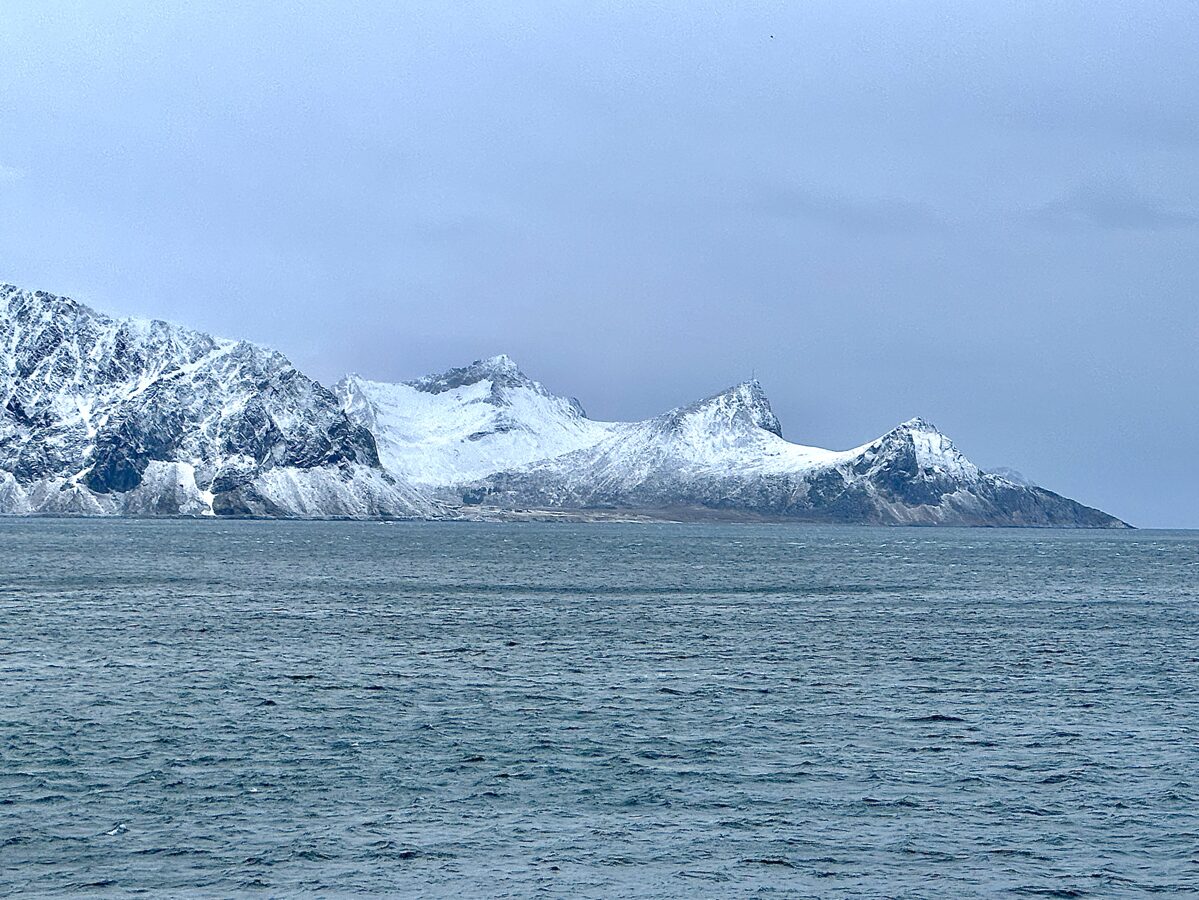 Haukland
beach offers wonderful views, it was extremely windy though when we got there.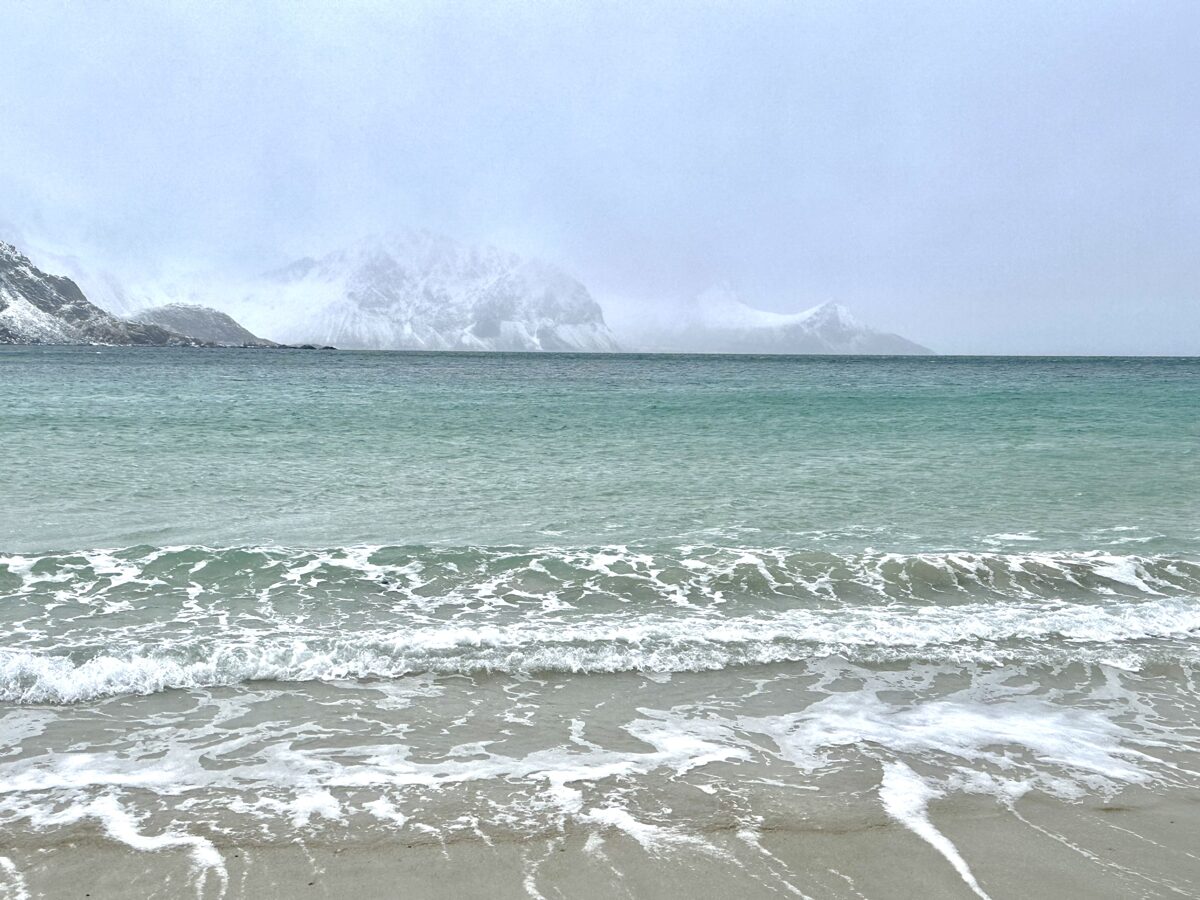 In Reine we stayed at May's - we could not wish for a better place, an amazing view and very comfortable. This was from our window!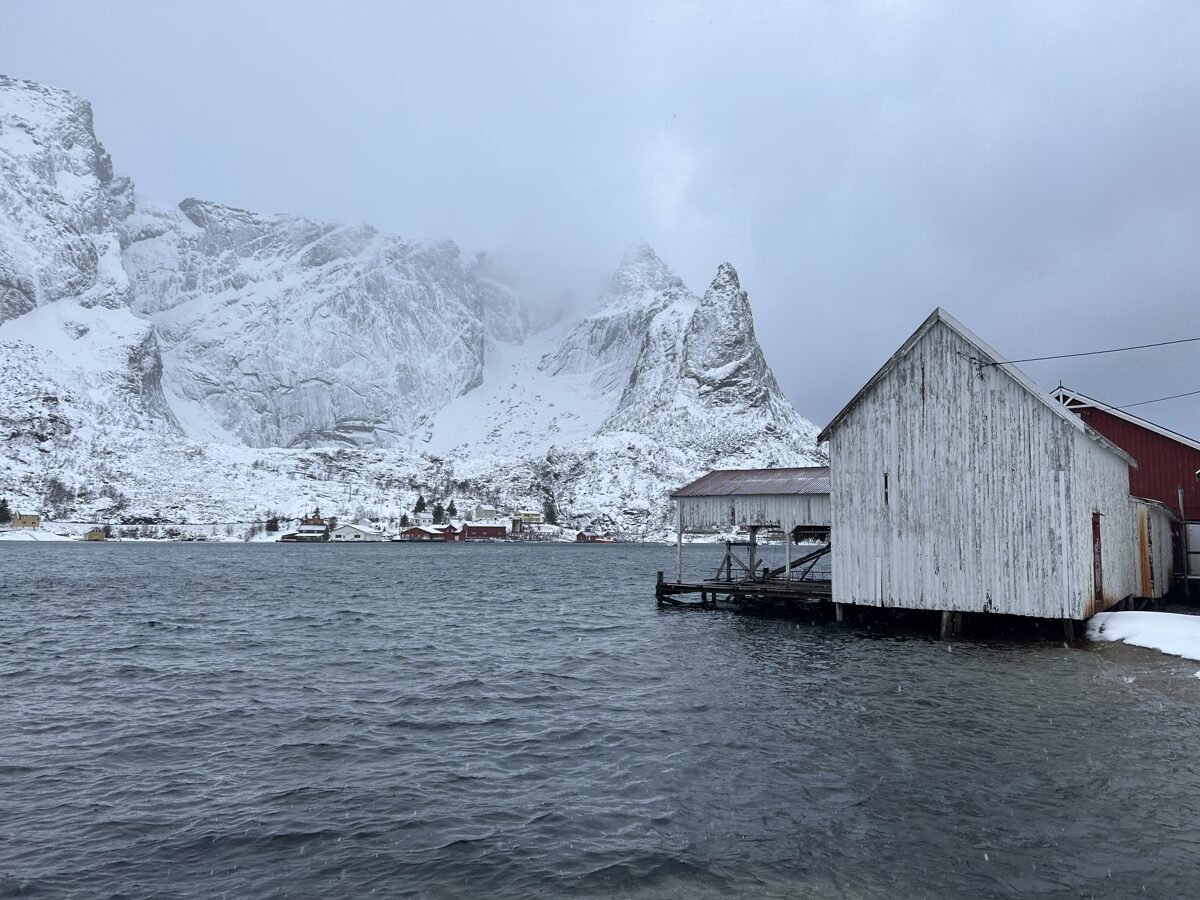 The next day the weather was not very cooperative, so we just decided to hang around and check out the village. Reine is really picturesque and you see a postcard wherever you turn.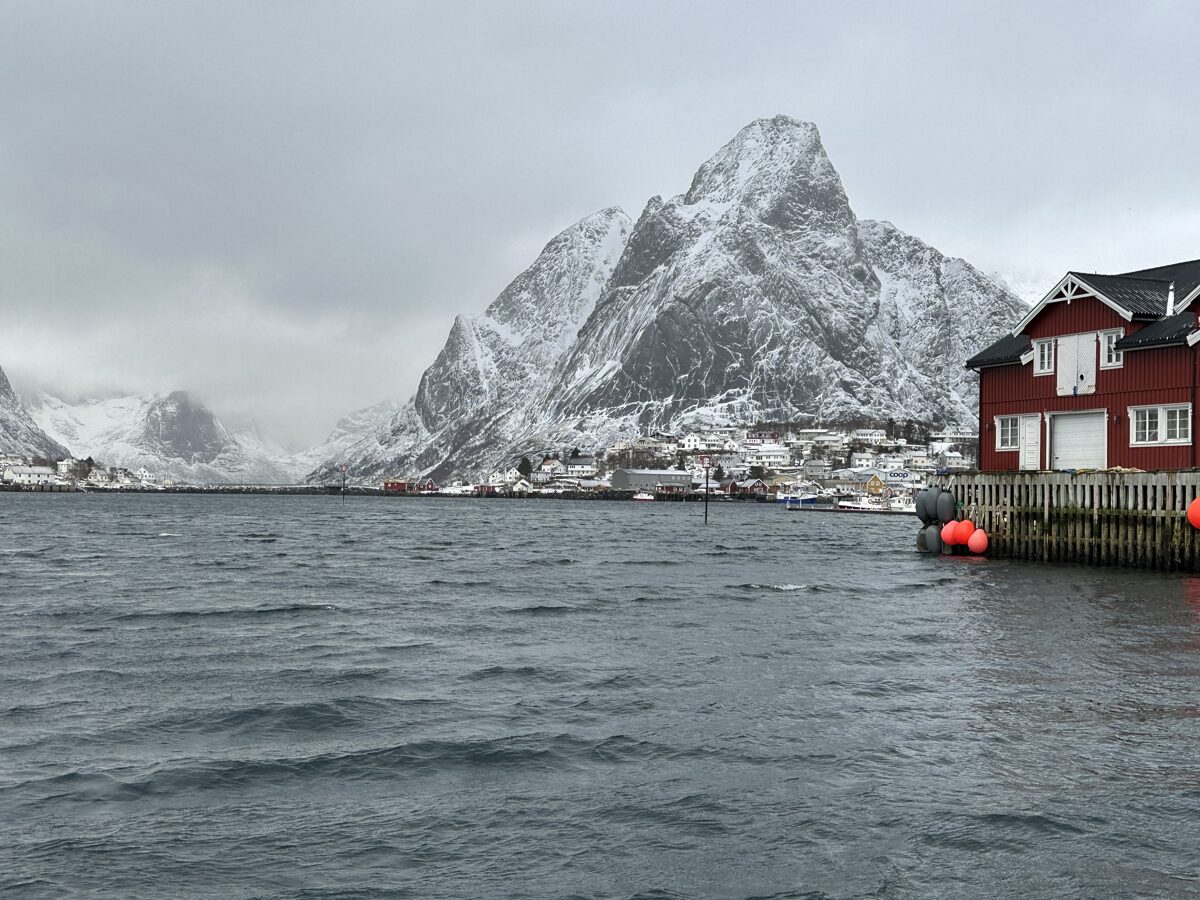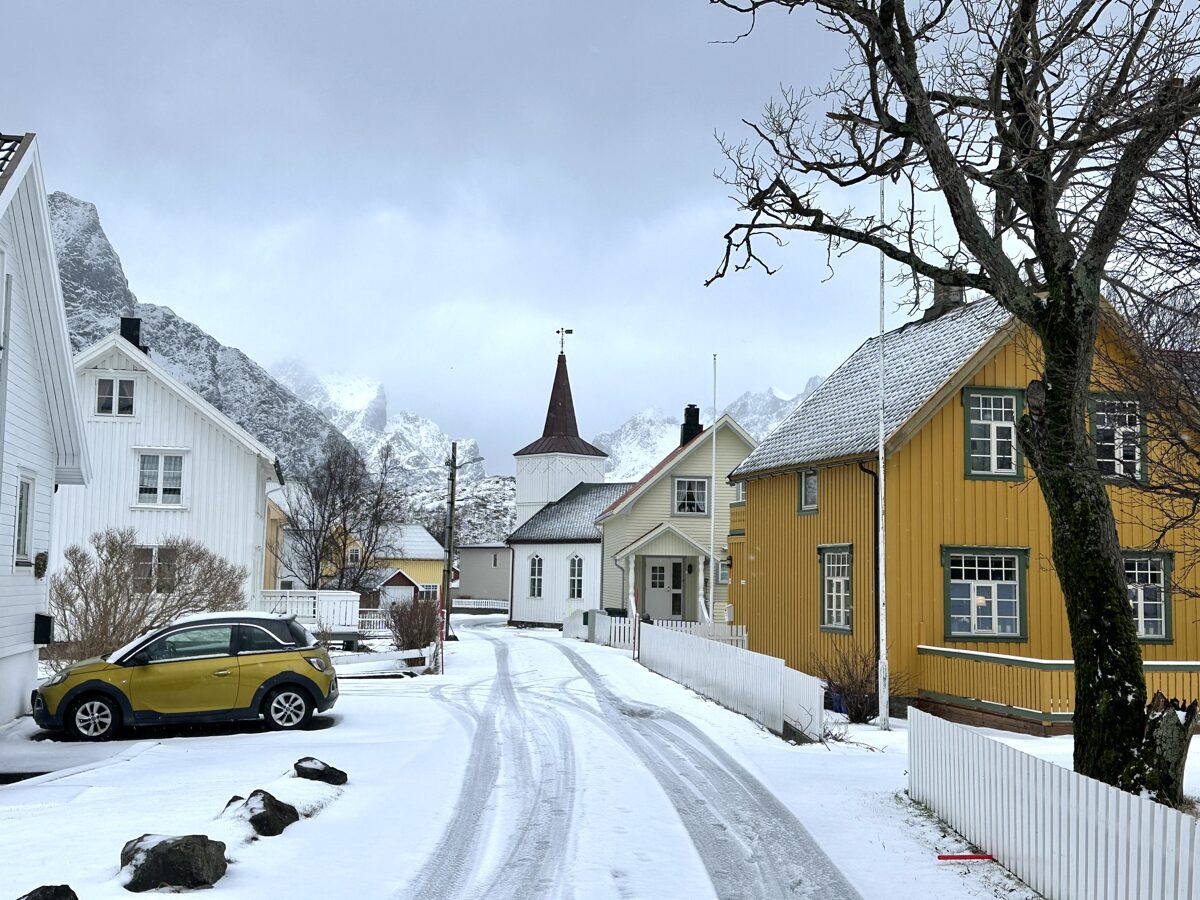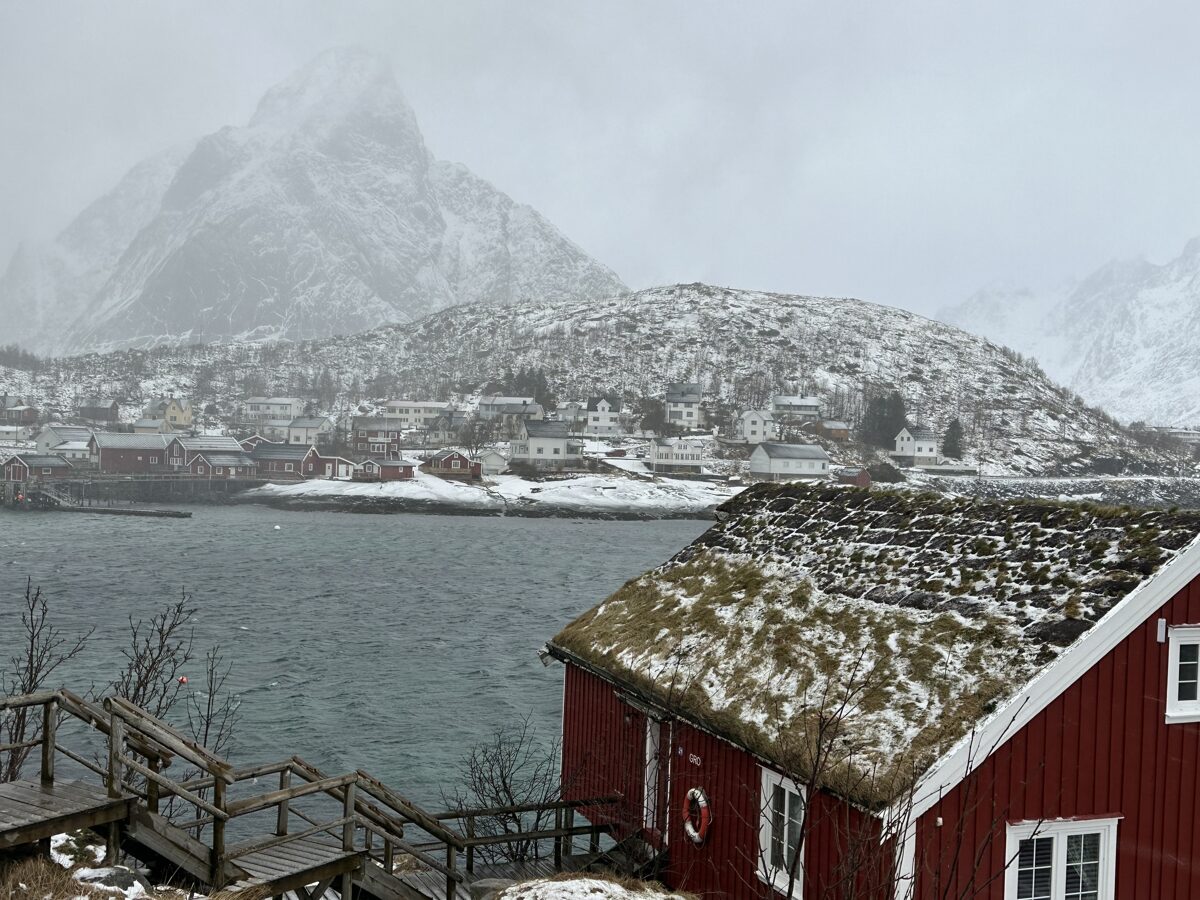 Seeing the size of the main parking, can just imagine how crazy it becomes in summer. By the parking there is a yoga studio with a lovely sauna! To check out next time! As winds and snow were coming in, we took a refuge in the only coffee place in Reine - Bringen. A very good vibe and everyone else had the same idea so it got rather full. The weather was constantly changing and when it cleared up, we went to THE postcard place - Hamnøy bridge. It was full of photographers each trying to get the perfect shot. I think I was the only one with a phone 🤭.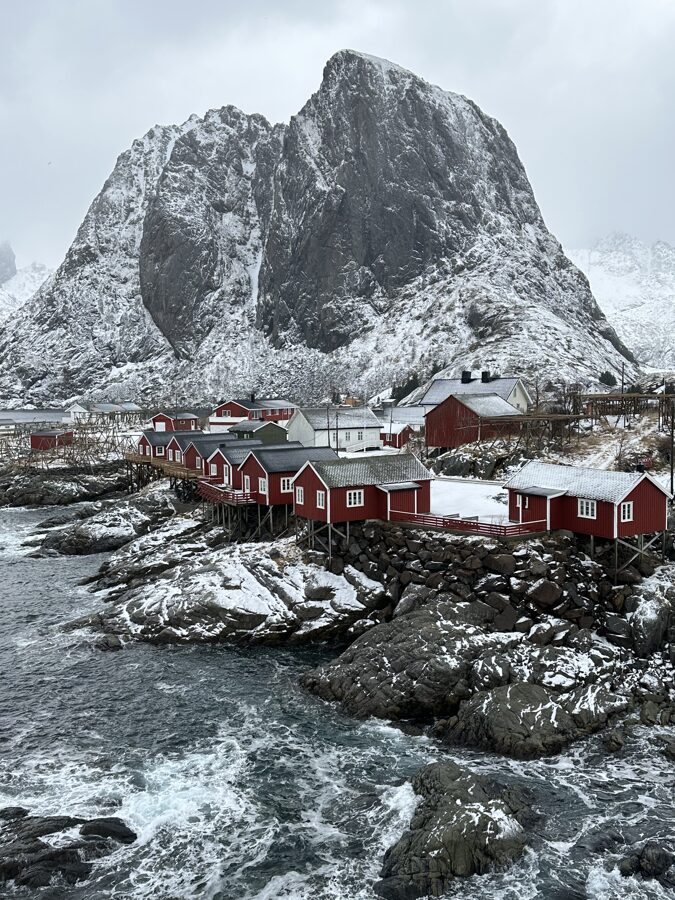 We also checked out Sakrisoy.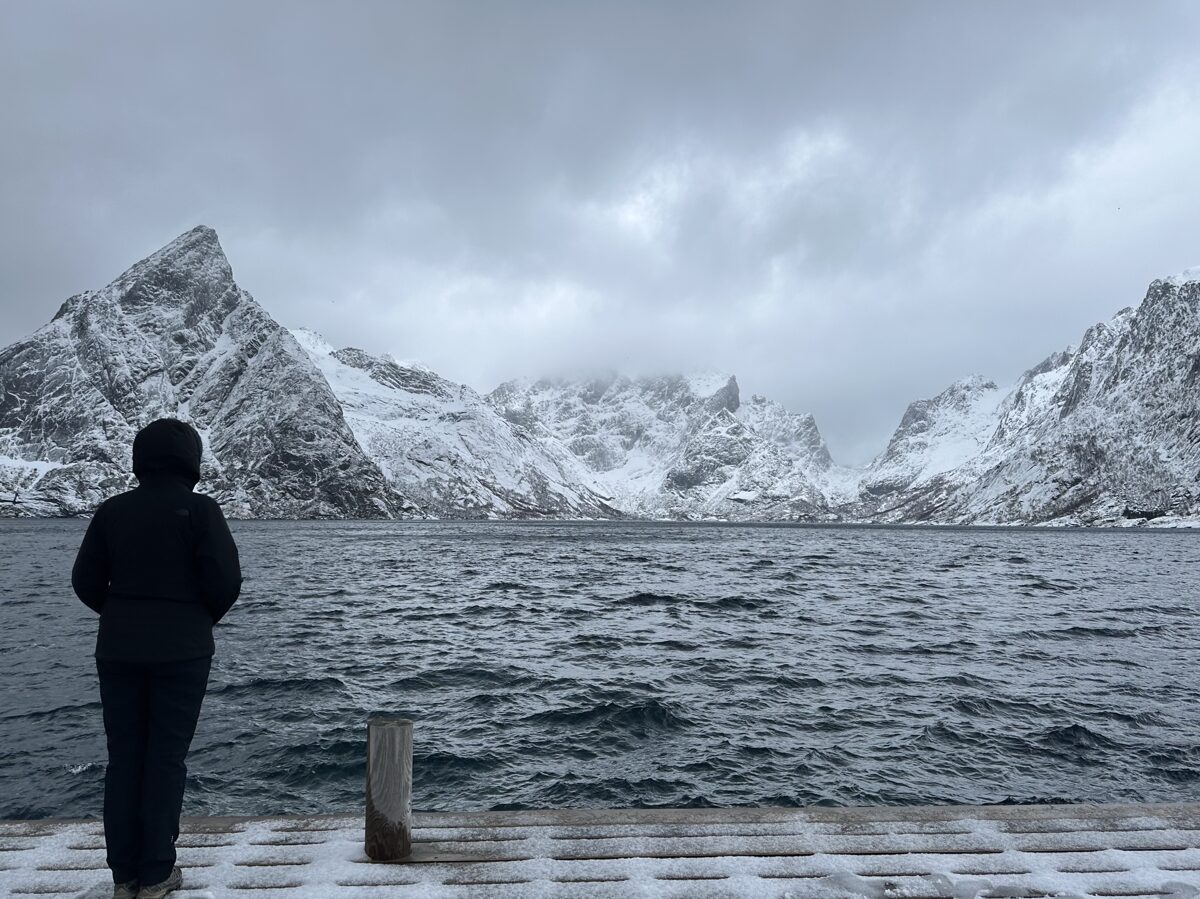 As the weather did not look so bad anymore, we decided to go and check out Å. Ahaaaa… It's the last village in Lofoten where you can get by car. Nothing more special than anywhere else but still a nice place to walk around. We even got a bit of a sunshine!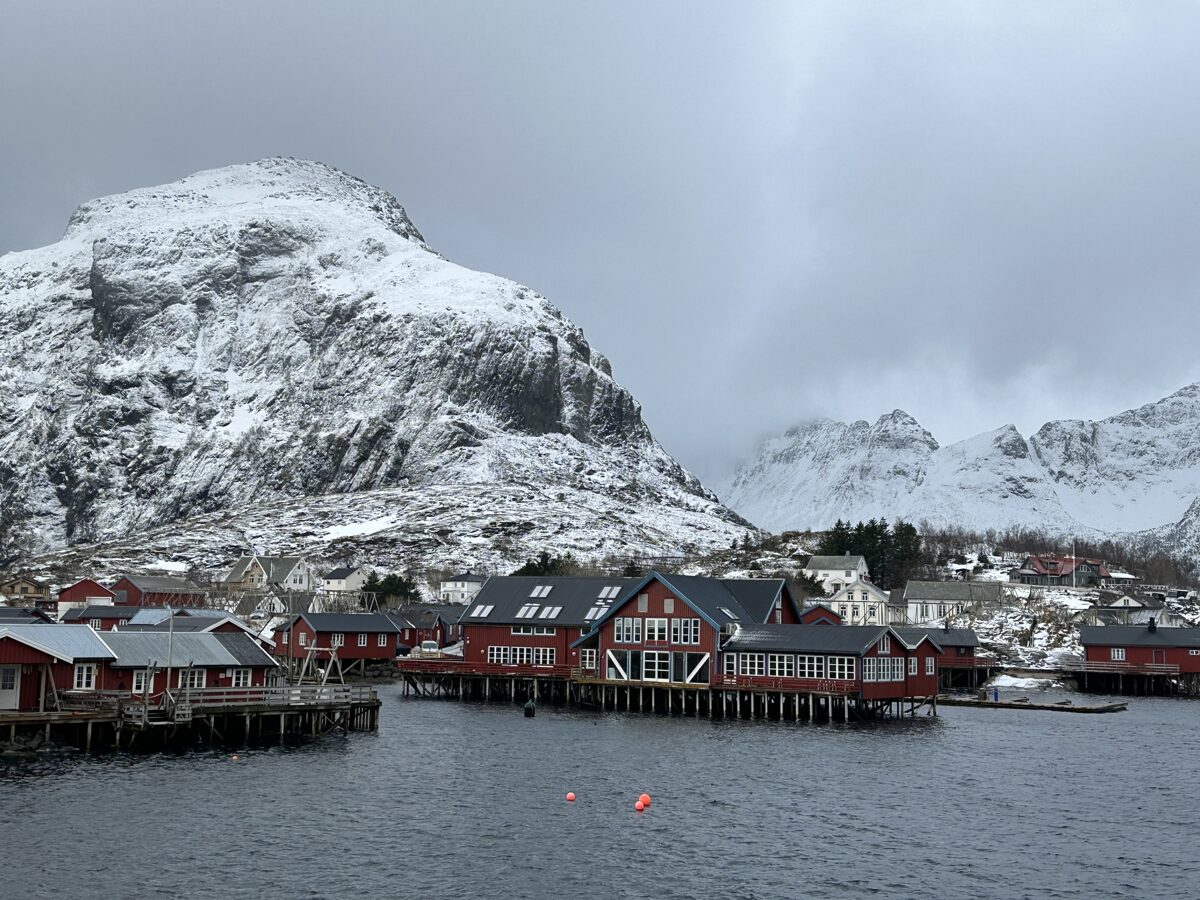 The night was cloudy and it was snowing. Still we got a very short glimpse of NL but it was not much. It was like showing a chocolate to a kid - it's there but the shelve is too high to get it! Agrrrrr…
The next day the weather was not stable again and we thought we would just see where the road brings us.
We went up the viewing point in Sakrisoy as suggested by a friend. It was really beautiful!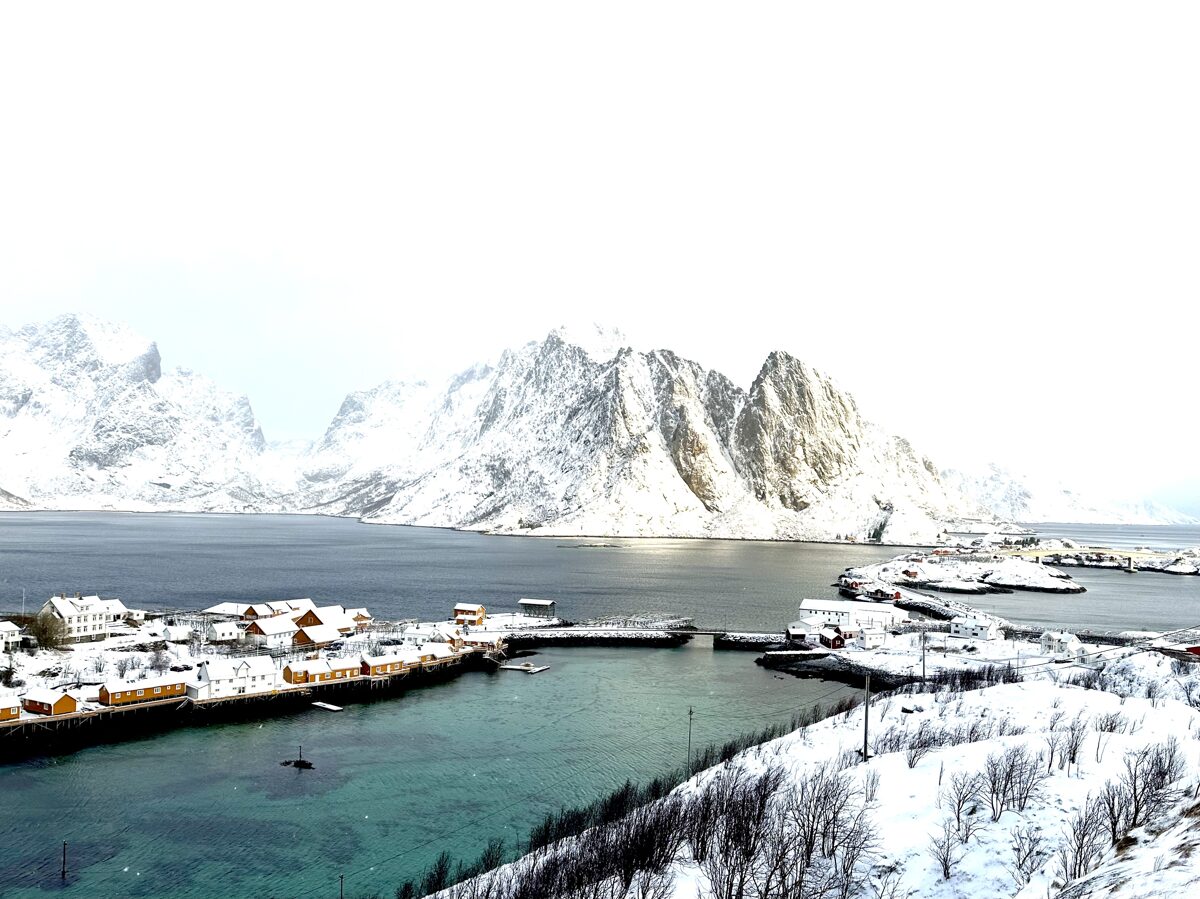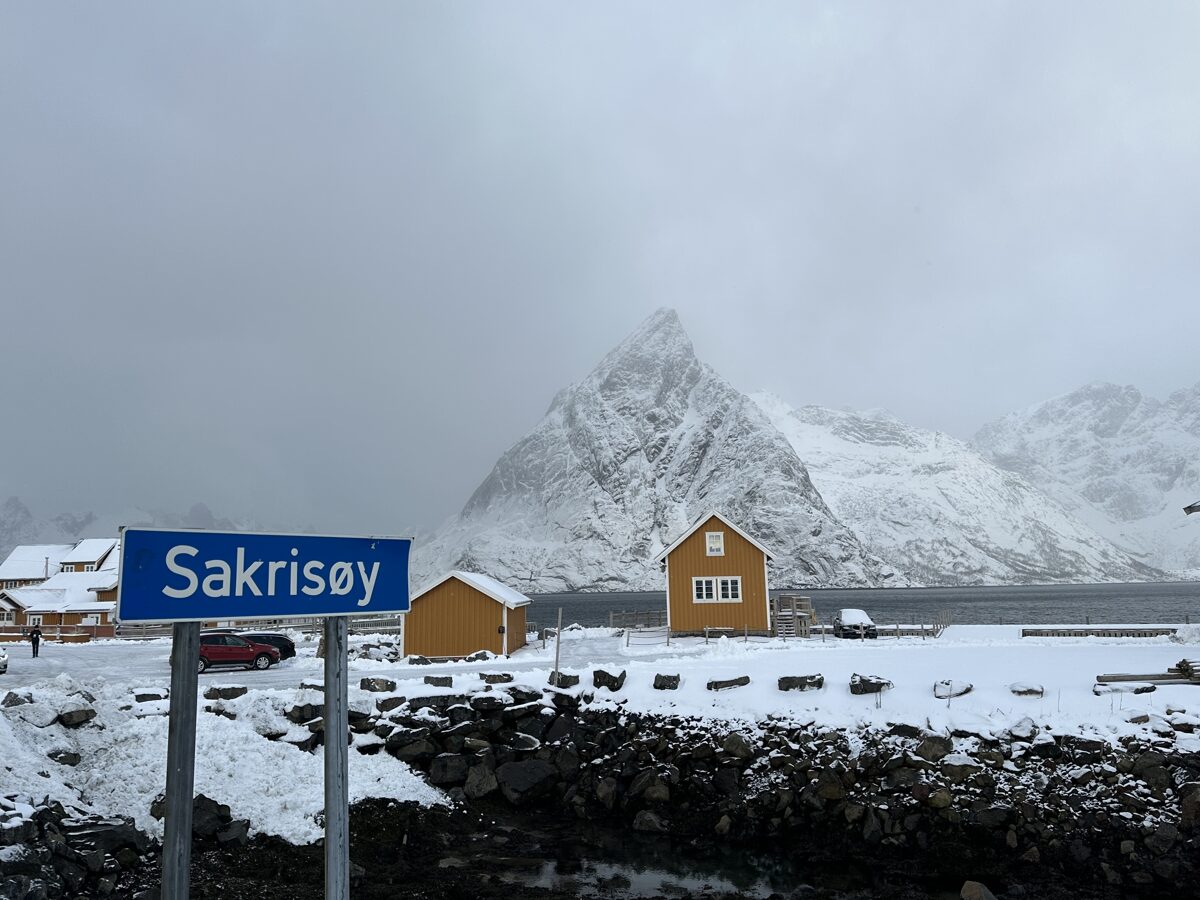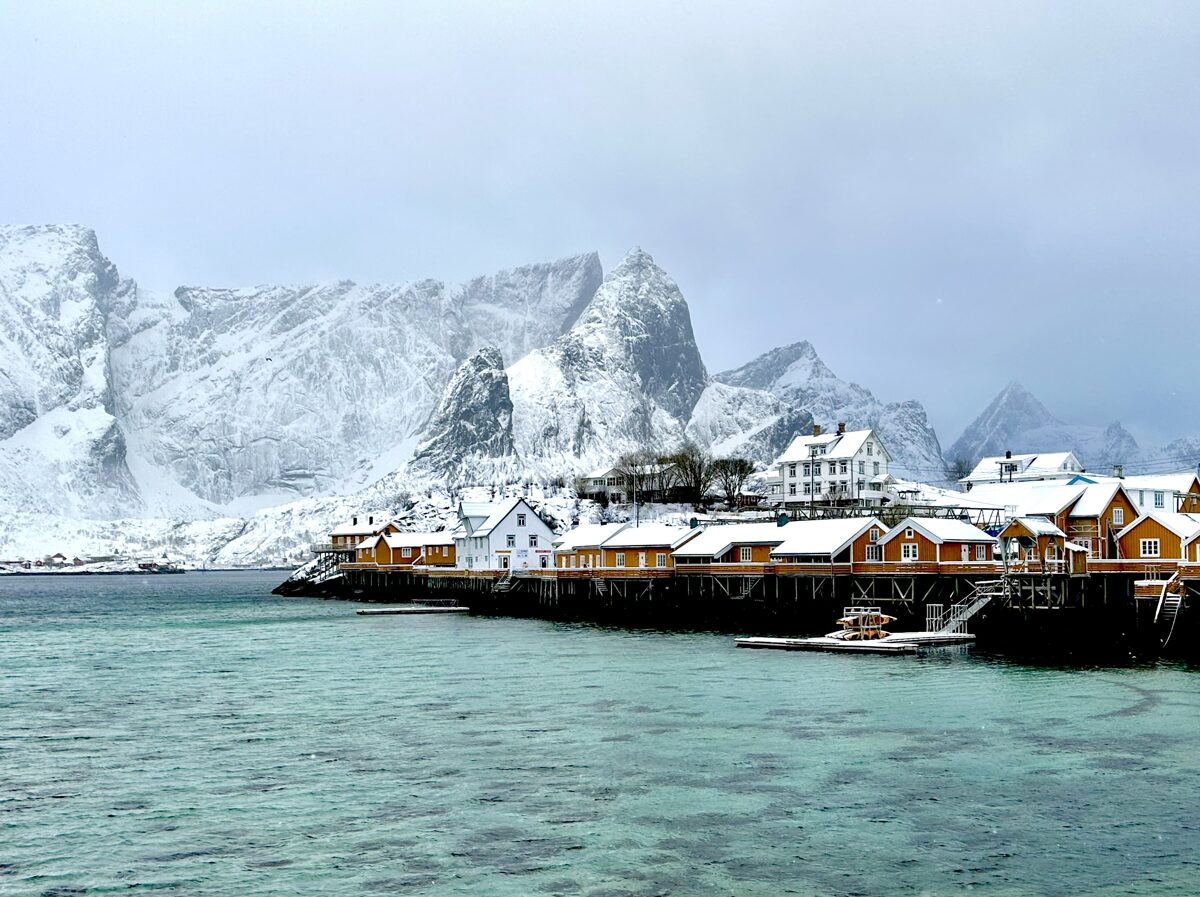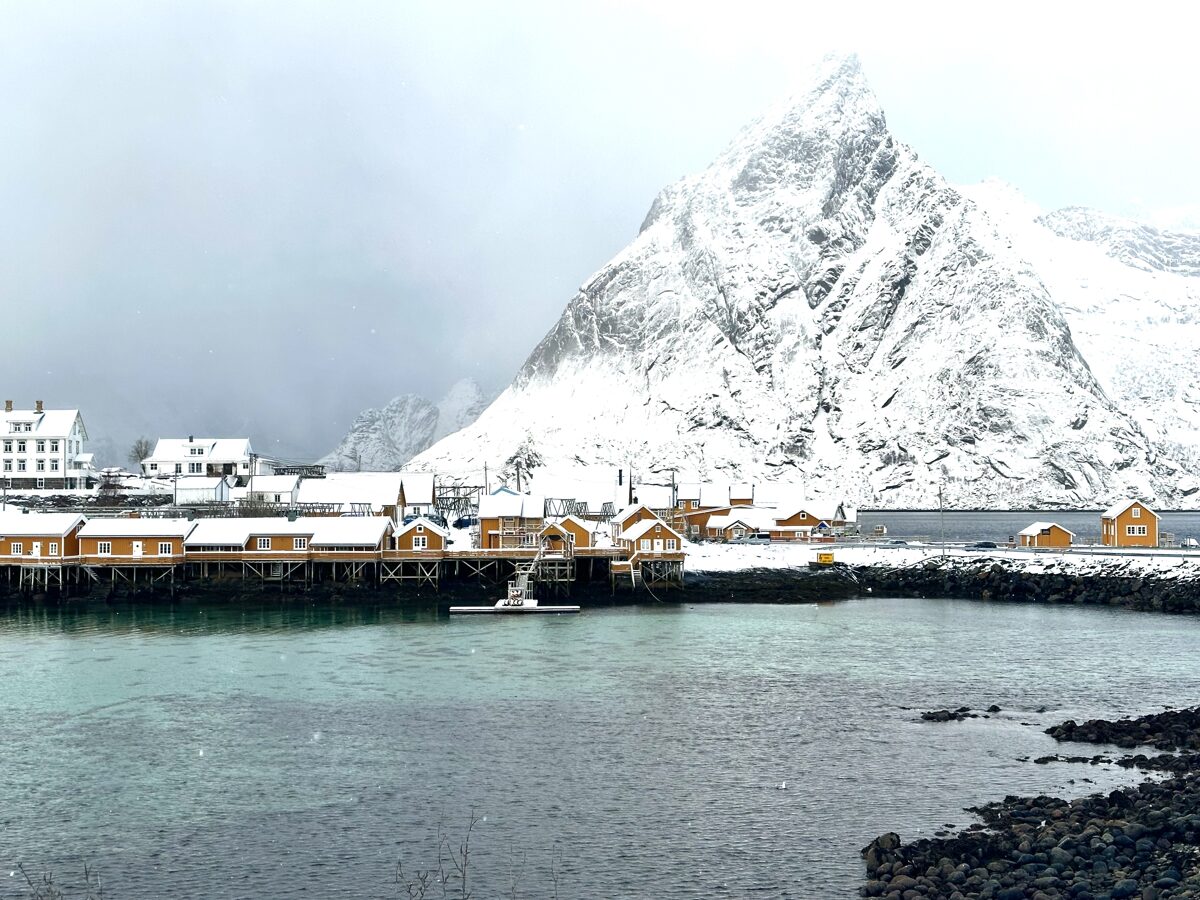 We also spent quite some time at the Ramberg beach. It was partly sunny, we could spot the sea eagles and we just could not get our eyes off the arctic blue.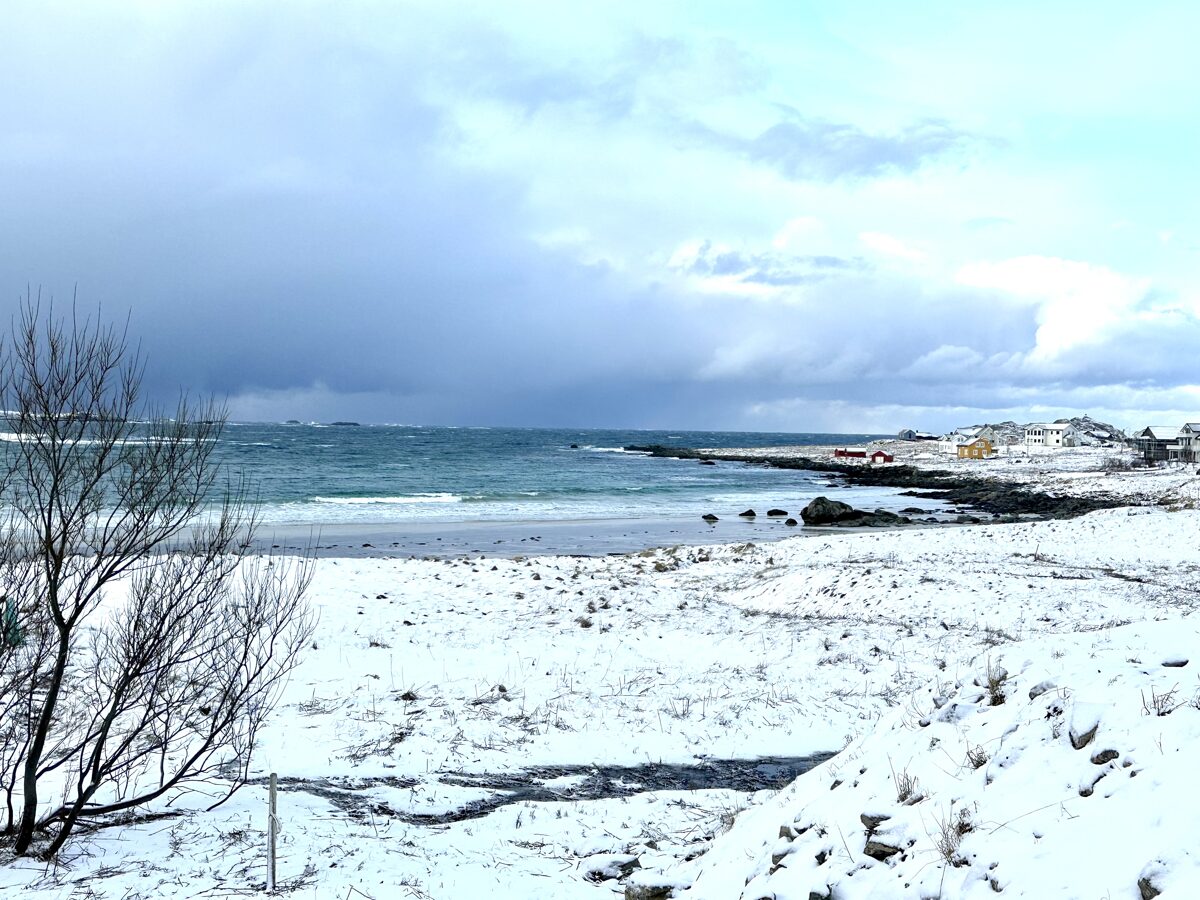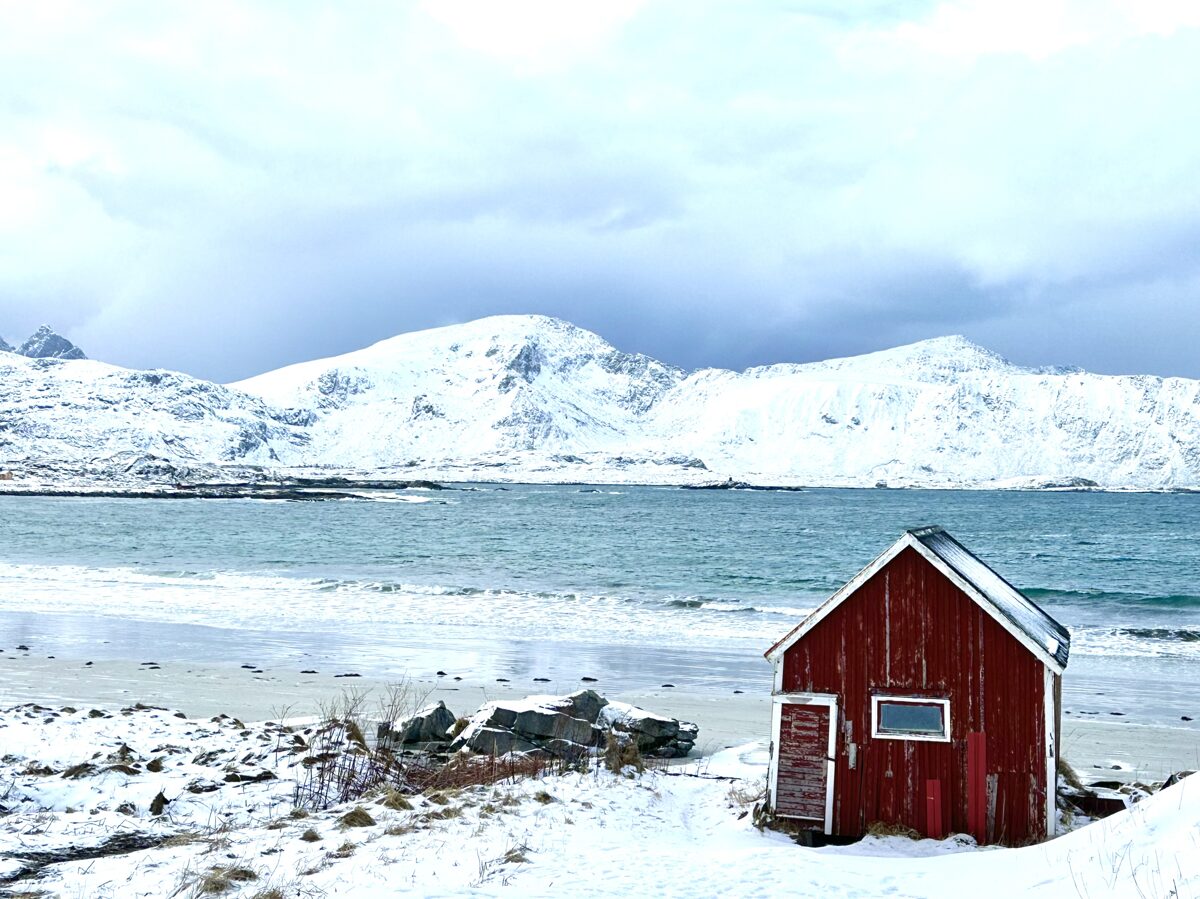 We had the beach for ourselves for a while and then all the cars and buses arrived.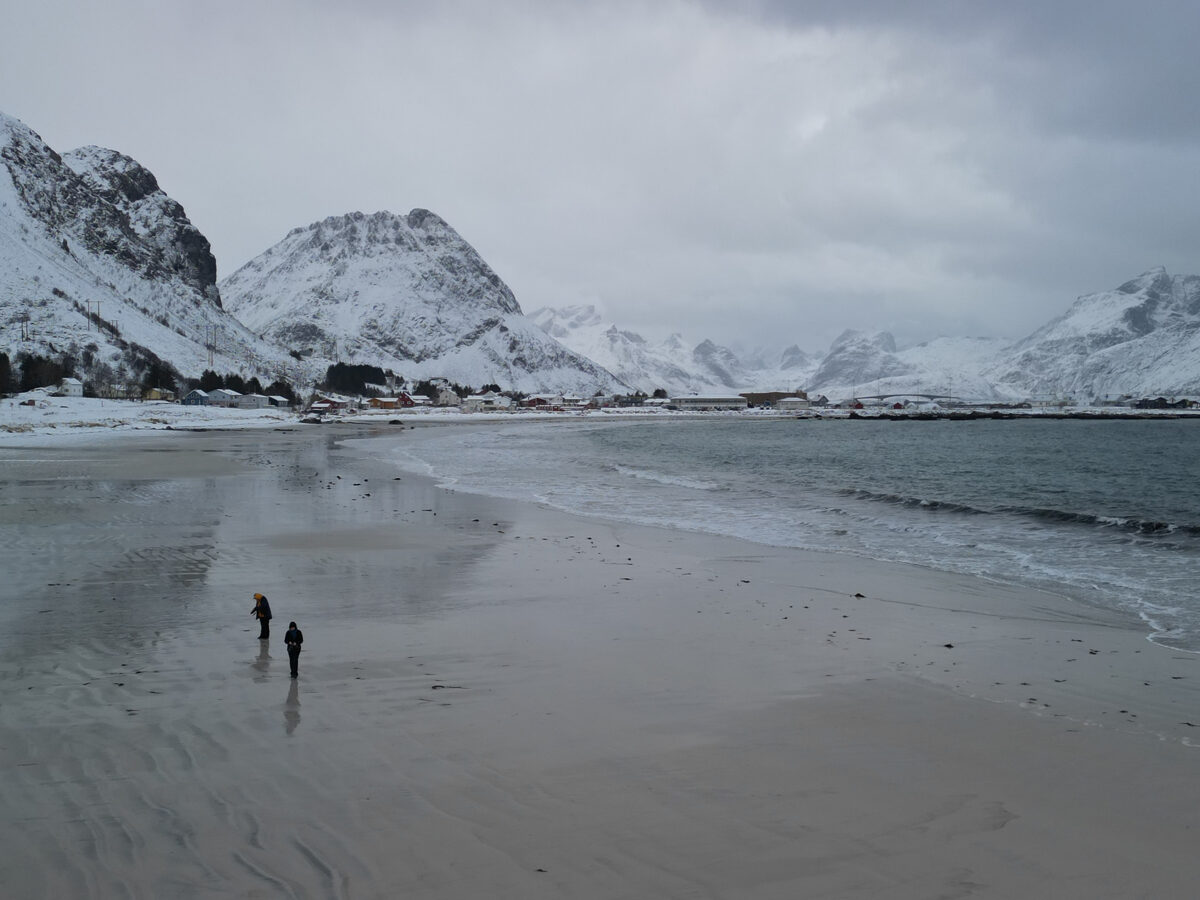 We made a stop at the Skagsanden beach afterwards - it was such an amazing spot! The light was incredible. The waves were impressive and we could see a storm coming in. We managed to get some pics and snow arrived with piercing wind.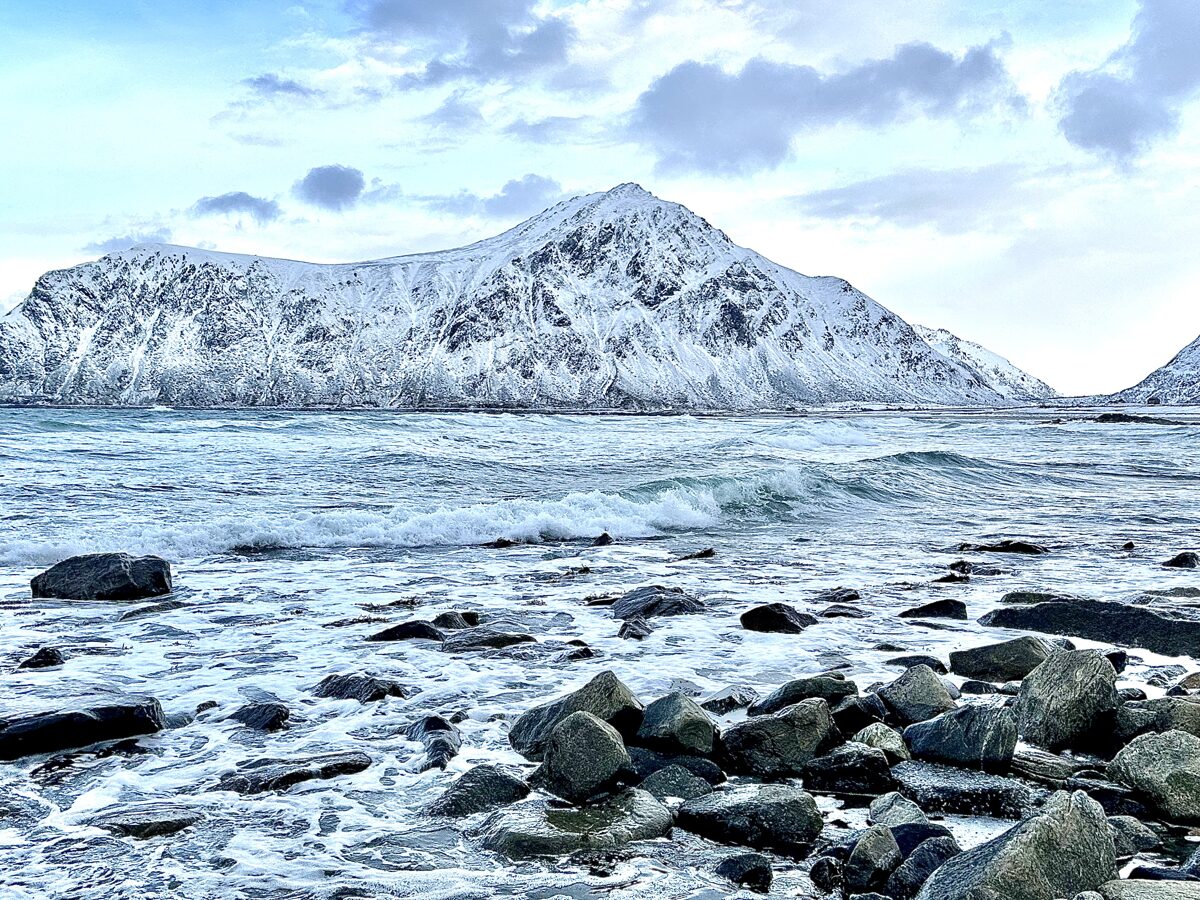 Our plan was to go and see Nusfjord as it's one of the most charming villages in Lofoten but then we were in a middle of a crazy snow storm. There were moments when we could not see even a 1 m in front of the car. It did not last long but we had never seen something like that although had been in snow storms before in Iceland. We happily arrived in Leknes and it was time for a cappuccino and great cinnamon rolls at the local bakery.
Our next stop was the Lofotr viking museum near Borg. We had only 40 minutes for the visit, so we got a discount ticket. The replica of the chieftain's house is really impressive. But that's about it.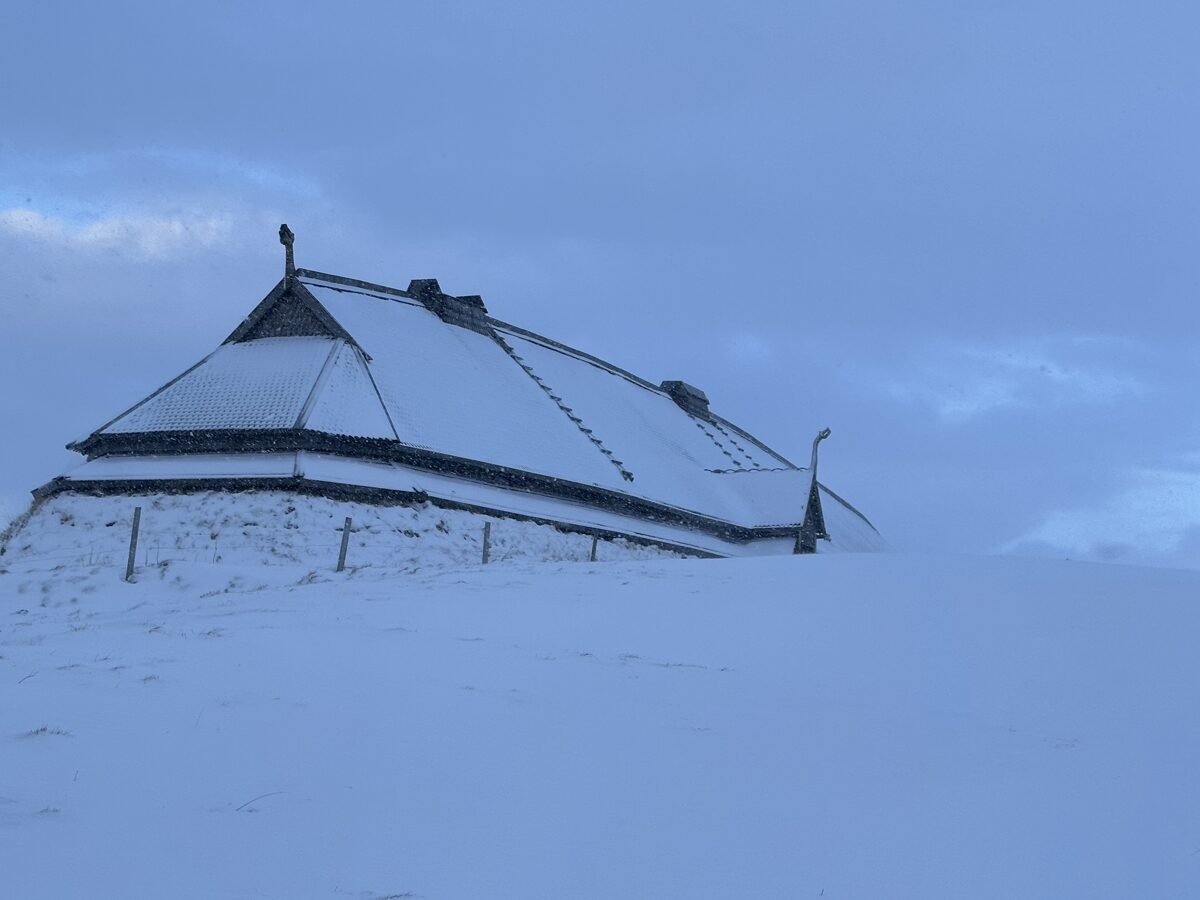 The movie they show is a bit cheesy if you have seen any of the Viking series on Netflix. I was expecting more weapons and jewellery to be exposed. The museum clearly gets attraction with organised dinners - for 120 euros one can get a soup cooked on open fire and a glass of mead.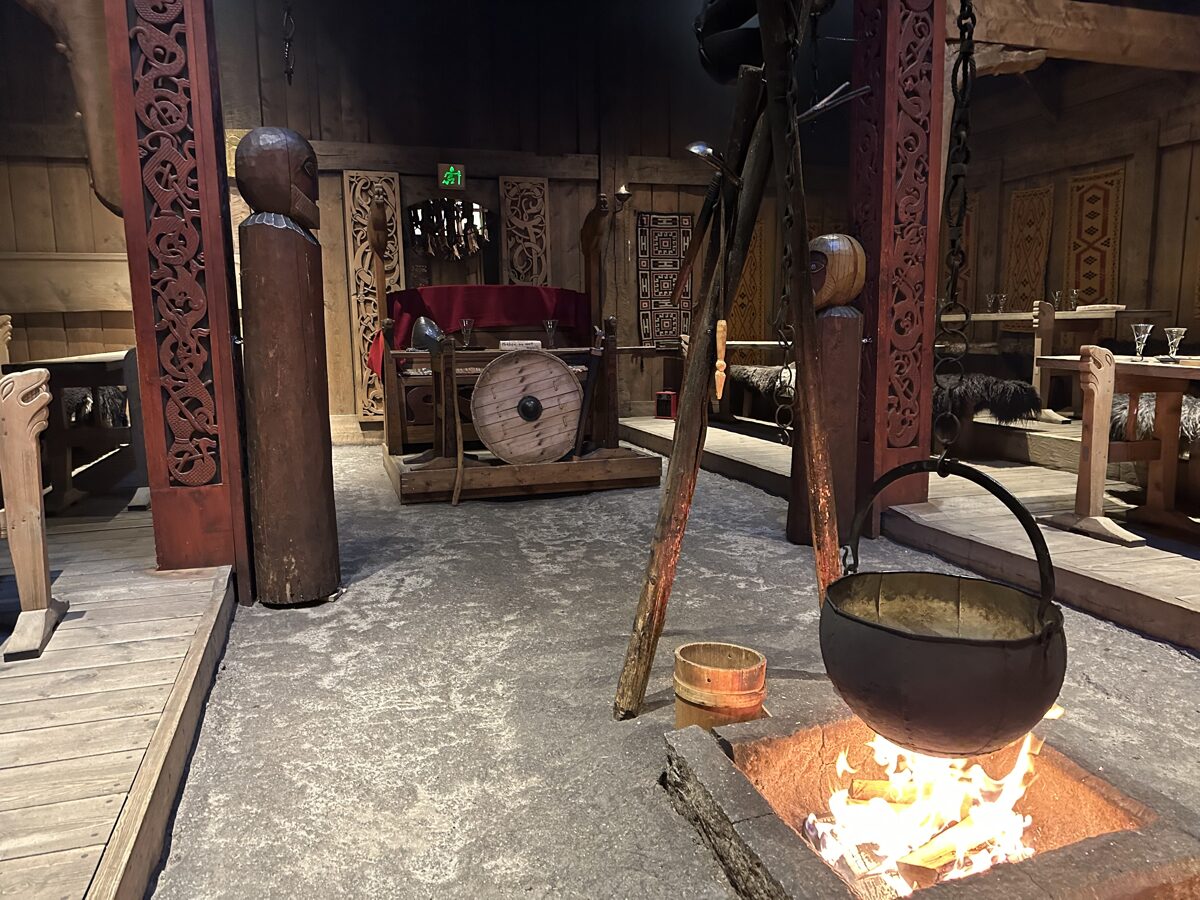 There is an extensive souvenir shop with a good choice. You can get replicas of viking jewellery that are really pretty and made in Tromso.
In the evening we arrived at Skarungen hotel where we had planned to stay 2 nights. It's located at a very beautiful fjord and looks like a super charming place. Little did we know about the adventures that we would have... The hotel had confirmed that we could use the common kitchen. Well, it did not have any running water, had a mouse and lost electricity when somebody plugged in the microwave... It was a totally surreal experience to wash dishes in a shower... In the end we talked to the management and they could not understand what our problem was... It was a total hipster place run by kids who had no clue about what an honest service means... We left the day after as it was not normal. And hei, it's not like you pay nothing in Norway so some basic things are expected.
Instead we found a wonderful place - Lofoten appartments - facing a beautiful mountain. There was a sauna and we could even swim in the fjord! That was really amazing! Definitely a highlight of the whole trip.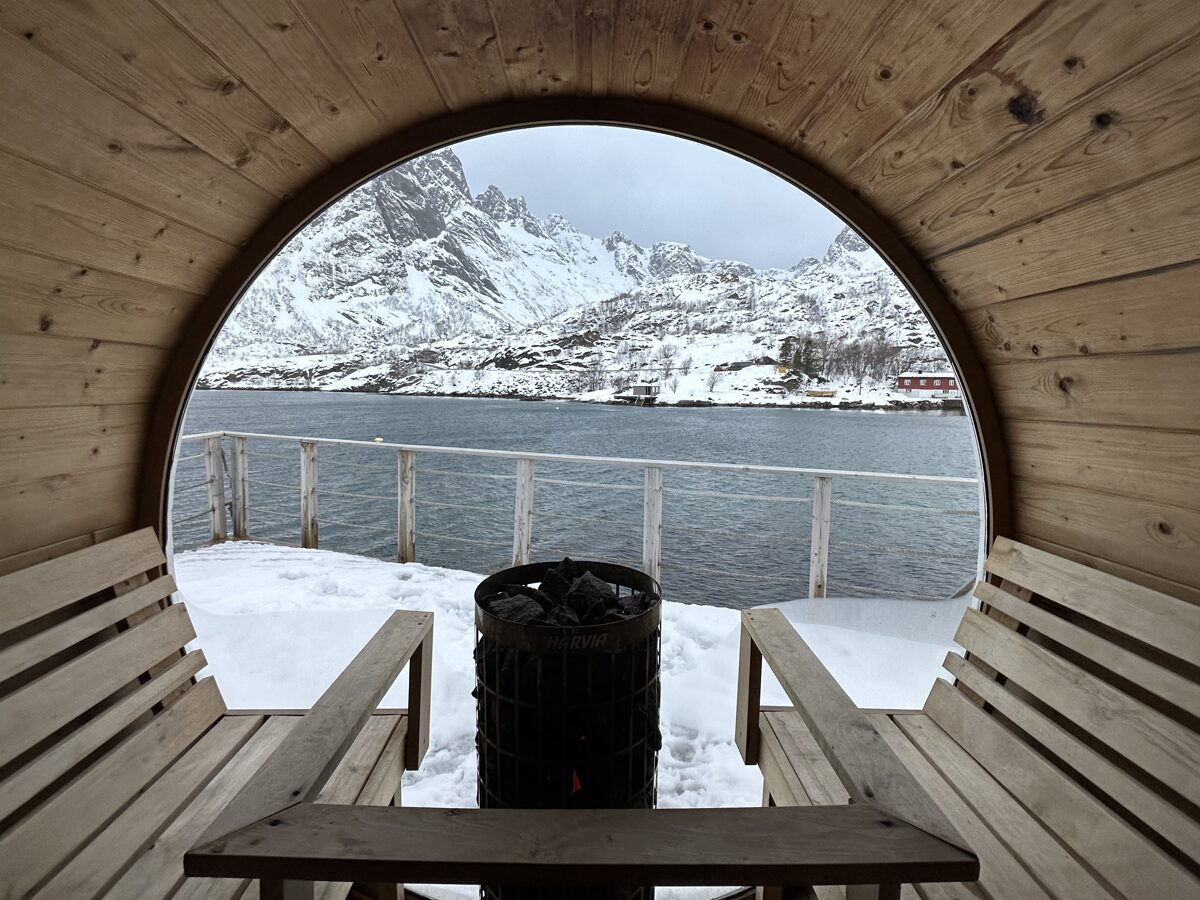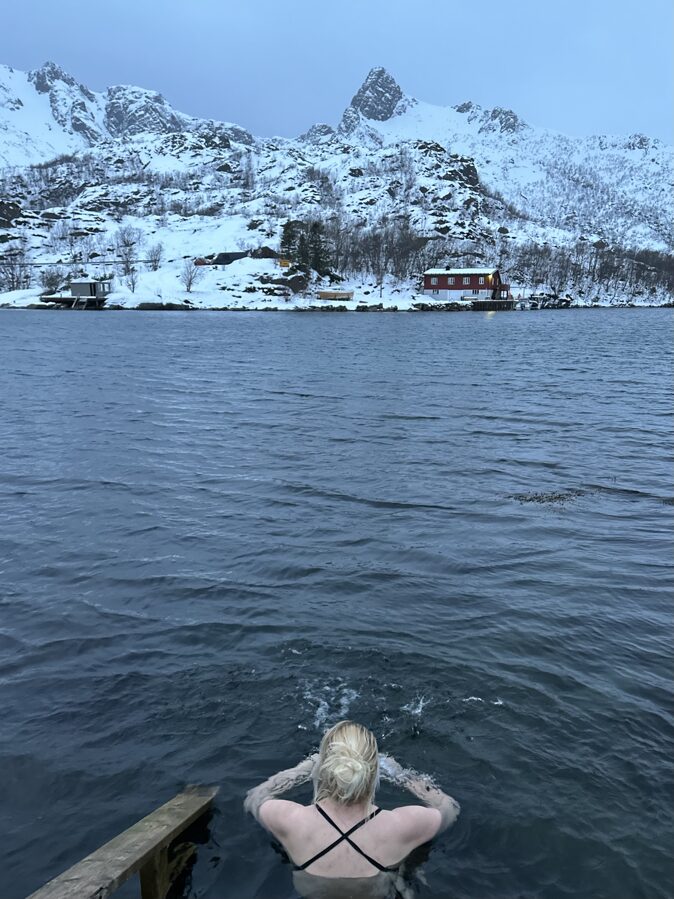 It was really cold, believe me! 🤭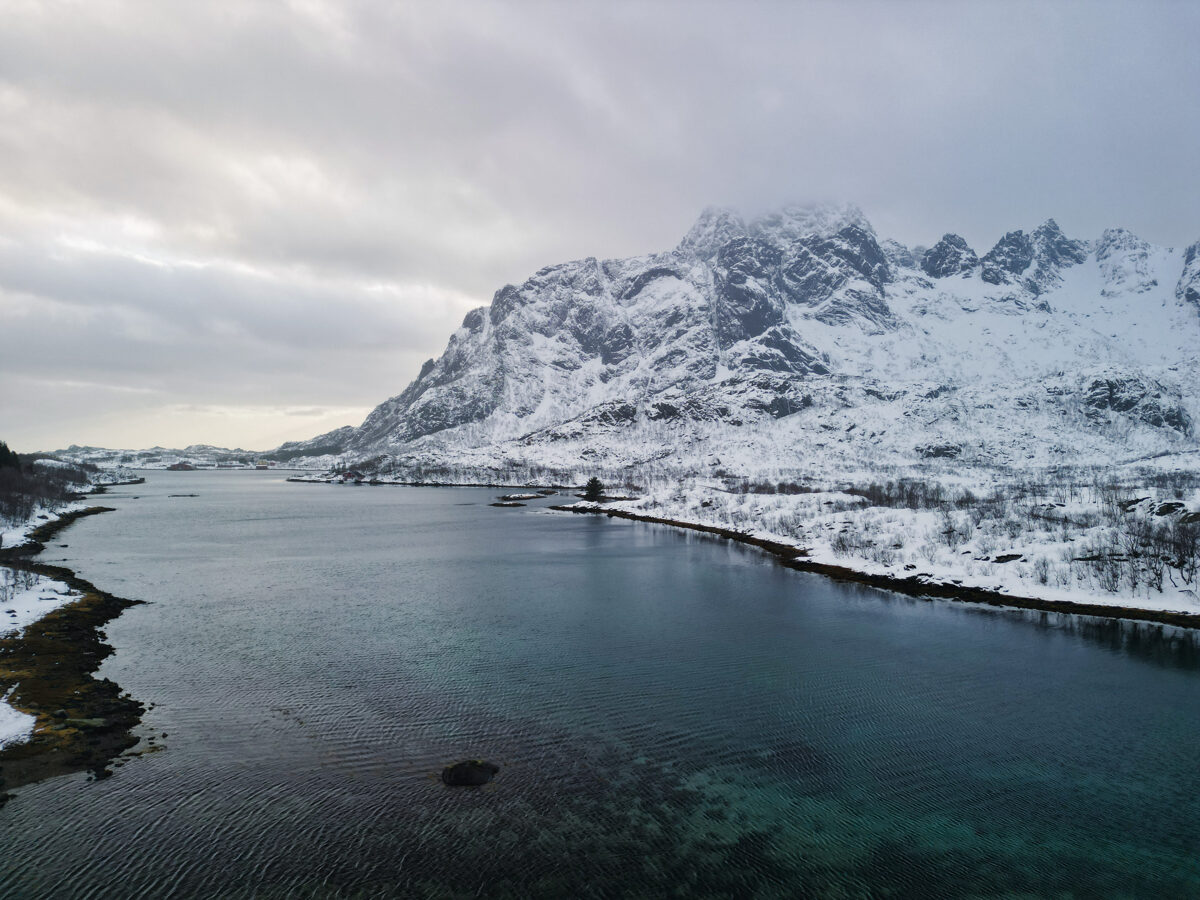 We also had a glimpse of the aurora but it was really faint. The pic is from 4 am…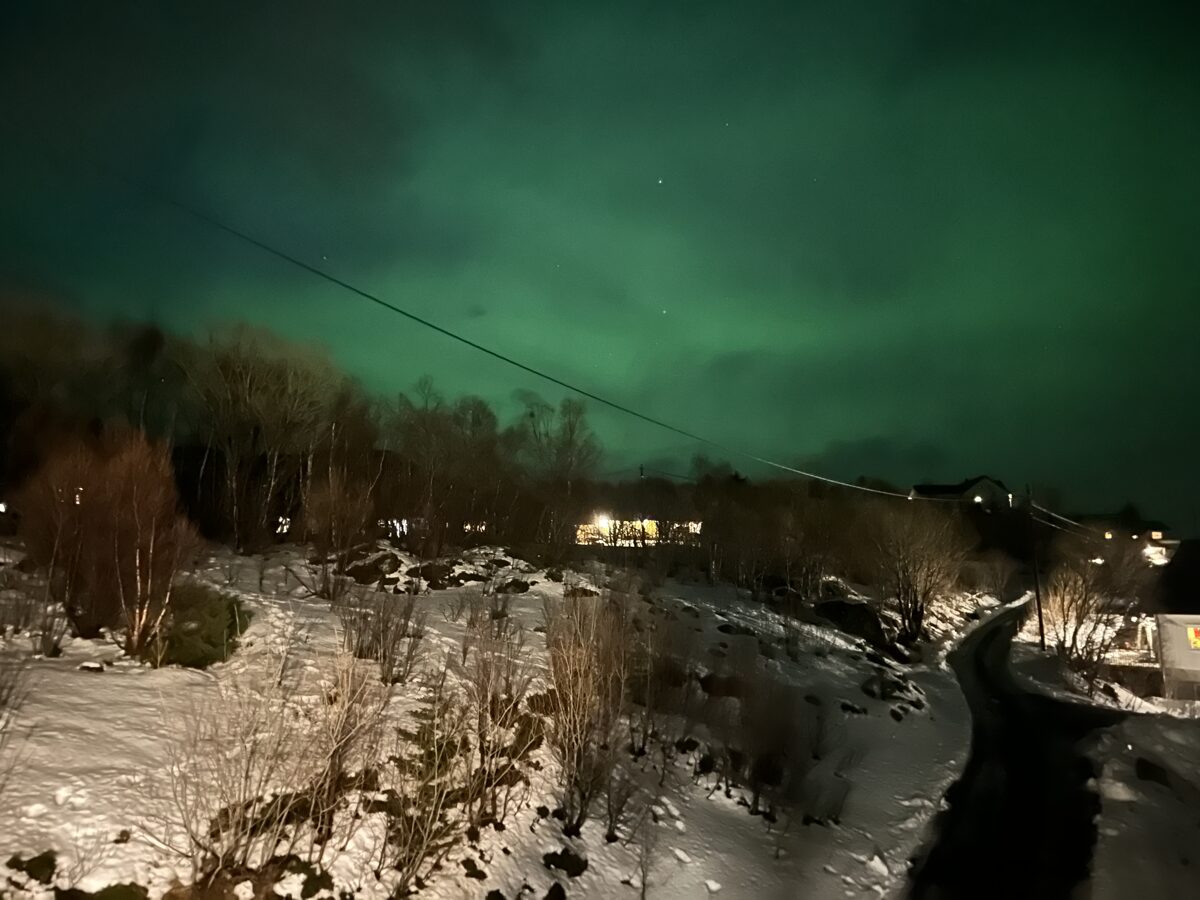 And this is how frustration looks like 🤭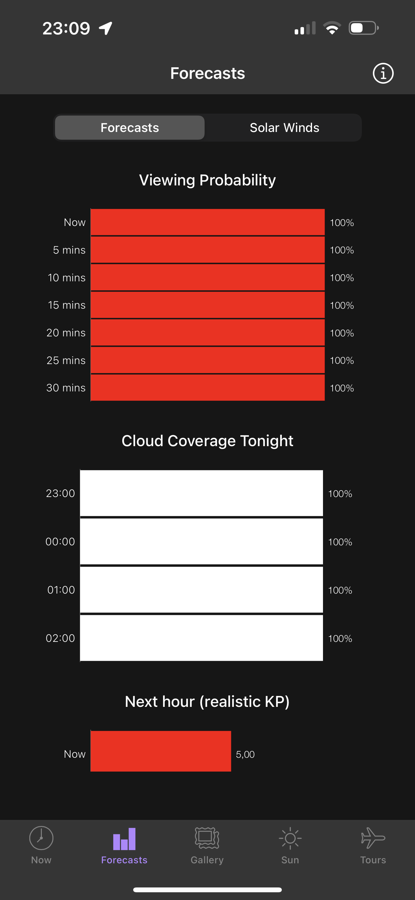 The next day we explored Svolvaer in daylight. From the first sight it looks like a boring and not impressive city but actually there are many corners with beautiful views.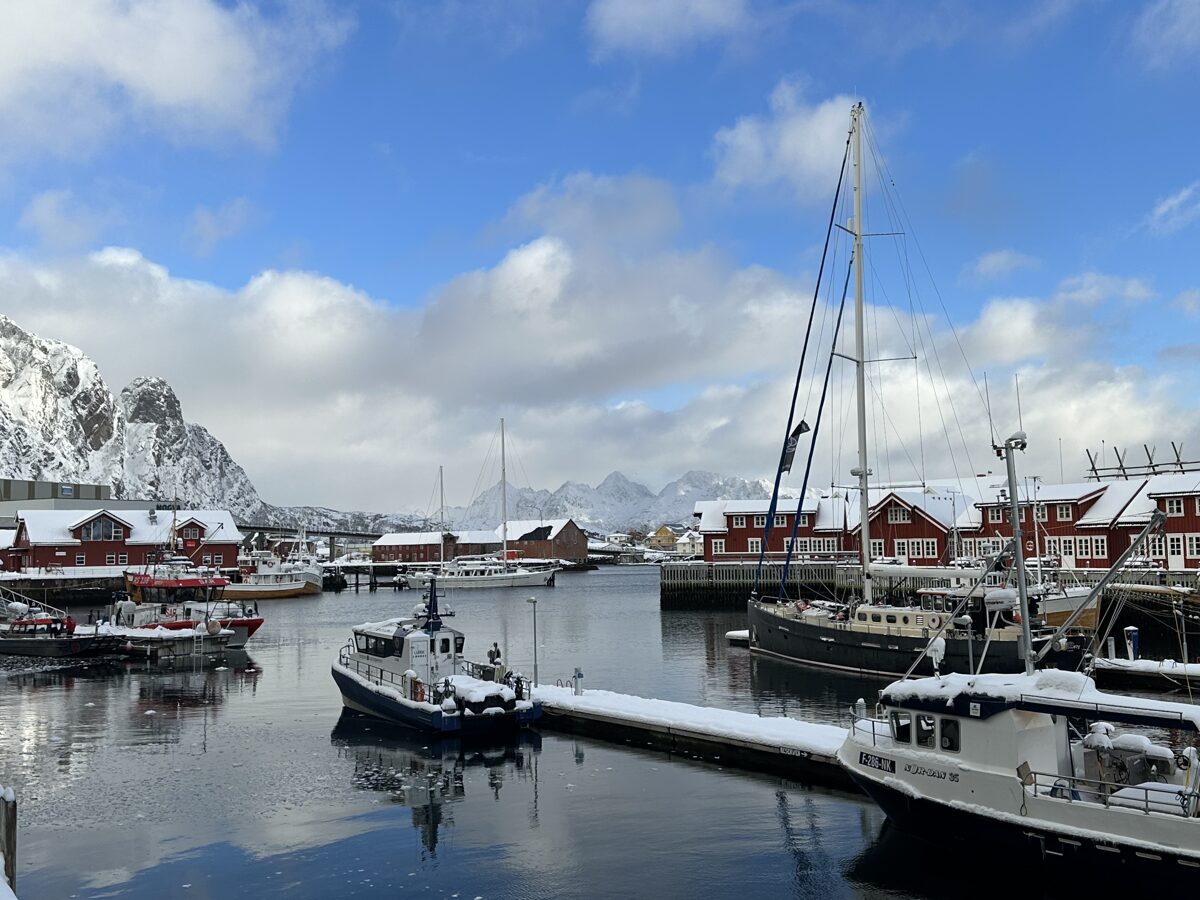 Definitely cross the bridge to Svinoya, there is a postcard at every corner.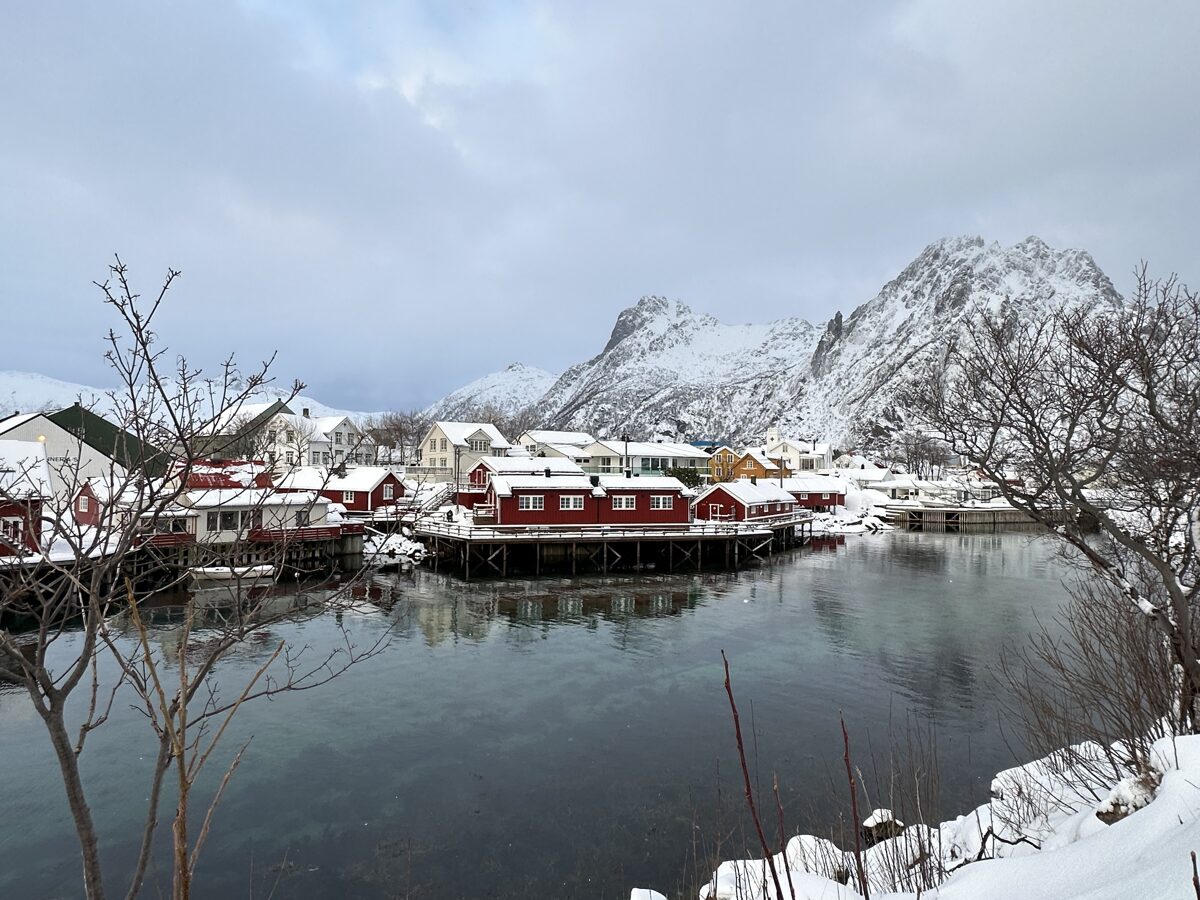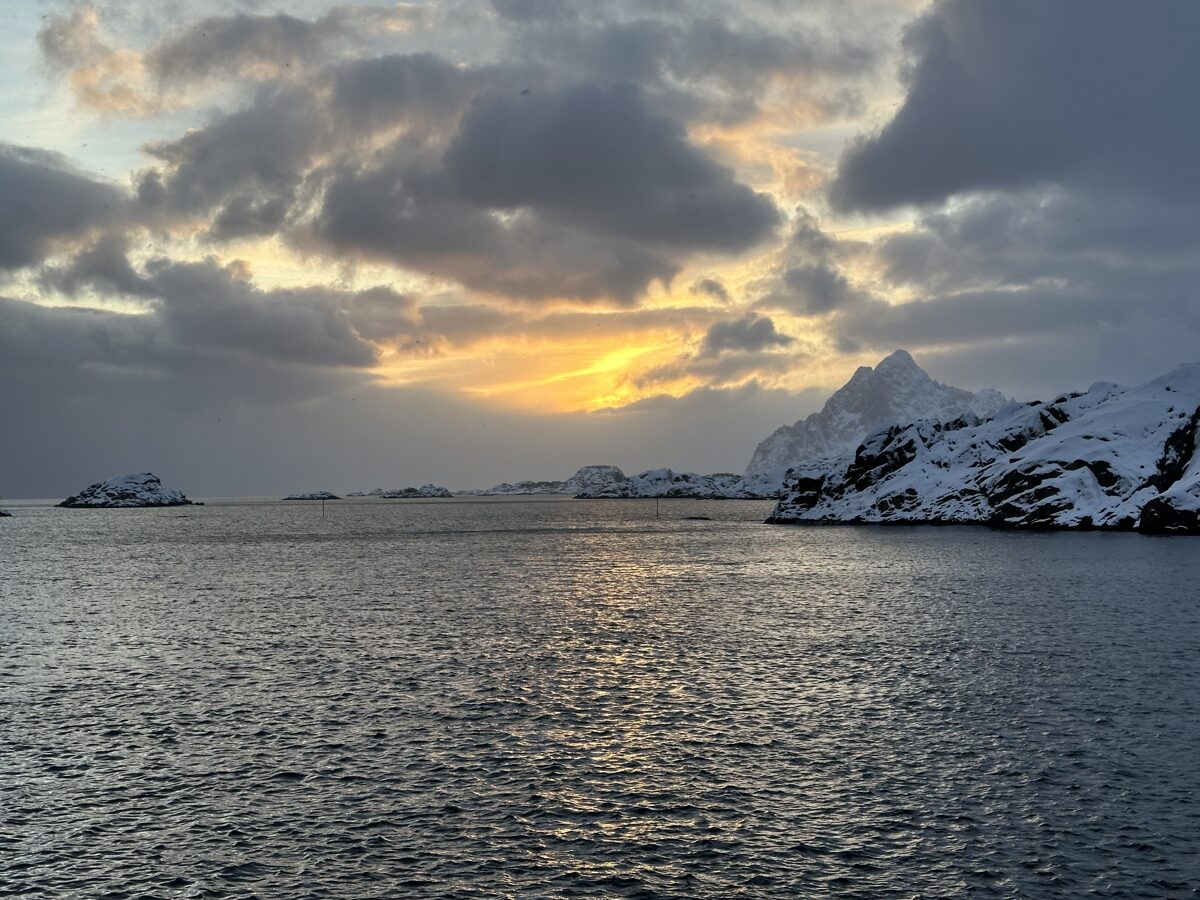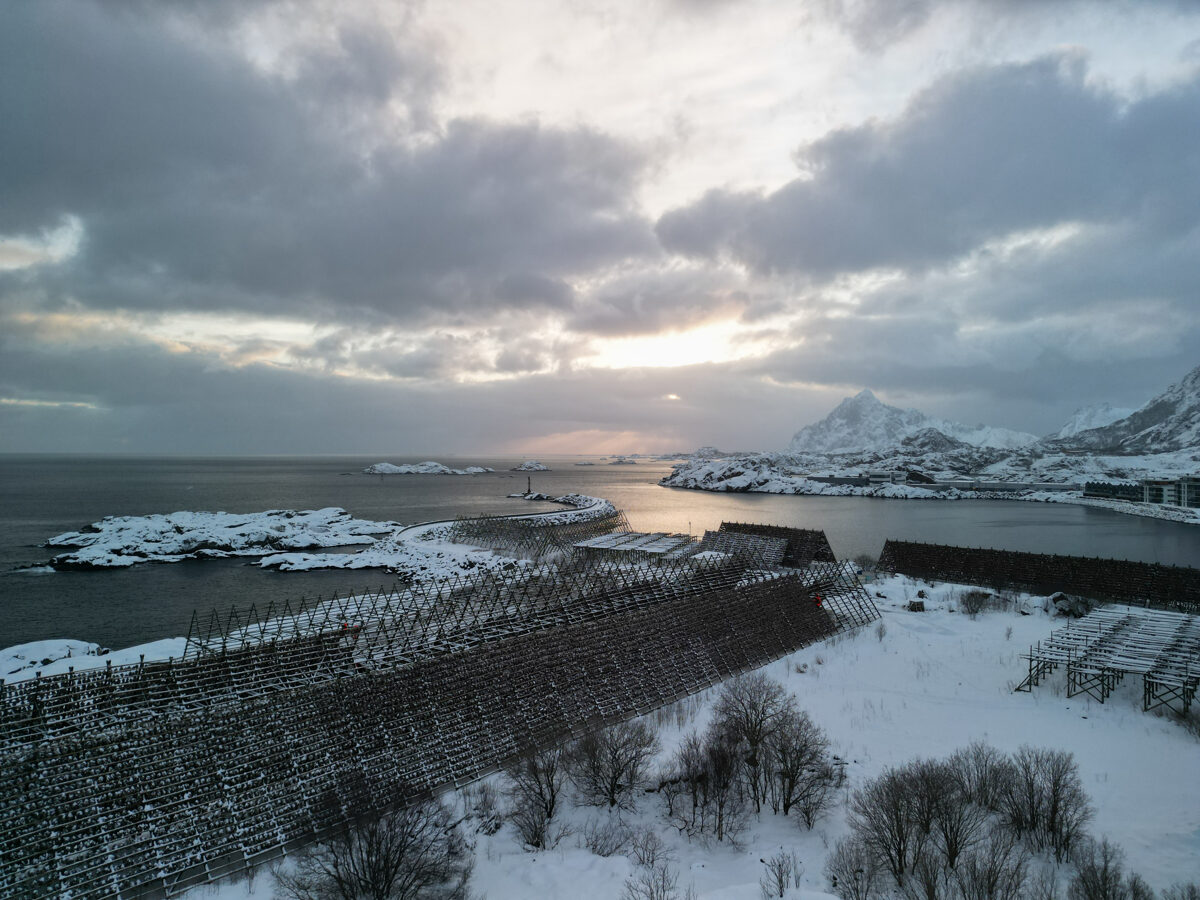 We also saw may fish stacks, there was a lot of snow and it smelled really bad. Really bad. So bad that 5 min more and lunch would be out...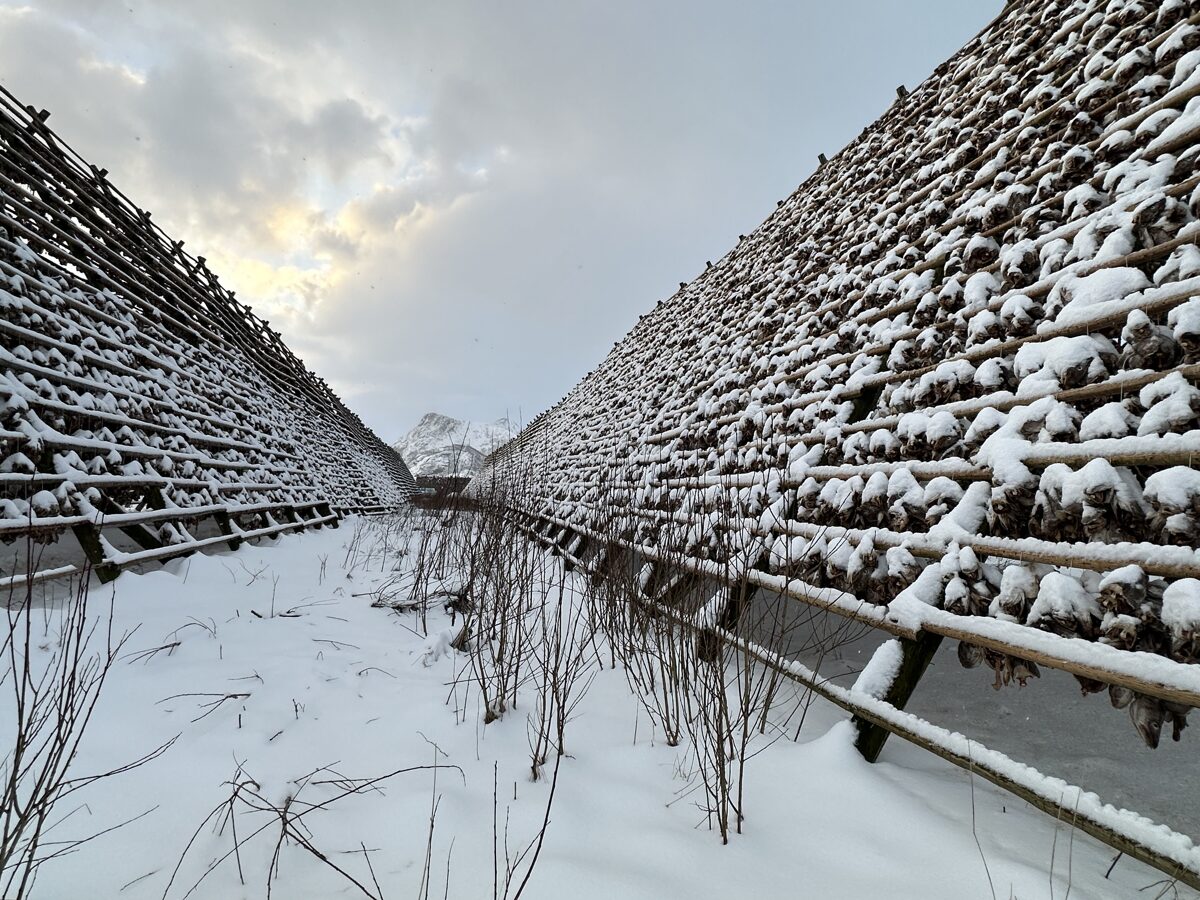 The next day we went to the aquarium. We would have preferred to do a walk or a hike but everything was melting and there was still an avalanche warning, so we thought it was better to play safe. To our big surprise the visit to the aquarium turned to be extremely interesting. Twice a day they feed seals and an otter. All the seals are rescue animals and two of them are already 30 years old! They were happy to show all they know to visitors to get some nice fish. When the feeding time was over, we stilled hanged out and the seals were chilling with us.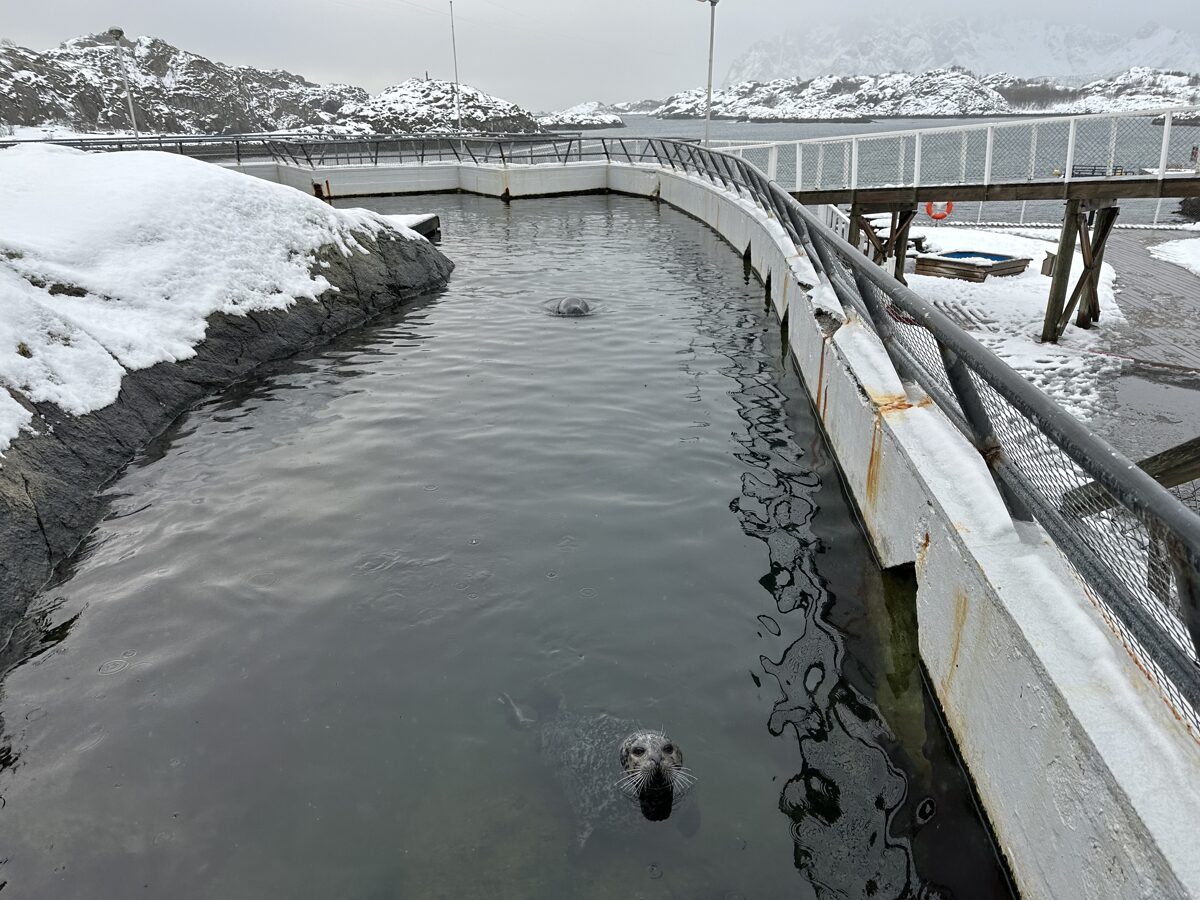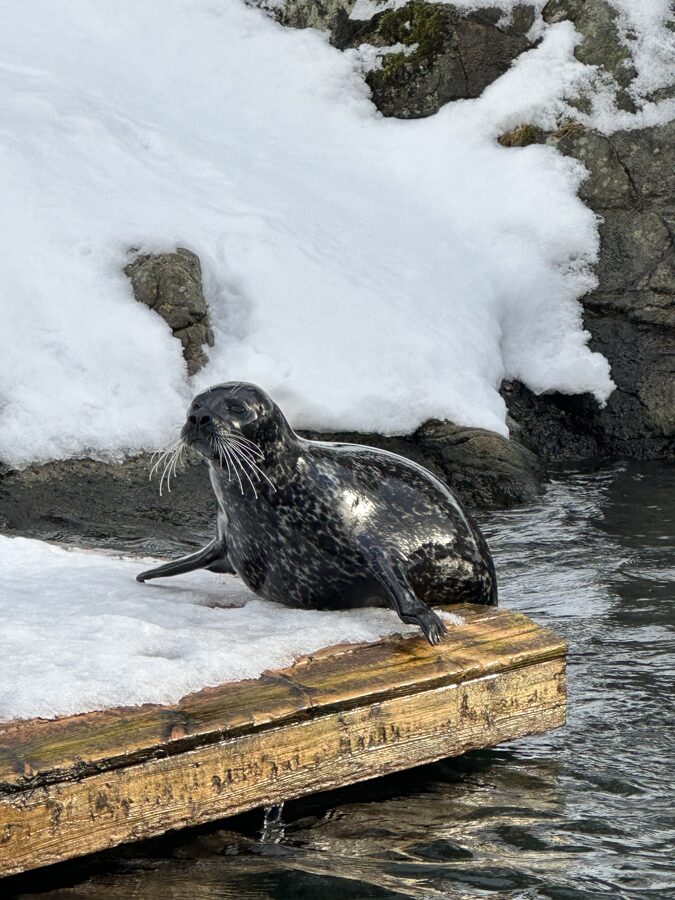 In the aquarium one can discover a new way of more sustainable salmon farming and see many interesting fish in different tanks. It's a bit old and full of screaming kids but if nothing else to do, it does the trick.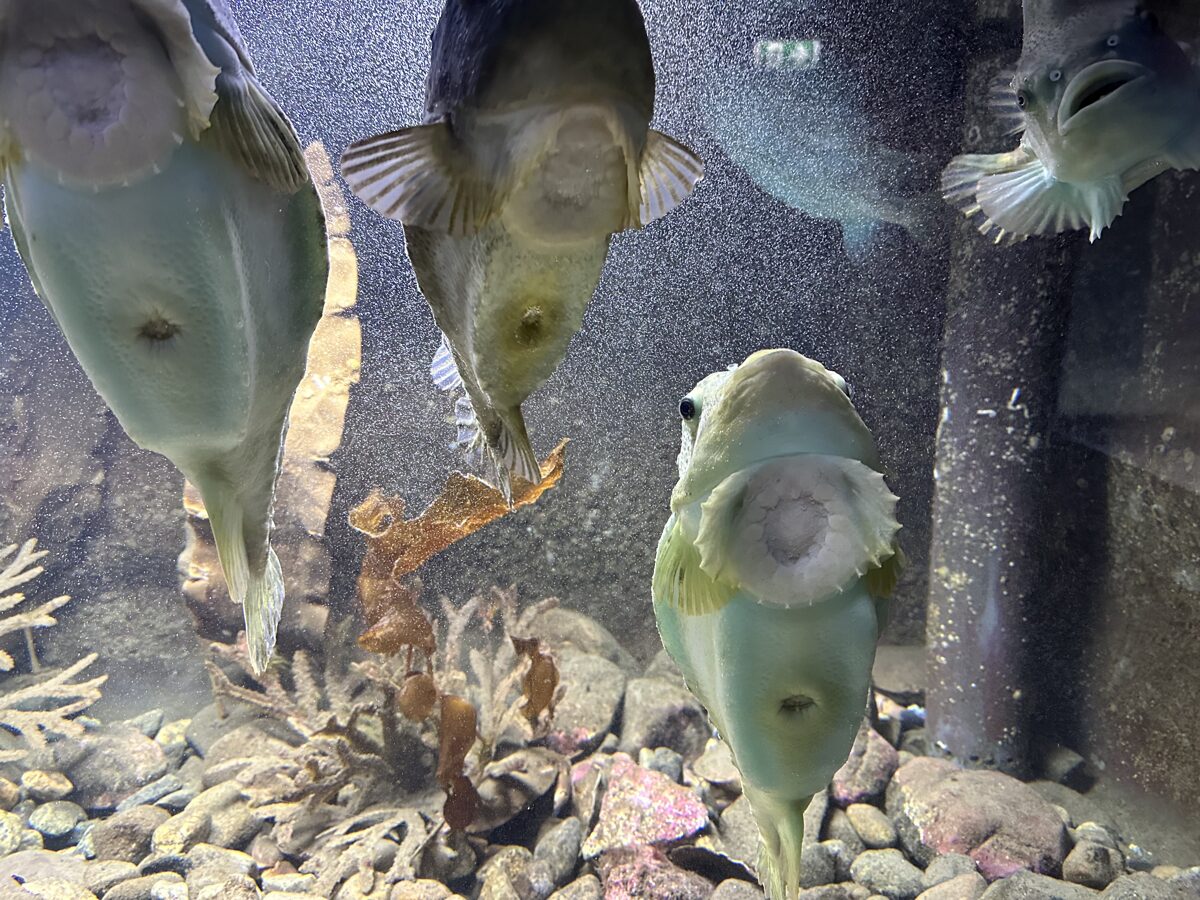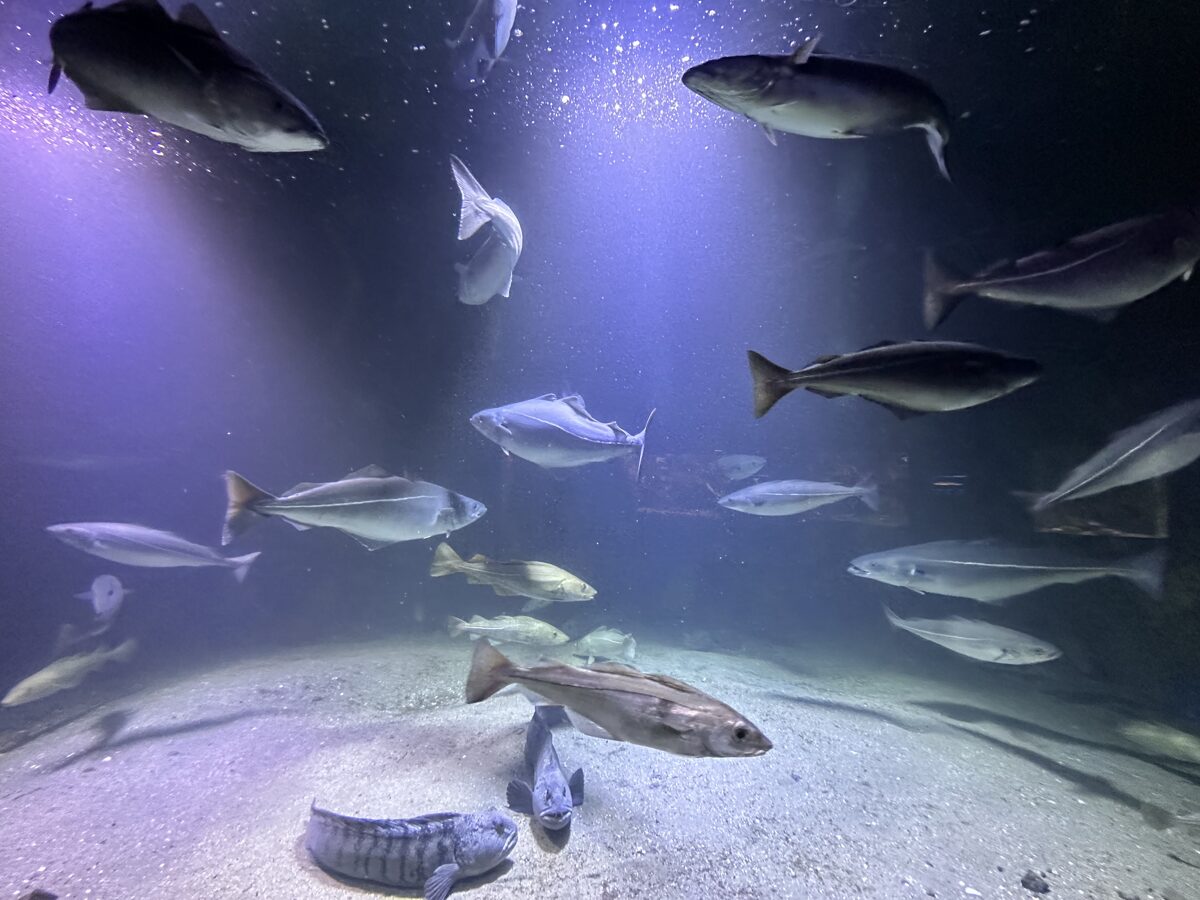 The next day it was time already to go in the direction of Narvik/Evenes airport. As we were not sure about the weather we had planned the whole day for a 2.5 h drive. I had read somewhere that the drive is not that impressive - that the mountains become more flat and there is less to see. Absolutely not true! We saw so many amazing spots!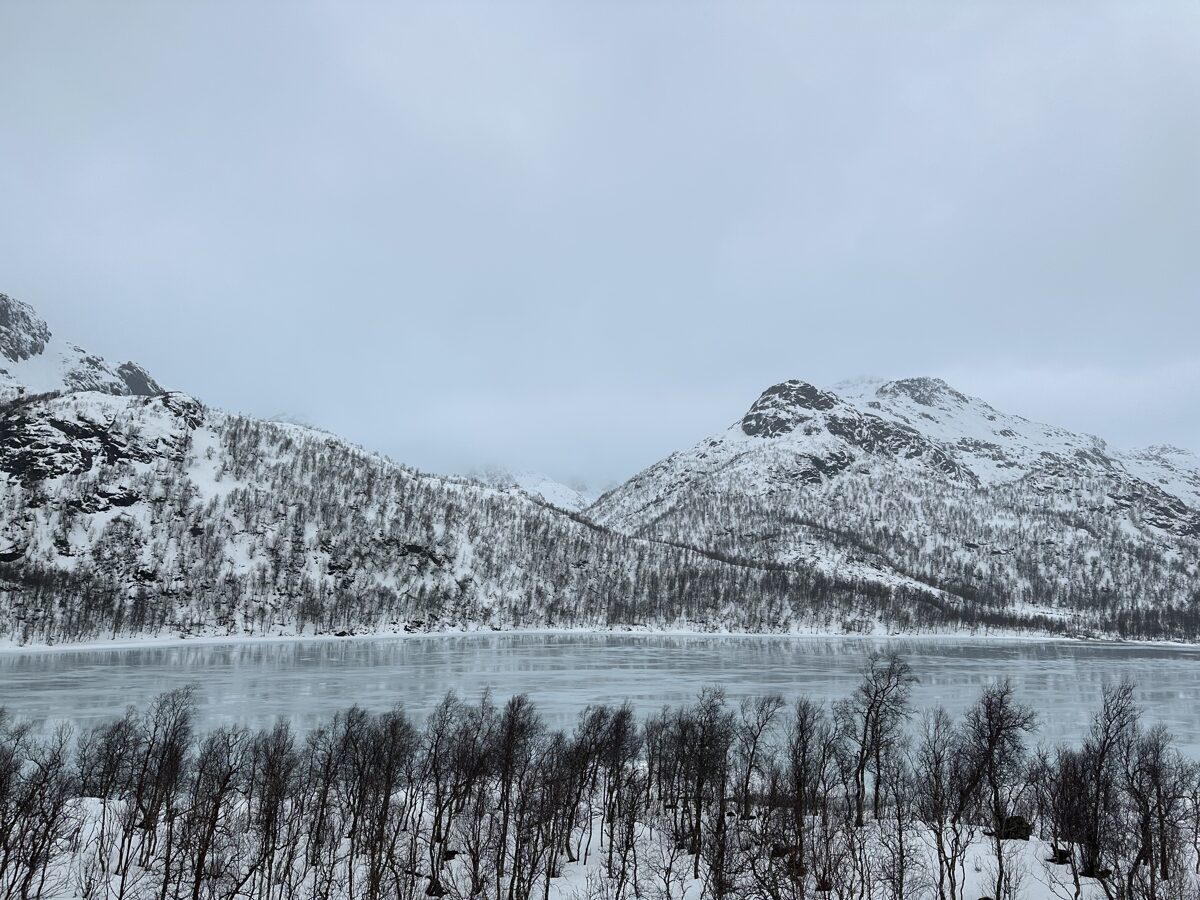 Myrlandstranda was an amazing beach with 0 tourists around.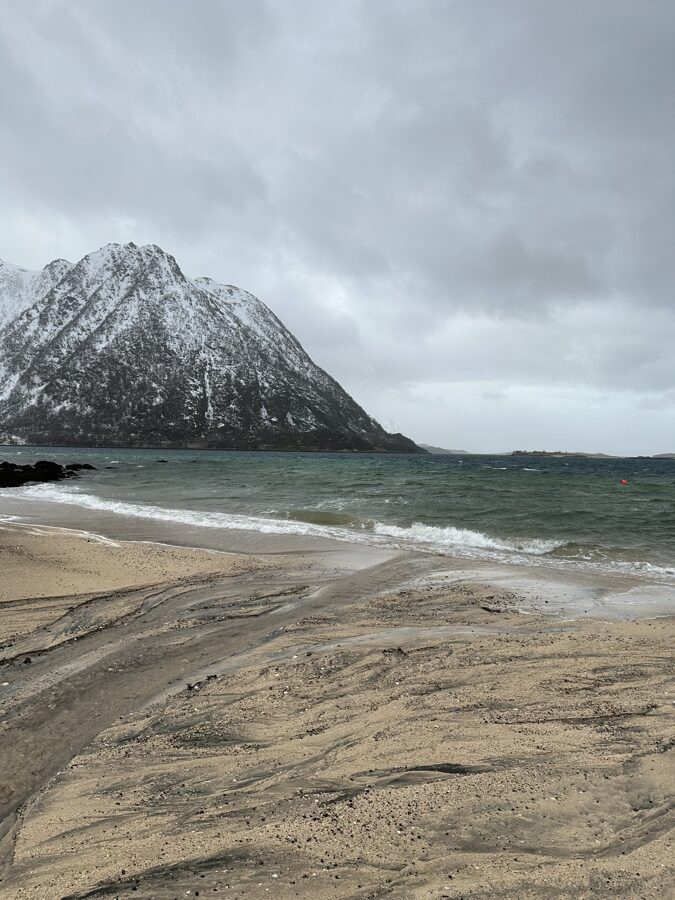 Just before Sandtorgholmen Hotel there are wonderful beaches with Maldive style water. The colour was beautiful even if it was cloudy.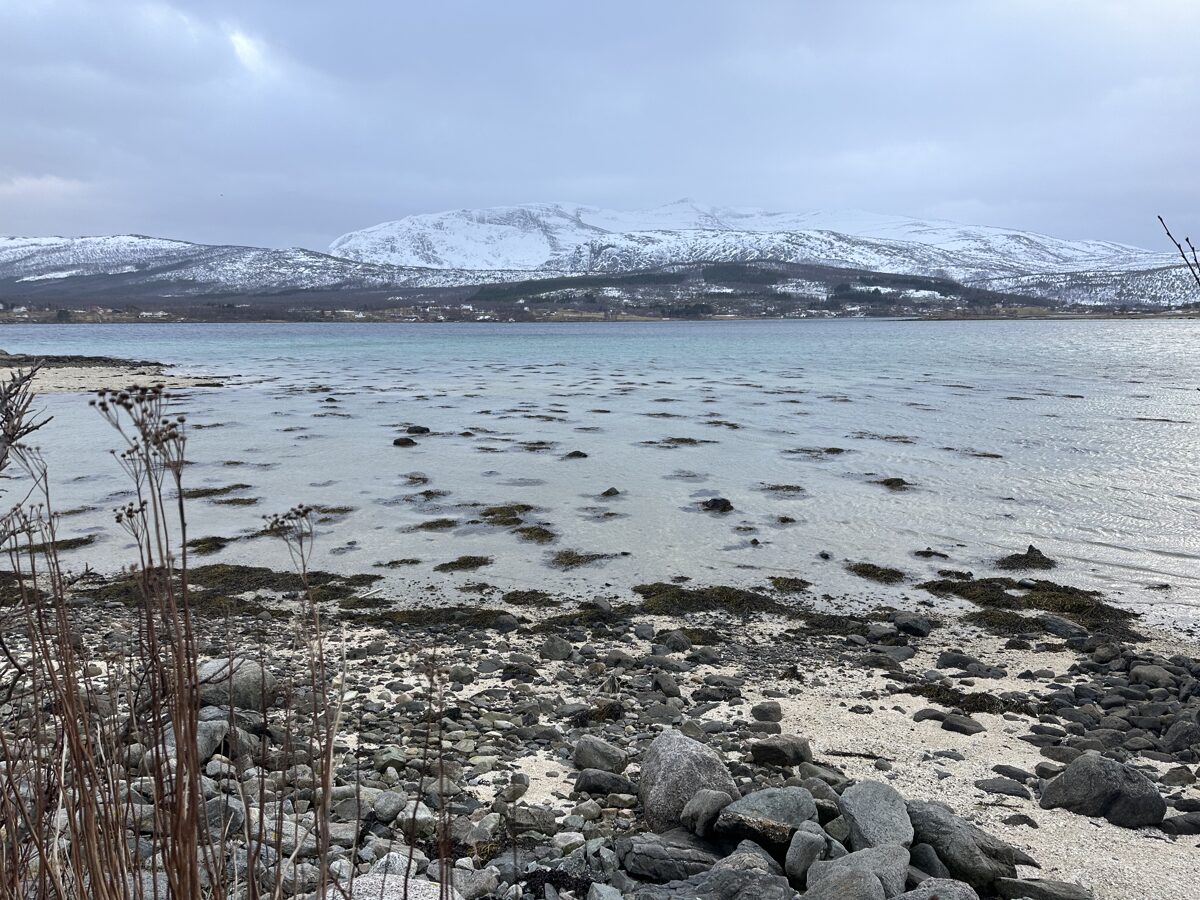 On the way there were many signs - attention reindeer! We only see a bum of one reindeer :)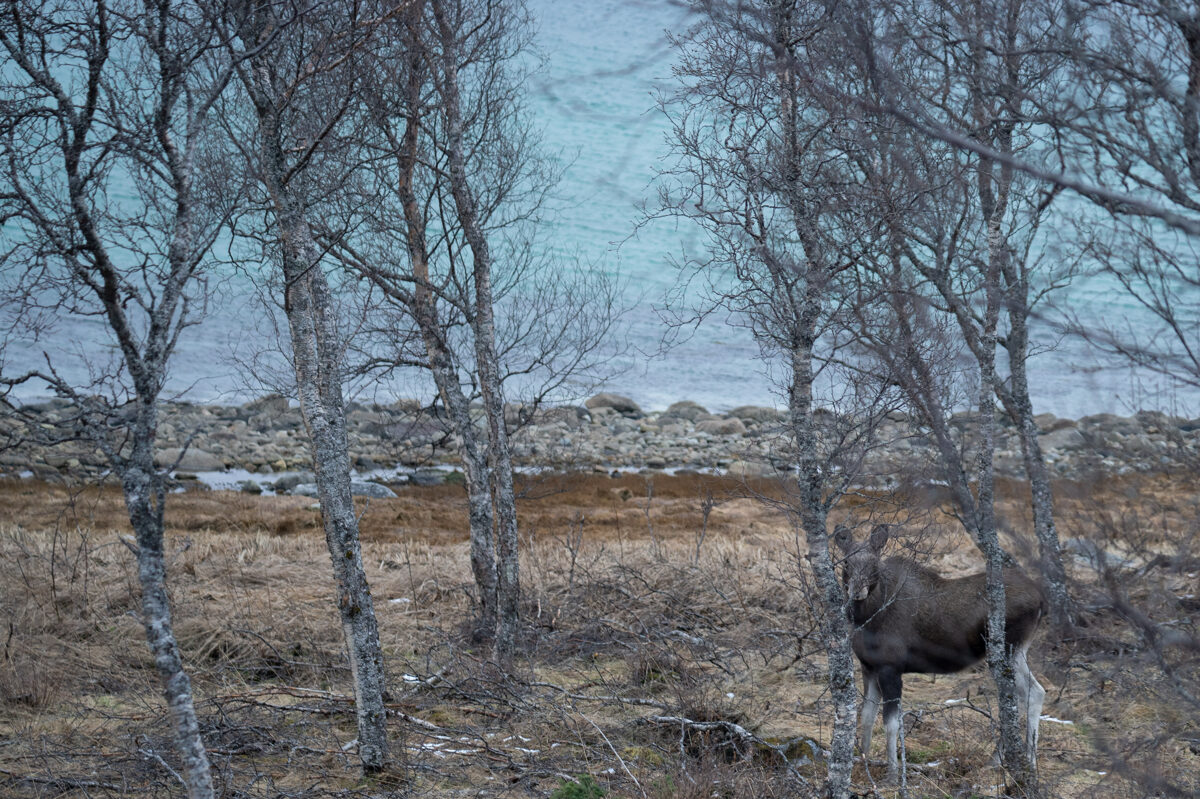 Btw, there is also one reindeer farm also in Lofoten, so no need to to go to Tromso.
We thought it was a good way to complete the trip with a sauna with a beautiful view!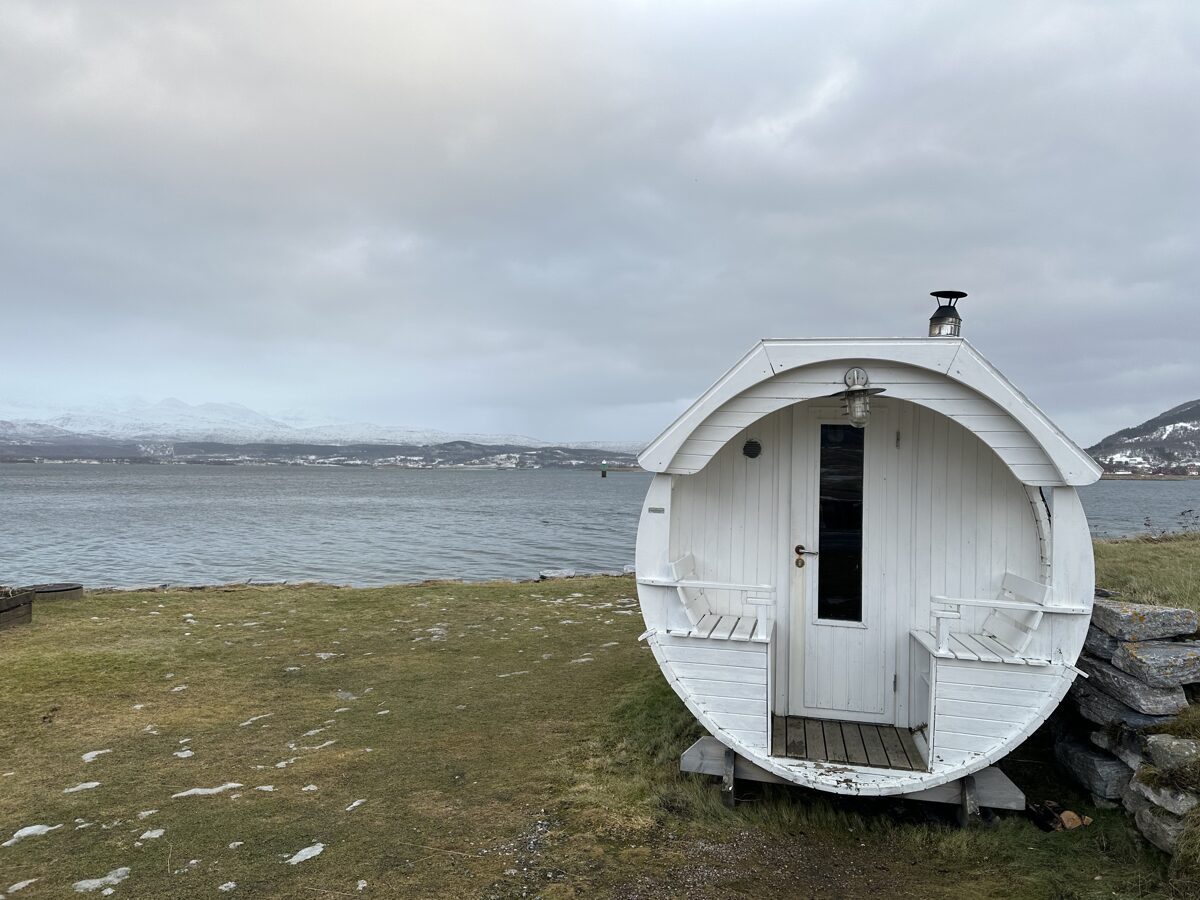 The sauna was heated by wood and was exactly what we needed after a long day. Does it get better than this? Unfortunately we could not jump in the fjord after sauna as the current was too strong and the owners advised not to...
We stayed at Sandtogholmen hotel and what a beautiful discovery it was! Just look at this view from the window…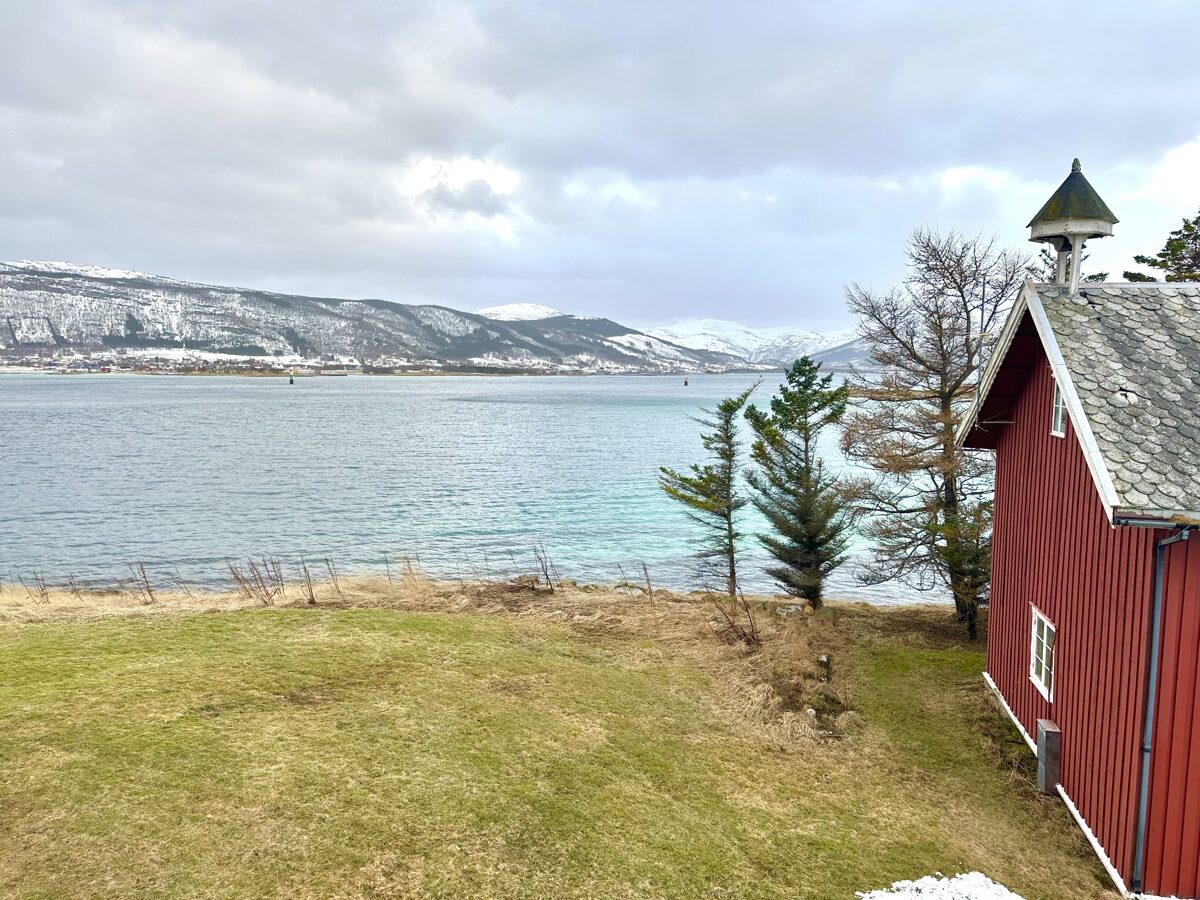 Owners are a few young guys who take care of everything and were so kind! The food was delicious (and decently priced for Norway), the stairs were cleared from snow at 7 am and we even got a great takeaway breakfast! I definitely advise to stay there more than one night, the surroundings are great.
The last night was supposed to have a very strong aurora... KP6!!!!! Whatttt???? Well, we saw snow... snow and a bit of snow... Verdur app showed some clear sky not that far from the hotel, so we even attempted to give it a try but very quickly we understood that it was a fool's hope. Well, next time!
The next day was snowing a lot. We saw reindeer on our way to the airport! We arrived at Evenes airport well in advance. It's a very small airport and there is literally nothing apart from one small cafeteria. You are also not allowed to take any pictures as there are military planes there!
Lofoten definitely exceeded my expectations. It was just like living in a post card for a week. I really want to see that postcard in early autumn!
Observations

- The weather was changing literally every 5 minutes, just like in Iceland. Sunshine is amazing, of course, but it's the monochrome colours that give a more special meaning.
- Lofoten is amazing, no doubt, I could not imagine there would be so many photographers and photo tour cars everywhere.
- The road conditions were good all the time. Every single village had their own snow ploughs to clear roads and they would be working till late evening and then starting early in the morning. However, you DO need extra skills to drive in these conditions. One day we had a totally clear road, the next day is was super icy!
- During our stay there was the orange code for avalanches, so we could not do any of the hikes. A pity, of course. And an invitation to come back! We heard that two weeks ago in Reine there was a tourist who had to be rescued from the Reinebringen as he could not get down on his own. The operation took more than 7 hours. So don't take the weather lightly.
- Norway is expensive but that you know before you arrive. :) For saunas you need to book well in advance and count 40 euros per person for 2 h if it's a private sauna.

- During the whole week I had only one decent cappuccino, the baristas clearly don't make any effort. There was also "a refill option" for a few cents more - not bad!

- Shops are closed on Sundays, so make sure you do your grocery shopping during the week. Many of them stay open really late - till 22:00. Our favourite shop was Rema 1000. Try the dried mango - just delicious!

- Senja is often mentioned as alternative to Lofoten. In my view Senja is different, just equally beautiful. You can read about my Tromso and Senja trip here.
No comments
Leave a reply