Greece again. Yes to Milos!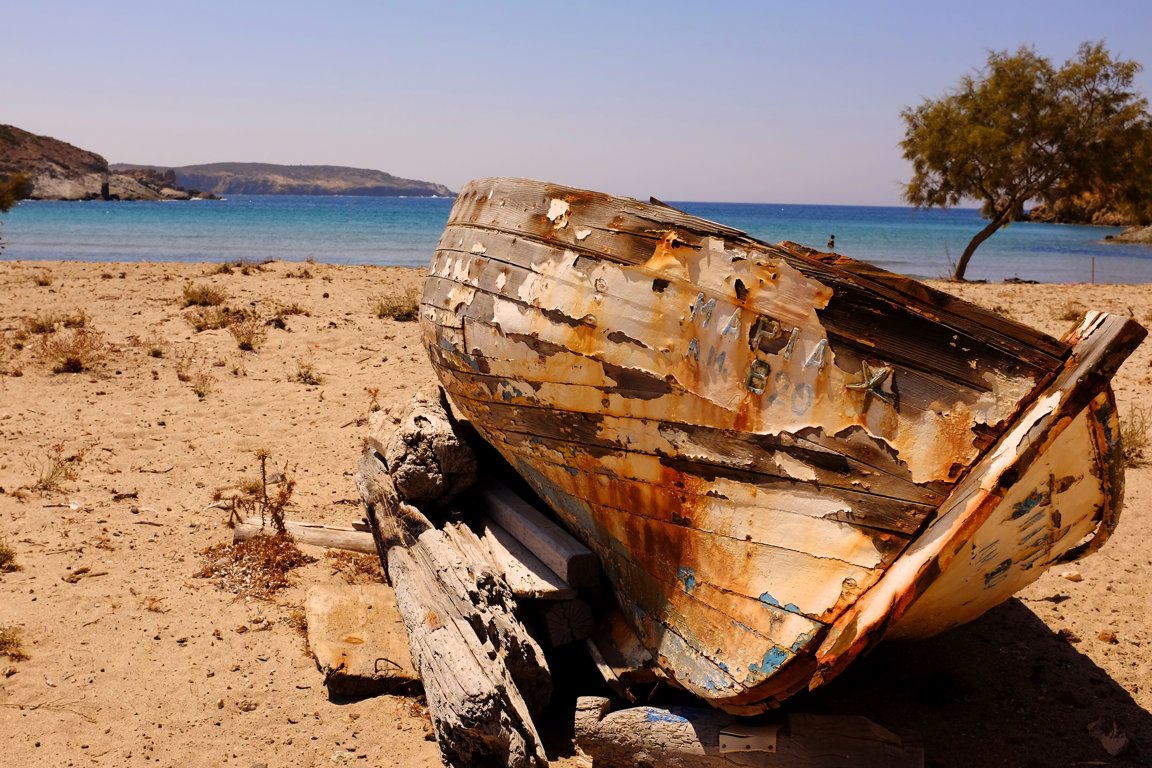 There is no better day to write a blog post about summer holidays than a rainy afternoon; it's like going back to the summer holidays and living them again. I'm loving it :) Yes, this summer we went again to Milos, to a lovely Greek island, to the same place as last year (and this is very atypical for us). Last time after 6 days of visiting Milos we had a feeling that we had seen everything, well, not quite... and guess what, we will be going back! :)
So why Milos again? It really got its spell on us, so much of beautiful nature and beaches and good food :)
---
This year our plan is to get a ferry to the island the same day as the flight, well, a bit risky but we managed to get on time. A very rude lady gave us our tickets at the Speedrunner kiosk and we were happy to see that our ferry was rather big. After the puke fest of last year, this time we opted for something bigger, just a bit slower. We were happy to find out that there was a small deck to get some air (well, very polluted as it was just next to the huge chimneys - but who cares?) We were staying again at Liogerma - a family run hotel. To our great surprise the cleaning lady remembered us! But she was very positive, so oufffff... Although we stayed in Milos exactly in the same period as last year, it was extremely difficult to get the hotel and also rent a car, so the crisis did not really hit the island, at least in summer.
For the first two days we rented a 4x4 to go to the wild wild west. Last year we just got a bit of a taste of the roads and beaches, so this time we tried to see the maximum. And WOW effect again. We visited the Cape Vani, we were all alone on the road and at the cape, felt like being on Mars.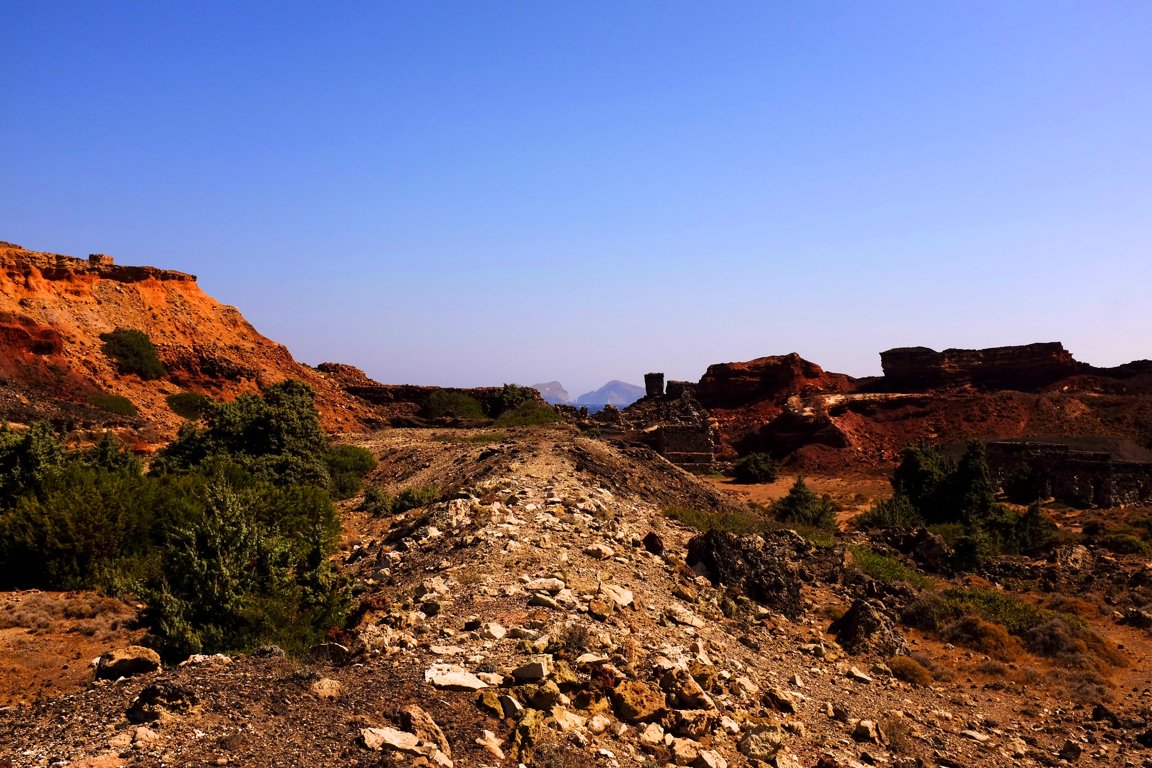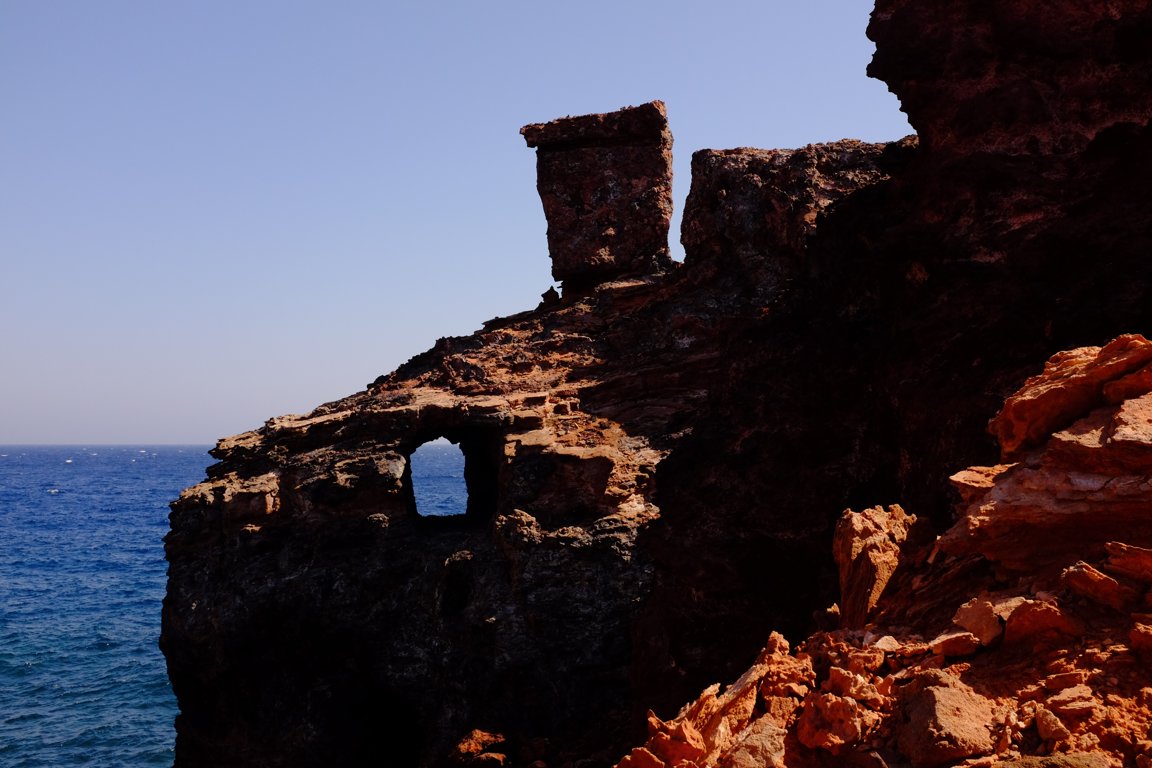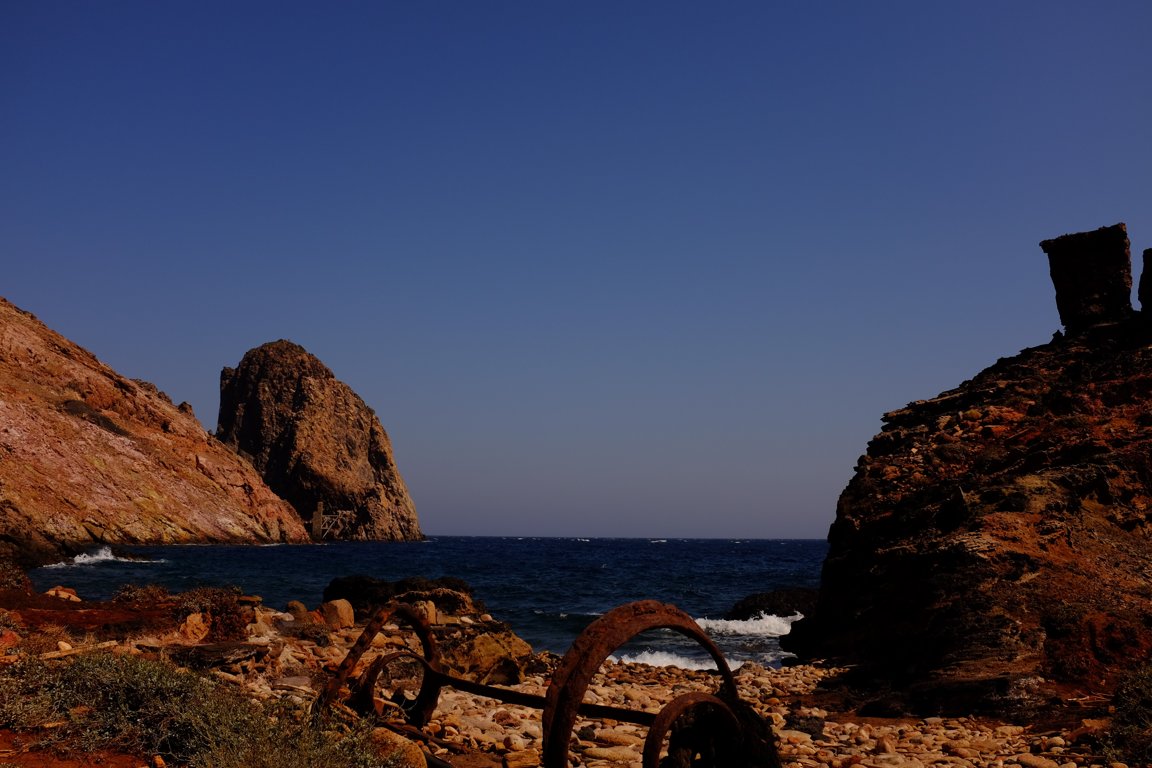 And after some crazy driving we can finally plunge into beautiful sea - Angathia beach, oh what a bliss...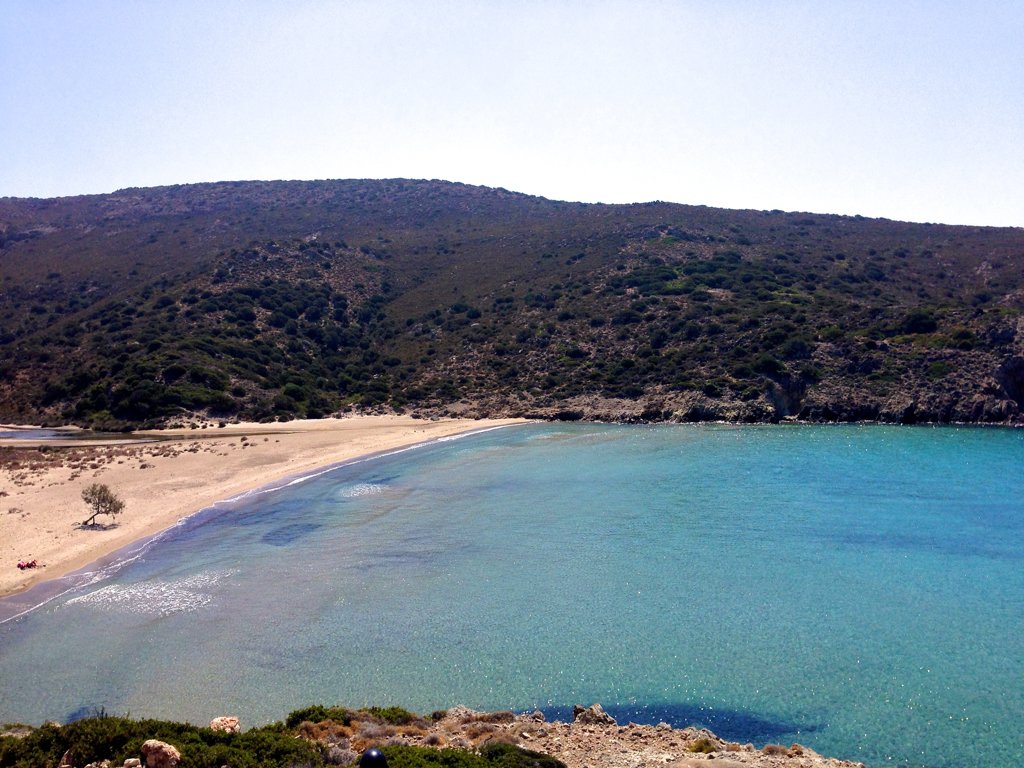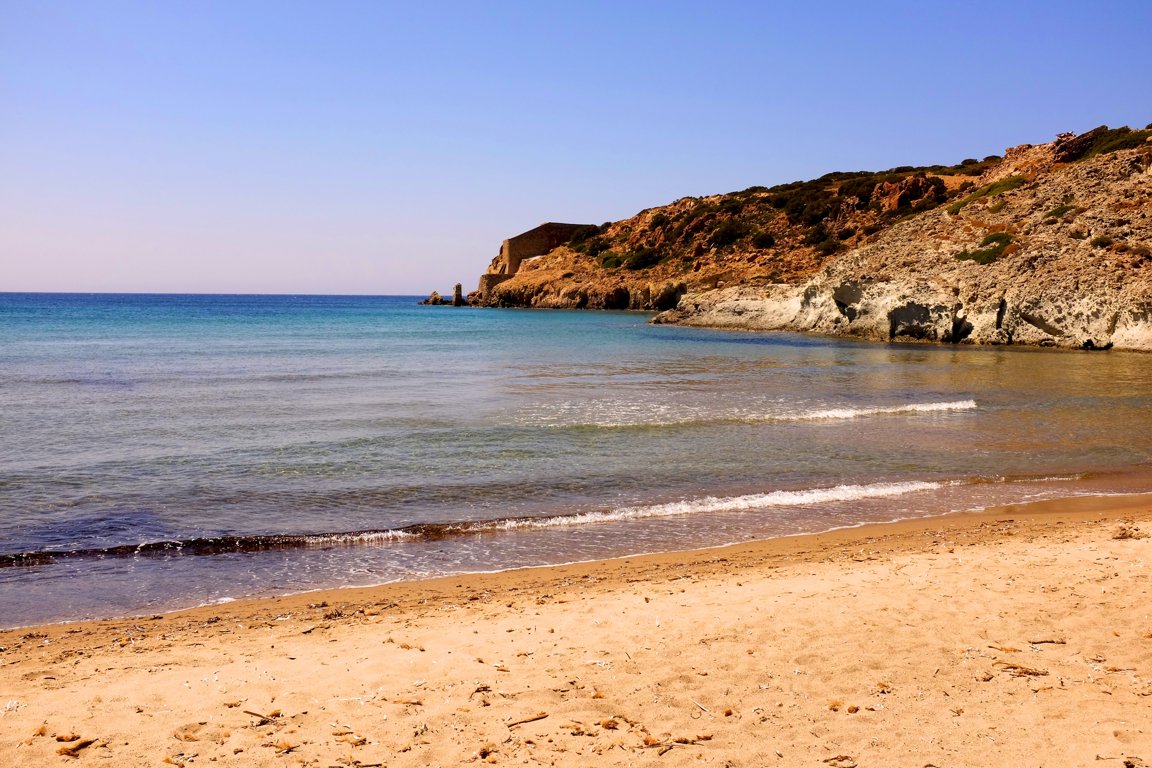 In the evening we have planned to see Klima - a village just next to Adamas, somehow we choose a completely crazy road to get there but our Suzuki Jimney safely gets us where we want to be. Older ladies swim just in front, kids are jumping and one geese is tyrannizing all the people who get in its way. It's a lovely place to enjoy the moment just before the sunset.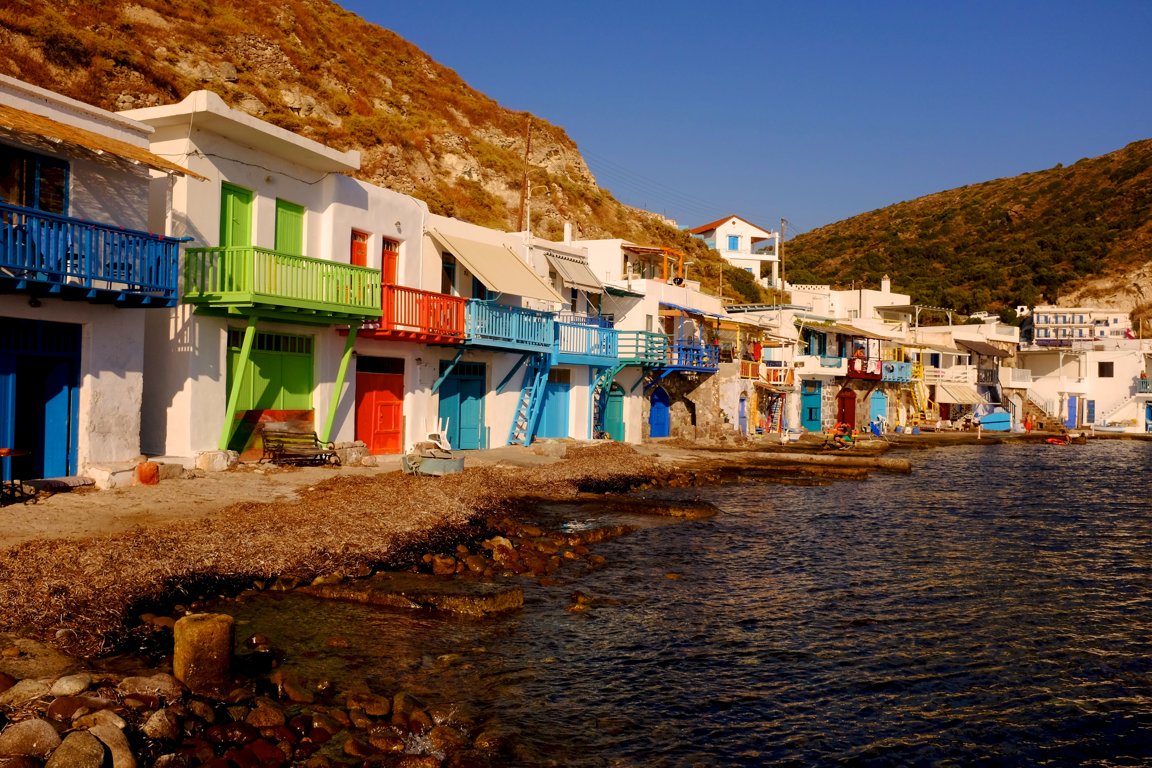 For the next day we have planned to do a hike to the Sykia cave as last year we hiked to Kleftiko and it was the highlight of the trip. Well, the path is not well marked (the hike starts at Aghois Ioannis convent) and of course we got lost! As a compensation we got beautiful views and company of goats. And lots of silence. Beautiful but also scary. If you fall from the cliff there, probably nobody would ever find you :)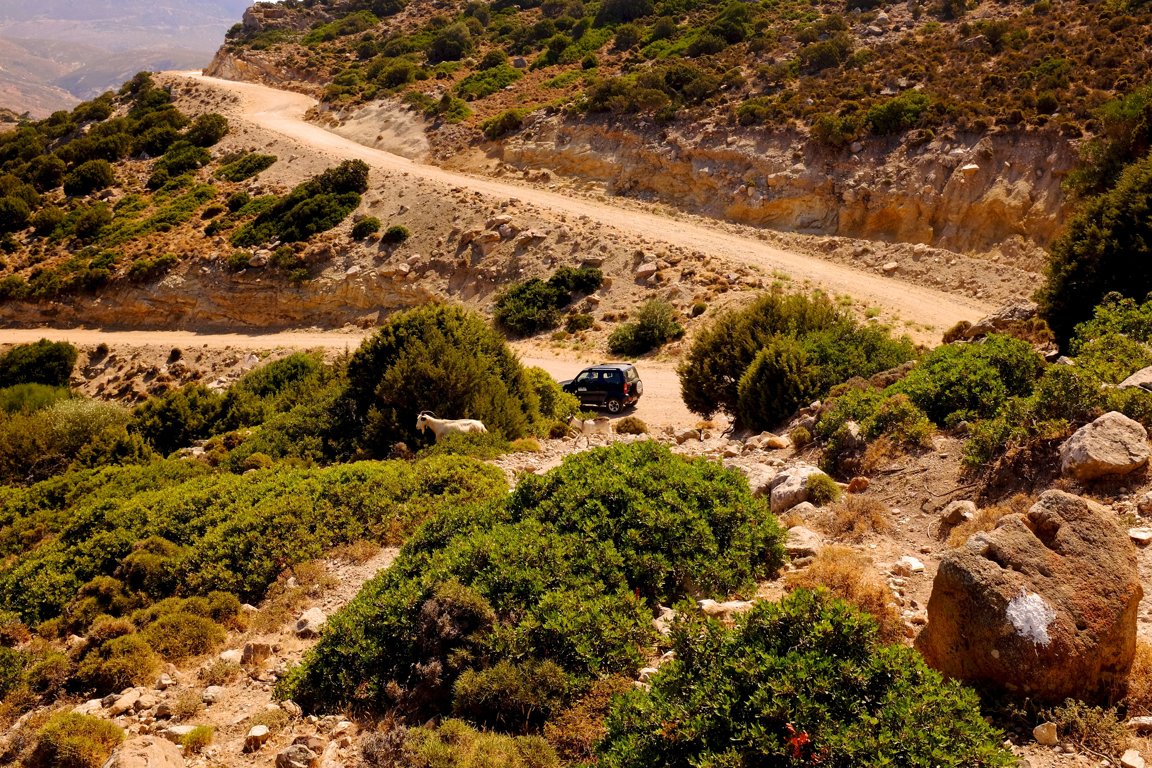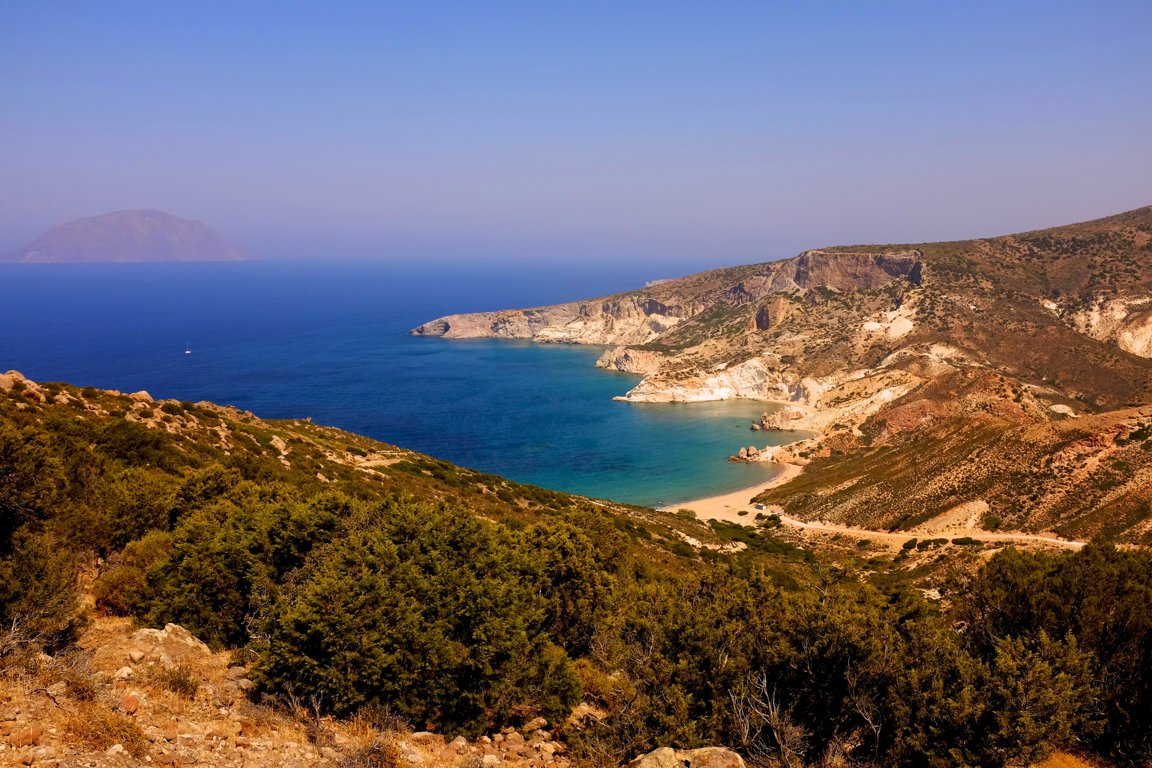 We are surprised to see nobody at Aghios Ioannis beach, such a magic place!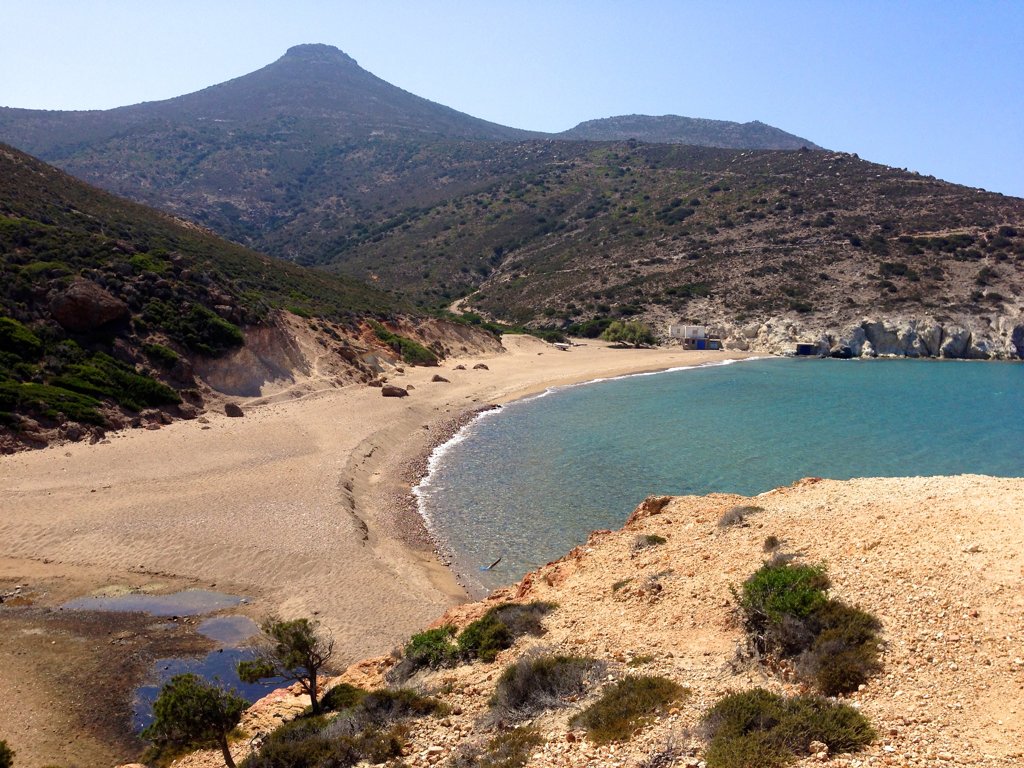 Out of curiosity we also went to the Triades beaches. Lovely too but felt like being of a frying pan as there was no shadow at all. On our way back we stop at the Achivadolimi - our favorite place from the last year but what a disappointment! The beach is full of debris, plastic bags, bottles, the water is still beautiful and clear but then you swim together with plastic bags... sad. The northern wind has brought all this.
After couple of days we have no idea about the days, dates or names of beaches visited. I guess it's called HOLIDAYS! Correction - lazy holidays :)
After having visited so many remote beaches we realise that we haven't seen any of the Milos organised beaches. I'm rather skeptical about them as I definitely don't want to feel like a sardine but what a surprise - even in the organised beaches there is enough space for everybody. Of course, the further you go, the more chance to end up in a nudist part (why do they always get the nicest spots?) Fryplaka is a nice surprise - so beautiful! And so is Paleochori!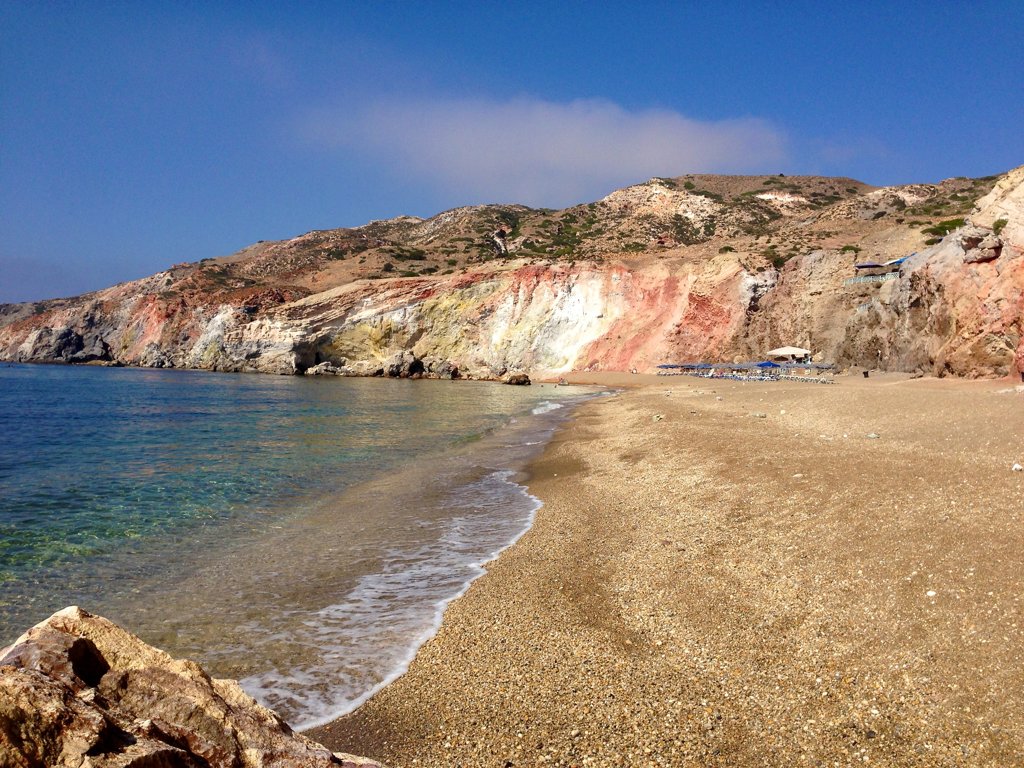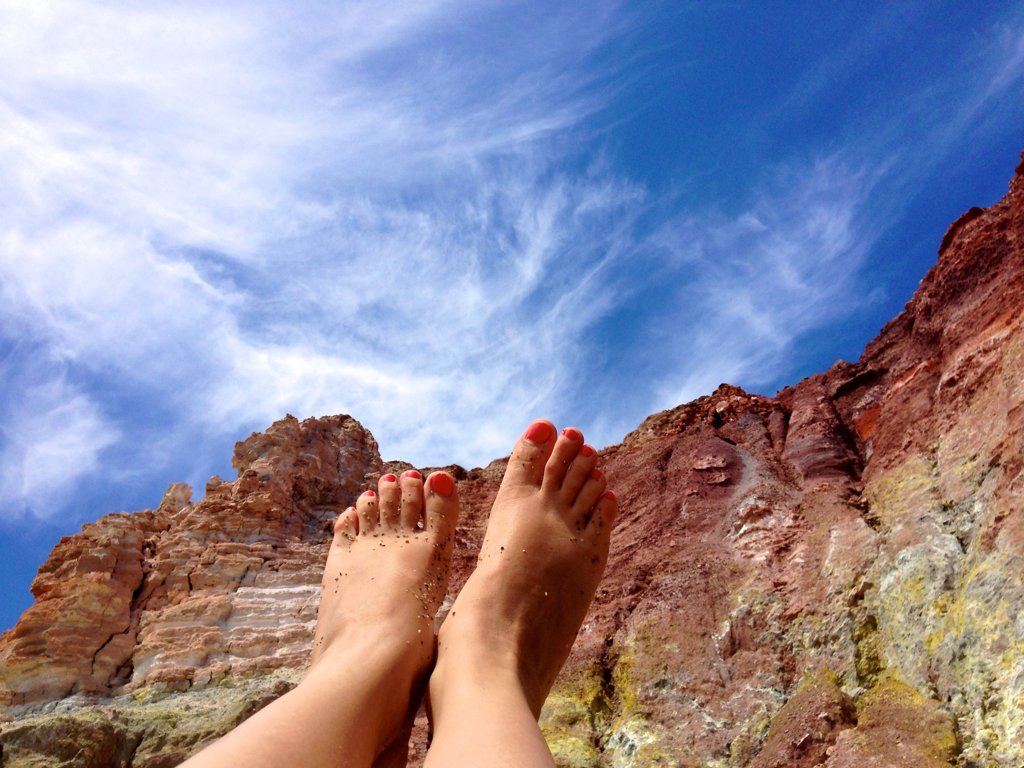 What's for the next day? Of course a beach! A wonderful one! Somehow this one had escaped my radar last year, so we were extremely happy to discover it - Platiena. Crystal clear water, waves from boats and quite some people but a pure bliss with white sand and a small beach bar to get a fresh ice tea.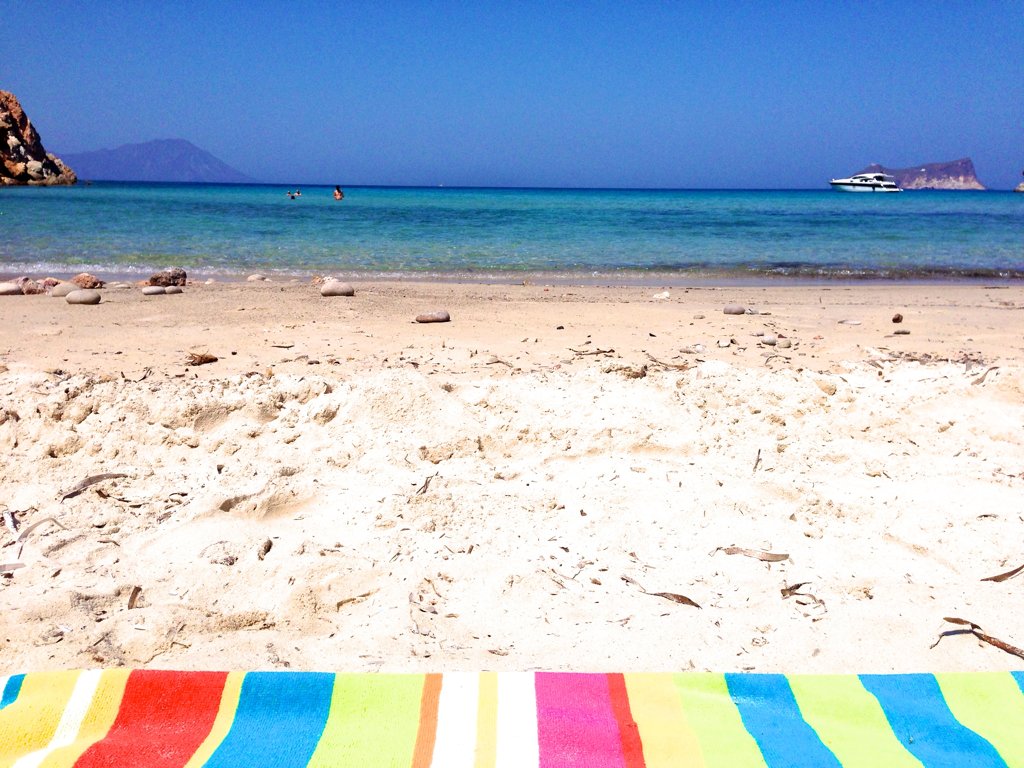 Of course, in between the beach hopping we also did restaurant hopping ;-) Just as last year - never disappointed, still huge fans of O Xamos and O Zygos.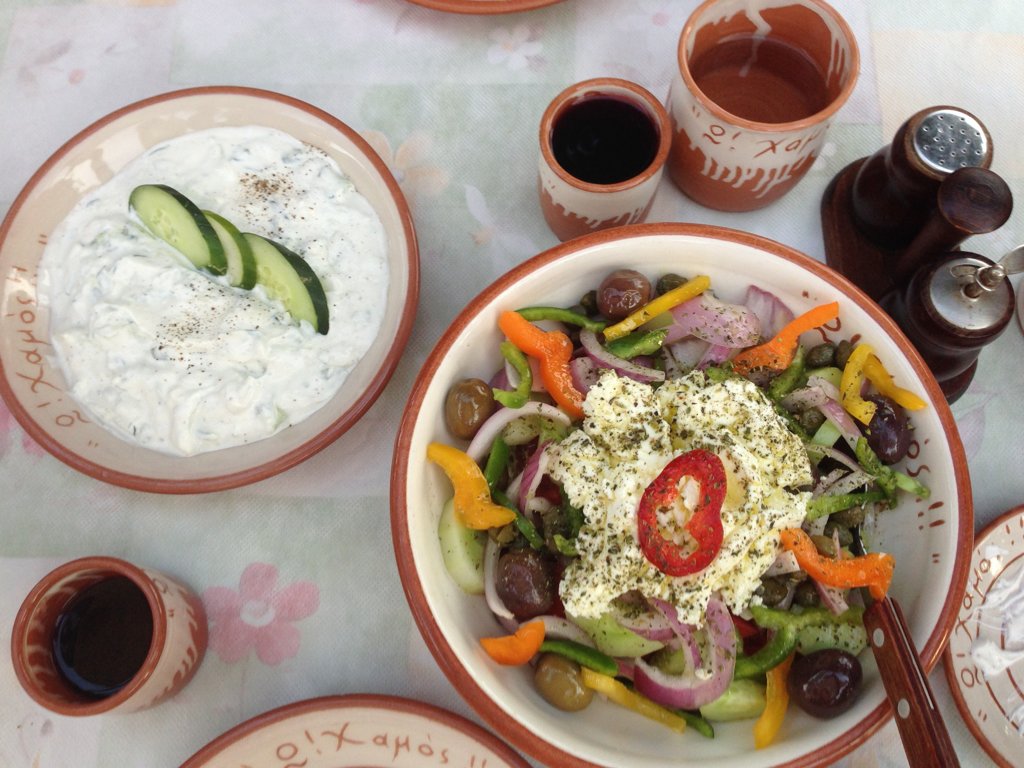 We also spent some time wondering around Plaka - beautiful place, full of cats. And of course, the sunset is amazing! Yes, much more impressive than Santorini, confirmed ;-) Just don't do the mistake to go to the Utophia bar - completely overrated, expensive and you will always have a selfie stick in your ear as everybody wants to get the best shot! Well, guess what, if you choose wisely you can also have your dinner at Archontula and have a view, just choose strategically your place.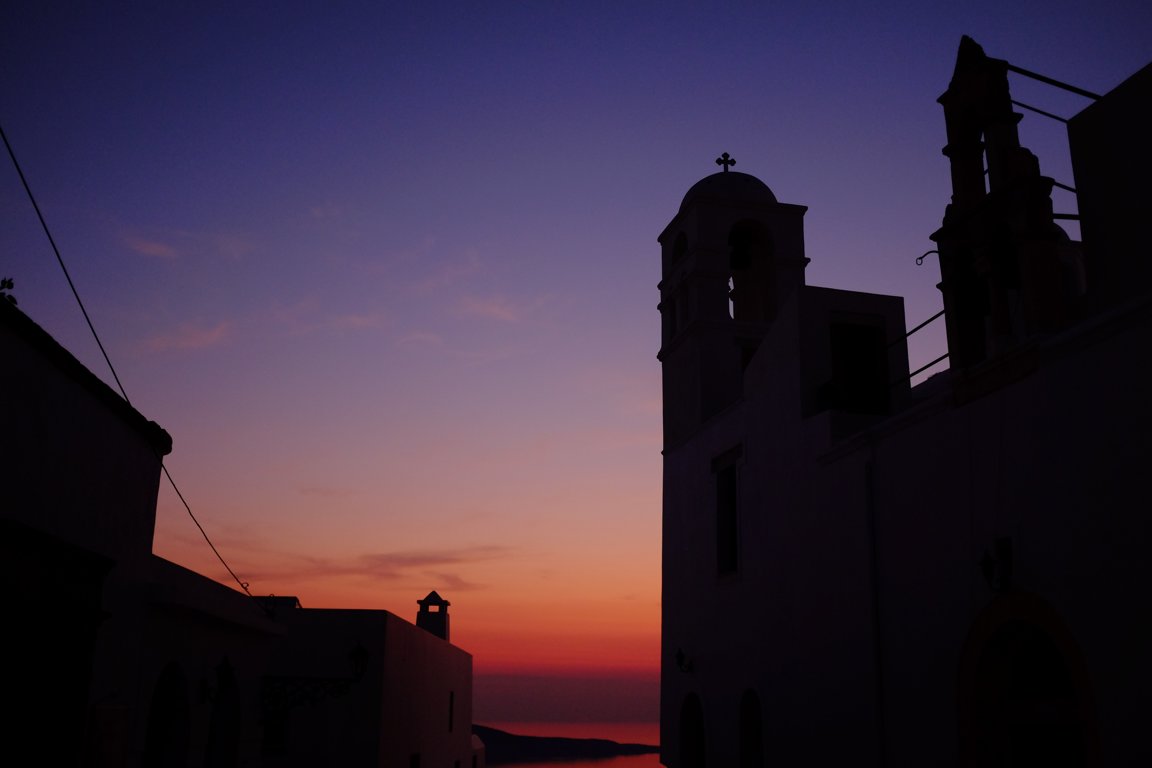 The next day we have planned to see Pollonia again. Last time the village did not impress us at all, but as there are many people who really like it, we have decided to give it another chance.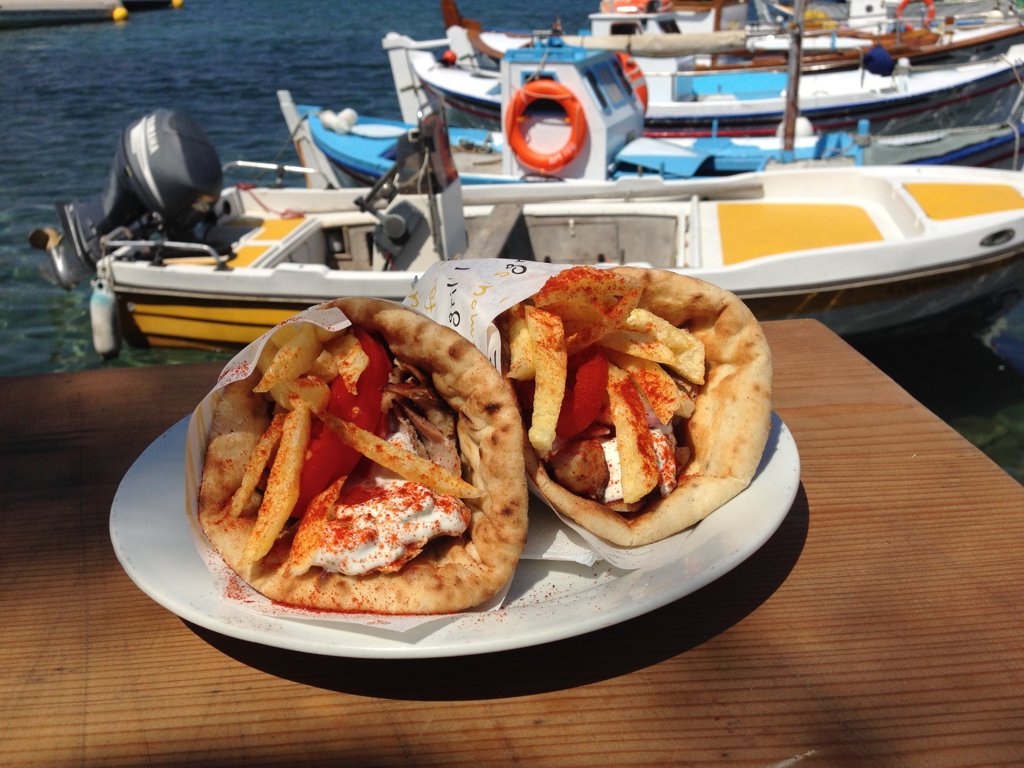 On our way we also see the main factory of S&B and the Voudia bay - beautiful but somehow swimming in the bay does not seem right.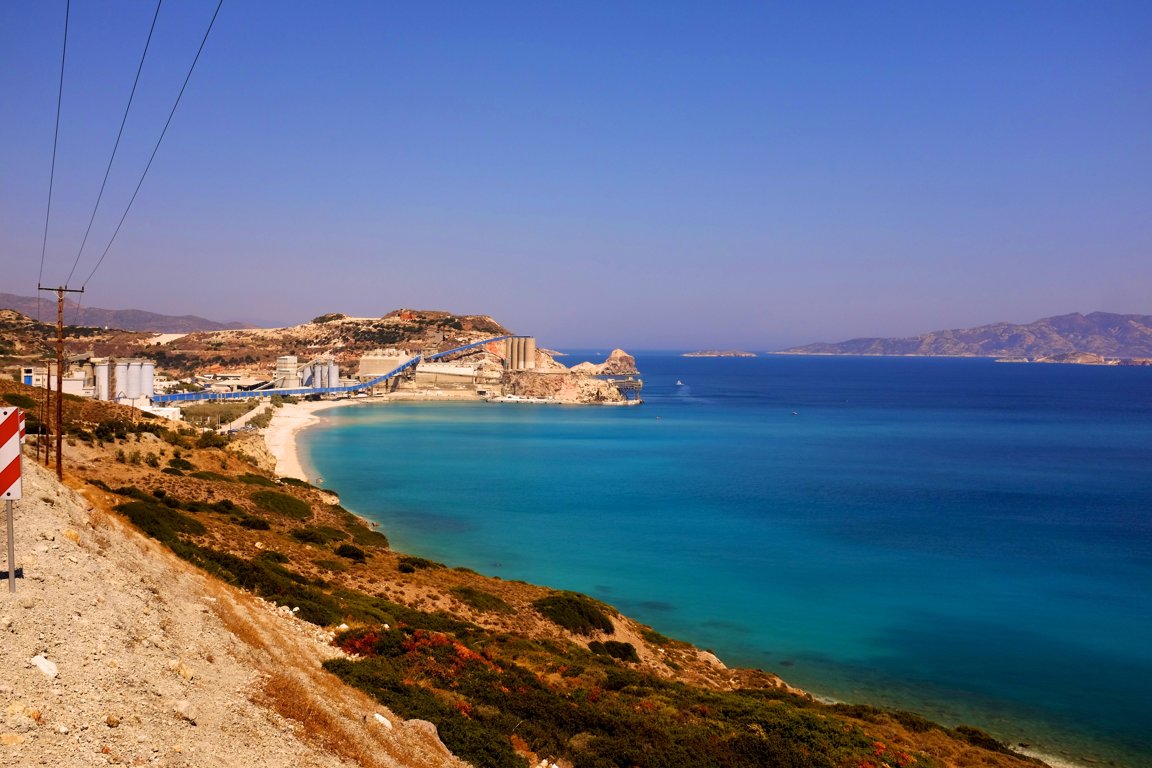 We also visit the Ageria mine again - it's a magical place. I wish we had the courage to sneak in and see it for real! The business runs there 24/7, so it's also kind of dangerous as the trucks simply fly on those dirt roads. Maybe xmas is the day to go there. :)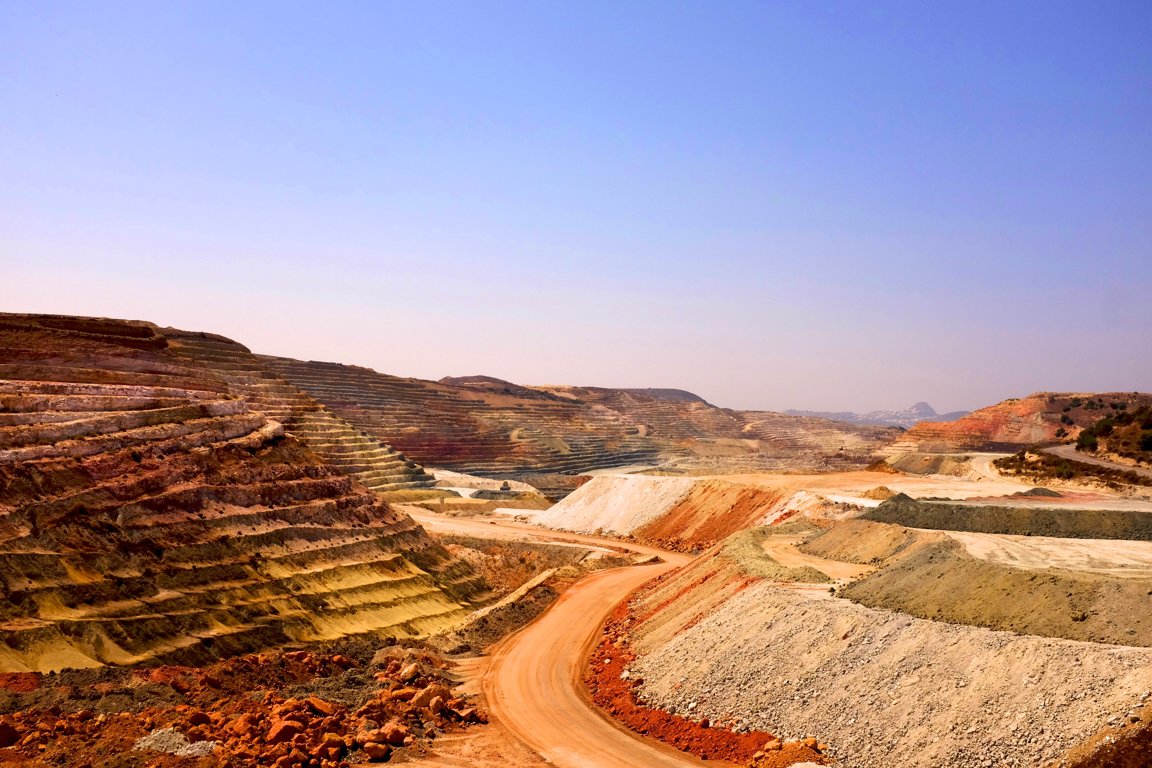 One of our great discoveries was Agia Kyriaki beach, the surrounding is not impressive at all and the beach itself is not impressive comparing to other beaches but the water! The combination of white sand, white pebbles and dazzling sun - it's a recipe for happiness. The beautiful strip of water is rather narrow but very practical for snorkeling (especially for the ones who are afraid to swim in depth). You can see lots of different fish and get your own fish spa - the buggers bite like hell!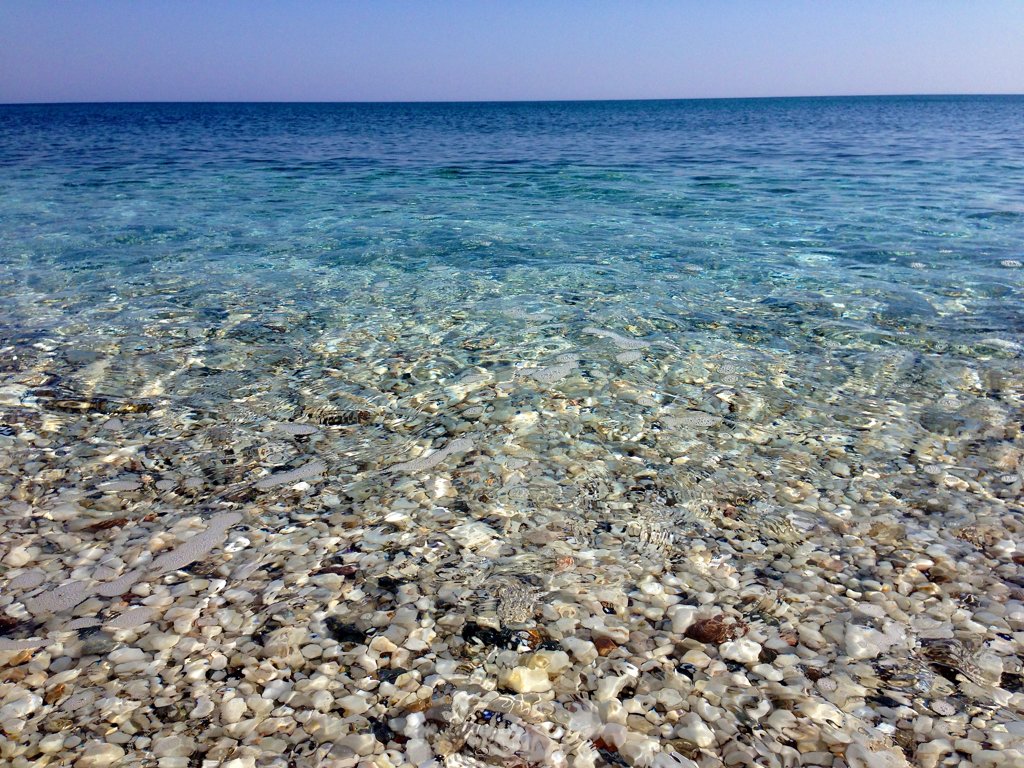 By the way, good luck remembering all the names of the beaches - there are more than 70 and in the end we really have difficulties to remember which is which and where we would like to go back :) On our last day we finally decide to check out Tsigrado - the beach to which you can get only through a very narrow passage and with a help of rope and ladder. Well, we made it and it wasn't soooo difficult (don't take too much stuff with you and it's a no for flip-flops). Just be aware that the beach is full of quad people (the ones pretending to be the super stars), so no families nor grandmas there. But it is very pretty, so worth the effort.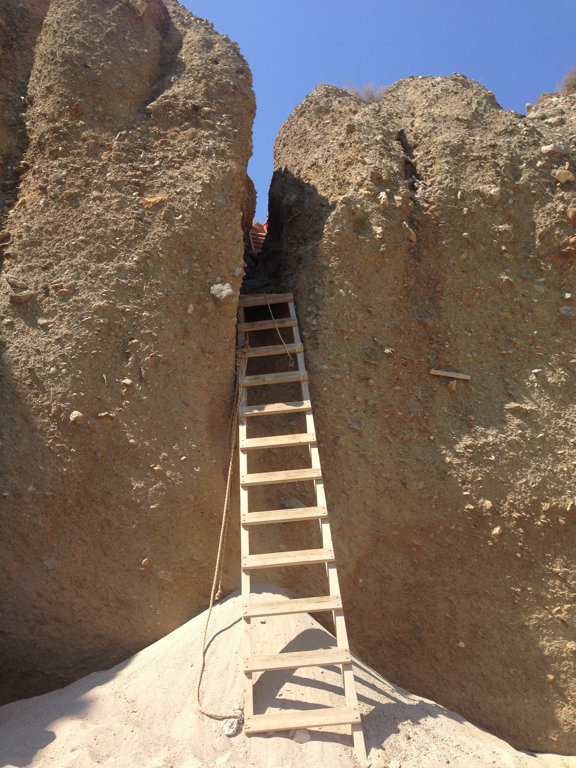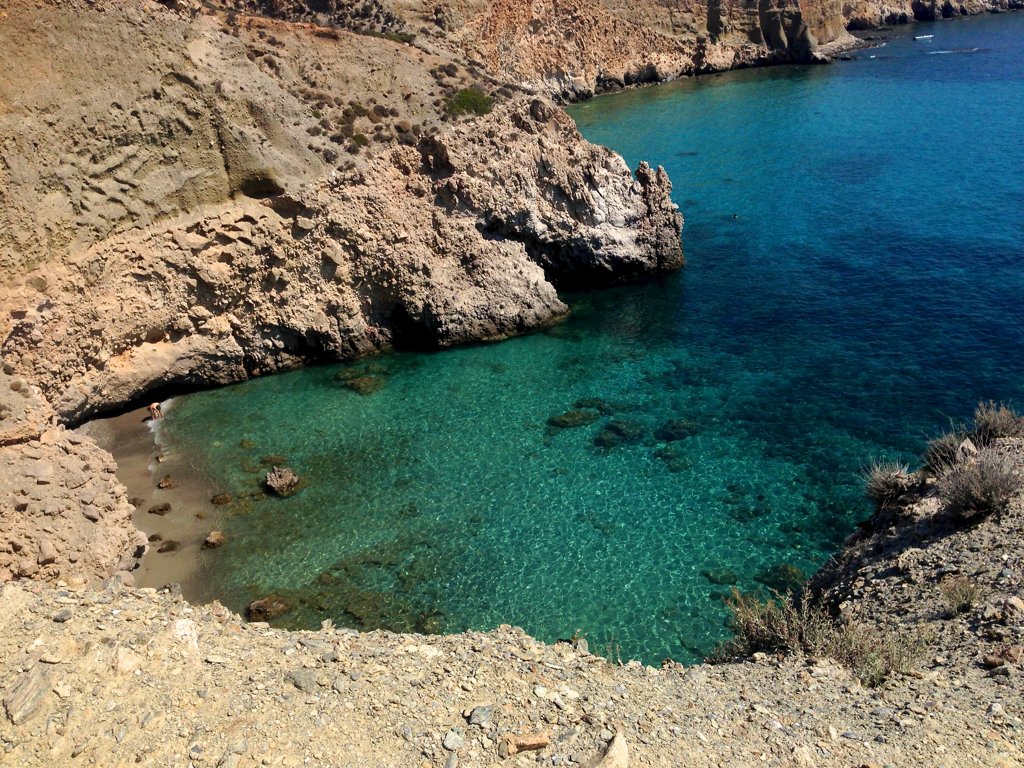 Our trip in Milos is almost over and we are surprised that still we haven't managed to see everything that we wanted (hot springs - next time!). We are happy to meet captain Pol from the Polco Sailing and he remembered us!
We pack and off we go back to Athens. This time the ferry is crowded and the ride is 5 hours as it stops at several other islands on the way.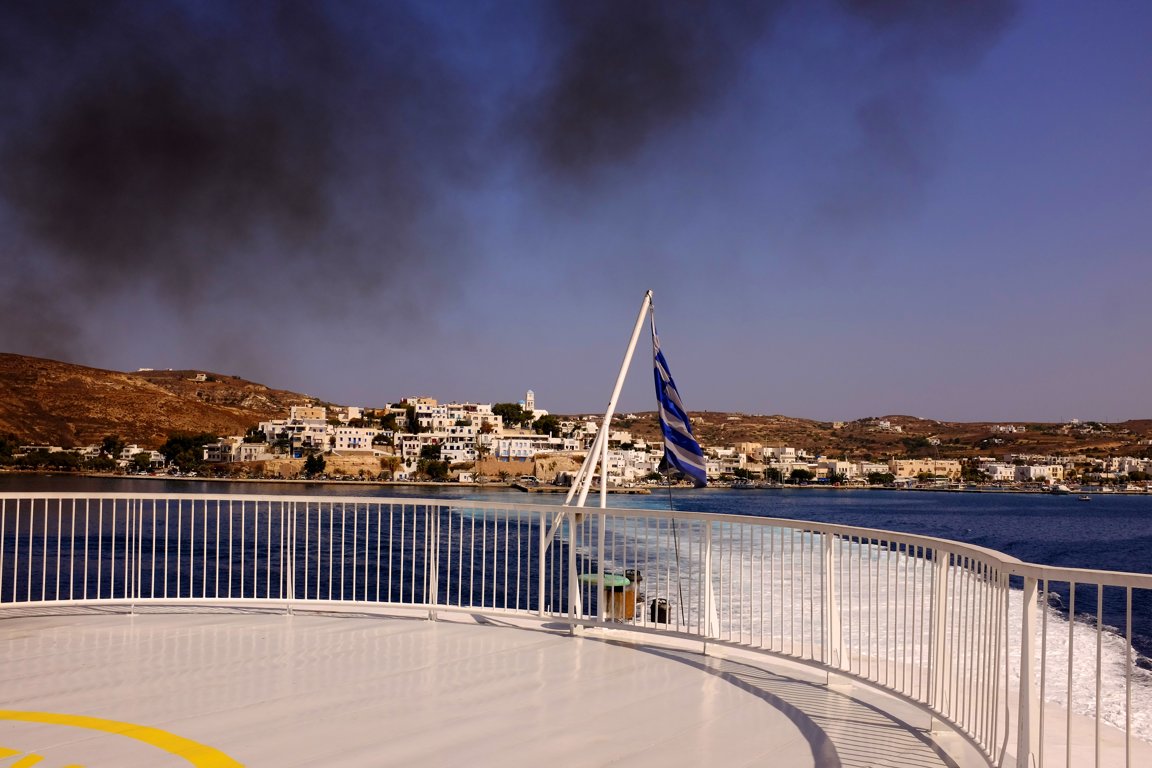 Athens welcomes us with a real heat, just 41° in shadow... the city seems dead, everything is closed and shutters are down. We are staying at the Everipides hotel - a great simple place for a very good price, in the Psiri area, so a bit dodgy around and a bit scary in the beginning but also with its charm. And the hotel has a beautiful terrace with a view on half of the city, including the Acropolis, what else to wish for?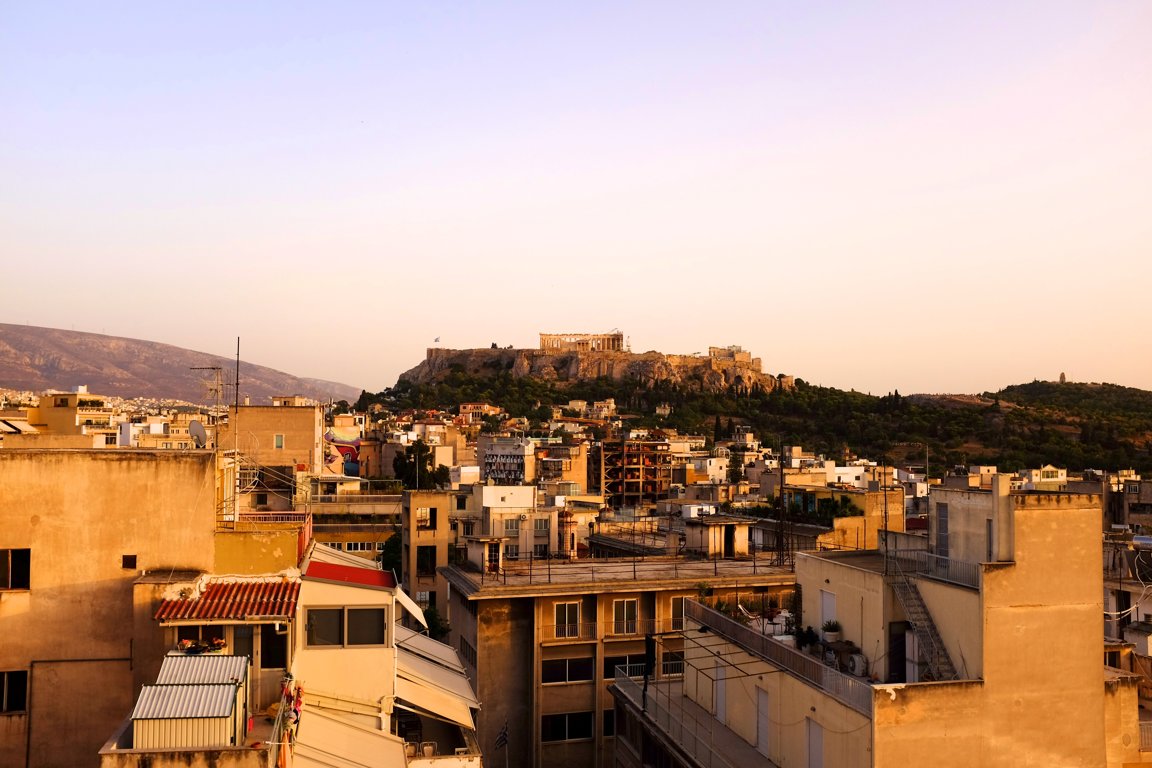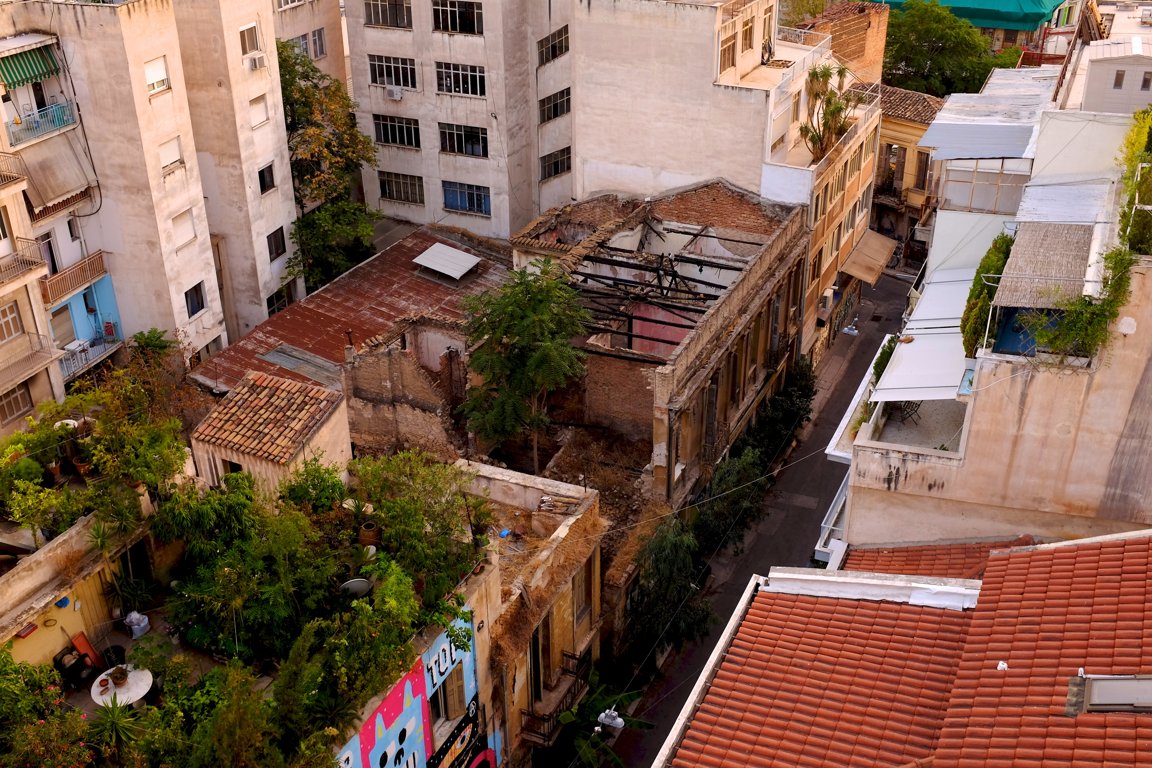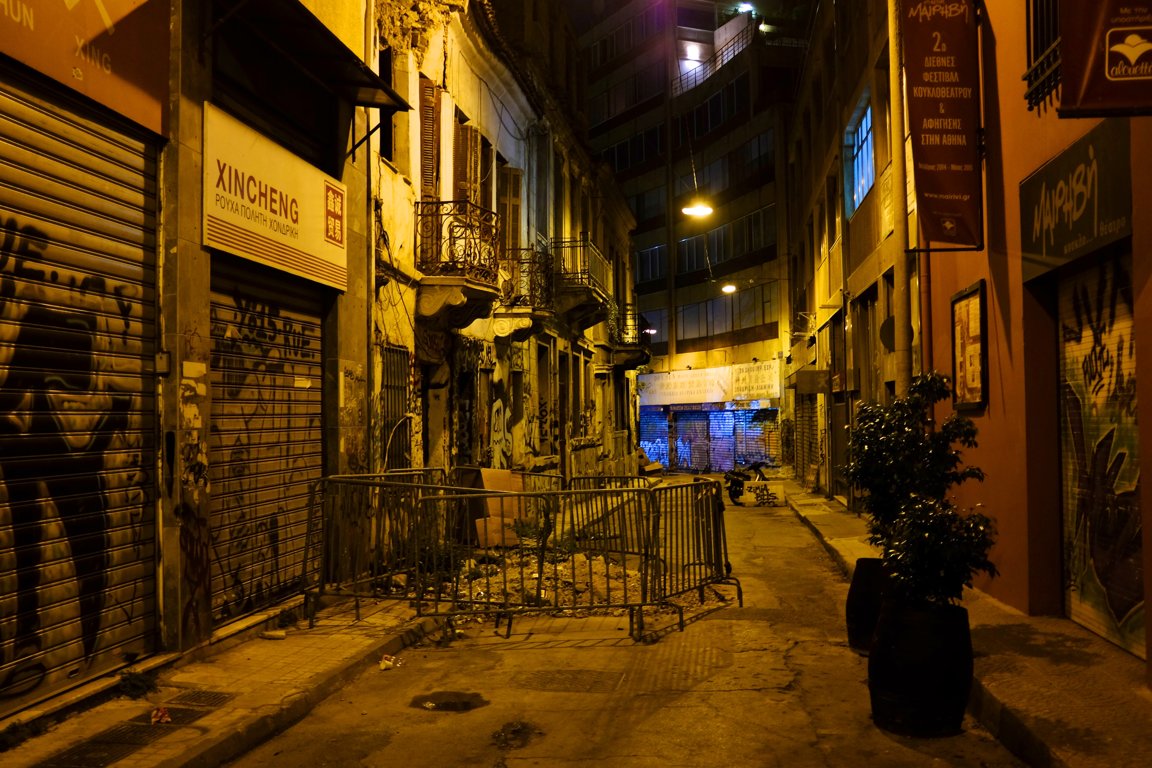 As we have had an overdose of Greek food, we opt to find a small Indian snack which is supposed to be very near. It's already dark and the area where we are staying seems completely surreal - destroyed buildings mixed up with small spice shops, exotic groceries and lots of people everywhere. I'm the only woman in the whole neighborhood there! Finally we find the Indian snack and we are in heaven directly (we are fans of Indian food). a complete meal for 2 with a beer for 11 eur and the best rice ever! And really kind people. It's called Pak Taka Tak. And nobody has kicked us or disturbed us and we are alive!
For the next day we have planned also a bit of culture (cannot spend all the holidays just at the beach, right?). We are very pleased with the visit of National Archeological Museum. The galleries are a bit messy but definitely worth visiting. I'm mesmerized with the Mycenaean death masks, I remember learning about them in early school age and how scary and fascinating I found them at that time. And now I see them for real! Wow.
Mask of Agamemnon, Mycenae, c. 1550-1500 B.C.E.: Mask of Agamemnon, from shaft grave V, grave circle A, c.1550-1500 B.C.E., gold, 12 inches / 35 cm (National Archaeological Museum, Athens) Speakers: Dr. Steven Zucker & Dr. Beth Harris

The rest of the day we just wonder around, we are back again in the Monastiraki and the flee market and, of course, I need to get shoes again from Klimatsakis (I love them, much better quality than others), we are also trying to find some decent olive oil but with limited success (don't even bother, you can get all of them at the airport at different sizes and prices).
In the evening we head to Minotauros - a simple eatery with very good pork chops. Clients see that we are not locals and are eager to have a chat about cameras, basketball (they know where Latvia is and they do mean Latvia and not Lithuania I hope...).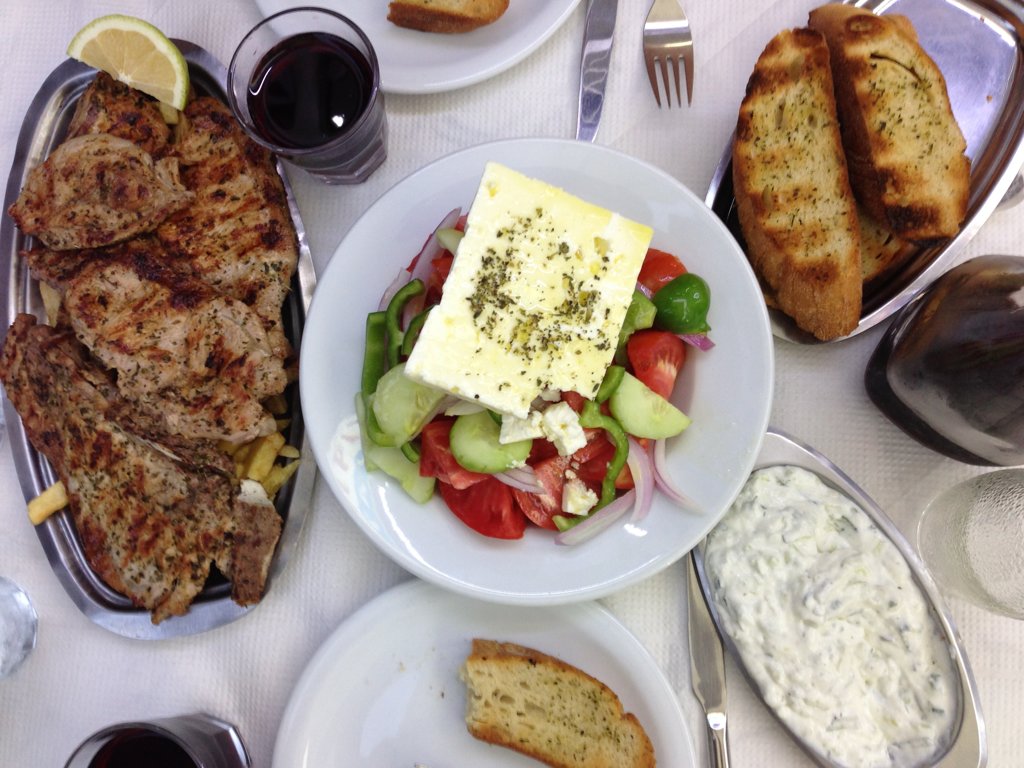 We also indulge ourselves in the forgotten area of Psiri - a dream for urban photographers.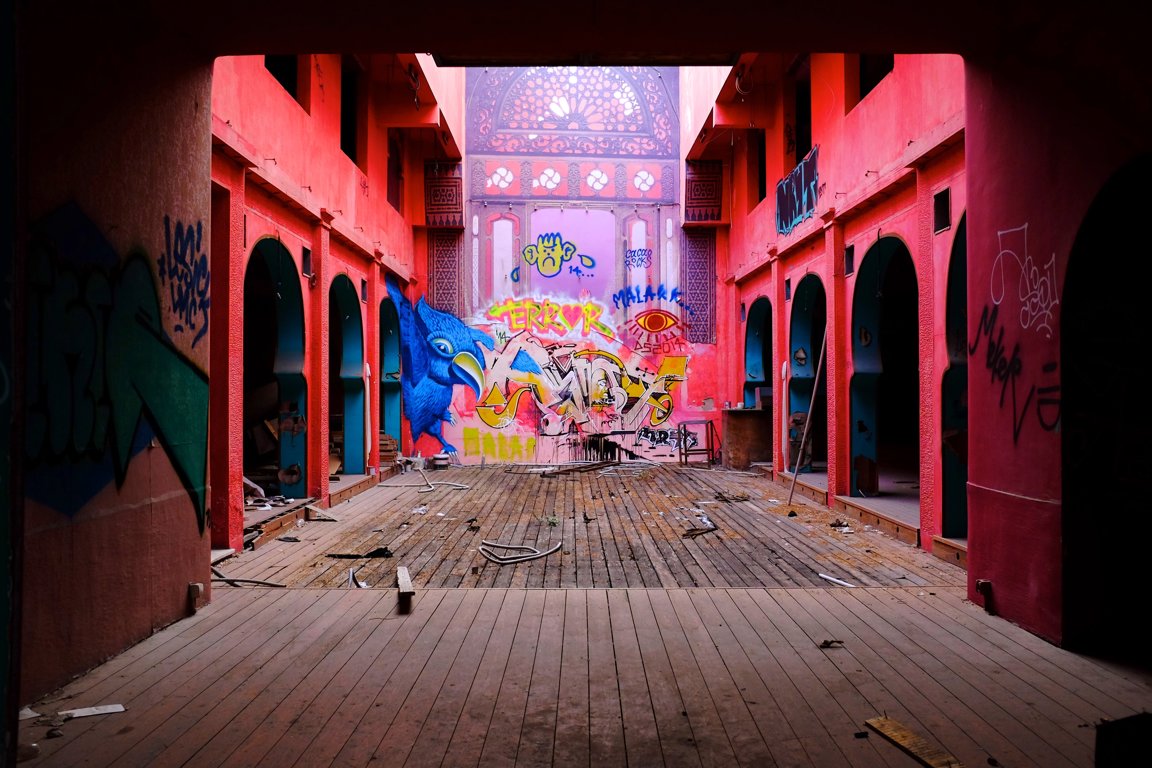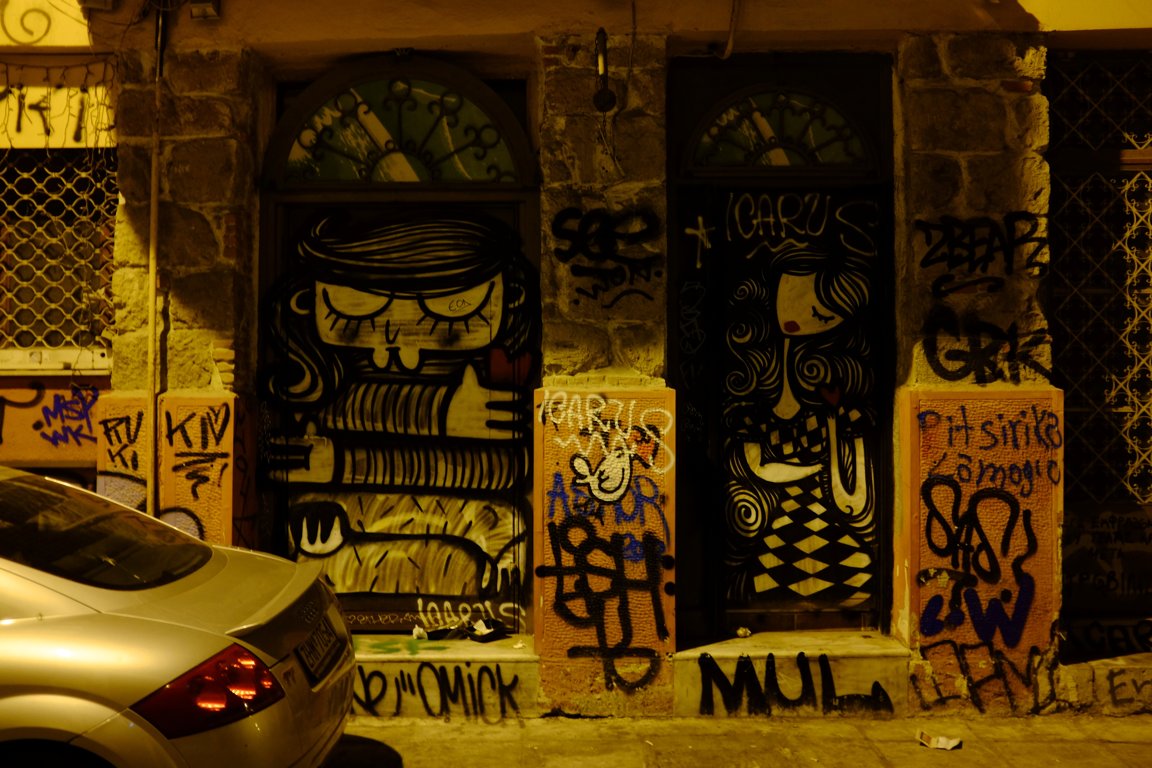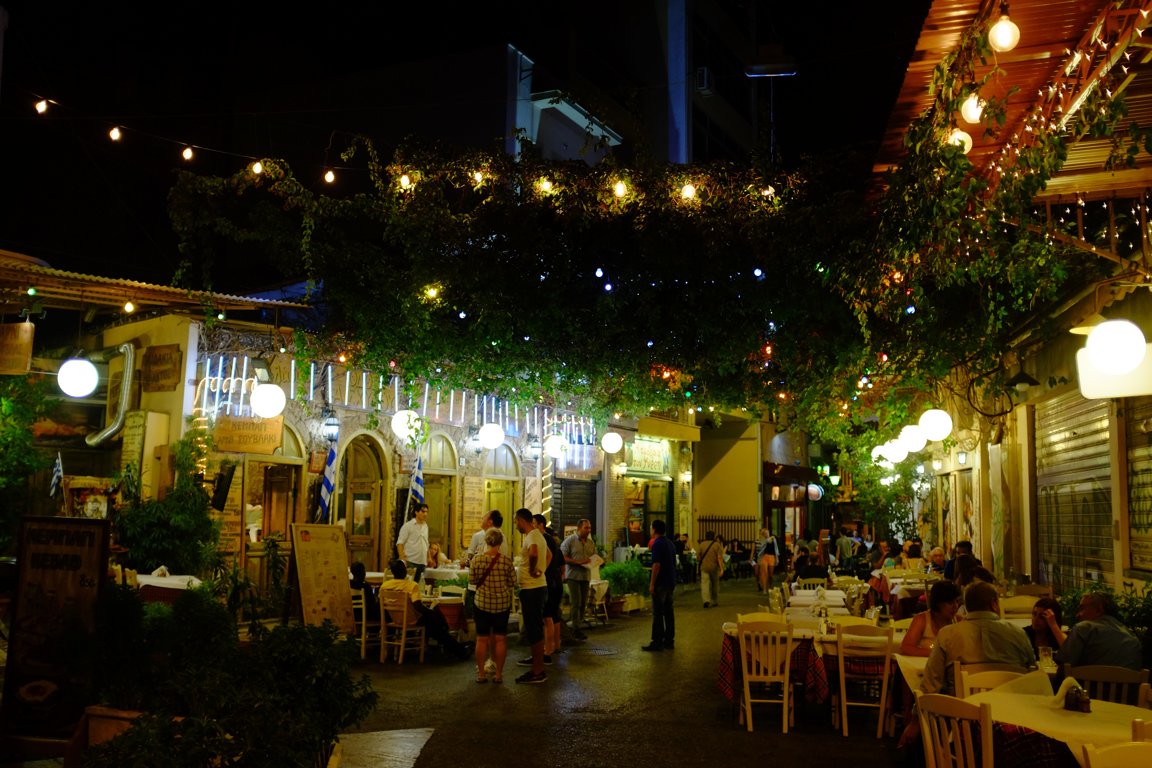 Some observations:
- We did not feel any crisis in Milos, it was also confirmed by locals. Just had to pay everything in cash and never got any receipts...
- It's confirmed - if you really want to discover Milos, hire a car, if going to the west, 4x4 is a must (also for European drivers).
- If you rent a car from Georgas, you also get an umbrella! So needed as not so many beaches have shadow.
- In Paleochori you can see mini volcanoes at the sea bed - my husband says it's an impressive sight.
- In Athens Psiri is full of different cools shops - you can buy spices for very reasonable prices (not the ones already prepared in bags but per kg).
- The best thing about Athens airport is the choice of olive oil to bring home. Be ready to carry! But we got our favourite oil from a juice bar in Monasteraki.
- In Milos they don't know how a real mojito tastes, 9 eur and all you get is sugar, so stick to local wines ;-)
- Hot springs in Adamas - don't even bother to go. We were there on one of the first days after the opening and if you want to have the treatment, you have to book it before, the lady did not speak any English and the works were not finished yet (I found it a bit weird that that electricity cables wre just next to the swimming pool...), so better try to find the natural ones in Canava.
- It's impressive how good delivery is organised in Milos - trucks bring stuff, then another one picks it up in several minutes and the little port is so full of life!
5 comments
- Greece again. Yes to Milos!
Sue - December 11, 2015 at 1:44 pm
Just the sort of piece I like to read on a dull Winter day in U.k. I dream of the crystal clear water,although I don't imagine any rubbish. Thanks!
Cecilie - February 27, 2016 at 8:41 pm
Thank you for your blog, i find it very informative:) i have a question i hope you can hjelp me with. i am going to milos in may this year and are planning to rent a car. But i do not like to drive on narrow steep roads. Which places should i avoid?
Cecilie - February 27, 2016 at 8:48 pm
And another question i hope you will hjelp me with: what ferry did you take this time? I am trawelling with Two kids and want to avoid the flying delphine boats and the small katamarans where you feel every wave
Dace Kalnina - March 15, 2016 at 9:29 pm
@Cecile The roads are rather narrow all over the island apart from Adamas to Pollonia :) But if you go to organised beaches like Fryplaka and Paleochori, there will be no problem!
As for the ferry, we took Speedrunner IV, I found it the best as it was fast enough but with lots of space and big, so people around were not sea sick. Enjoy! :)
Sally - June 18, 2018 at 2:43 pm
Thank you for your description of Milos

We visit this August and are very excited although I don't think 6 days will be enough either.

Do you know if you can rent umbrellas to take to the beaches? We are coming from Australia and have already rented a car. But I think an umbrella will be a must!!!

Thank you
Leave a reply