Incredible Iceland - summer 2022 vibes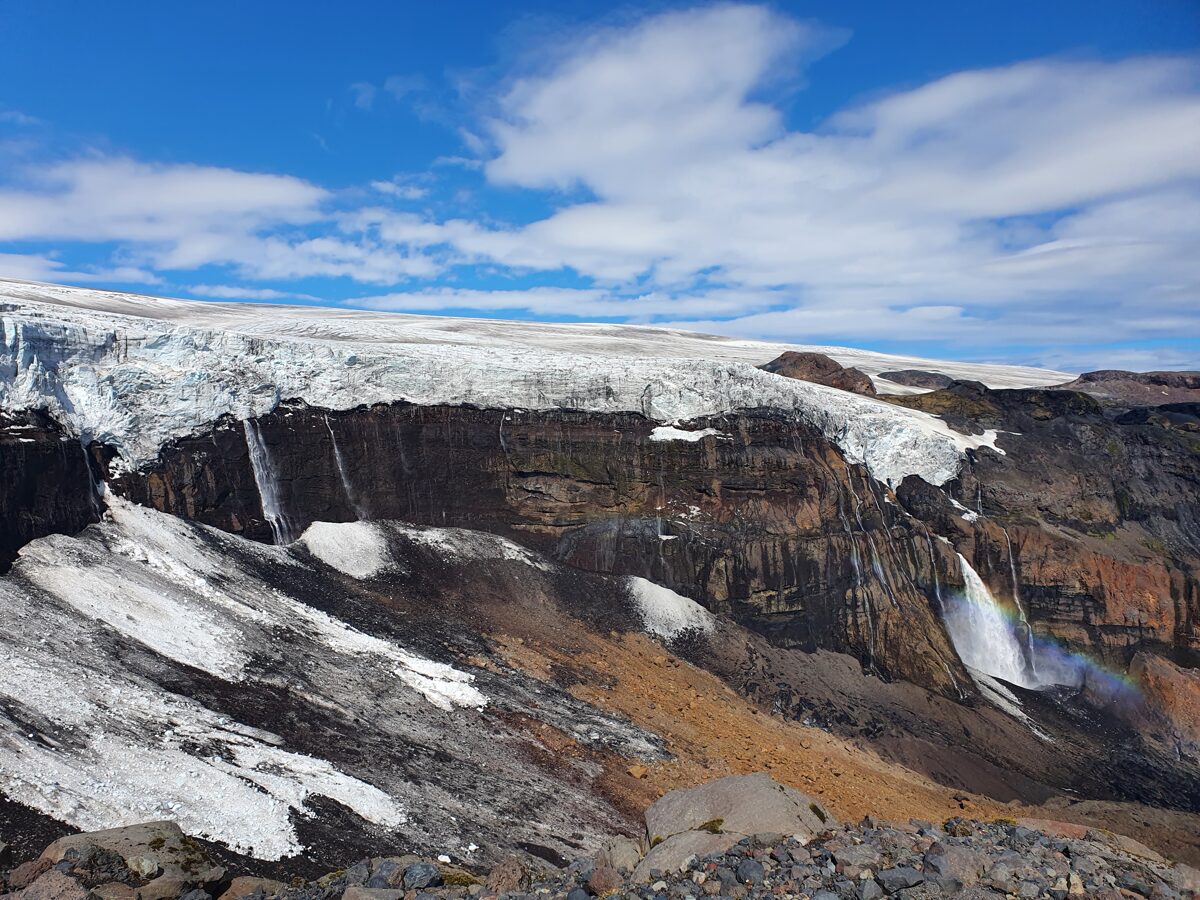 This was my 7th visit to Iceland... I know, I know, I'm totally in love with this place but the ones who have been at least once will understand that Iceland is addictive. I had never seen it in July, so really had high expectations to feel summer, experience the midnight sun and enjoy the greenery. This time we booked almost everything well in advance not to have any huge financial surprises. Summer is the most expensive period and also many places are booked, so plan well ahead your moves or take a tent!
---
Iceland welcomed us in a truly Icelandic way - rain, rain, rain... I had read that July is the driest month... hmmmm...
We stayed only for 8 days or so and our main objective was to do the 26 km Fimmvörðuháls hike from Skogafoss to Thorsmork. We had a window of 4 days to choose the best weather and the first day was not the most promising one. However, it turned out beautiful. We stayed at the cottages in the Rauðuskriður farm - a perfect location with amazing views around. Having been to Iceland so many times means that all the main touristic places have been seen and it gives the luxury to go totally off the beaten path and discover places that most tourists would never consider.
Just next to the cottages there is a place called a Demon's cliff - it looks pretty steep to climb but the view is simply impressive! There is also a cave but we did not find it.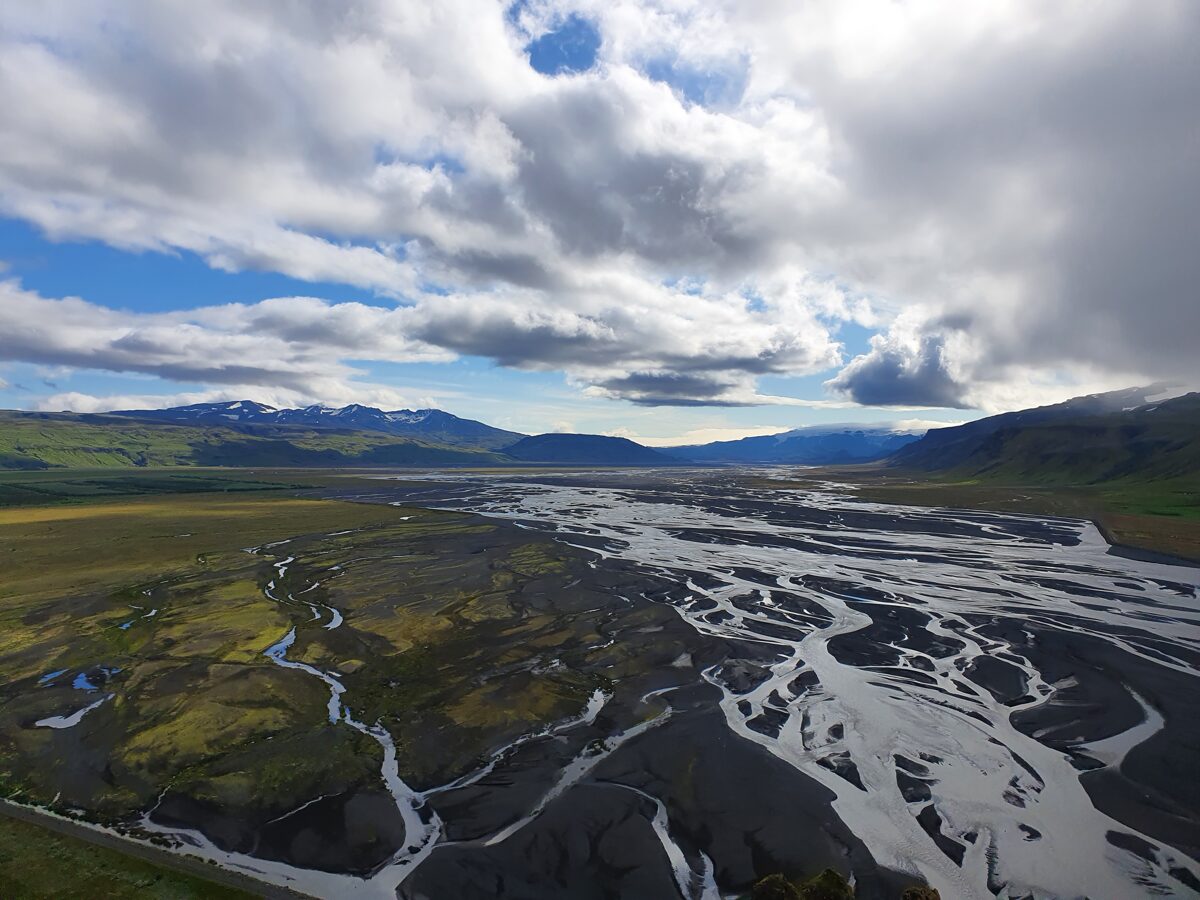 We decided to explore the F261 road. As it was our first day, we did not want to go crazy on driving (to be sure we don't get a flat tyre!) so we decided to walk and take in the scenery around us which of course was simply amazing - a beautiful river, Thorsmork with its glaciers and amazing colours and scent of flowers!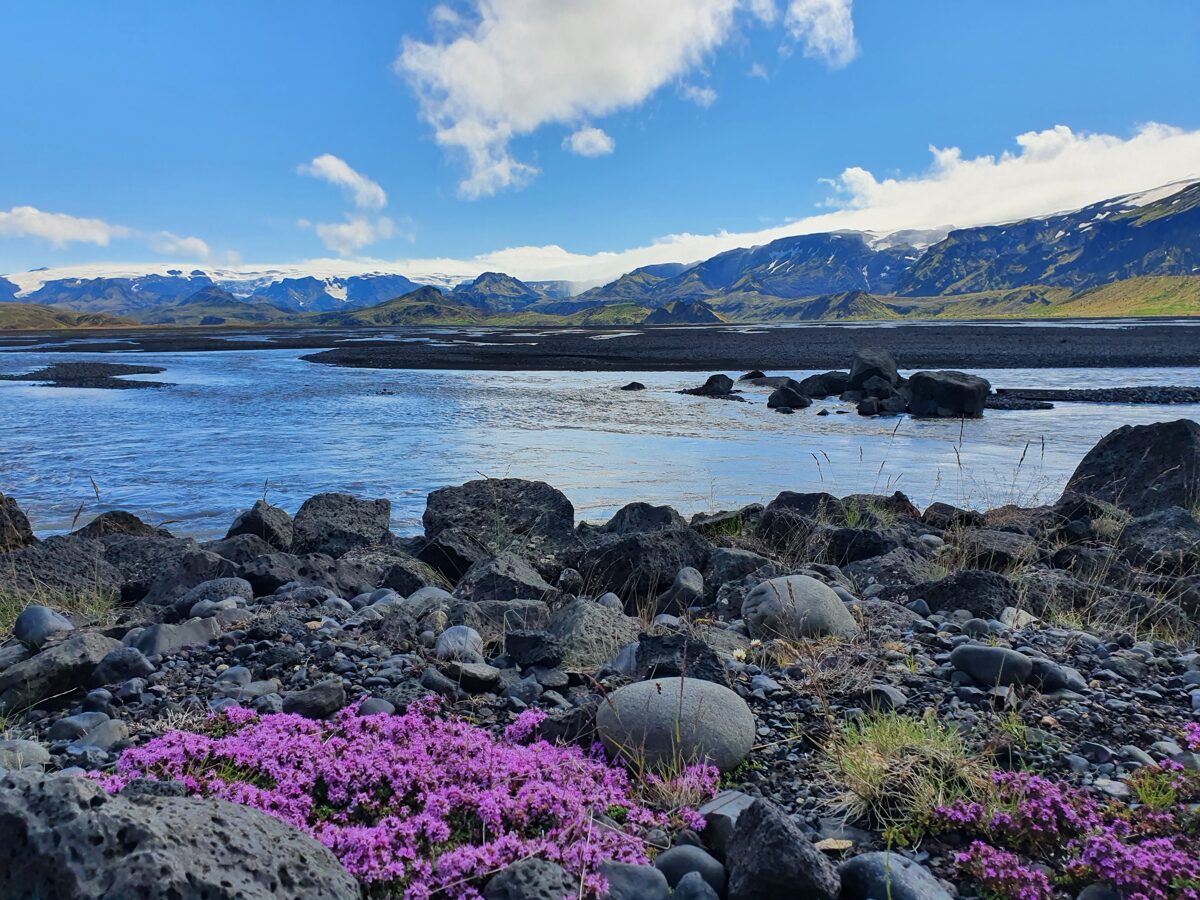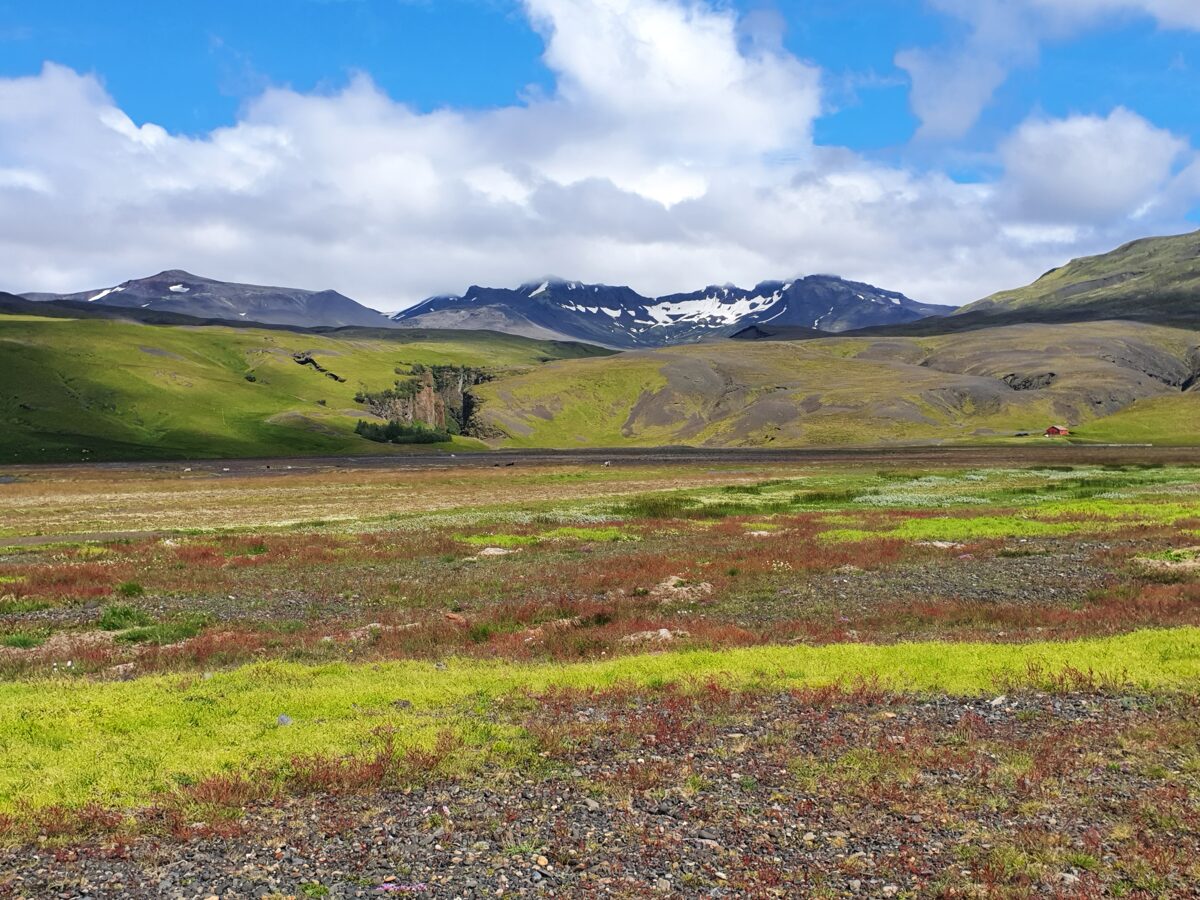 On our way we had a really great treat! We could observe training for young horses. There were around 30 or so and were galloping on the road. Just like that!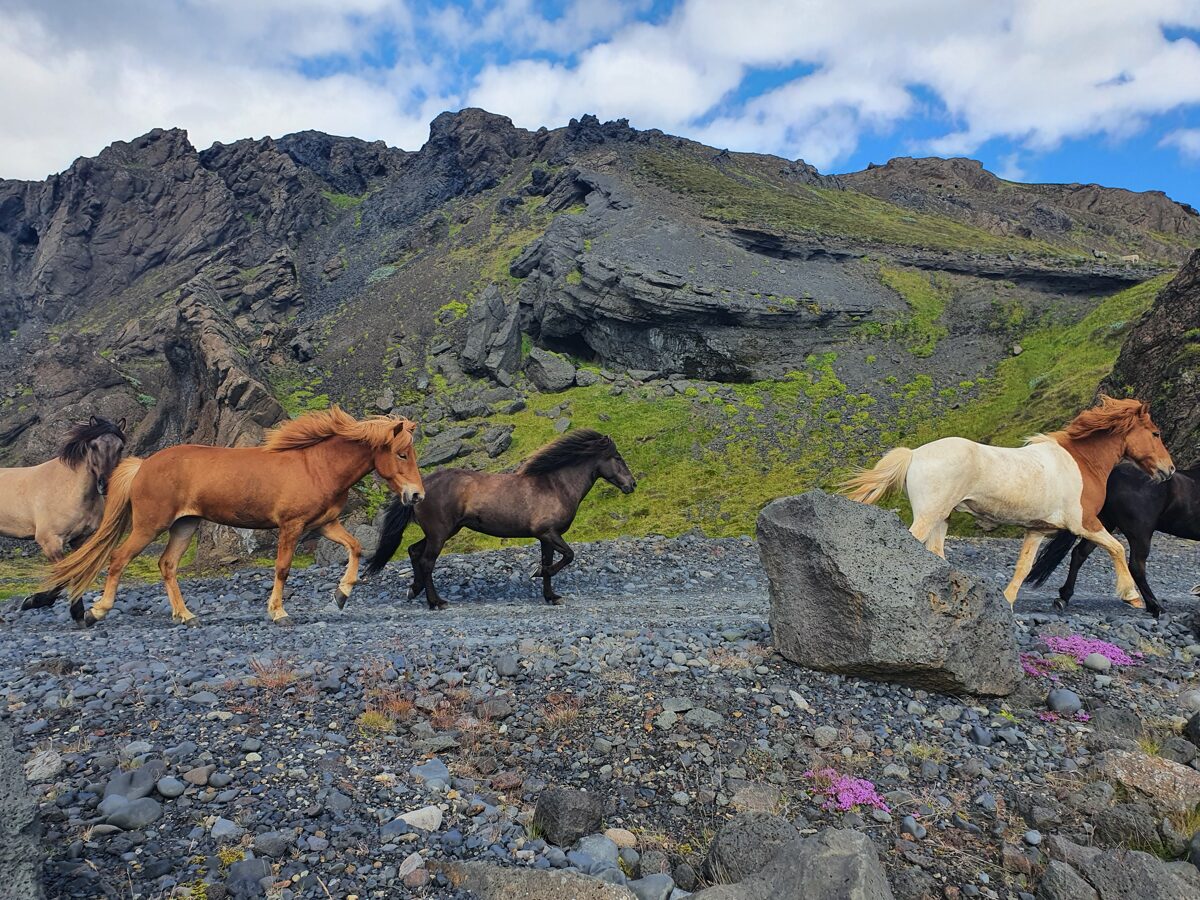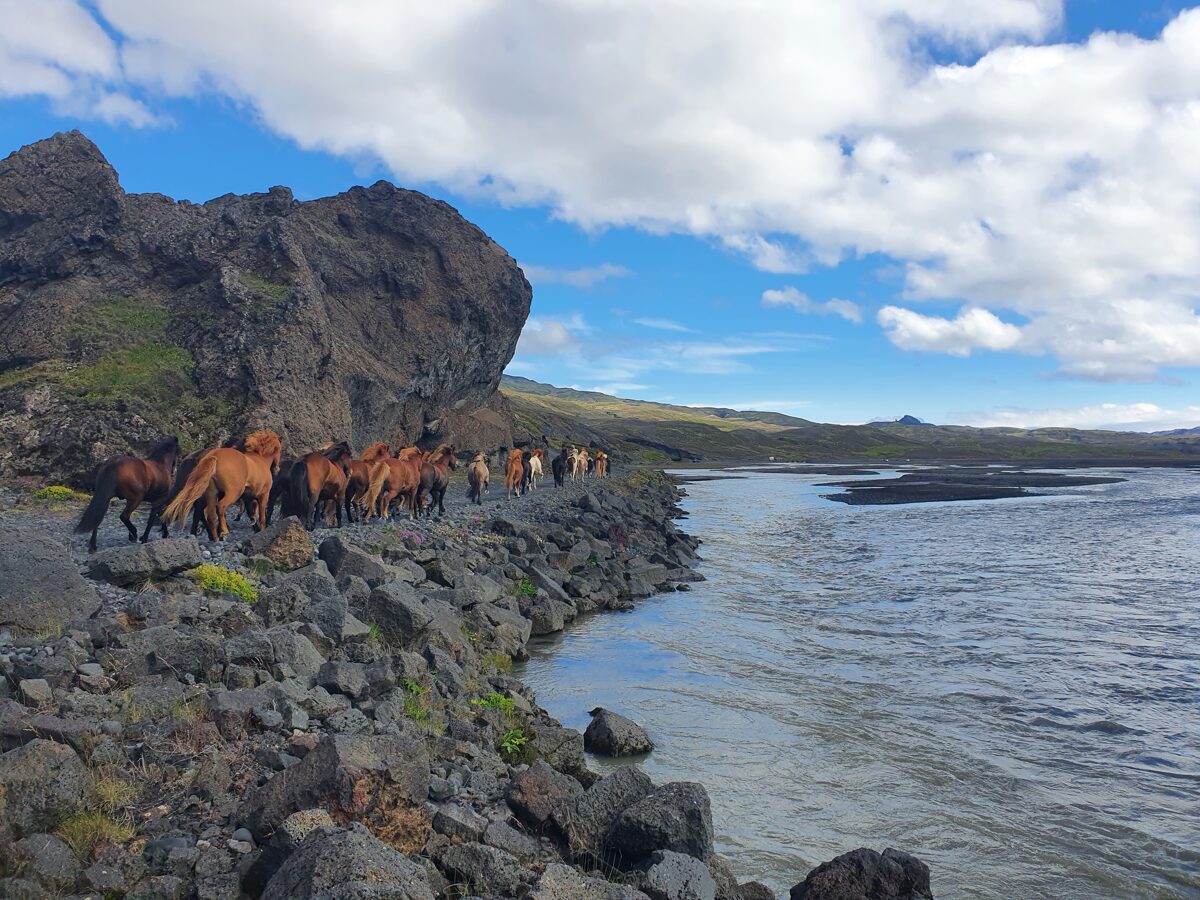 On our way we also noticed a small canyon - very beautiful and calm.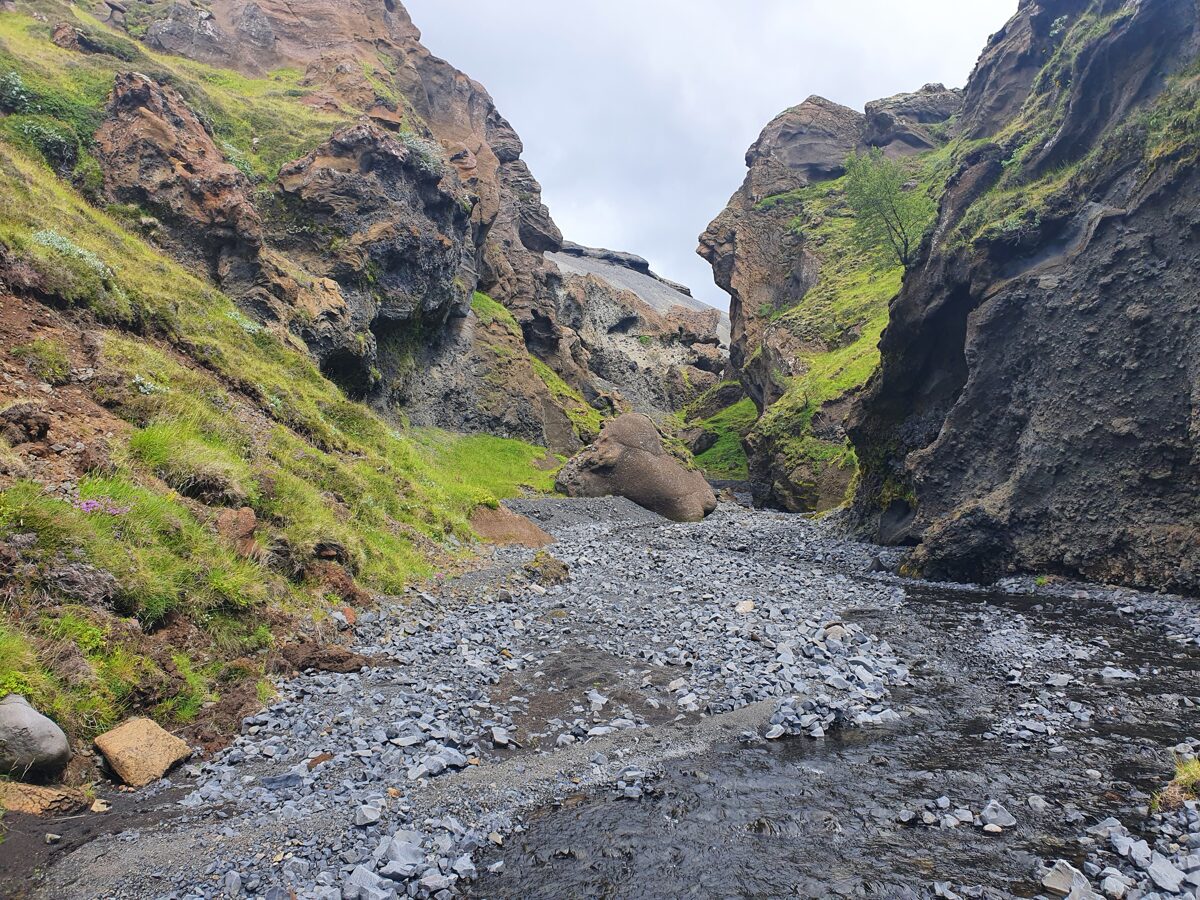 We even got the treat of iridescent clouds! Not bad for the first day.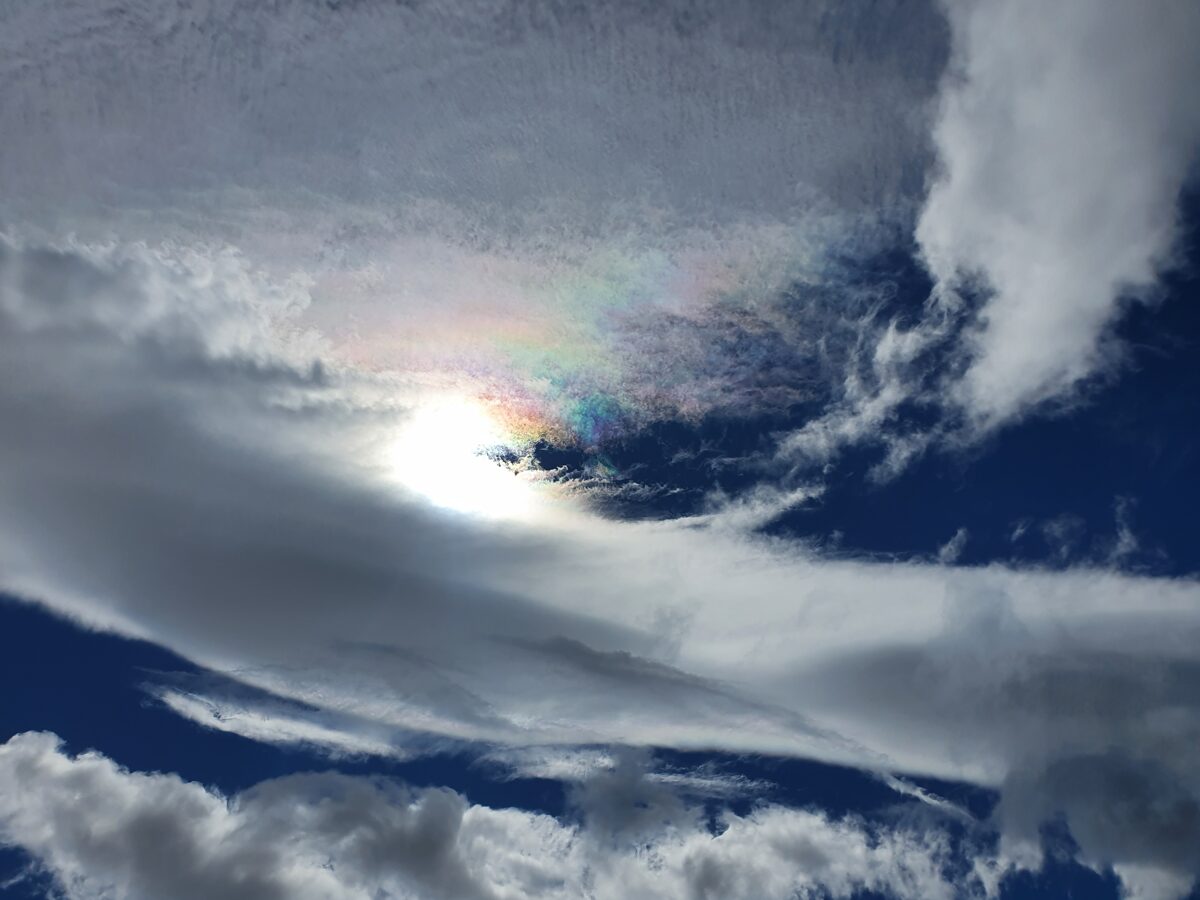 Although we were already very tired, we decided to see also Gluggafoss. I have to say that after having seen Dettifoss, I'm not sure which waterfall can impress me more. But still it was very nice and interesting as parts of the waterfall are revealed through "windows" in the rock.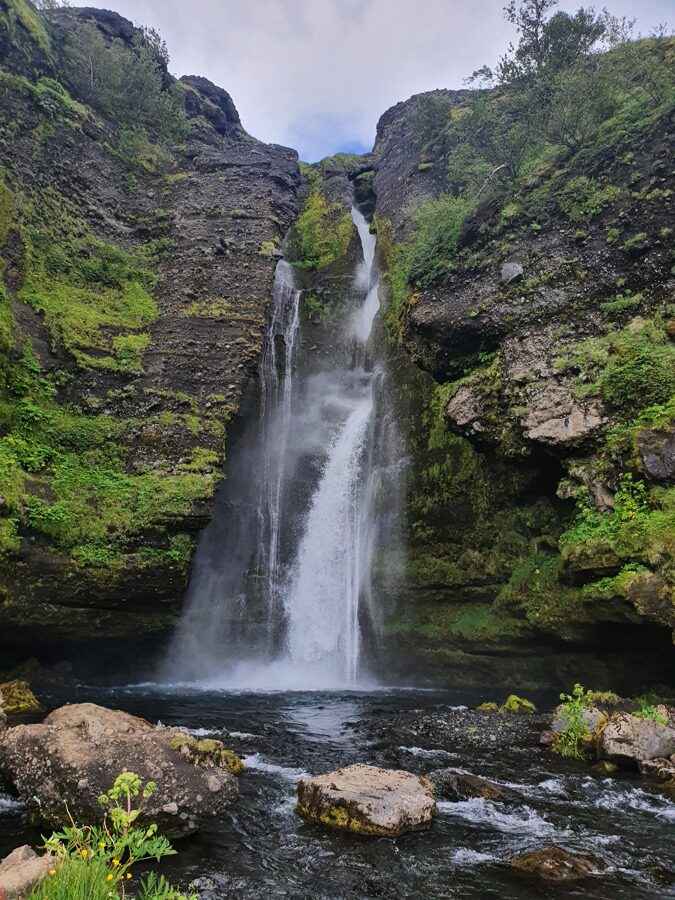 So in the evening after 17 km or so walk we were very happy to enjoy a hottub. The next day we had to get up early as we had planned to do the Fimms hike and the bus was picking us from Hvolsvöllur.
We had read quite a lot about the hike as it's considered to be one of the most beautiful but also a difficult one. I will not detail out here how to prepare for the walk, there are already great descriptions available by Epic Iceland and Earthtrekkers. You will notice that they all say that the hike should be done in excellent weather only and it should not be taken lighthearted, preparation is needed. From the time we had, we had chosen the best day with the best weather. But of course we were aware that up, between the glaciers, the weather can turn bad even if in Skogar it's sunny. Because for sure you don't want to end up like this guy in this video.
Vedur.is was showing some scattered clouds but no rain, so we hoped it would be Ok. What encouraged us was that the bus driver told us that the day was perfect for such a hike. So off we went... The first part was nothing new for me as I had already seen a part of it. Of course all these 26 waterfalls are beautiful but we were more concentrating on time to be sure that we reach the first hut around 14:00.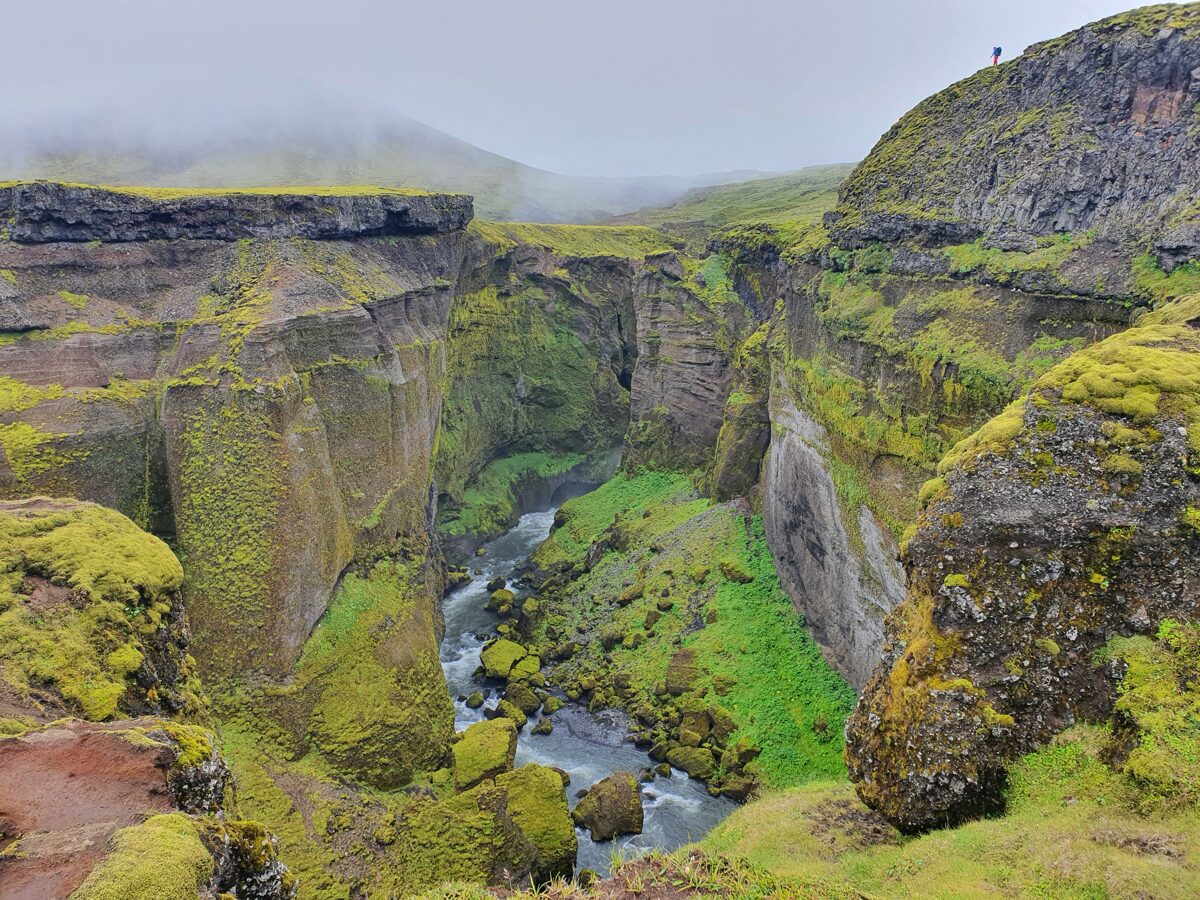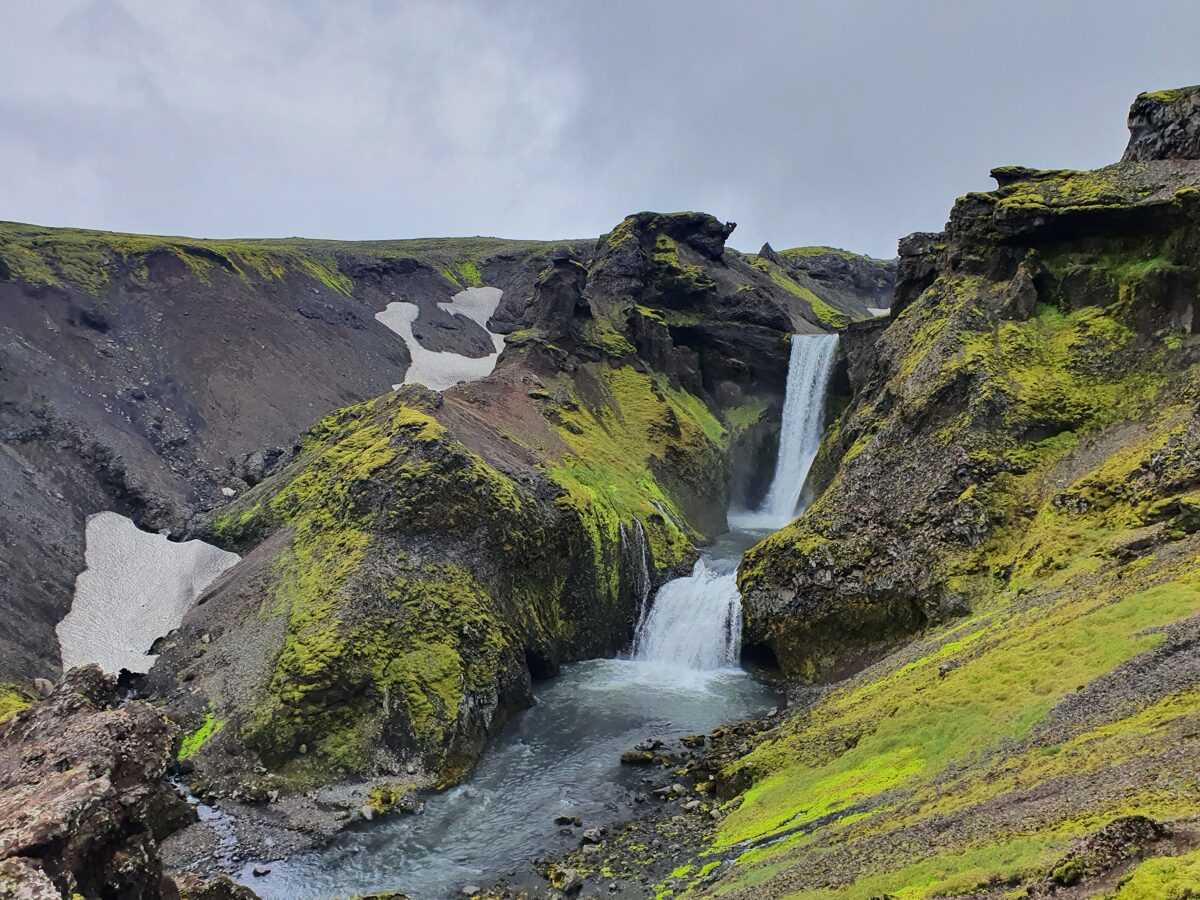 We had some clouds here and there and had decided that if the Baldvinsskali hut would be in the fog, we would turn back. Till the hut there were quite some people that were doing the hike. We named two Icelandic women as "turbo rabbits" as they had more or less the same pace as us but with far more breaks with collagen drinks (very trendy now in Iceland!), so they would always pass us.
Once you cross the Skoga river, there are no more water points till Thorsmork, so make sure to fill up your bottles a few hundred meters after the bridge. We had around 2 l of water/tea each and it was just enough.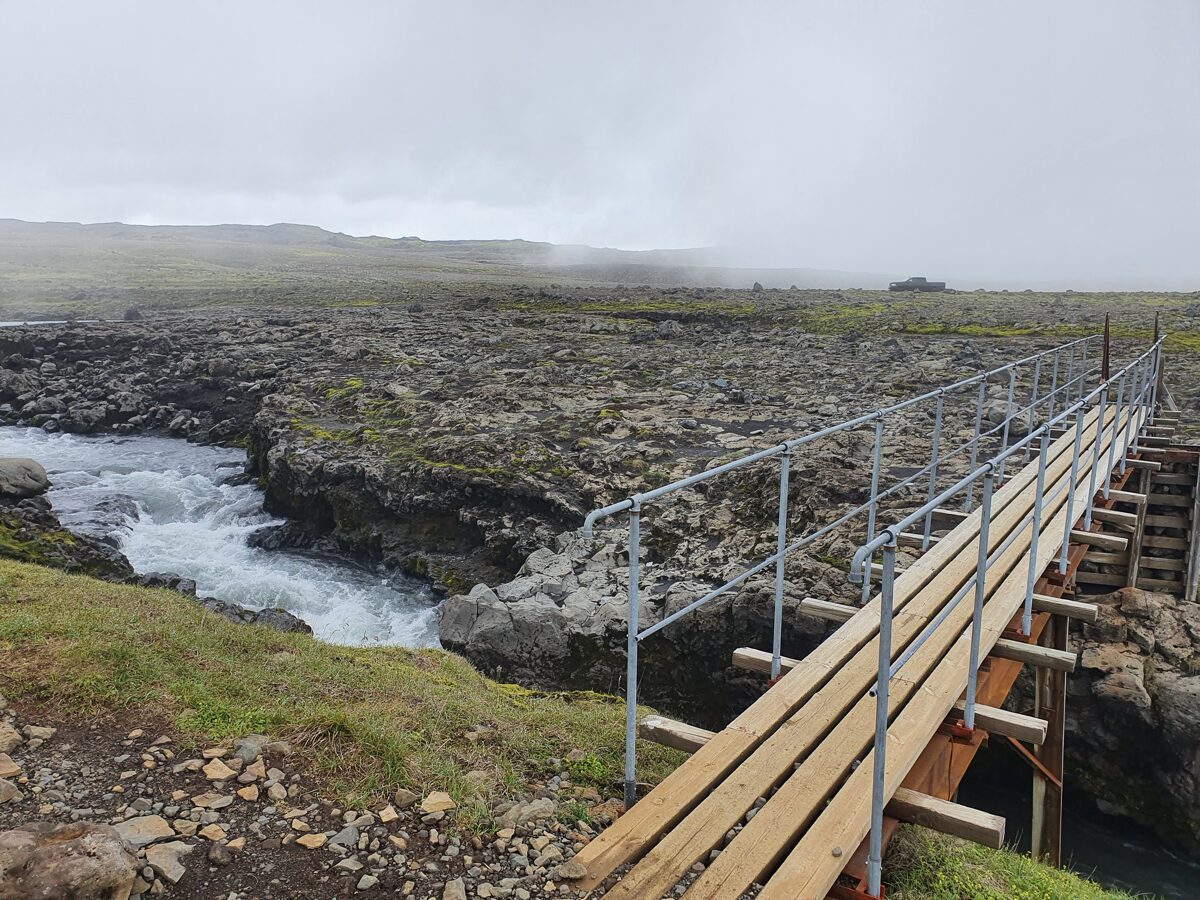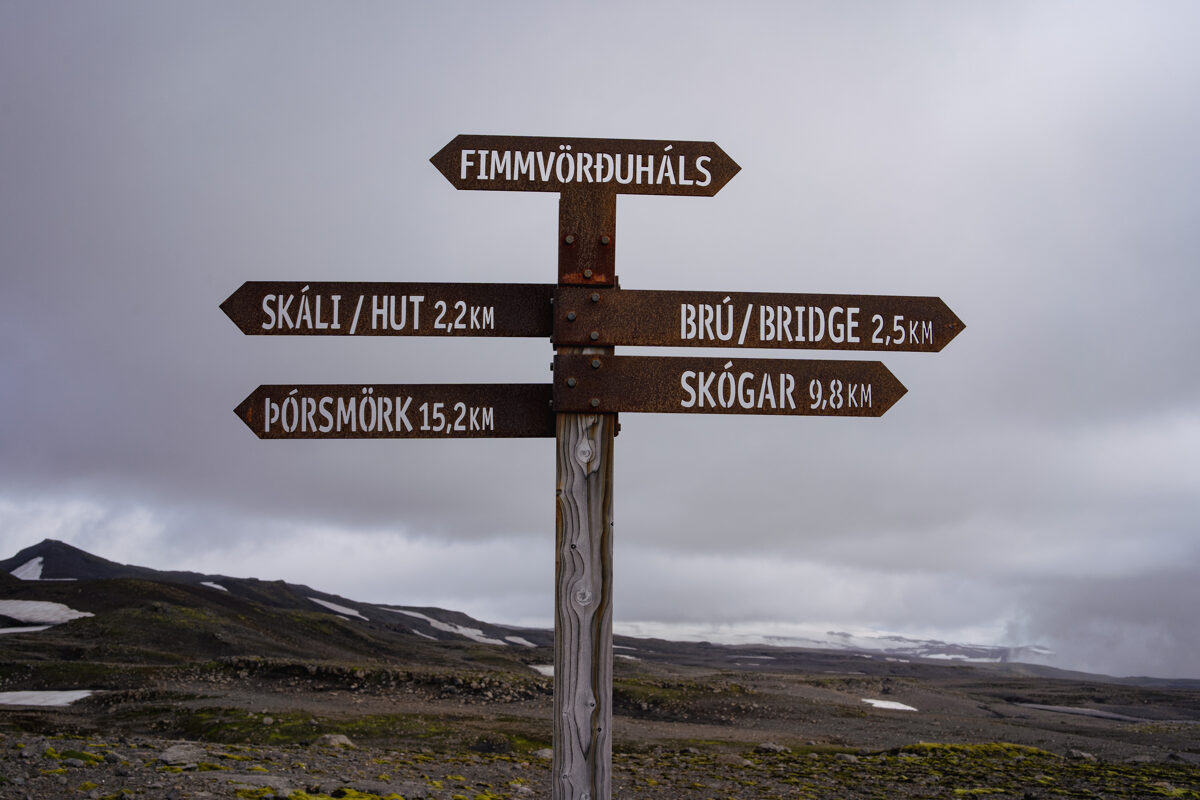 Some people say that the walk after the bridge is boring and nothing special but I really liked that part - you could see time to time the glacier and walk by an impressive black canyon. Once you have reached the first hut - it's a big ouffff... We were totally on time and the weather had stayed stable, no rain, sunshine time to time, so we decided to continue the hike.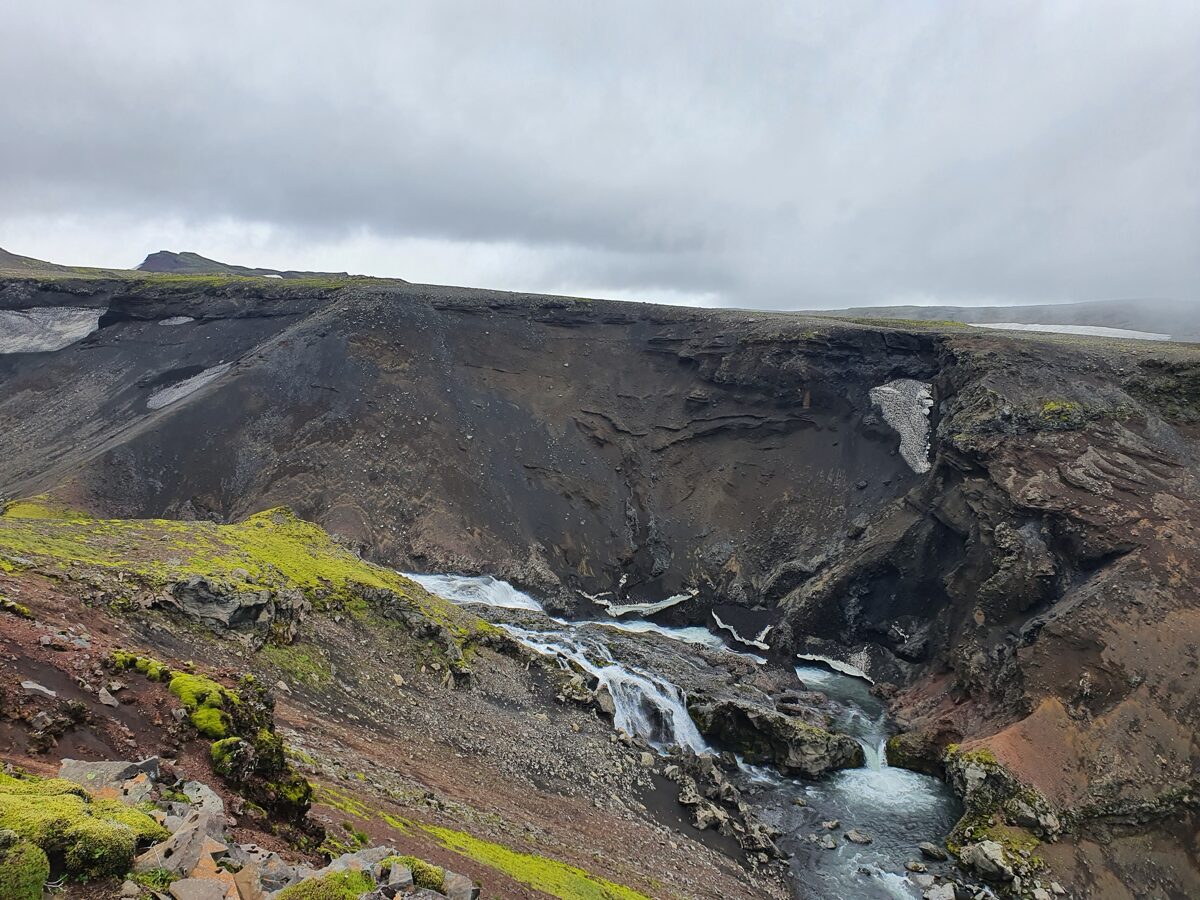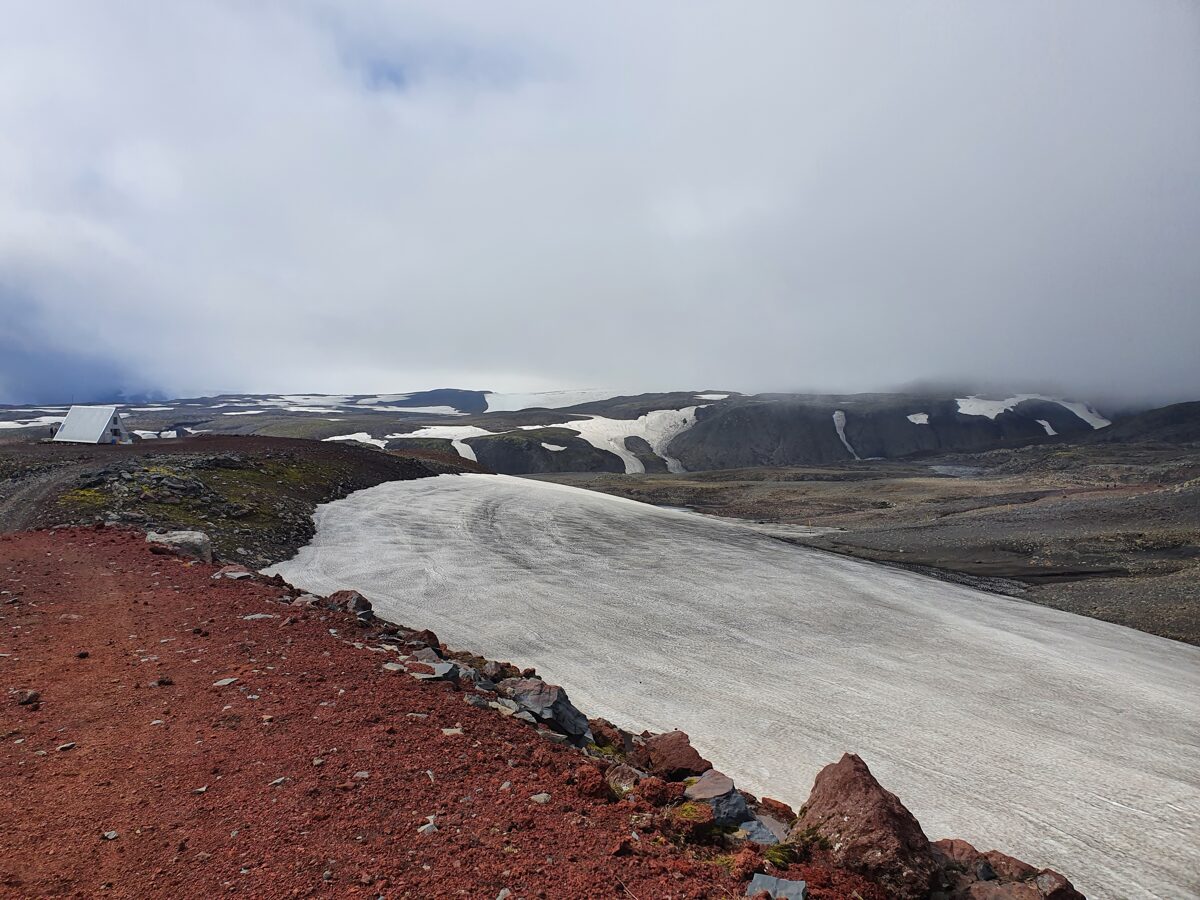 I had seen the pictures of the snow fields in pictures but could not imagine how they would look and feel in real life. I could also not imagine that there would be so many of them (well, actually it's quite logic as the walk is between two glaciers, hello blondie!). We had walking sticks but no crampons and it felt fine.
I was actually really excited to walk on snow. A few hundred meters from the hut there was a very steep and slippery part. It was Ok to walk up (it did feel like climbing a wall though) but we saw two people going the opposite direction who rolled down! That looked scary! Luckily they were with a group and with a guide, so they could help each other.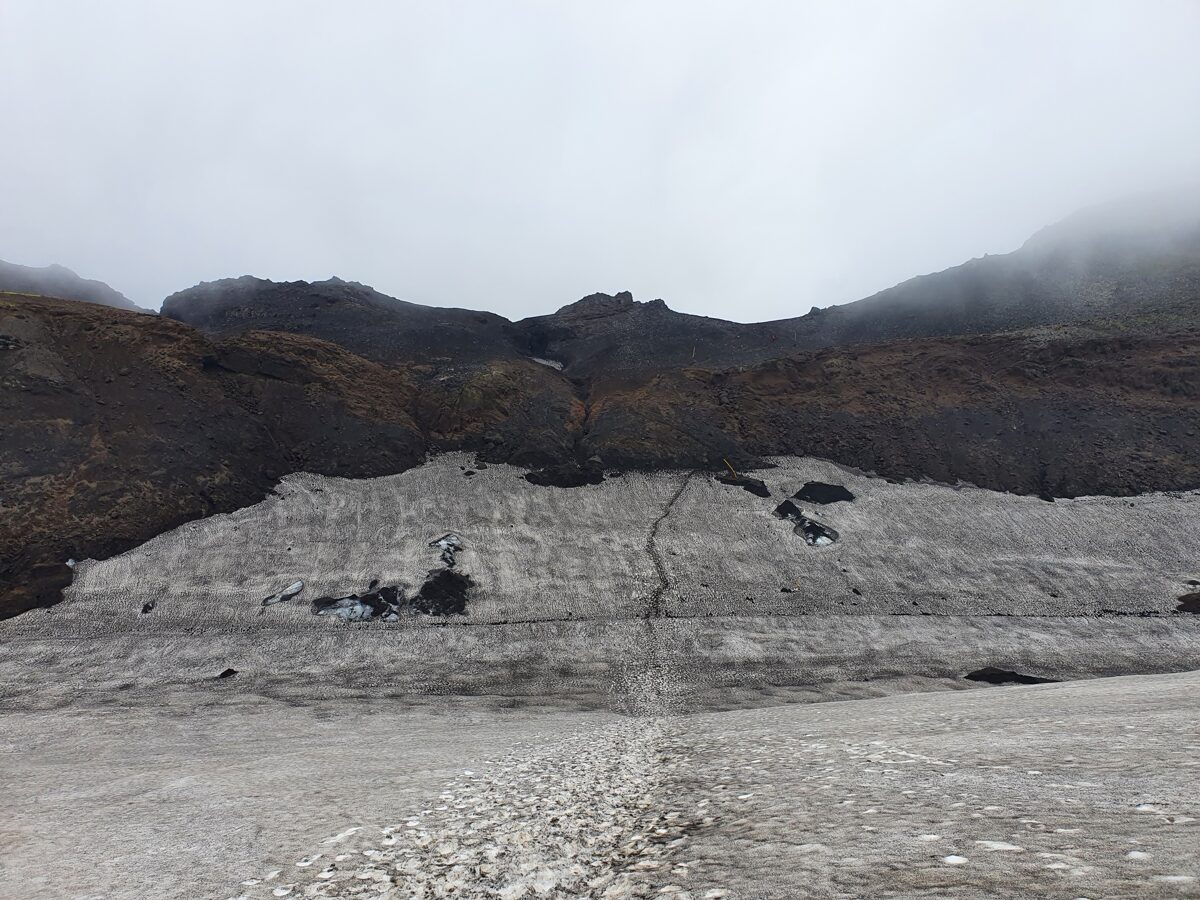 At that moment a thick fog started to crawl on us (oh noooooo!!!!). We asked people coming from Thorsmork if they could still see the huge yellow signage sticks and they confirmed. So we decided to follow the path as we really did not want to turn back at this stage.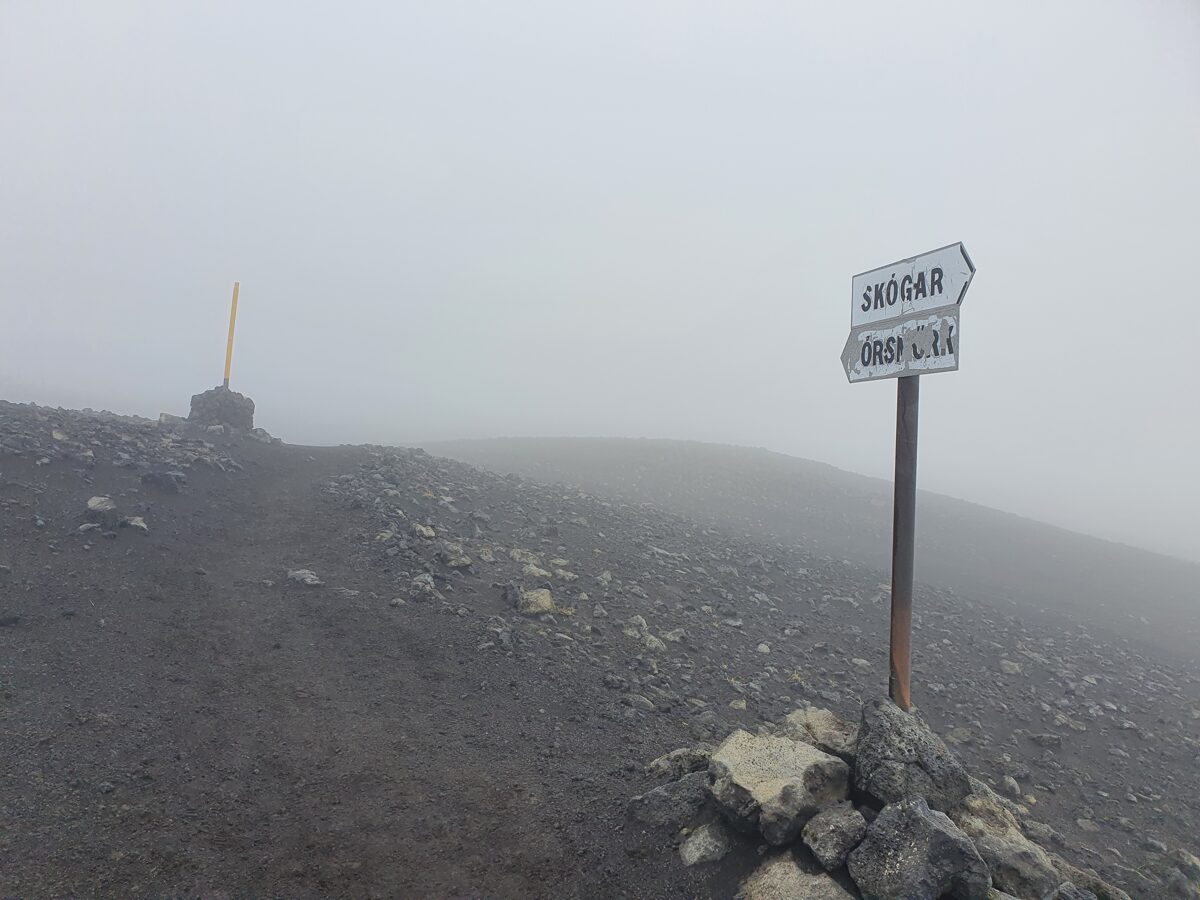 Suddenly we felt we were the only ones in the world - only us and the fog... (have you seen the scary movie the fog?). In the beginning we would see easily the yellow poles and then at a moment when we were next to the info board about the Eyjafjallajökull eruption suddenly we would not see anything... there were no poles, just many steps that would go in all the directions... hm... We were not lost as we knew how to get back but we could not see anything to go forward... all we knew that next to us was an invisible big crater... The good news was that we were prepared for any unexpected situation, we had dry extra clothes, food, hot tea, medicine and even a survival blanket! And a fully charged phone that has a gps... ohhhh thank you Google maps! We followed the gps and we managed to get back on the trail. The rest of the walk between the glaciers was not very reassuring - what if we miss a pole again? So we walked super fast (took 0 pictures...), did the part with the chain easily (as we could not see the canyon next... ha... ha).
And when we were approaching the Thorsmork the clouds cleared up! Hallelujaaaaaa! We also met the Icelandic turbo rabbits that said that they had lost the trail twice and they had never seen such a thick fog ever! So morale - do the hike only in excellent weather, not good or good enough, only excellent!

The descent in Thorsmork was really beautiful and we were relieved that we had still a lot of time to benefit from the views.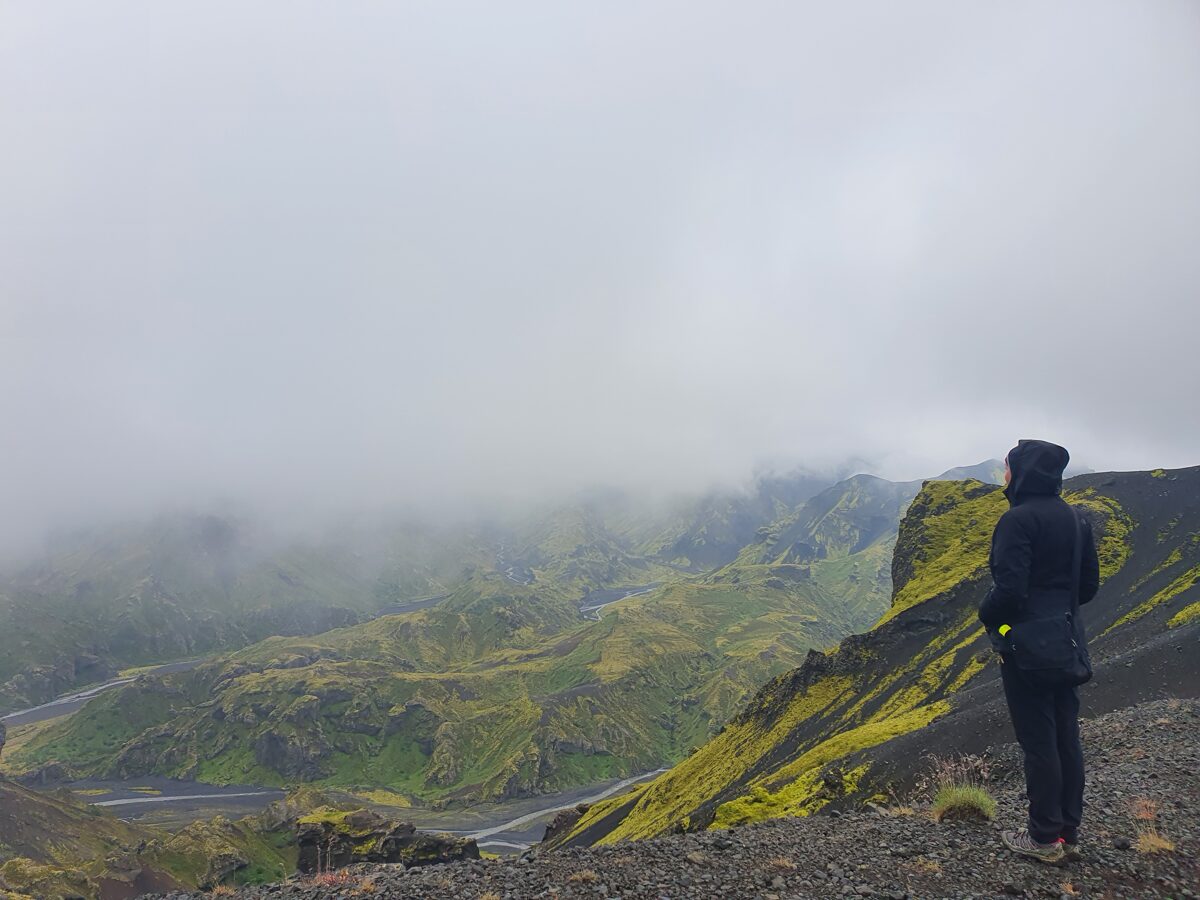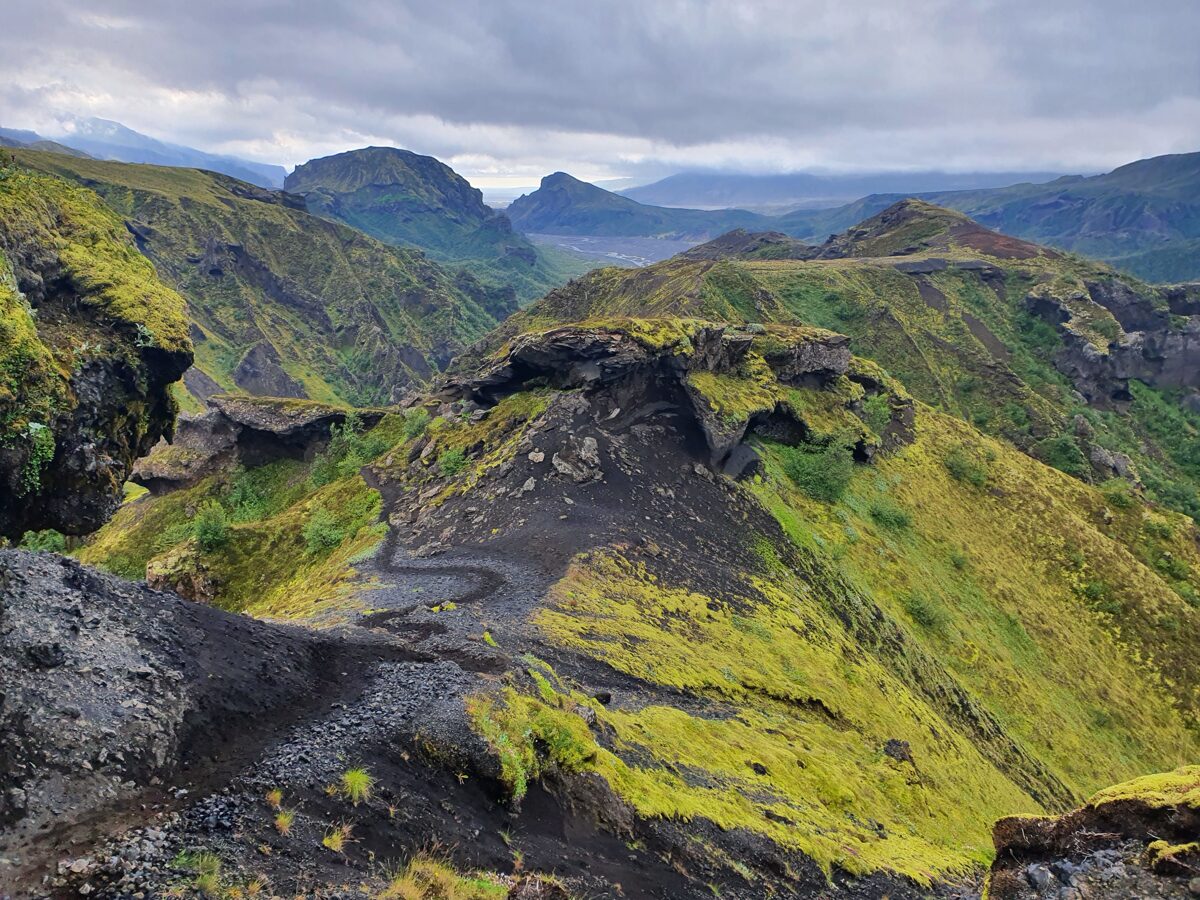 The famous cat ridge was not scary at all.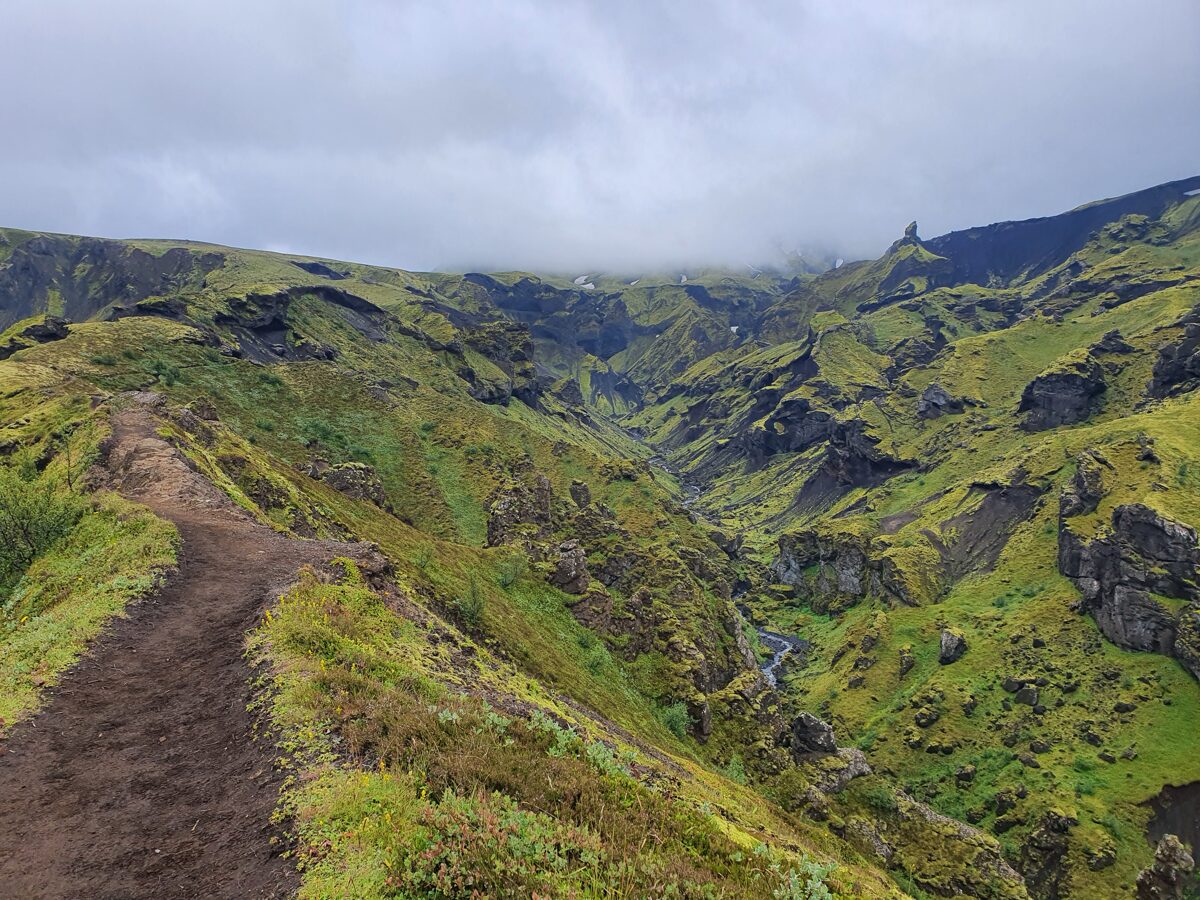 Find me if you can...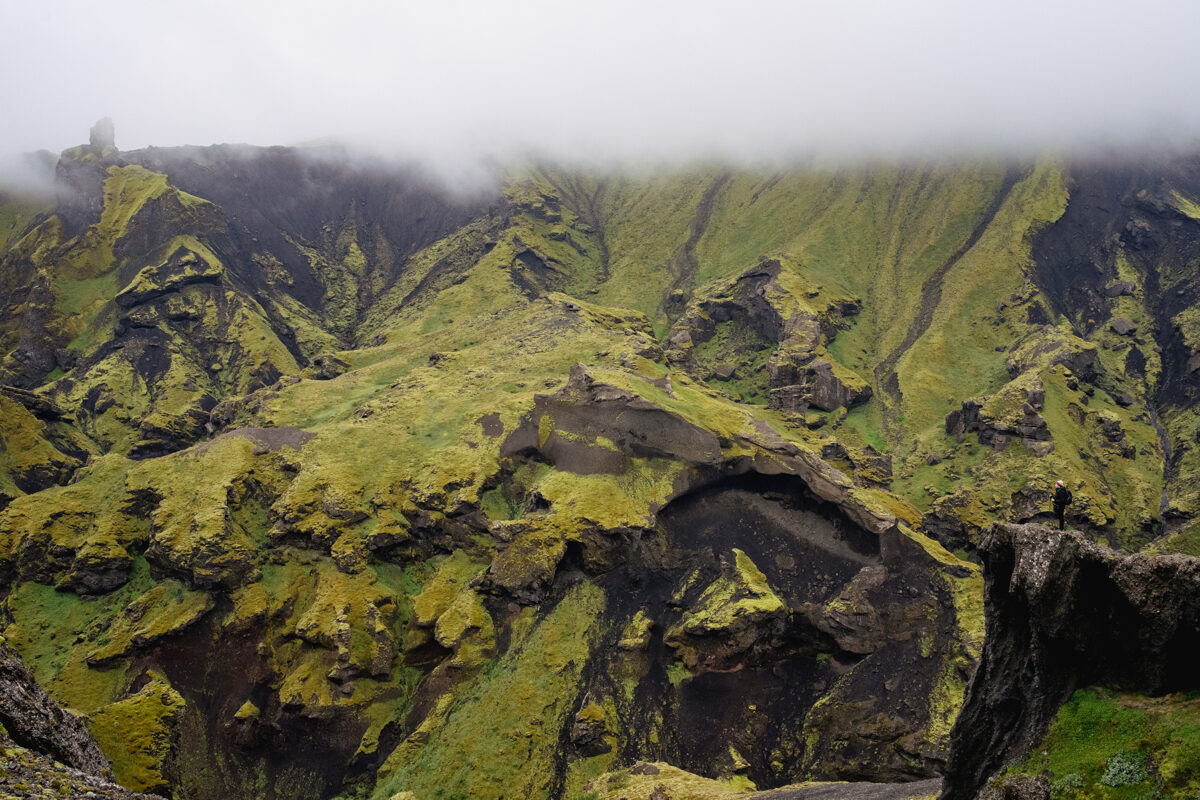 The last part was in a really beautiful forest! A total fairy tale!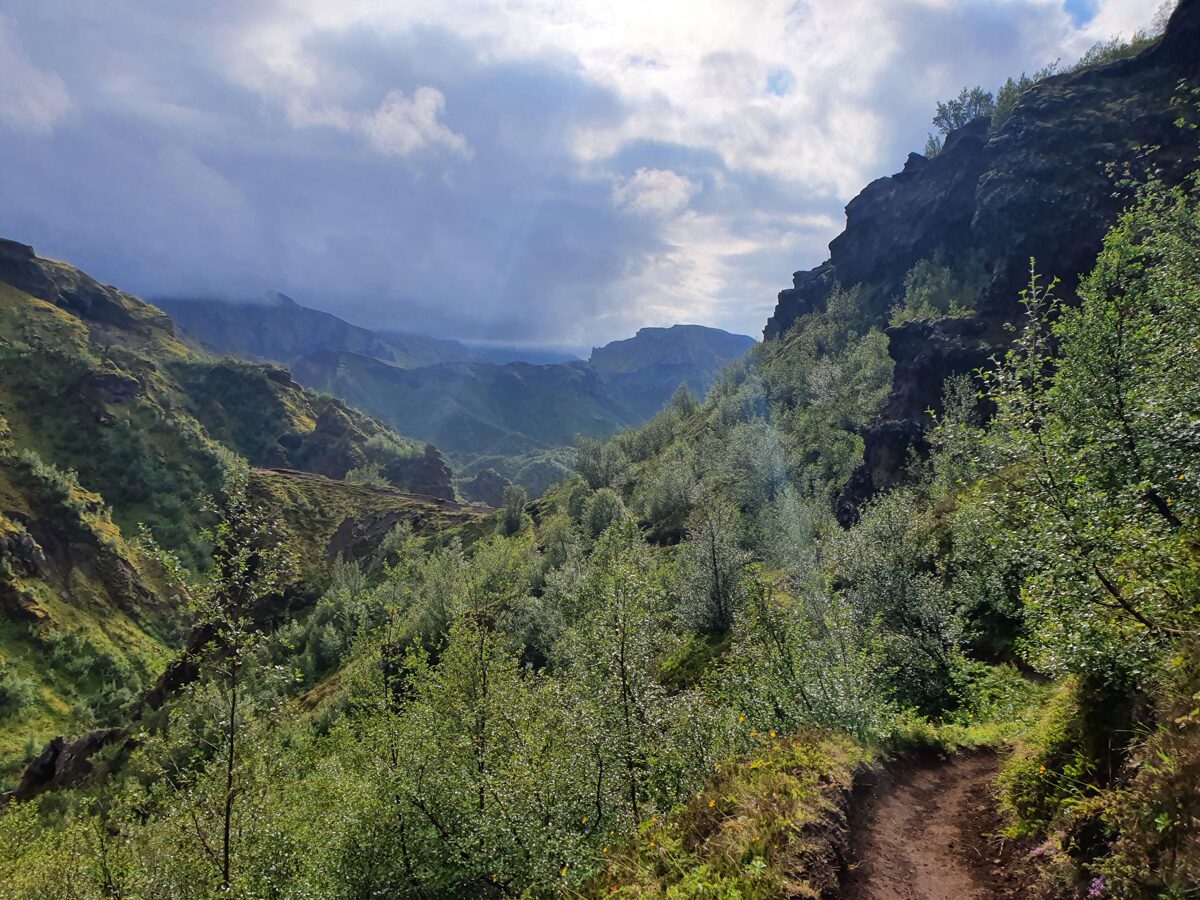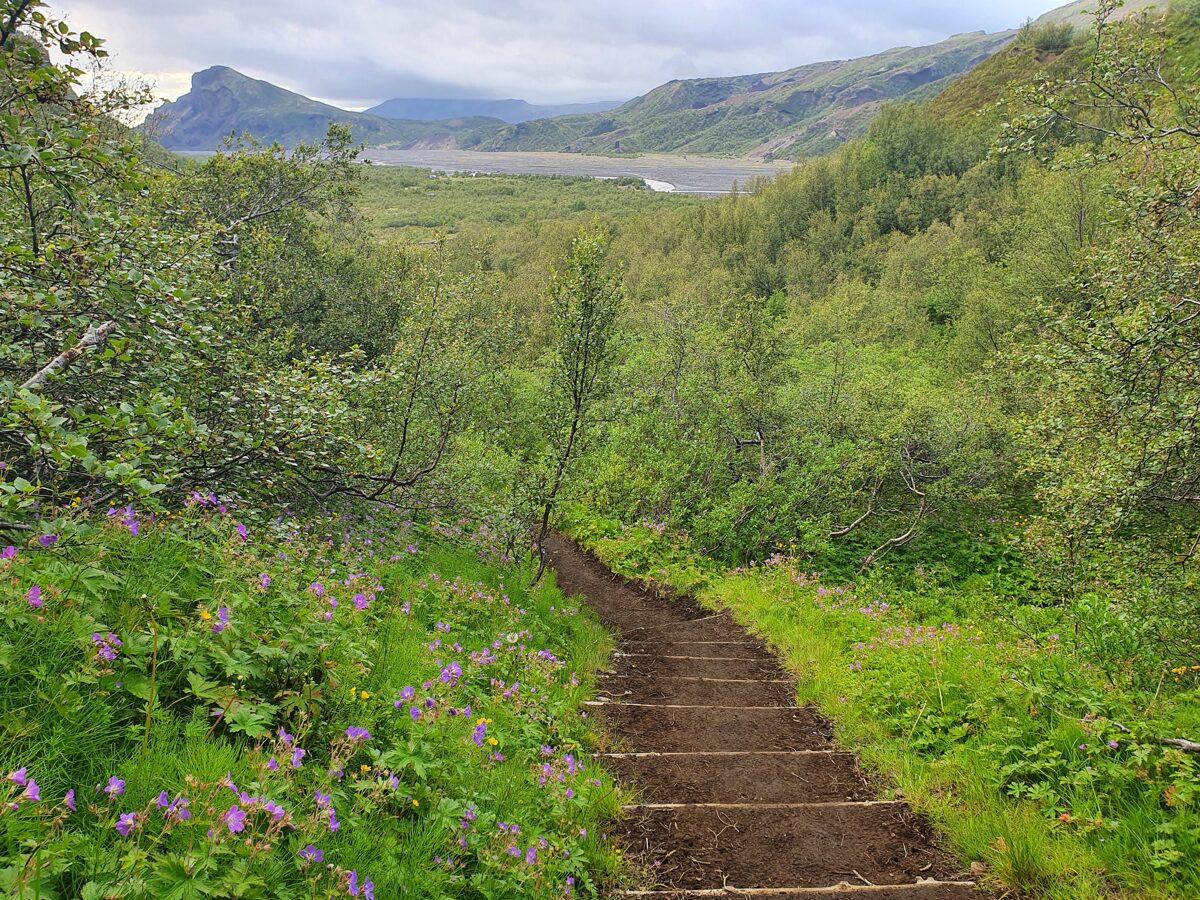 We had done the hike in 8 h and 30 min or so. The bus picked us up at 20:00, it was really fun to cross the rivers with the superbus! If you can, sit at the seats next to the driver in front.
But our adventures were not over. At one of the river crossings we noticed a car that was stuck in the river. It's one of those stories you have heard about it but have not seen. Well, here it was in a full glory. Some young Asian origin tourists had totally underestimated the river and the capability of their car (plus they tried to cross the river in a totally wrong place!). Our bus driver - a very strong Icelandic lady in her 50ties decided to help them and got immediately in the ice cold river... brrrrr... Now I know why Icelandic girls are trained to lift stones and be strong - for situations like this!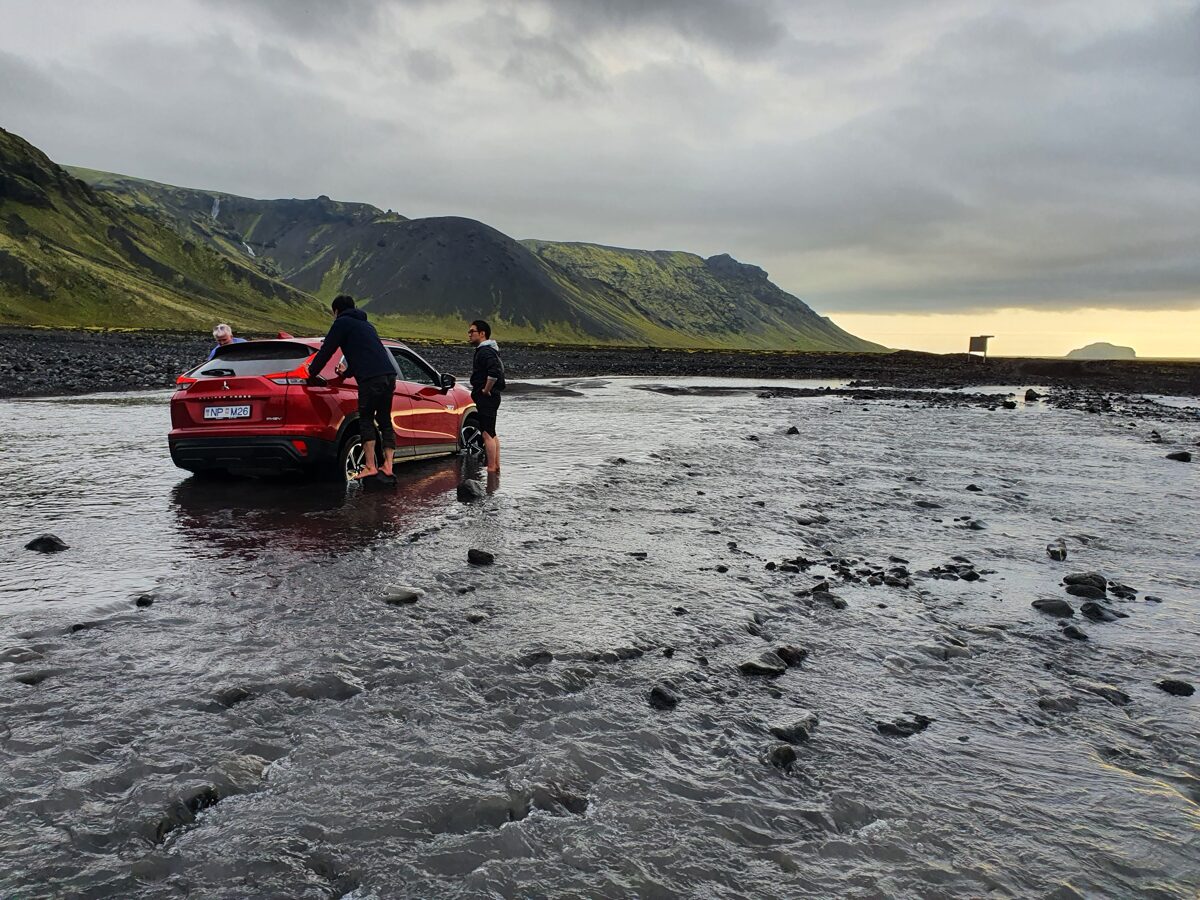 After a while many people gathered and with a help of a jeep the car was pulled out of the river! A big bravo to the bus driver of Reykjavik excursions!
In the evening we were so tired and after 44 000 steps we could only dream about the bed.
The next day the weather was not too promising (luckily we had done the hike the day before!). Vedur.is showed that in the south only the Westman islands were without rain, so we decided to go there. We could not take the car as there was no space in the ferry, so if you do want to take yours, book well in advance. The ride was calm and pretty.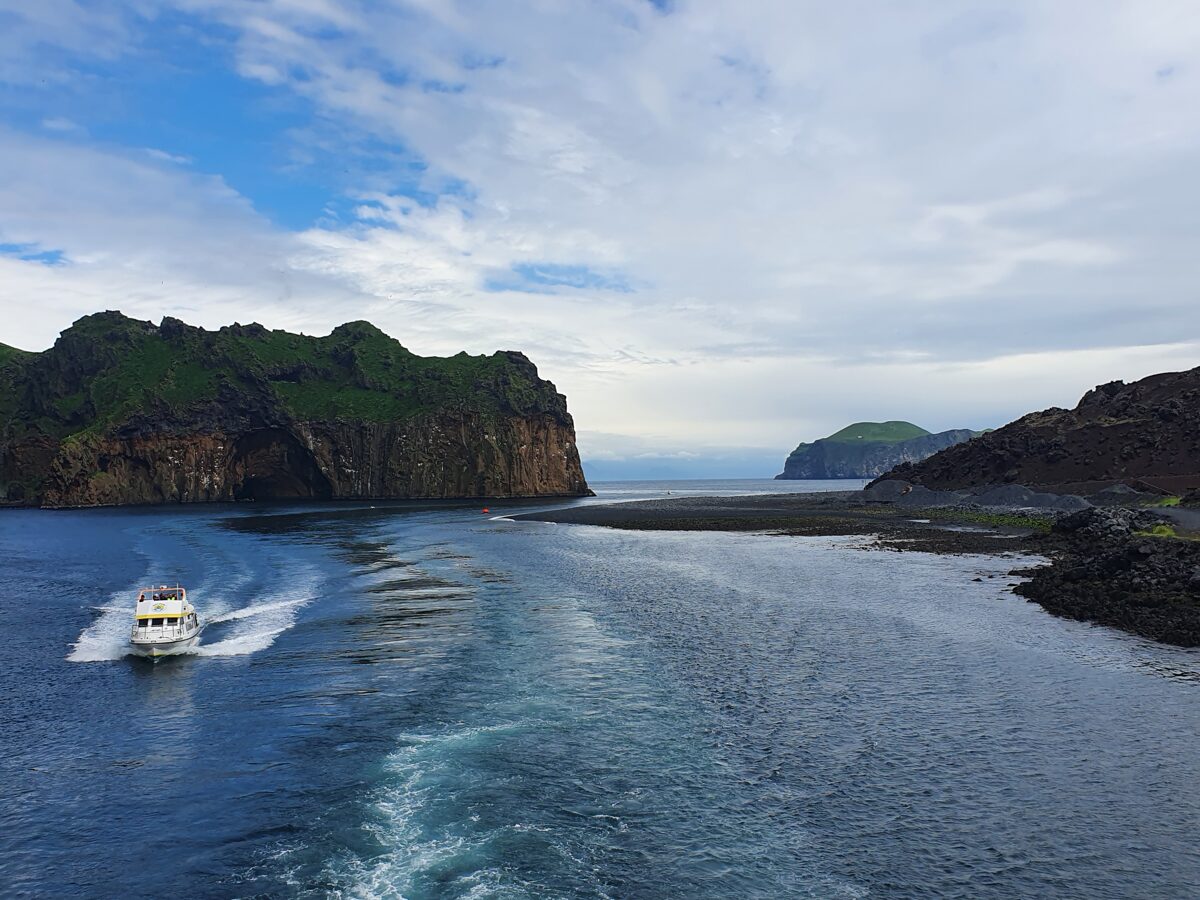 We had seen Heimaey already before in May 2021 and we loved it. This time we discovered a part of the island that we had not seen yet. We did not want to do any demanding hikes, so the walk by the golf and cliffs with puffins was perfect!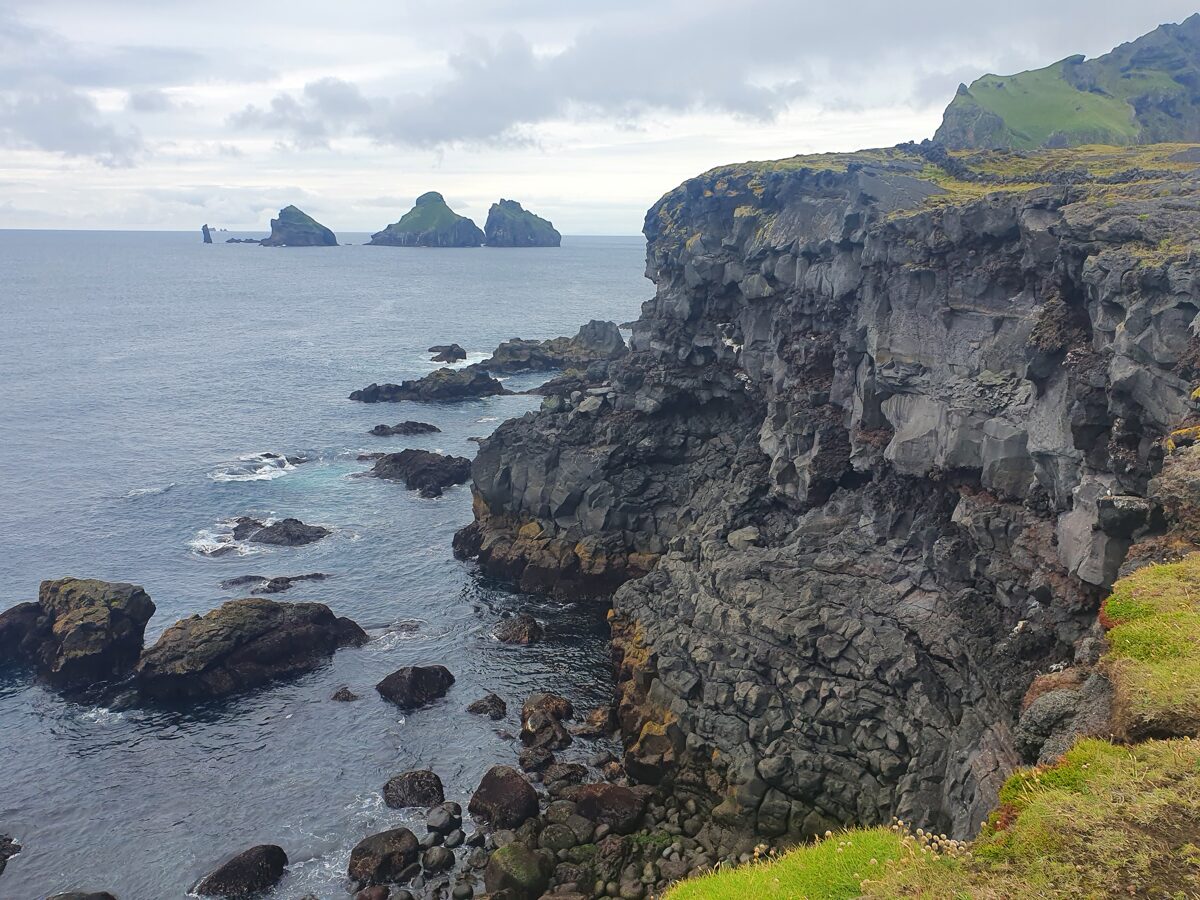 We could see some puffins chilling on the cliffs. We crossed a couple who asked if we had seen any puffins around... well, yes! Plenty! But you do need to know how to spot them!

I think on this island they have the most beautiful golf ever - in an ancient caldera - not bad, huh?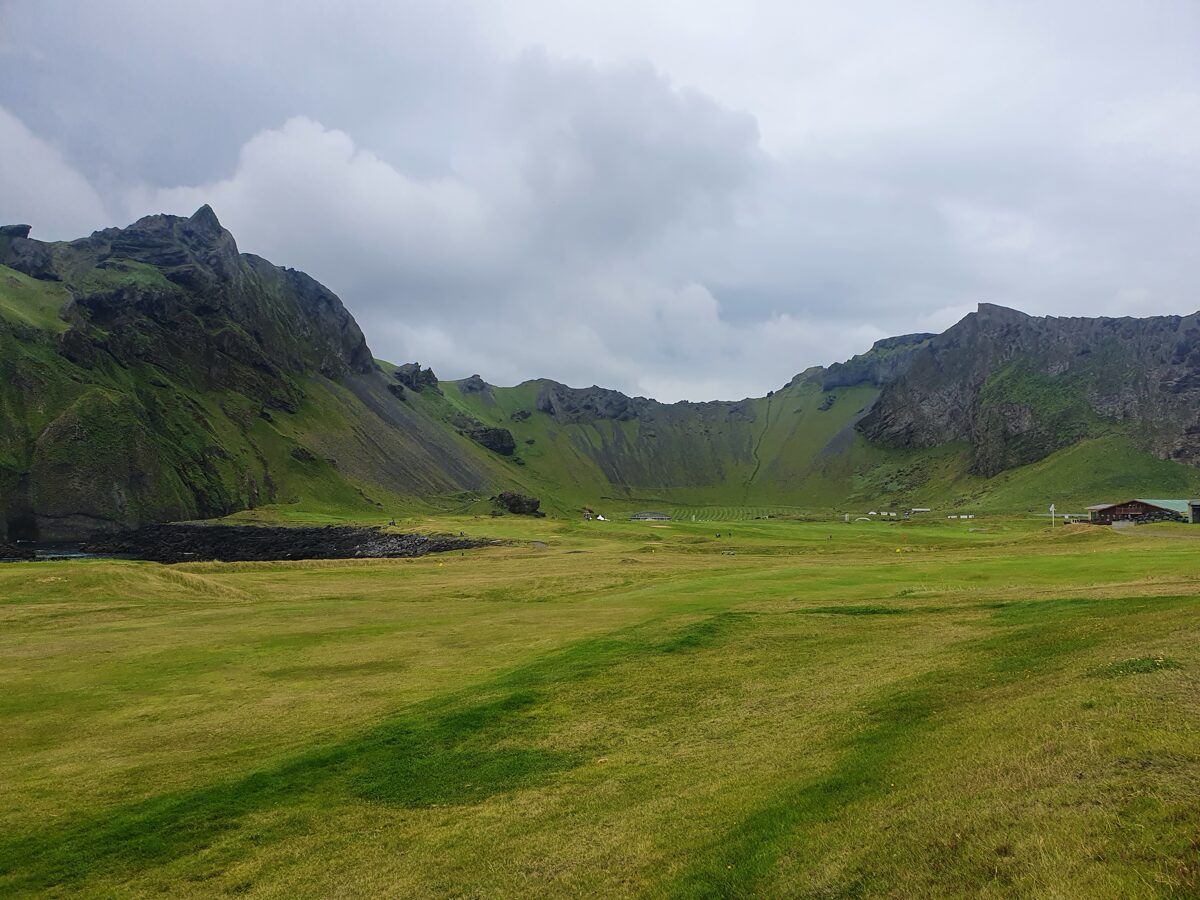 Last time we had missed the Elephant cliff - such a beautiful place!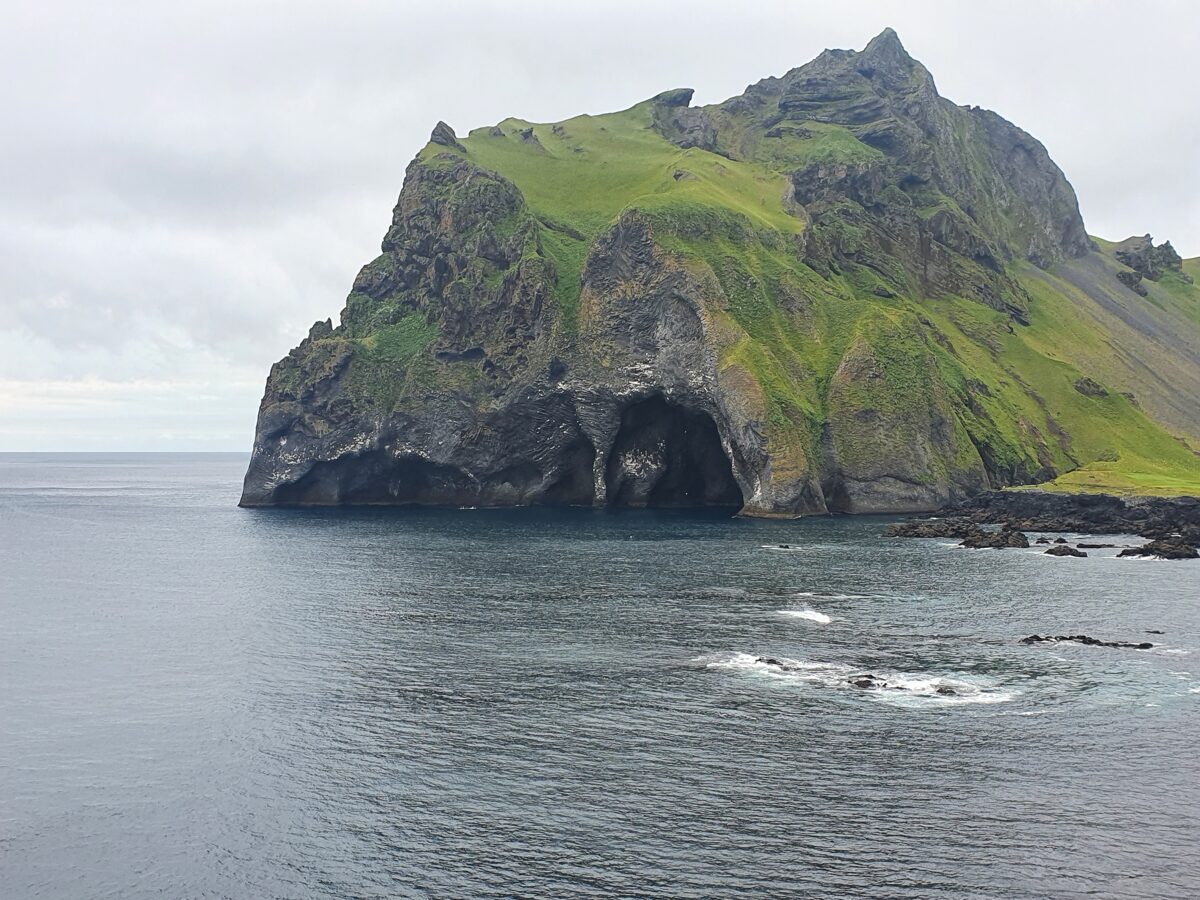 The next morning it was raining again... jeez! Is this summer? Well, yes. We decided to go to the Lava museum. And it was quite interesting! It's small but well done and very informative. It explains a few things about 9 volcanos that can be seen from the Lava centre and gives some overall info. We knew quite a lot already as we find volcanos really fascinating but still it was a good experience. The ticket was a bit pricey though - 28 euros.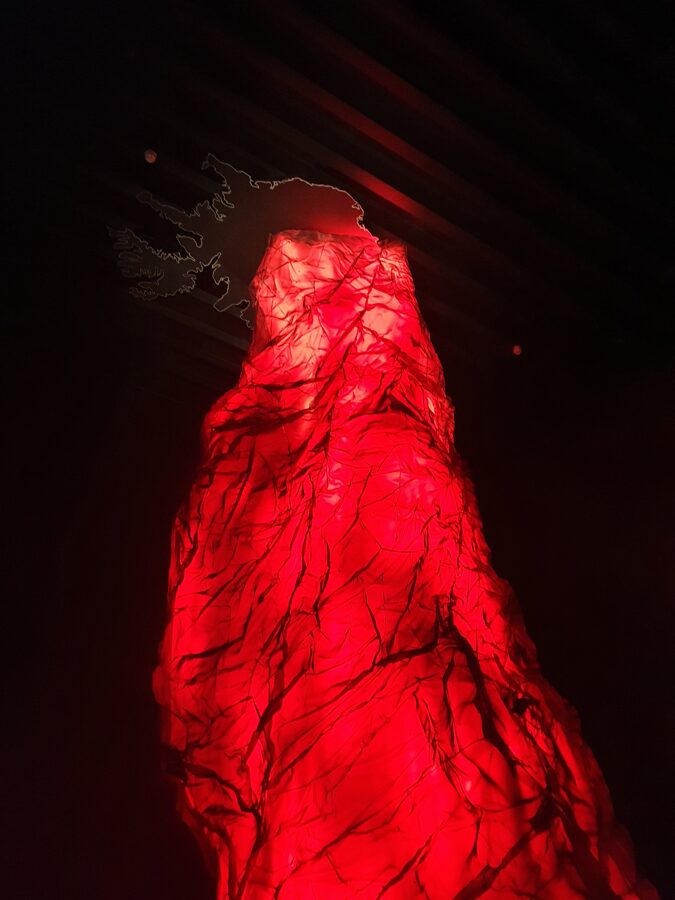 But you get coffee and you can experience an earthquake simulator, so... it's all worth it.
Later on the weather was looking much better and we decided to go to Thagkil. On the way we stopped at Vik. I love the black beach at the village. All the tourists are at the shop and nobody at the beach :).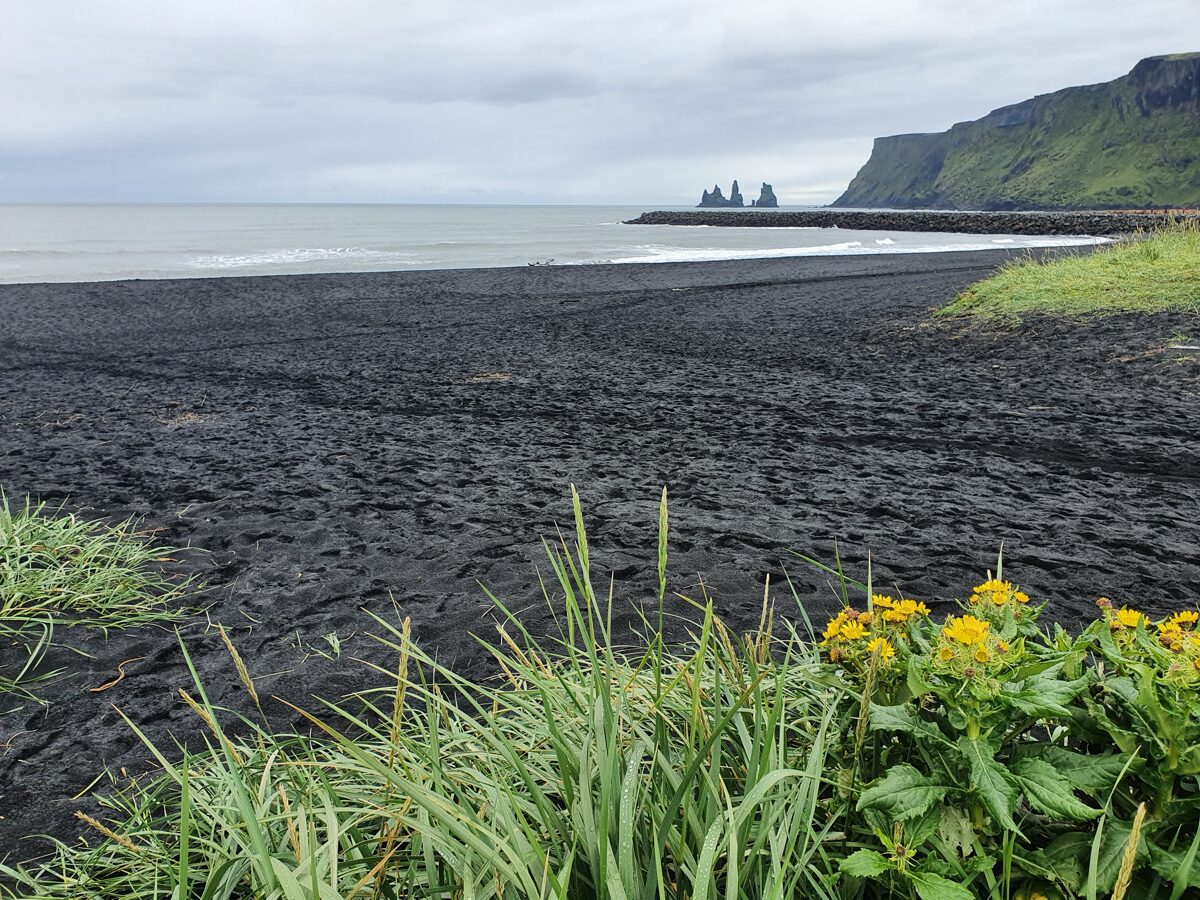 Vik is also where the TV series Katla is taking place, if you have not seen it, put it on your Netflix list!
I had read about Thagkil (Þakgil) some time ago and imagined it as a really fairy tale place. Well, it did not disappoint! Even the road to get there is super scenic!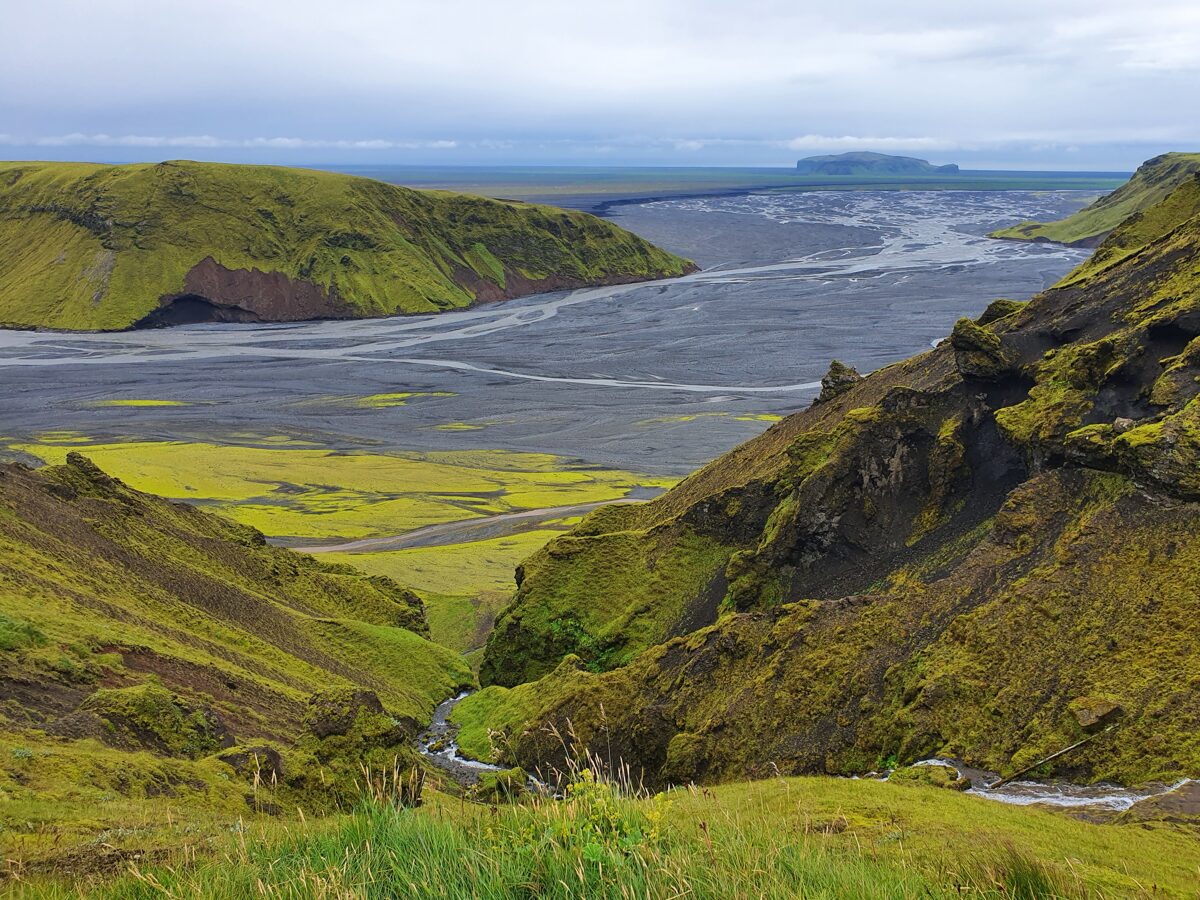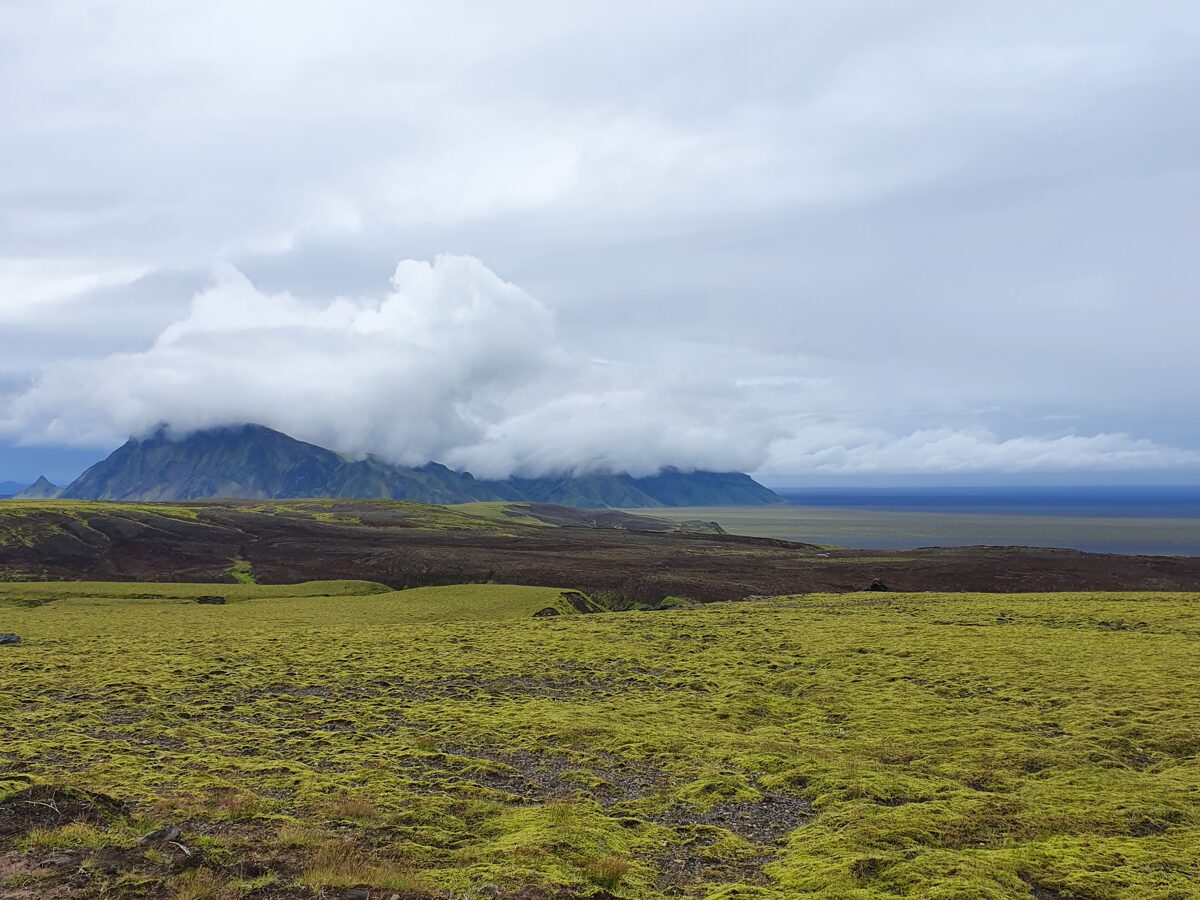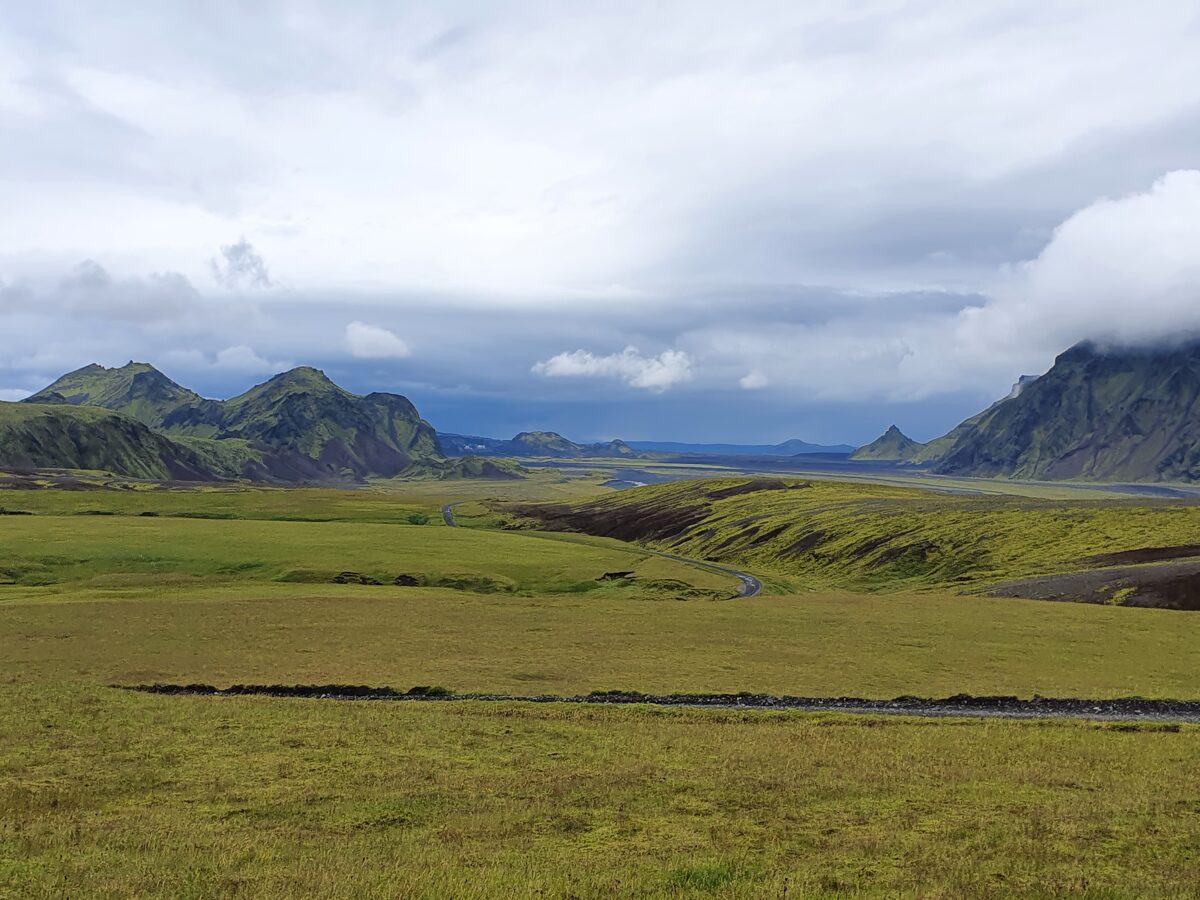 You will need a 4x4 to get there but we saw some people who did it with smaller cars, not sure how they did it...
Our plan to camp totally failed as nights were really cold but we were lucky to get the last cottage for one night!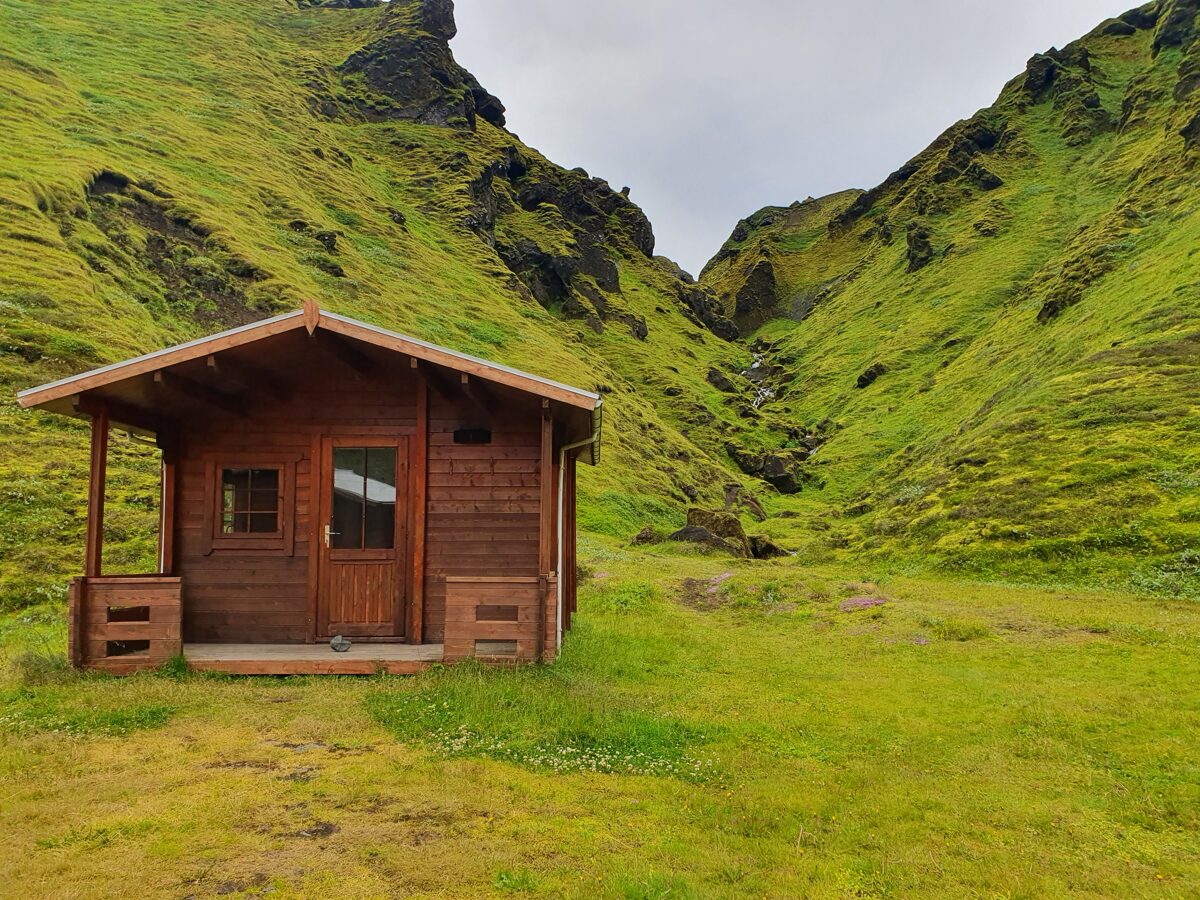 We did not have the strengths to do any long hikes the same day, so just explored the amazing surroundings and observed the super duper campers.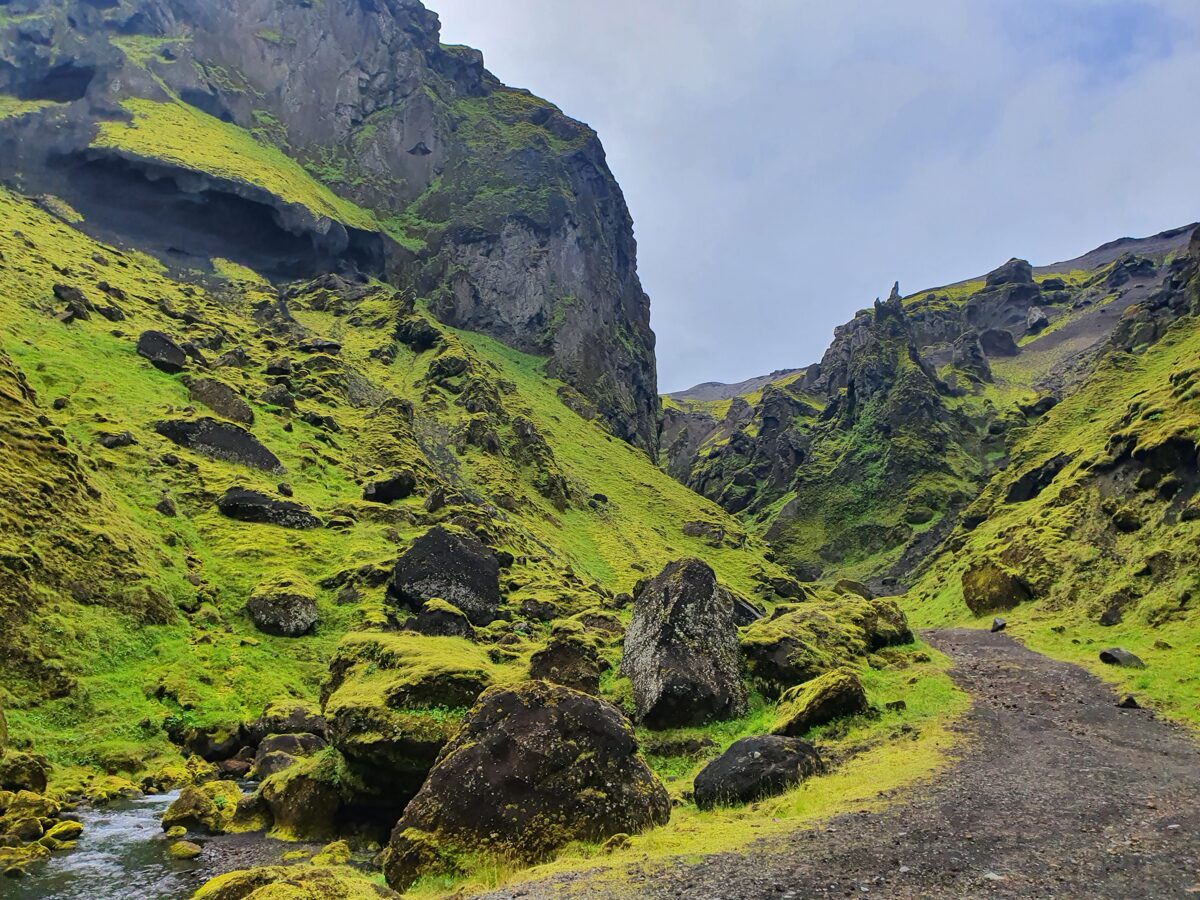 My dream was to walk till the Huldujökull but as the place is quote remote I could not find any detailed explanation about the hike. I had only seen a map and a few pictures. So we knew we were up to an adventure when starting the hike the next day. There is a new path that starts directly from the camping itself - it's steep but not too hard if it's not slippery.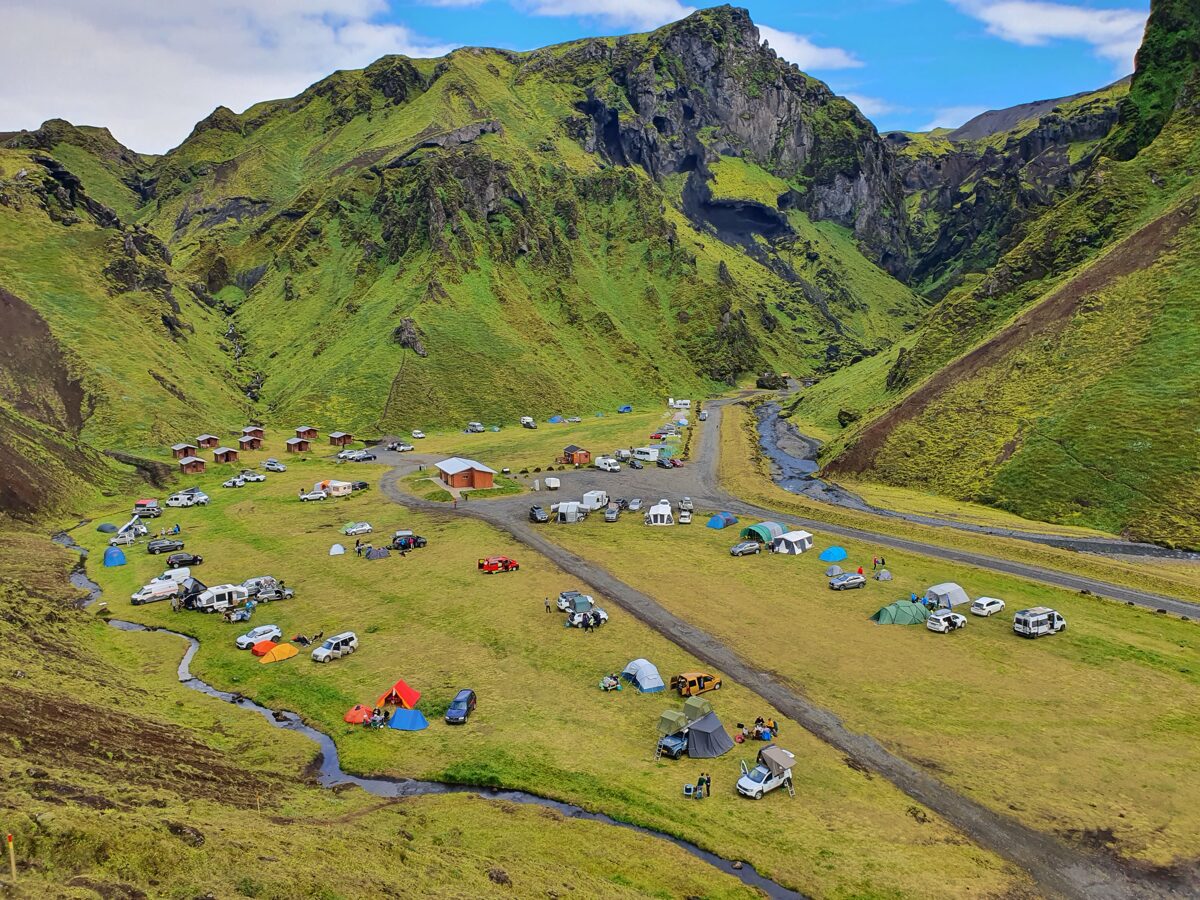 For once we had an amazing weather, so it was a perfect day! The walk in total is around 16 km or so and most of the part it's on a track, we even saw a jeep that drove all the way up! Well, apparently it's possible but you need very strong nerves as in some parts it's so narrow and steep!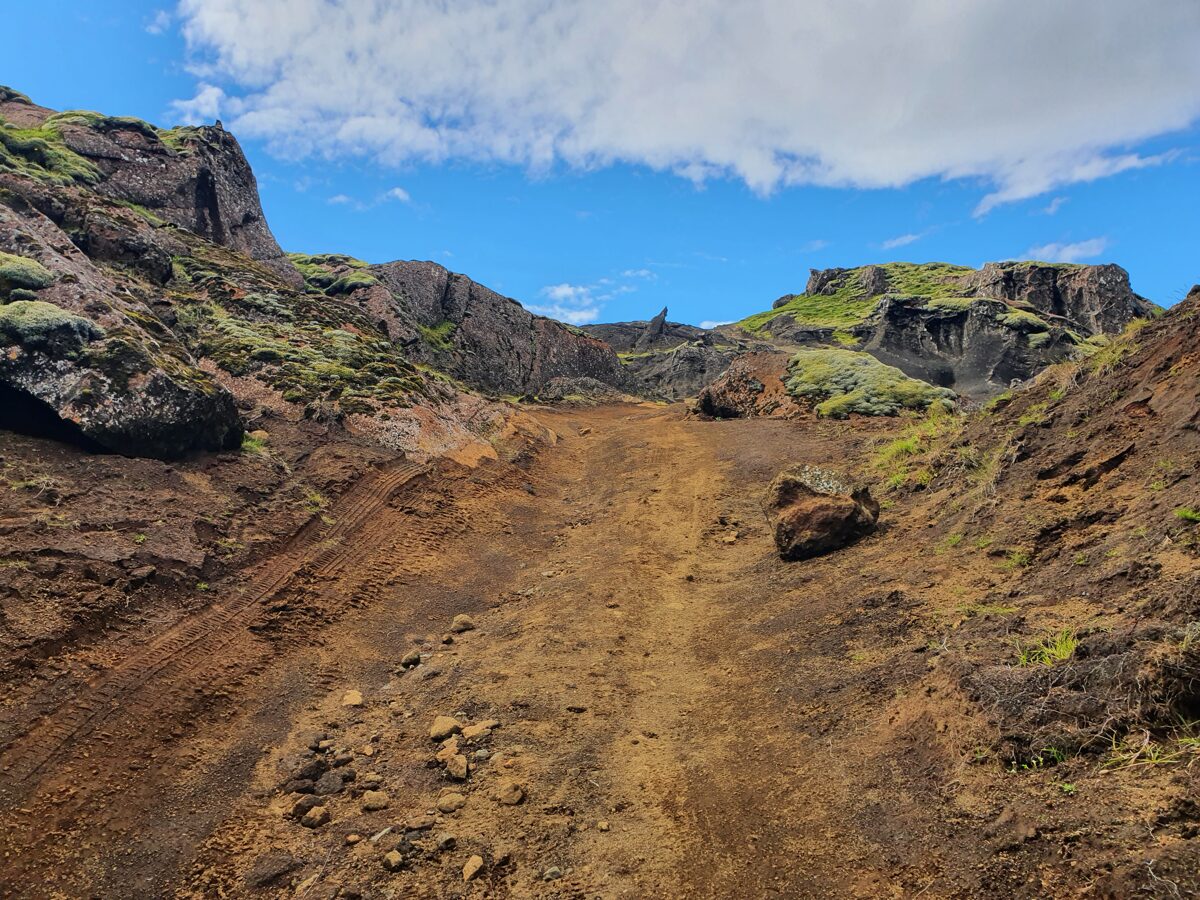 And while driving, you would miss all the beauty on the way...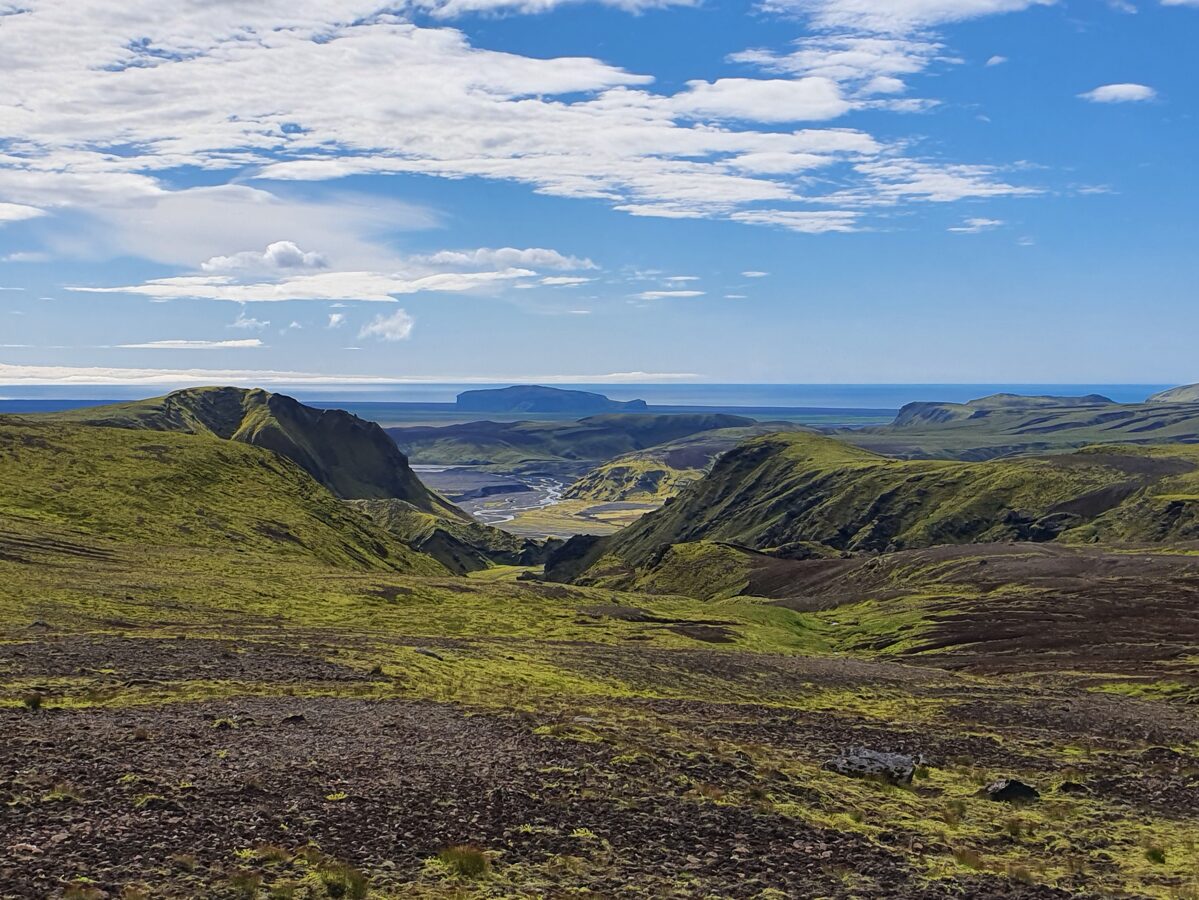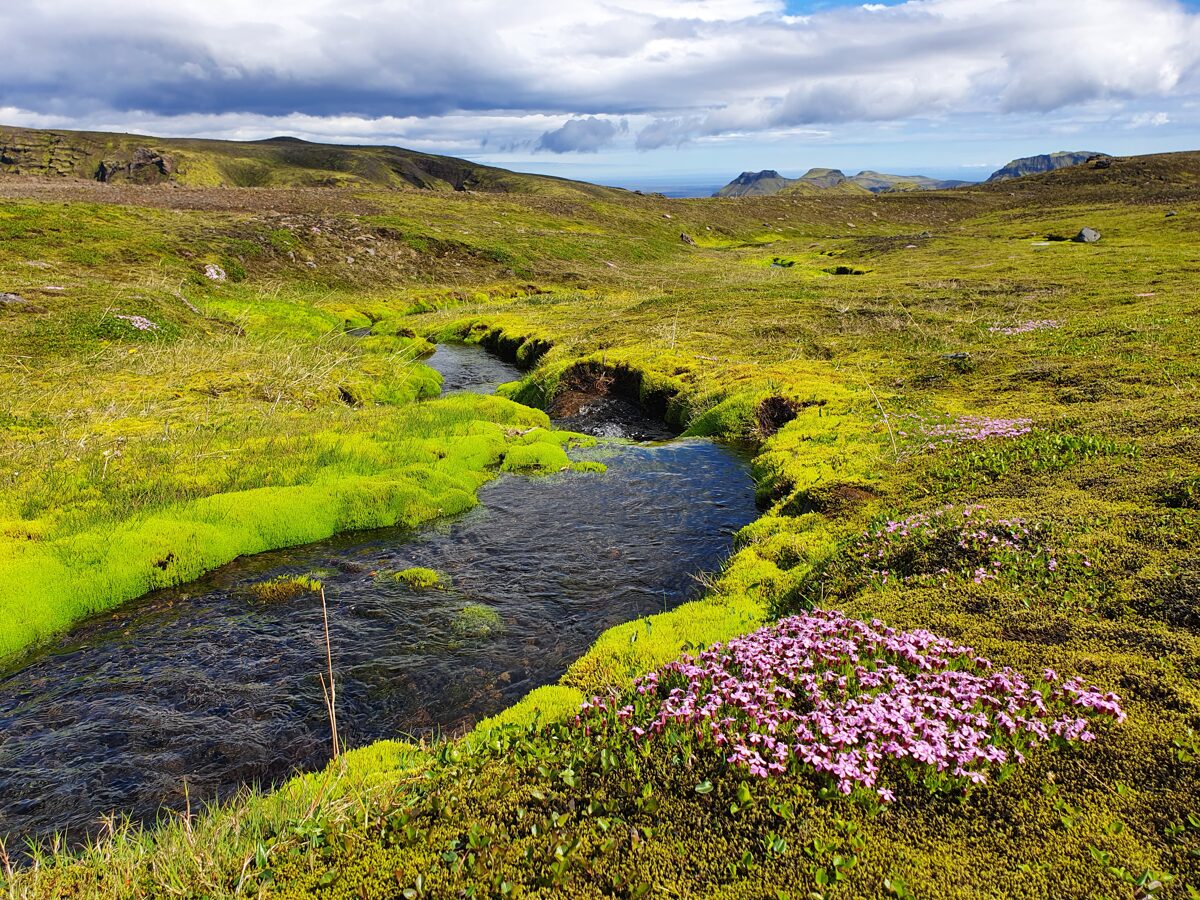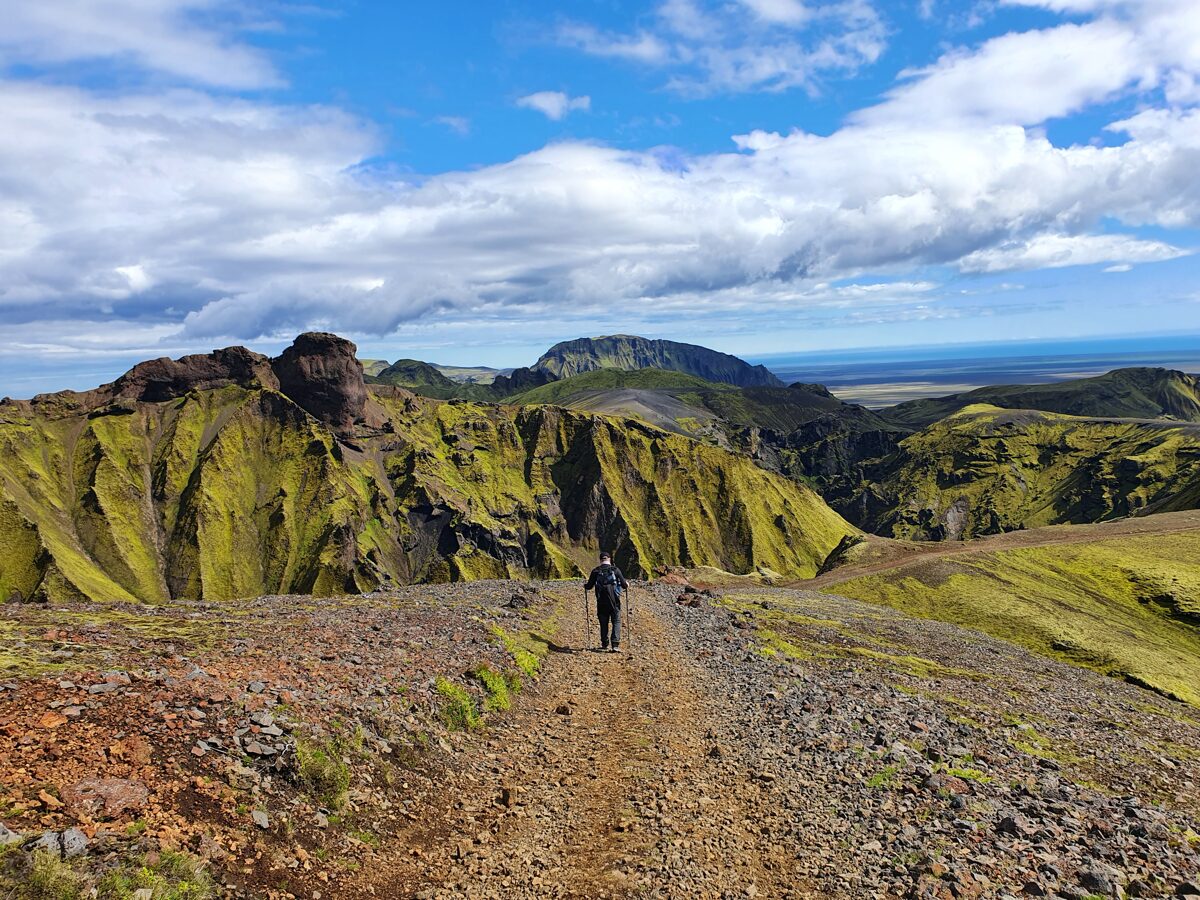 For the hike you just have to follow the yellow sticks till the glacier and then you can find your way between water pools to the rim of the glacier.
The place was simply incredible! Insane even! It's one of the most amazing places I have ever seen in the world (I think it's my top 3 after an active volcano and northern lights).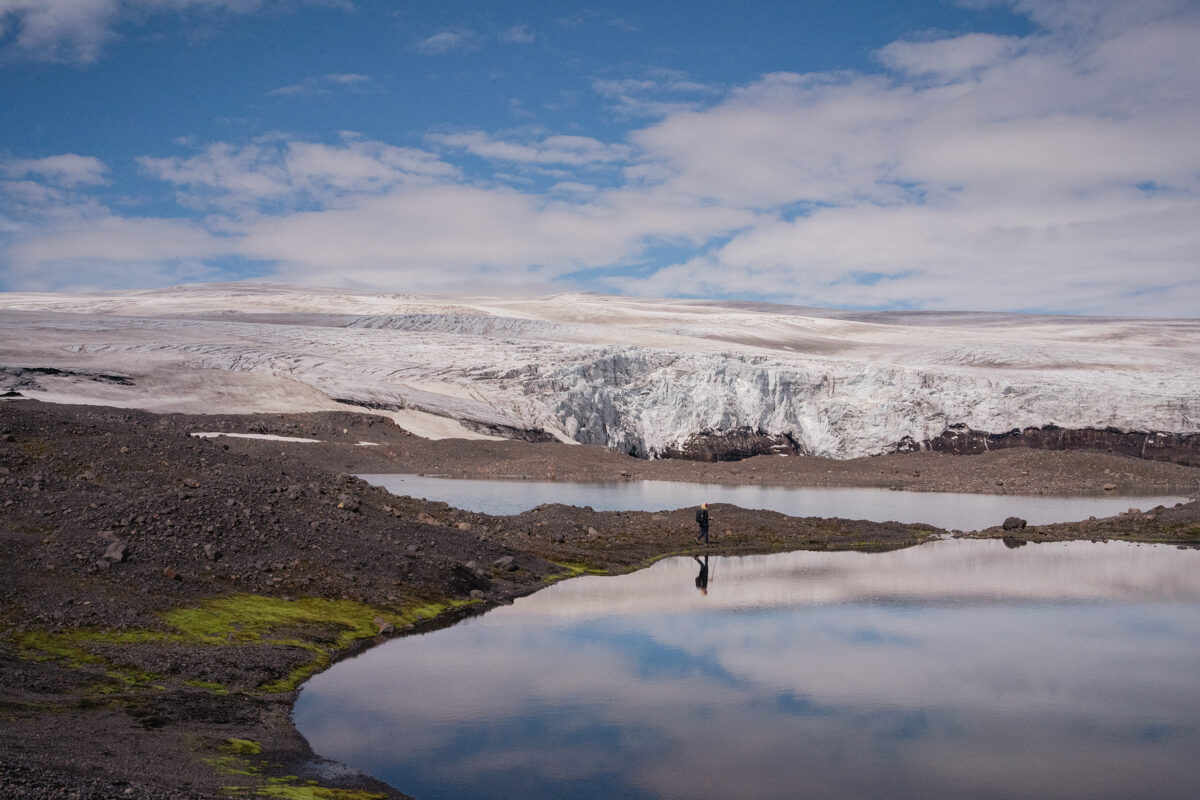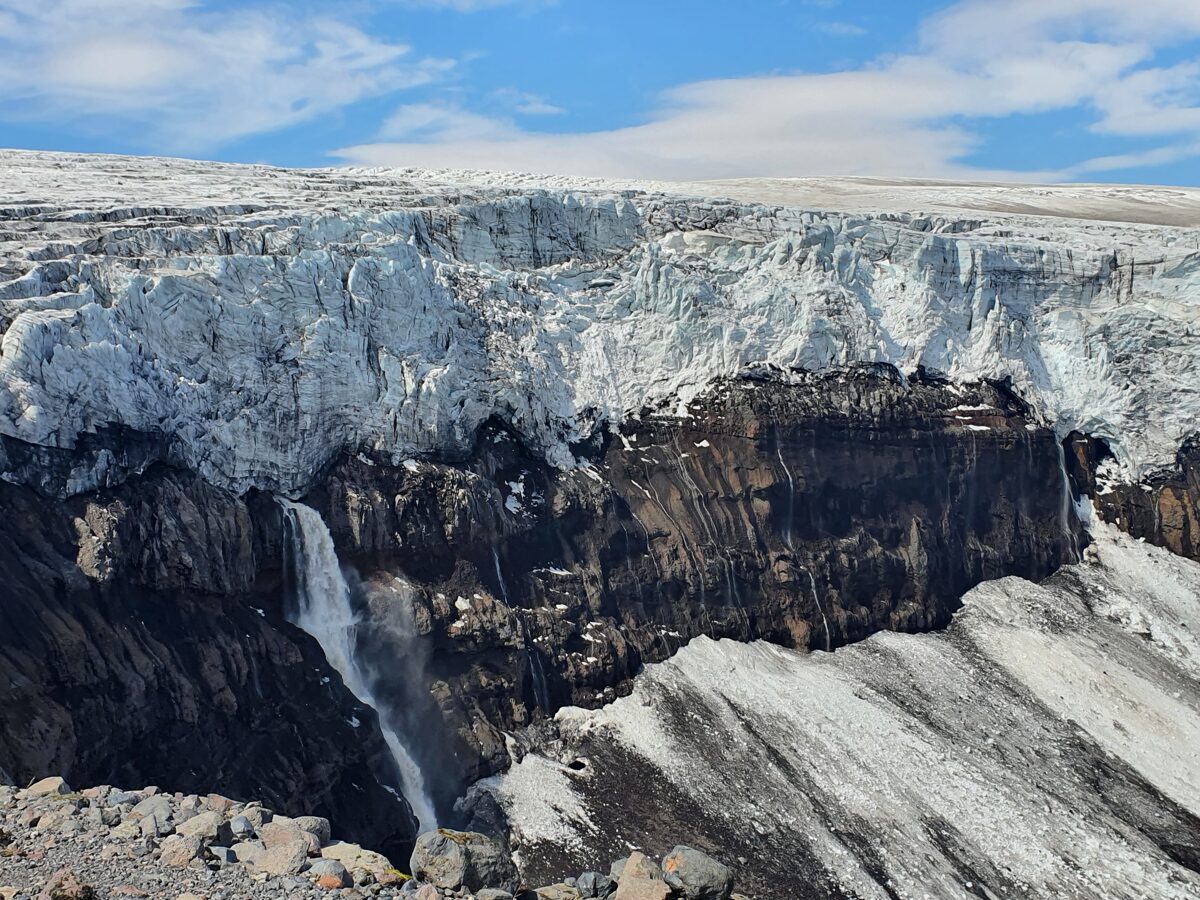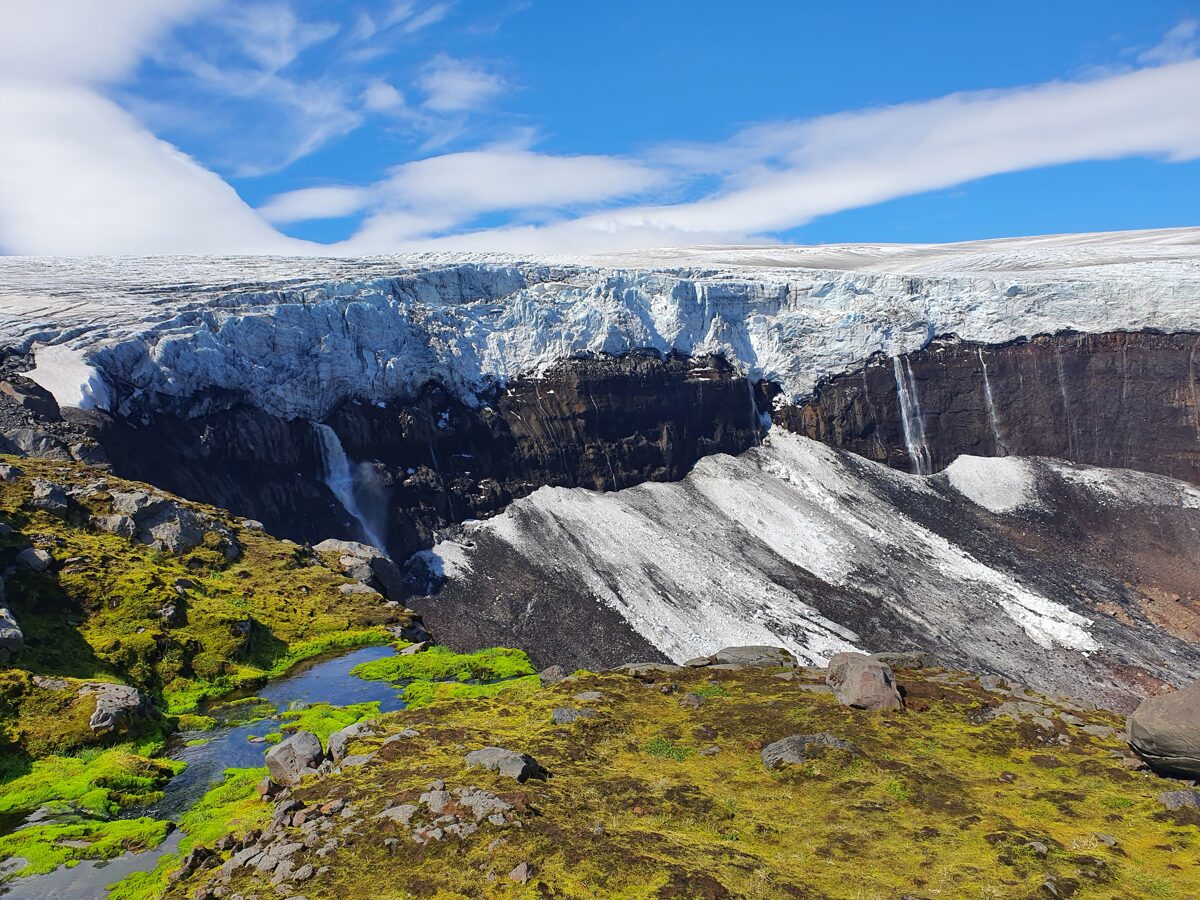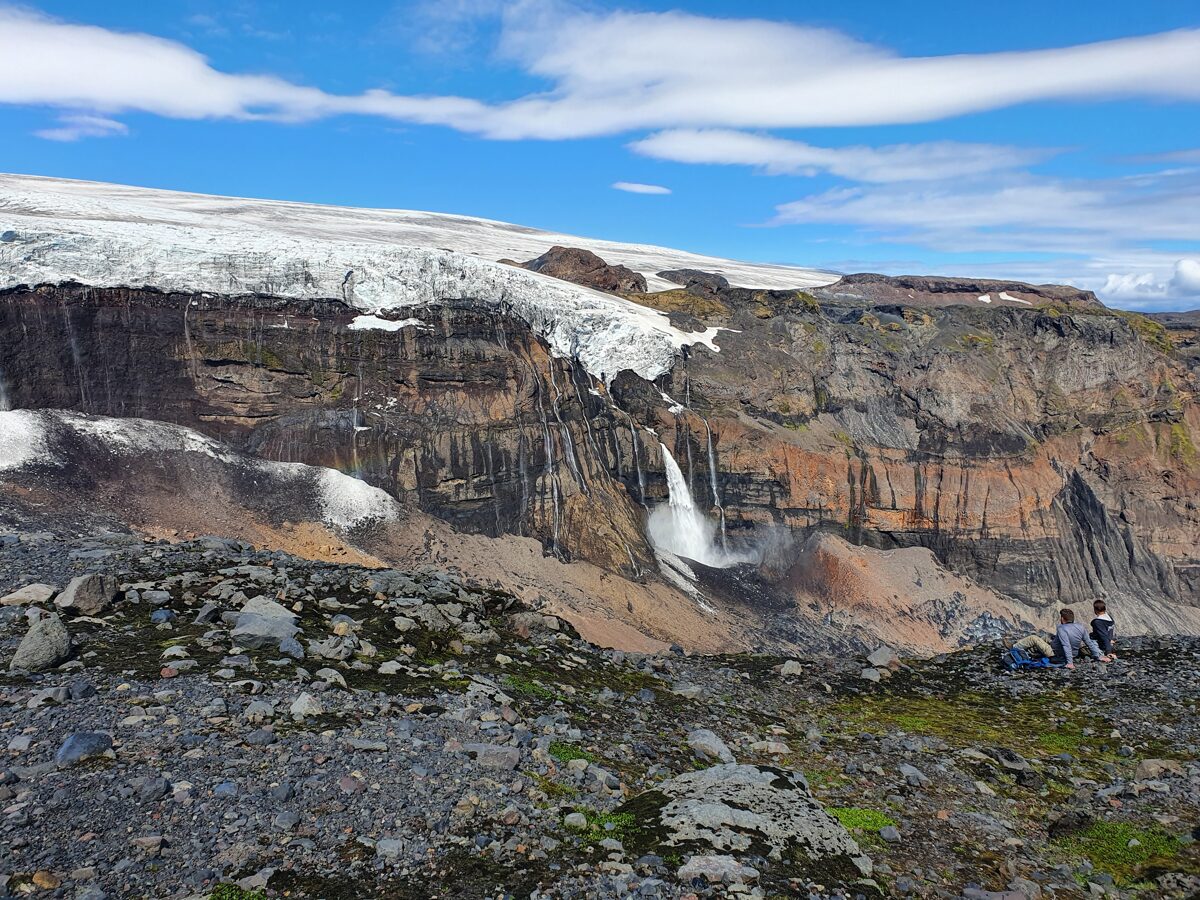 You could see and hear the glacier melting before your own eyes! Check out my instagram- it was impressive! And also very sad...
Sometimes we had an impression we were in the USA... have a look at this!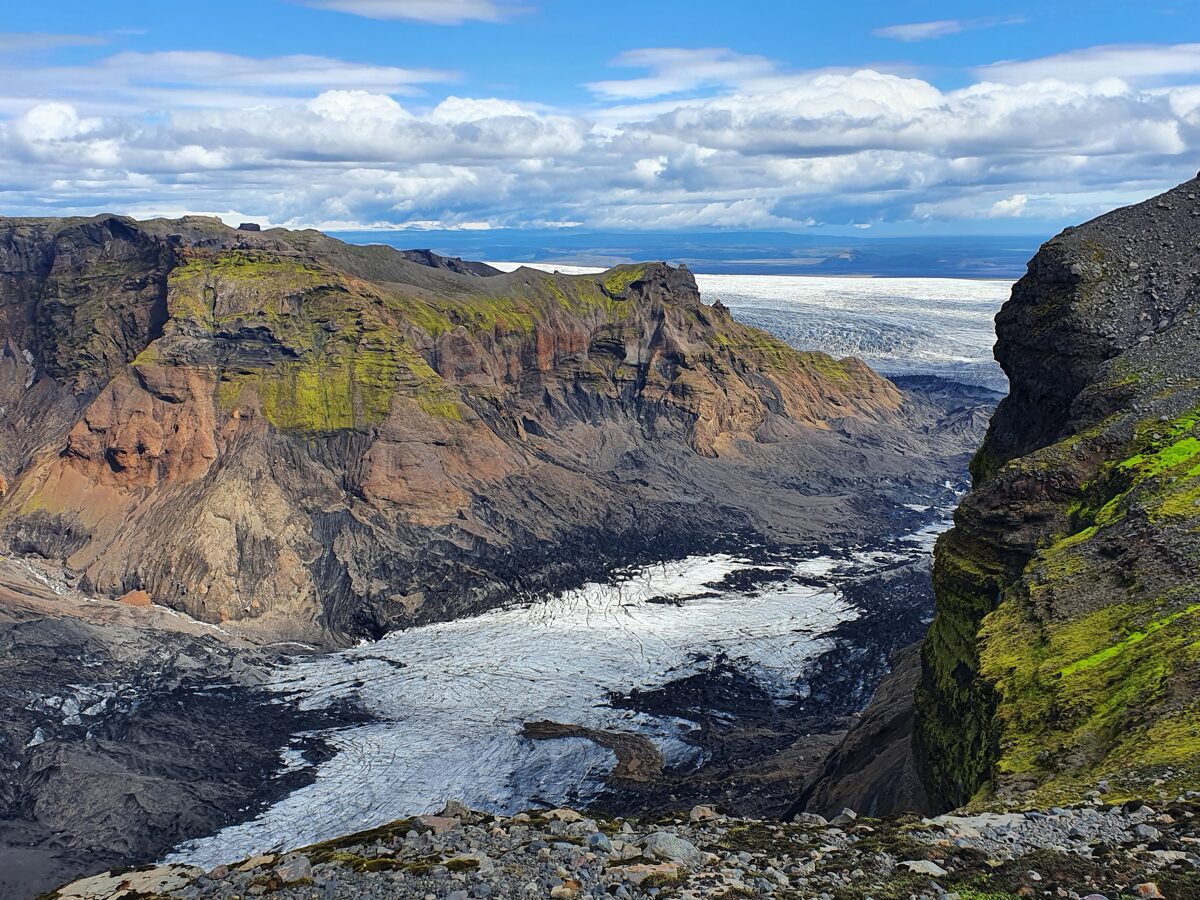 We could have been sitting for hours there! It was so wooooow and only a few people. We came back the same way, you can also do a loop hike but we heard that it was very slippery, so did not do it.
It's incredible how one and the same road can look different in a good weather! This time the way back from Thagkil was a piece of cake as all the potholes with water were gone! And those views! Just could not get enough of them!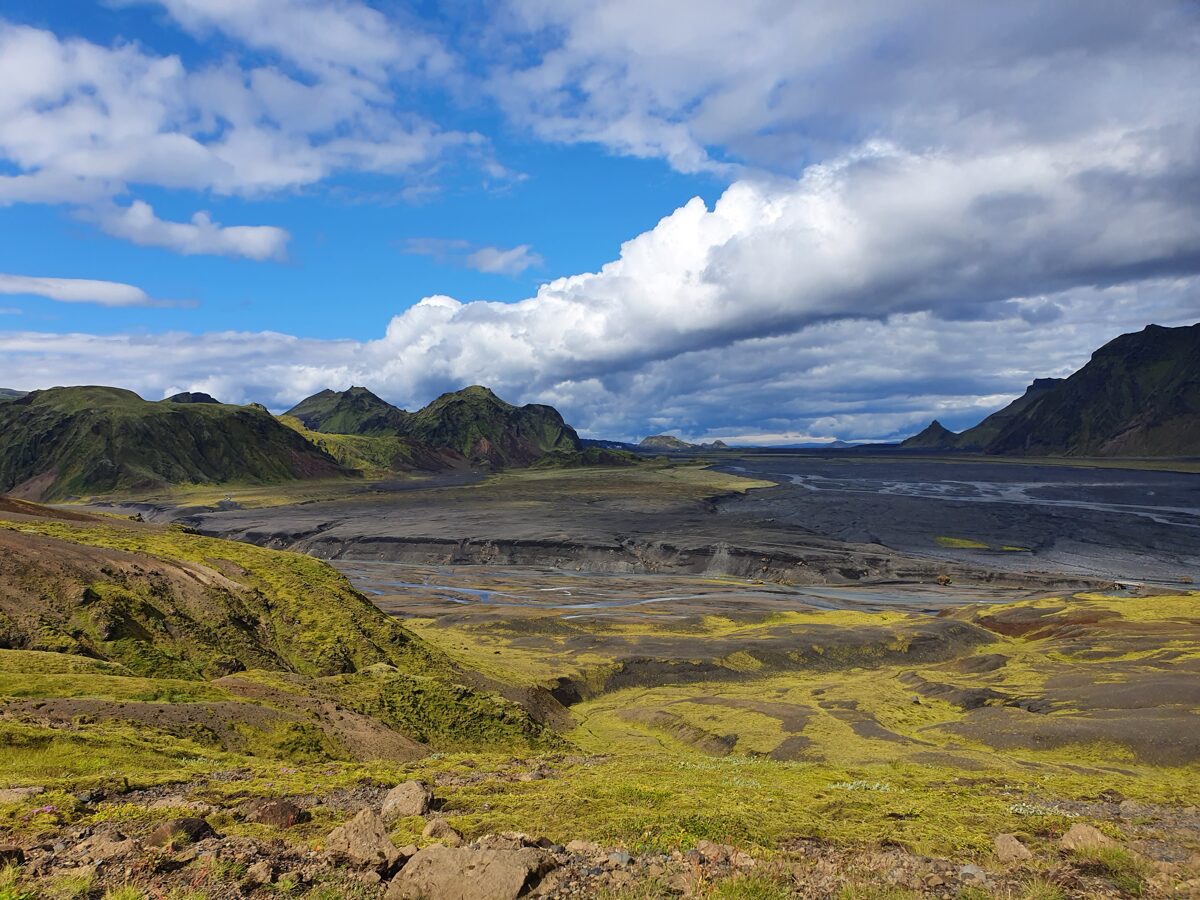 For the rest of our stay we had not booked any hotels, so we had to rely on what was left... well, nothing much or extremely expensive. Usually I never stay in any place that has reviews less than 8 on Booking but this time we had to... well, at least the view was worth it!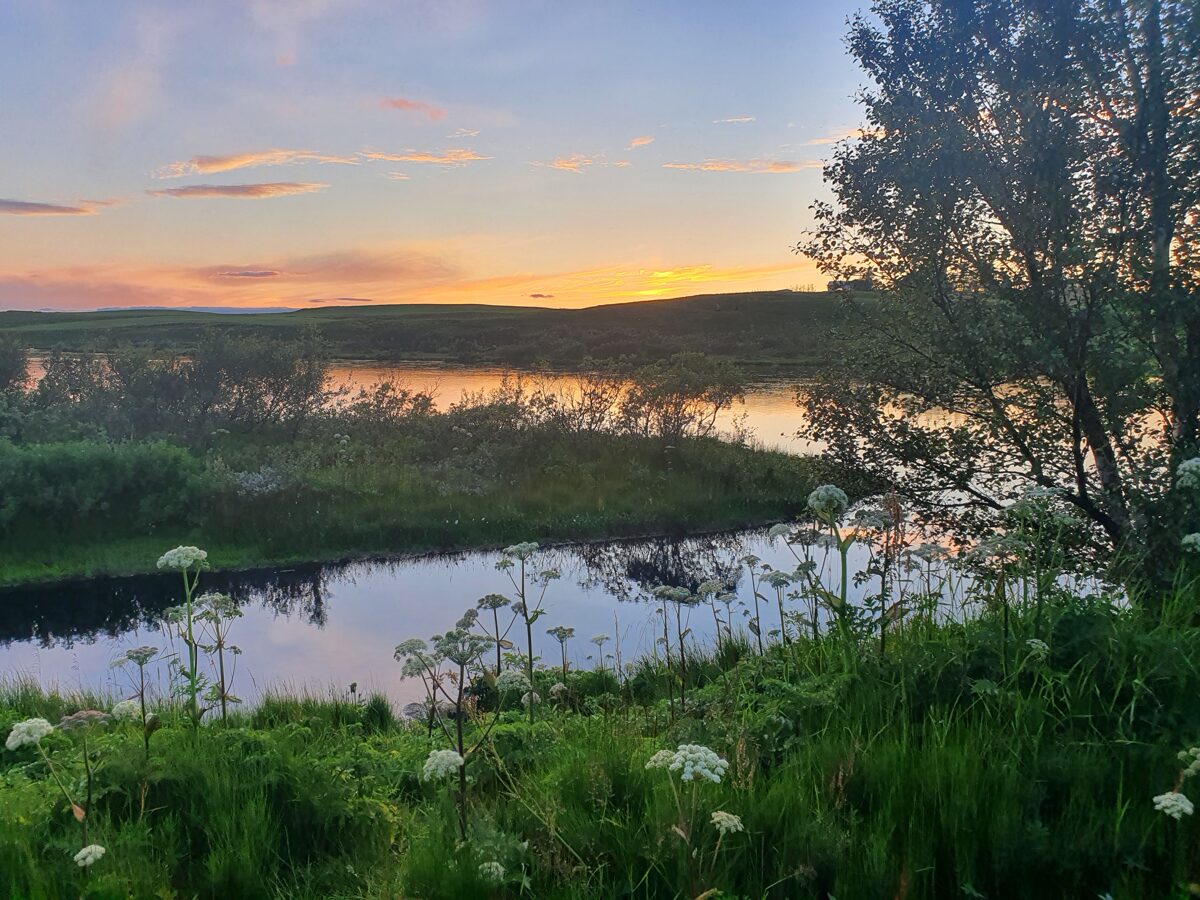 The next day our plan was to go to Kerlingarfjoll in the middle of Iceland. It was a long drive on a quite boring road and we had fingers crossed for a good weather.
On our way we passed beautiful lupine fields. Most of them did not have flowers anymore but in the highlands where it's colder they were still there!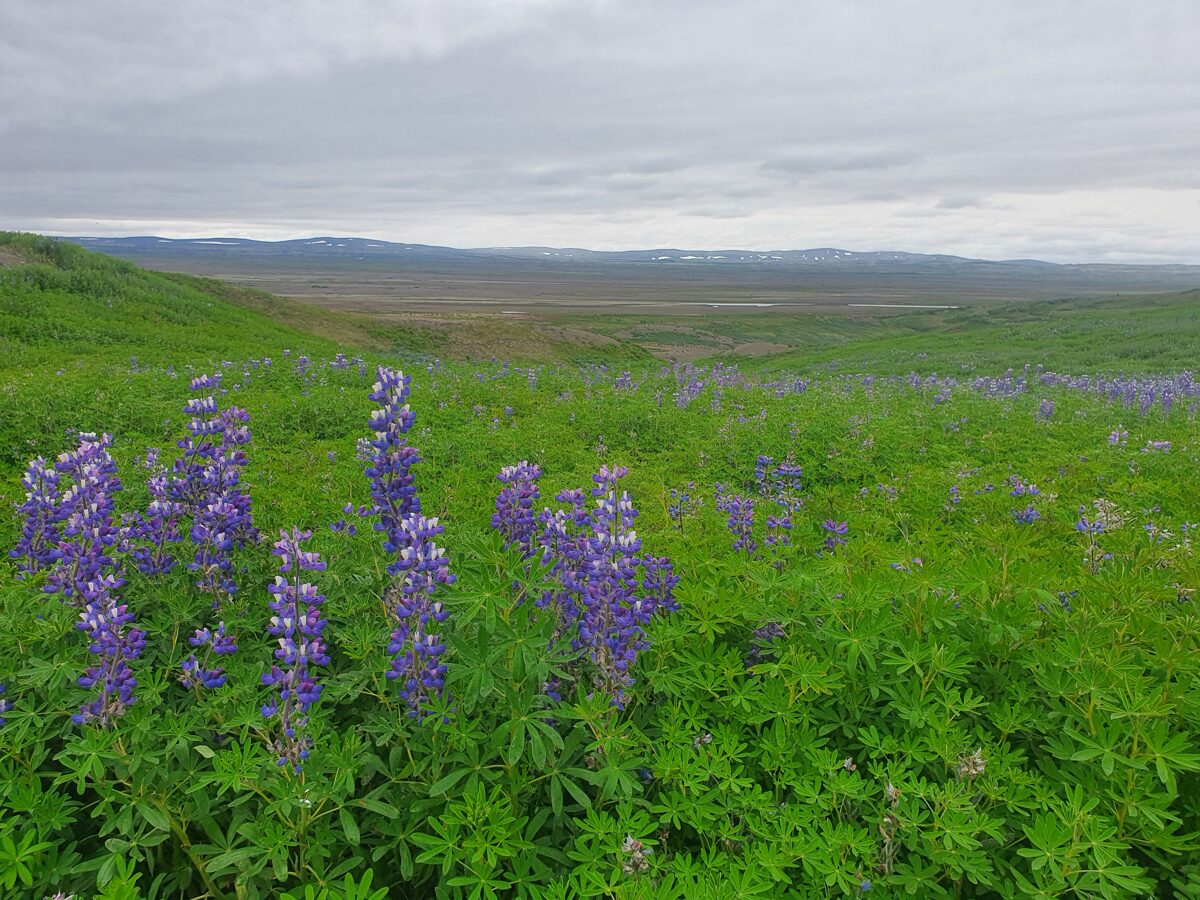 You have an option to leave your car at the camping or continue to the parking spot - the road is tricky in the end but our Suzuki Vitara 4x4 did it quite well. If you leave your car at the camping, don't walk on the road but use the trail - it's shorter and more beautiful! But driving up will save you 1 h walking.
In the mountains we were really lucky with the weather. There is kind of a micro climate there, it's a few degrees colder, so if you have 7 degrees, you are lucky. Make sure to have hat and gloves even in July!
This place was also as if it's another planet. I had seen something a bit similar in Landmanalaugar but this was like 100x more! Could not decide where to look and where to go. There is one loop walk of 4 km in total. I would advise to do it clockwise and start on the left. And take your walking sticks - some parts were extremely slippery.
Everything was just woooow, woooow, wooooow and i have 1 million pictures from there!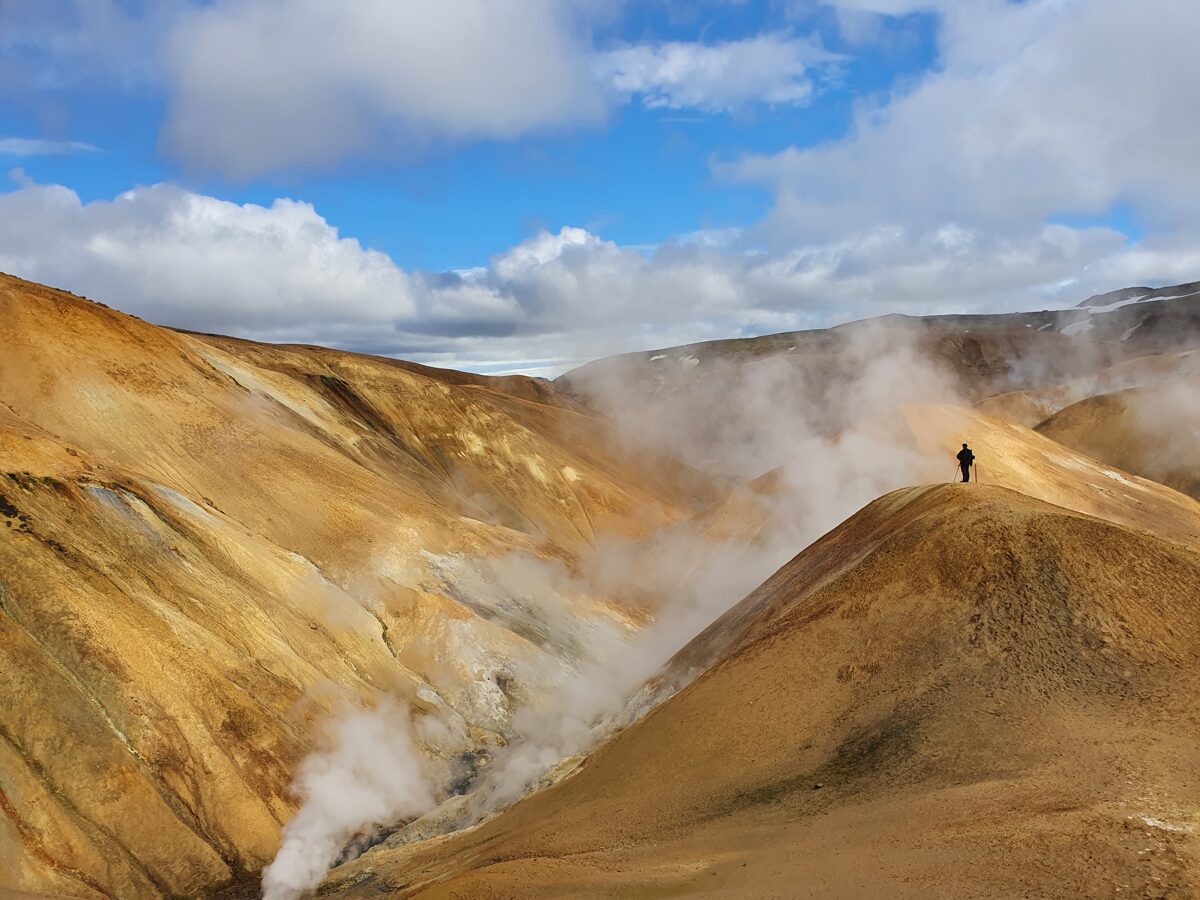 Check out the mini volcano there! It was puffing time to time but the intervals were not regular.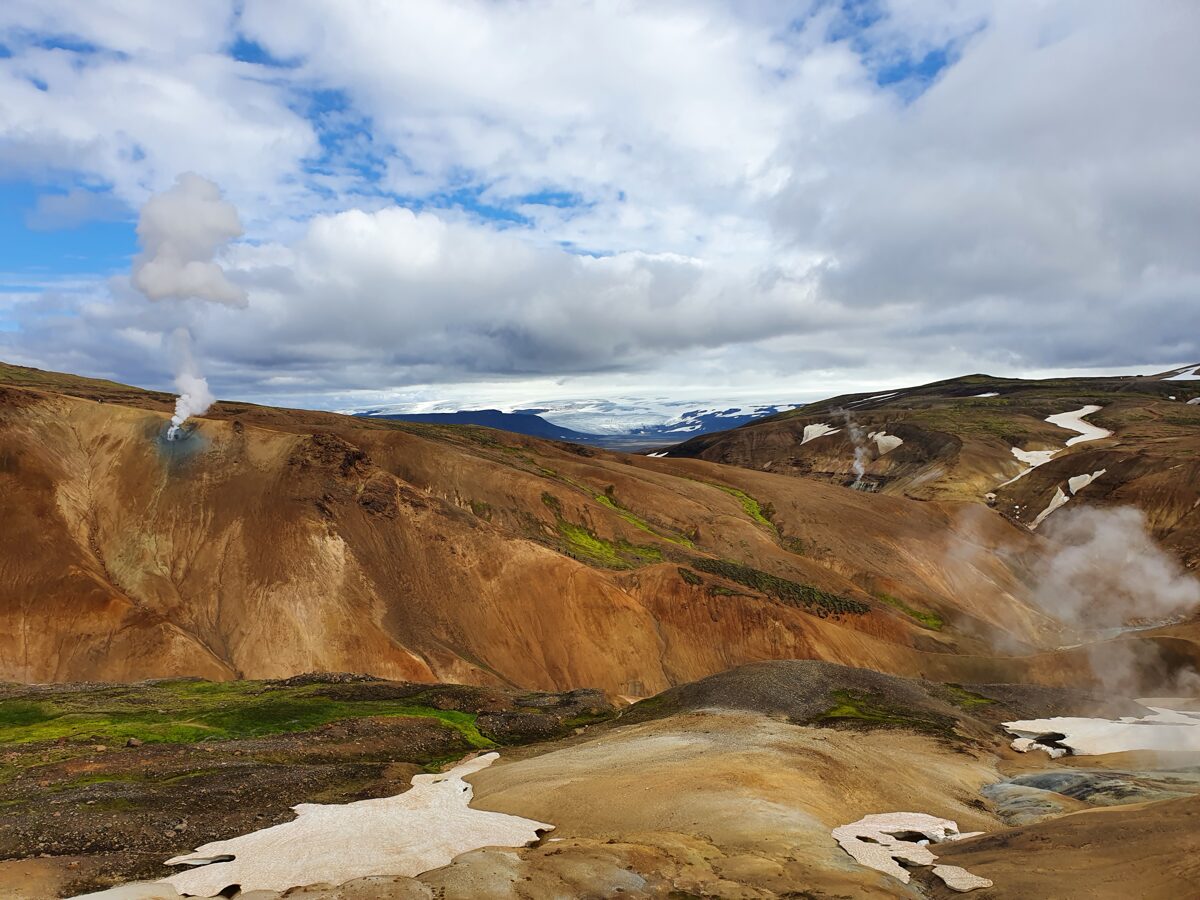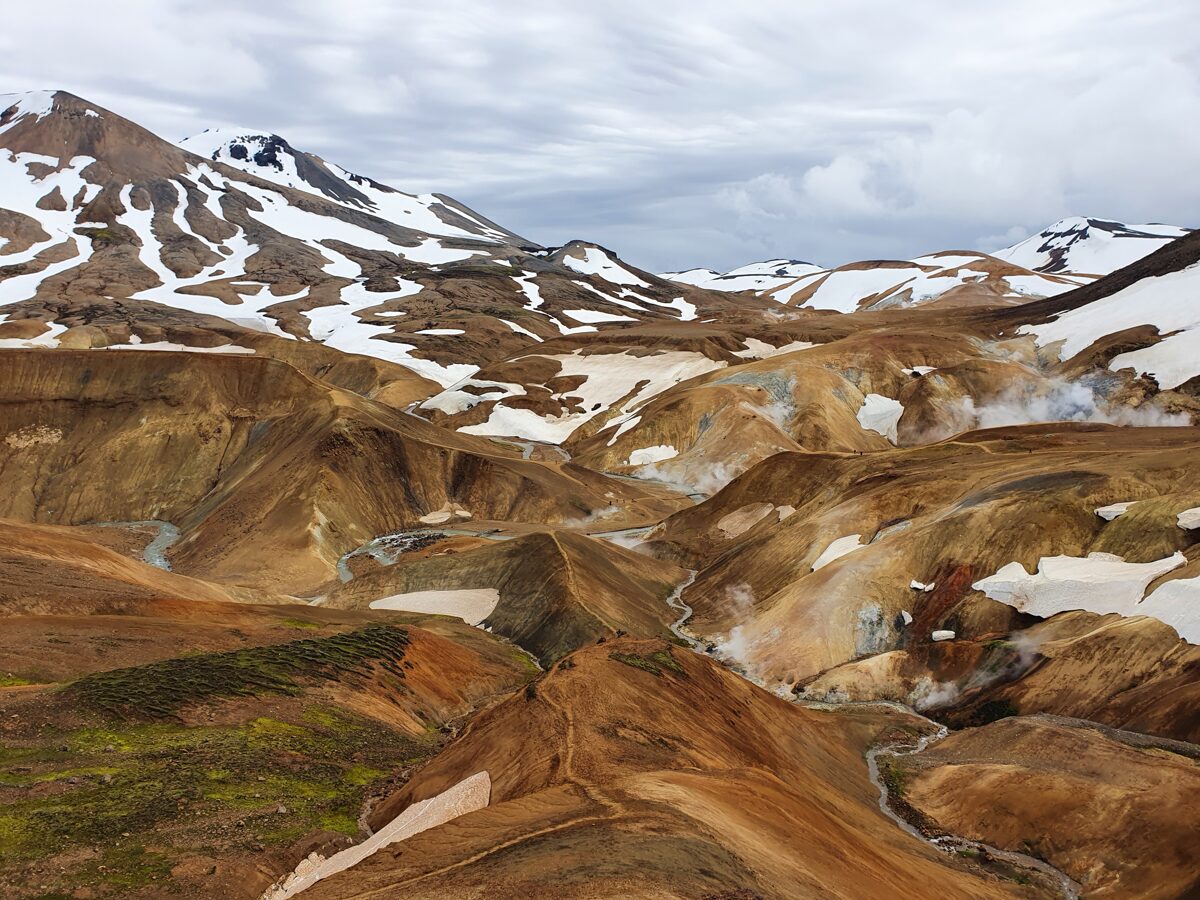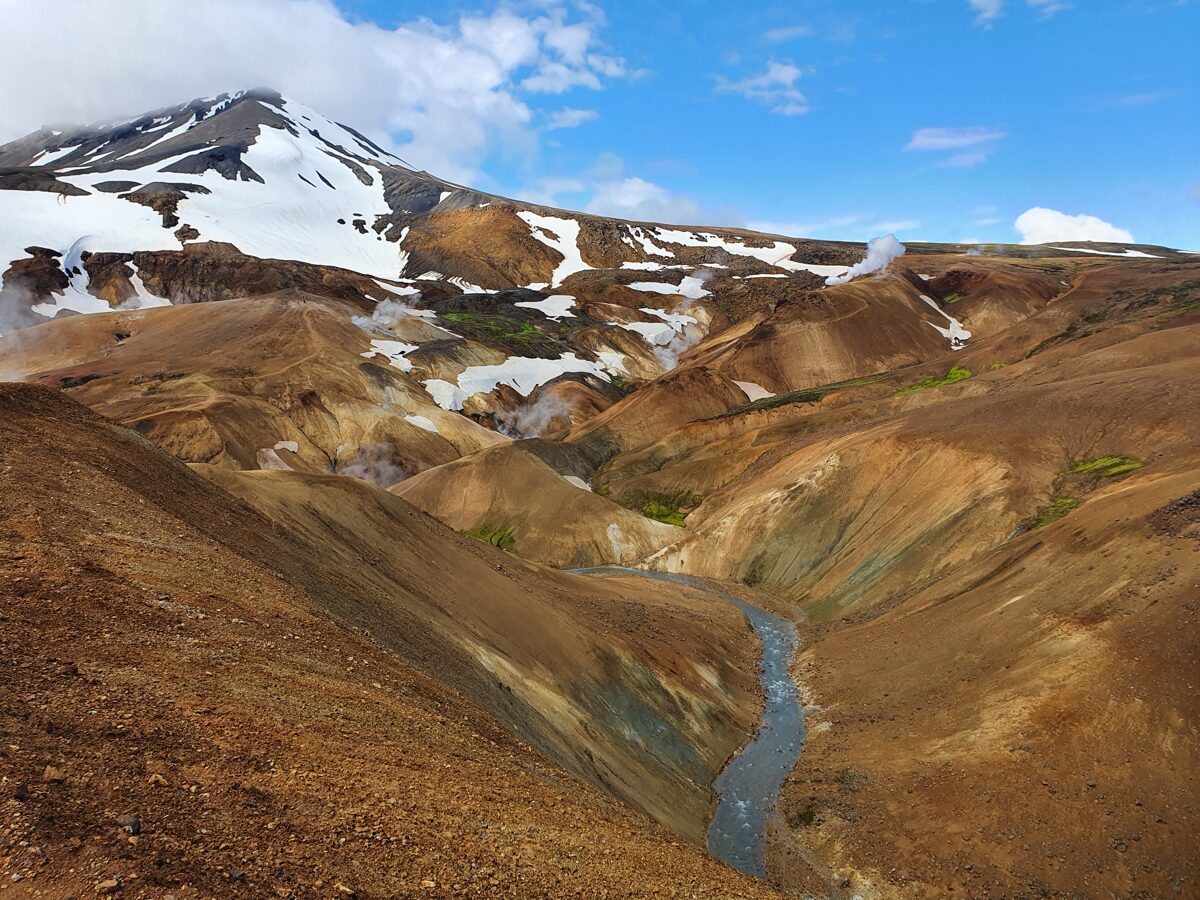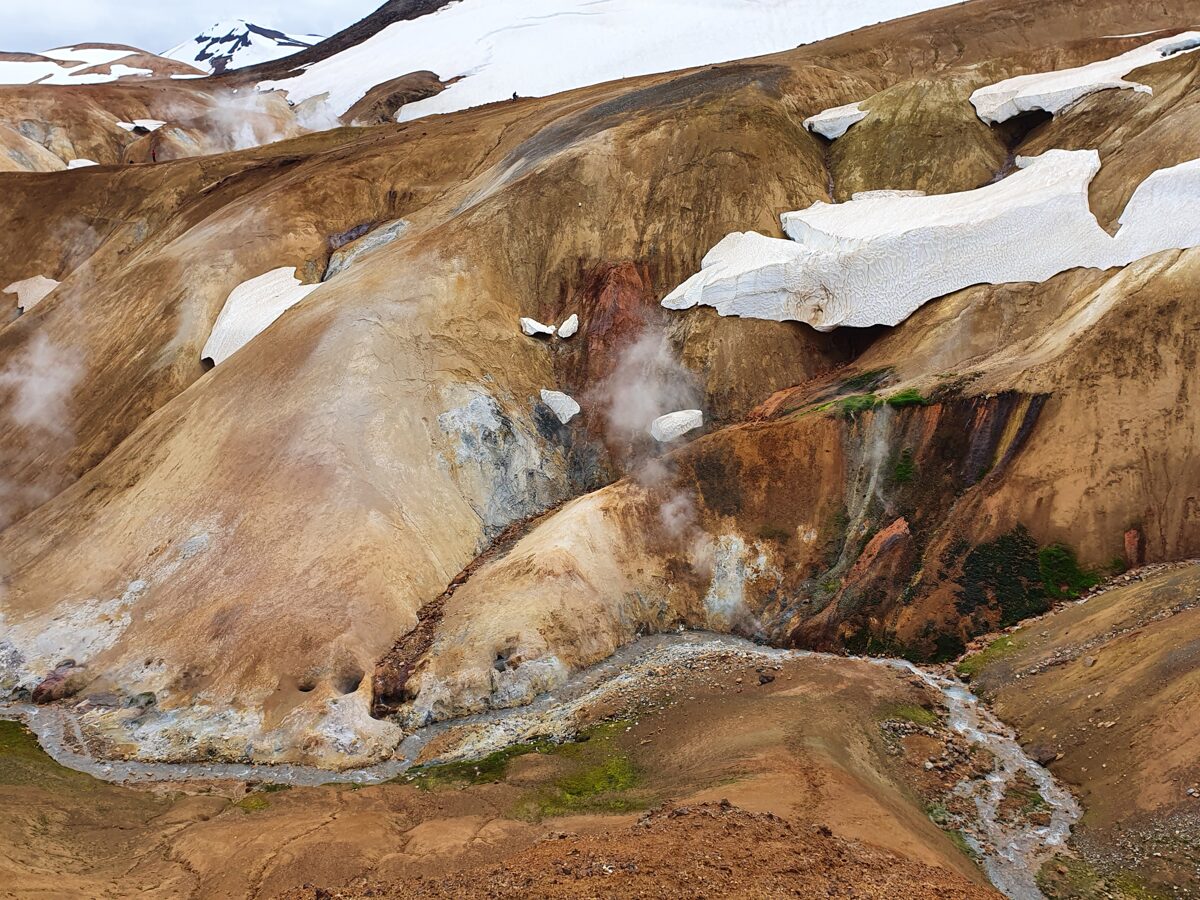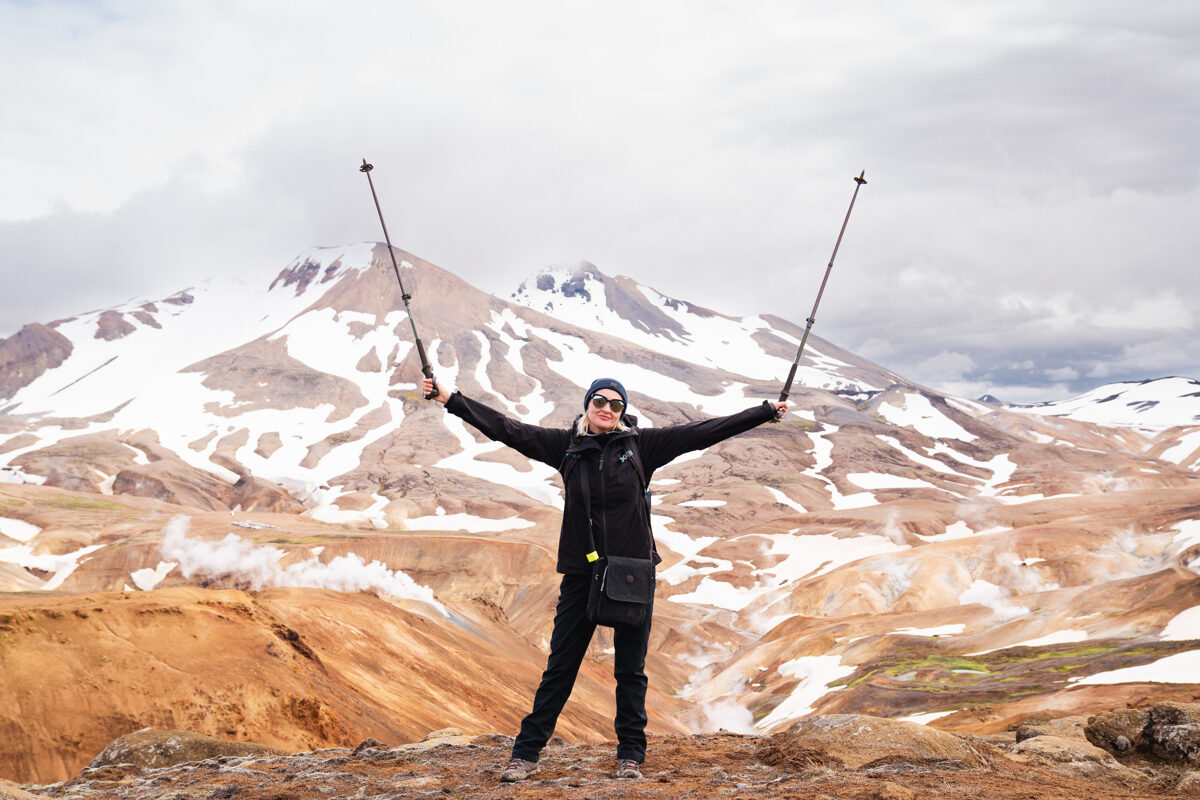 You can spend hours there! There are also somewhere hot springs but we did not have the strength to check them out.
With Kerlingarfjöll seen, all our "must do, must see" places were crossed out. The rest of the days were there as buffer time in case weather would be too bad or we would want to spend more time in one place. Westfjords are still on my list but with so little time we decided that it was not worth it and decided to stay in the south for the rest of the days.
Being in south also means a more unstable weather and we were greeted with some rain again the next day. Well, what to do? Let's see how a hydro station looks like! Why not. The Ljósafossstöð station was just next to the hotel we were staying, so it was really handy. It was an opportunity to refresh knowledge in physics in a simple and nice expo. Also for free btw!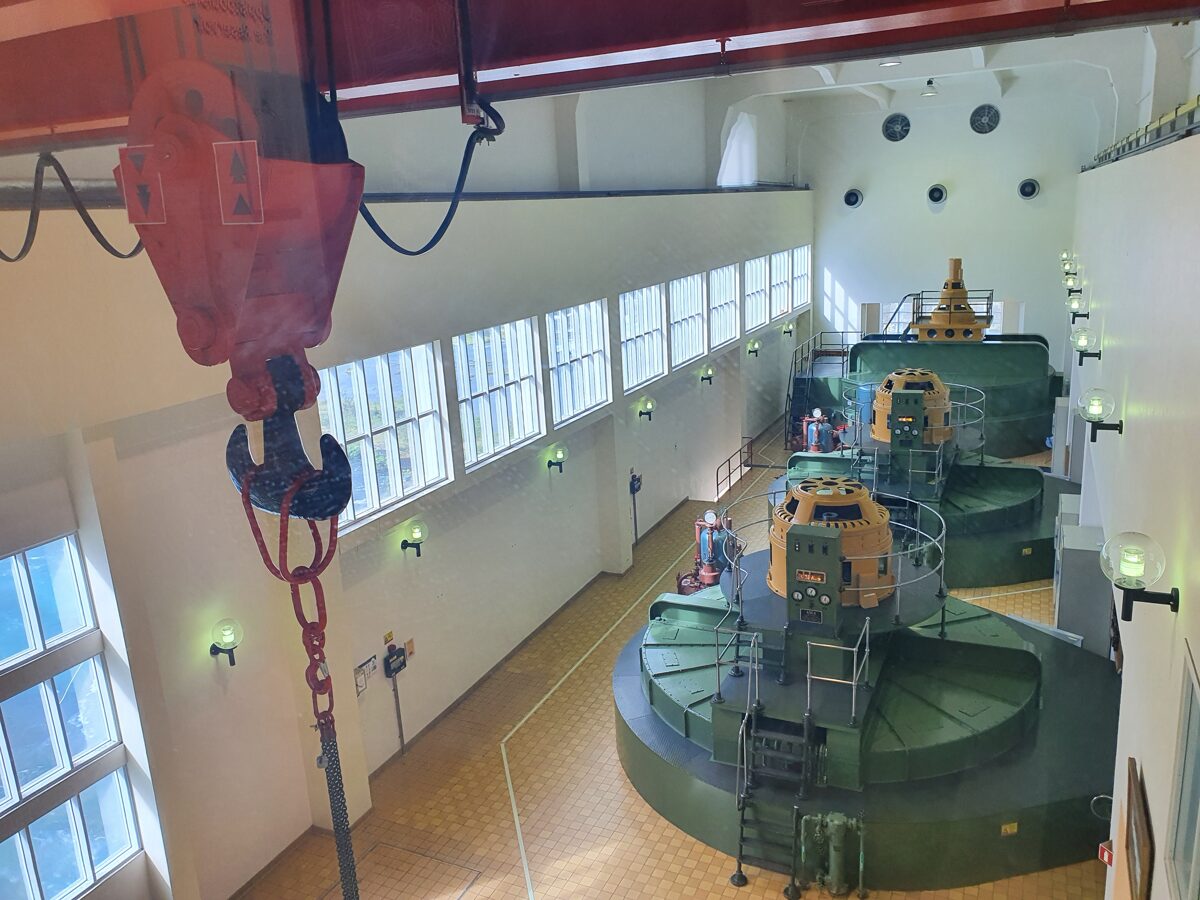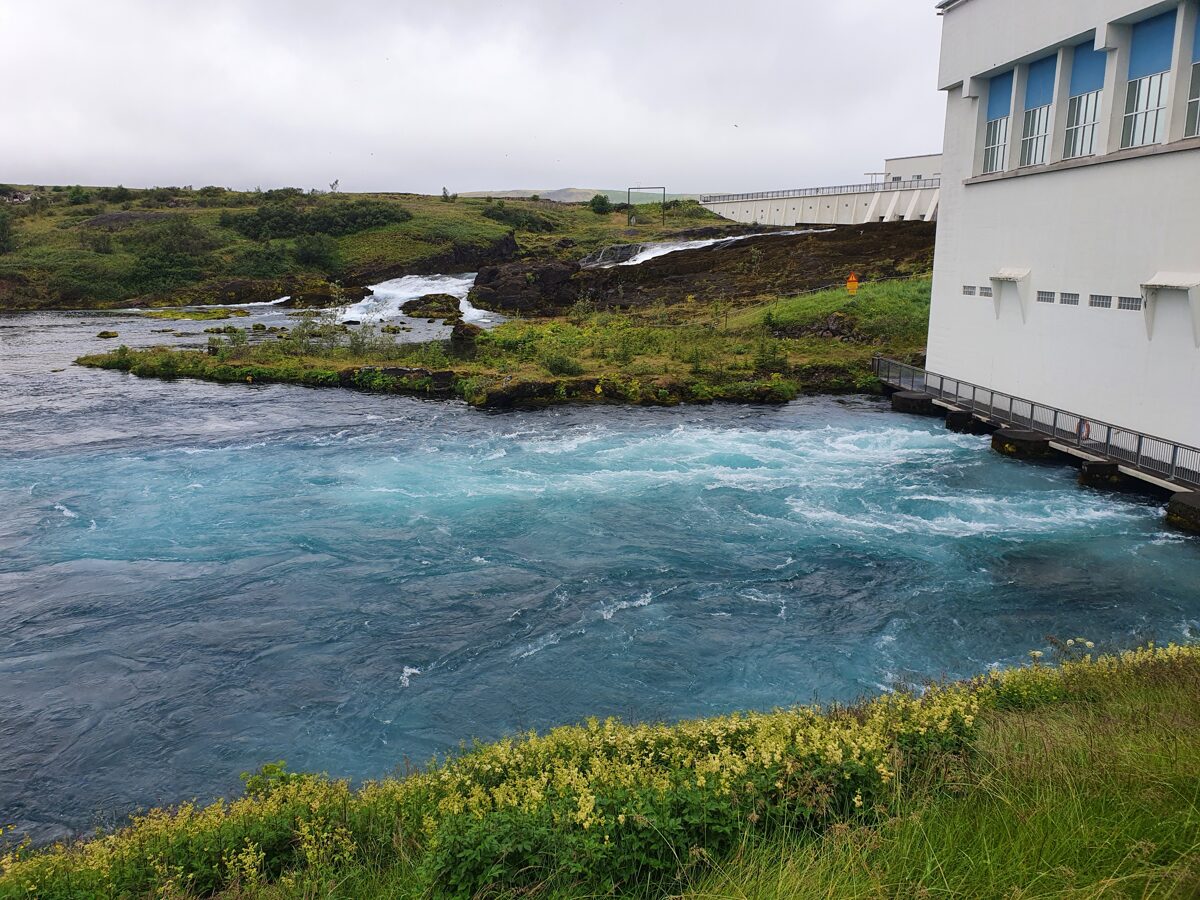 Next to the river we also experienced what it means to have flies.... OMG... zillions of them! The workers outside even had face nets on them! We really had to escape the place. To another infested lake....! We were just next to Thingvellir so decided to check it out again. I had seen it before but very quickly so wanted to give it an extra shot. So, finally we was the tourist crowds... oh my... We saw the Silfra fissure... looked like an amusement park where people stand in the queue to have a ride... the water looked lovely but the queues make it look like a totally unnecessary experience.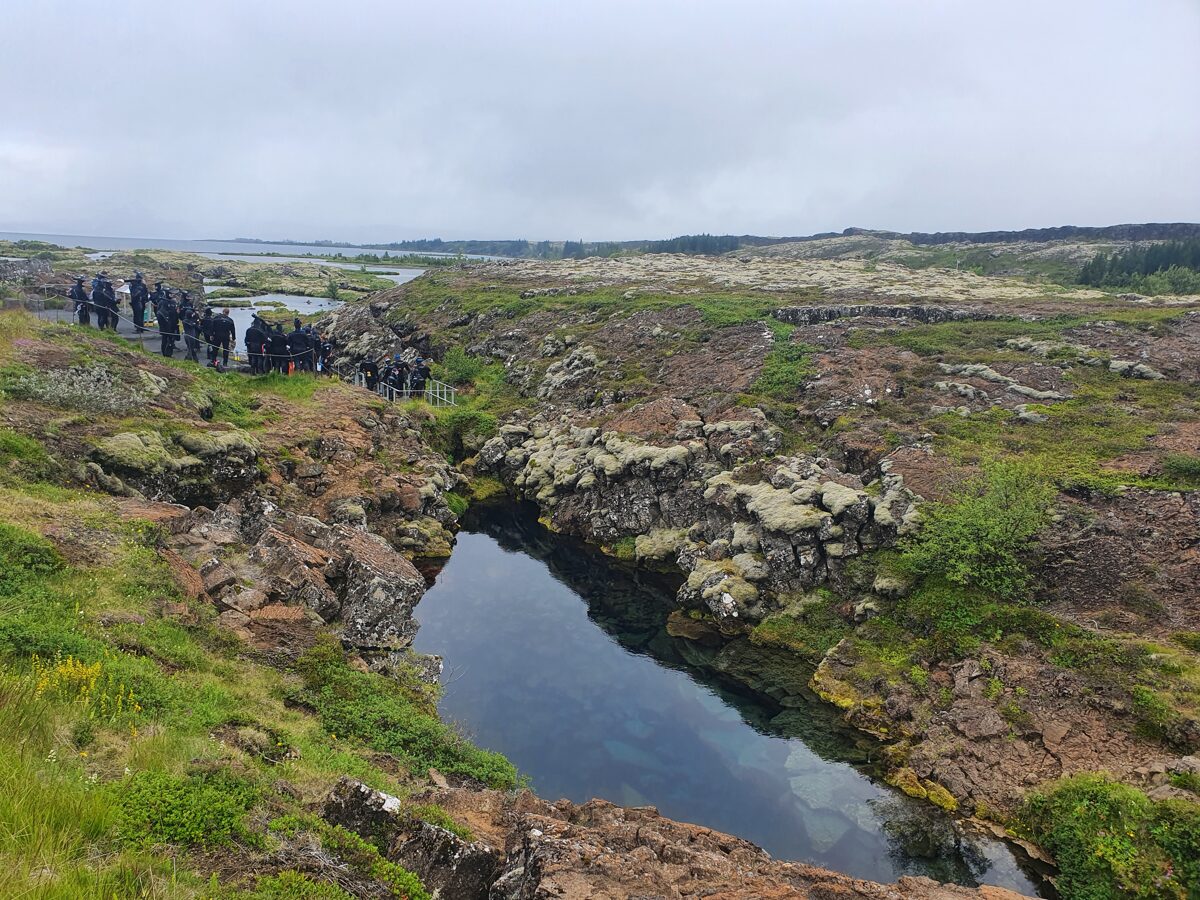 There are a few places in the park where you can see the crystal clear water, it's very impressive indeed! I also appreciated that there are many explanation boards that tell the story how the first ever parliament actually functioned in Thingvellir. The park is quite big, so you can actually escape the crowds if you wish to. I would advise parking 5 for that, you have to pay for the parking.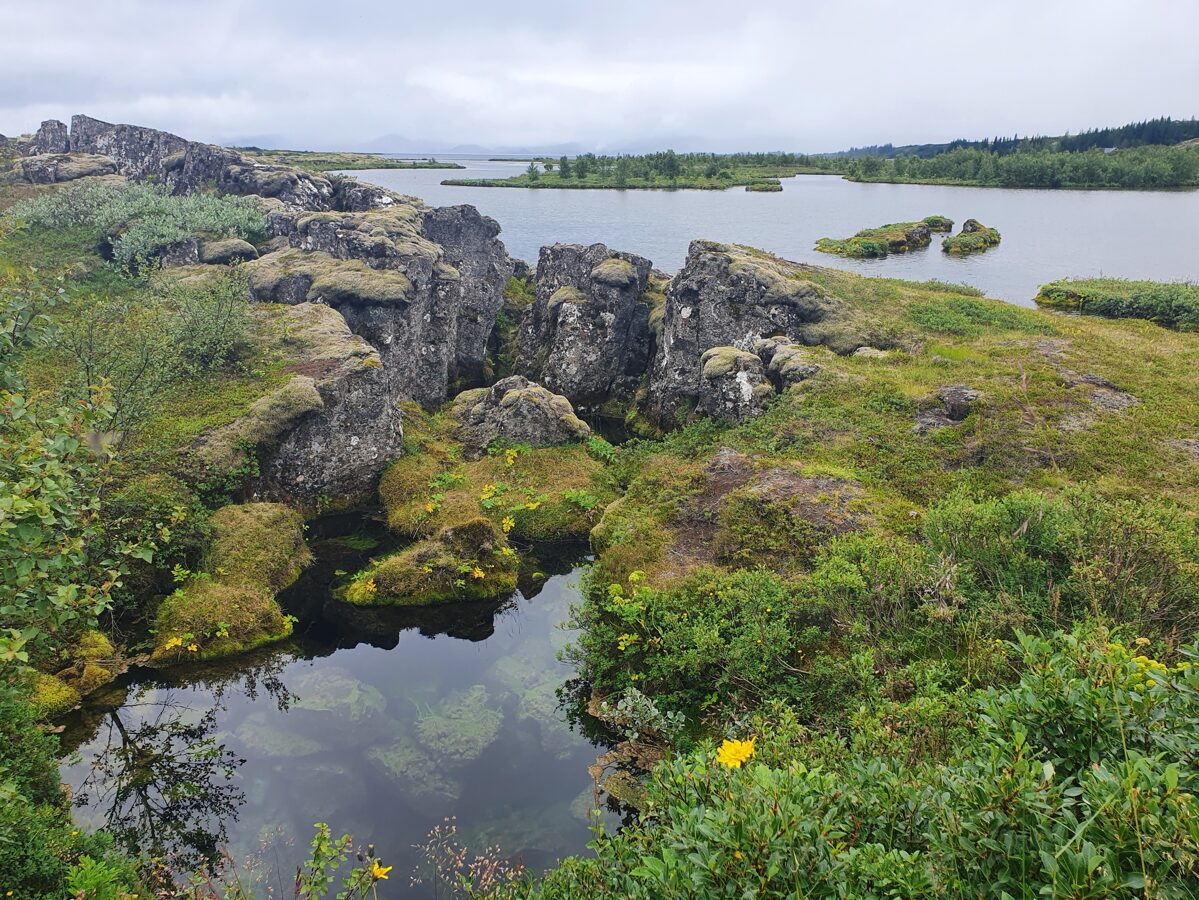 One of our favourite places in Iceland are Blue view cabins - they are really great and their hottubs are amazing. So we decided to splash a bit cash and have something decent for the next night.
We could even get there the first blue berries!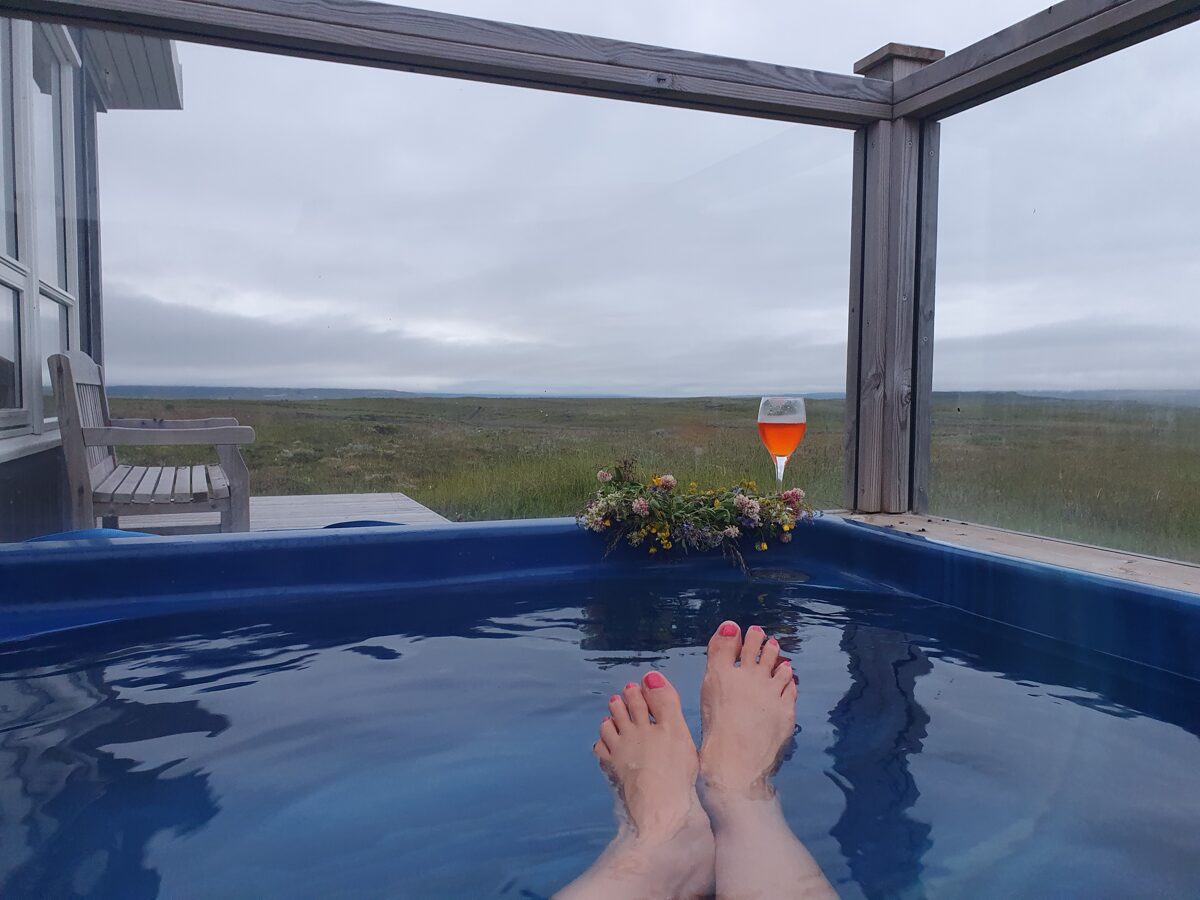 We passed the Laugarvatn Fontana, I had always thought from the pics that the place did not look nice but actually I think I was wrong! The lake looked amazing and had some hot parts in it! We happened to be there when people were taking out the bread that had been cooking there for 24 h, so we got a free demo :)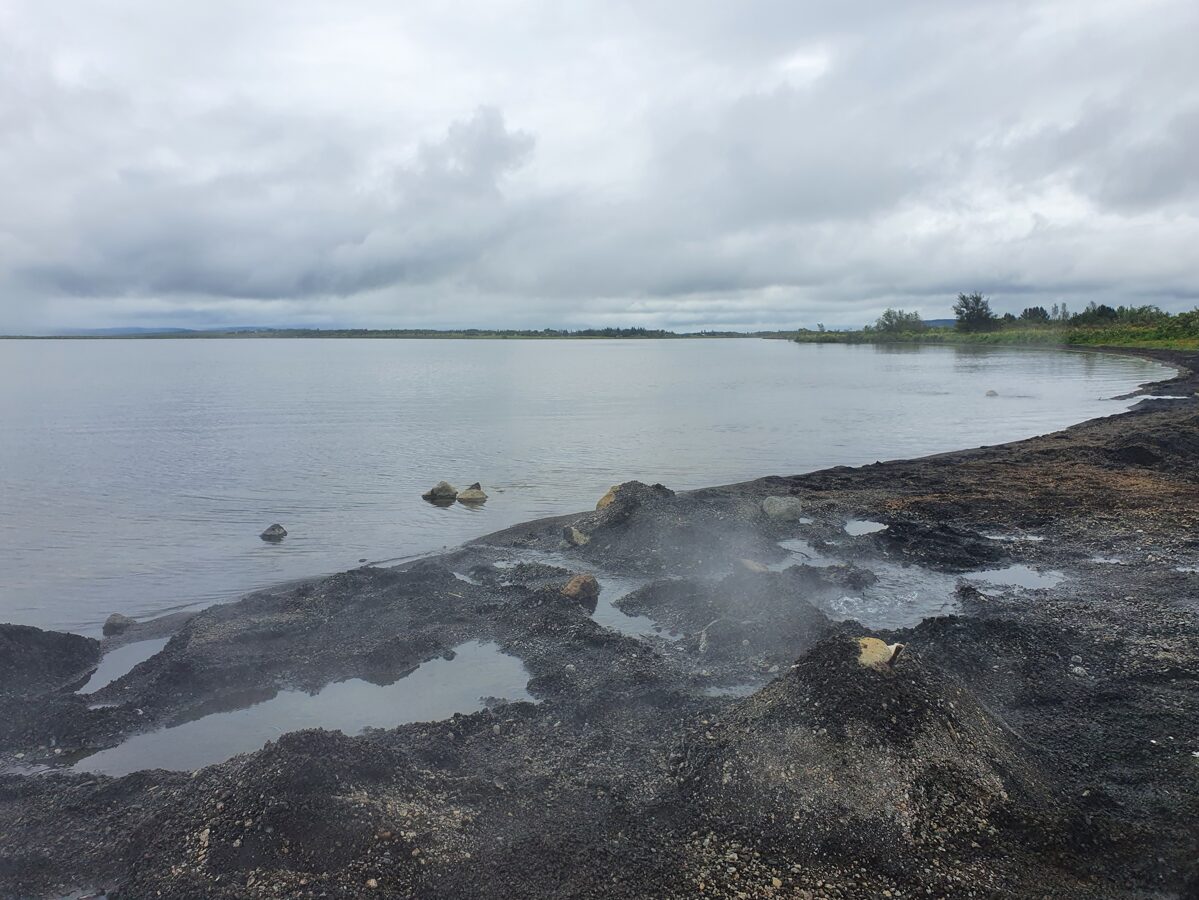 The blue view cabins are not far from the Brúarfoss waterfall. It had been on my list for a while but somehow we never managed to see it, well, finally we could! The beauty of long Icelandic days is that you can easily do things as the sun does not go down. So we headed to the waterfall at 9 pm. It's an 1 h walk from the parking, trough a beautiful forest and by the river. It's a joy for eyes and ears!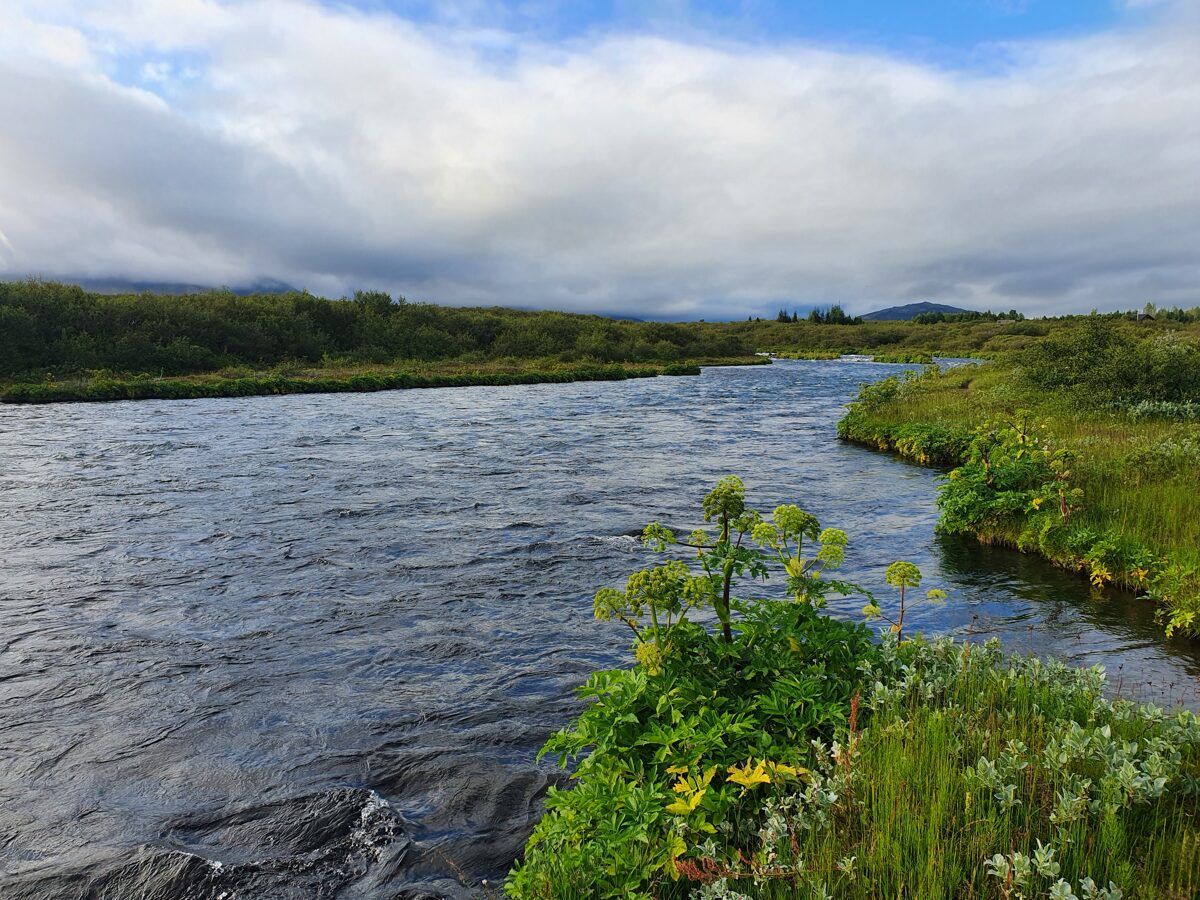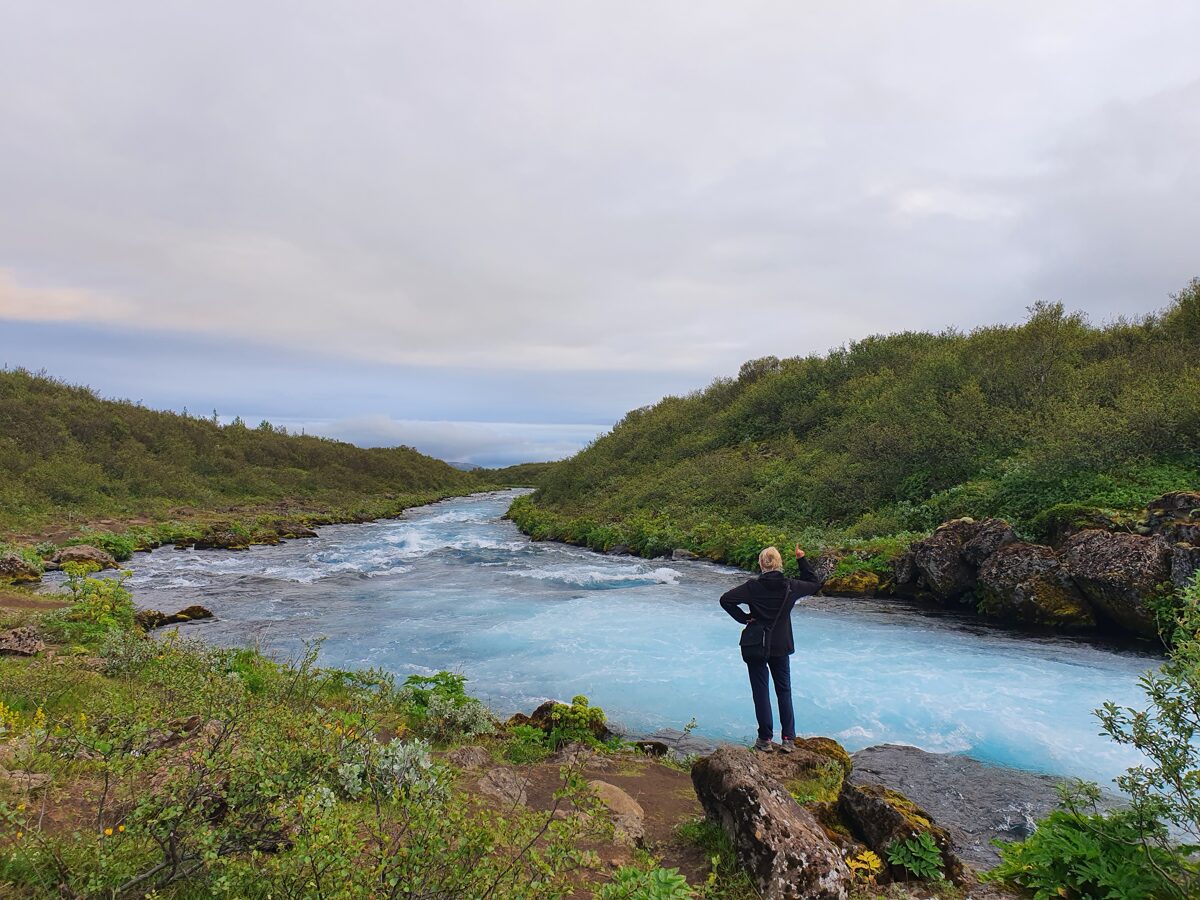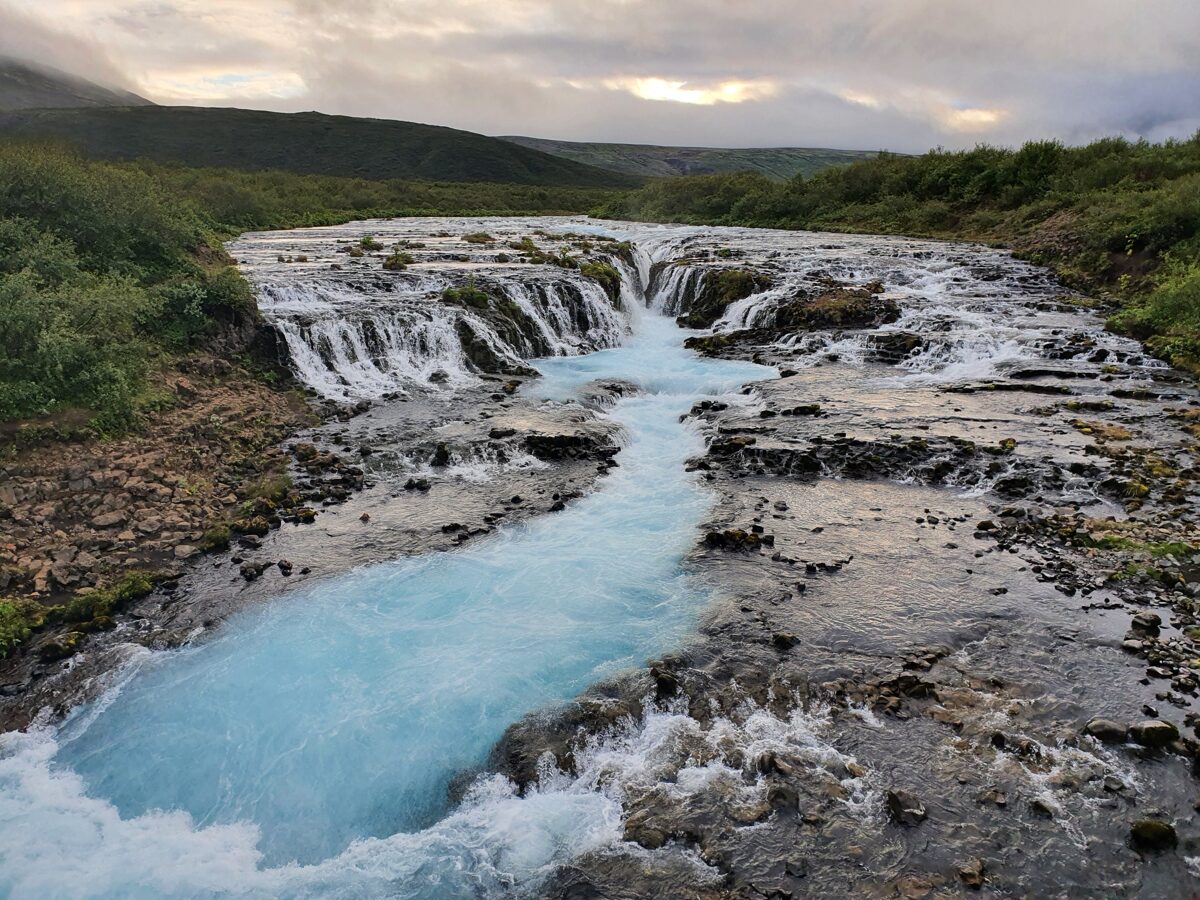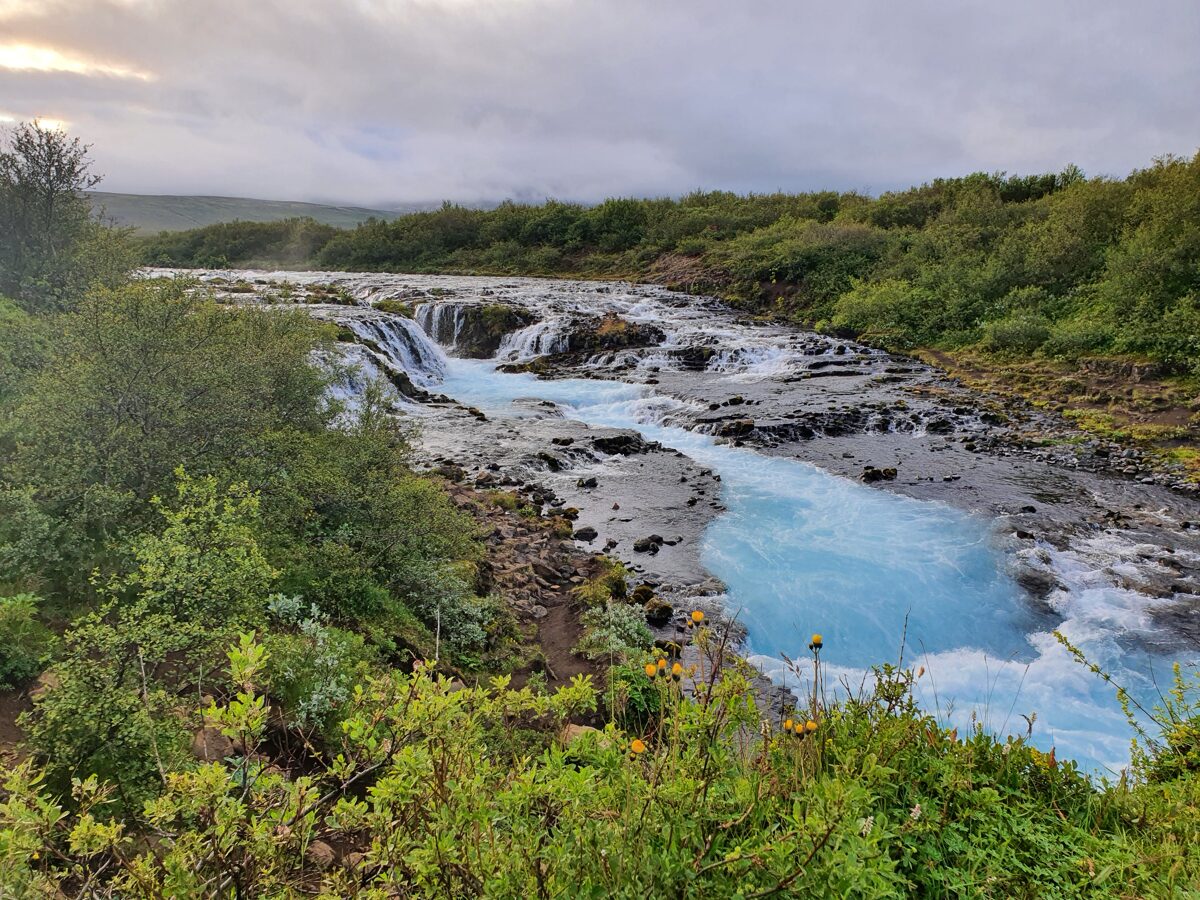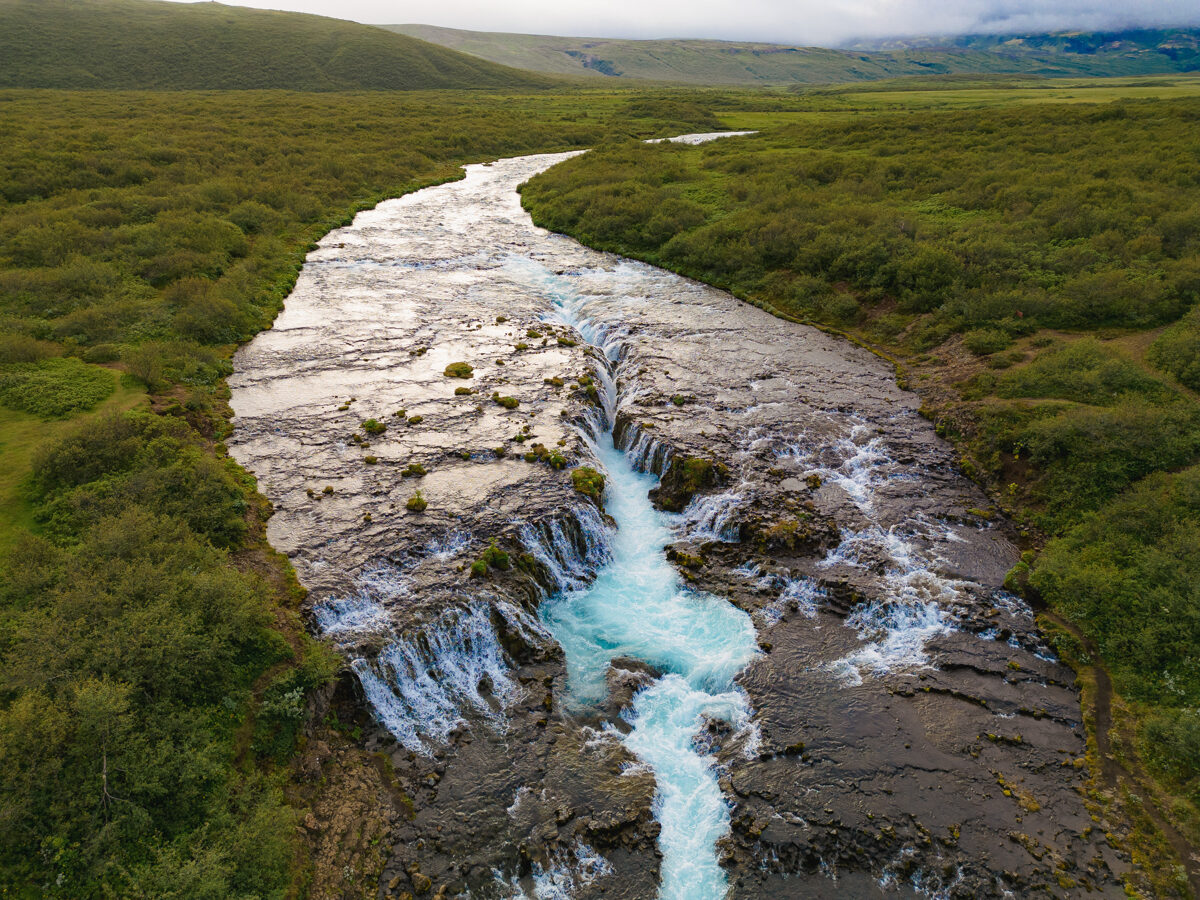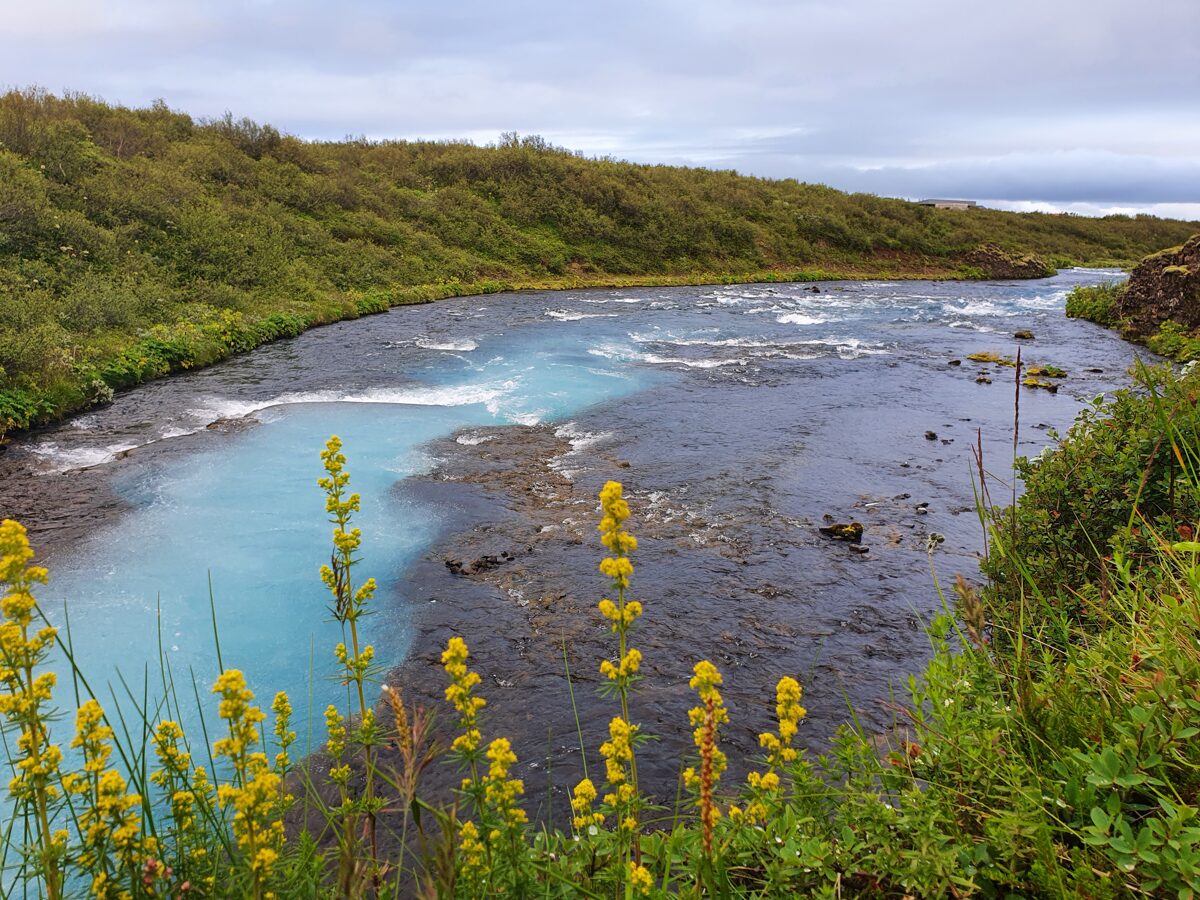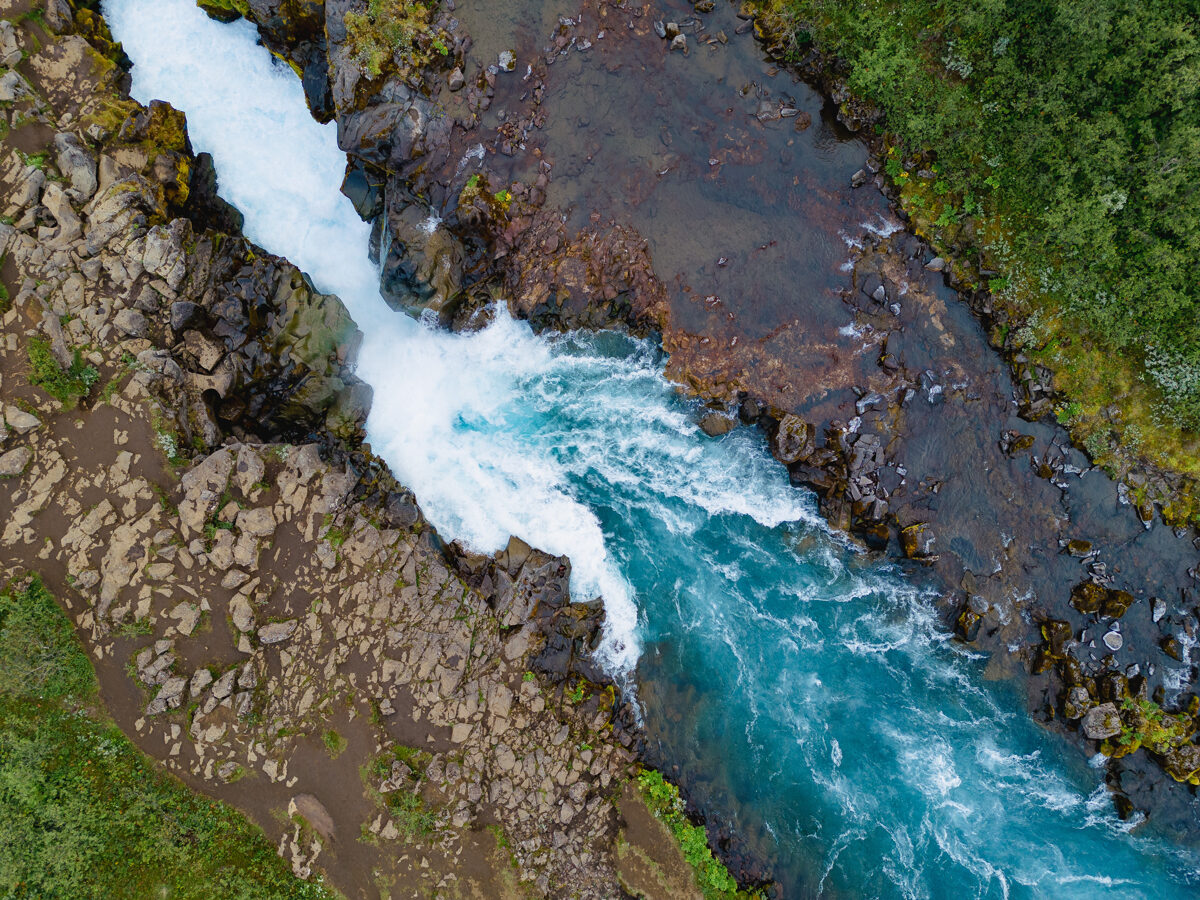 It's incredible to see how the same river can change in mood and in colour. One also has to be extremely careful. One day after our visit a tourist fell in the river and died as he was saving his child who had fallen in. The child made it but not his dad.
In our last day we headed to Grindavik - we always stop at the Hjá Höllu - the best mushroom soup in the world believe me :)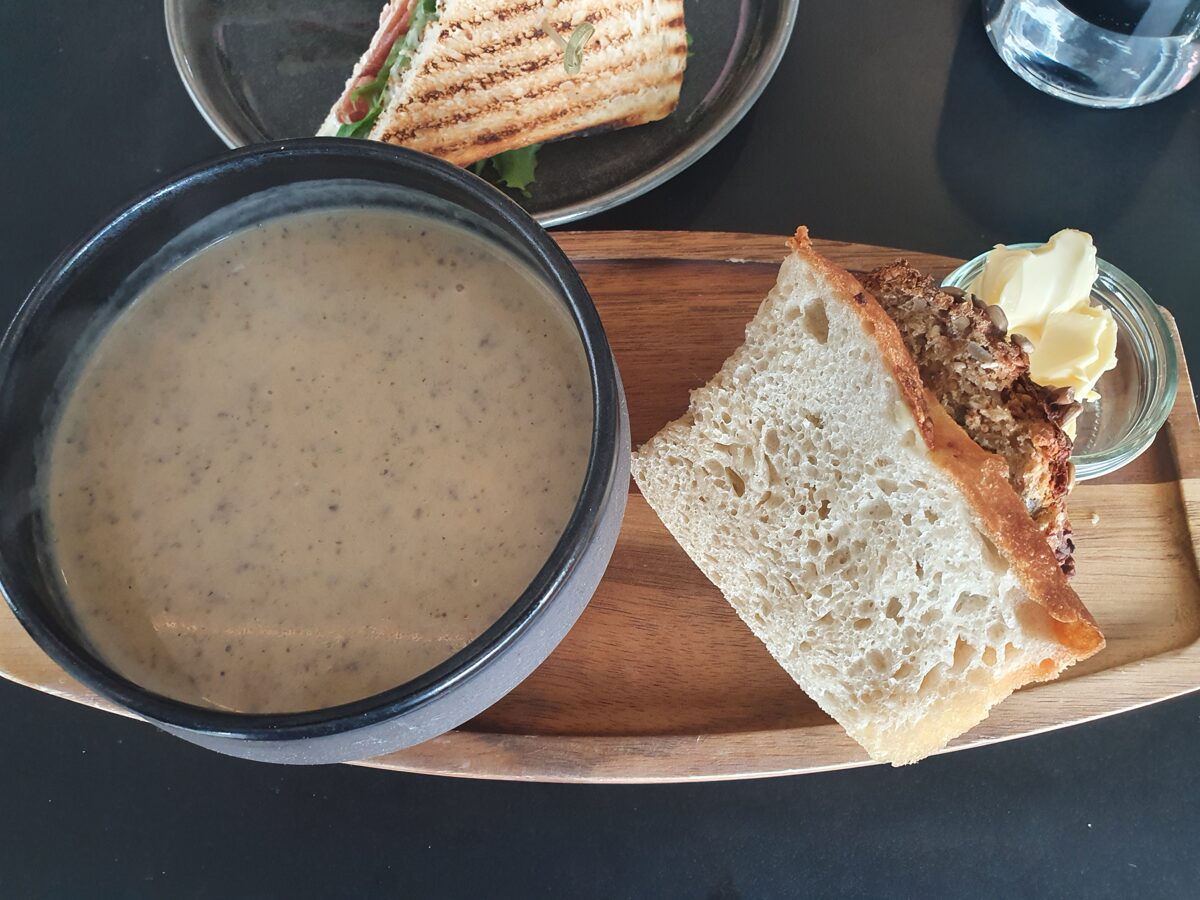 We also finally made it to the Grindavik's ship wrecks - nothing super impressive but if you have nothing else to do, then why not? :)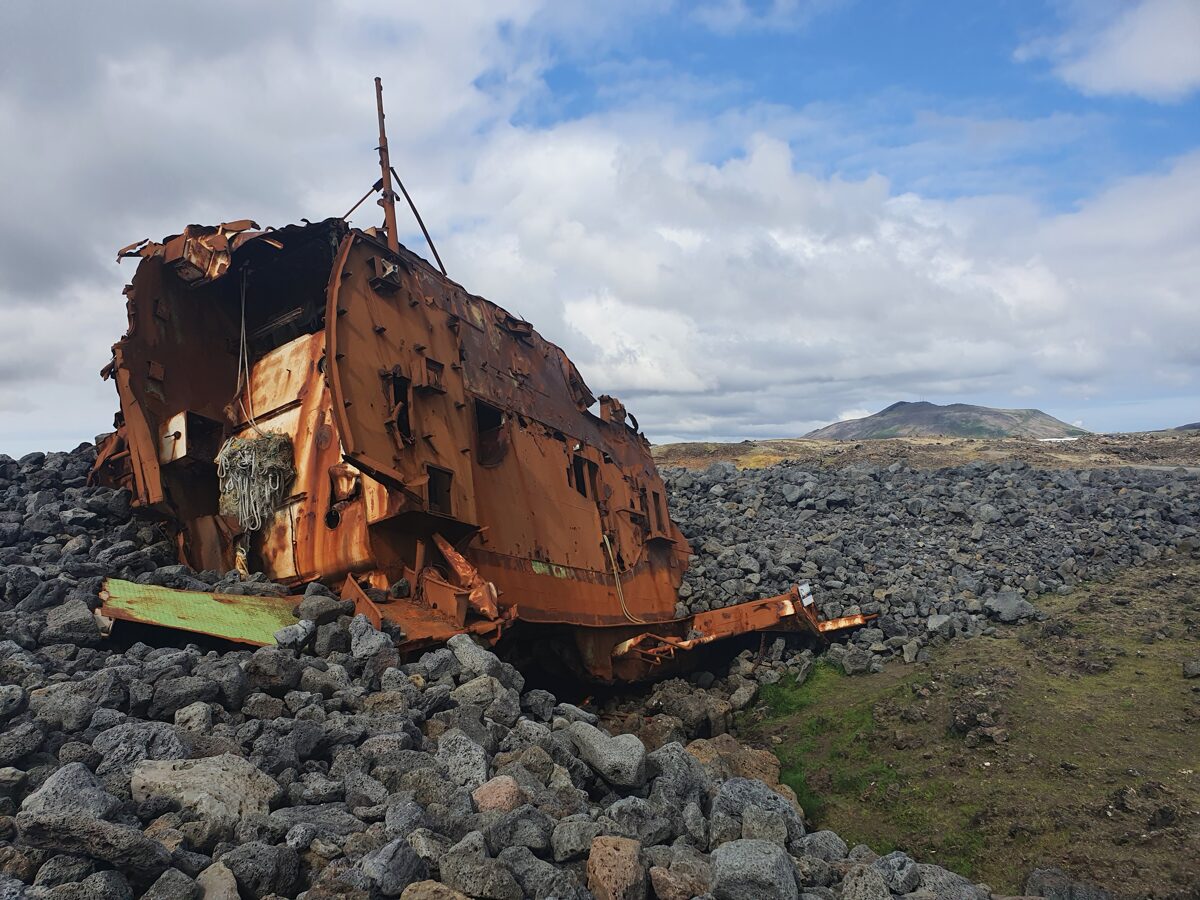 Observations
We probably had the worst weather that we have ever seen in Iceland. Luckily we escaped a heavy storm that kicked in after we left but still, I had hoped for a bit less rain. The same time we all know that in the south it's more wet, so, if you plan well, you can escape the rain if that's the main objective.

Icelandic air advertises summer in Iceland with 16 degrees... well, that's only if you are lucky :) Our average was 12 and we were happy to be equipped with all the layers.

Be aware of crazy angry birds - artic terns. They were attacking everybody at the parking to go to the Westman islands!

Crossing of rivers can be fun if you have a proper car and if you have studied how to do it properly. To go to Thorsmork by yourself you would need to rent Toyota Land Cruiser or similar - count 285 euros per day for such a car hire. Or use the bus - it was around 70 euros for a round trip from Hvollsvollur. All the details and prices here.
I was impressed with the greenery and the lack of it at some parts. The flora looked very similar to the meadows in Latvia, so I had a bit of a feeling of home, especially when one could feel the scent of shamrock! Just amazing! I could not help but had to make a flower crown - any Latvian would do the same :)



No comments
Leave a reply