Paxos in Greece: A hidden gem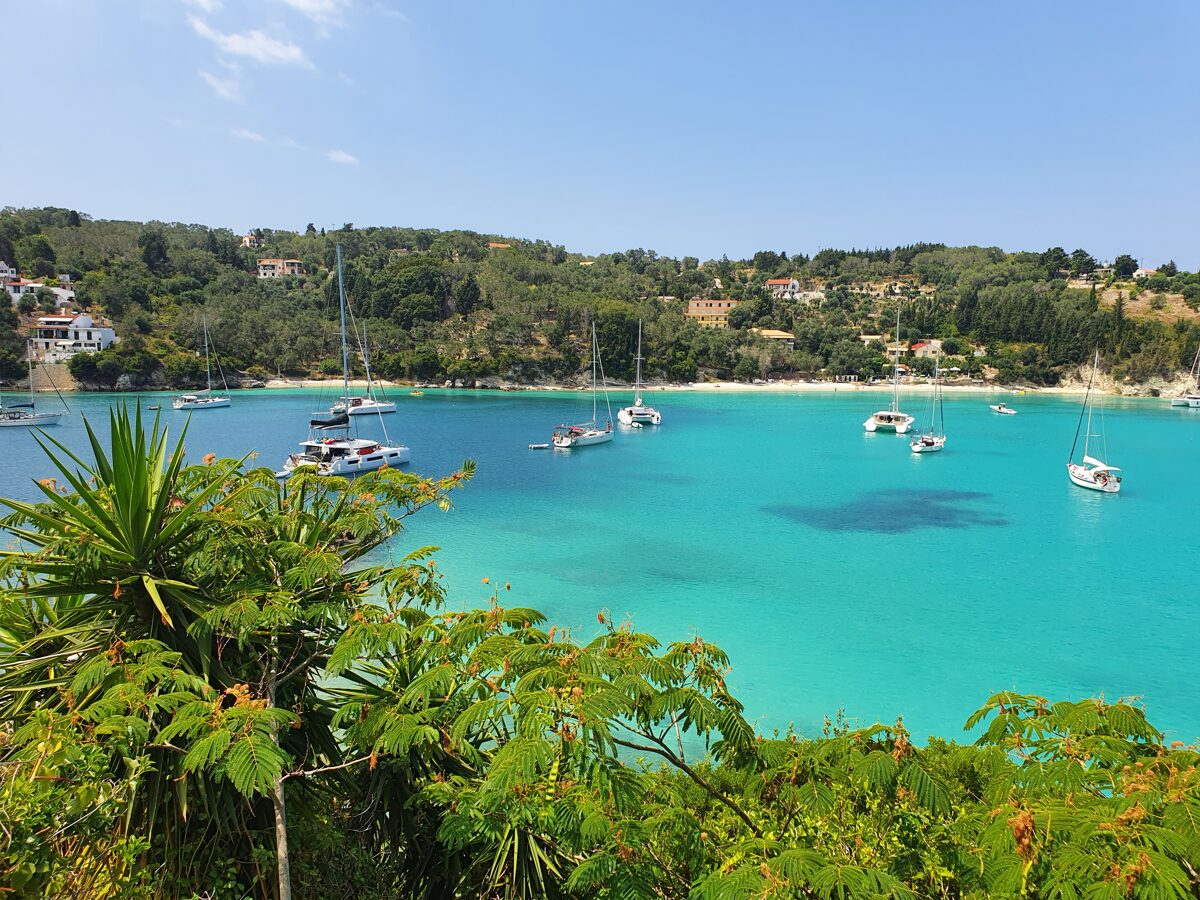 Paxos had been on my travel list already for a while. Covid made us change our trip slightly - we had planned to visit Paxos in June but then had to move it to mid July. In normal circumstances I would neveeeeeeer go to Greece in mid-July because of the the crowds and the heat. But Covid made sure we escaped the crowds and the global warming made mid-July bearable with max +28 degrees only. It was super weird to take the flight in Covid times, to have the mask all the time, to have the temperature checked and wait in the queue to be tested or not at the Corfu airport... We did not get tested. Ouffff...
---
Paxos is 1 h by ferry from Corfu, so it's super easily accessible. Corfu is a very charming town, it was a nice surprise for us. A very beautiful old town and we had almost a full day to explore it. We stayed in Porta Spilea which was a perfect location for us. It's easy to grab a cab from the airport. Actually you can even walk from it to the old town if you don't have heavy luggage.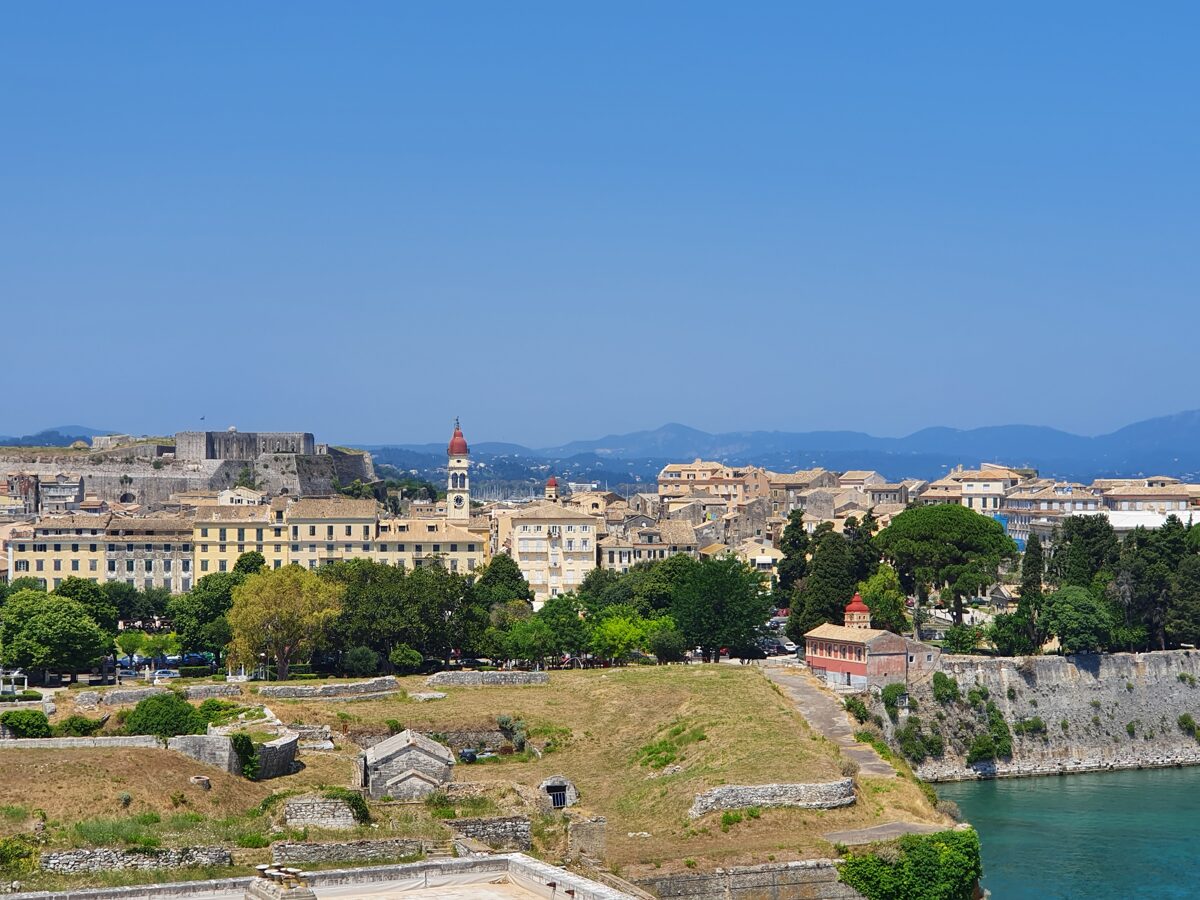 The Corfu town welcomed us immediately with their specialties. We had an amazing dinner at a super nice place.... I cannot remember the name anymore... grgrgrg... but the food was amazing, super simple but full of flavours.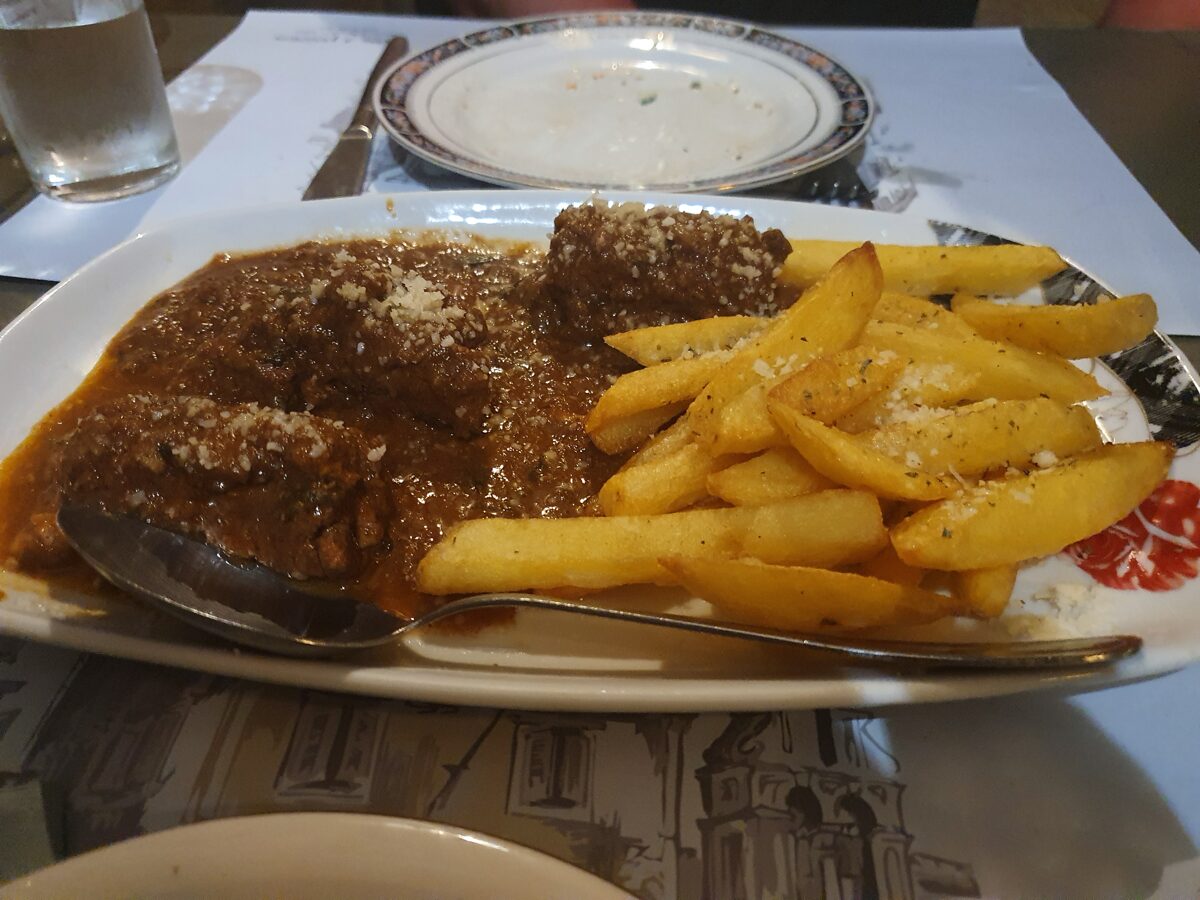 Fro, Corfu there are two ferries that go to Paxos. In normal circumstances there would be 7 crossings a day but because of Covid there were once or twice a day only. We used the Joy Cruises speedboat but please, please, avoid them as much as possible. You will see that they have mostly only negative evaluations an all the platforms and no surprise there - the worst customer experience so far seen in Greece.
The ride to get to Paxos was quite choppy, if you were sea sick, you would have needed a bag ;-). Next to us a small girl was crying as the boat was jumping and crashing against the waves. The boat is super old and did not feel nor safe nor very clean. We were lucky to get out asap.
On Paxos we had rented a cottage with a pool just for us as we did not want to share any premises with anyone and it was a great choice. We stayed at Irida Cottage in the middle of the island and it was a perfect location - nice and calm but still close enough to restaurants, a bakery and a shop. The owner Nika is very responsive and will find a solution for all the problems and questions.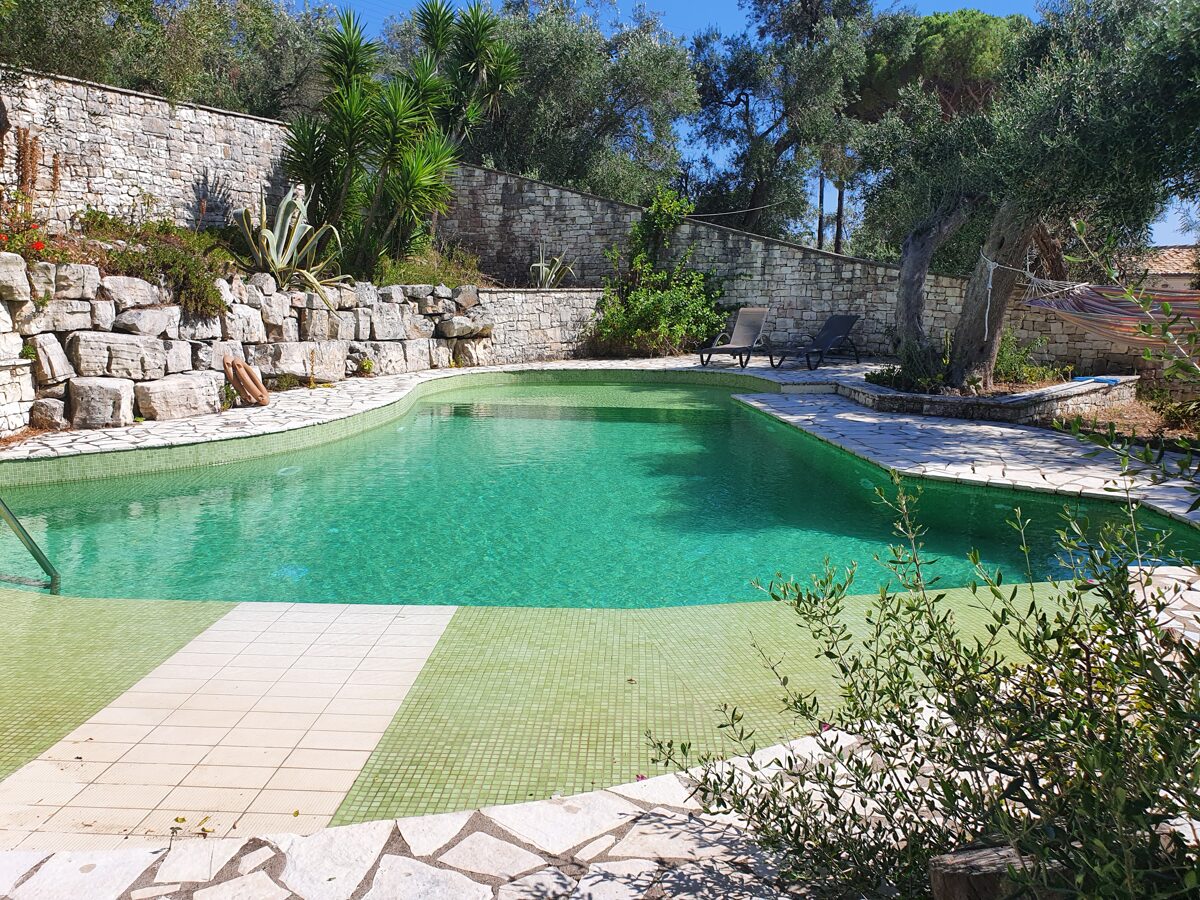 We had rented a car for the whole stay of 6 days. If I had to do it again, I would probably rent a small Panda 4x4 as roads are really narrow and most accesses to the beaches by car are very very tricky.
The plan for Paxos was super easy - walk a bit, go to the beach, have lunch, go to the pool, read a book, decide where to have the dinner...
Villages
All of the three main villages are super nice and each has a totally different character. Gaios, the main one, is the biggest and has a very nice marina. There is a beautiful channel with emerald green water and you can sit for hours watching the sail boats coming and going. They also had nice happy hour offers there. It did not feel crowded al all and nobody really cared about Covid. The only sign that there was a pandemic was hand sanitizers on all tables in the restaurants.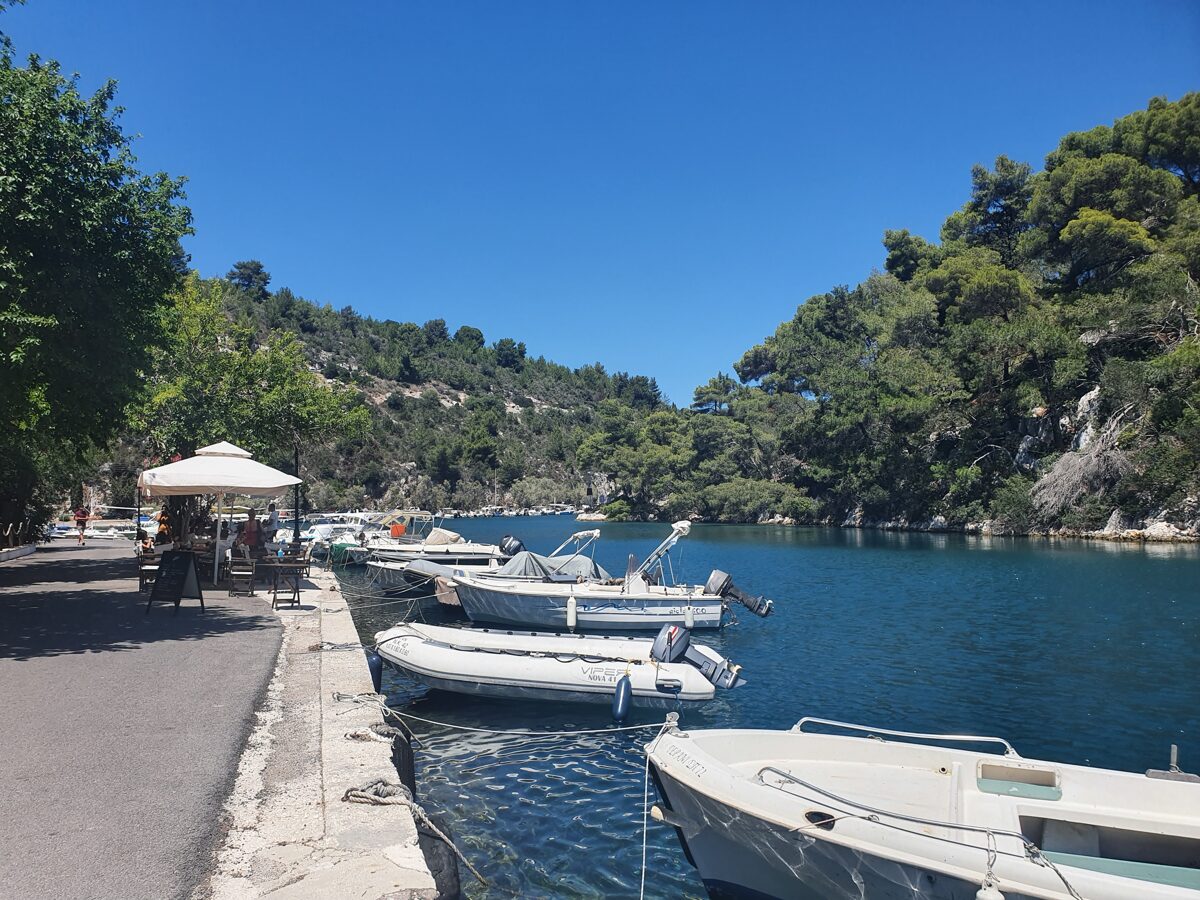 Lakka in the north is totally different, it has a large bay with amazing colour and amazing views. It also has several small beaches and they were perfect. The village felt more upscale than Gaios and you could see it from restaurants and sail boats but even there you could still find a decent pitta place without crushing your budget :)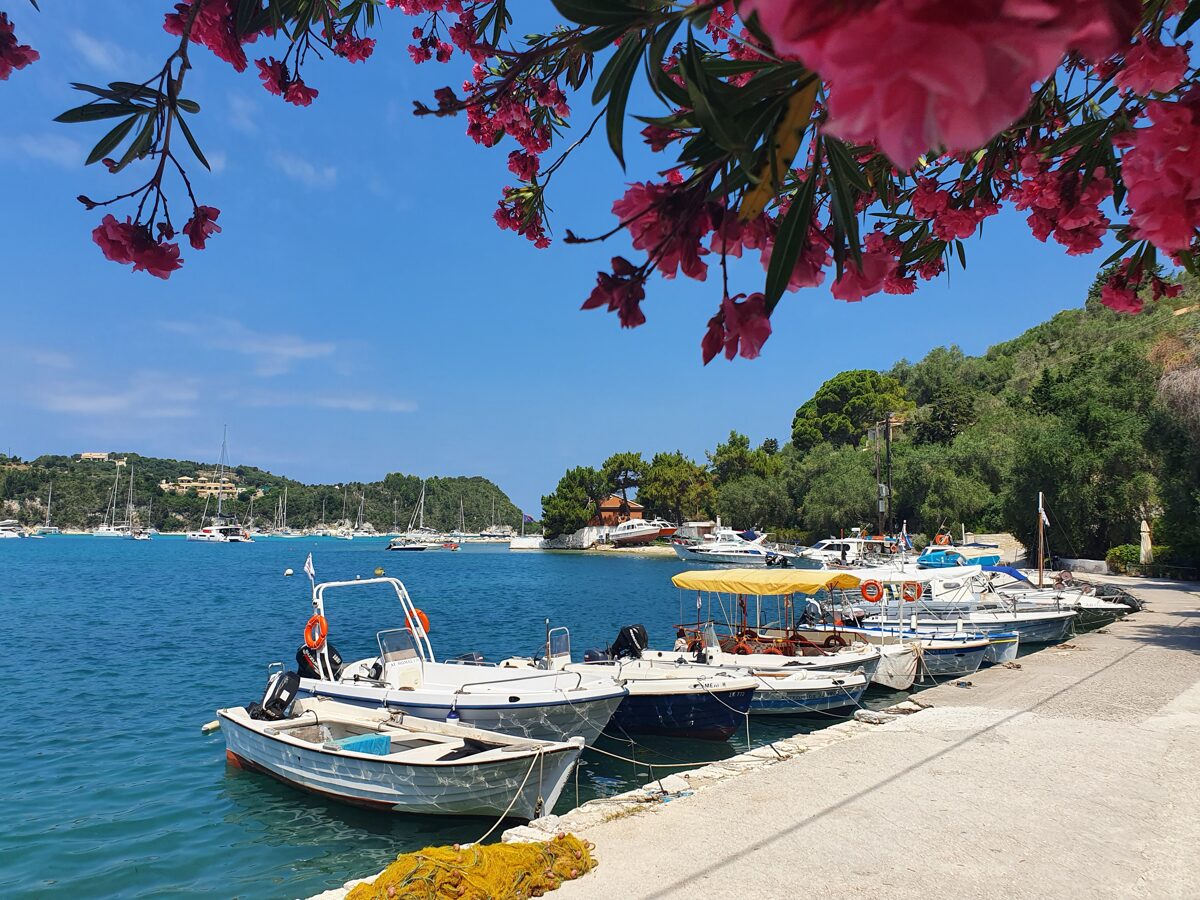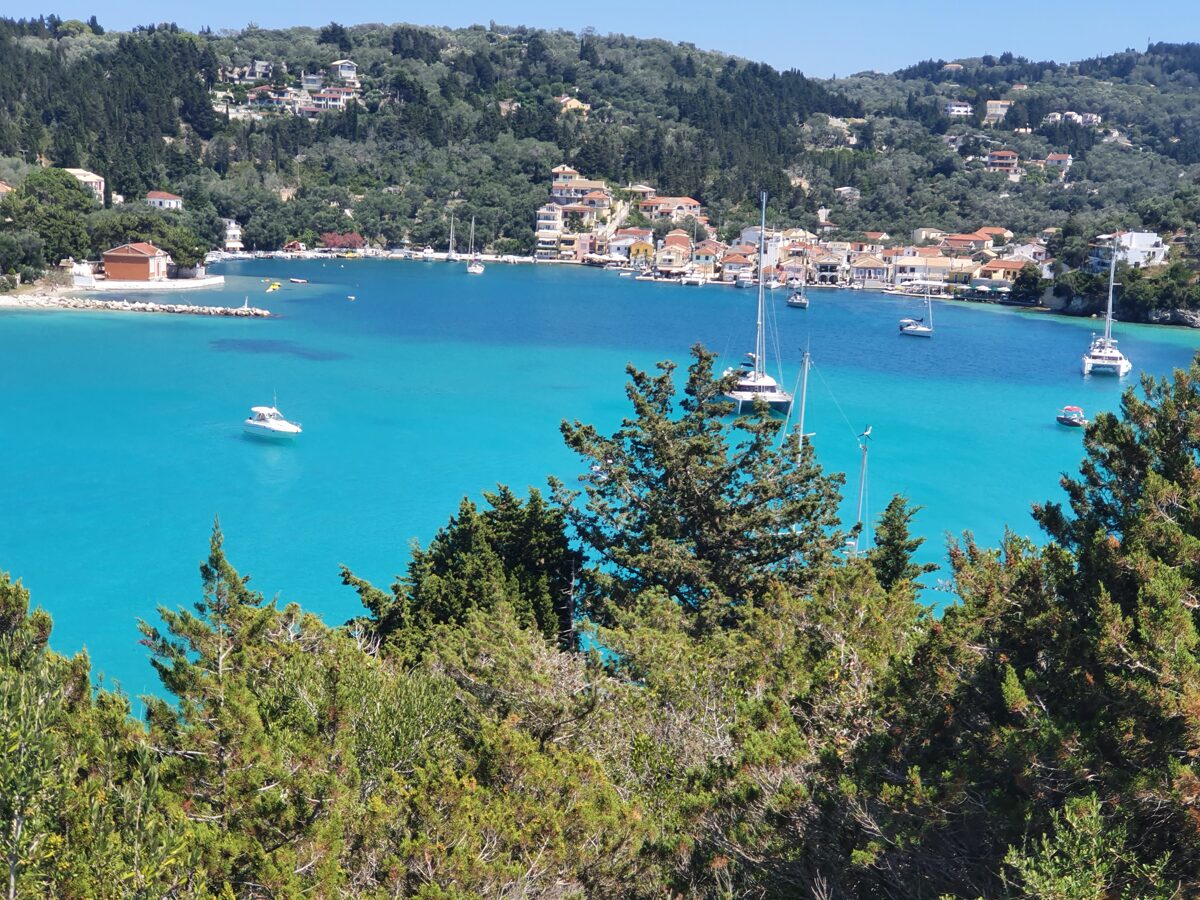 Loggos was also very charming; with their old soap and Metaxa factory it definitely had a charm. This was our favorite place to have freddo cappucinos.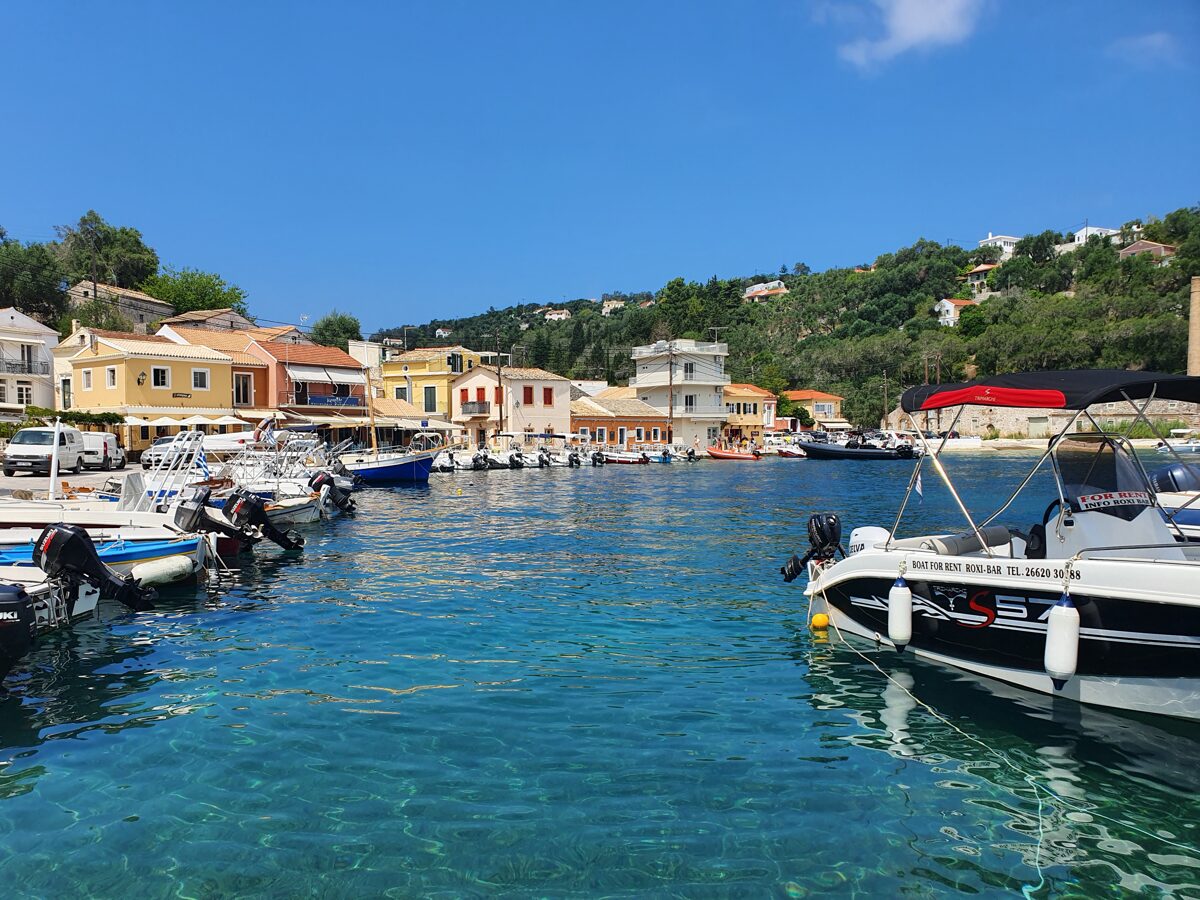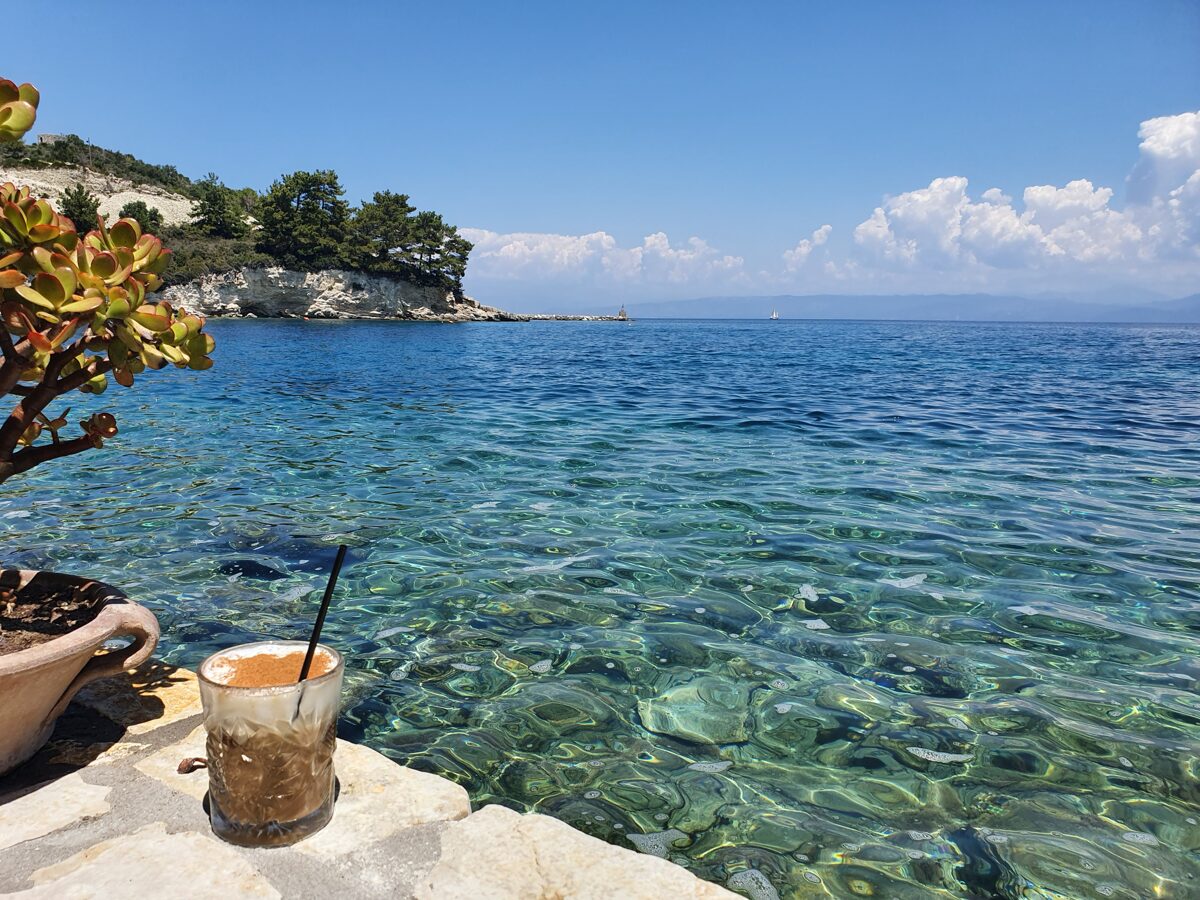 Best walks
Paxos is so small that if you really want, you can walk everywhere but it would take some time, of course. We took 4 beautiful walks.
The most famous one is probably to the Tripi arch. It was also the hardest as we had a walk around 12:00 and it was super hot... We parked the car at the main road and walked all the way up. So,e nice people have made the signs on the way. But we did get lost a bit. If you arrive at a farm and there is nowhere to go, then you have to walk back for 300 or so meters and look for a small passage through vegetation. We would have never noticed it if there was not a couple who had gone the same way. The arch is indeed impressive and it's easy to get on it, it's rather large but be careful when it's windy.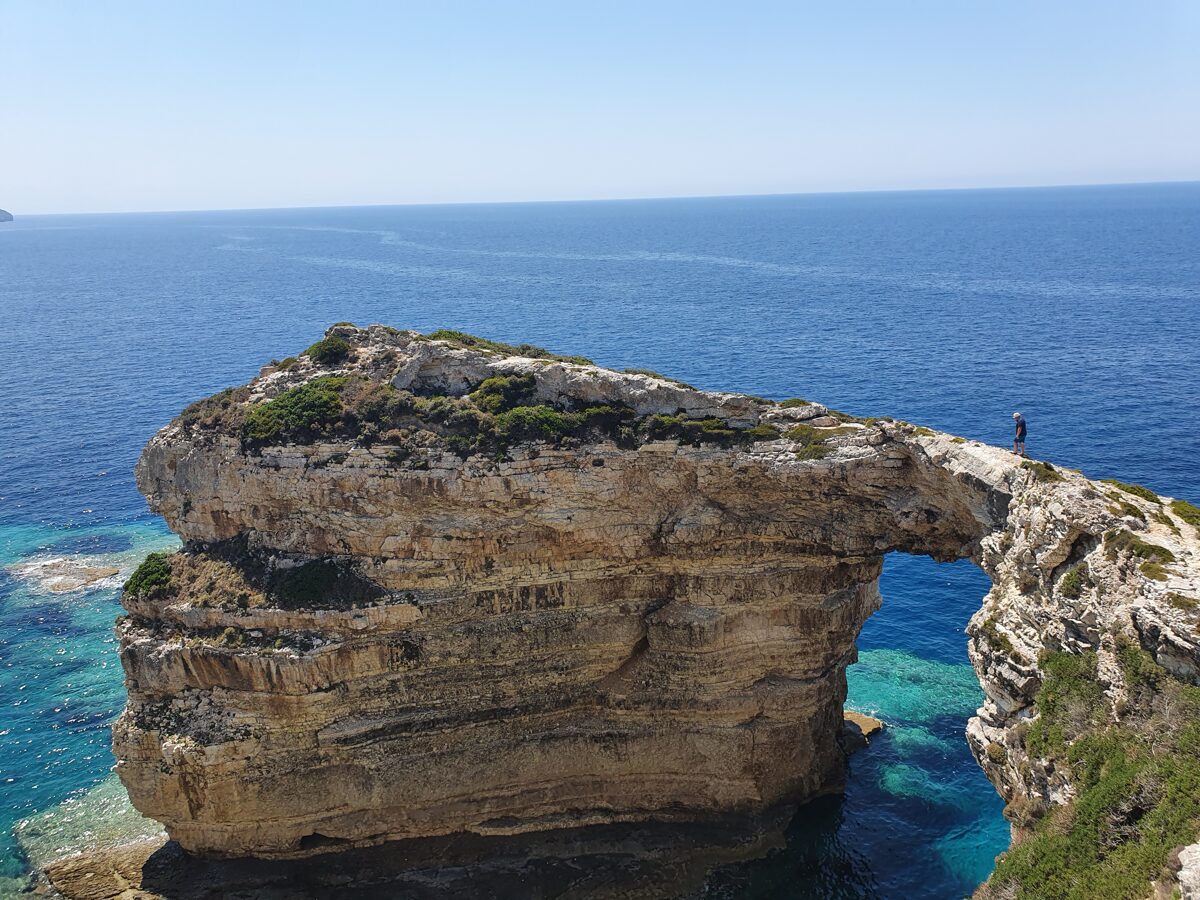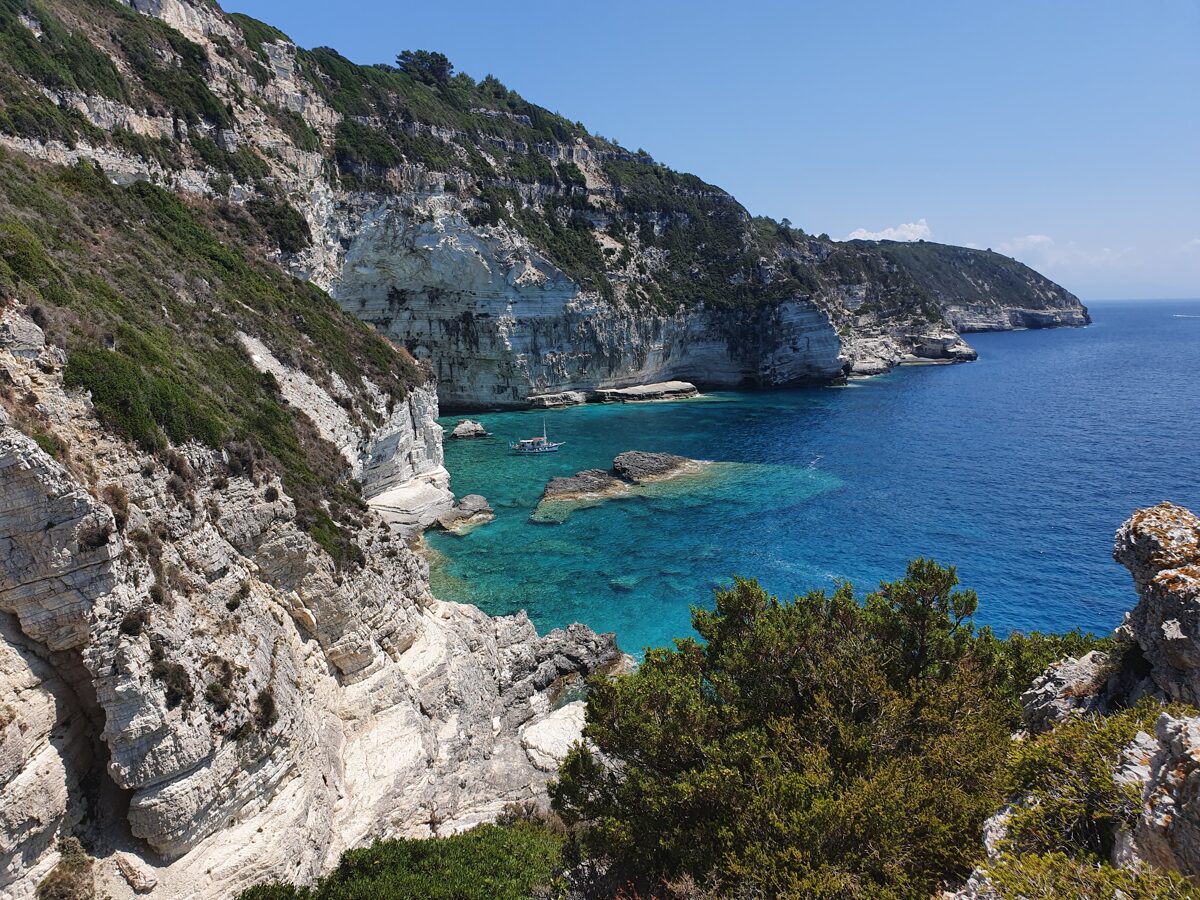 We also enjoyed the walk to the old Greek cistern. First we had walked all the way to the Avlaki beach - nice but not like wooow and then we noticed the sign to the cistern and decided to give a try. It was very easy to follow the trail and the views were woooowowowowow.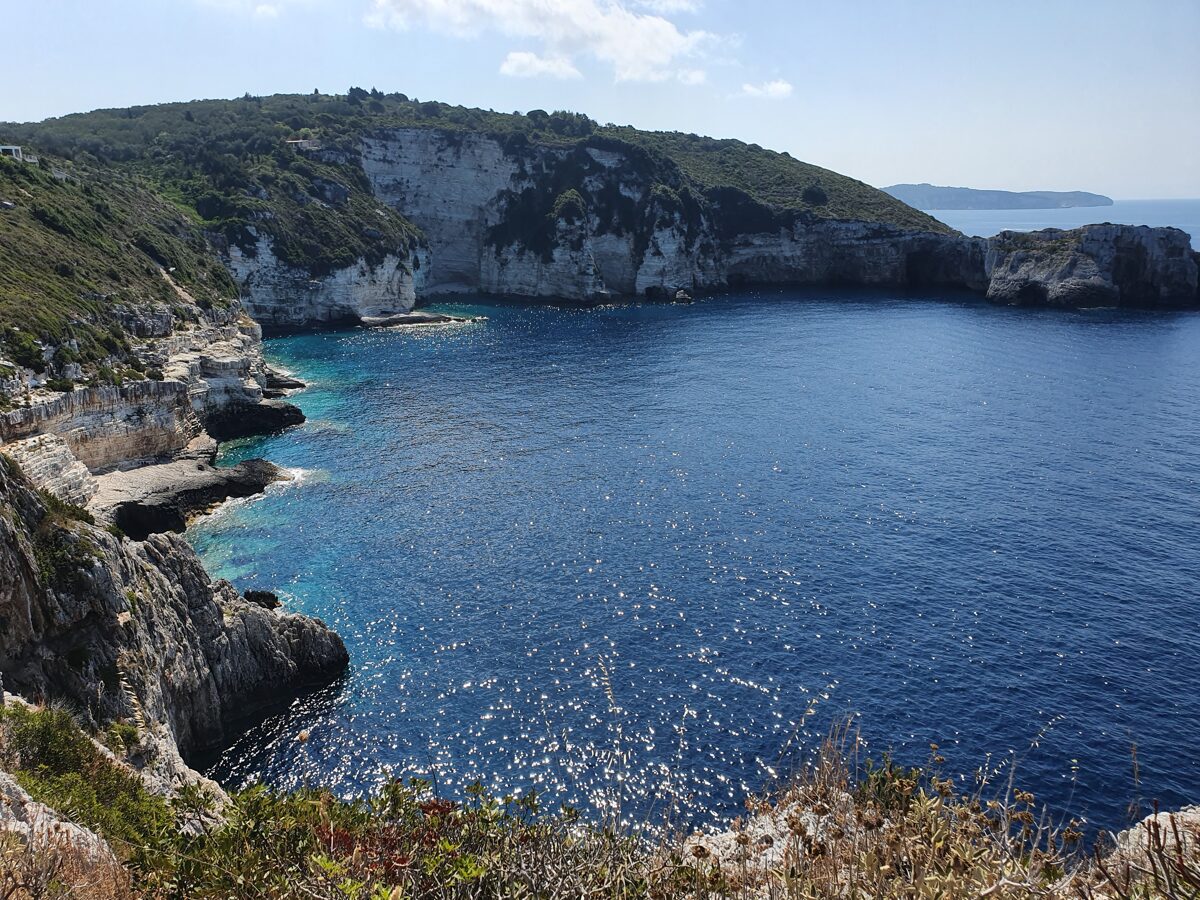 Our third biggest walk was from home to the Erimitis bay. You can also go there by car but the road looked a bit tricky, so we decided to earn the views and walk. It was definitely worth it. It's a bit steep at times and not much shadow, so take a lot of water with you. For the ones scared of spiders, watch out... there were some gigantic ones on the way and also above the head when going down the passage at the beach - not the best sight I have to admit. At around 10:30 we were the only people there and could enjoy the majestic beauty. The sea was a bit choppy so the waves were quite big, so not the best spot for swimming for me but a superb location to enjoy the nature and soak up sun.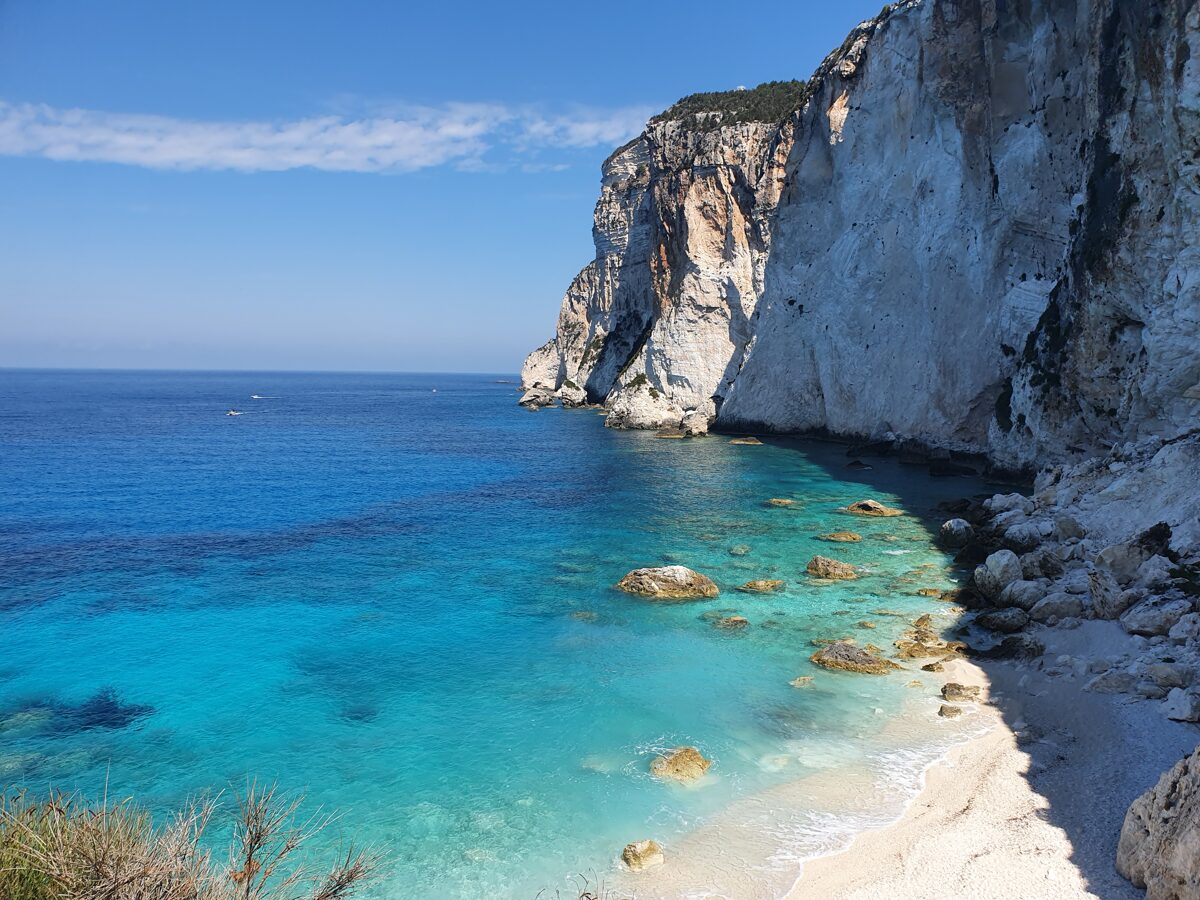 Beaches
Paxos has loads of beaches, mostly with stones and amazing colours. To our own surprise our favourite was in the Lakka village - the water was warm, the seabed was with sand and the colour was superb. It was not crowded either which made it a super nice place to relax, swim and read a book.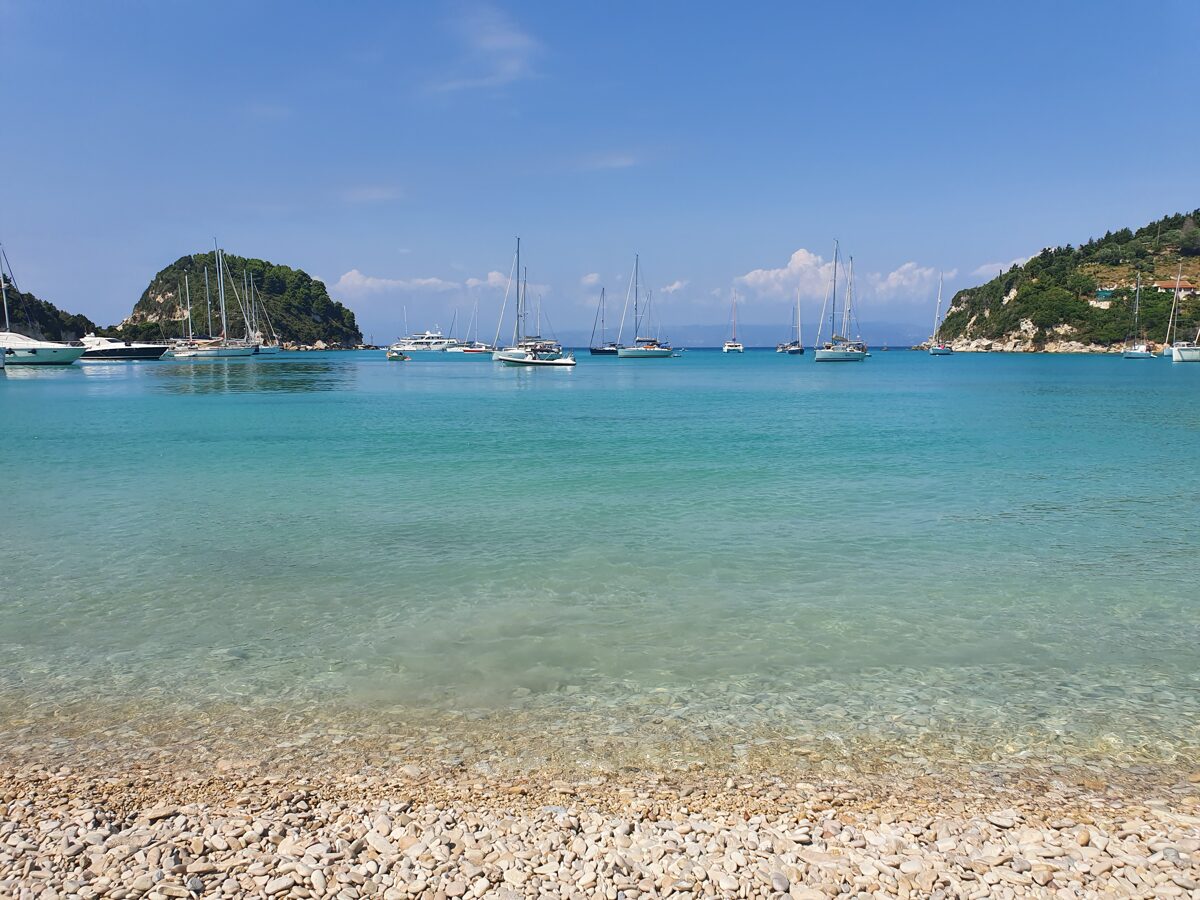 Kipiadi was totally deserted when we visited it, a long stretch of beautiful water and big stones.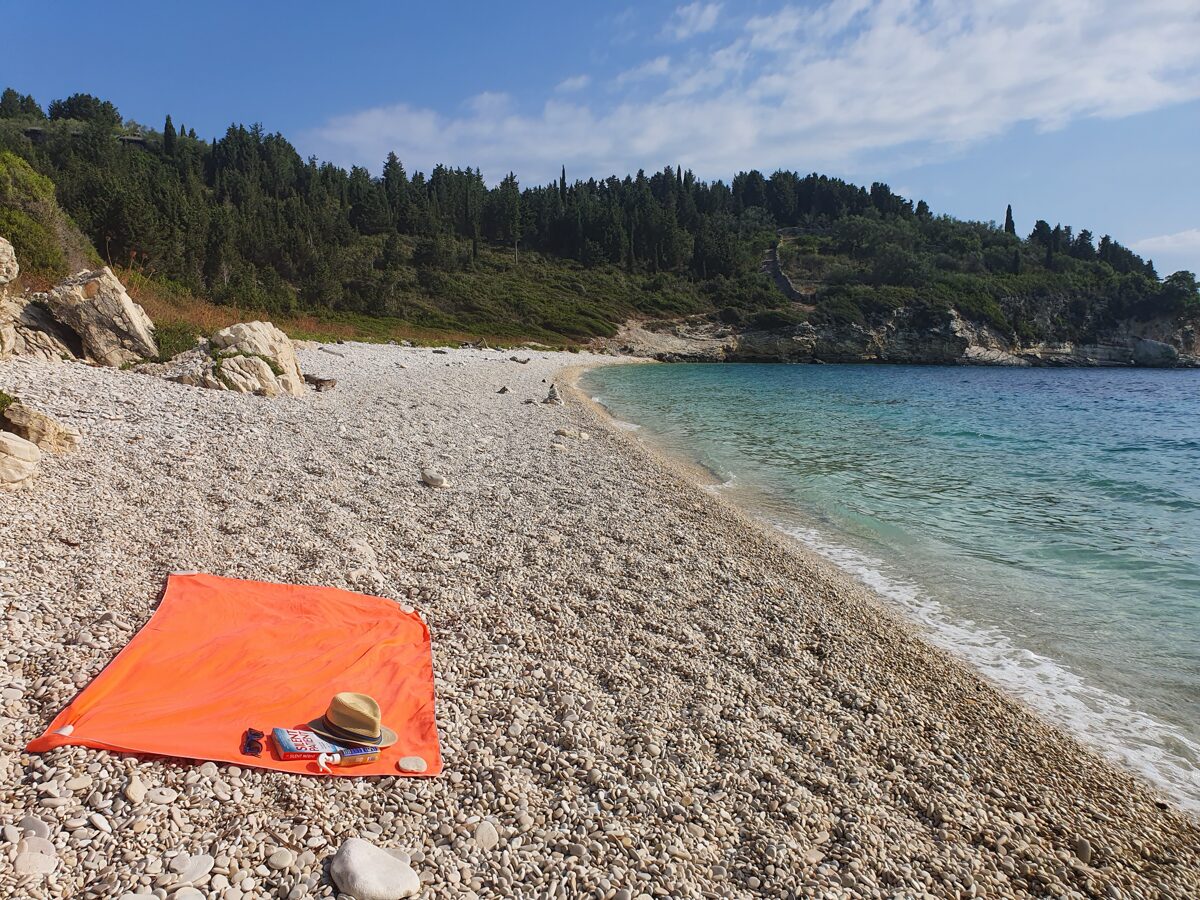 I was obsessed with finding the Marmari beach as I had seen in the pictures. Be aware that Google maps don't work that well and sometimes it's not easy to find places. Marmari was totally hidden - you could see that there was a beach but it was difficult to figure out the passages. After a few days we figured out how to spot them and life became easier. Marmari was also very nice. If you swim out a bit, you can have beautiful colours just like in Antipaxos.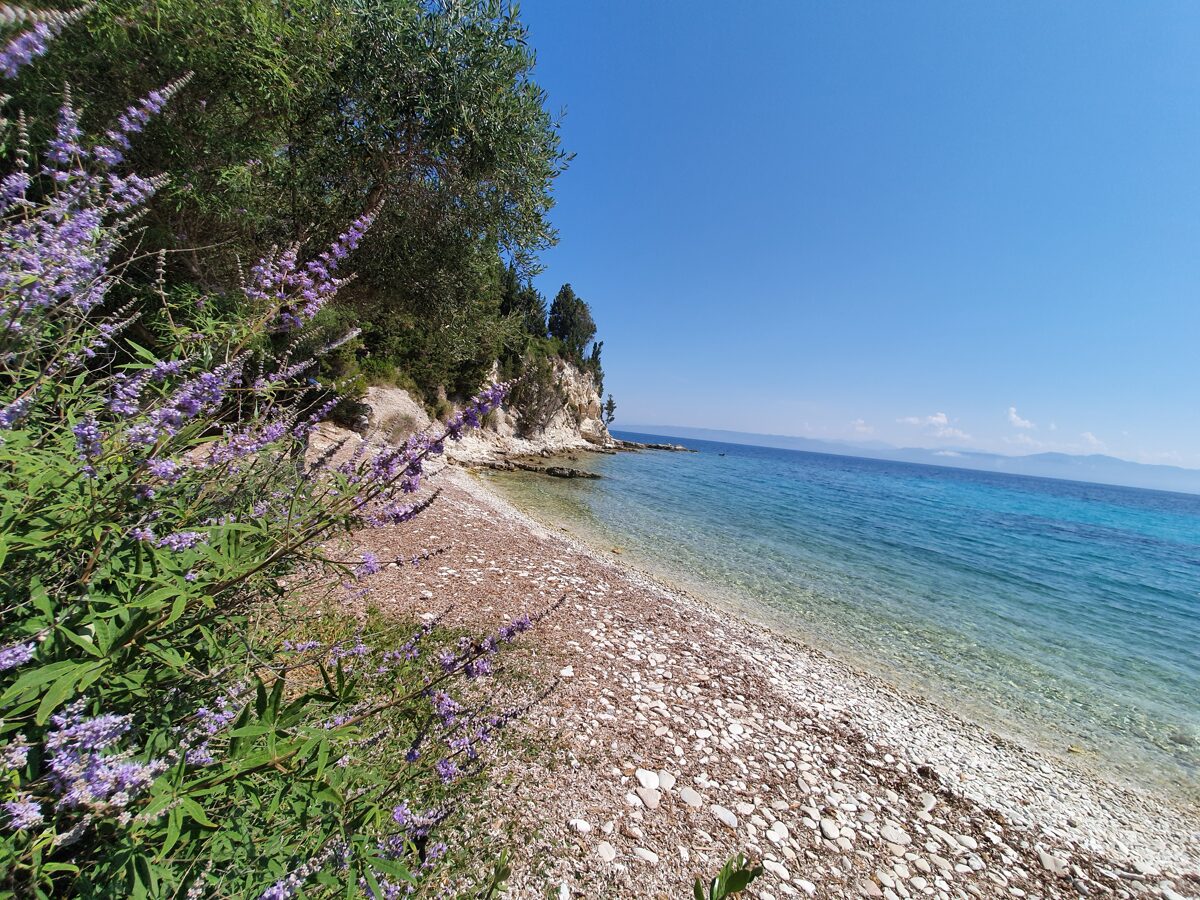 In Marmari we saw really beautiful butterflies, felt like tropics to us!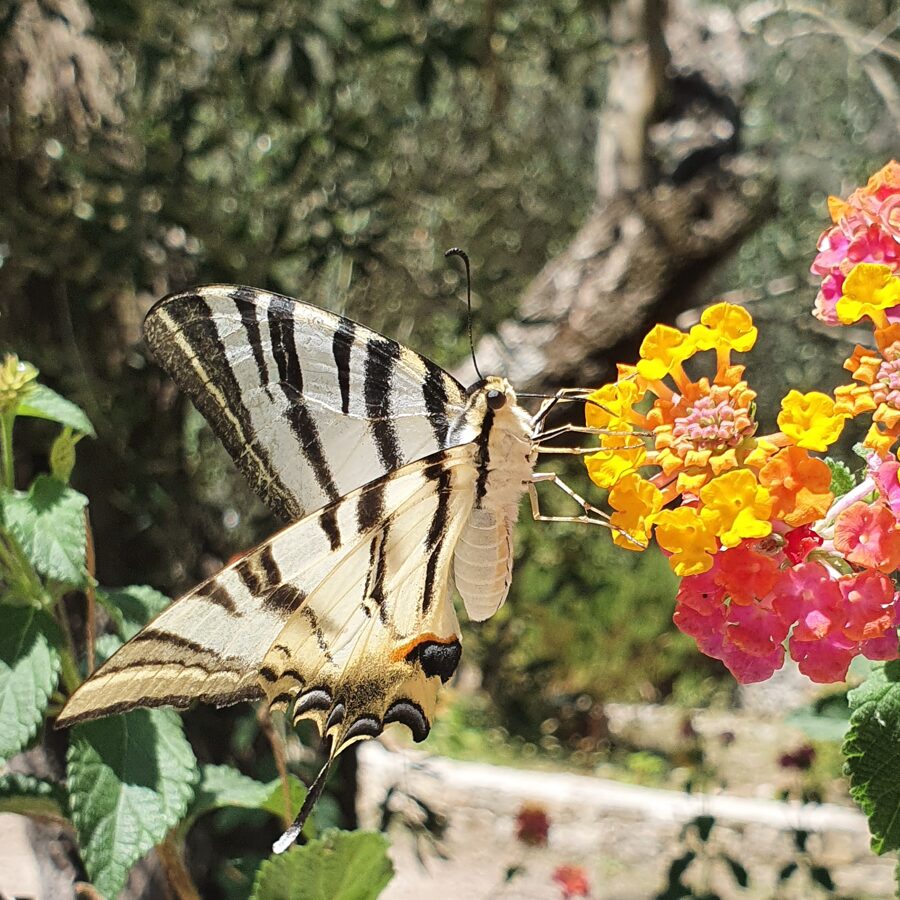 We had a look at the Mongonissi beach as well but that was everything we dislike - small, organized with sunbeds next to each other. But the surroundings itself were very beautiful.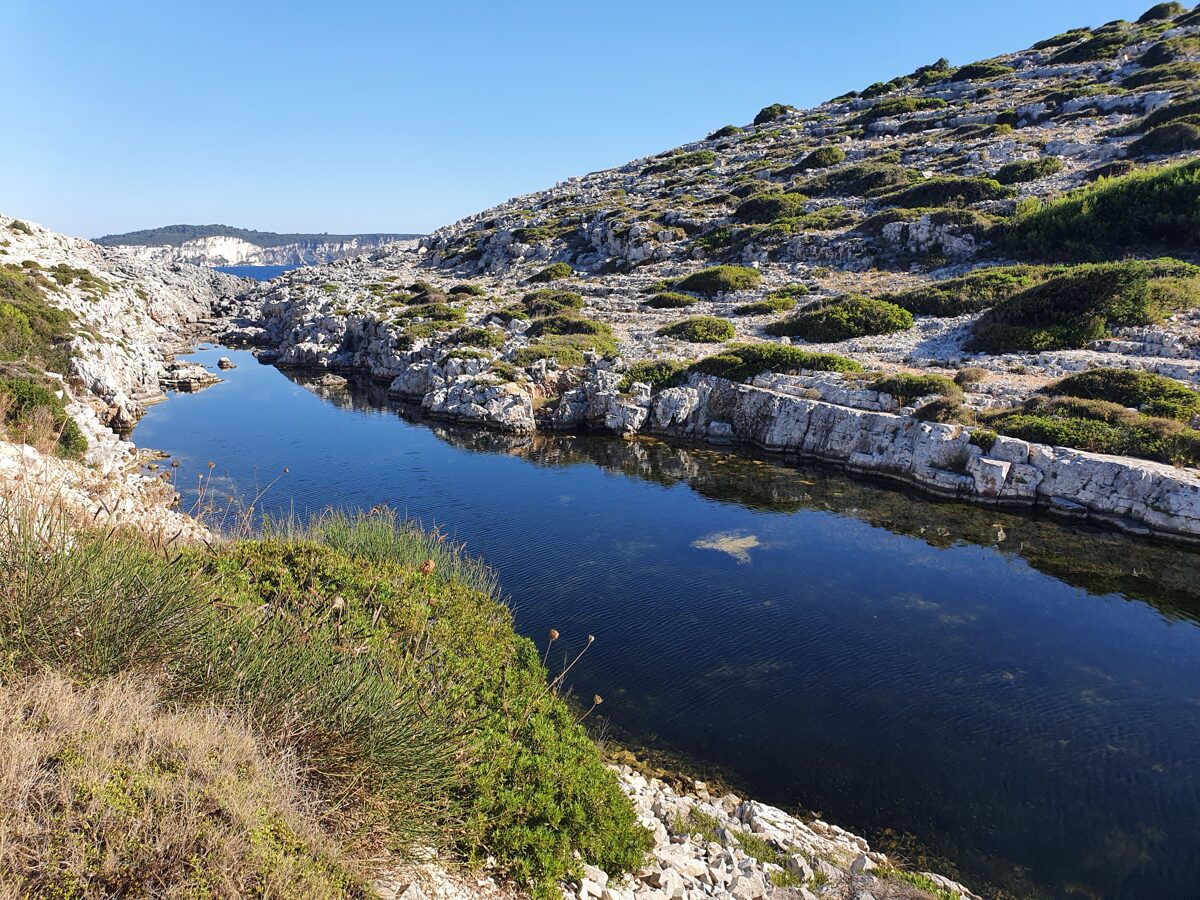 Boat rental
When in Paxos you can rent a small boat easily and for 90 euros a day you can go to Antipaxos and see a bit of Paxos too. We rented ours from Paxos Boats as they had really good reviews. They explained very well what to do and what not to do. The best advice was - stay away from expensive neighbours... ha ha ha... If you can drive a car, then you can also manage the boat. And the best part - as everything is so close, they have a gps and can locate you easily if you run into problems. The only thing what they did not tell to us was to slow down when a bigger boat would pass by... (I know it's logic but it just did not came to our mind as we were testing different speeds). We made a huge jump as a speedboat was passing and almost we fell out of the boat... We were lucky that we had quite a lot of space in Antipaxos to choose where to dock, if you don't have a lot of experience and there are many boats around, it can be a bit tricky. And the expensive neighbours would ask you to move as they would need your spot and there it's easy - the one with the bigger boat wins ;-) Just note that the boats can be rented only in good weather. When we were getting back the sea was already getting choppy, it can be a bit scary for some people, so plan well in advance where you go first.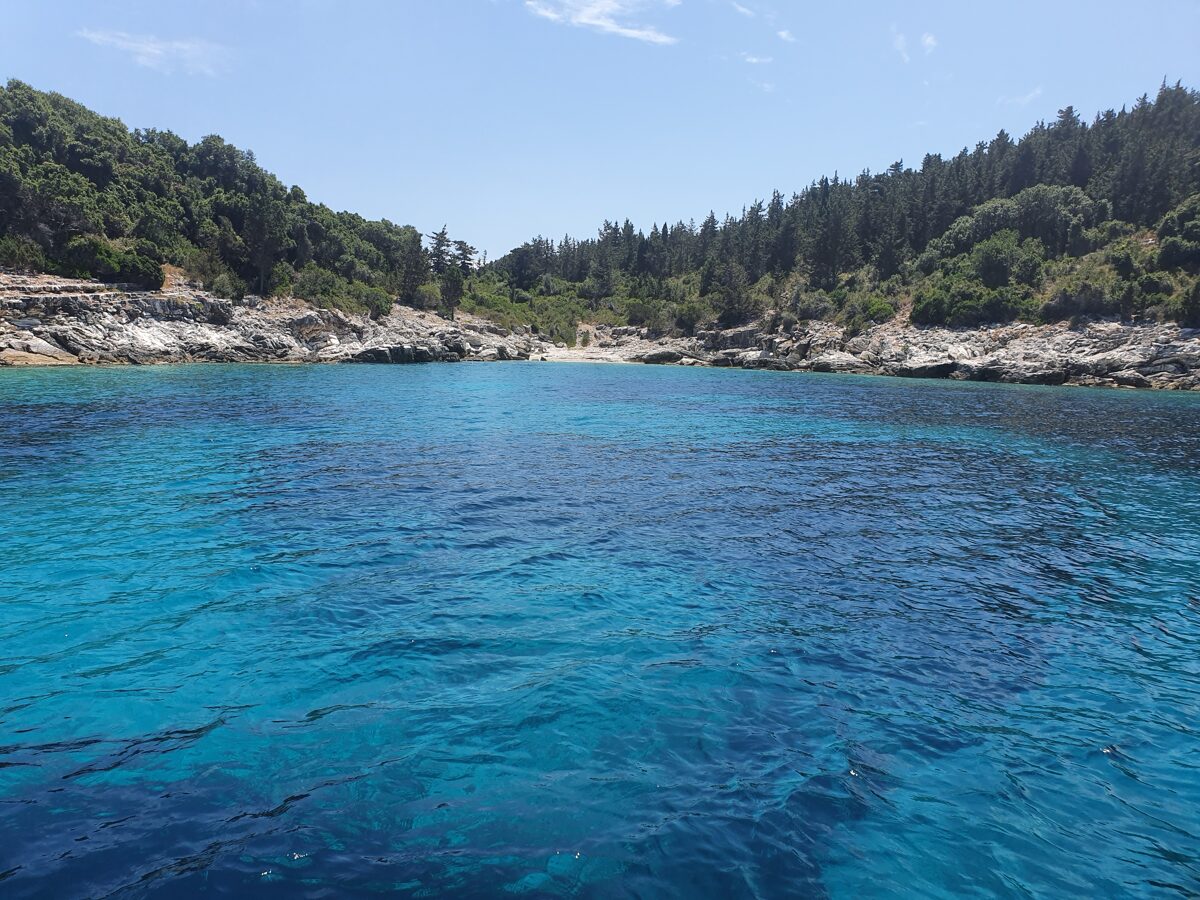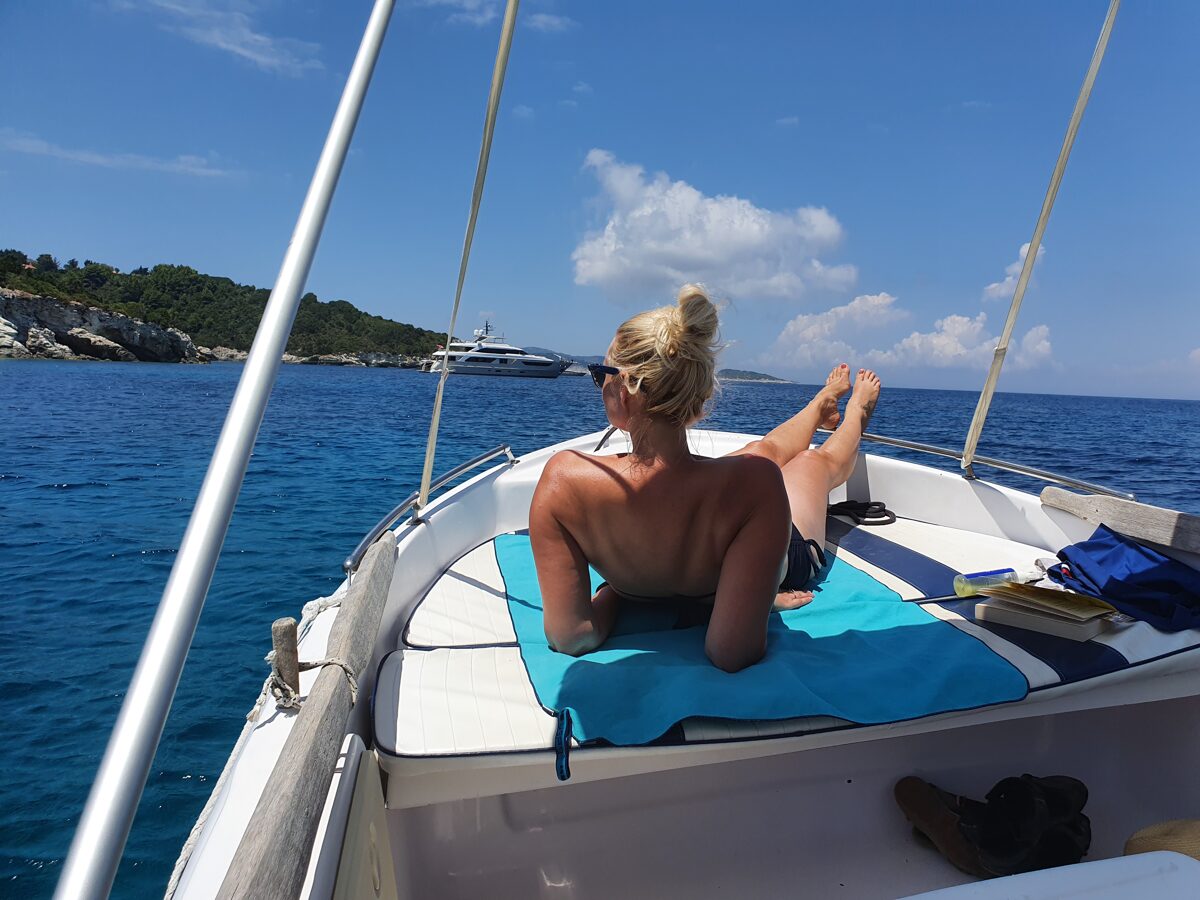 Food and bars
I'm a huge fan of Greek food and I'm always scared not to suddenly become disappointed. The Corfu/Paxos food was delicious, you could really feel the different cultural influences. Our favourite restaurant was Dolos Taverna, it was simple, full of flavours and cheap.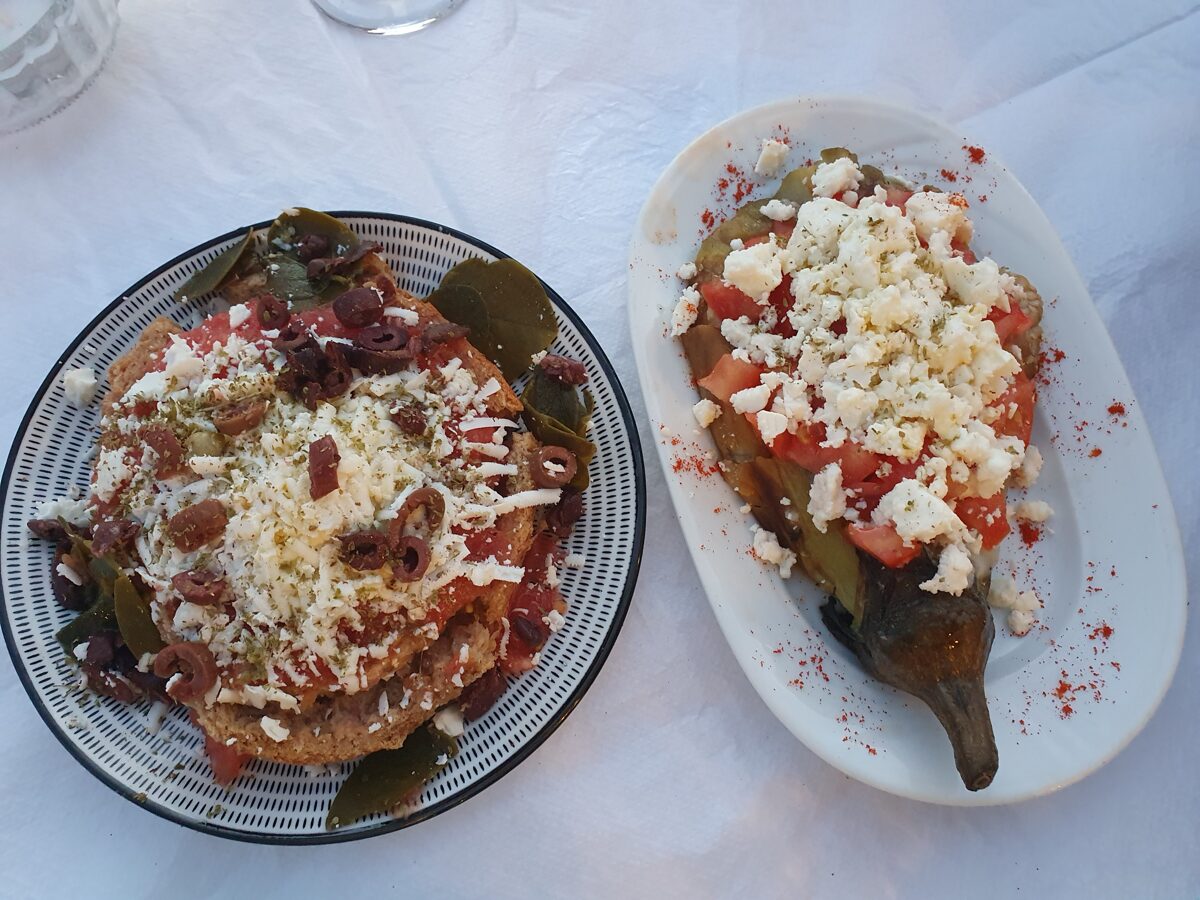 Usually I'm not very impressed with the way Greeks make cocktails but Paxos suprised me. We had a really nice drink in Averto bar in Magazia - I tried a cocktail called "Unicorn" with mastiha... mmmmm...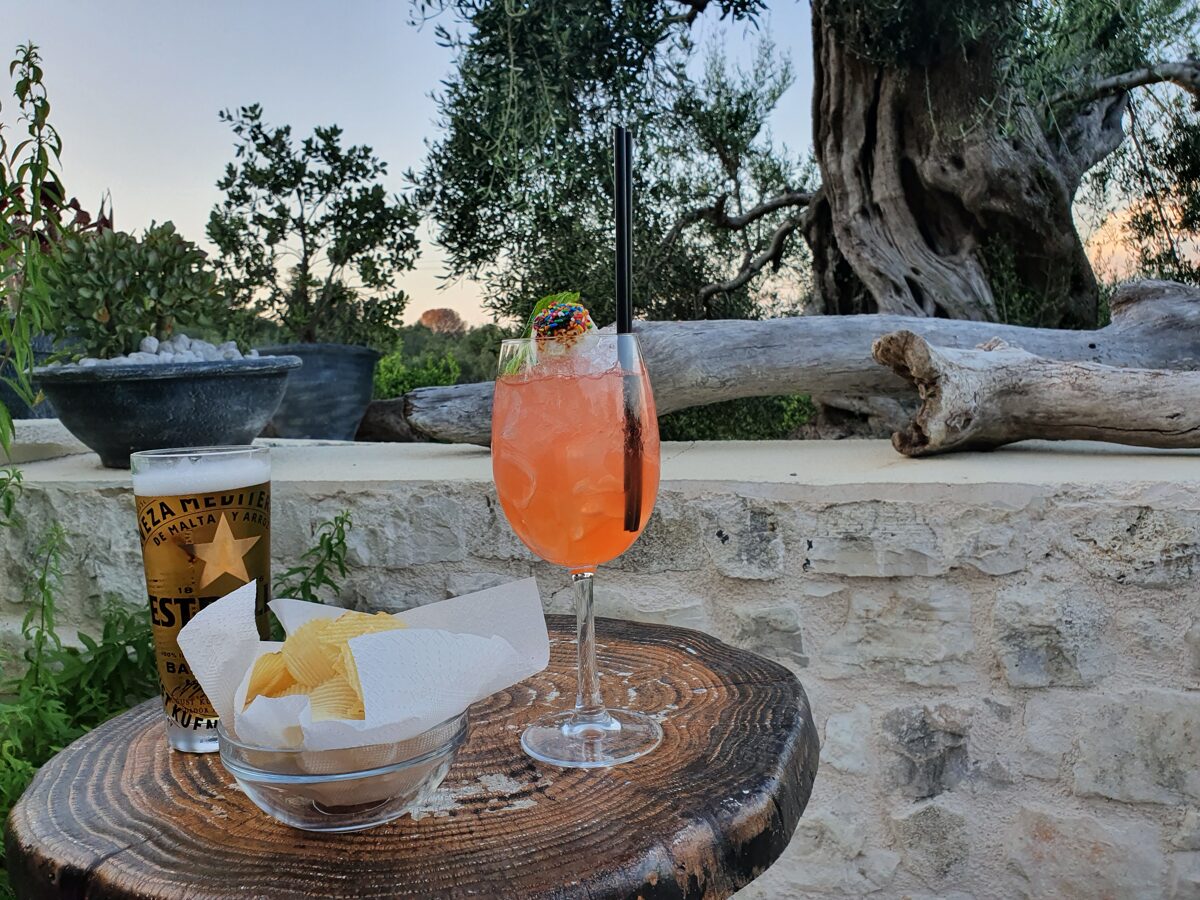 We also walked to the Erimitis sunset bar. The mojitos were very good but I had an overdose of selfies and ducklips...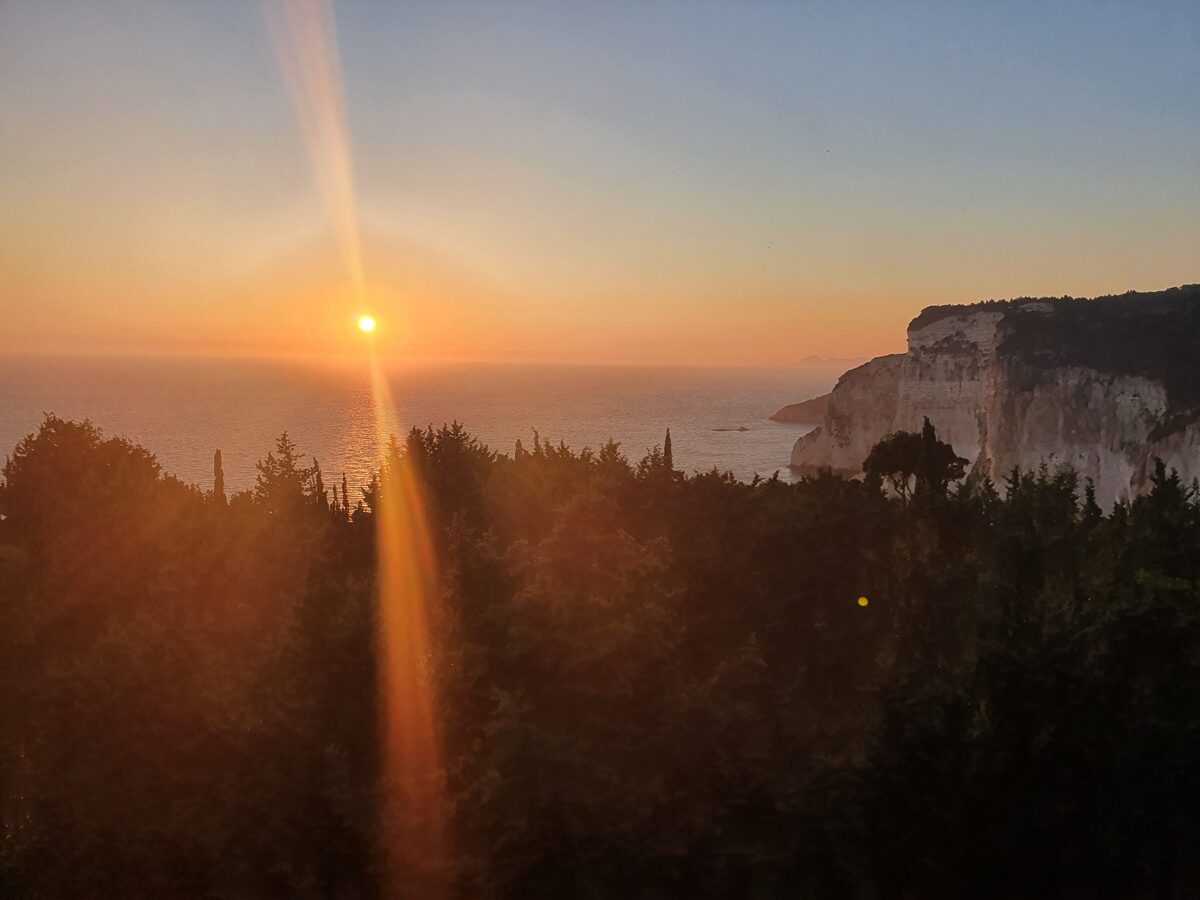 Adventure to get back to Corfu
When I travel I never take the boat the same day as the flight as you never know... As this time our stay on the island was very limited, I researched a lot whether it would be risky to take the boat the same day. I asked the cottage owner and at the boat ticket booth and they all confirmed that it was Ok. The day before the departure I already had a feeling that it was quite windy and maybe we should take the speedboat the day before. Well, I checked again the forums and there was no record of the cancellations of the boats. I know it's a common thing in Cyclades but it seemed not possible in Paxos as there is hardly any open sea to get to Corfu. Well, guess what... our speedboat was cancelled 5 min before it was supposed to leave due to wind and waves. We had 3 h left to our plane... Luckily there was Kamelia line ferry leaving the same time and as their boat was slightly bigger, they were allowed to go. We knew that it would be a bit risky time wise but the Captain said we might actually make it. So we jumped on the boat and hoped to arrive on time. It turned out that the boat was not really going to Corfu but to Lefkimmi which was 50 km from the airport. The biggest "fun" part actually started when the ferry got out of the port. Luckily we were siting at a very strategic place just behind the captain's booth (a good lesson from crazy Skopelitis rides in Amorgos) but what I experienced was the craziest and scariest ride ever. The weaves were 3 - 3.5 m high, the boat was cracking and I really thought it would roll over. A family in front of us was praying Jesus and Maria and all the mighty spirits. The mother kept her eyes closed for 1 h non-stop, people were screaming form fear. Some were so sick, that they had to be carried on the top deck. Everybody except us was splashed wet. The waves would just roll over the deck. The crew would come every 10 min to count the number of passengers... It was really scary for me too. While I had cramped my fingers into the seat (I had blue marks the day after), my husband was enjoying the rough ride. After 30 min or so I realized that perhaps if we had not drowned yet, the captain actually knew what he was doing and I could relax a bit. Thanks to the wonderful crew of Kamelia we could get a taxi at the port and managed to arrive at the airport on time! And thanks to the taxi driver Costas who made it possible! That was a huuuuge relief knowing that the next flight would be in a week... Greece, of course, is not the worst place to get stuck but still... The Joy Cruises were supposed to refund our tickets but they did not. I would not mind it if they had told me the truth and warned about a possible cancellation when I asked (after I found in negative evaluations that cancellations due to weather had happened before), so it's a dishonest business.
I'm really happy that we did not get scared of Covid and could have this really lovely break.
Random thoughts

- The best advice from the boat renting company: Freeze your water bottles and you will have fresh water all day long
- The nights were dark and we could even spot the comet with the tail!
- The olive tree groves are really beautiful. Lots of them are not used anymore, so you will not find commercial olive oil on the island. However most of the families they still produce their own.
- I was impressed not to see hundreds of cats at the restaurants begging for food but then understood the trick. A lady was bringing cat food the same time most clients would be at the restaurant and around 10 cats would follow her to get a nice dinner without any begging.
1 comment
- Paxos in Greece: A hidden gem
RDV - October 21, 2020 at 12:01 pm
Another informative and helpful report. We have not yet made it to Paxos so this will be great when we do. Thanks,
Rob
Leave a reply