Iceland - the land of ice and fire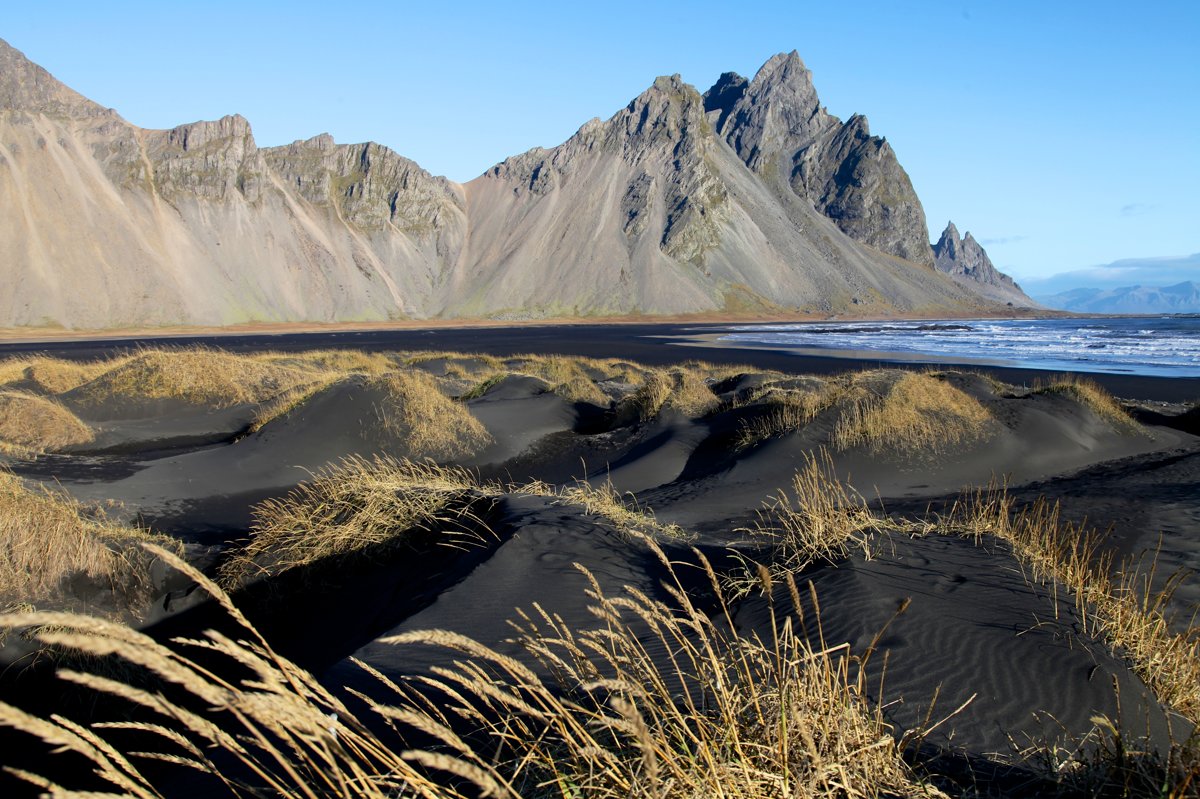 Whoever comes from a holiday in Iceland says that it was amazing. Somehow I could not believe that until I saw it myself. And I confirm - it is amazing in all possible ways.

Iceland was not a classical holiday. In October 2019 there was a Latvian theatre festival where Latvian groups from all over Europe participated with different plays. Of course Brussels Latvian group joined as well.

It was clear that it was not worth going to Iceland only for 3 days, so a little group of friends stayed for a week longer. The festival itself in Reykjavik was a blast, such a lovely atmosphere - acting, singing and dancing and just having fun.
---
In between the plays our mission was to get a glimpse of Reykjavik, so all our visits of the city were after the midnight of before 9 am.
The sun voyager was definitely on my "must see" list, there is something so magical about this sculpture. It dates back to 1990 and keeps it promises - bringing you the dreams.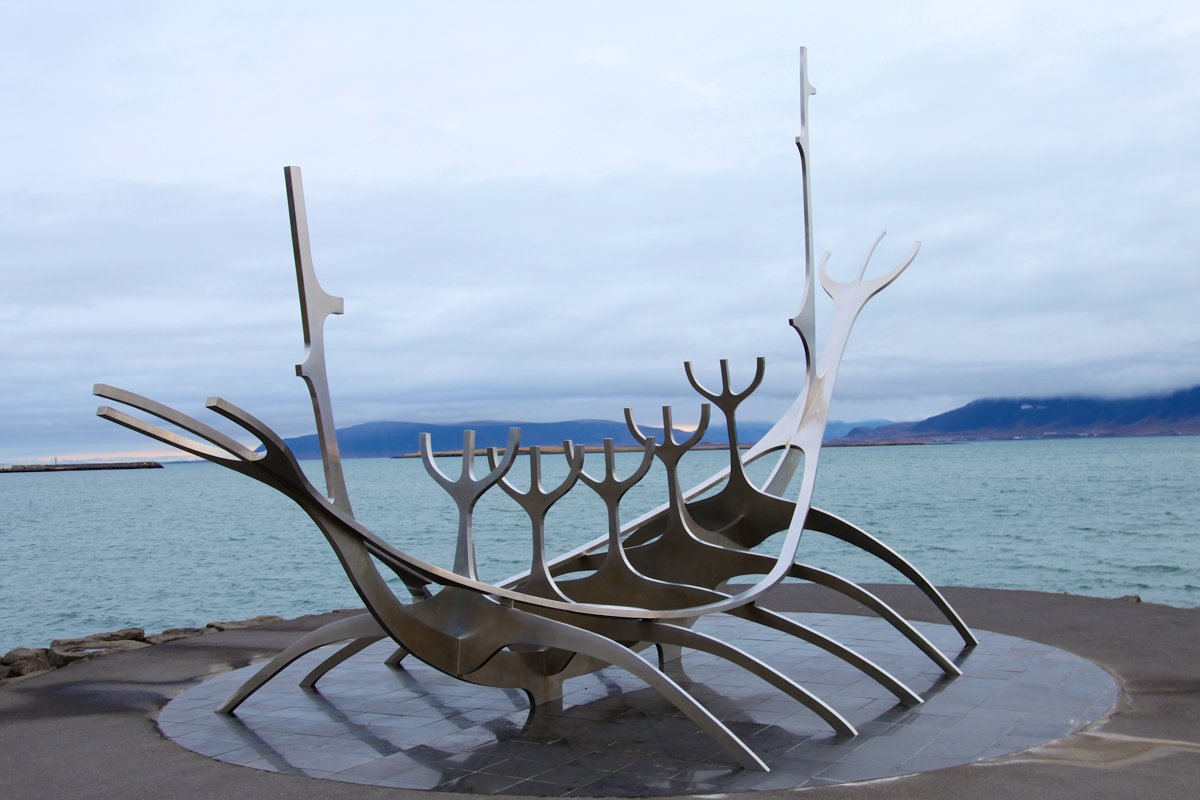 You cannot imagine Reykjavik without the Hallgrimskirkje - looks amazing at midnight and at any other time of the day.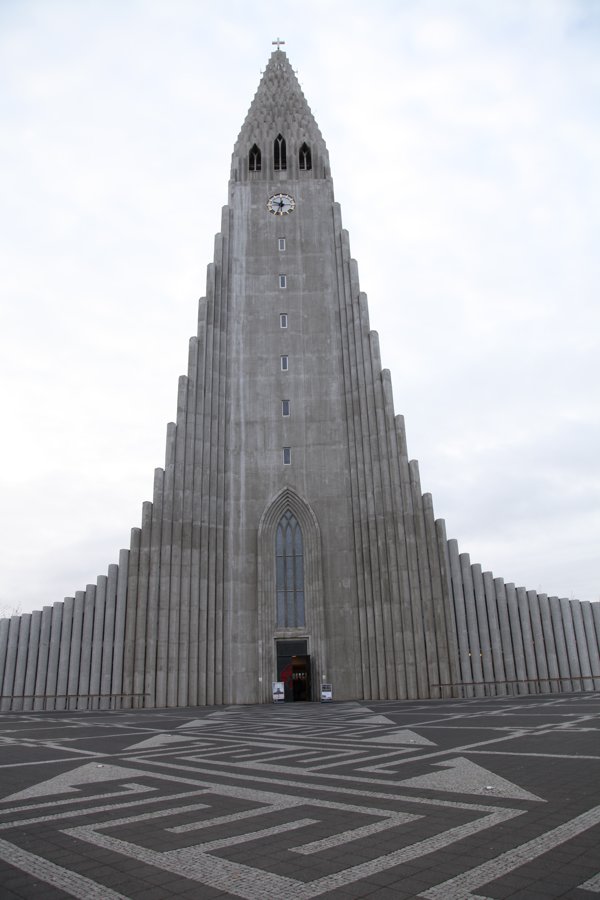 The magic somehow disappears when you go inside... feels totally boring and with no soul but you can always go for the view from the top of the bell tower - the ticket is around 7 euros and it is worth it.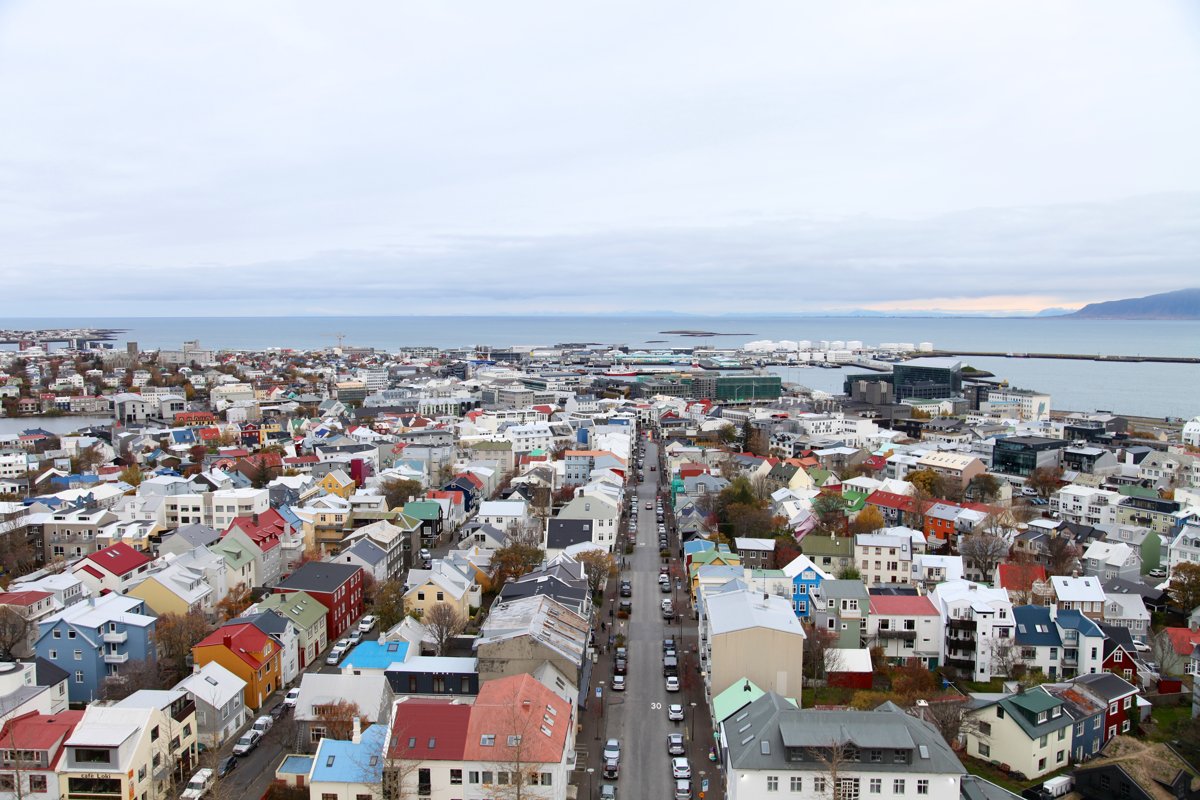 On Sunday after the festival our hosts have arranged for us a lovely trip to the Golden Circle, feels like a school excursion - busses, fun at the back of the bus, snacks, songs and drinks and in between visiting the top sights. The best part of the whole trip is that we have a guide - a Latvian who is working in Iceland and can tell us everything about life in Iceland in a very fun and informal way. We were surprised to hear that there are so many Polish in Iceland, then Lithuanians and Latvians. And indeed, most people working in service jobs are from somewhere else. The other interesting fact was about forests. There are almost no trees on the island and the ones which exist - they are very old as it takes very long time to grow in the harsh environment. And don't even think of cutting your own x-mas tree there (as Latvians do in Latvia), you would go straight to the prison (which apparently are quite cool and there is even a queue to get a place :))
Our first stop is the Thingvellir National Park - a place where Parliament was gathering in 10th century. No surprise why - the two tectonic plates separating (or bringing together?) the two continents has a certain charm. But somehow I cannot get the feeling of ancient history there. It's the first evidence - Iceland is over touristic if you go to the main touristic objects. People, including, of course, our group, are everywhere...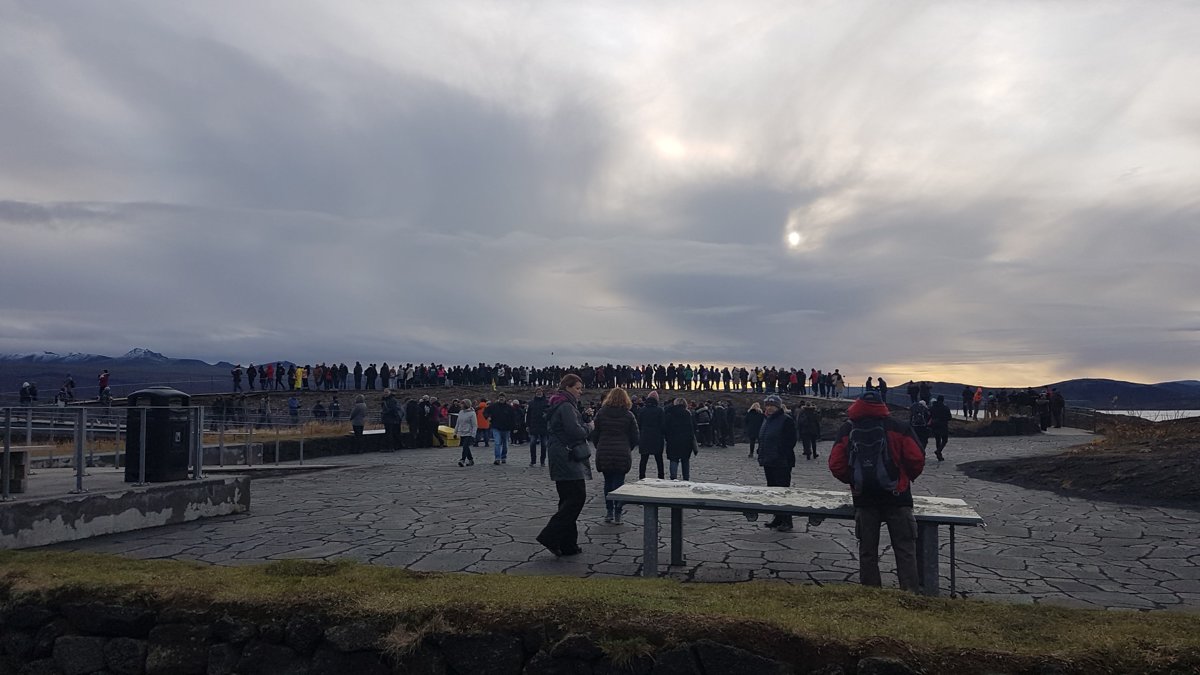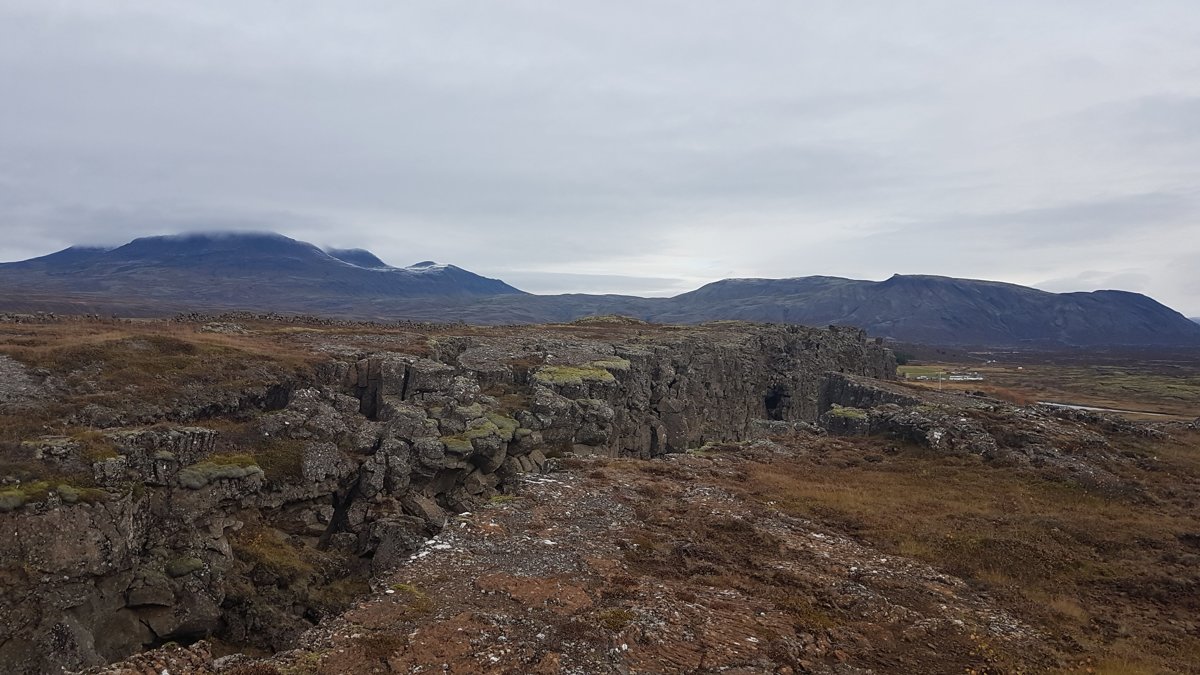 Our second stop is at the Geysir geothermal area. Before going immediately to see the geysers, explore the info map, it will give you a better understanding of what is what. The biggest entertainer is Stokkur which spits out hot water every 7 or so minutes. Just next is the mighty Geysir himself but lately no chance to see 70 m high fountains.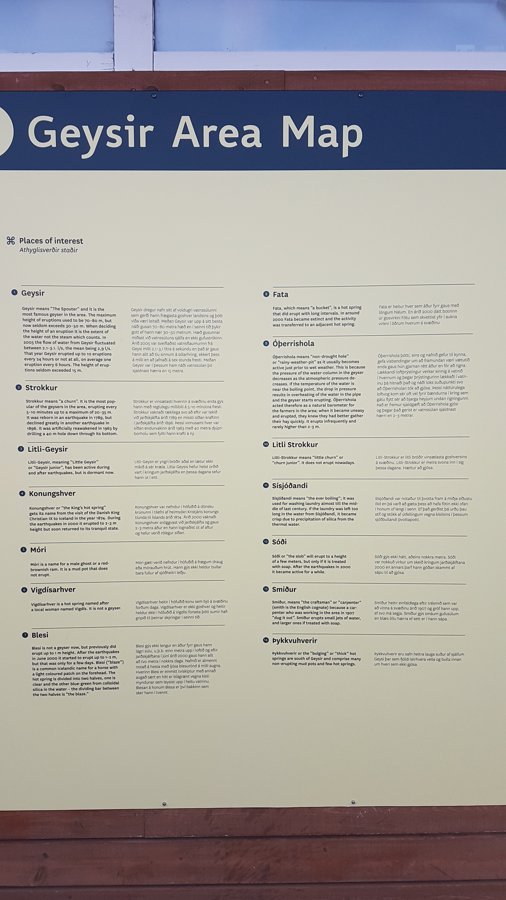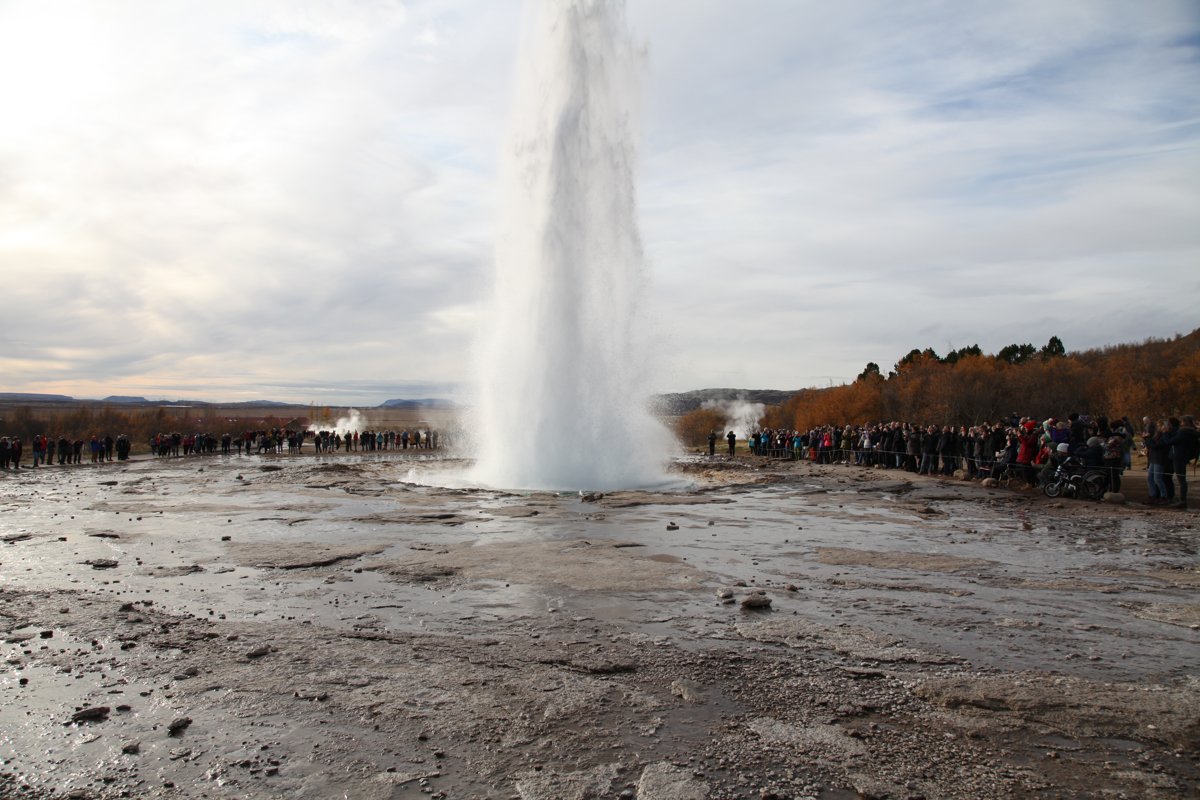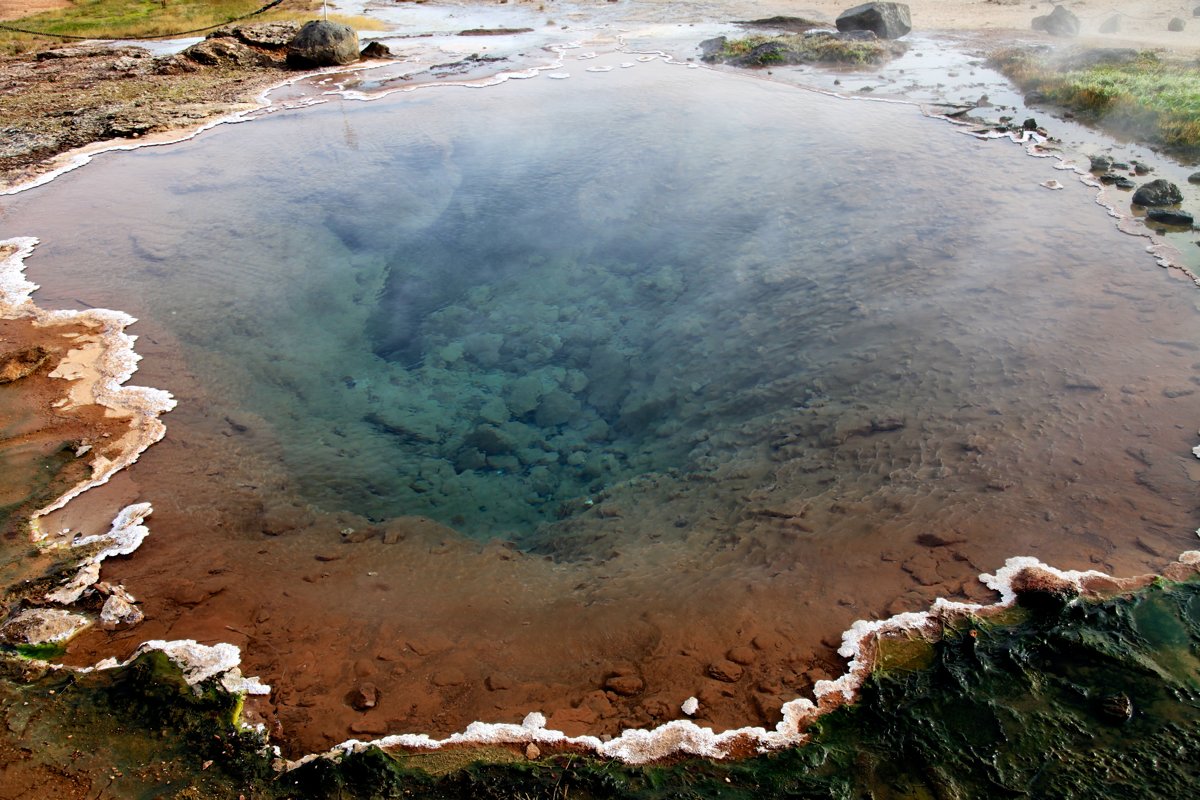 After a short ride we arrive at the mighty Gullfoss and everybody has a wowww moment - it's powerful, it's beautiful and is gigantic comparing to the stream of small humans who desperately want to get the best possible picture with the view. Wikipedia says that the waterfall was also featured in the Vikings series.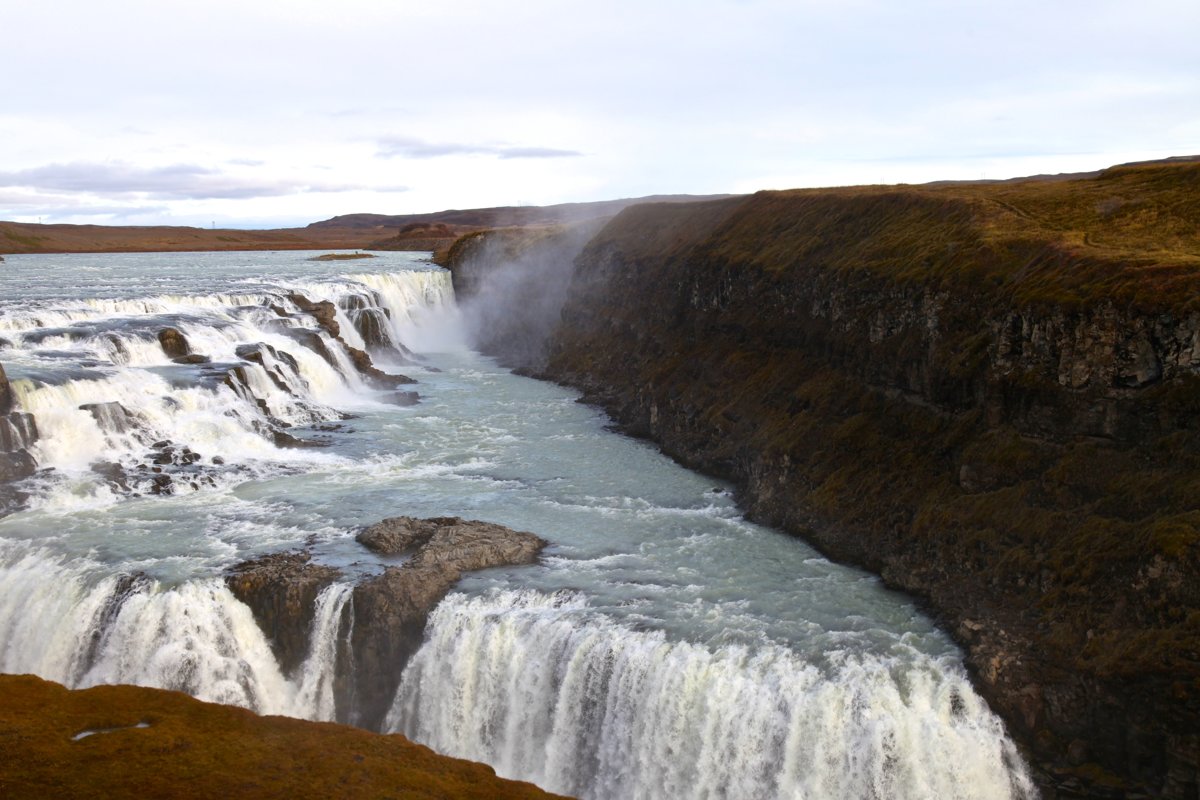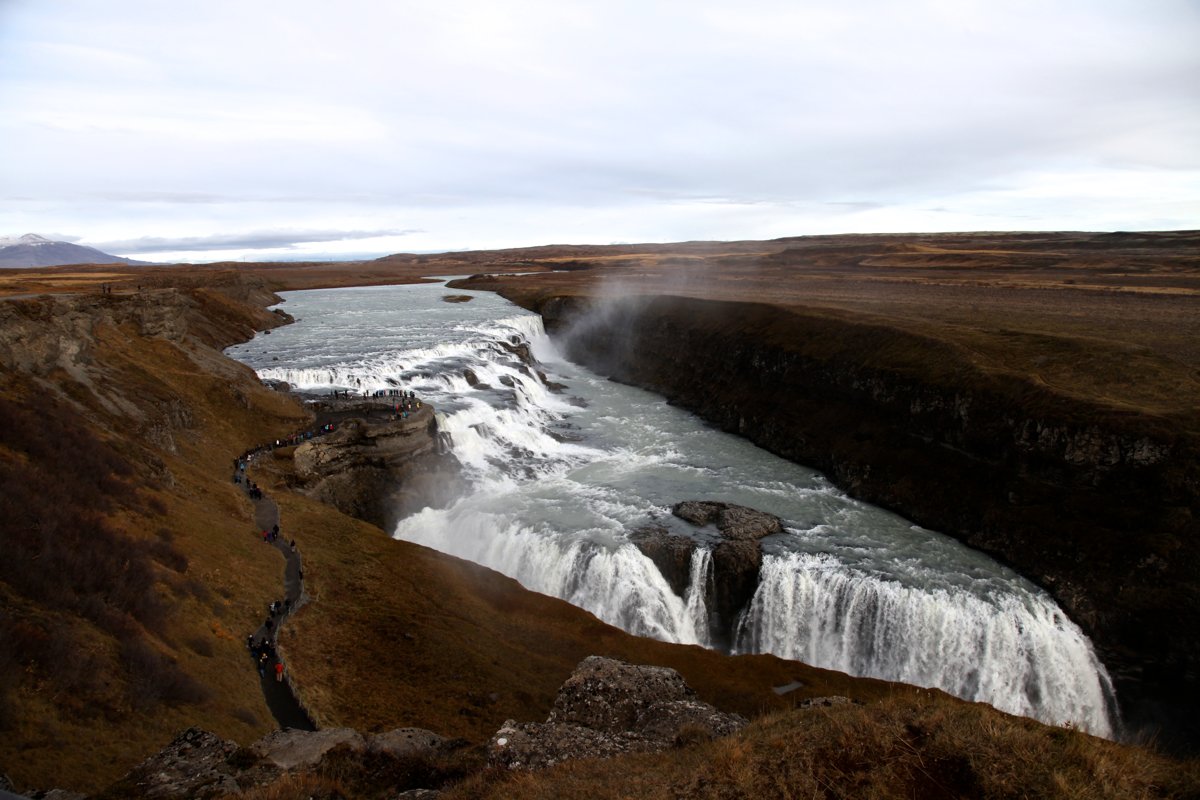 In the first days we were amazed how lucky we were with the weather - 2 days of full sunshine and no rain! And our luck continued for the rest of the trip!
On the way home we stopped at a waterfall called Faxifoss - it was such a lovely surprise to find it totally hidden away from the crowds. And the water - you can drink it straight from the waterfall.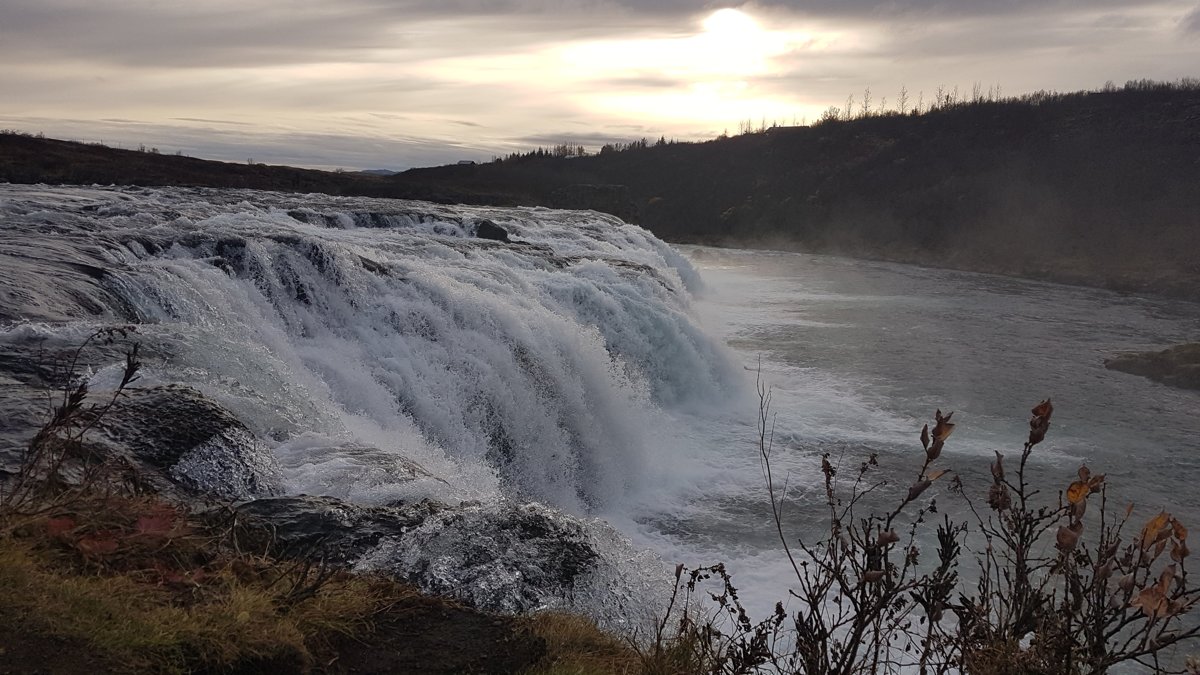 The next day we have planned to see the Snæfellsnes peninsula. We have a bit of a hiccup with picking up our rental car - the company had disappeared and even it's office - a physical building was not there. So NEVER EVER book anything with Islandiacar. Luckily we managed to get a car with the mother company - Blue cars which was just next. We were lucky that a local Latvian guy came with us who could tell again more interesting stories about local life. We found out about Iceland's sewage projects, building sector, how to make local hotdogs in a super market and lots of other cool stuff.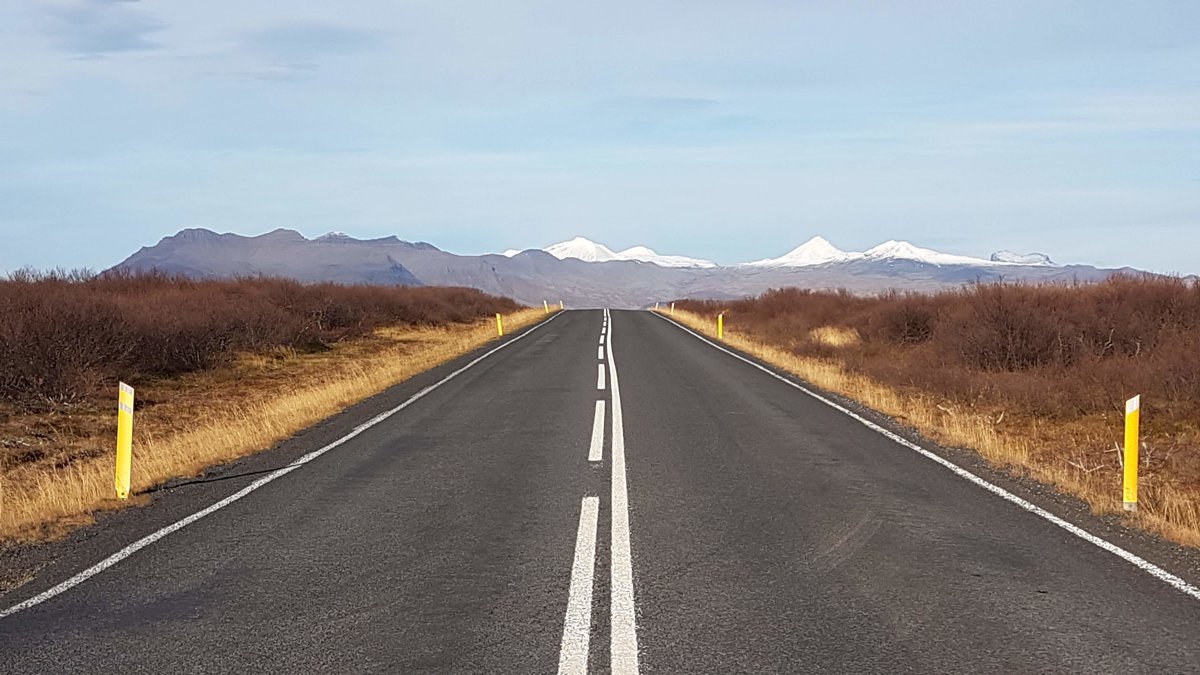 We visited the local shark museum which is run by a very kind family. In a short time you can grasp the way shark meat is treated to make it a delicacy. If you dare you can also try it. :)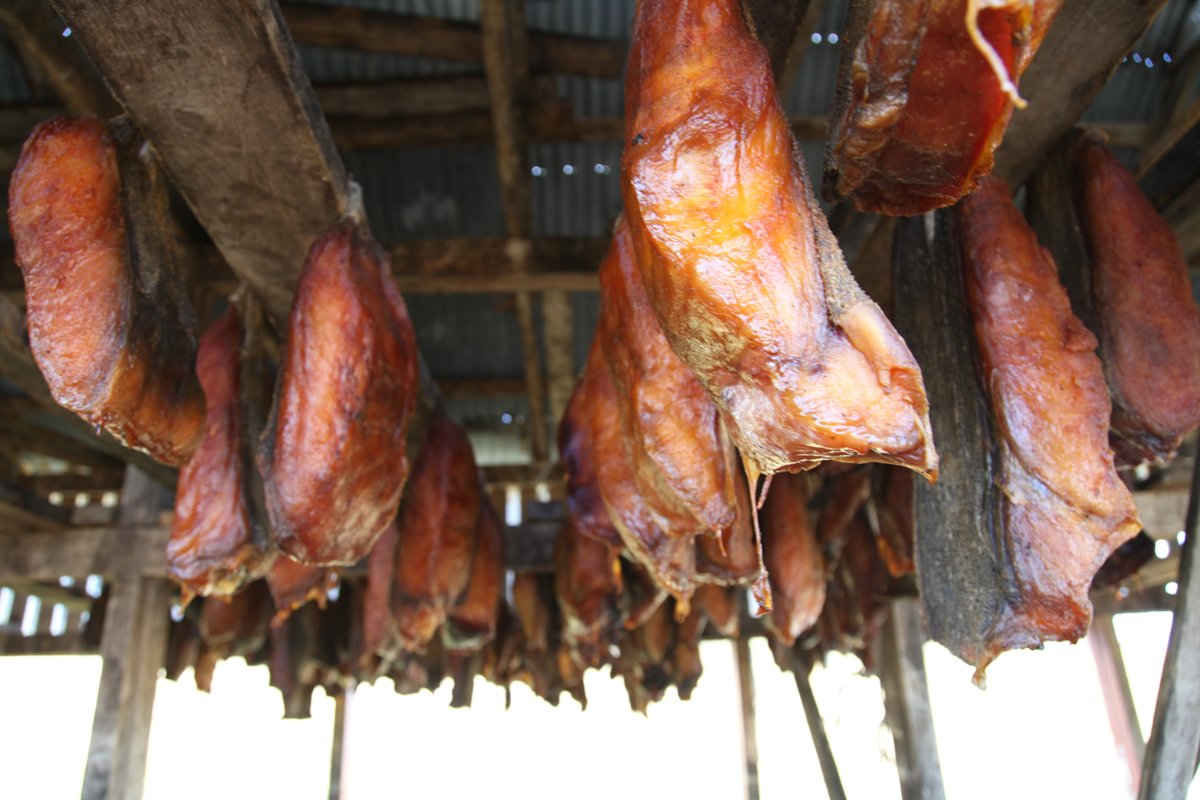 Such a remote place also makes us think - what do you do there in winter? How do you go out or how do you even go on a date in such a location?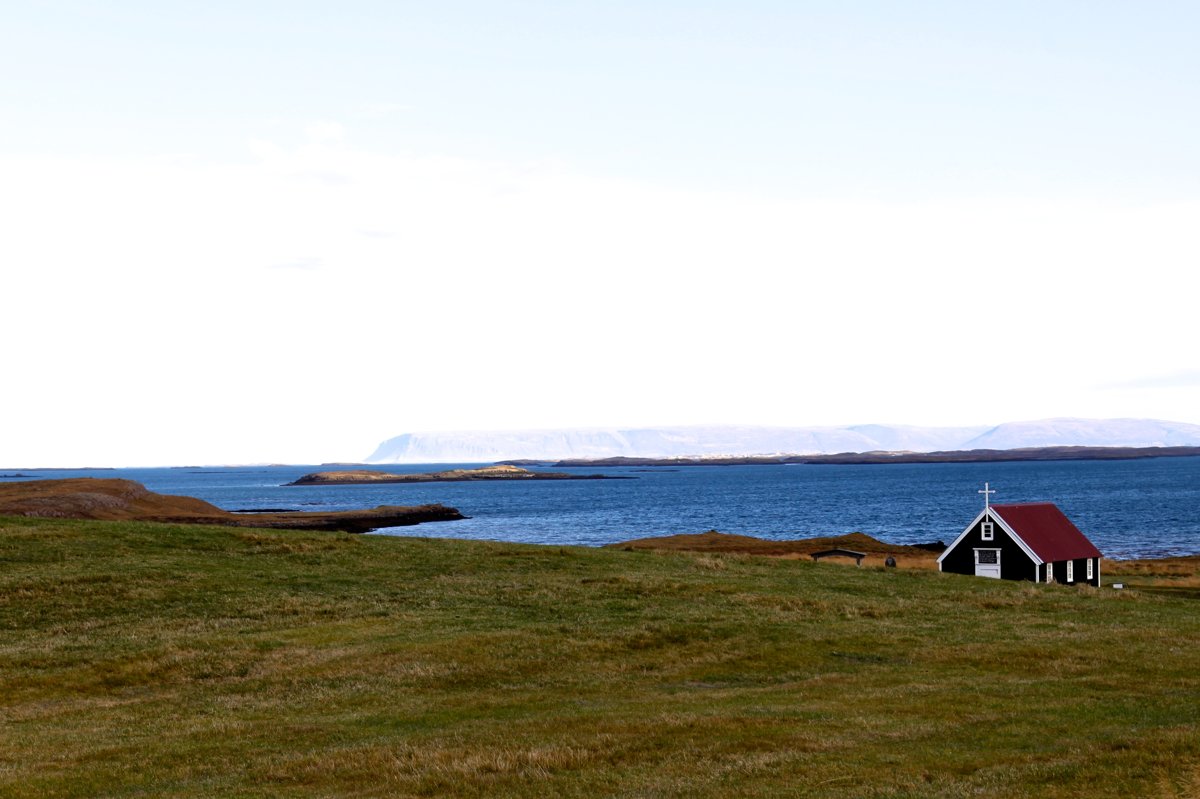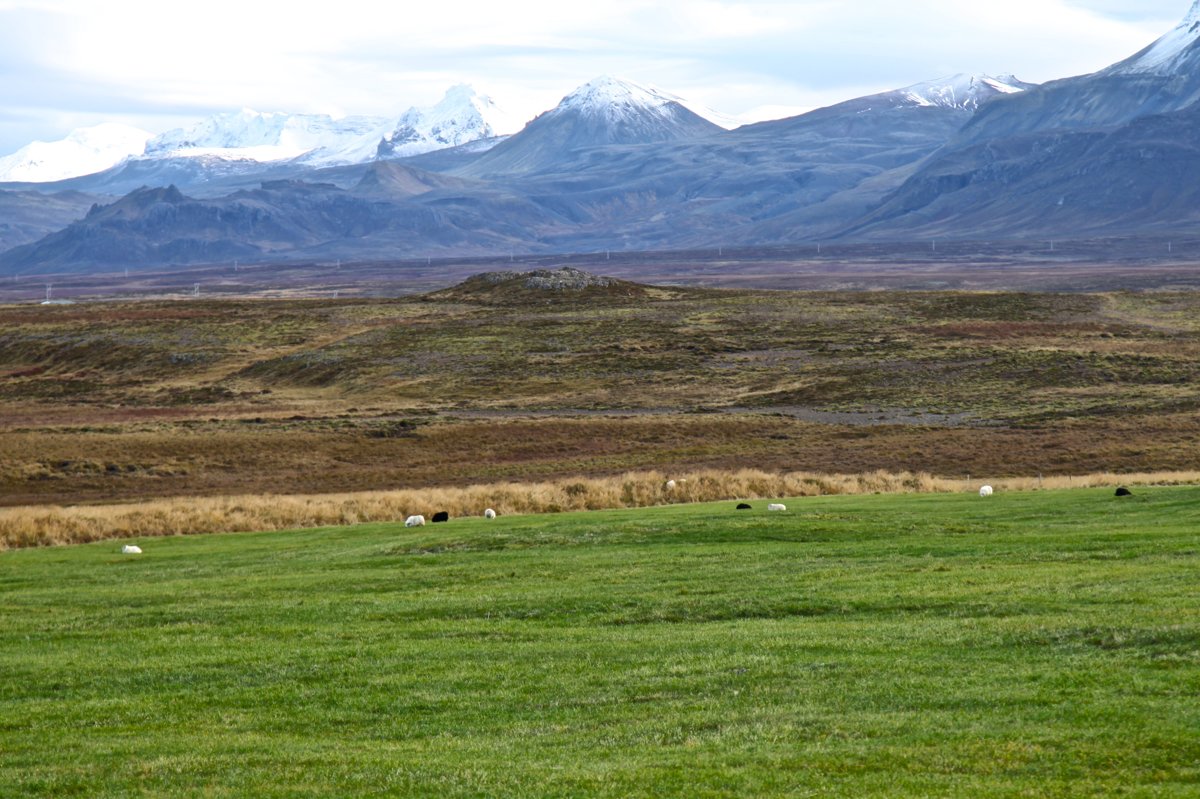 The mighty Kirkjufell is one of the main attractions in the area and one can see immediately why. Is it Harry's Potter's sorting hat or an iconic scene in the Game of Thrones?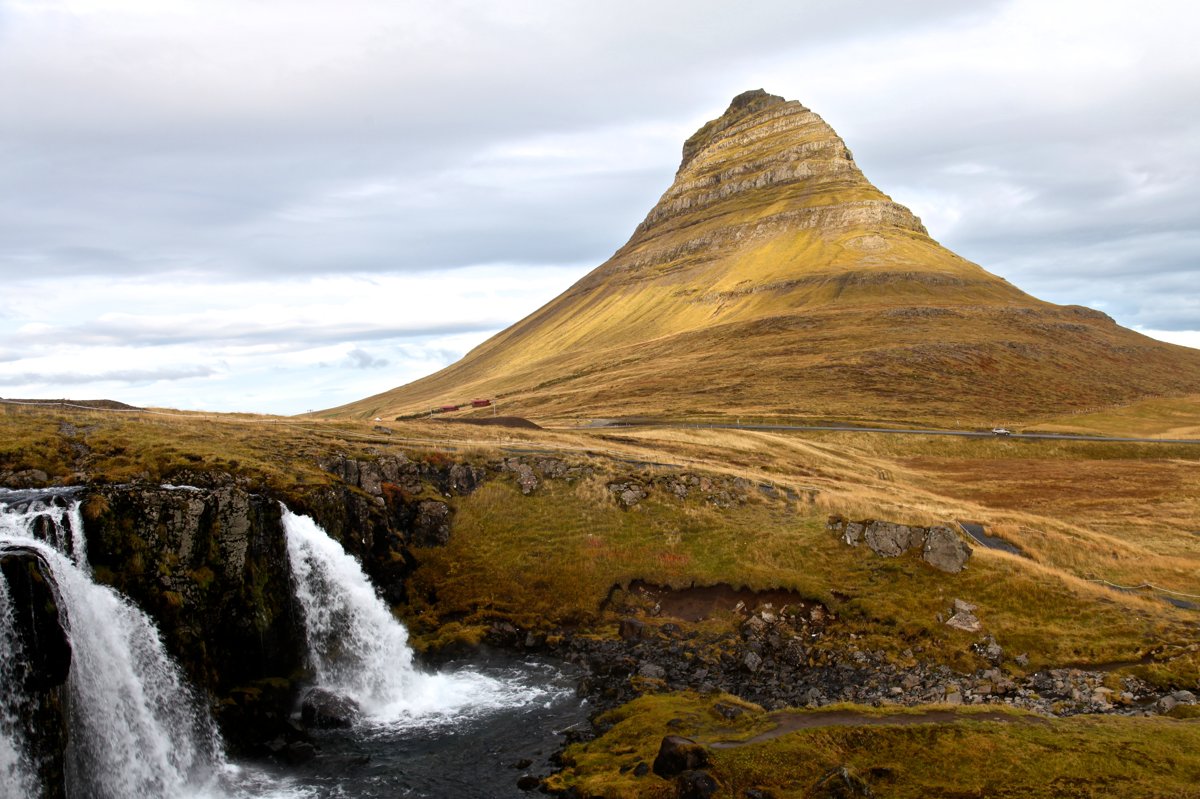 What I love about Iceland is that every river has a story. If you pay attention to story boards in parkings, you will learn a lot about the Icelandic culture.
On our way we decided to make a shortcut and pass by the Snaefell glacier. Well, a bit of a mistake as the road was not accessible by our mini van but we did get amazing views on the way until we got stuck in the snow.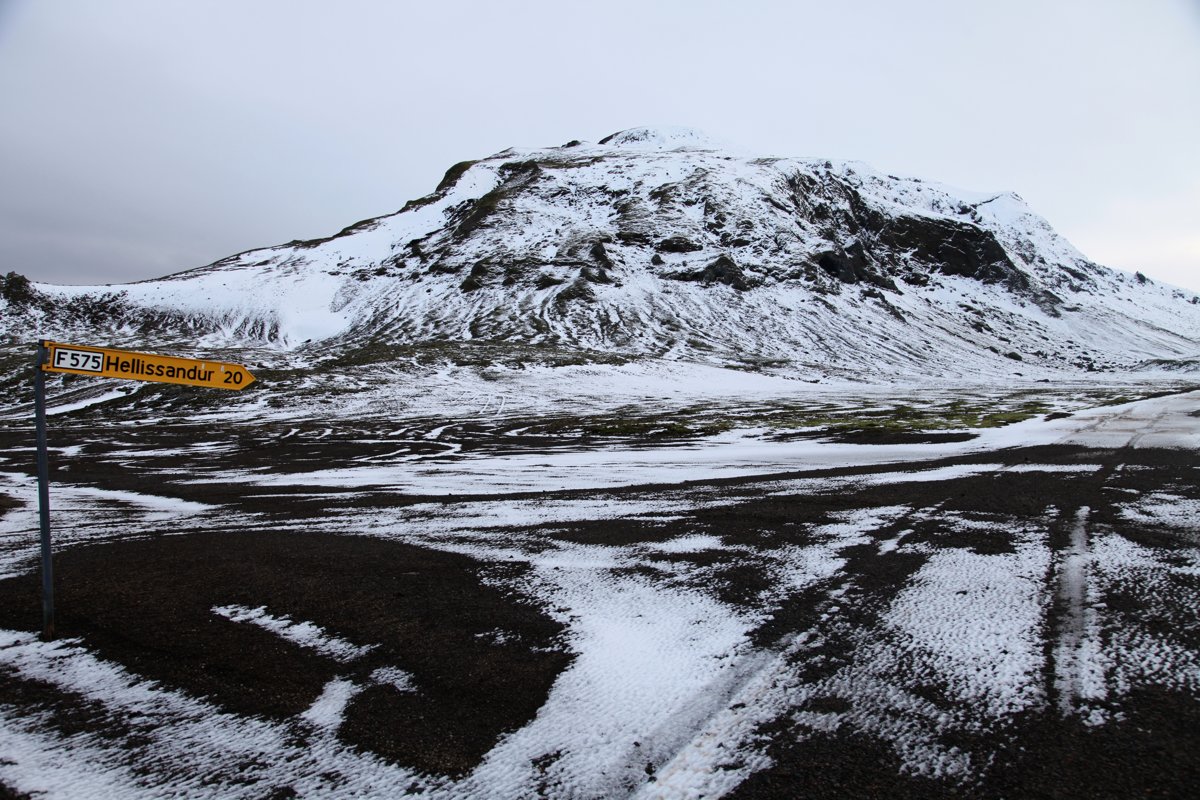 We could also observe Icelandic horses. And don't call them ponies as they are not and they will get mad on you. :)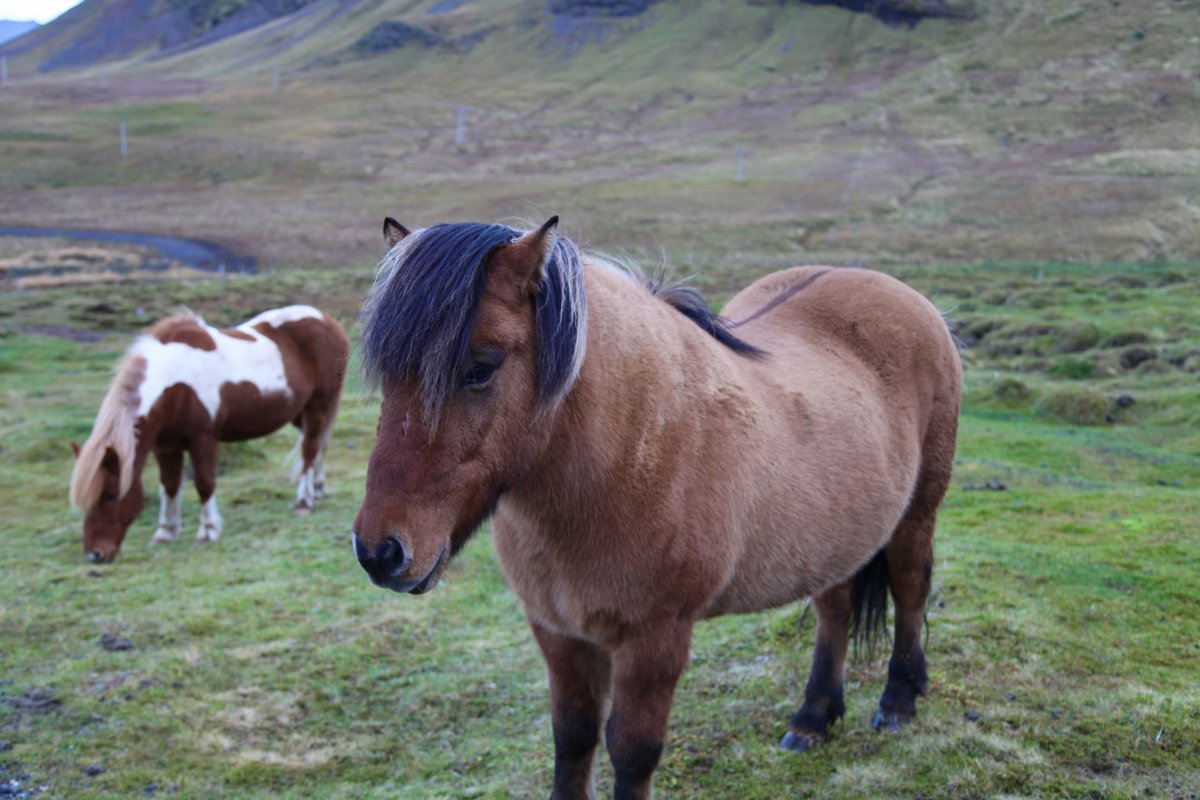 By twilight we managed to arrive at Arnarstrapi - quite a magical place by the ocean. The fresh breeze and powerful waves remind you who is in charge in this country. It's always the nature. Always.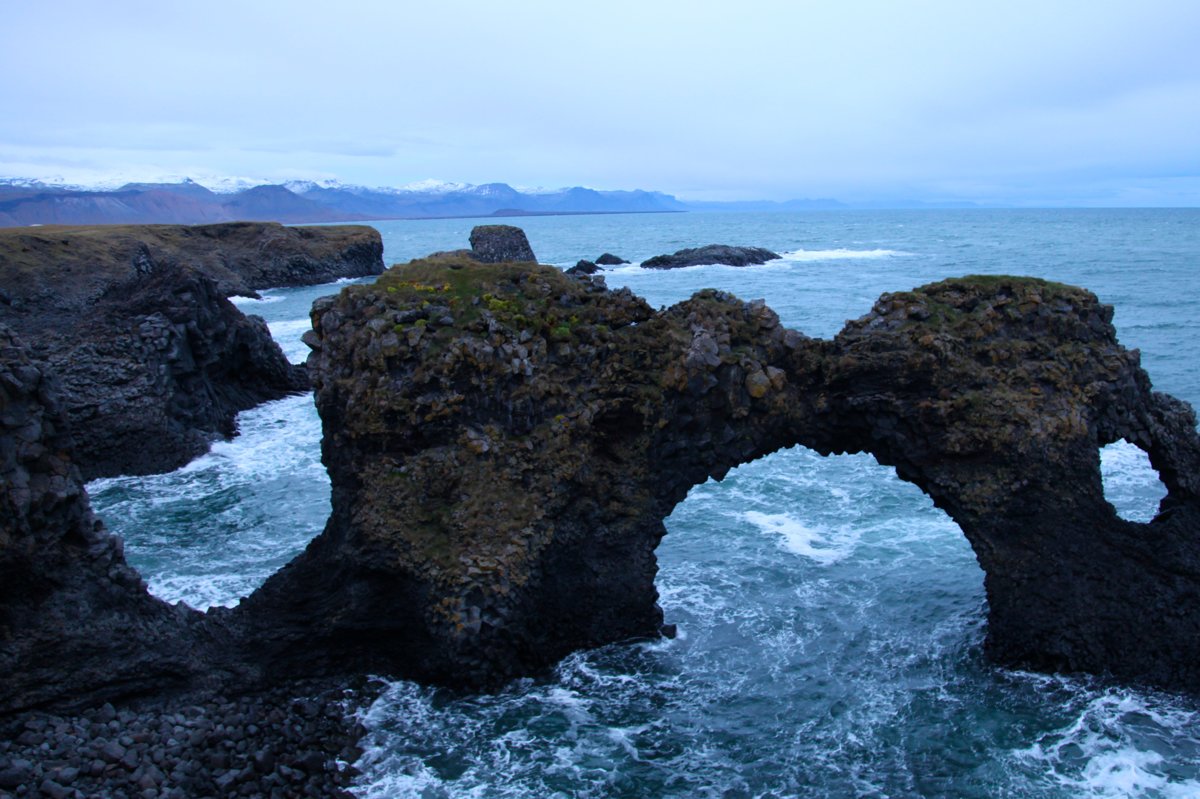 The next day we have planned to start moving south. The first stop - the hot river Reykjadalur. The weather is not very promising and the 3 km walk feels very long while experiencing the horizontal Icelandic rain and the water proof jacket and pants have almost lost the battle. But the prize is precious, the hot river feels amazing for the ones who dare to get some warmth in old bones. It's shallow but amazing!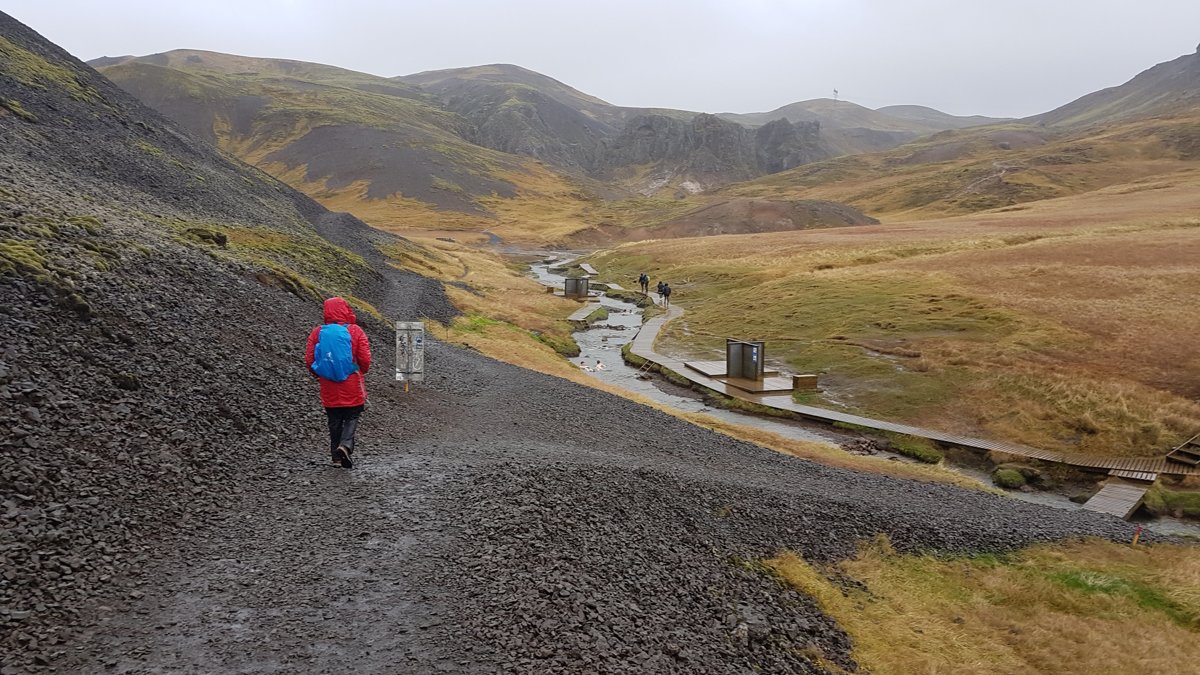 After the soak we have a surprise - the sun comes out and no more rain. We can enjoy the valley to its fullest and amazing views are at every stop.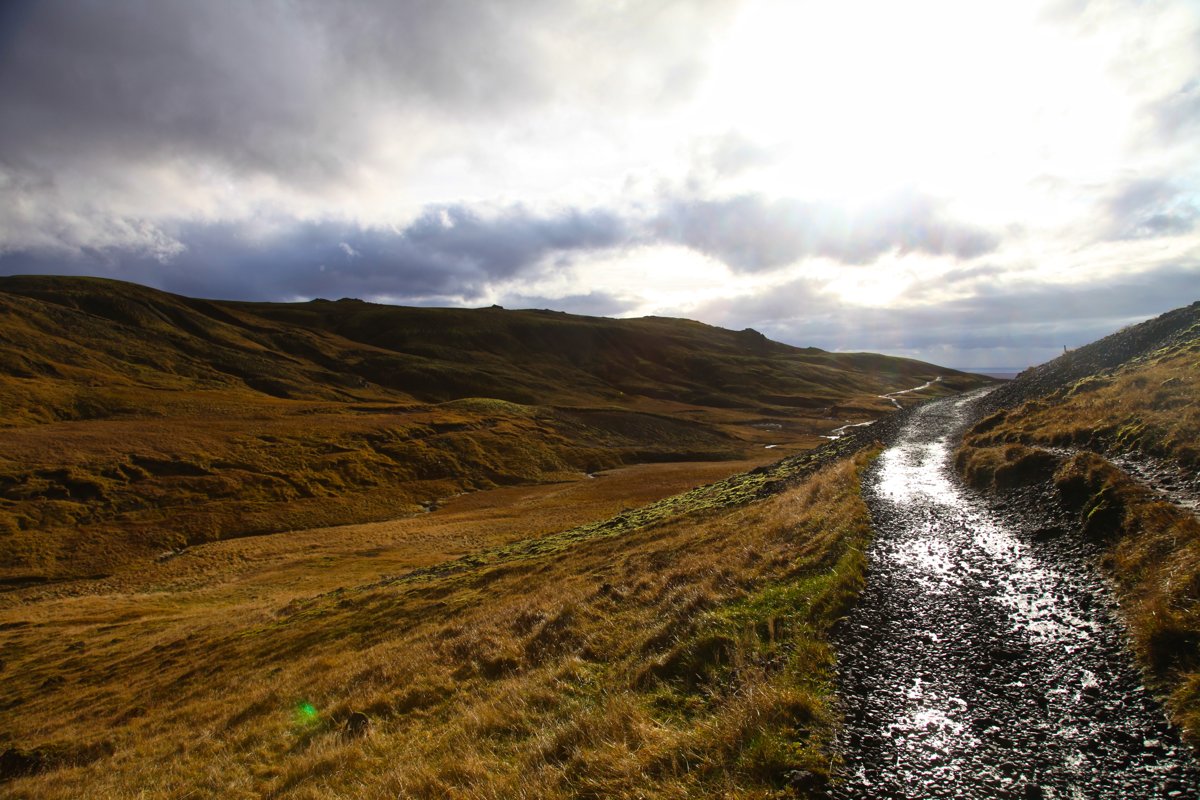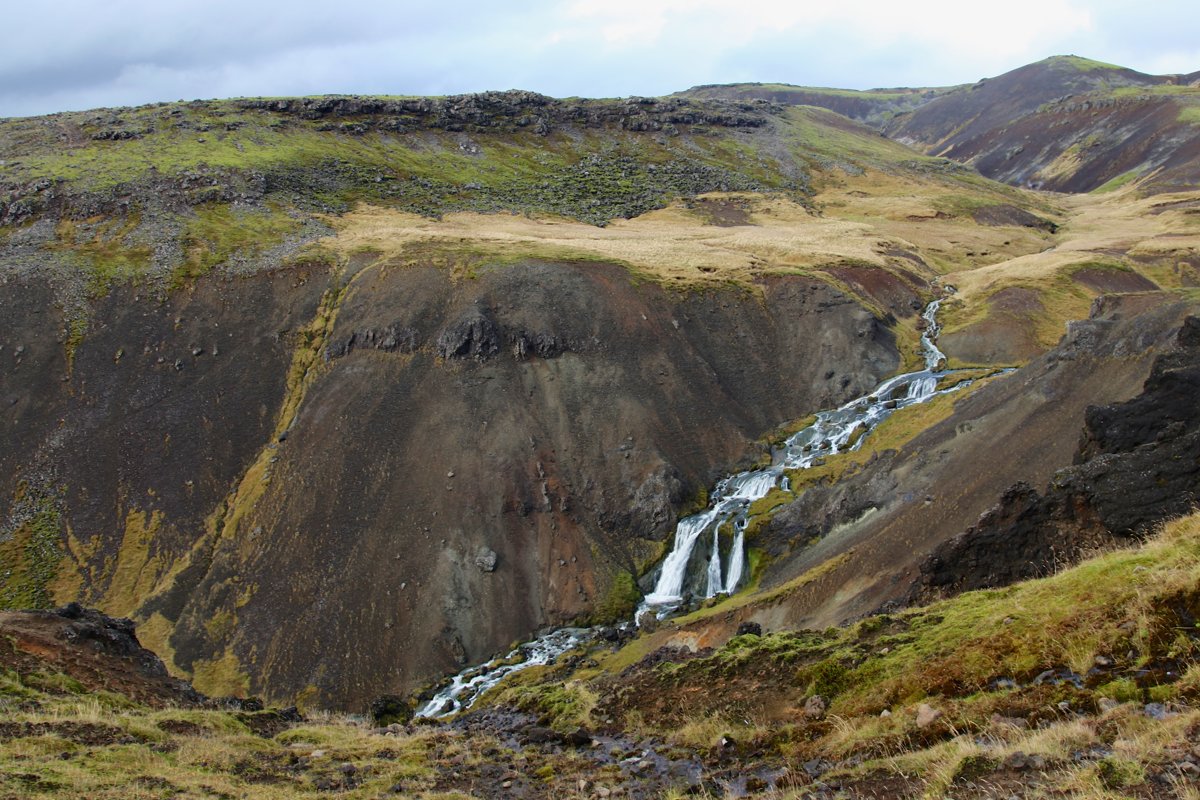 On our way to Vik we visit two beautiful waterfalls - Seljalandfoss un Gljufrabiu (also known as secret waterfall as not all tourists go there but it's just 5 min walk - but you need good and waterproof shoes).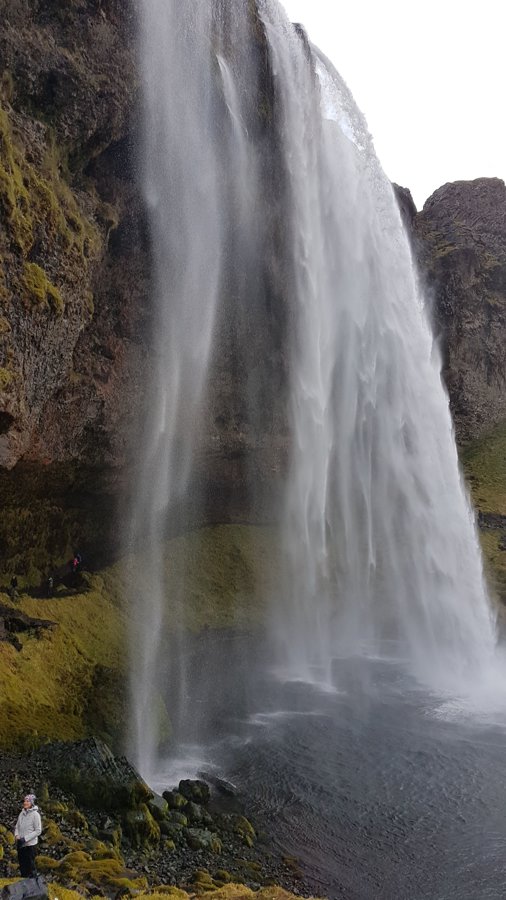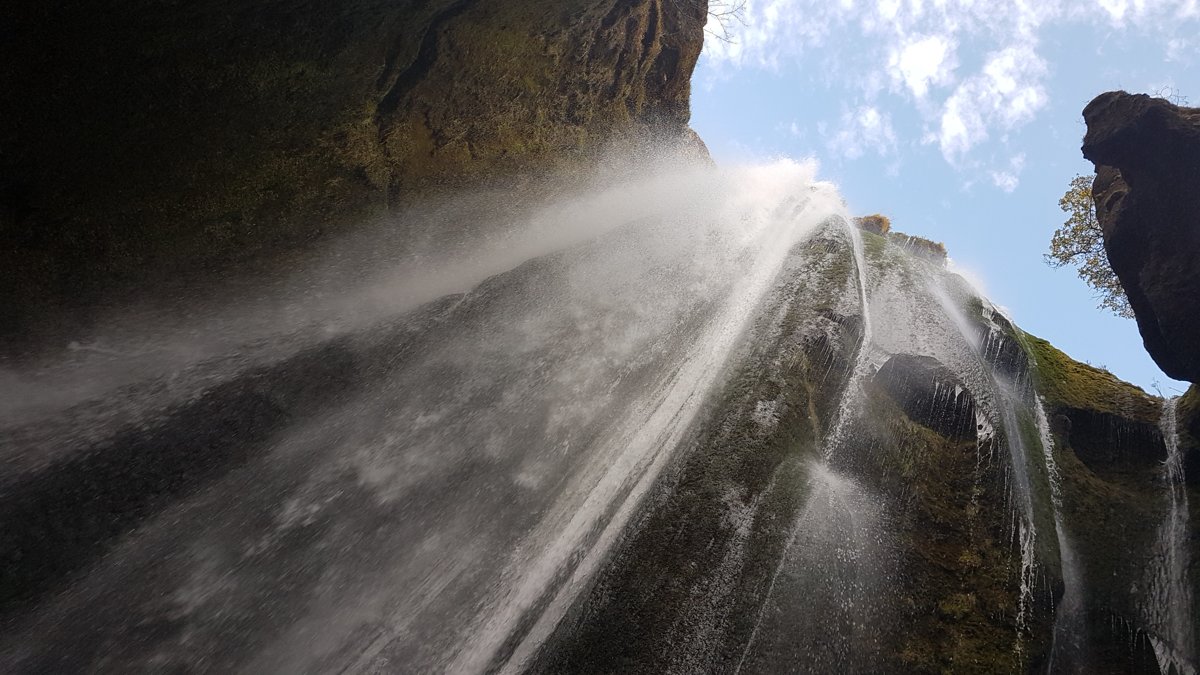 It's clear that Iceland is THE land of waterfalls. Each of them is different and has its own charm. And if you get a rainbow - that's always a bonus!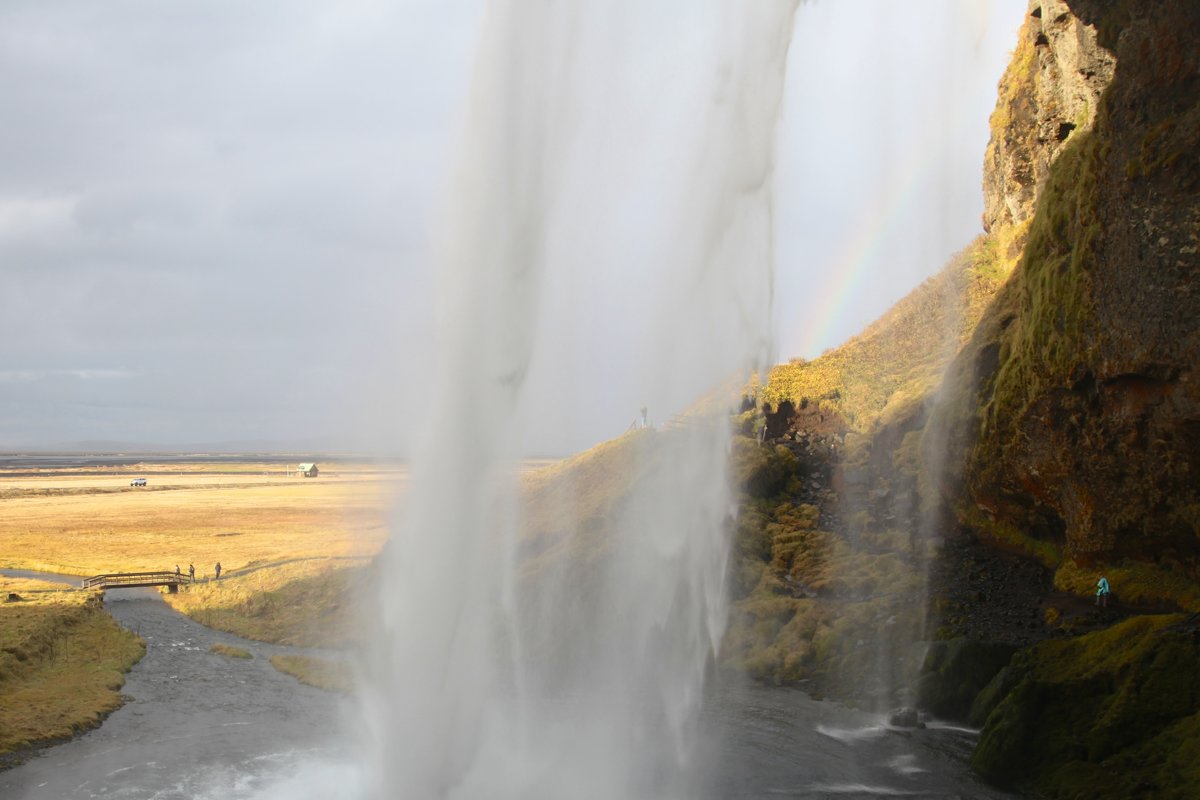 On our way to Vik we experience incredible wind and it's clear that the stories of cars being blown off the road is not a myth. From the far we see amazing waves on the black beach but with so many rivers we don't manage to get close to water. After our fight with the wind, we are happy to end up in the Soup Company in Vik and the food is delicious, probably the most expensive soup of my life - 17 euros (with bread and a refill) but it's so gooooood. After a bit of a search we also find our accommodation - a charming little house next to the Vik HI hotel. We have a feeling that the little house will be blown away, the wind is crazy and we hear it howling all night long.
The only thing what cheers us up in the morning is a very tasty breakfast with Belgian waffles and home made rhubarb jam. Our first stop in the morning is the Reyjnisfarja beach. Although we arrive quite early, it's already full of people. The wind gusts are just getting stronger and we are almost kicked off from the feet. The ocean is roaring and the whole scene is quite scary knowing that the sneaker waves can come up, so we stay alert all the time. Some crazy people try to get some instagramable pictures with the waves. We are all witnesses to the fight between the wind and the ocean.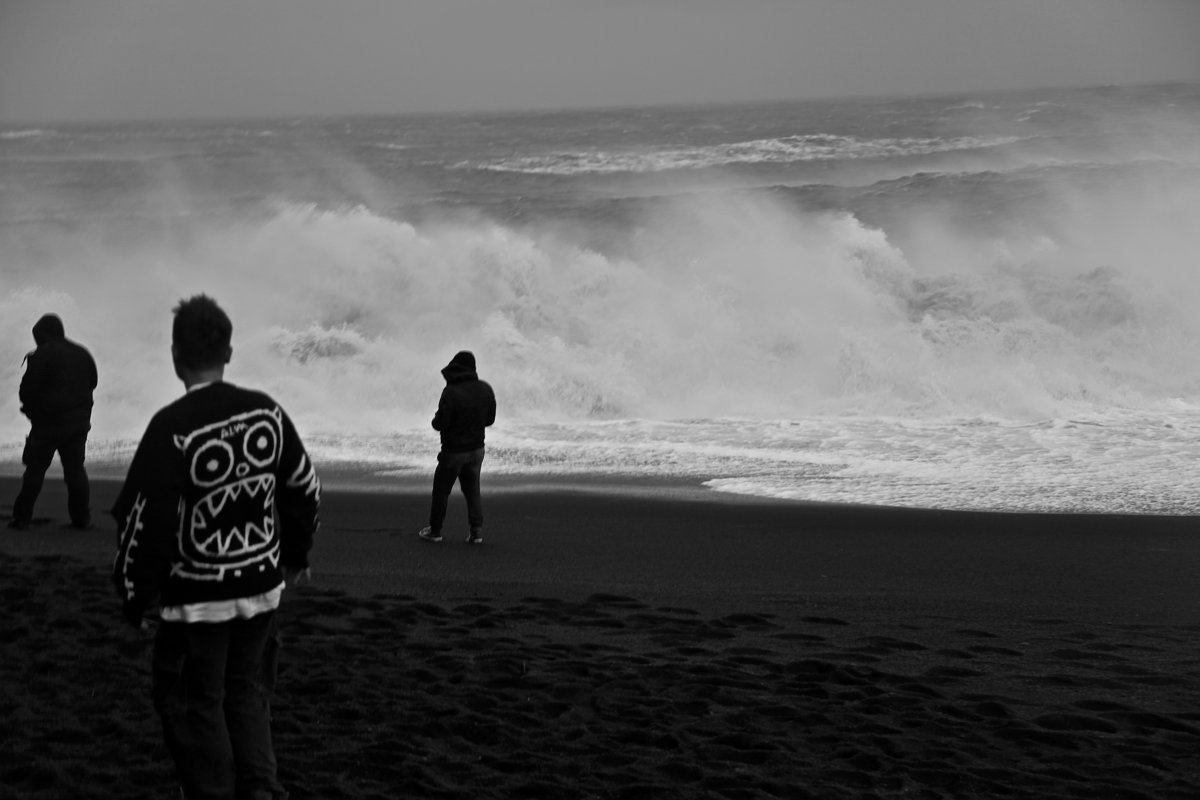 It's a place where one can stay forever, just admire the nature and its force. You also get a free sand massage in your legs and back... and free teeth whitening if you are not careful enough.
But no time to linger too much, our next step is Solheimajokull glacier. To our big surprise, we are the only ones at the parking lot and we can enjoy wonderful views. It's grey, raining just a little bit to see a rainbow. What makes the place even more magic is the thought that just there there is the Katla volcano which is totally overdue and could explore any day.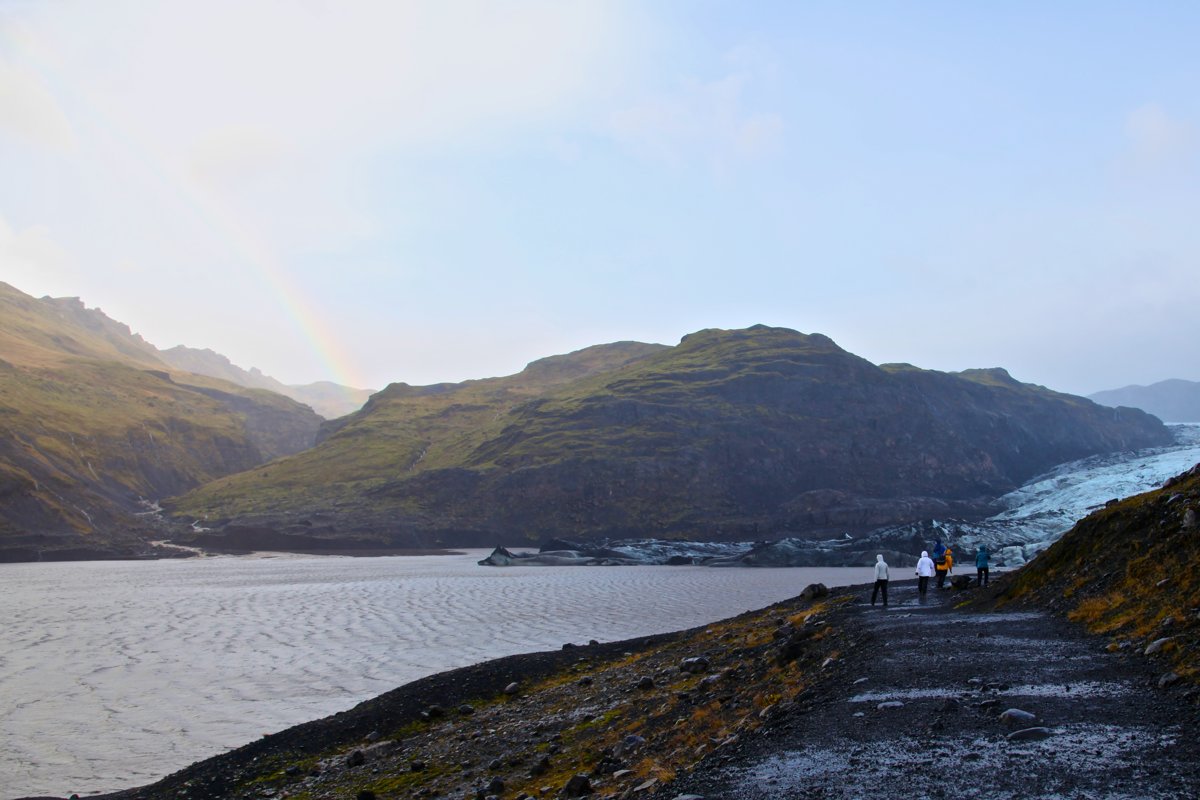 After an easy hike of 1 km or so, you can see the glacier very close. You can get very close actually but on your own risk, of course.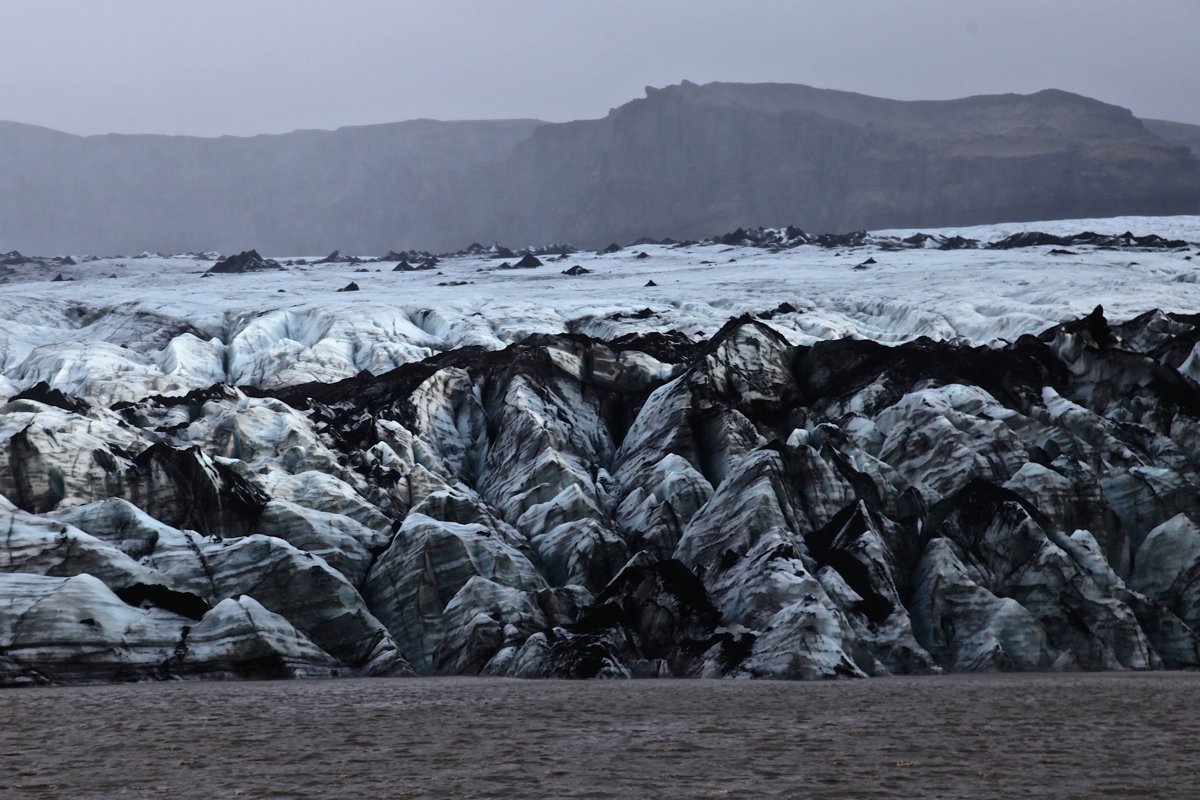 Just next there is another very popular waterfall - Skogafoss. By now we have understood that "foss" is a waterfall and "jokull" is a glacier... our Icelandic is getting better and better. The waterfall is very impressive - the 60 m drop is visible from far. And so are the tourist busses... The trail going up the stairs is a nice way to escape the crowds and really enjoy the nature. Views are magnificent, you have a feeling you are in the Lord of the Rings movie. Actually there are beautiful scenes shot for the Vikings here. But Flokki is nowhere to be seen... :(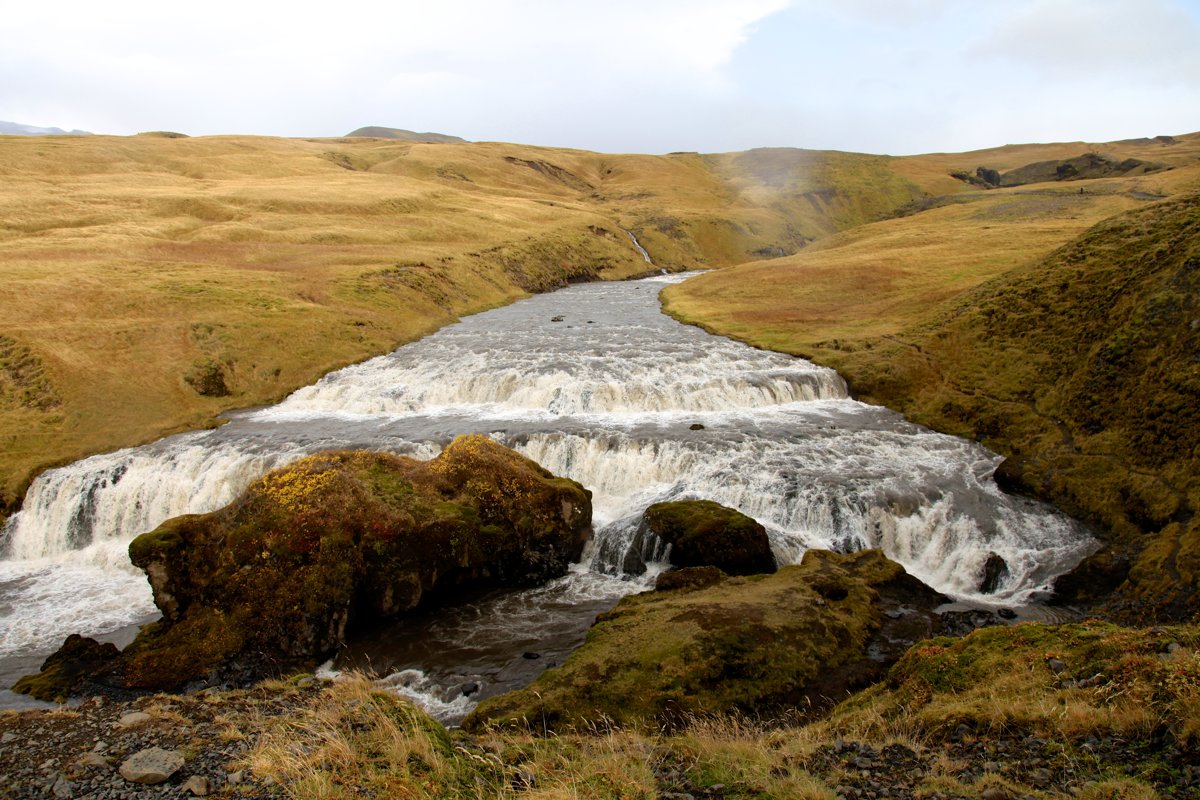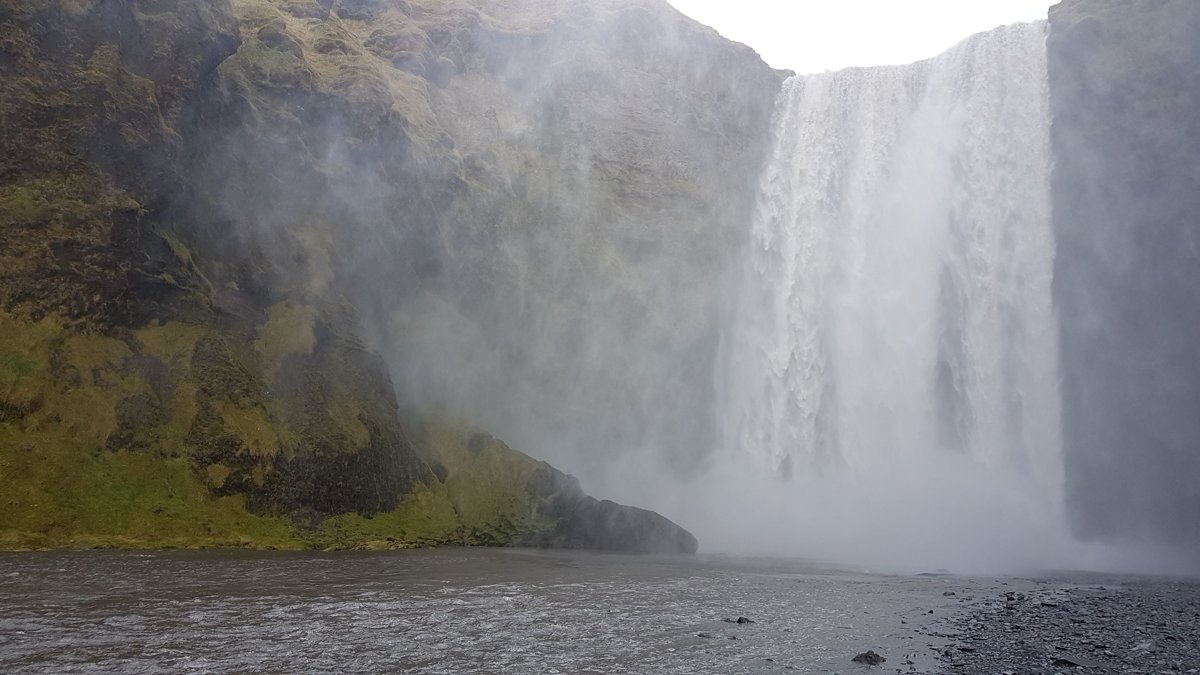 If you really want to experience the power of this beast, you have to go as close as possible to the waterfall itself. It's actually feasible if you are ready to get a bit wet. If you have the motivation to get the chest with gold which is hidden behind the waterfall - be my guest! Today we decide to play it chill and we head back to Vik to enjoy the supermarket and the beach. It's so windy that that only one door at the shop is open and again you really have too keep steady on your feet not to be blown away.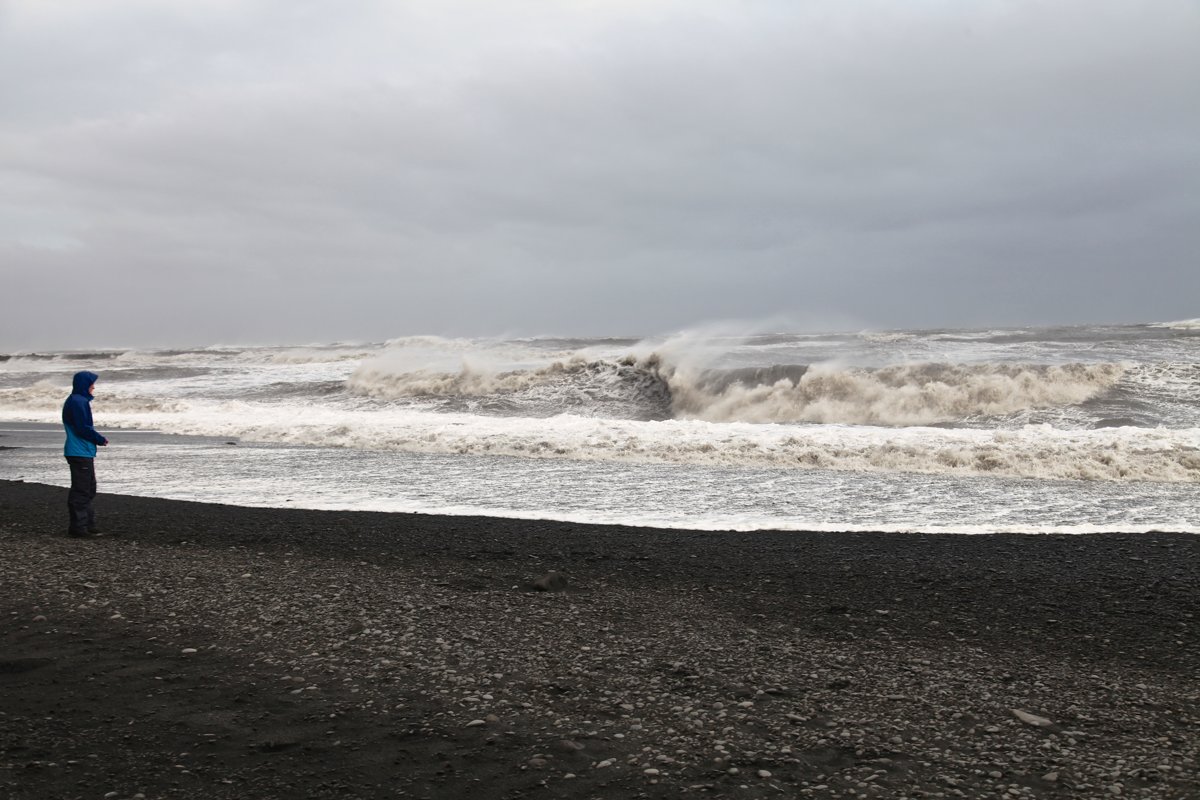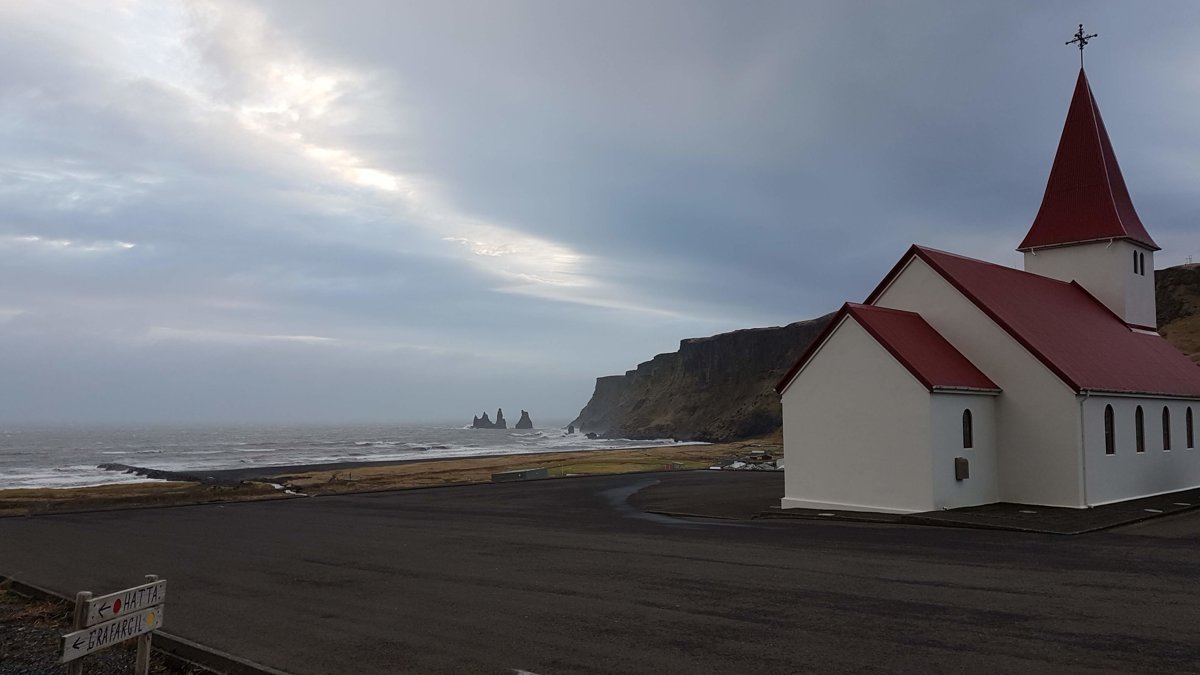 In Vik you will find a store / icewear wool store. Lots of souvenirs and items from Icelandic wool. Just be careful - if you want to have something "made in Iceland", you need to look out for a special sticker, otherwise you will get "made in China" jumper. If you want to find some better prices, go to the second floor. The store also said that a tour could be arranged to see the factory but we did not see any additional info.
In the night we have a 30% chance to see the northern lights... We all jump up after having received an alert from the app but well, it's partly cloudy and the moon is very strong and no northern lights for us...
The next morning the wind has calmed down and our mission is to see the plane wrack. For me it's a dream come true, so I urge my fellow travelers to get up early to enjoy the place without the crowds. Although we arrive before 9 am, there are already cars in the parking. The walk is around 40 minutes in black desert. I can just imagine how it would have been with the wind. We hardly have a breeze.
And there it is - whohooooooo.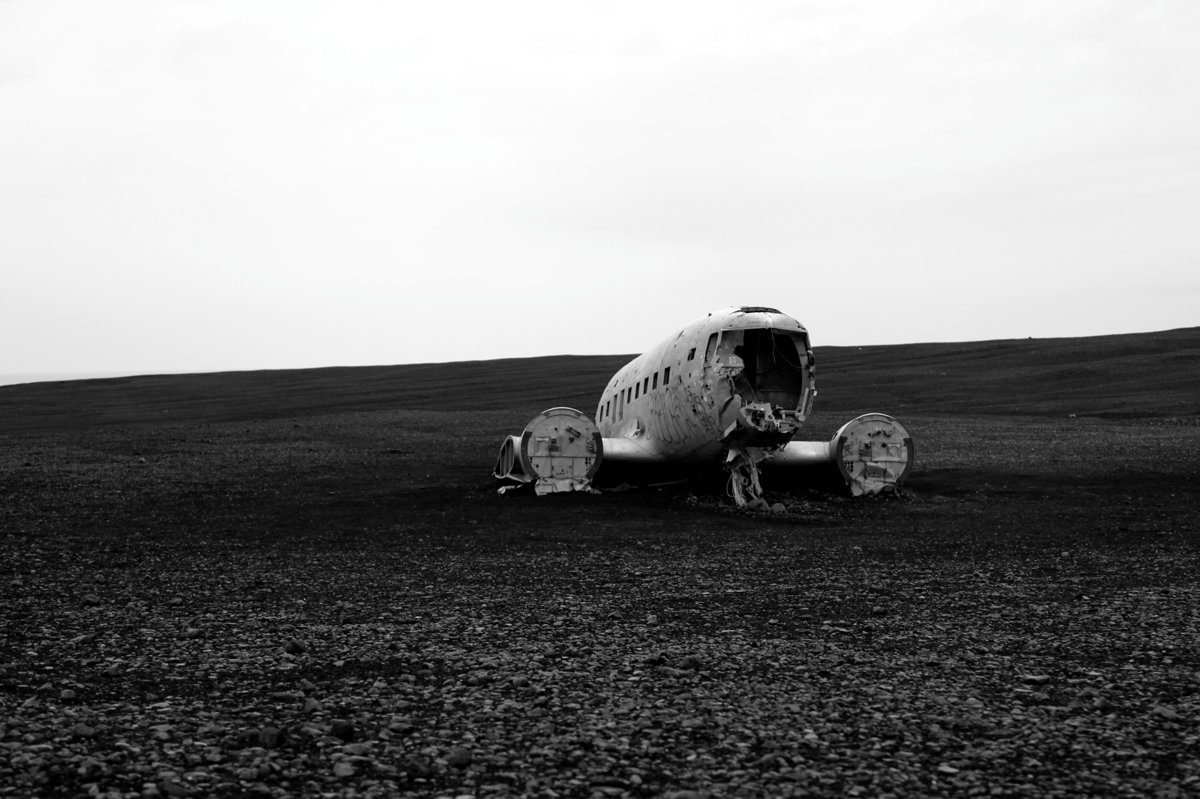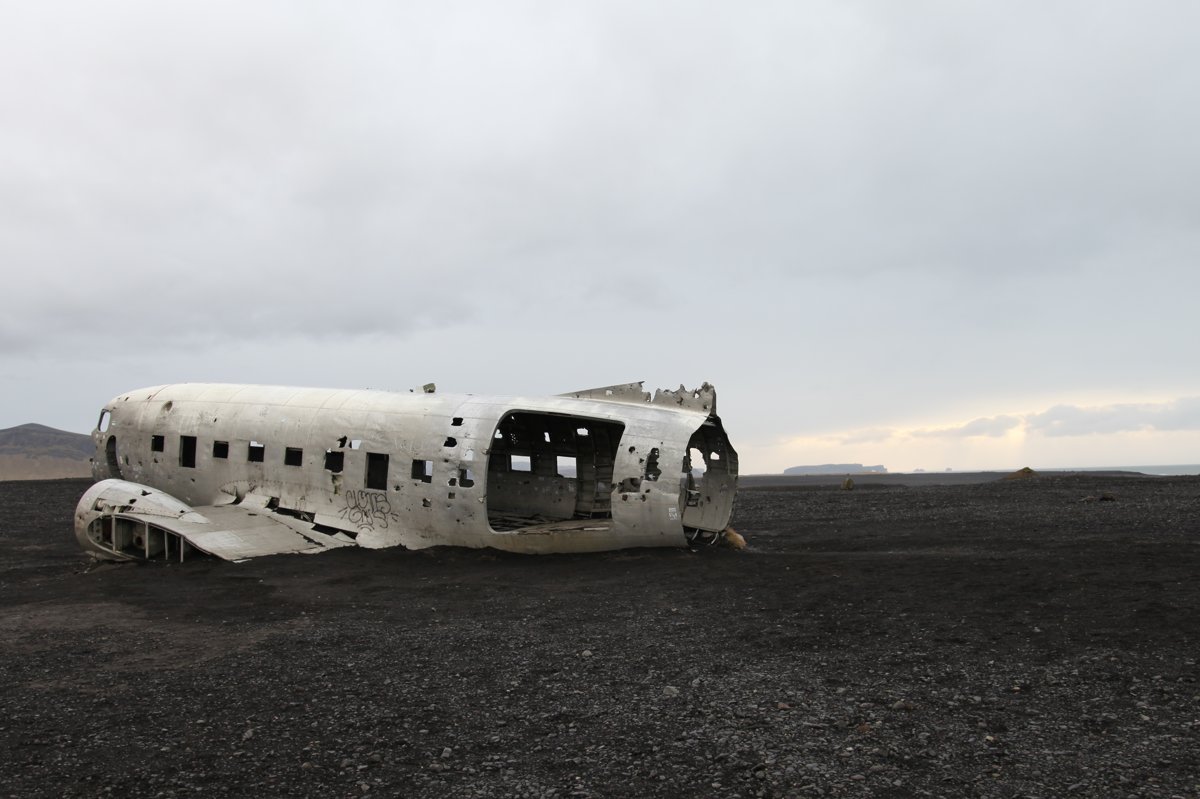 There is a bit of a fight between the photographers - who will get the best shot as some stupid people are climbing the wreck but with a bit of a patience and good timing you can totally enjoy this surrealistic place. There is a shuttle bus which starts to run at 10 am in October, so if you want to enjoy the place, go much earlier.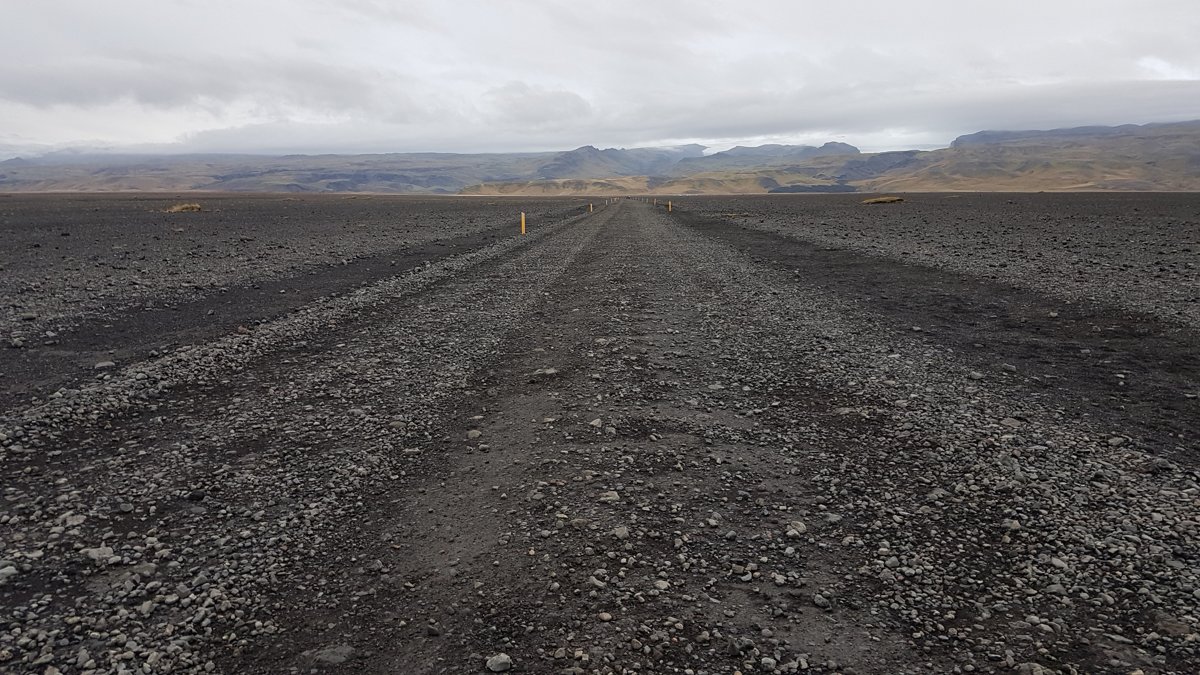 Our next stop - Dyrholaey view point. Wooooooow. Amazing!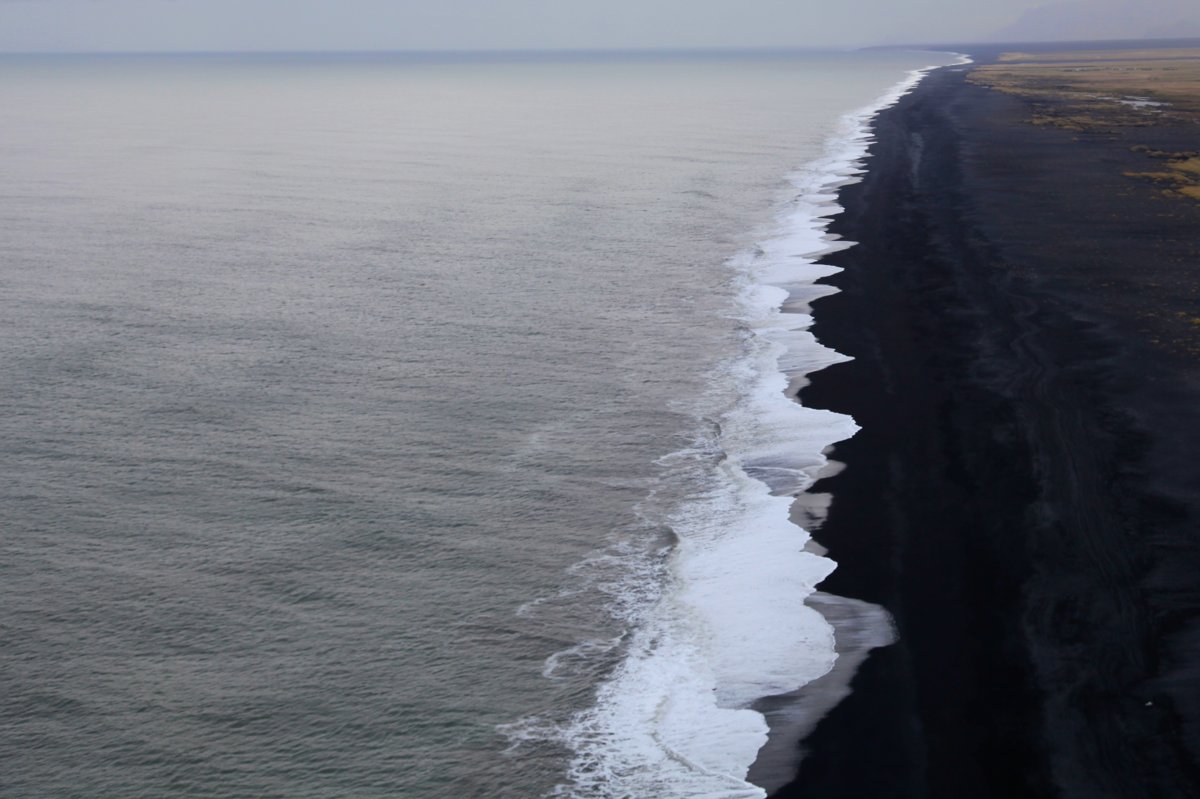 Up there you can feel the wind again (can just imagine how crazy it must have been the day before) and for the first time it's a bit freezing... Another magic place and only the cold can get you away from witnessing how the white ocean tongues lick the black earth under.
As we have quite a road to cover, no time to dream, off we go to in the direction of Hofn. After 2 h driving and some hot-dog pauses we finally arrive at Fjallsarlon lagoon. In different blog posts I had read that the place is much more interesting than the famous Jokulsarlon just next. It did feel very private as again there was nobody there... hm... no clue why people don't go to those places...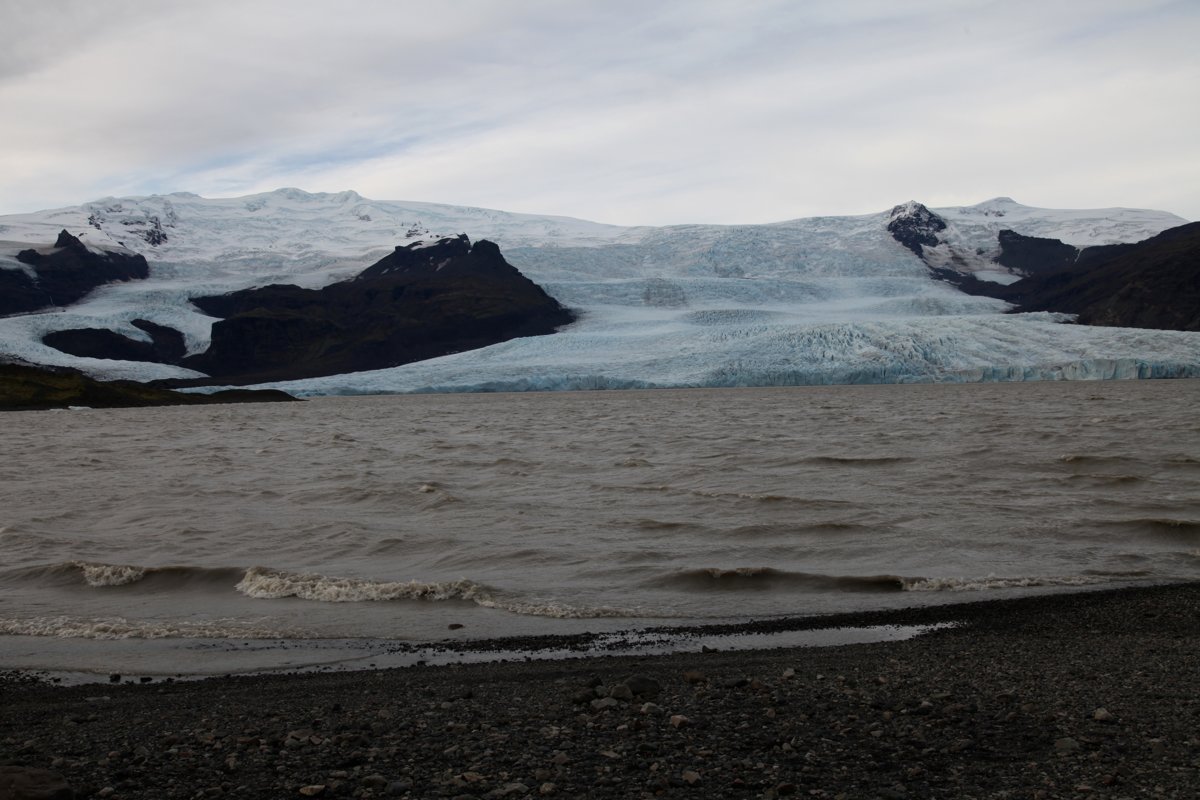 After a short walk we are heading to the bigger sister - Jokulsarlon. We almost miss it but luckily decided to stop as many cars were at the parking lot. Another woooooow moment - impressive! The icebergs big and small are just floating around, a seal in happily having his swim in the afternoon sun.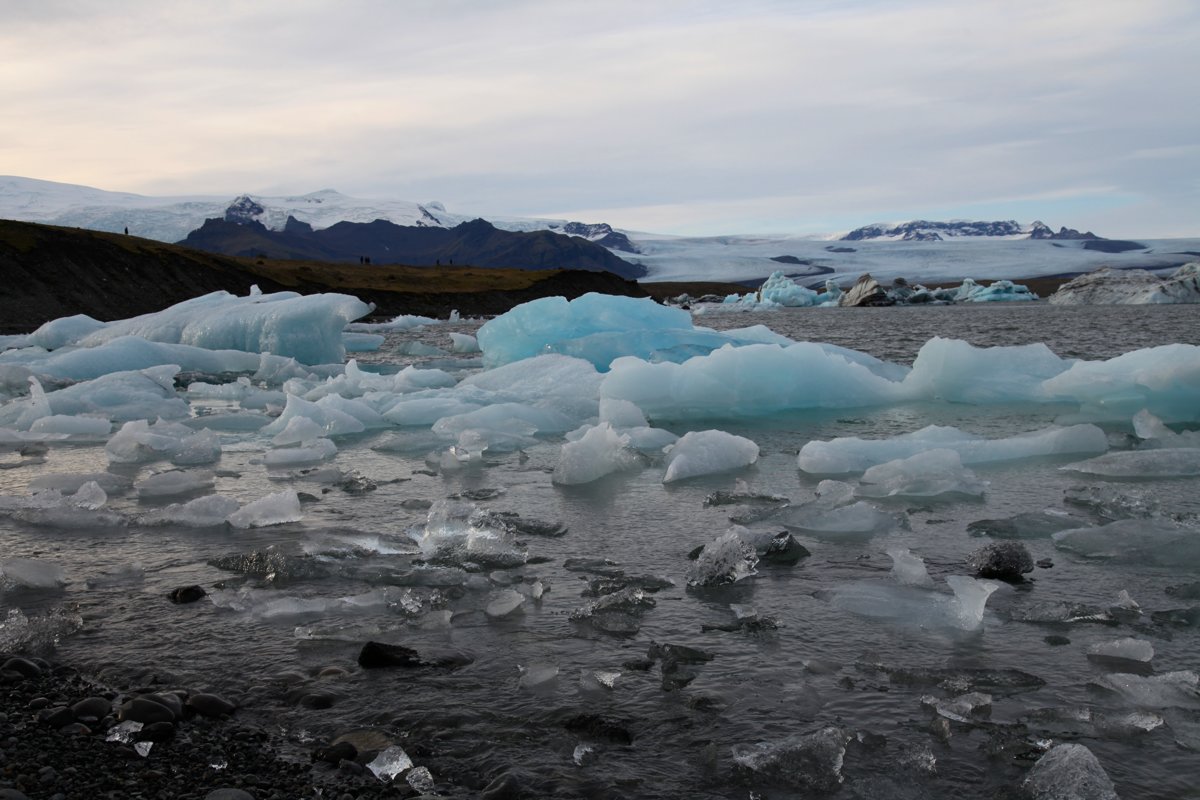 My favourite place in the whole trip - the Diamond beach. I know it sounds cheesy as hell but we were there during the sunset and it was amazing, so much beauty and magic in one place.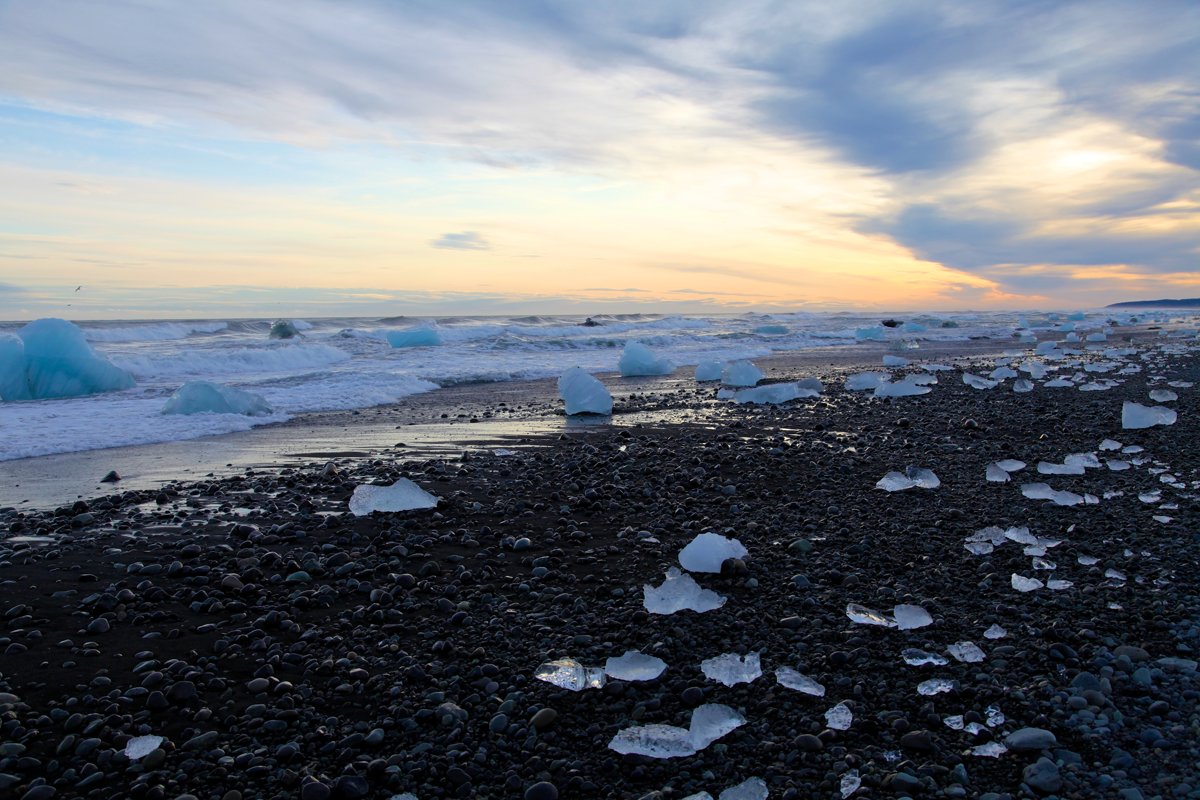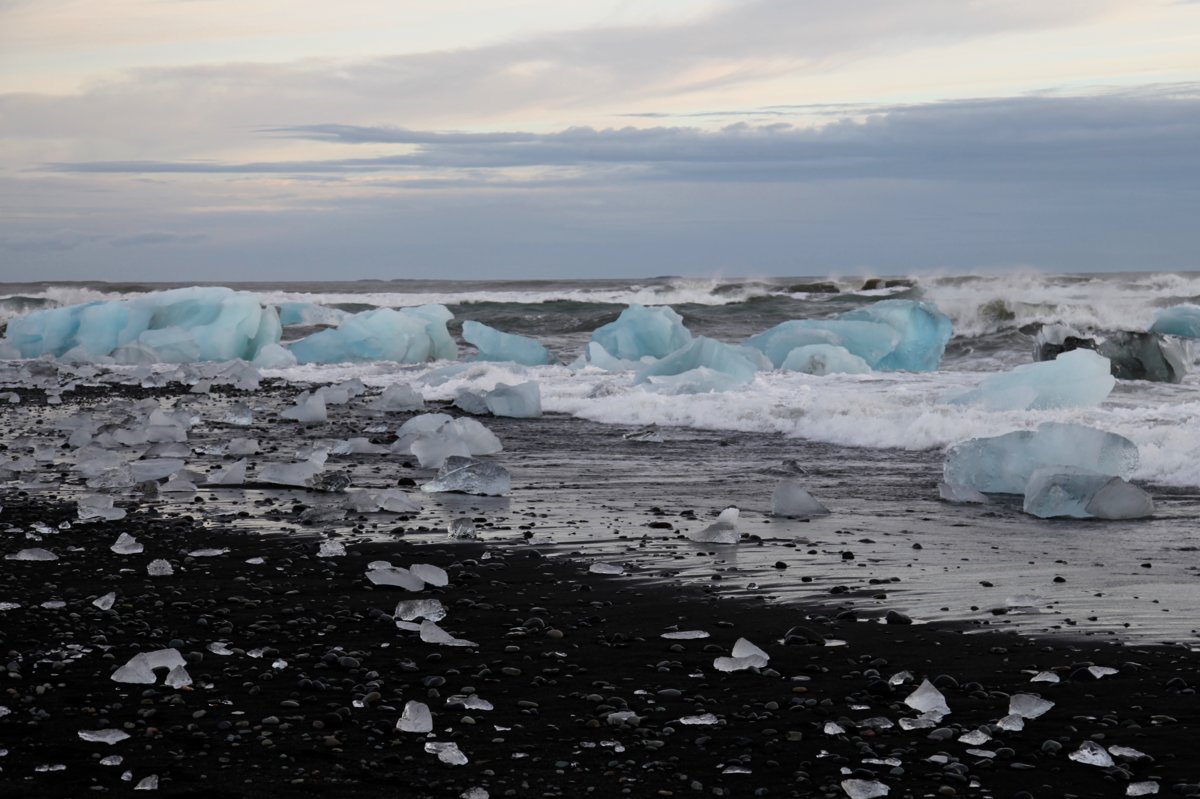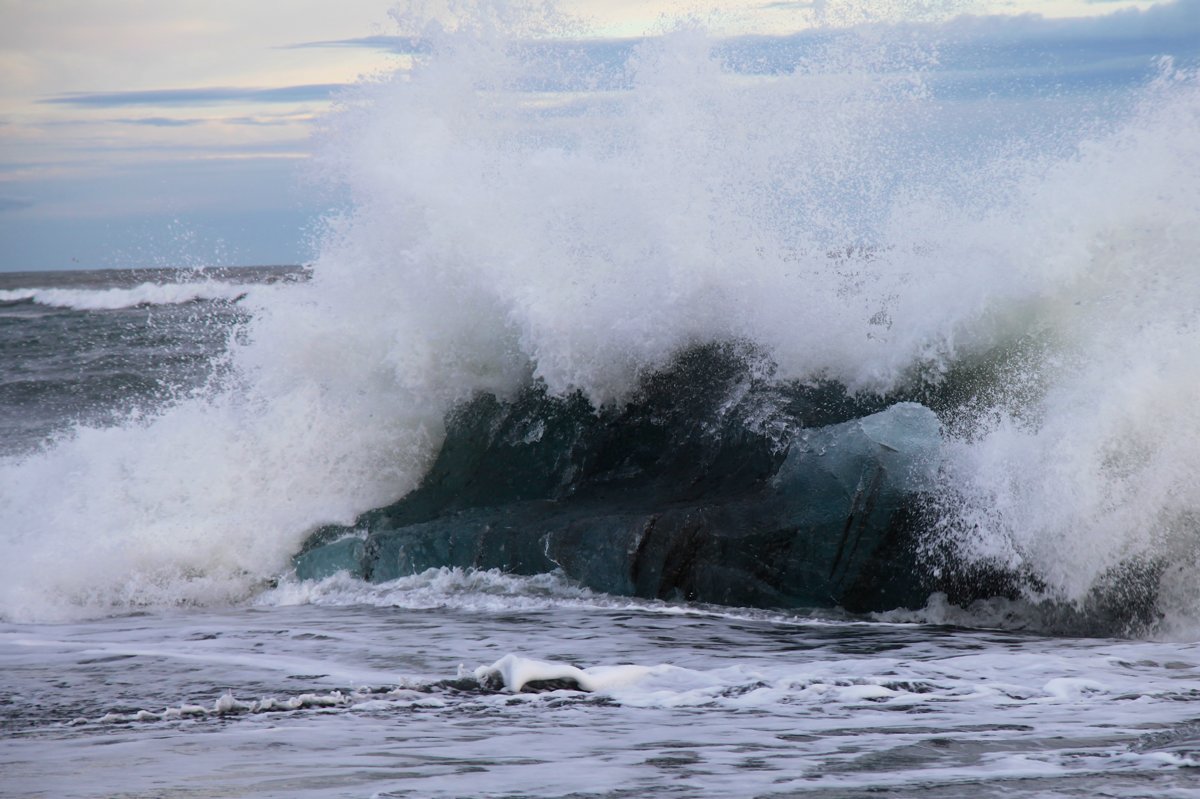 Time to time some Asian tourists get splashed with a wave for everybody's entertainment. If you want to have the place for yourself just walk a little bit up the beach and you can enjoy it fully.
For our stay we have chosen a family farm - Setberg guesthouse. With such an amazing sunset we also have high hopes for the northern lights... but hei, not this night.
The next day we are greeted by happy sun and a pair of sheep at our window. No time to waste, we are off to discover the little town Hofn and the famous Vesturnhorn. The little town is nothing special apart from a very friendly cat who is clearly looking for a new family, post office which opens at 10:00 (so late!!!) and a tasty cheese pie from the local supermarket.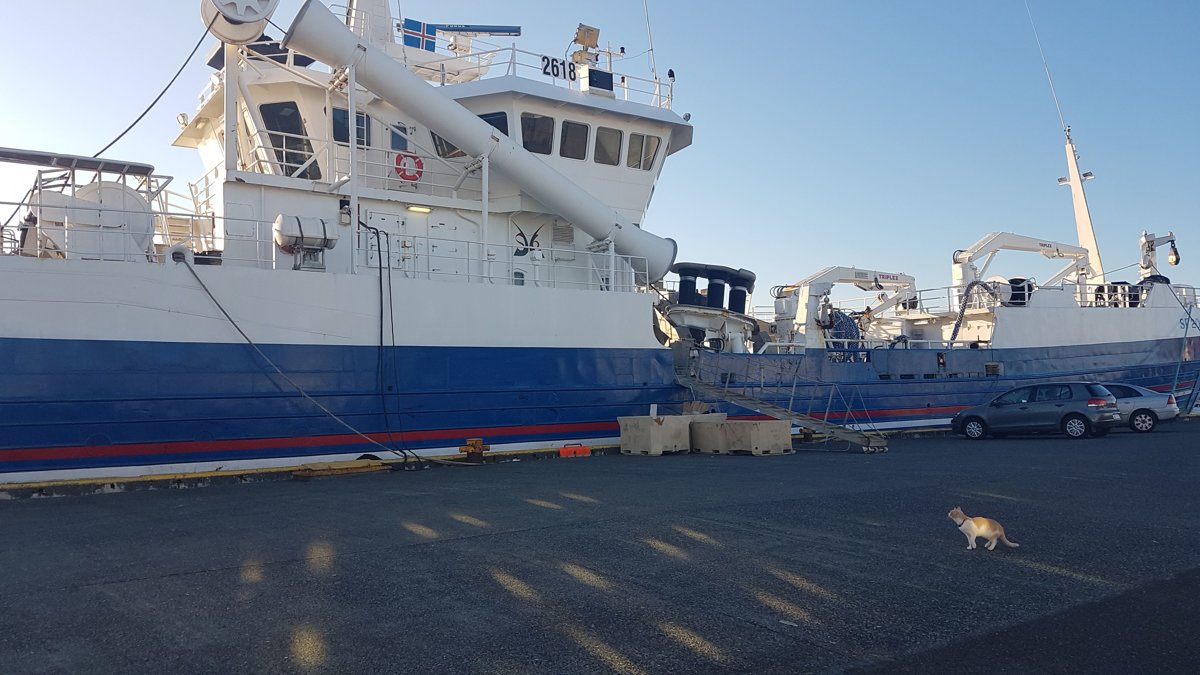 If you want to visit Vesturhorn, you will have to pay an entrance ticket but t's totally worth it.
We have a bit of an adventure as our minivan got stuck in the black sand but after a bit of a push, we managed to get it out! Another car next to us had the same problem, luckily 5 strong women were there ;-)
Vesturhorn is known for it's games with reflections. It's amazing how they change according to the direction of wind and how in one second the mirror can be gone.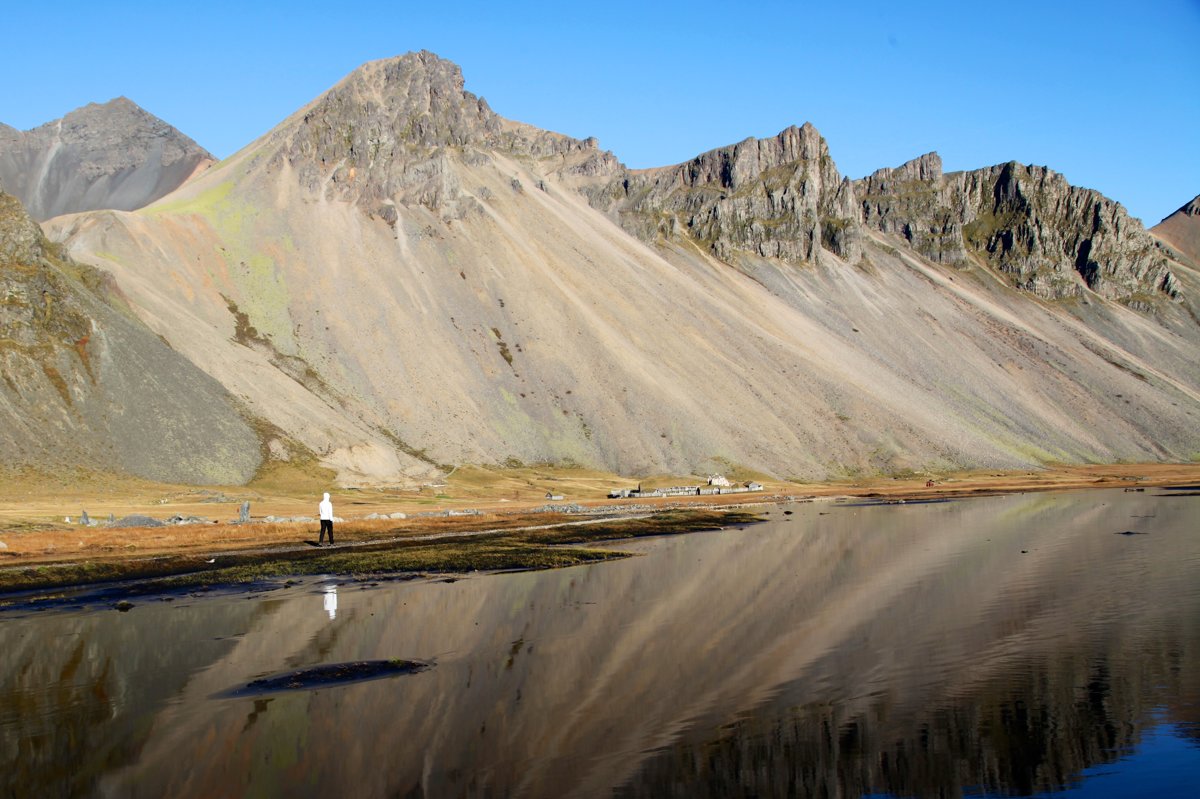 The Viking prop village is nothing special if you don't have much of an imagination, but if you do, whohoooo...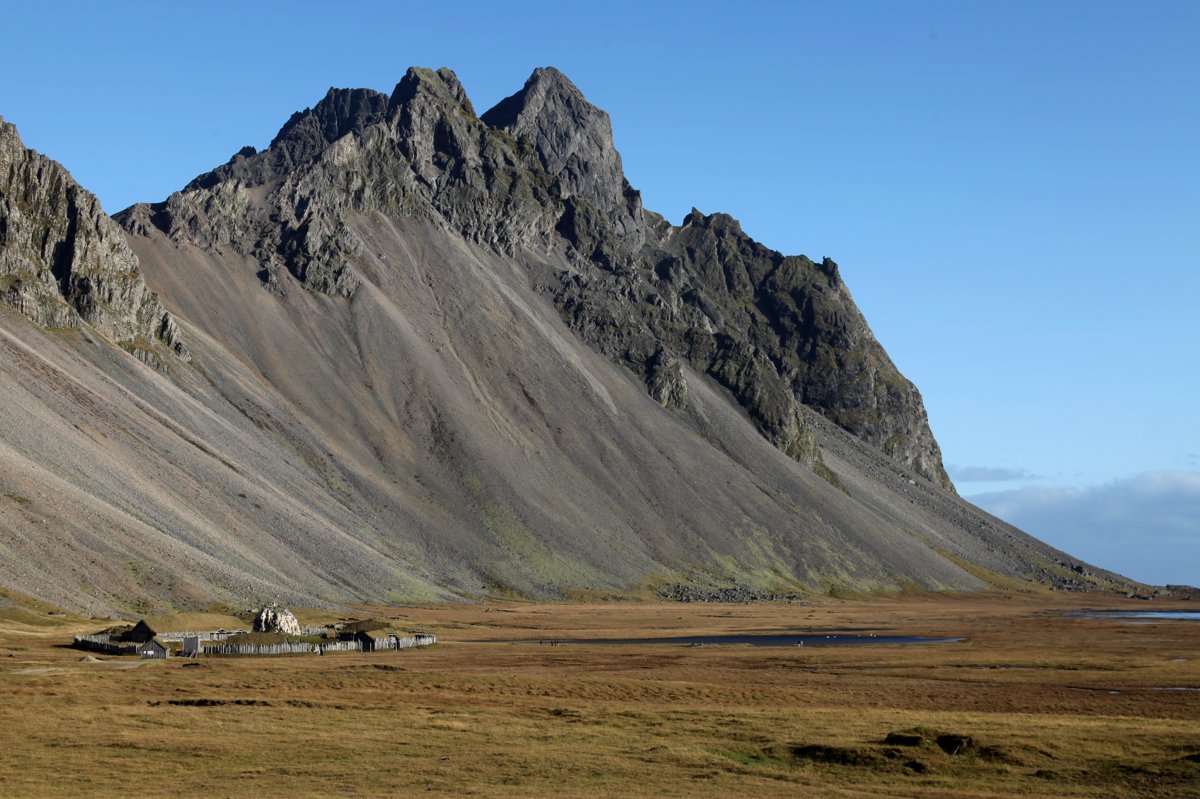 On our way back we still managed to visit the Svinafellsjokul - apparently Game of Thrones was shot there too. Again we have the glacier to ourselves. The path is a bit tricky and it's totally under your own responsibility to see how far you can go. But it's simply mesmerizing. Again one could spend hours there just chilling.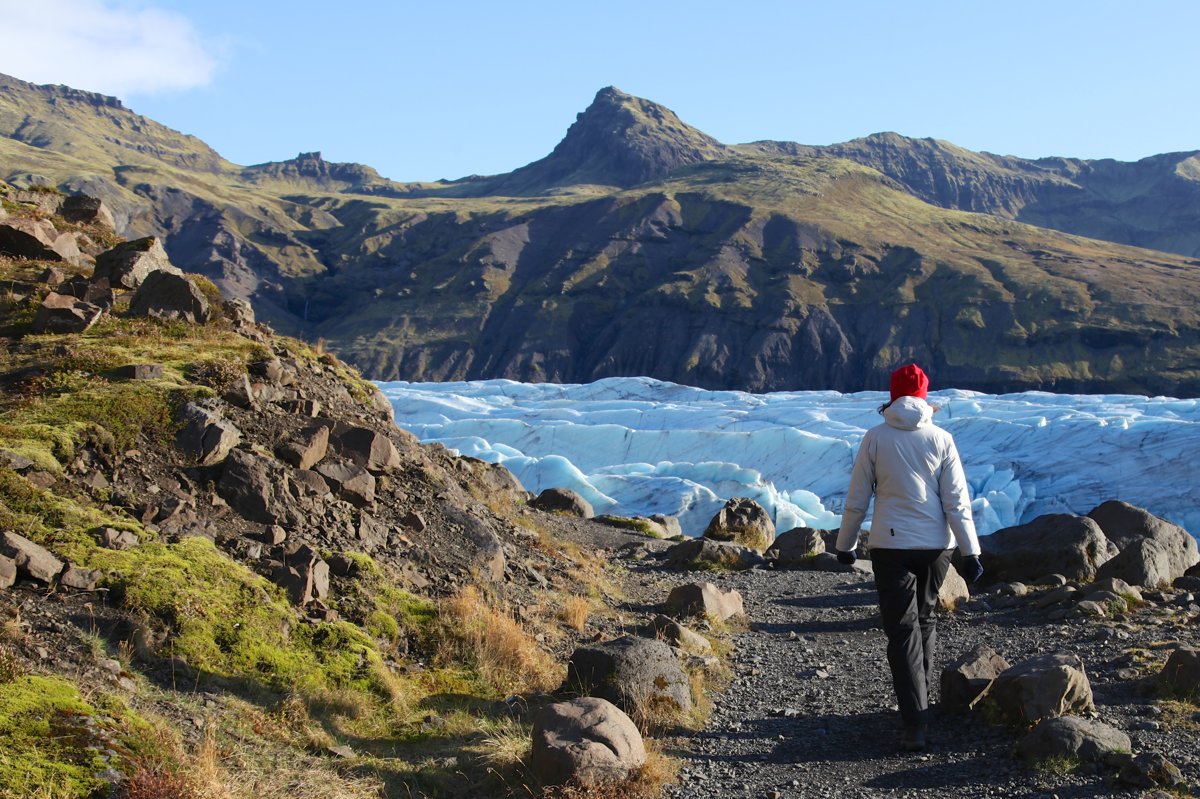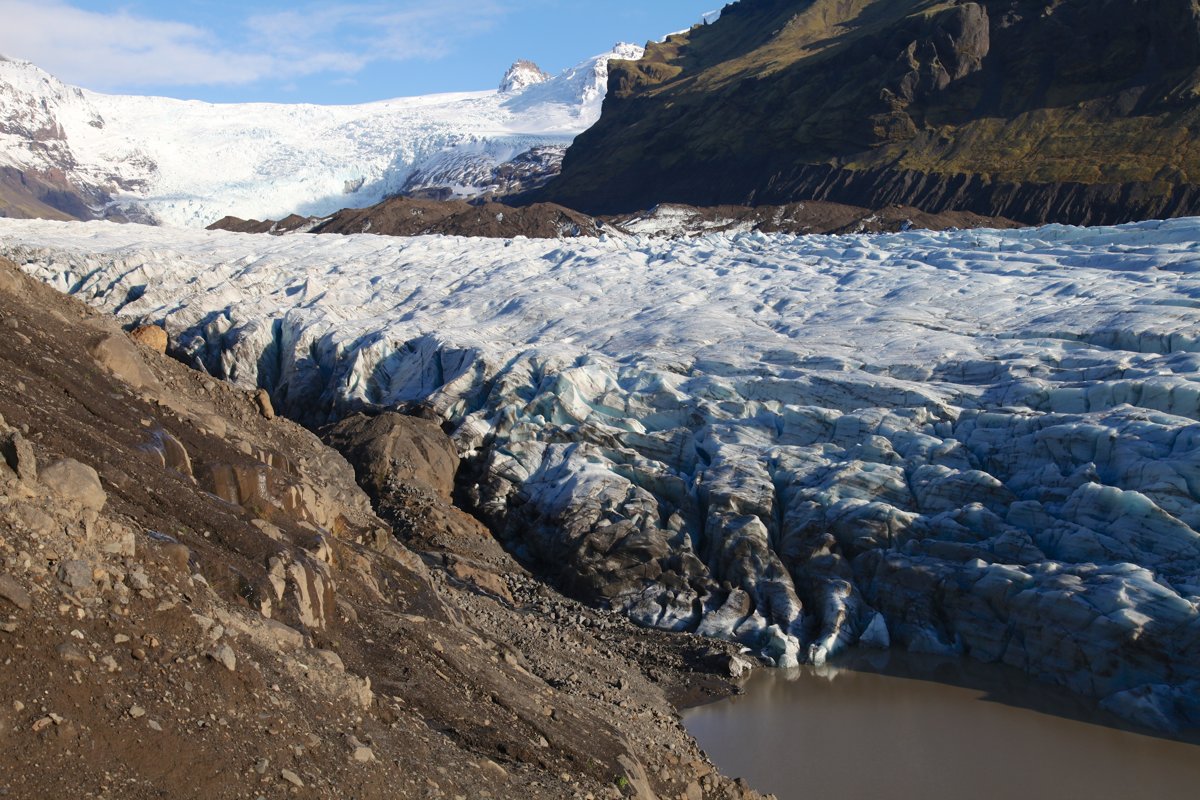 Our last stop is Fjadrargljurfur canyon (no, I cannot pronounce it... i copy-pasted it). On our way we take with us hitchhikers, a lovely couple who have actually worked just next to the canyon, so we get first hand info - the best is to see the canyon from the bottom (turn left from the main road), including the bridge, and then walk up and down.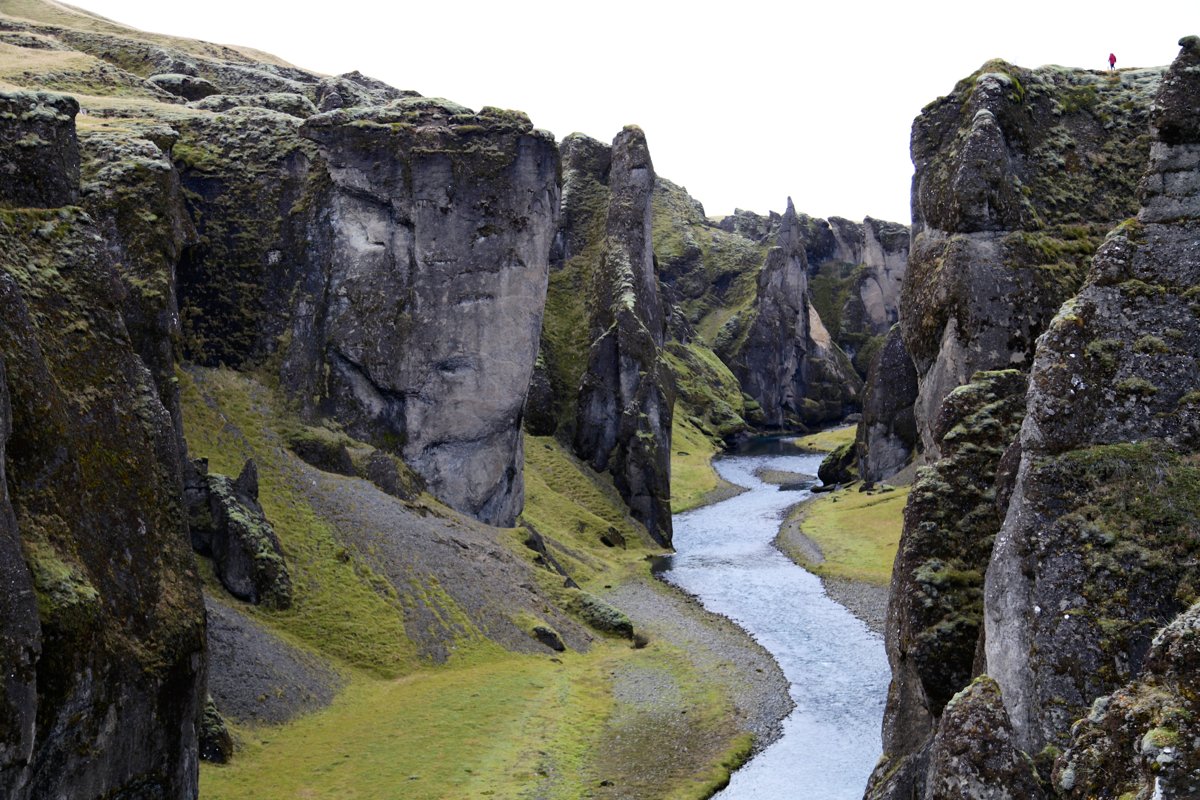 As we are at the canyon at the sun set, there are almost no people and it feels very remote. What is left is a 2 h drive to Hellatun Guesthouse to soak in a hot tub with some prosecco and a hope for northern light. Well, again, not this time.
On our last day our plan is the blue lagoon and anything interesting on the way.
We visit the geothermal area of Krysuvik - a nice walk with not so nice smell... ha ha... but the colours are incredible.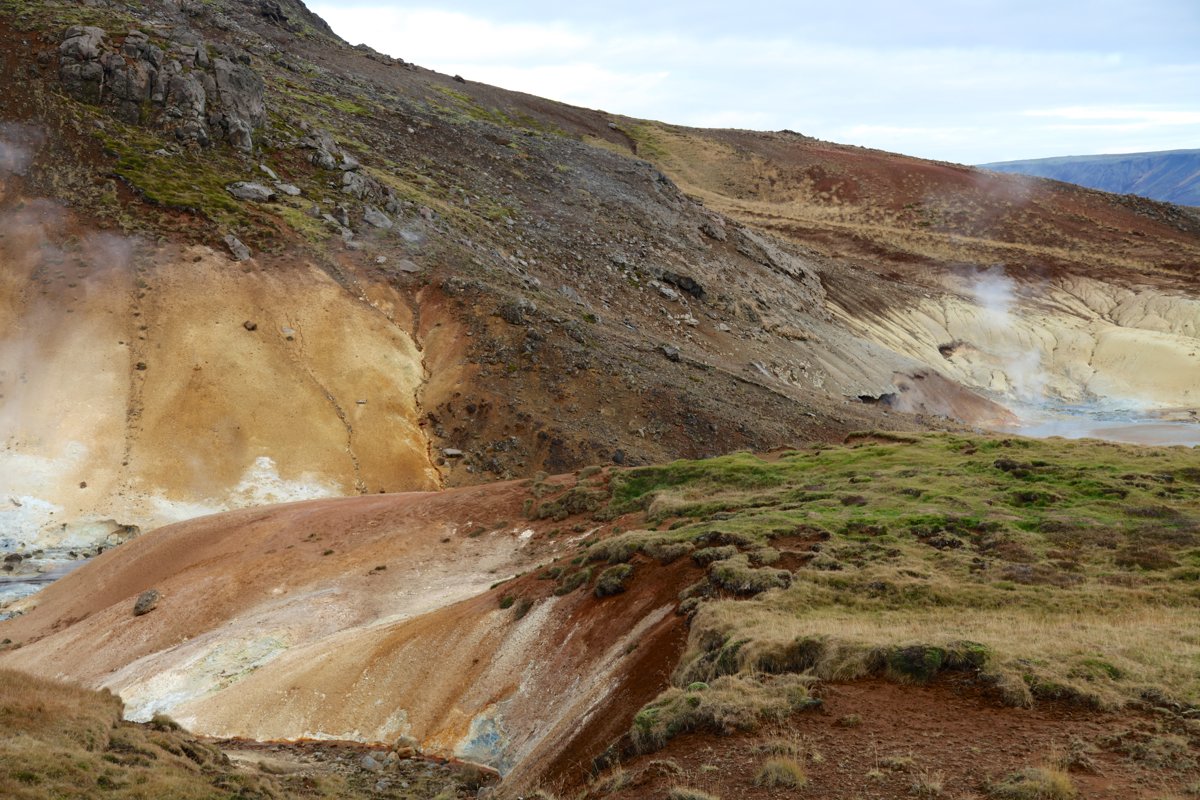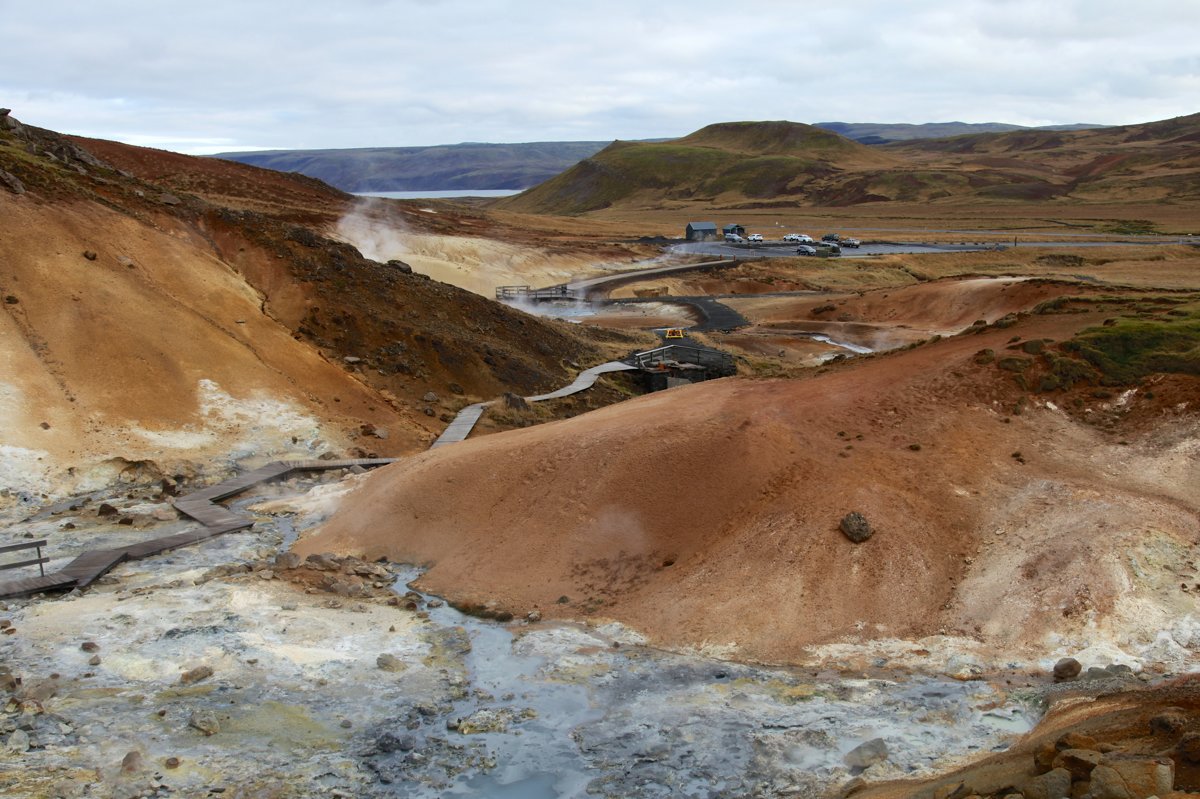 We also stop at the Strandarkikja - a lovely little church at the coast. The door is open but we don't see anyone, so we just explore it by ourselves.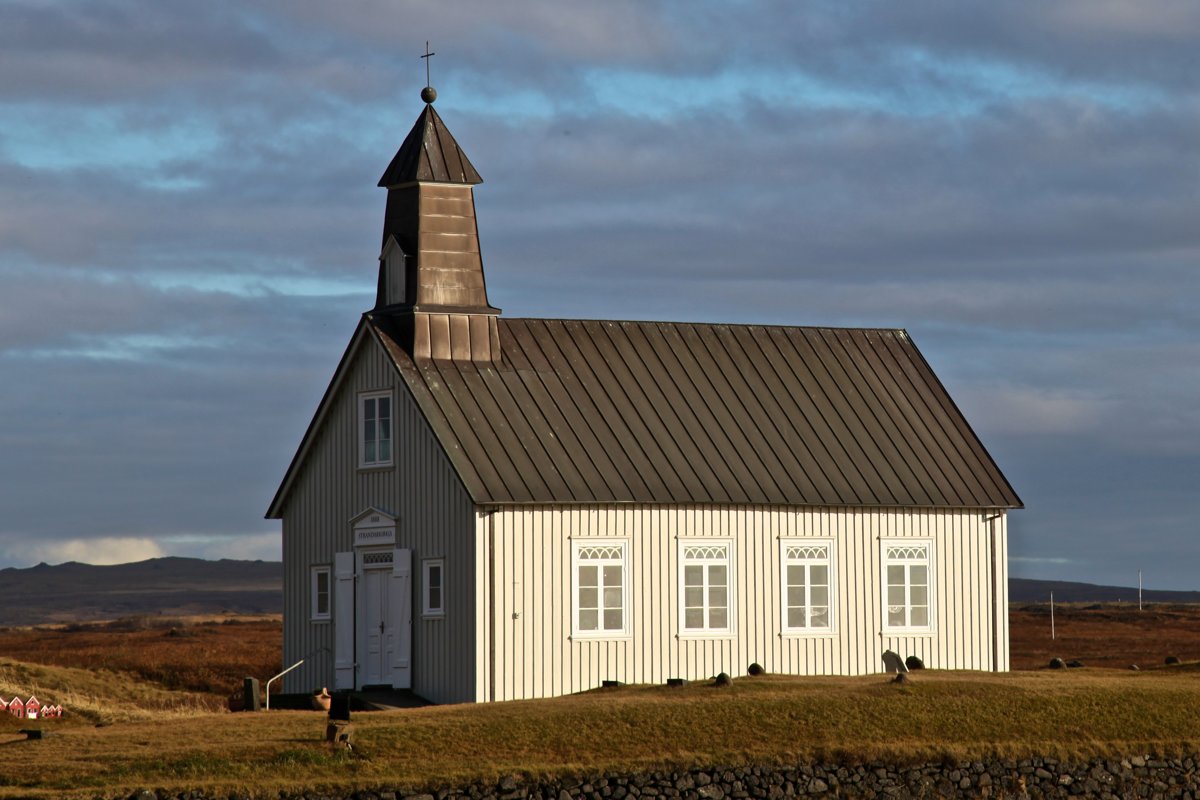 The biggest mystery of all the times - what are these small houses? We had different versions - it's houses for mini trolls or it's houses for dead cats... or... well, if you know, pelase leave a comment in this blog post.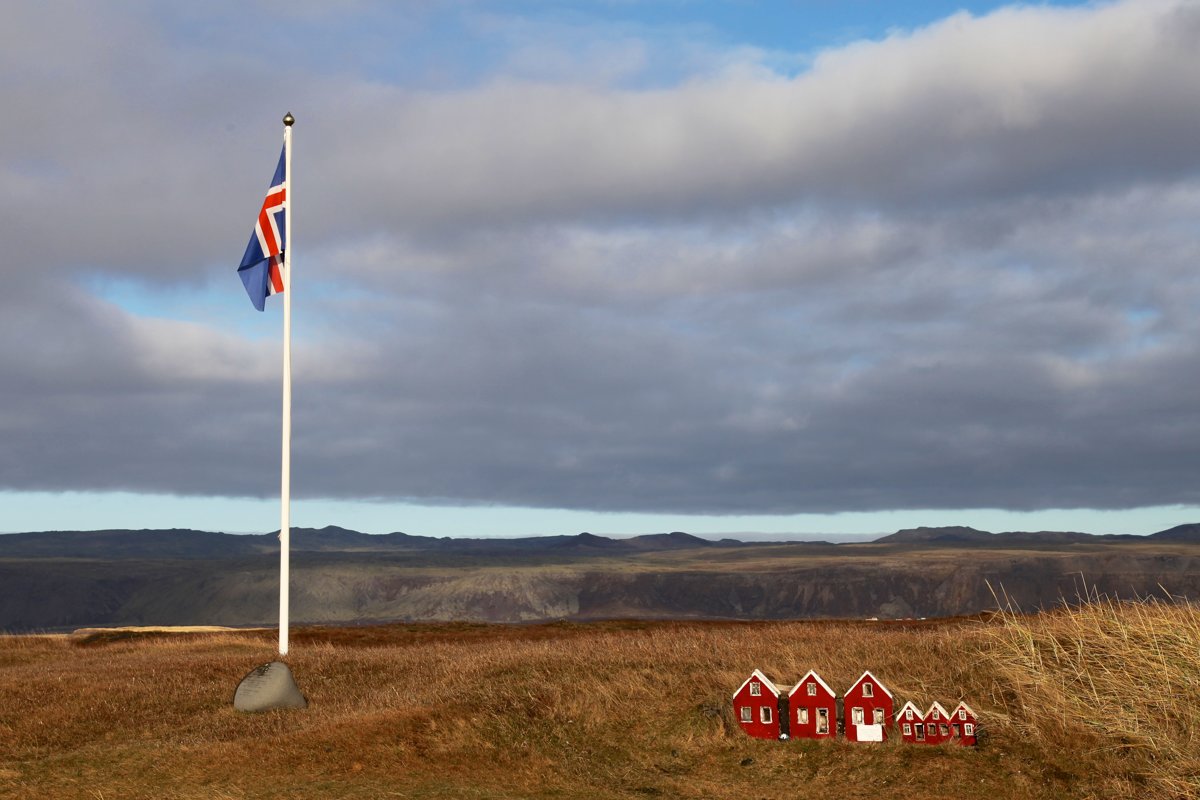 We had many doubts if it was a good idea to go to the blue lagoon or not. Clearly it's a tourist attraction but the overall idea seemed very appealing. Well, for 90 euros it better be good. And we did enjoy it fully. We arrived around 3 pm and stayed till 8 pm, we could see how gradually it became darker and we even felt the magic of the place. The important part is to find a nice calm corner where you can just enjoy the lovely water. The saunas are nothing special, the interior is not well thought over, but the water and the service is great. A glass of prosecco and face mask was a nice touch. You can see the blue water also when not going to the lagoon itself. It was not that crowded and is definitely an experience to try. Once. :)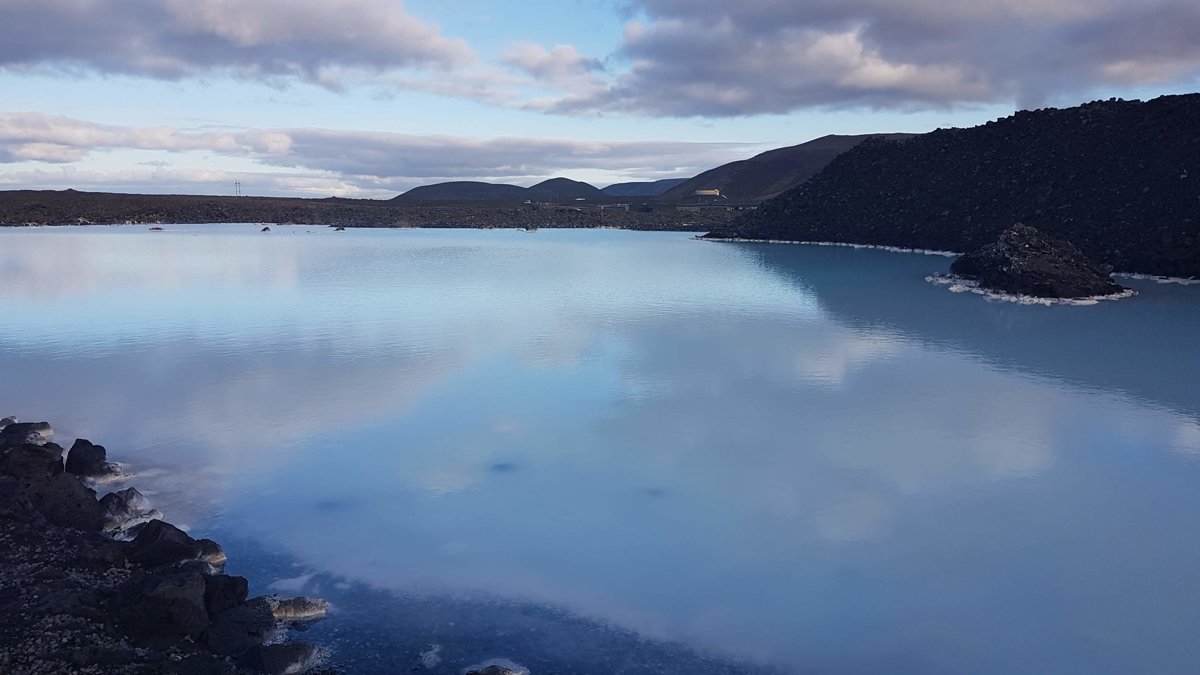 On our last night we had a really nice dinner (Icelandic lamb) in Kaffi Duus in Keflavik. Our plane was super early, so we chose the most simple hotel to stay - Bergas Guesthouse 5 min drive from the airport. The airport itself felt a bit messy, loads of planes leaving the same time and disorganization for luggage drop-off. But Ok.
Iceland was definitely one of the most beautiful trips ever done. The nature is simply stunning. We were also very very very lucky with the weather. So 8 days of no rain but no northern lights. Something to come back for.
Observations:

- Almost every supermarket has a small dining place, there is a microwave and you can refill your coffee cup as many times as you want.
- The costs are around 20% higher than in Belgium. If you eat out, it's a considerable budget but if you cook yourself, it's Ok. Most of the hotels and air bnbs have kitchens. You can buy alcohol only in special shops (closing at 19:00). Strong drinks are super expensive, a bottle of rum was around 60 euros, however you could get some wine and prosecco for around 10 - 15 euros.
- Most of parkings are for free except next to Seljalandfoss and Svartifoss.
- Skyr (Icelandic yogurt) is a real discovery - protein bomb that will keep you active the whole day.
- Iceland has a very specific way how their windows are made and also how to lock doors.
- Their cinnamon rolls are amazing, the best in Braud & Co in Reykjavik.
- The nature in iceland is very fragile and with all the millions of tourists the ecosystem is really in danger, so don't be stupid and don't behave like Justin Bieber (a hilarious article).
- You can claim back your VAT before leaving the country, just prepare the form upfront.

- You fill find lots of Chinese souvenirs everywhere but if you want to find something from Iceland and practical, get salt - lava salt or just salt in any supermarket.
- Car rental in October was totally affordable. For the ring road there was no need of 4x4. The road is easy to drive when not windy. However, you have to be very careful when approaching the bridges as only one car can pass and sometimes some idiots break the last minute.
- If you want to get a real Icelandic jumper, don't buy Chinese products, even if they are made from Icelandic wool. You will get a jumper with a story from the handknitting association but yes, it's expensive (around 180 euros). Remember about the VAT, so you will get some money back! You can get nice deals also in the market and in the red-cross second hand shop. I also saw nice handmade jumpers in the cafe next to the Vesturhorn.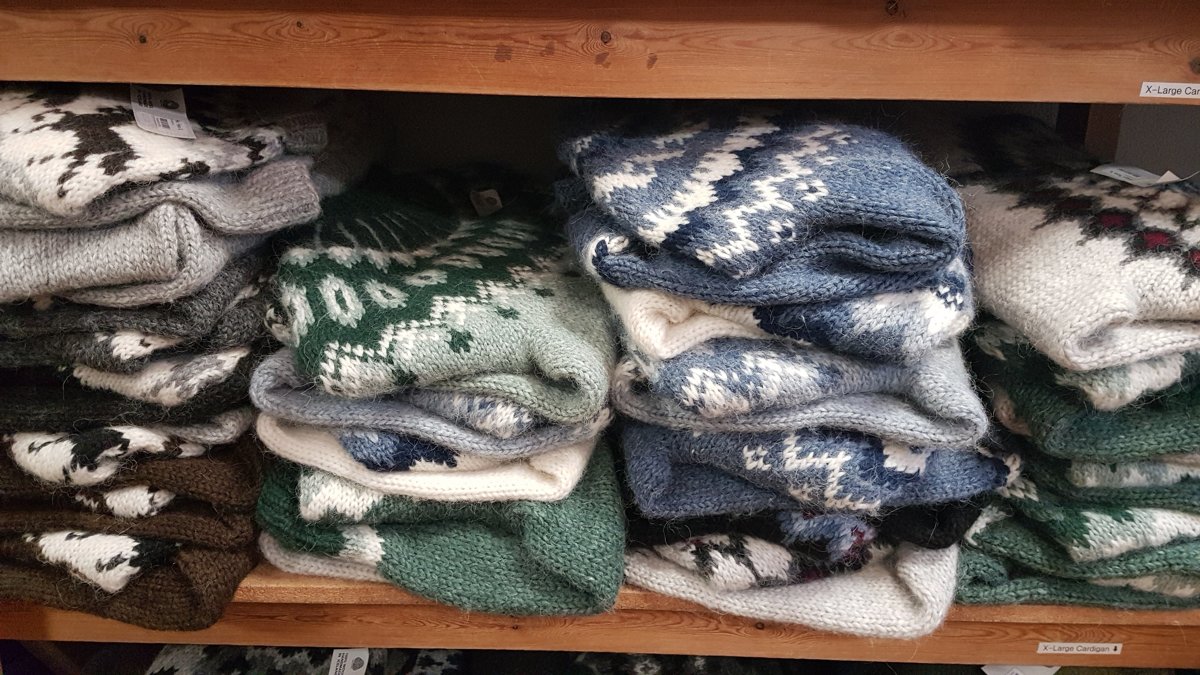 No comments
Leave a reply