Azores - Sao Miguel - Adventure in the middle of the ocean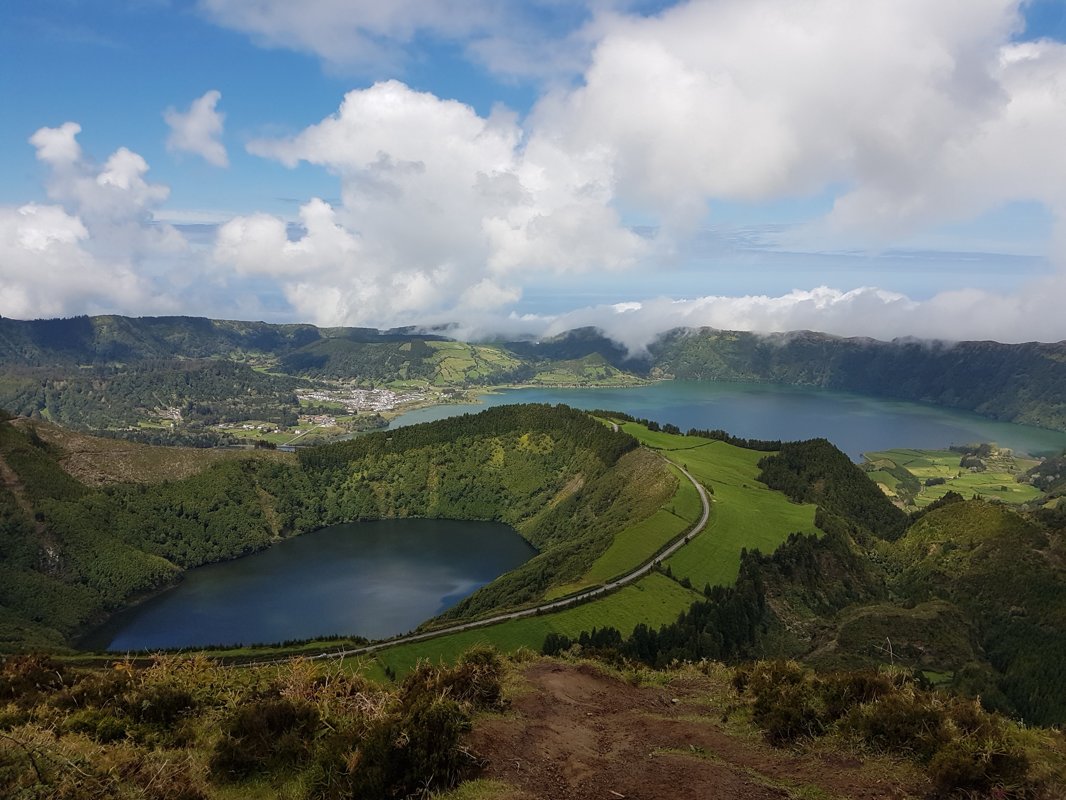 Azores, Portugal, seemed to be a very far destination until I saw a post of a friend on Facebook. Hmmm... It turned out that since 2015 Ryanair is flying to Ponta Delgada in Sao Miguel and it's very easy to get there from Lisbon. After a short research it turned out that indeed, it's quite easy to go on holiday in the middle of the Atlantic ocean. After one million searches for the cheapest tickets I finally found a good combination - Brussels - Lisbon (also looked for Porto) - Sao Miguel for less than 200 euros both ways. Easter also seemed to be perfect as timing.
---
They say that Azores is the European Hawaii. No more arguments needed to explore this hidden gem.
Our trip started with a cancelled flight from Lisbon to Ponta Delgaga. But thanks to EU regulation protecting travelers we did manage to get to Azores with just a day delay (I will spare you details while dealing with Ryanair... oh... my... Just a small detail that we managed to see Porto by night and had a great (nooooooot) trip of 4 h in a bus....).
We chose to stay in Ponta Delgada as we thought it would be the best base to explore the island. And it was perfect. In Azores you need to watch the weather all the time to decide where to go, the southern part is slightly more sunny than the north but you never know. We were quite lucky with the weather, some mornings were more cloudy but we never had any rain.
I have to admit that the island felt bigger than I had imagined and apart from wonderful views on the ocean and super quality of air, I did not have a feeling that we were somewhere very very far. They have everything there :) Even Zara... and United Colours of Benetton ;-)
Ponta Delgada is a beautiful city, full of typical architecture and a quite nice marina. And if you wish - even a shopping centre and a big Decathlon. Note hat there is no bus from the airport to the centre, so you have to take a taxi which has a fixed rate - 10 euros.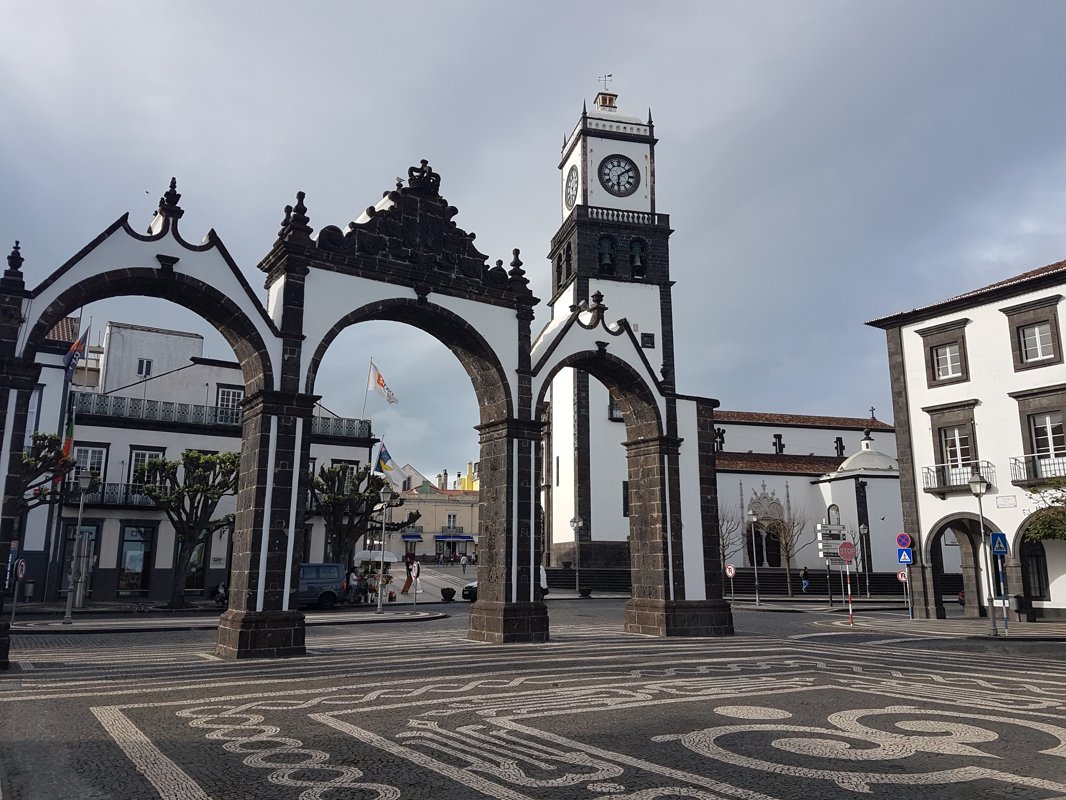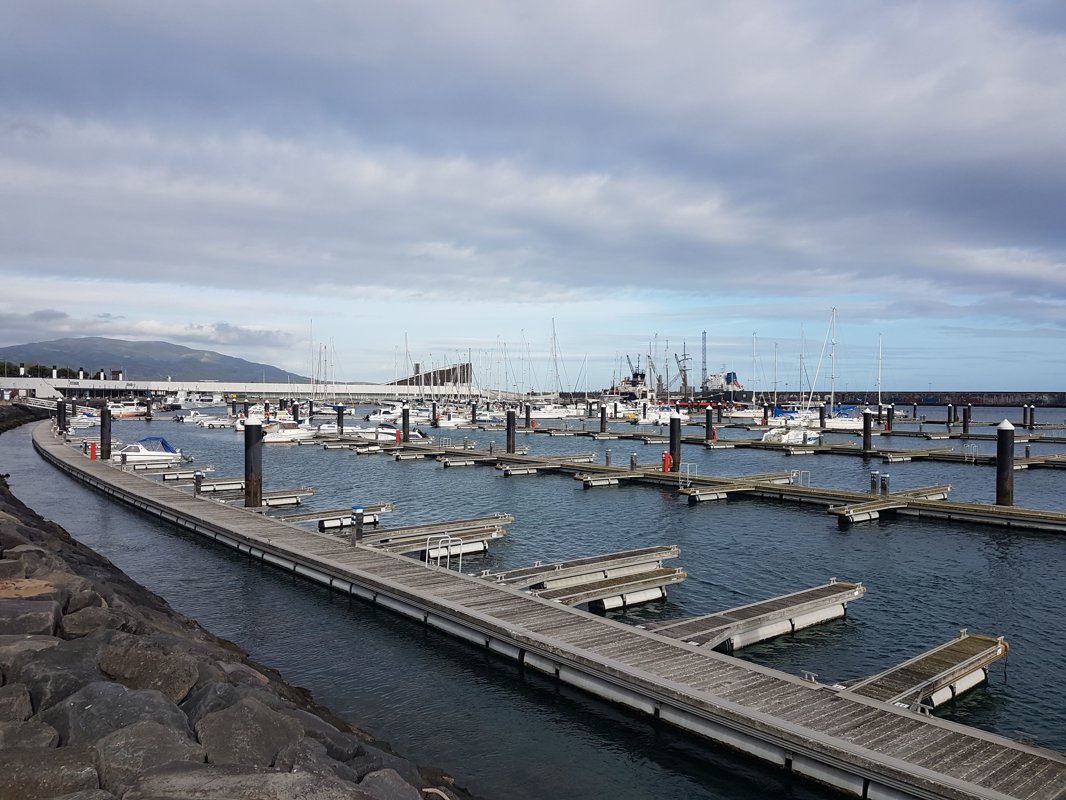 We stayed at Casa do Campo de Sao Francisco to have a feel of local architecture and try all the local products. Theresa, the owner, is very nice and would explain in details all the products, so you can try local bread, cheese, amazing bananas, pineapple, local jams etc. It's like you would be on gourmet tour just that it's a breakfast. :)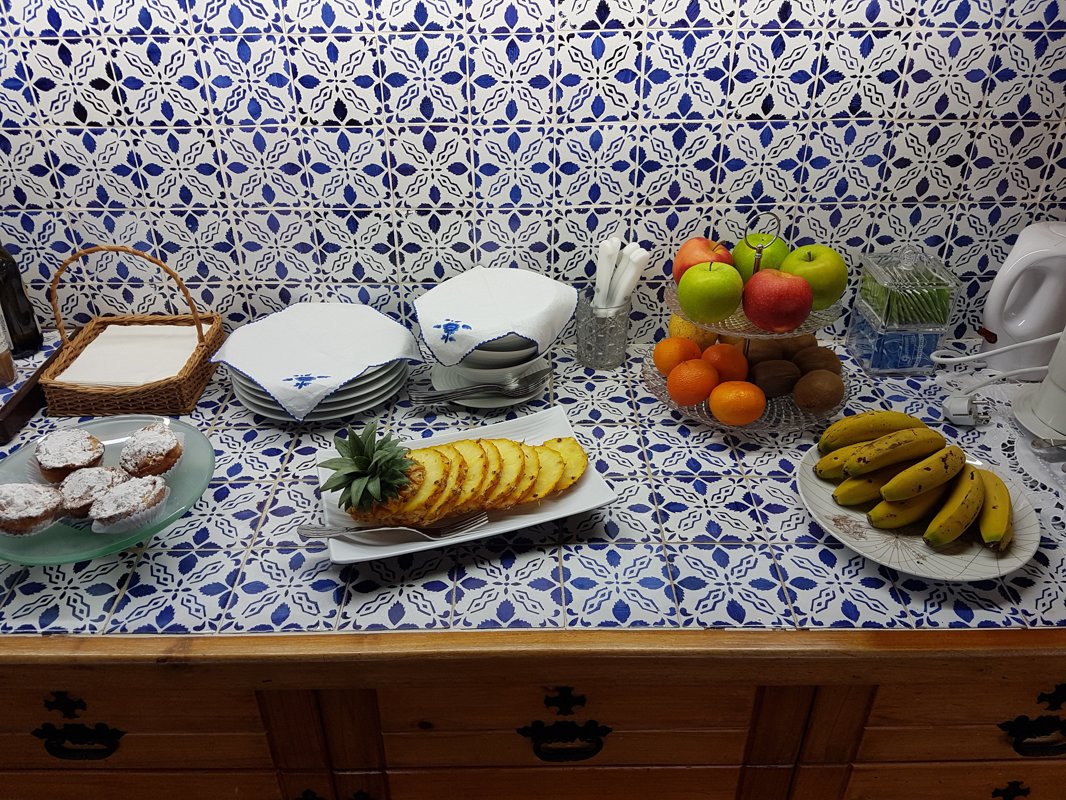 The first day we just wondered around the city to feel the vibe. We visited the market (always a must for me, I believe that's where you feel the real atmosphere in any country) and tried local food and wine (so goood).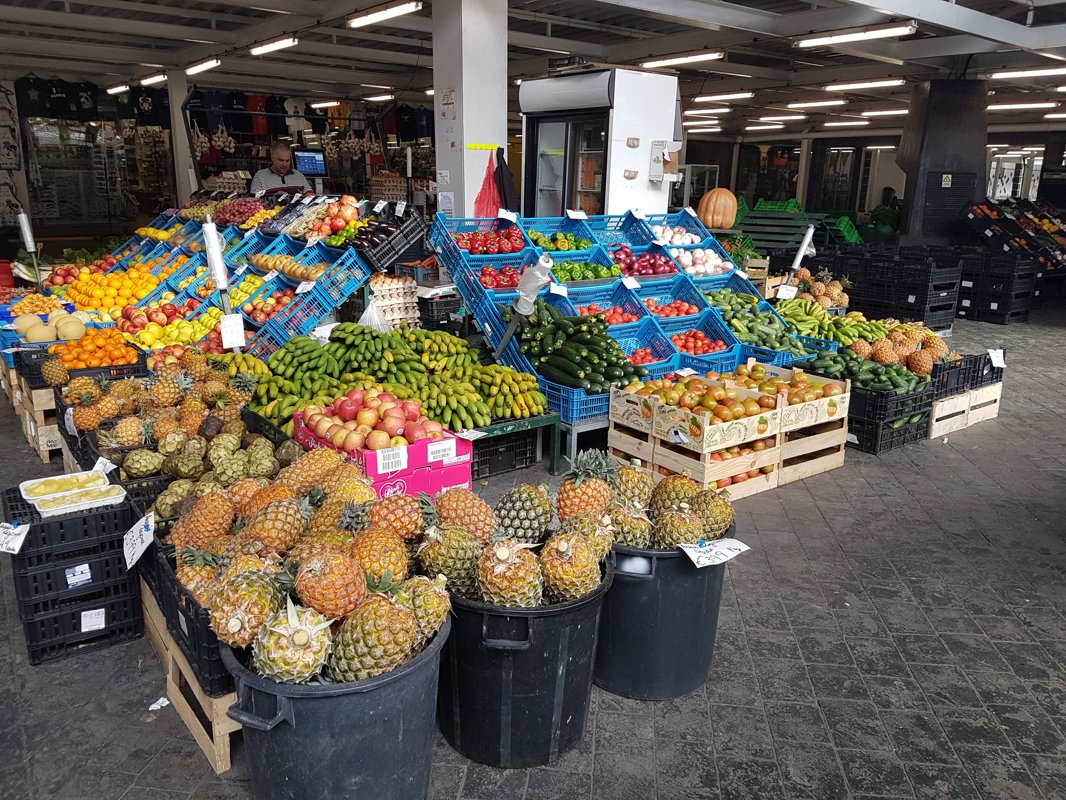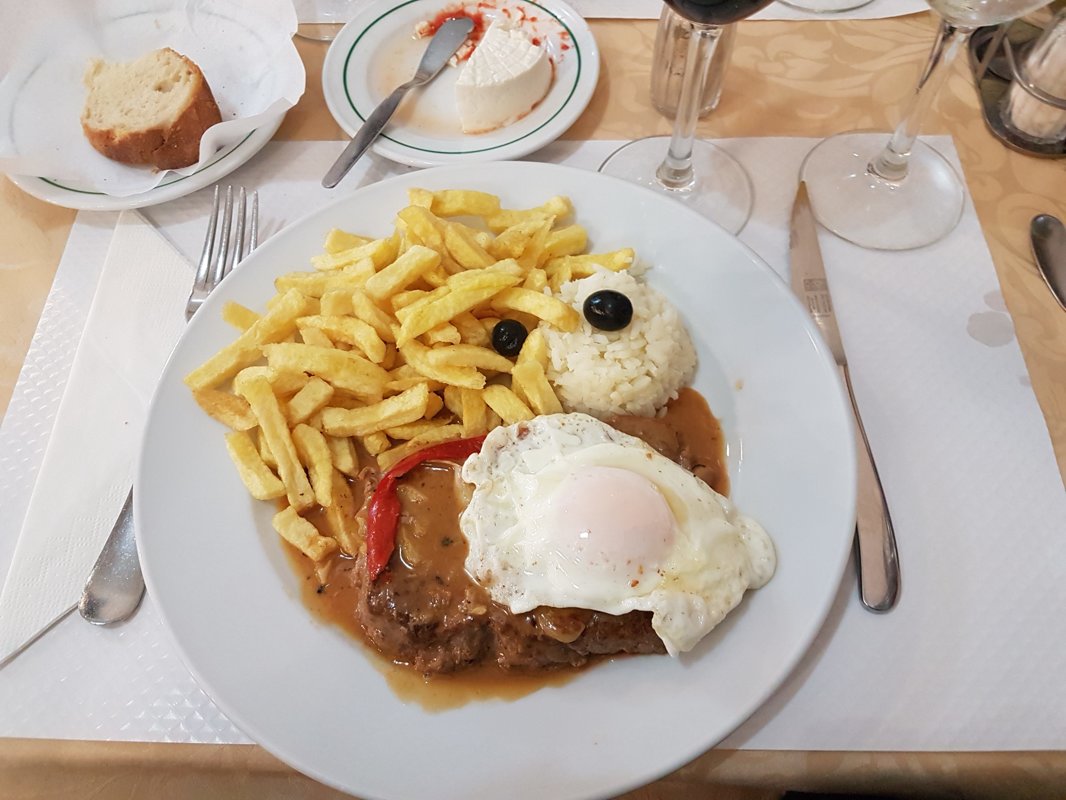 I have to admit that windows of shops were a bit weird... sometimes the combination of things you can find in one place was surprising.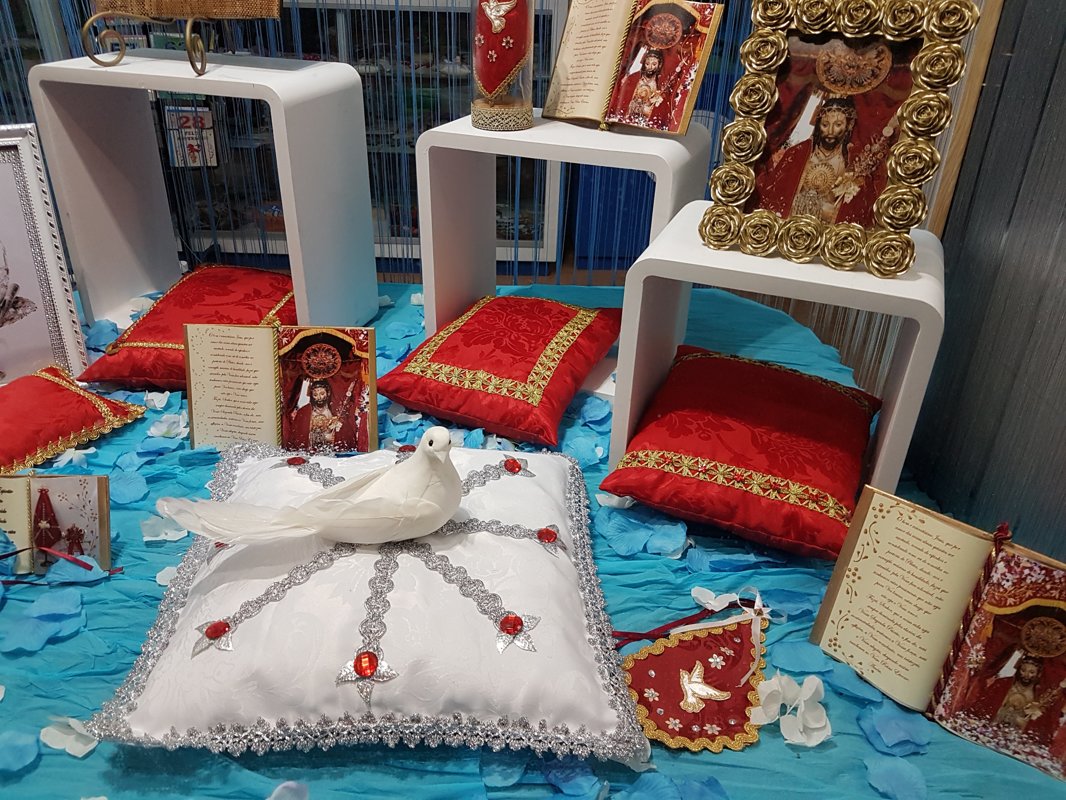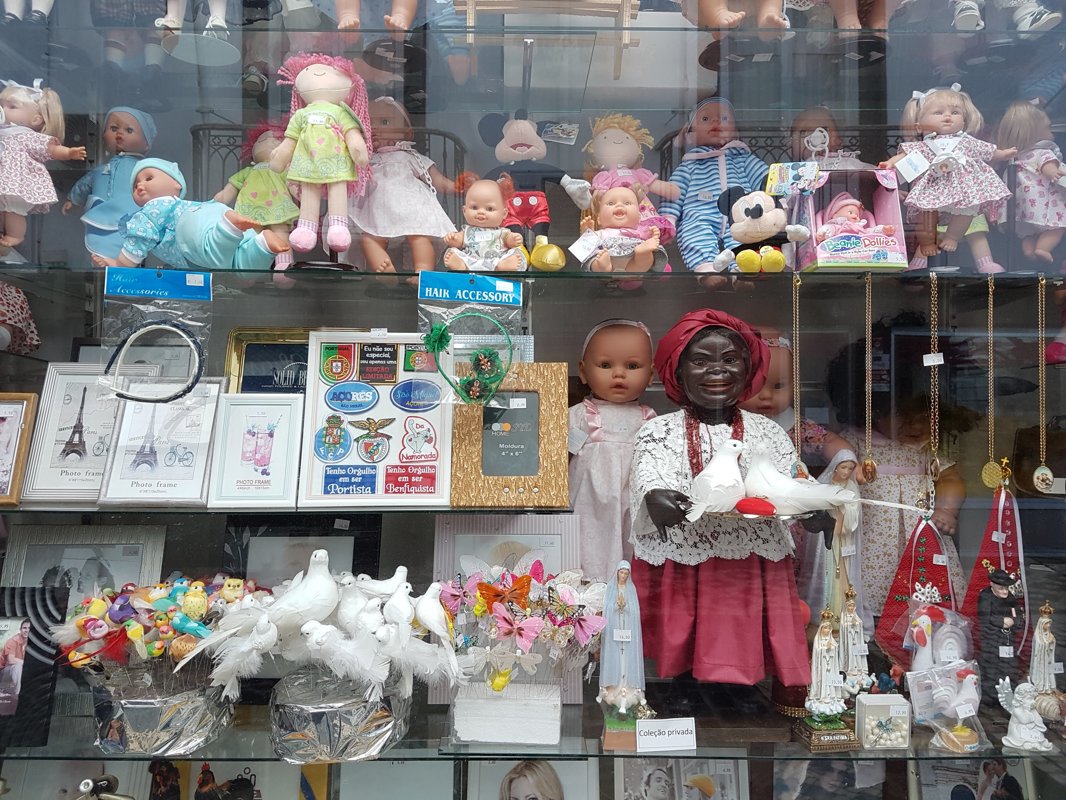 But it is not for shopping that we went to Azores, it was for the nature, of course. We had rented a car for 5 days and it was perfect. Of course, there was a mess with the car's reservation (have you ever received a car you booked in any southern country? :)) But instead of Fiat Panda we got Open Corsa turbo, so cannot really complain about Auto Ramalhense. We chose them as you could park for free the car in their garage over the night.
Our first surprise was the quality of roads, the highway is around 15 years old and of a very good quality so you can cross the whole island very easily. Our first stop was Lagoa do Congro, it was supposed to be a hidden gem, it was quite hidden, when we were there, there were only 2 people but when we left, much more people were coming. Note that you can drive till the notice where the lake is located and then it's a 20 min walk down. The road was pretty bumpy and many people parked their car long before the parking spot, so don't be scared, just go :) The atmosphere on the walk is amazing, it is like tropics but a bit colder :) Vegetation is so lush and green and it's very humid.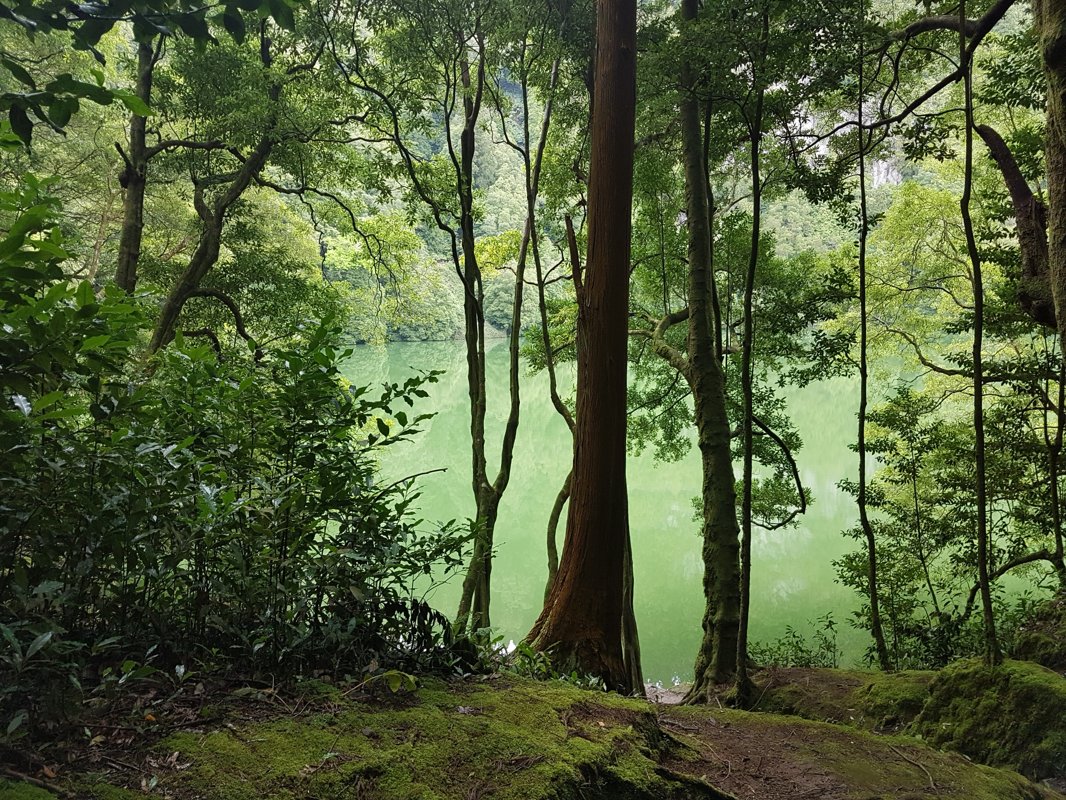 It's better to have walking shoes but sneakers will do as well.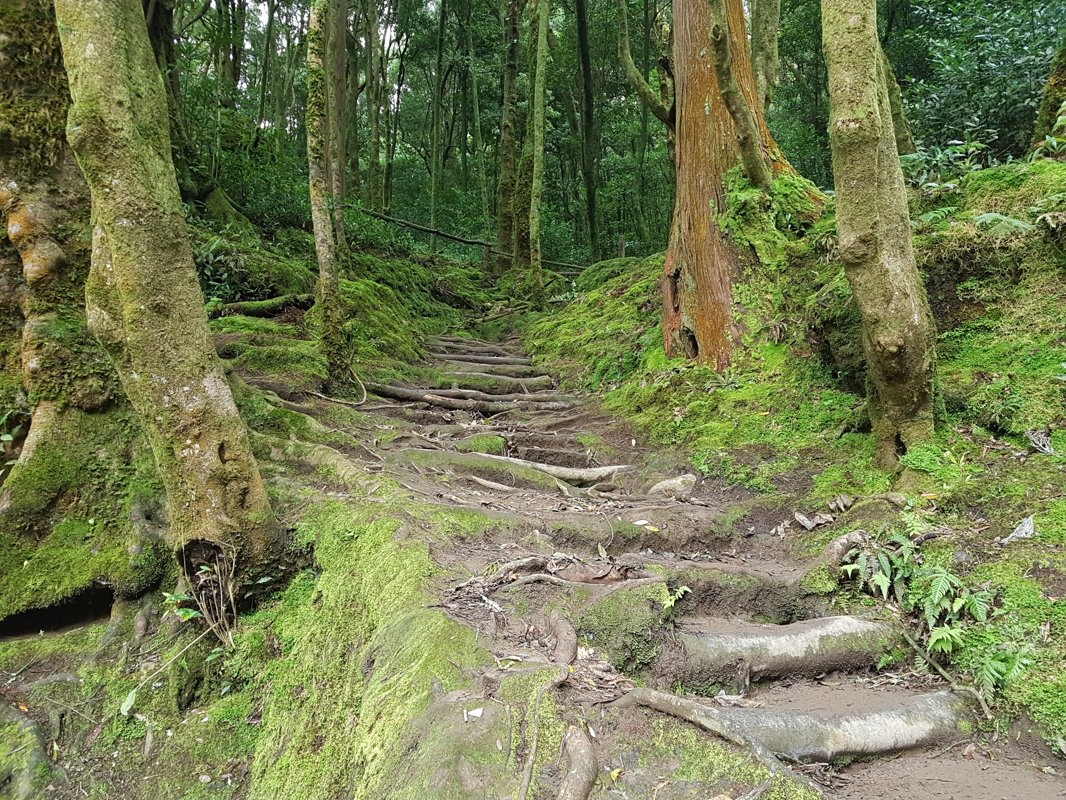 Our next stop was the natural park of Ribeira dos Caldeiroes. Another paradise to enjoy the nature. I was also surprised that for most of the places (except in Calderas next to the Furnas lake), the parking was for free.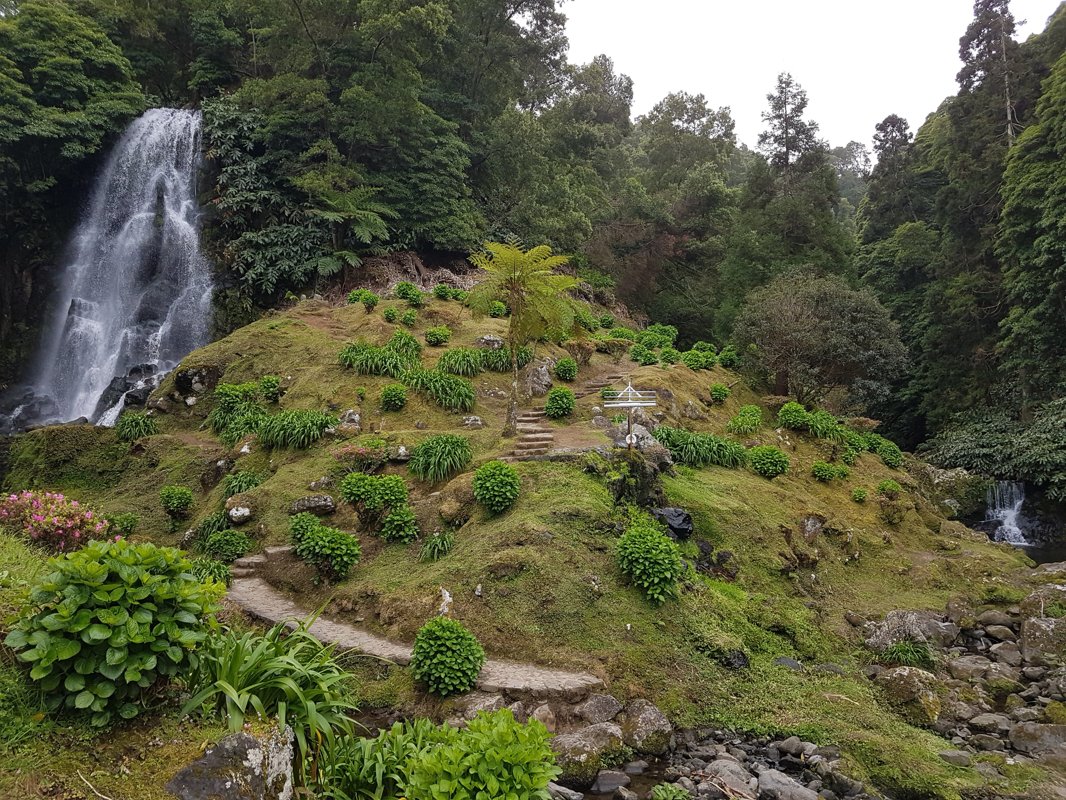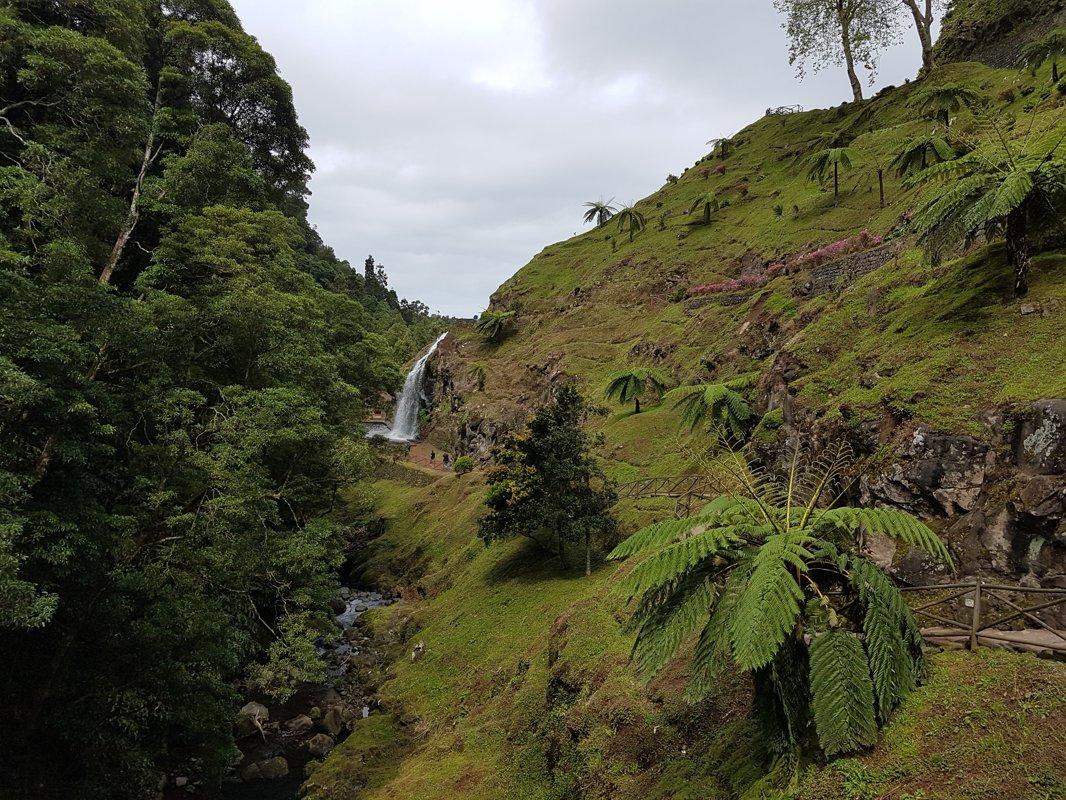 It's a perfect place for a picnic, so pack with you quejadas and tasty bananas :)
You will see that around the whole island there are so many view points in each and every village, in the beginning you will want to stop at all of them but later you will skip one after another ;-)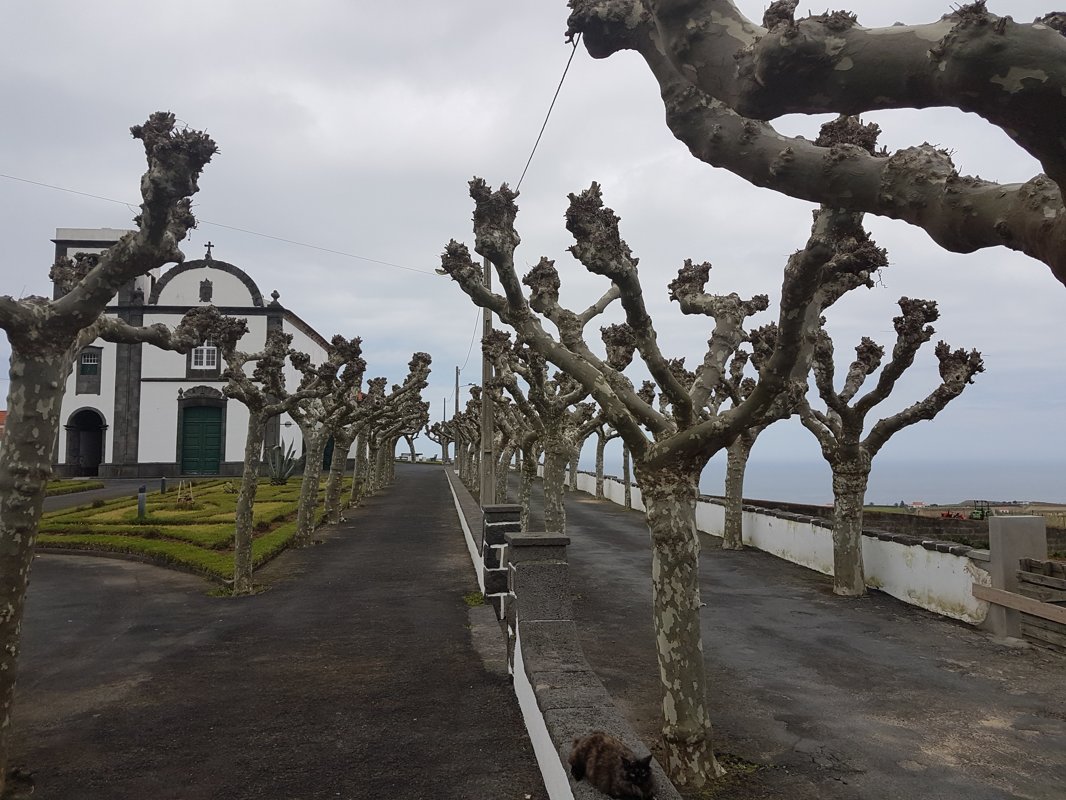 Did you know that Azores is the only place in Europe where they produce tea? Apparently the climate is favorable to grow the tea plantations. The oldest plantation is Gorreana where since 1883 three different types of tea is produced (from the same plants). There is a very nice explanatory video about the whole tea production process, you can see also the process in practice and wander in the tea plantation.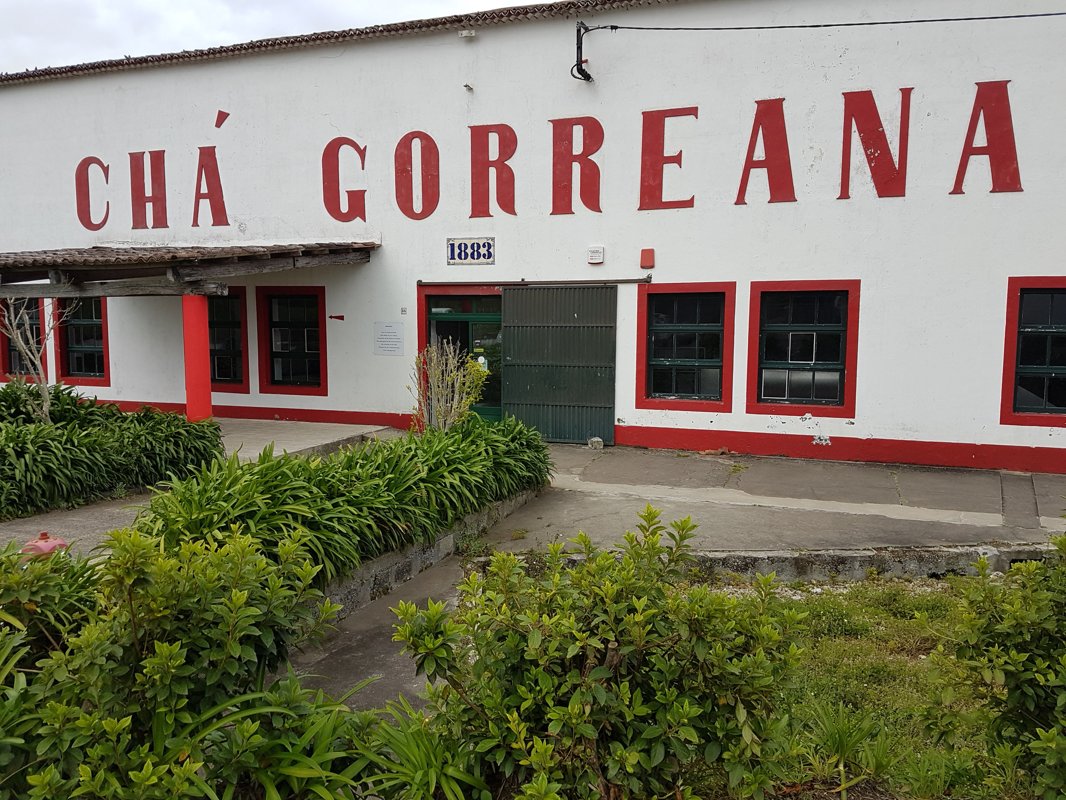 The owners had hired Chinese tea masters for 9 years to learn all the the making secrets. As I'm a total tea fan, it was like a candy land for me. And the scent! Wonderful! It also felt great to observe the process very close. And of course, I also spent fortune in the tea shop. You can sample the teas as well.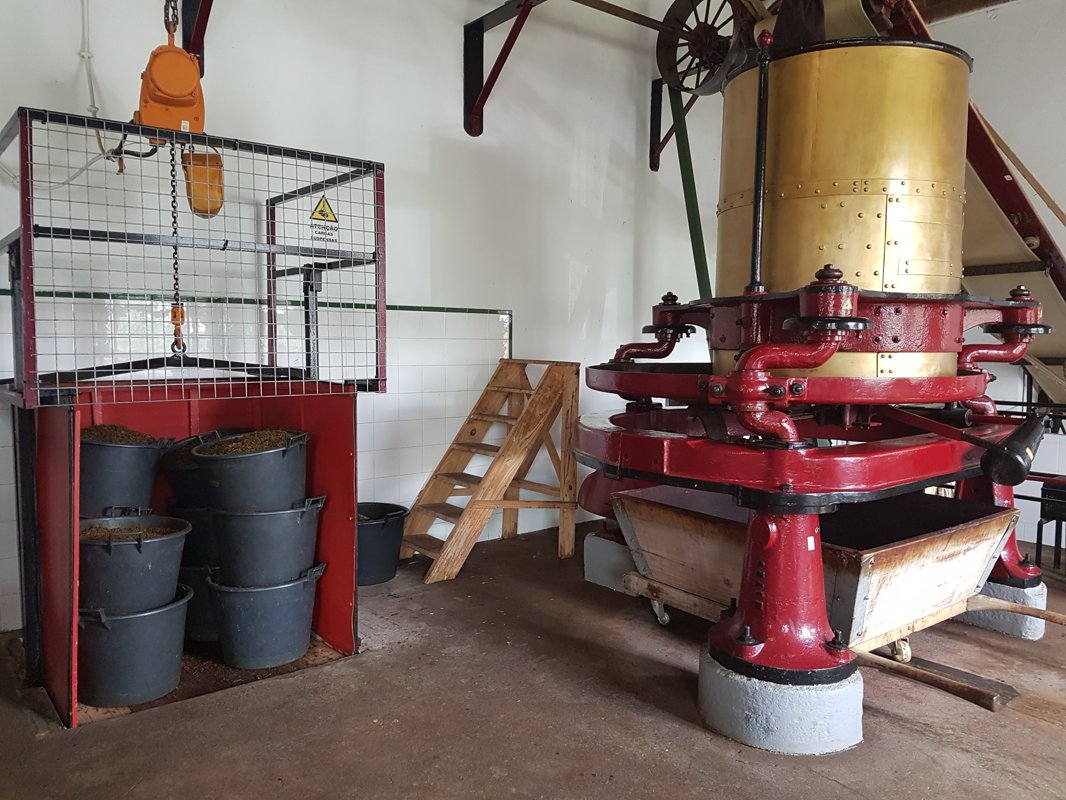 While in Azores, I was amazed how many EU projects have funded different entities in Sao Miguel. Money well spent, no doubt!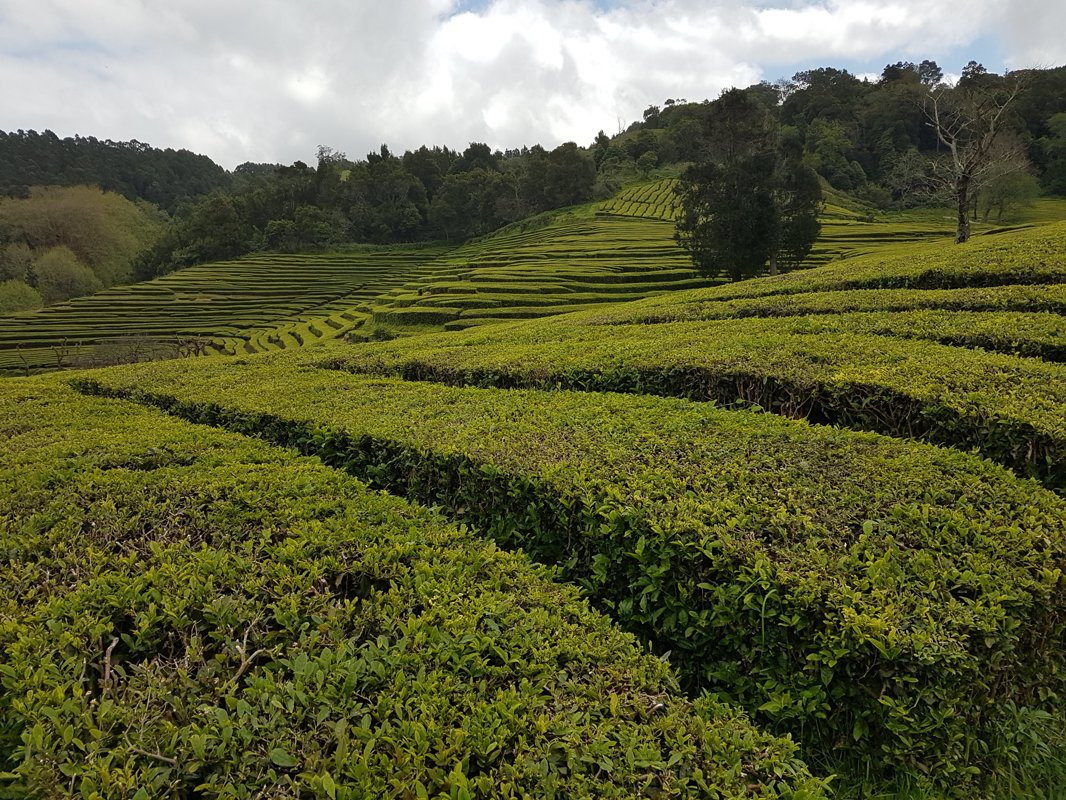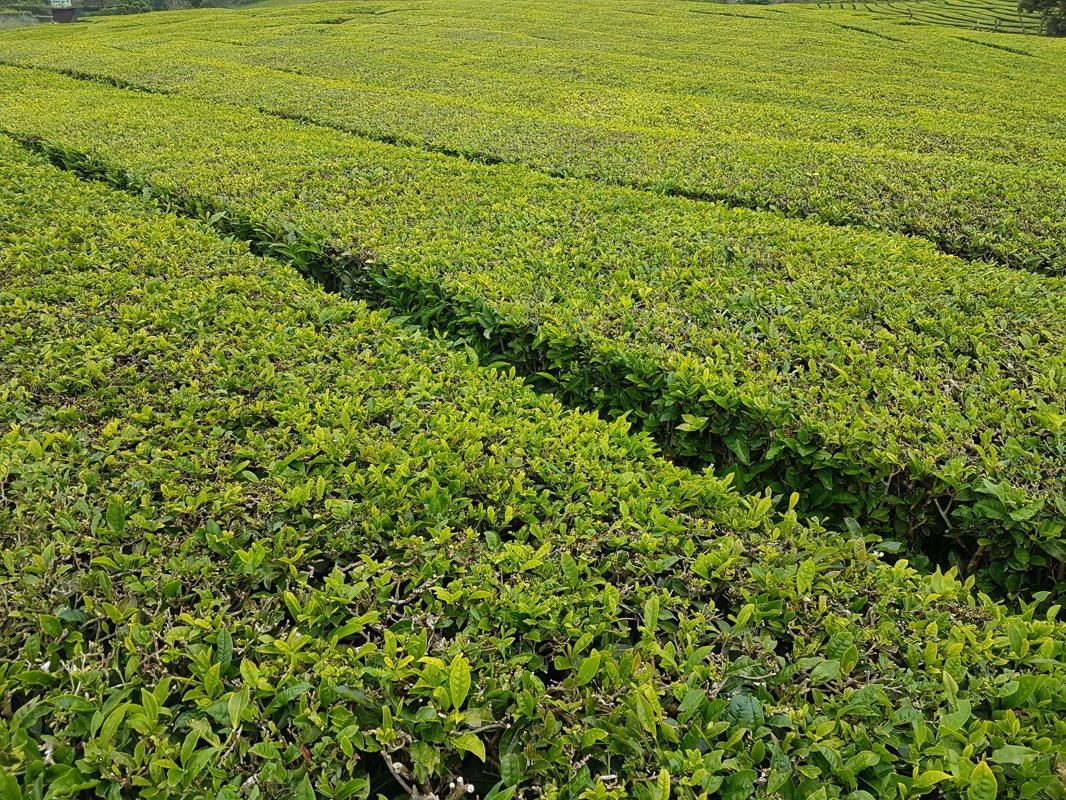 You can also visit Porto Formoso tea plantation, it is much smaller but you can get a tour where a person explains the process (in Gorreana it is a self-paced tour) but it felt less interesting and did not have the amazing scent of tea.
On the way we explored Ribeira Grande, a very weird village with weird people... but pretty :)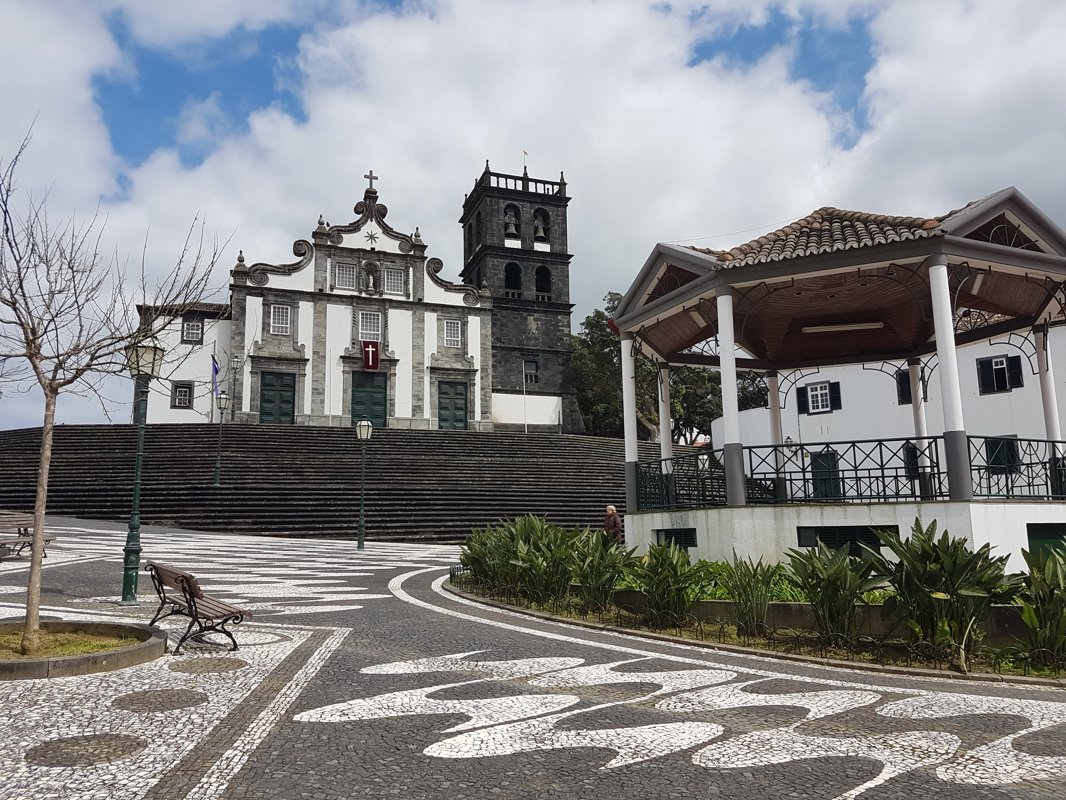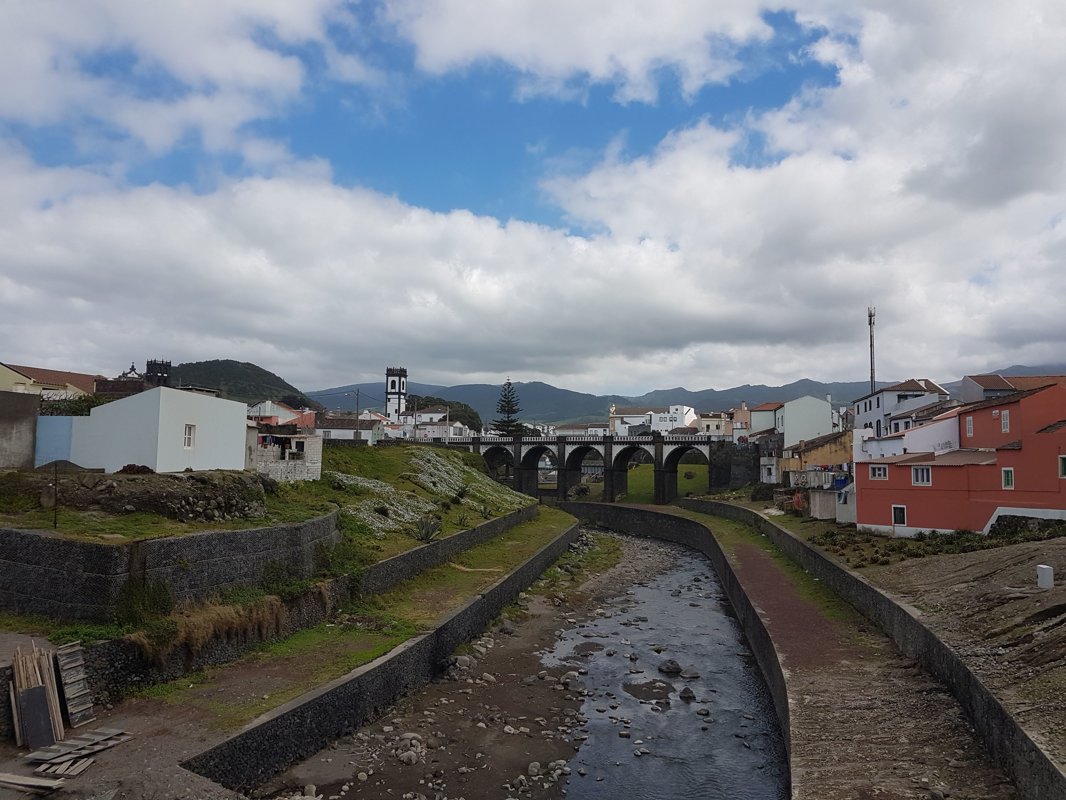 The trick with Sao Miguel is that you really have to follow the weather to know in which direction to head. And therefore the golden rule of tourists - if you want to be alone in cool places, go early in the morning while everybody else is sleeping, does not work. The moment "top sights" clear up, you are heading there the same time as everybody else... In the evening we noticed that the webcam showed no clouds in Sete Cidades, so we went there straight away. As it was quite late already, we just stopped at Vista do Rei. Indeed, the best view is from the abandoned hotel. And you can get in it pretty easily from the road on the side of Ponta Delgada (main entrance). The structure is still solid but you should pay attention, of course.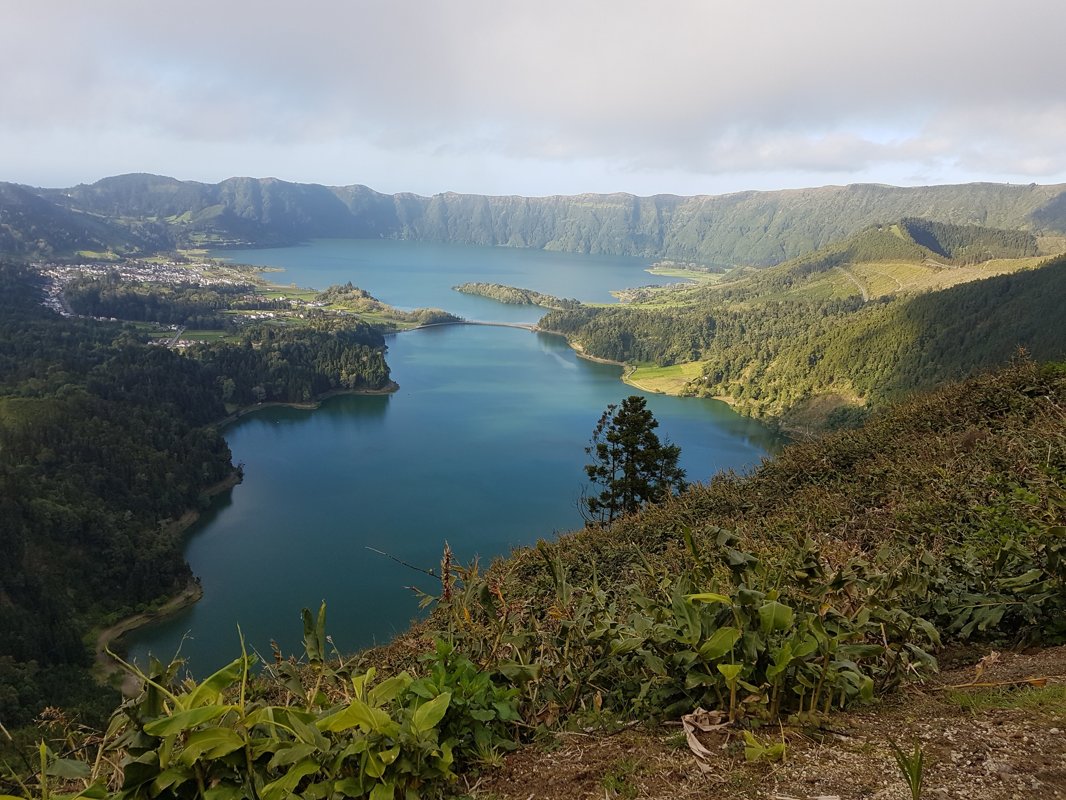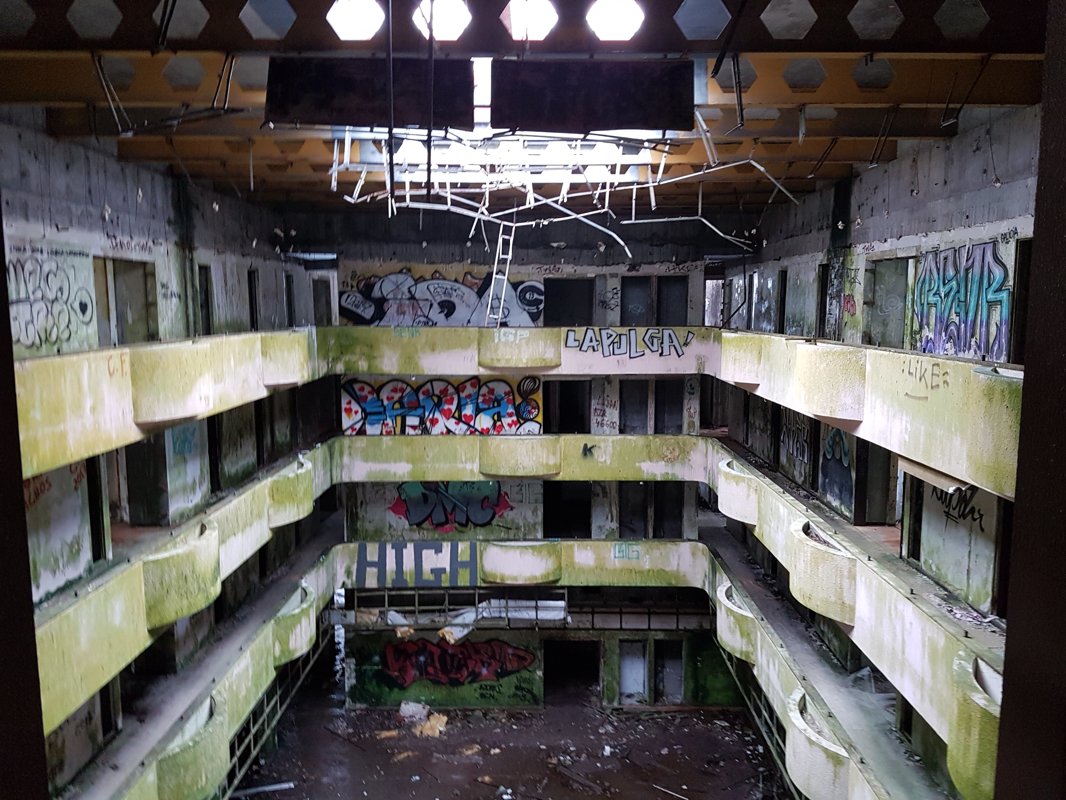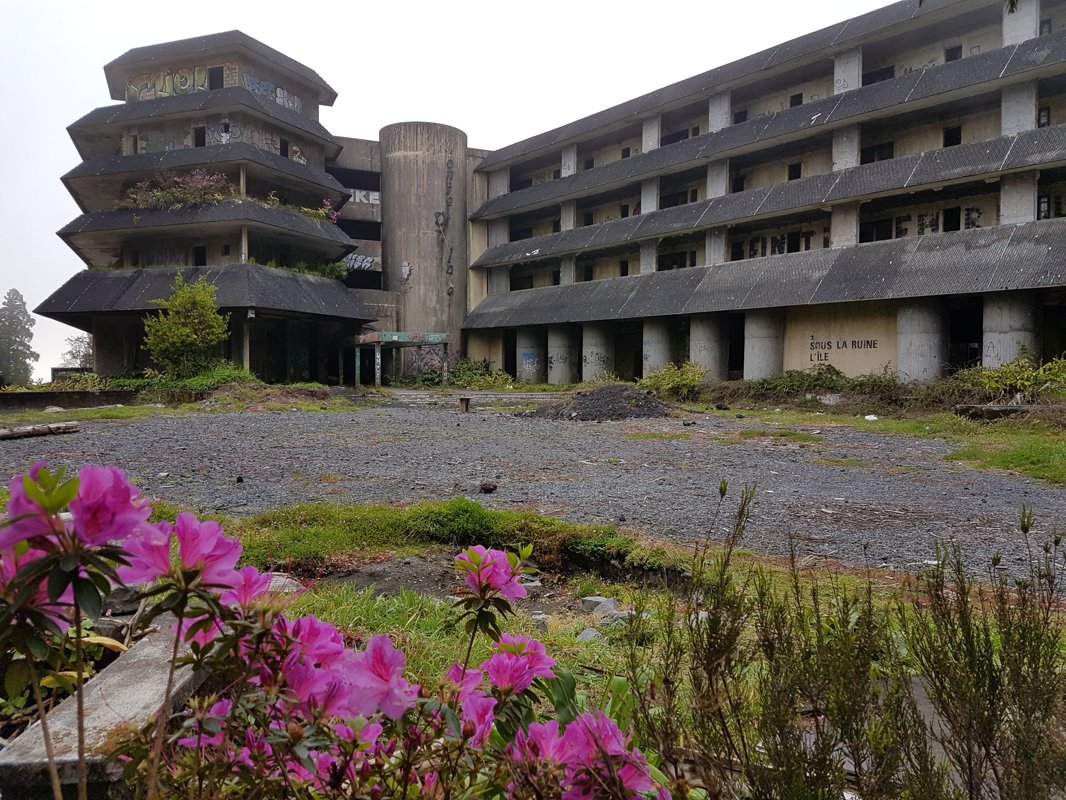 Lakes, of course, are the biggest attraction of the island, with their wonderful colours they attract thousands of people.
Lagoa do Fogo is another must. From the name it seems that it's the lake of the fog (and for the most of the time, I'm sure it is... ha ha...) but the real translation is the lake of fire. It is thanks to the eruption of the Fogo volcano Vila Franca do Campo was almost wiped out it in 1522. You can read more about the seismic activity of the volcanos on Sao Miguel here.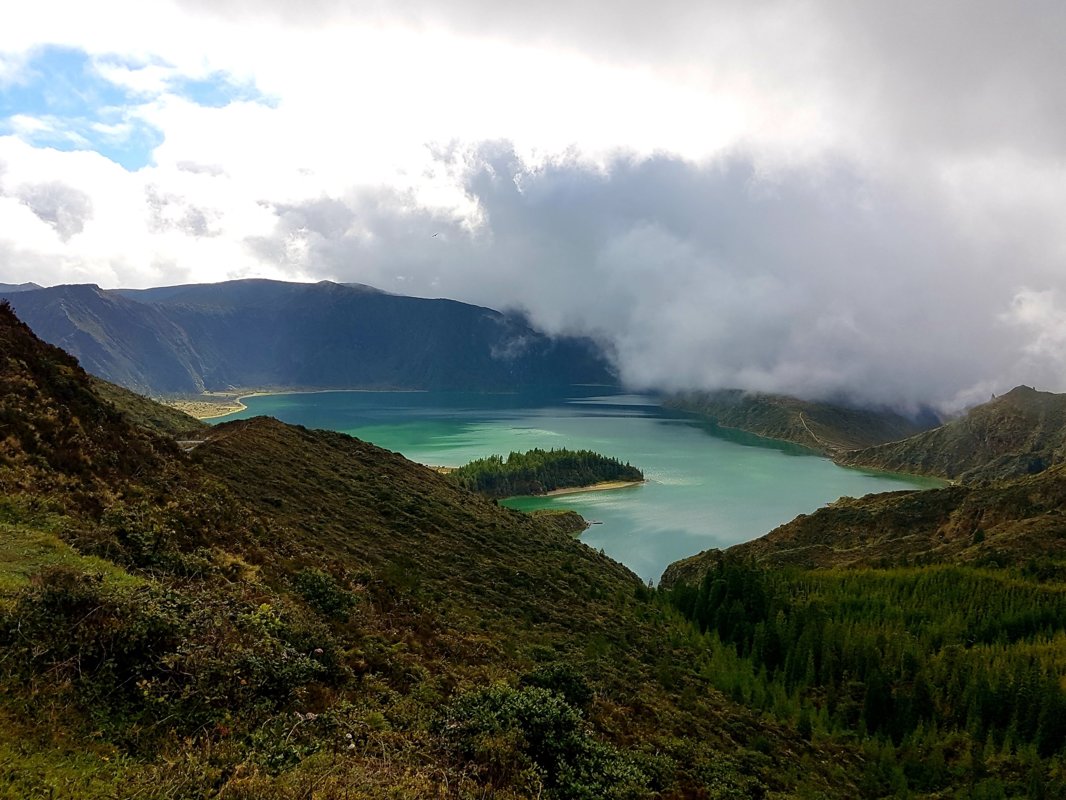 In Azores you can also taste the most wonderful pineapples and visit the pineapple farms. As the morning was a bit cloudy, we decided to visit one of them, there are two just at the outskirts of Sao Miguel. When we arrived there a tour bus with 1 million old American tourists had stopped there... well... we still managed to see pineapples :) It turns out that it takes more than a year to grow one plant.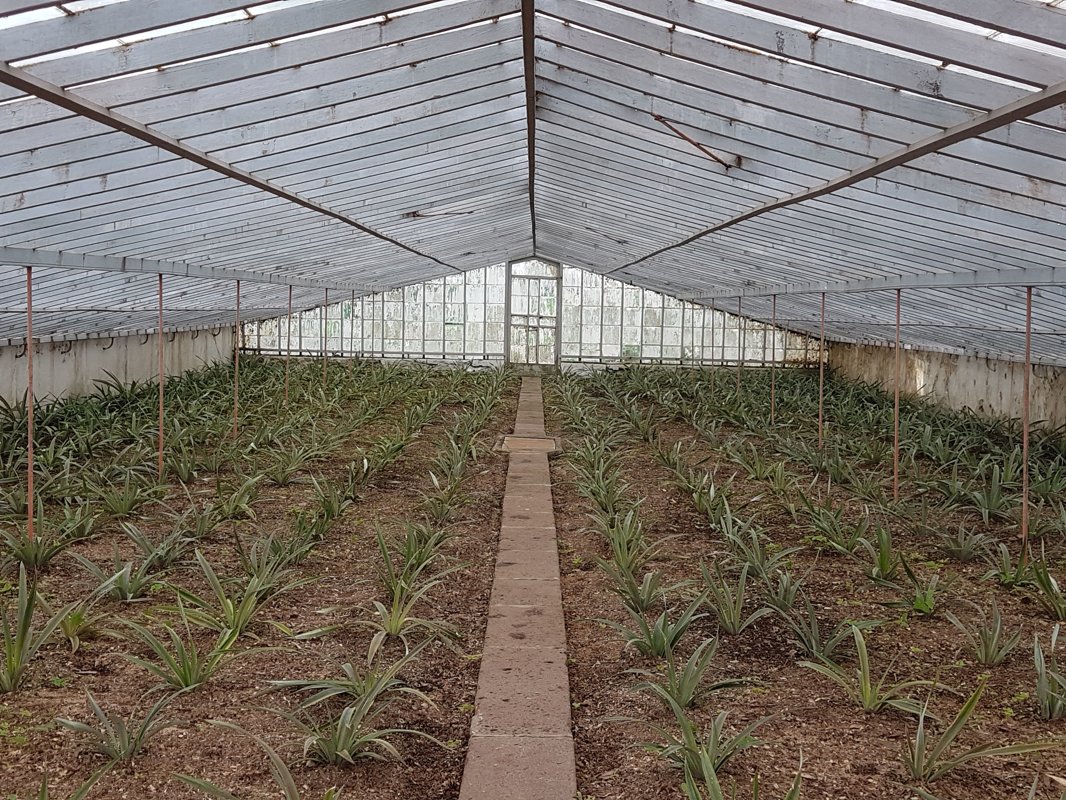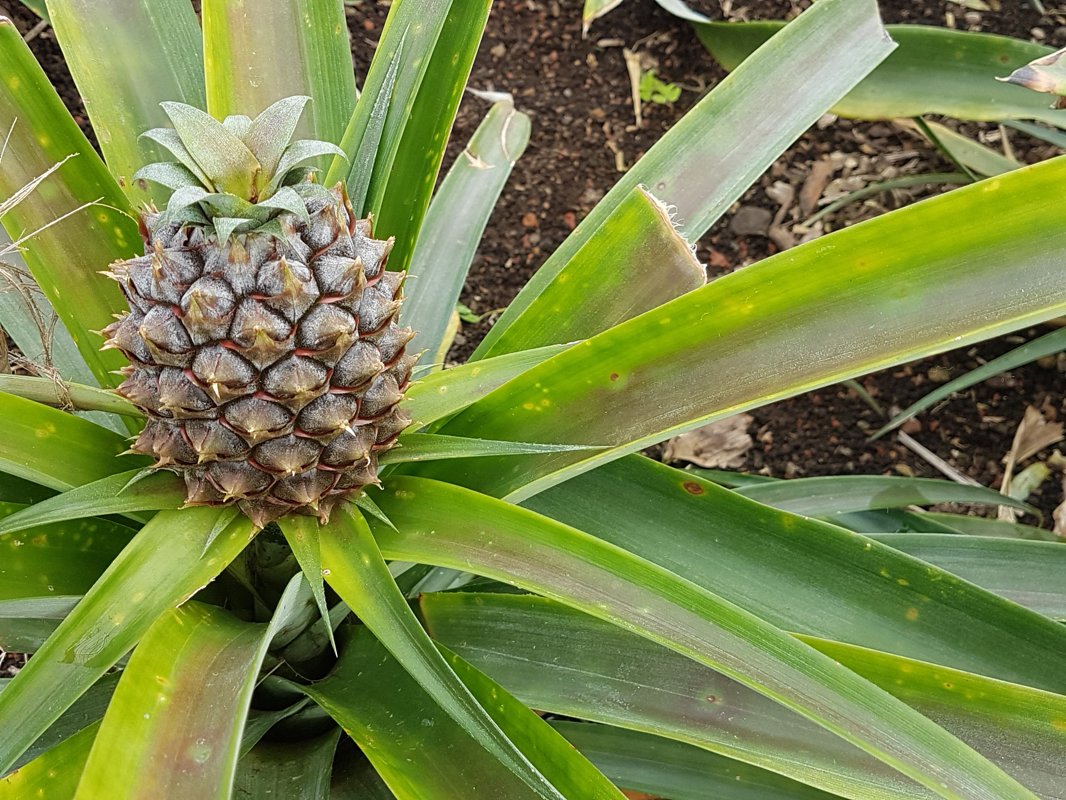 My dream was to find in Ponta Delgada a place when pina coladas are made out of these beauties. I found an address but when we went there, it was closed. Do me a favour - go there and check it out for me :) Canto do Aljube.
As the weather God was in our favour, we saw that Sete Cidades were clear again we decided to check the Northern part of the island. I think the road from Ponta Delgada to Miraduro da grota do inferno through Covoada was the most beautiful - lots of small lakes with free frog concerts and simply beautiful vegetation. We even found an aqueduct!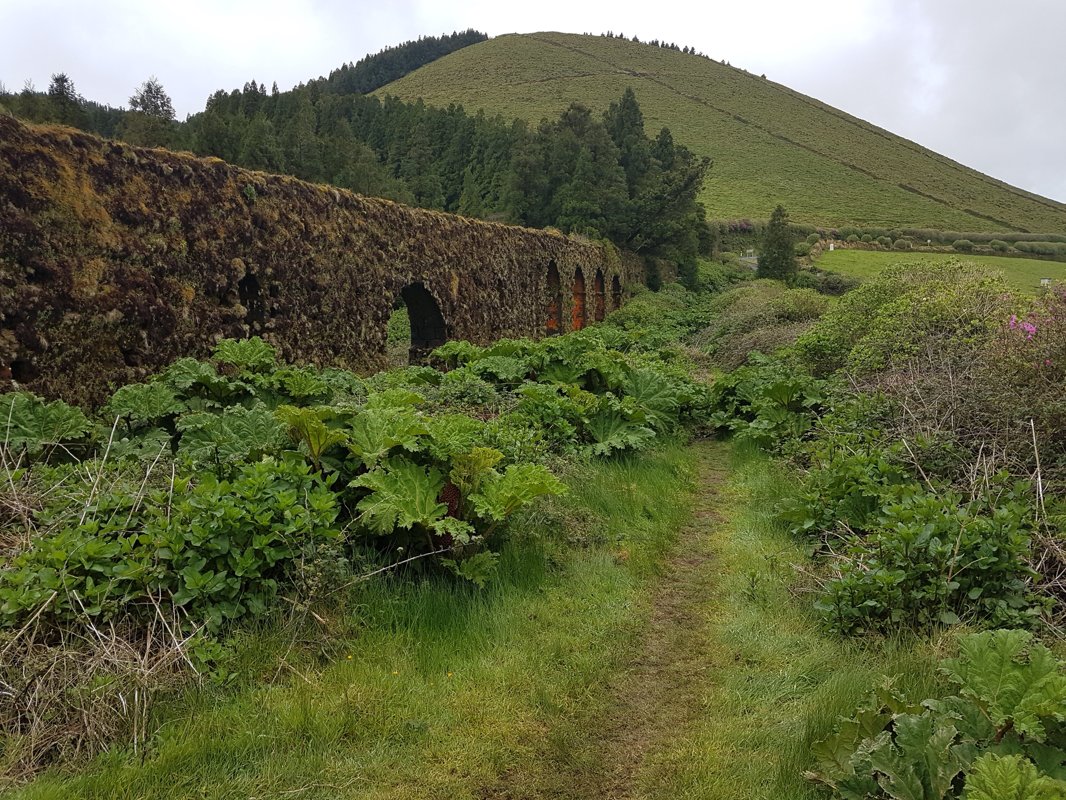 To have the most amazing view on the Ste Cidades, go to the very end of the parking (drive of 5 min from the main road). You can also park at the Lagoa do Canario but then it's like a 20 min walk. We walked as we needed to get extra step count for our day.
This is kind of a place that you would like to enjoy for yourself but in practice you have to share it with dozen of other beauty hungry tourists.
It is very spectacular, no doubt there. To our joy we noticed a small passage a bit further from the official passage. And we did have the place for ourselves for couple of minutes.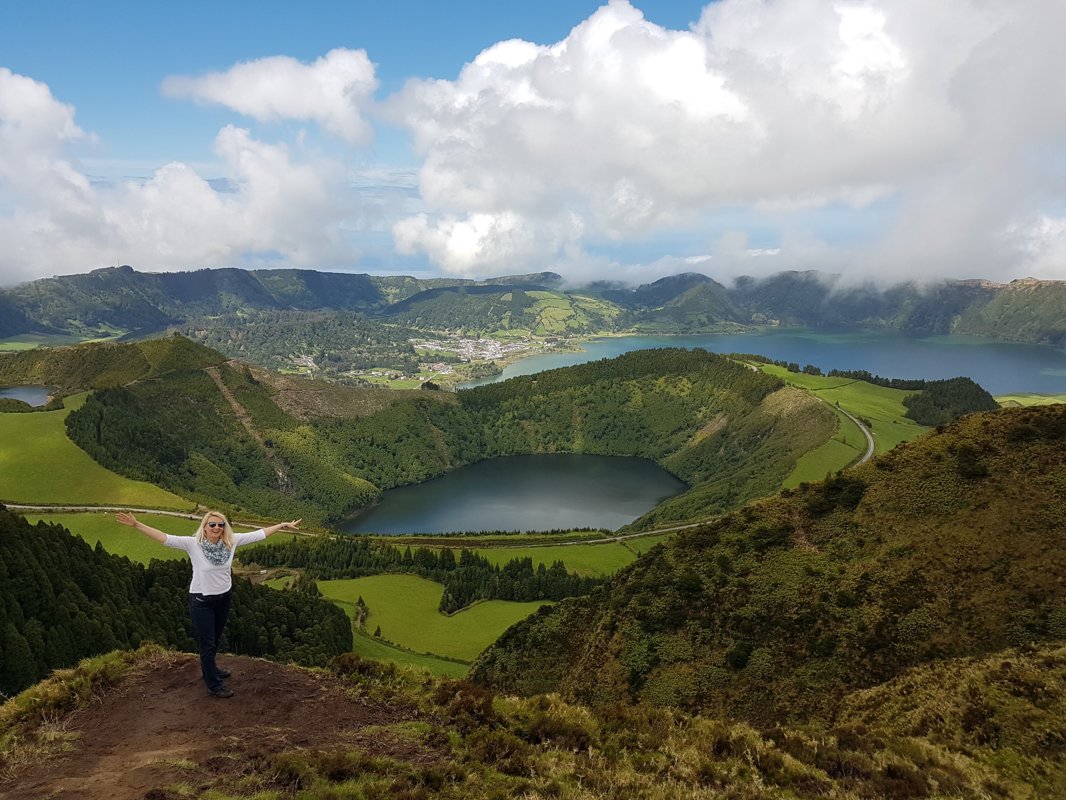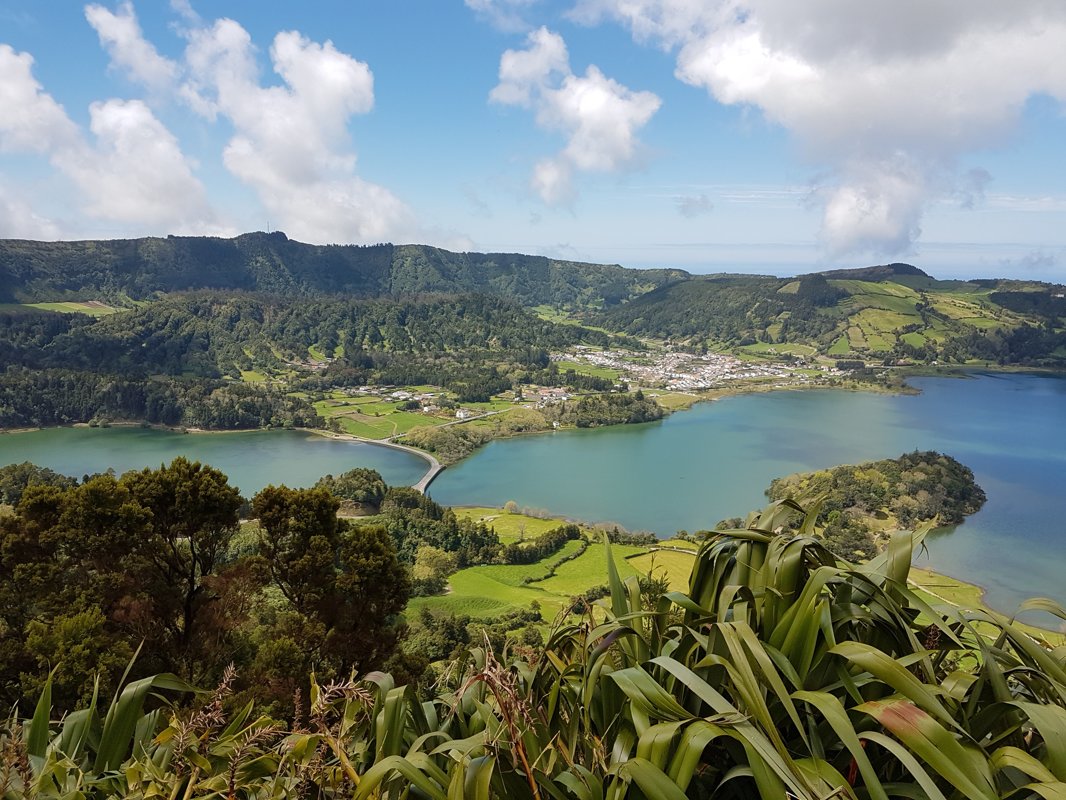 Sete Cidades is a perfect spot for a quick lunch by the lake. We got amazingly tasty pineapple and coconut quejadas from Restaurante Sao Nicolau. Our company was only ducks and silence.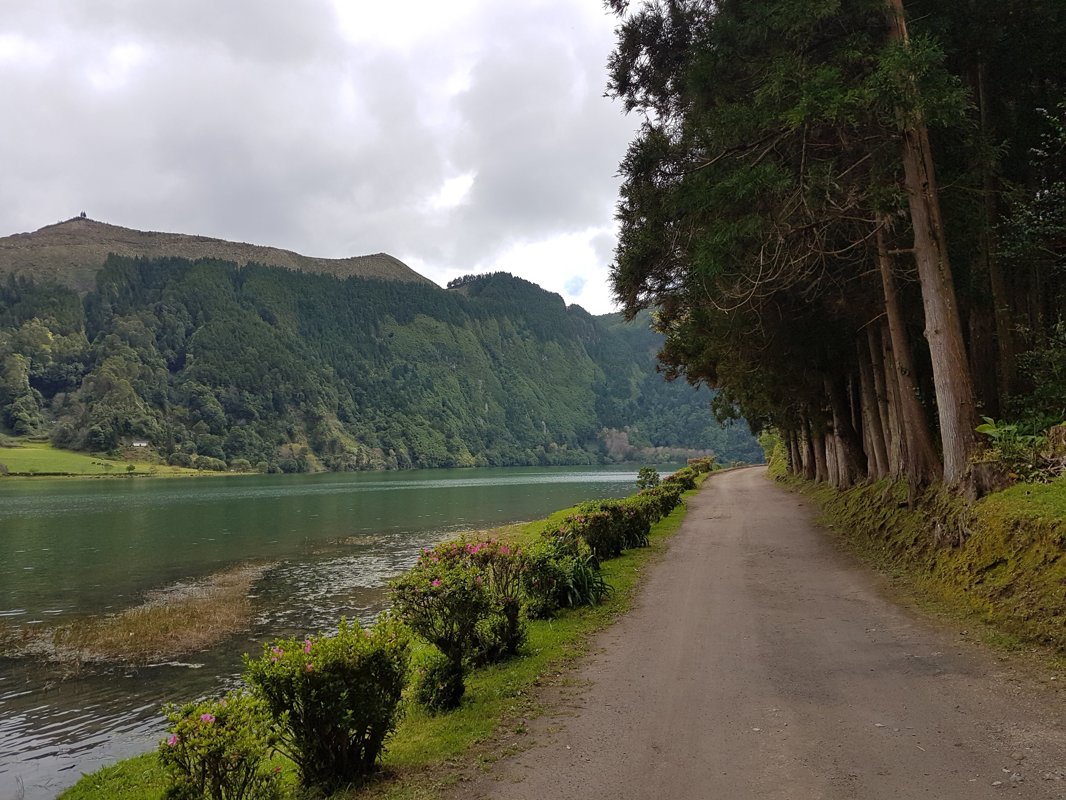 Our next stop was Mosteiros. No clue what it stands for but it did feel quite mysterious. :) We could spend days watching the waves crushing, one bigger than the other. And they were muuuuuuch biger than in the pics.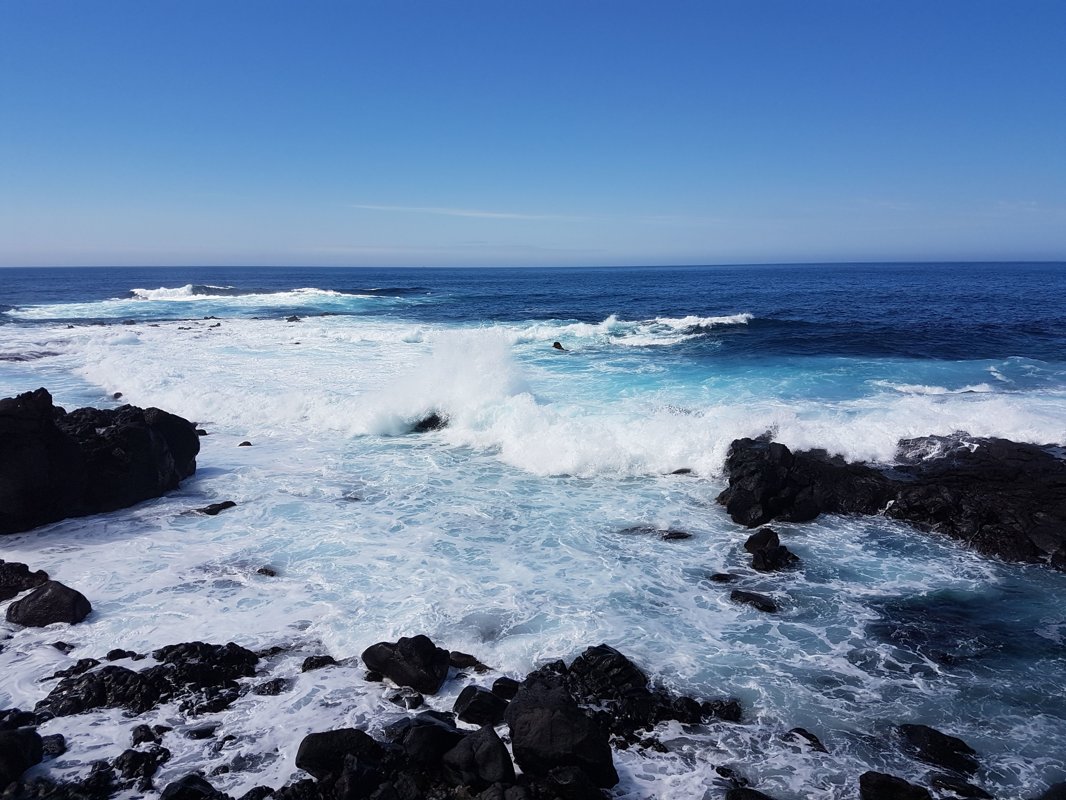 We also stopped at Ferraria to check where natural hot springs meet the ocean. Many people were sunbathing but not so many tried the wild waters.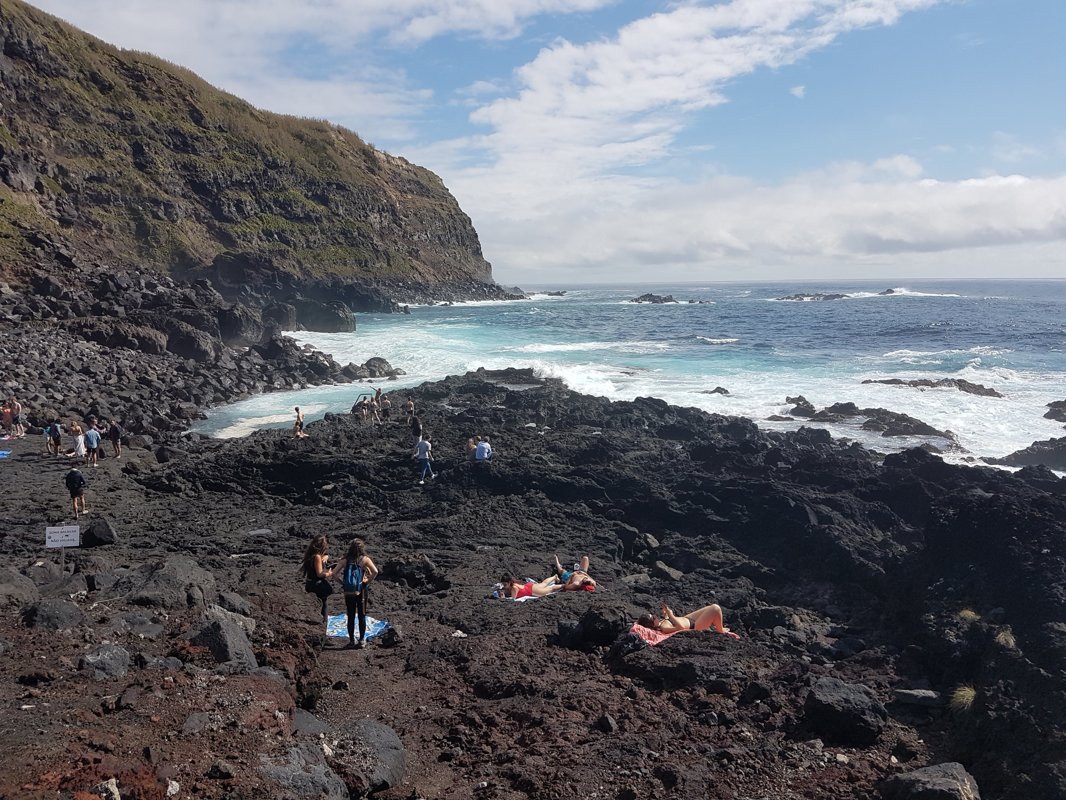 The spa there did not look very appealing either, so we just left and visited the nearby lighthouse.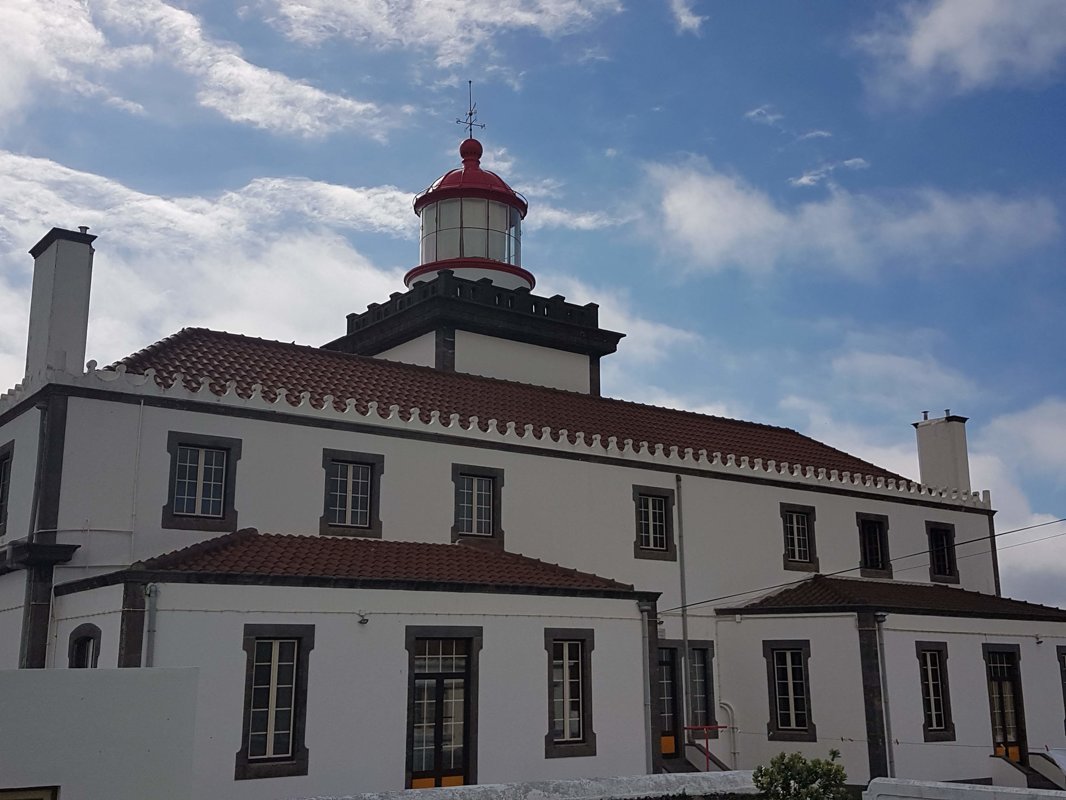 The next day our plan was to explore the very eastern part of the island. On our way I had a bit crazy idea to check out a beach that I had noted on the maps as "nice to see" - Praiai da Amora. Oh, what a drive, first our mistake was to take the "coastal road" which was basically a super narrow street for most of the time, so a hell to drive. When we arrived at the parking (super steep road), there was a weird guy hanging out alone at 9 am... But ok, we decided to walk to the beach. Well, it turned out that the walk would be at least 30 min. We saw a sign "path closed" and suspected it was due to the heavy rain last weeks and maybe therefore even land slides... We did check it out a bit further but turned back quite quickly as the place felt so remote and weird.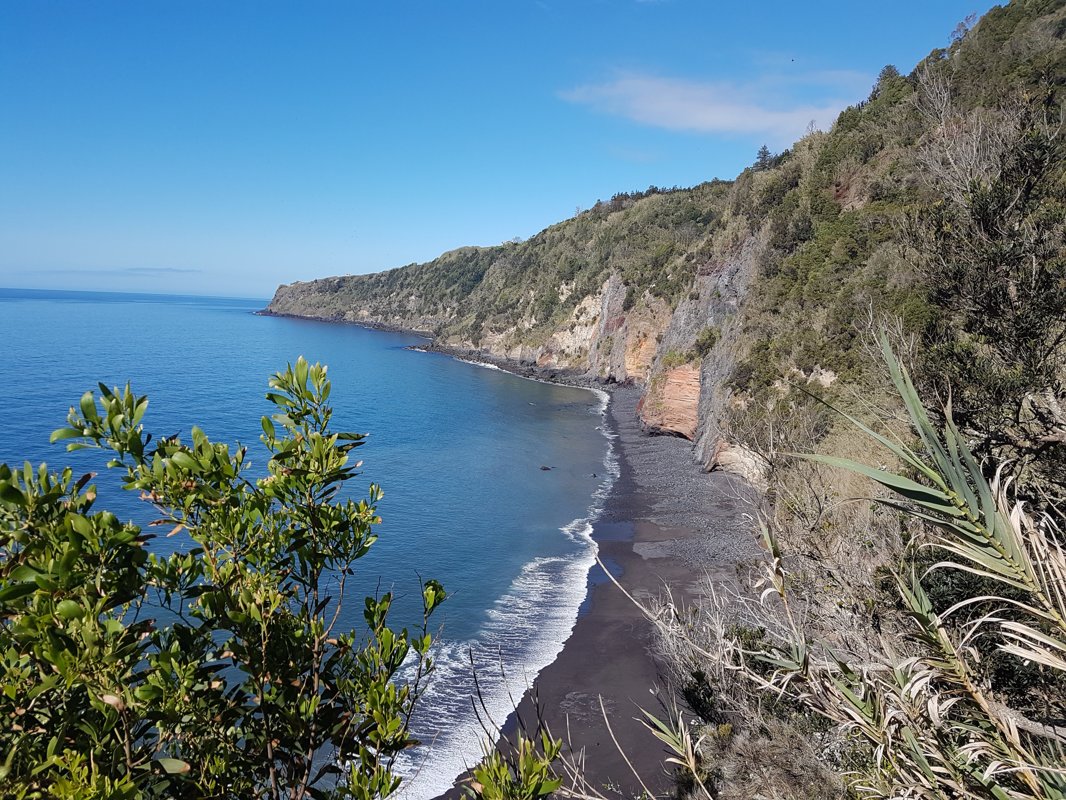 Thanks to this detour we discovered a very scenic road M27, a super steep road (luckily we had a turbo car!) but so beautiful. We also had a free spectacle of a cow show. It seemed that they were out of control and the farmers were trying to get them to some order. Not very successfully I have to say as we were stuck there for for while until a big jeep came and made them move.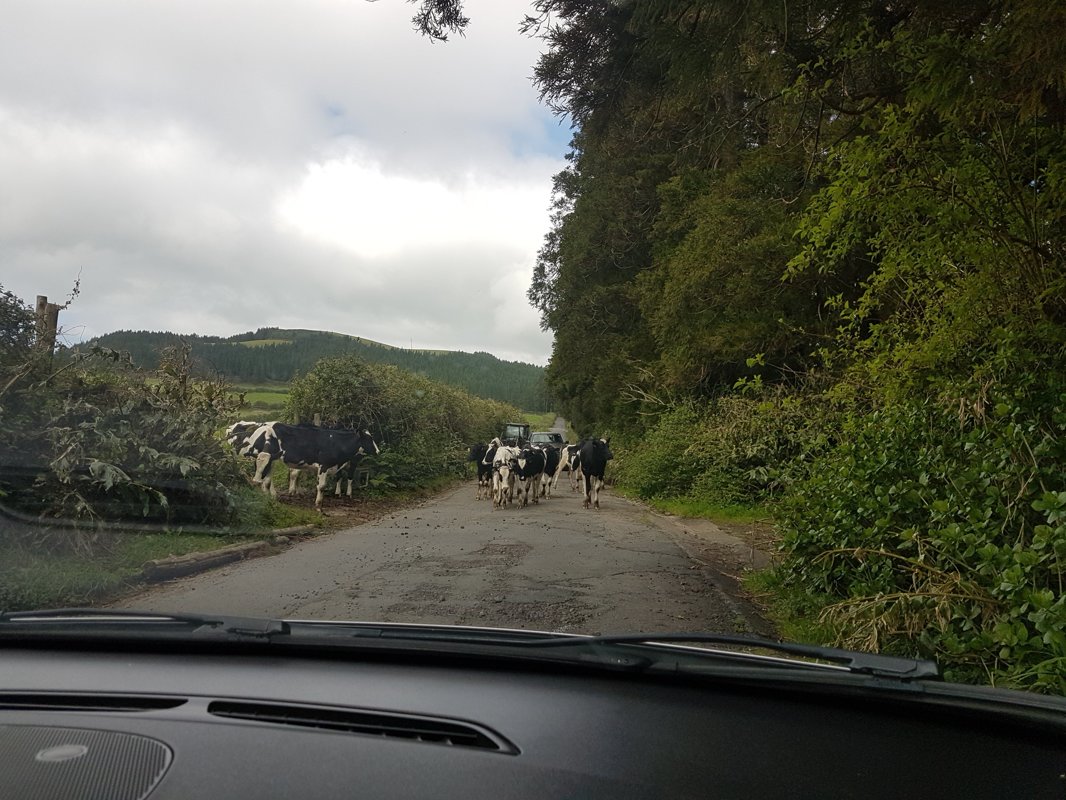 Our stop in the east was Nordeste - the oldest lighthouse on the island if I'm not wrong. A truly beautiful place which also requires some walking and strong legs. Don't even think about going down the road by a car, the road is 35% steep and in a rather bad condition and you don't want to end up stuck there.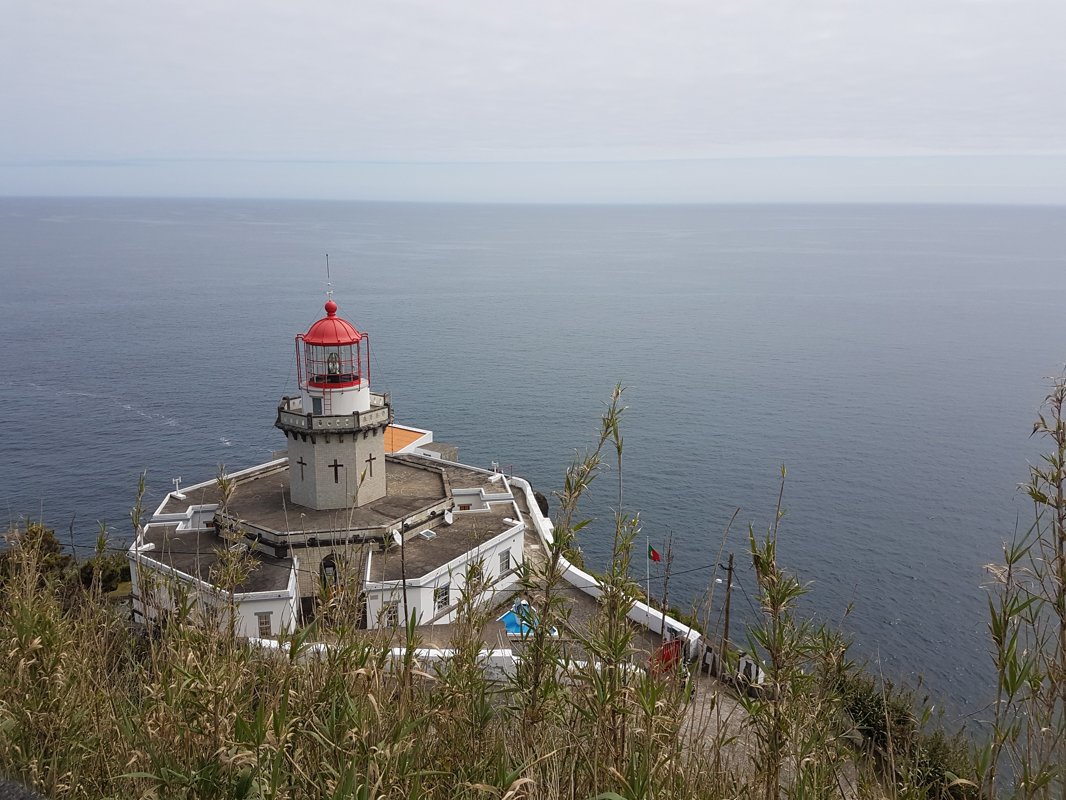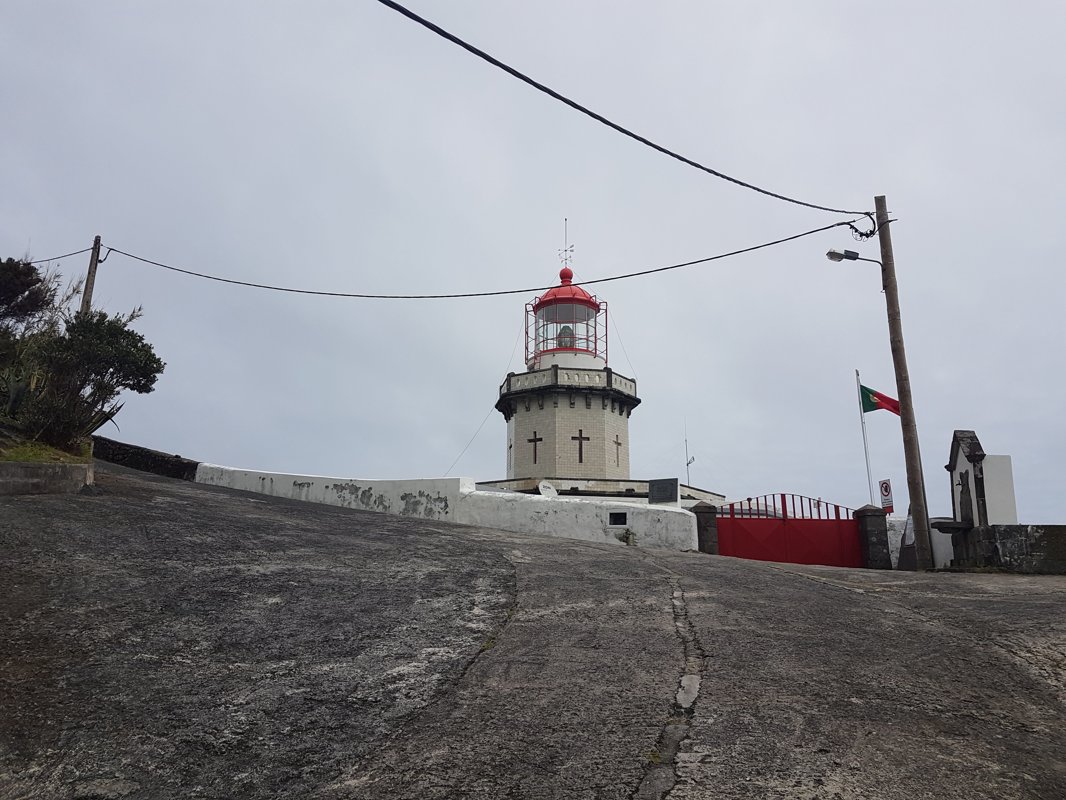 You can walk down till the very end of the fishing village, just remember that you will have to walk back :)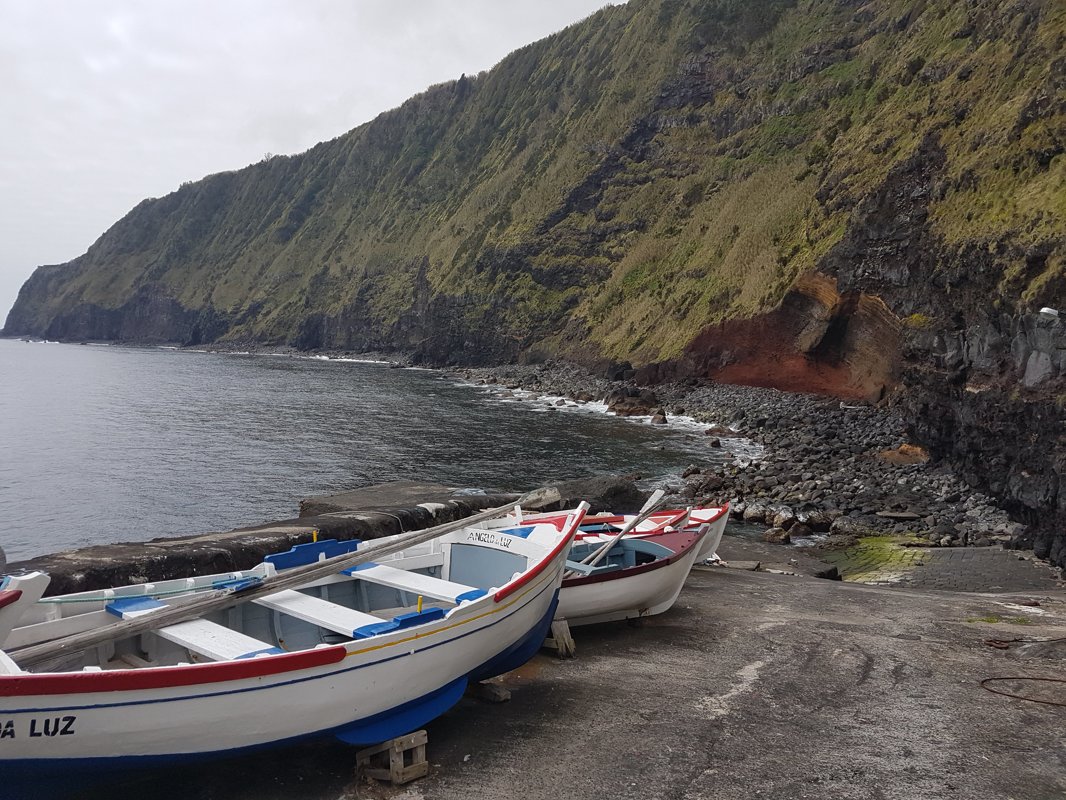 There are so many miraduros around the island but the one of Vista dos Barcos was truly amazing as you can see the lighthouse of Arnel very well.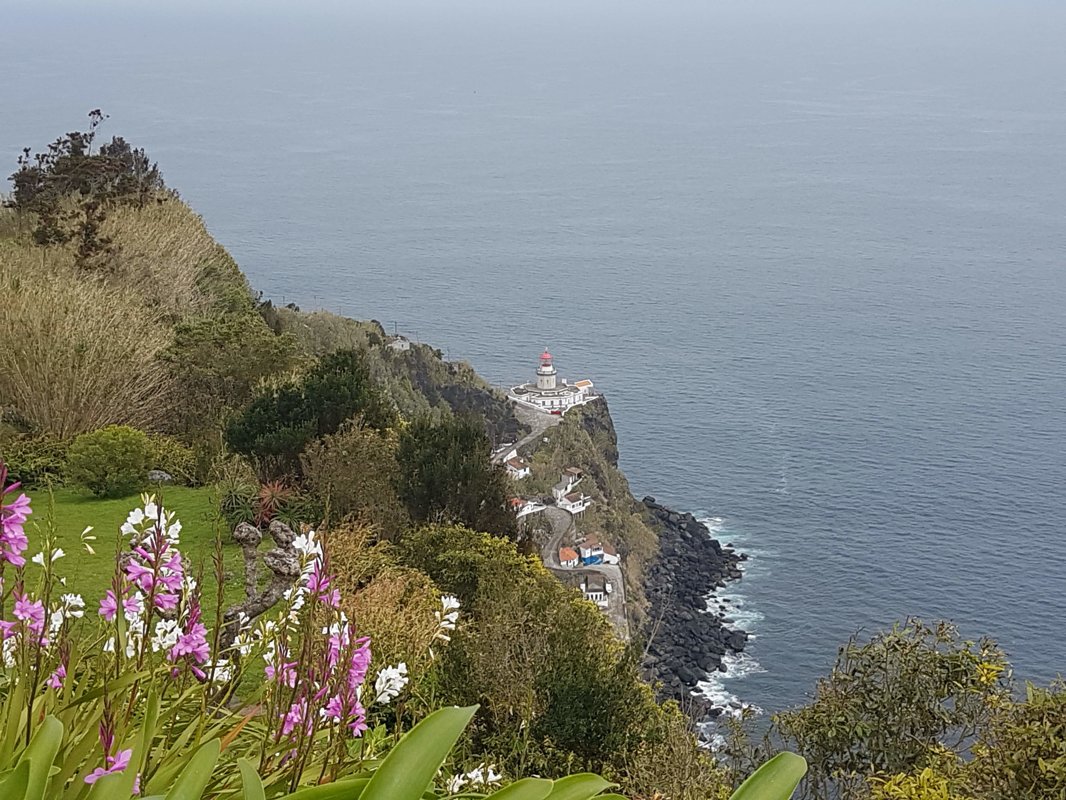 Another amazing view point is Miradouro da Ponta do Sossego. It is also a paradise for cats and a perfect place to make a BBQ.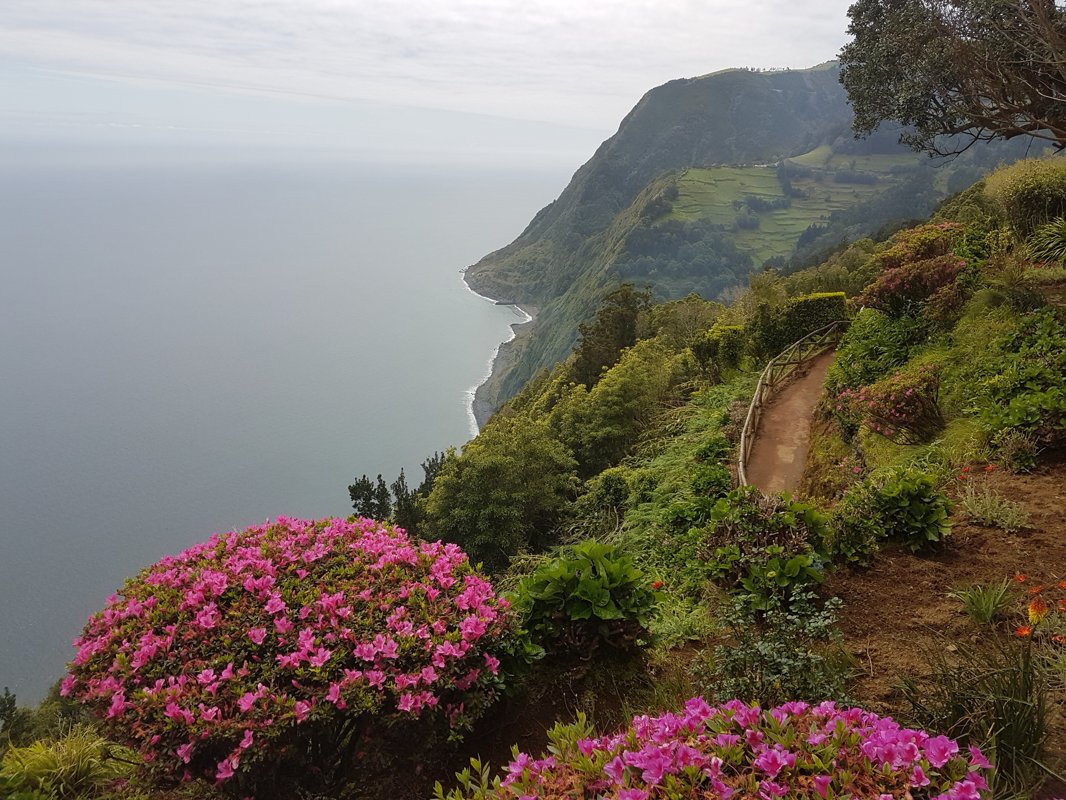 Our plan was to get to Furnas in the afternoon, it was quite some driving before arriving at the destination. Our first check point was Caldeiras Vulcanicas. As it was already a late afternoon, there were not so many cars / busses and we could visit the site without the crowds. Oufff...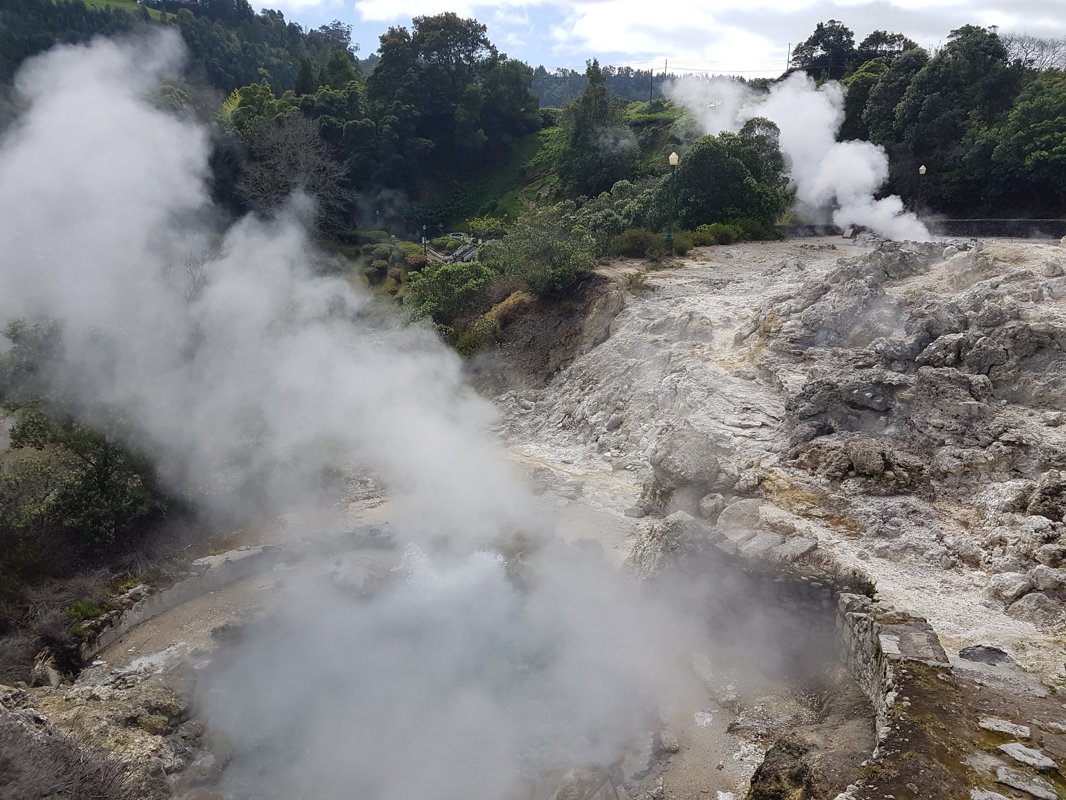 It's quite impressive to see (and smell) the earth under you boiling...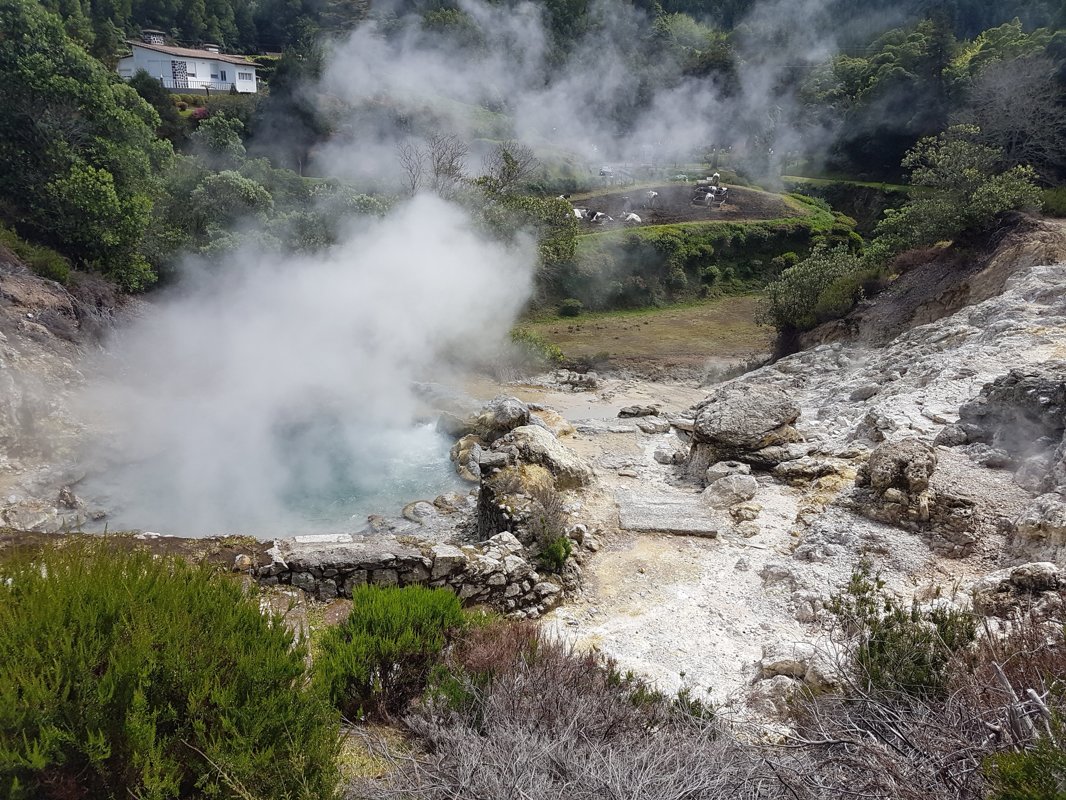 The world is pretty small, in Furnas I met a friend from Brussels, we had chosen holidays almost the same time in the same place :)
In Furnas we stayed at Terra Nostra for one night. Woooooow, I was really impressed with the service and attention to details. It's not the cheapest hotel but every cent is worth it. The amazing park and hot springs which are open to clients 24/7 is an amazing plus. Can you imagine a dip into a hot pool and a full moon above the head? The service and food was impeccable too.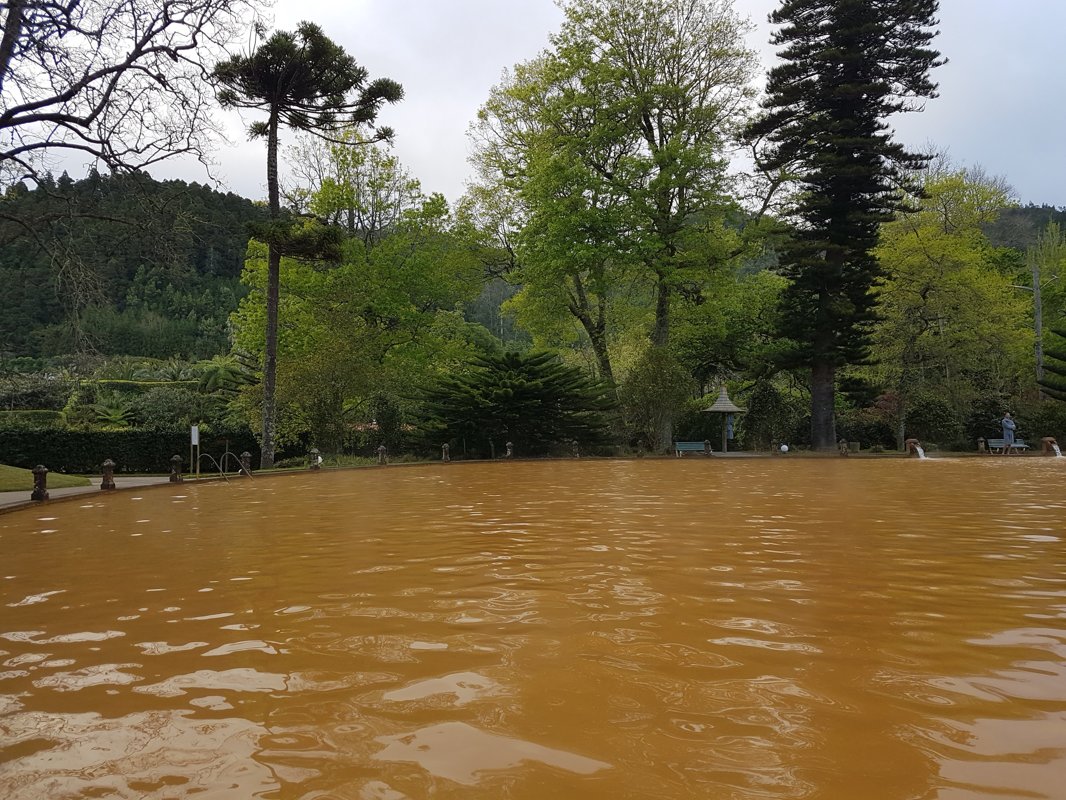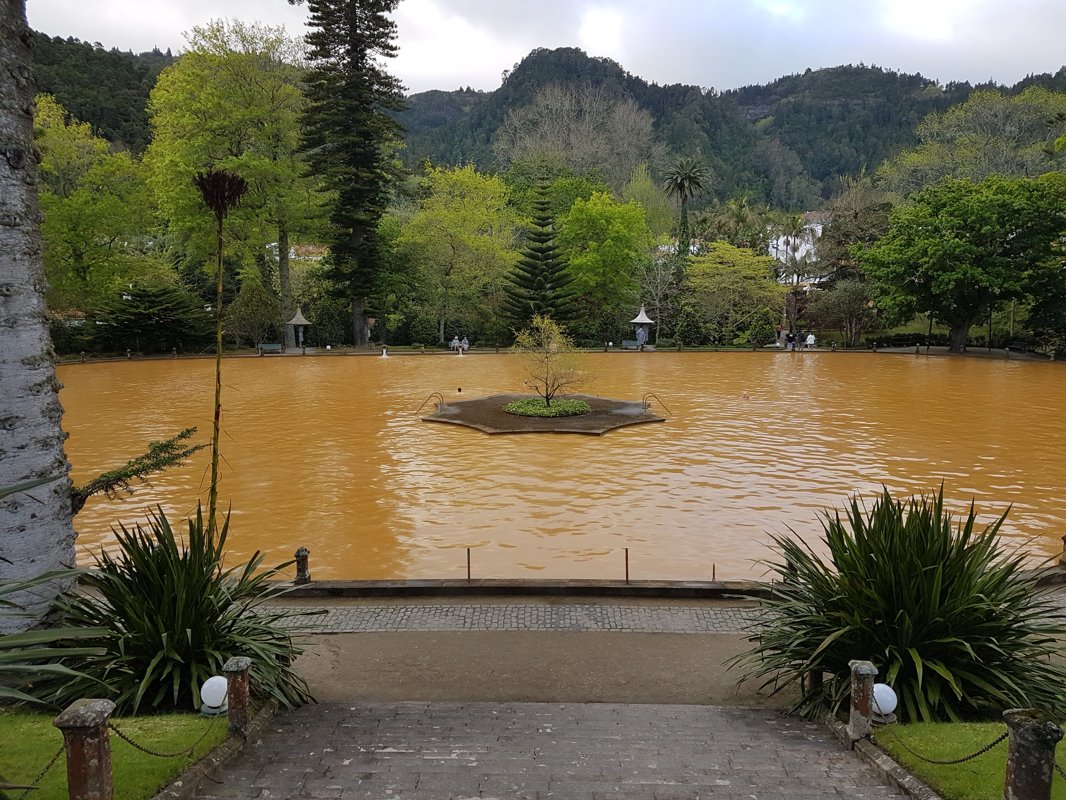 The yellow water does not look very inviting but once you are in, you don't want to get out! The hotel is providing the bathrobes but take your own slippers. And it is true what they say about your swimsuit - it will be damaged afterwards as the iron is very present in the water. Although there were some people in the afternoon when it was open to public, it did not feel crowded. Of course, the most amazing experience is in the night or super early in the morning when you see the steam raising from the gigantic pool. I wish we had stayed there at least one more night. But as hotel guests we had access to the pools and the garden after the check-out. The garden is also simply stunning.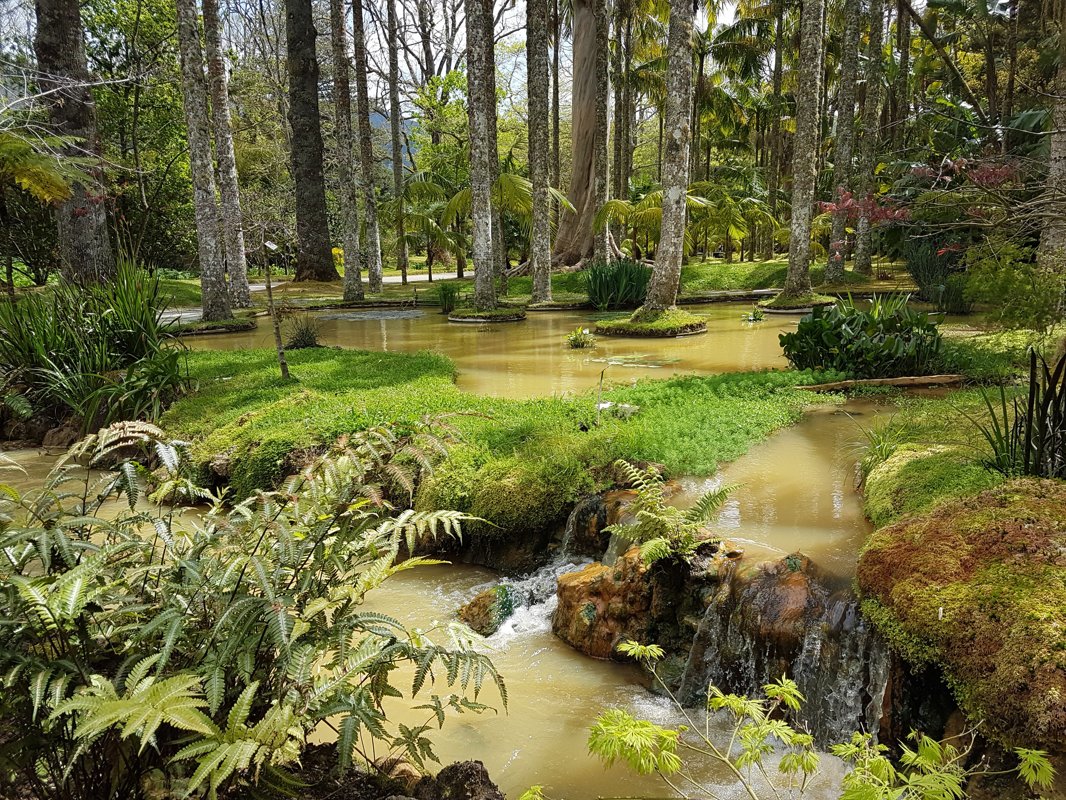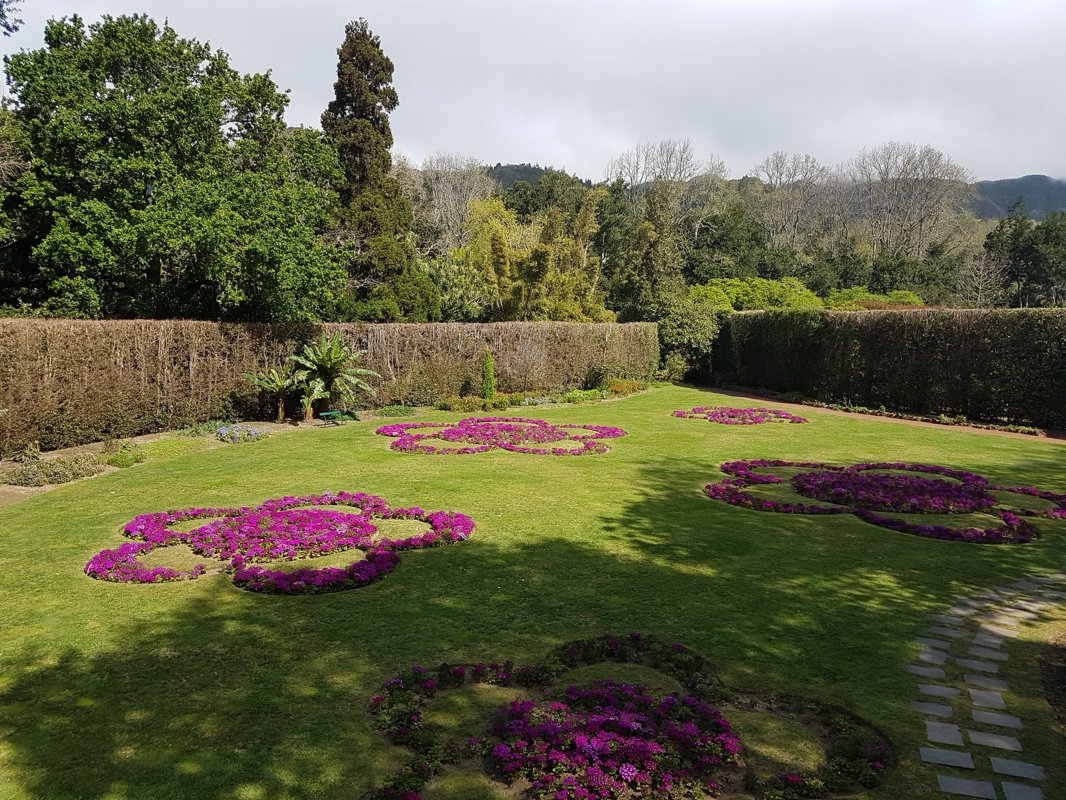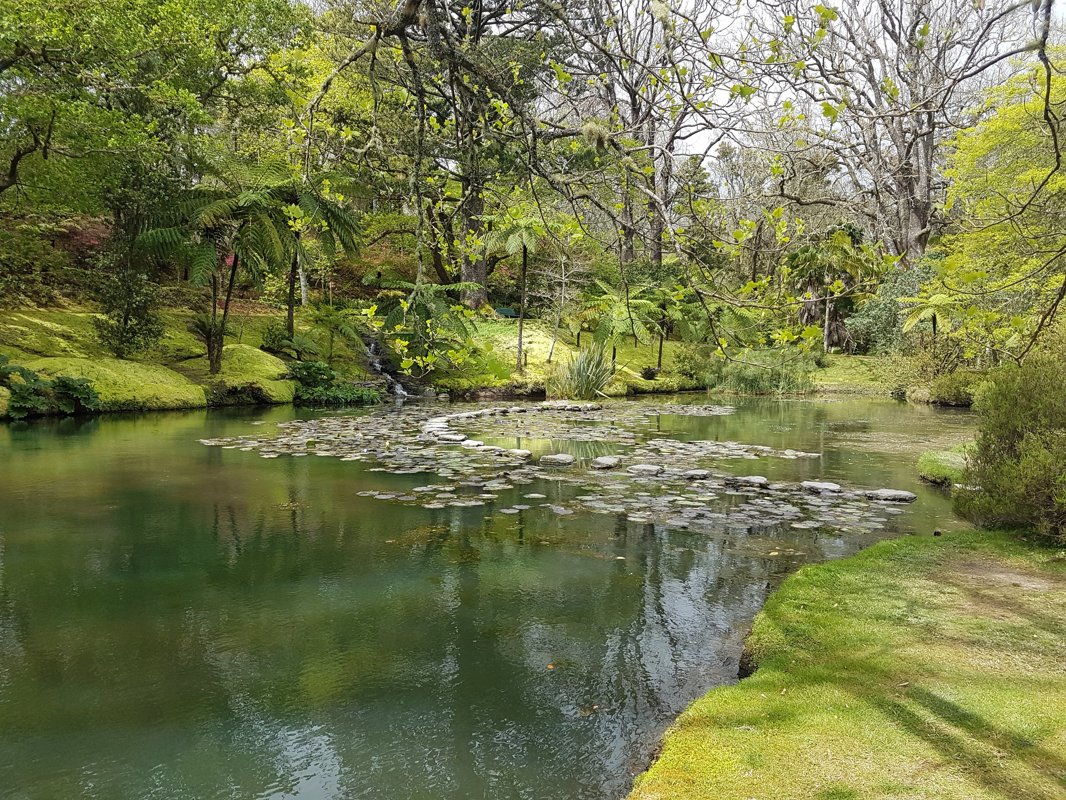 Our next stop was to see the lake Furnas and geothermic activity around it. It was the only place where we had to pay for the entrance - 2 euros. It's an interesting place but if you are short of time, you can skip it if you have seen the calderas already. The most interesting part is the location where restaurants cook the famous cozido de Furnas - a mix of meat and vegetables cooked for hours in the ground. That's about it.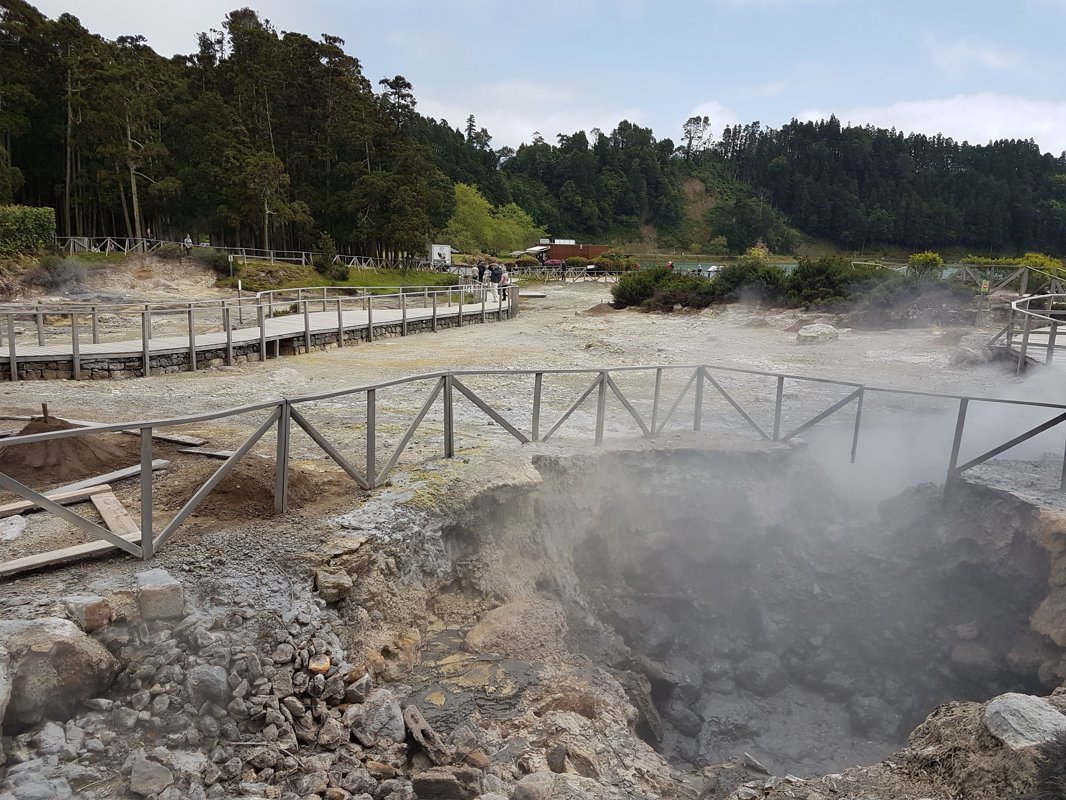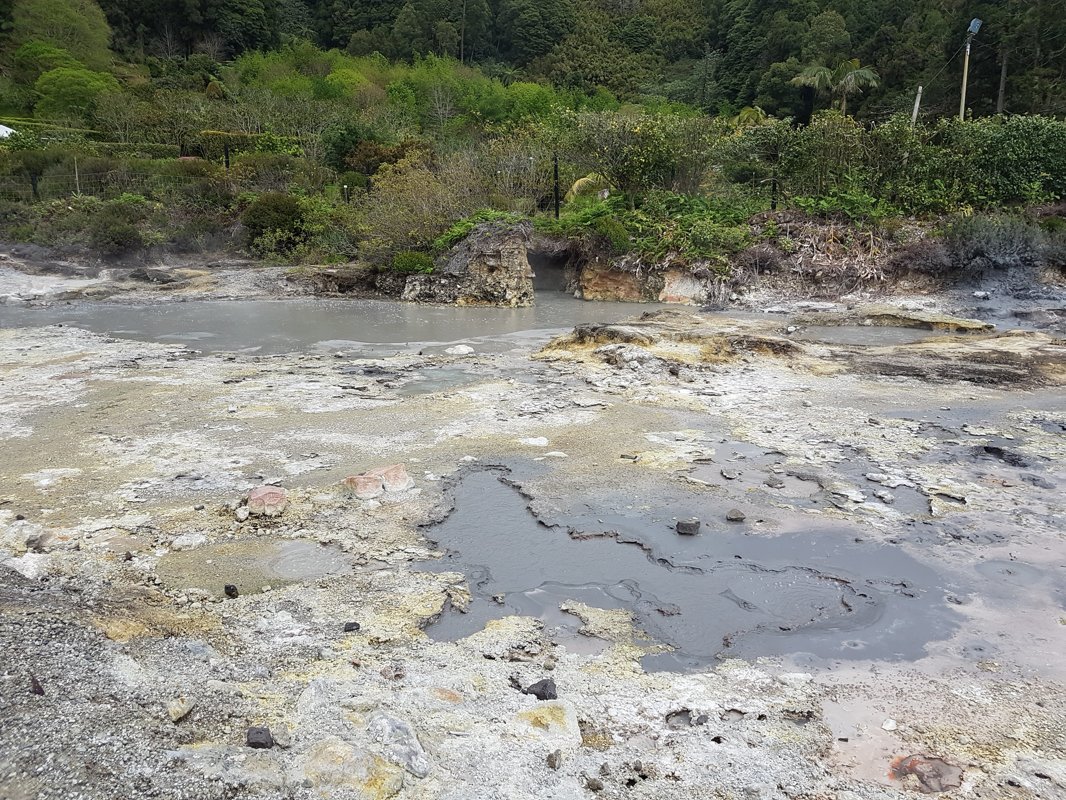 The view from the top is quite nice but by the time we got there, clouds had appeared. Nevertheless, it was very pretty.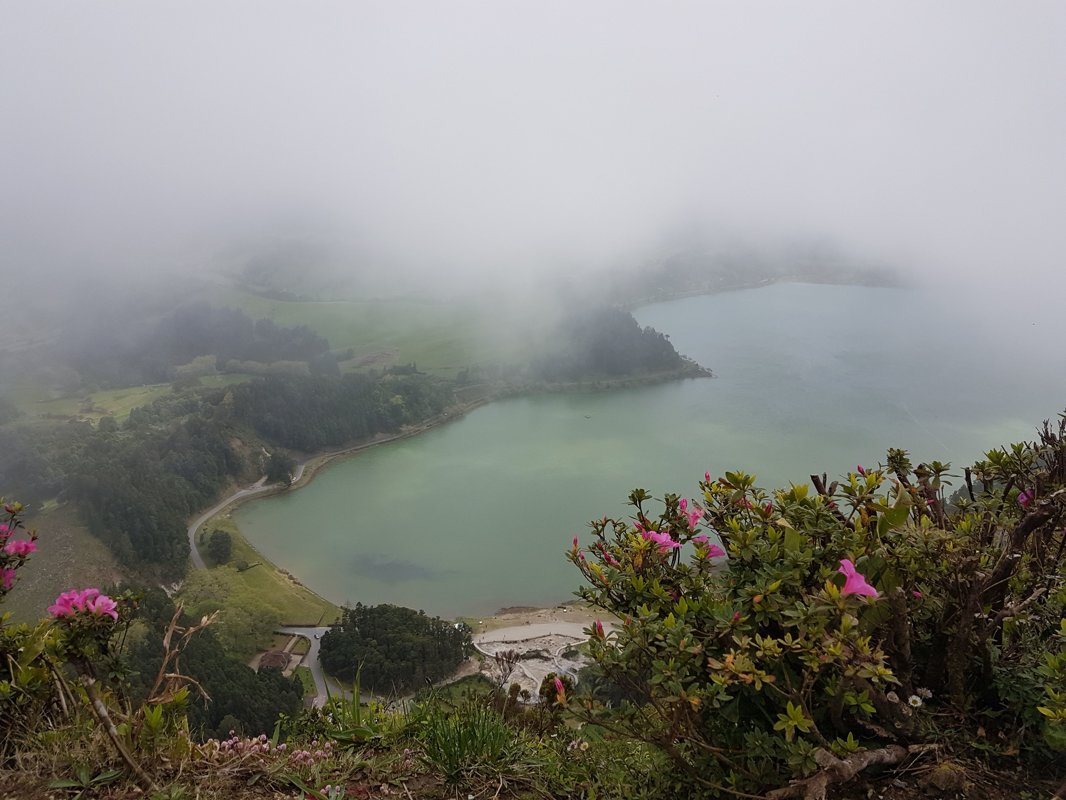 When we came back to Ponta Delgada we were greeted by a huge cruise ship. I just think these polluting giants should be forbidden. The city was practically swarmed by tourists.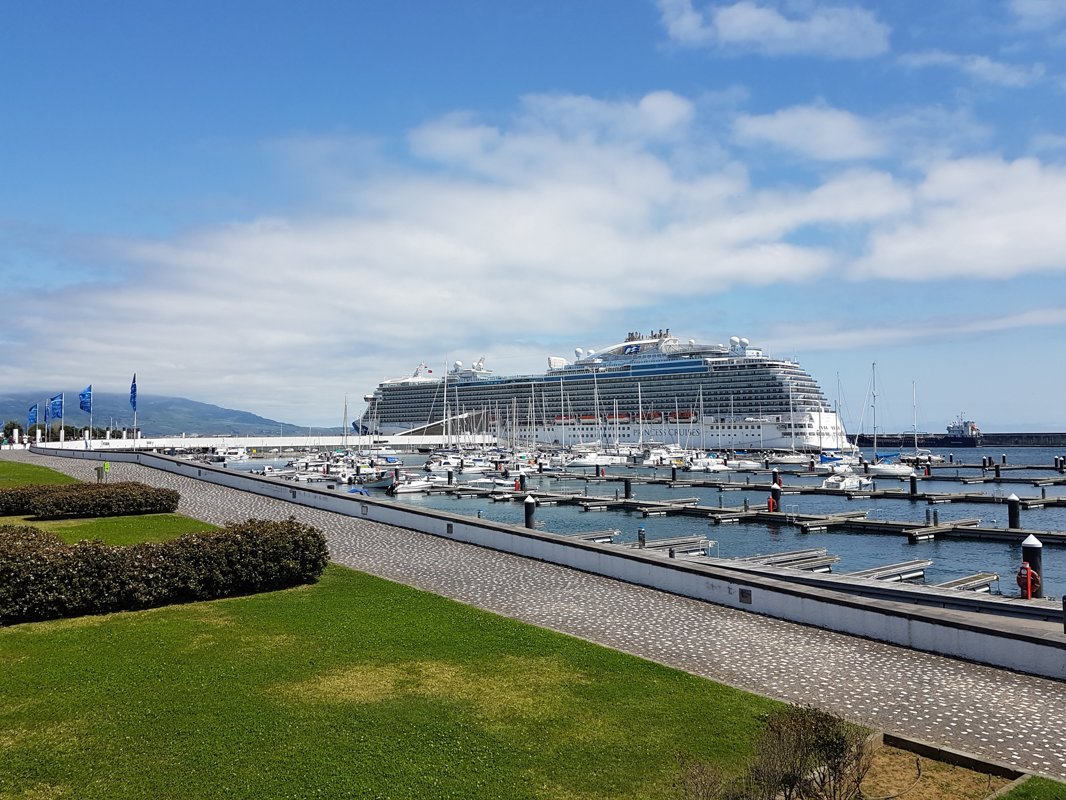 It was the Easter Sunday and everything was closed except the shopping mall. And guess what - all the people were there... families, kids, everybody stocking up fast food... it felt a bit weird but we were part of this madness because nothing else was open. But we did feel like locals as we could only hear Portuguese around us.
The last day we started with a visit to a lava tube. If you have never seen one, it's quite interesting. But please book it in advance. We thought we would just show up and go and there were many like us :-) Also, don't follow the google maps, it will bring you on the highway, just look out for the local signs when you are close. The guide was quite interesting and, if you ask questions, you could also discover more about the island and it's infrastructure, how the roads were in the past etc.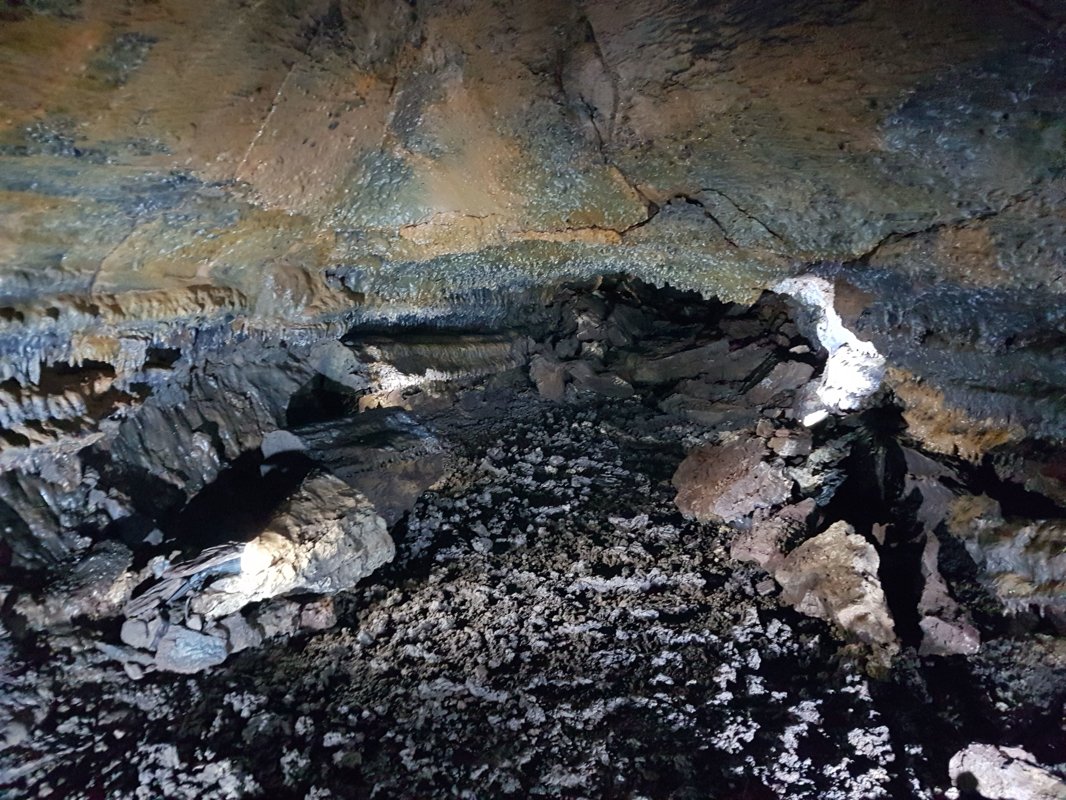 We also paid a quick visit to the Vila Franca do Compo with the amazing church on the top and the best queijadas on the island.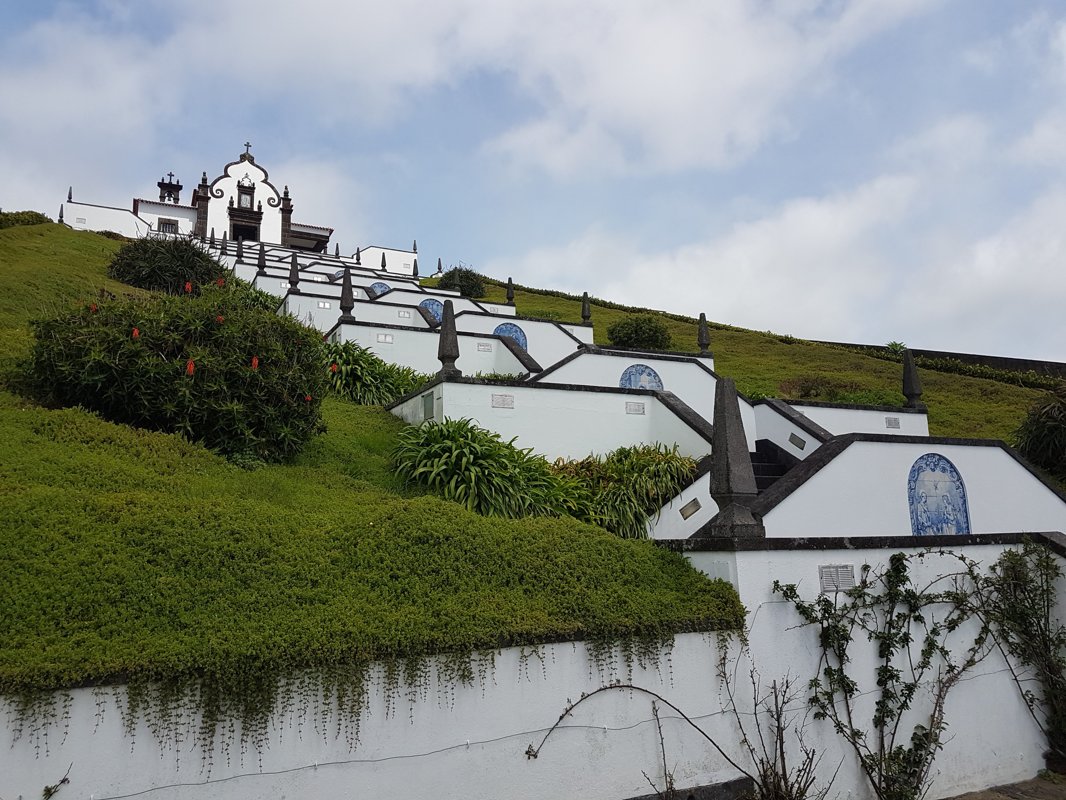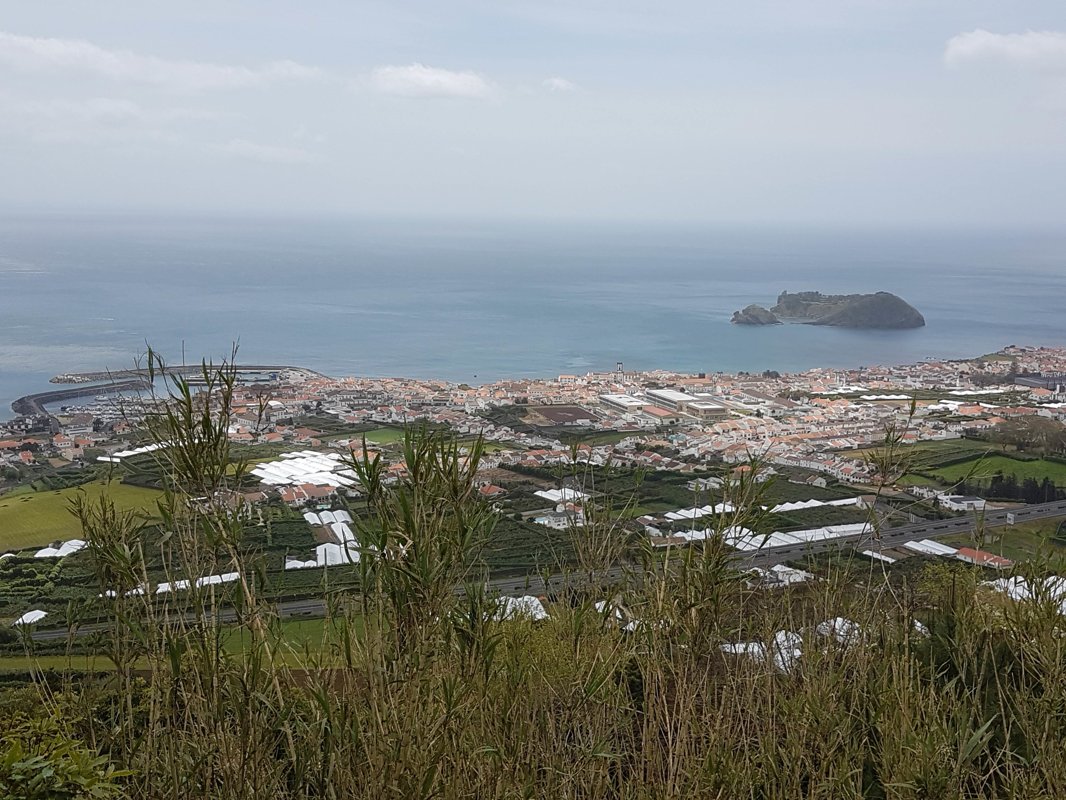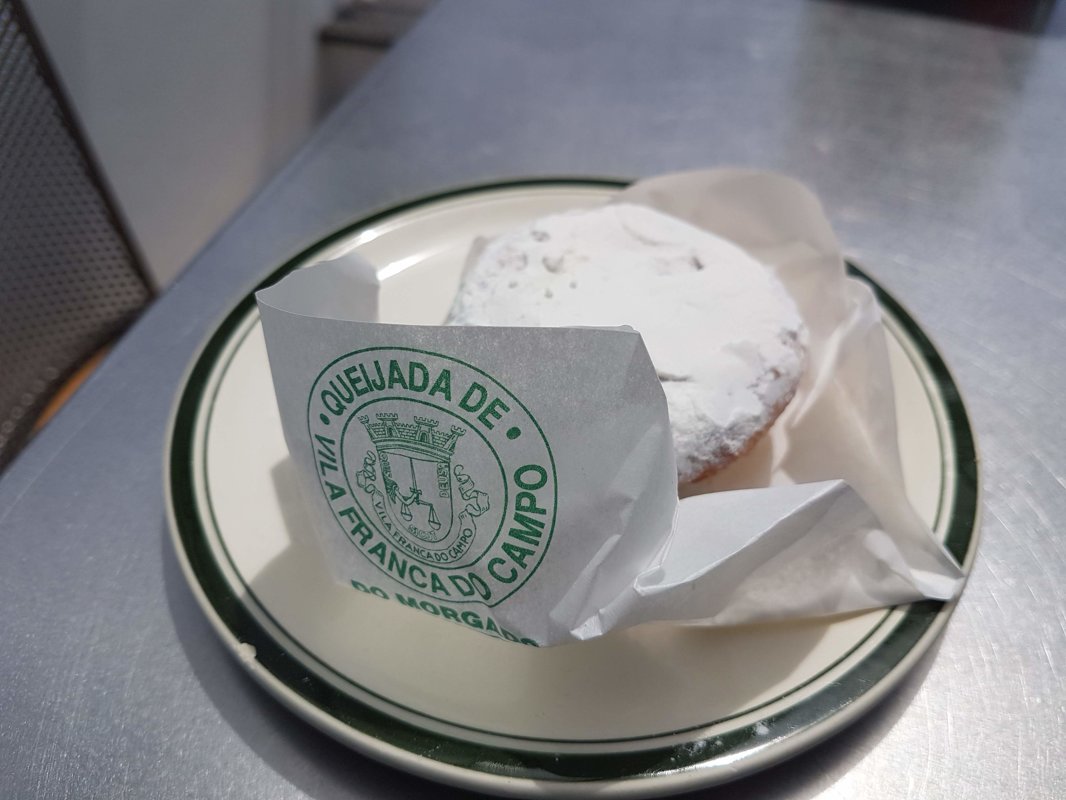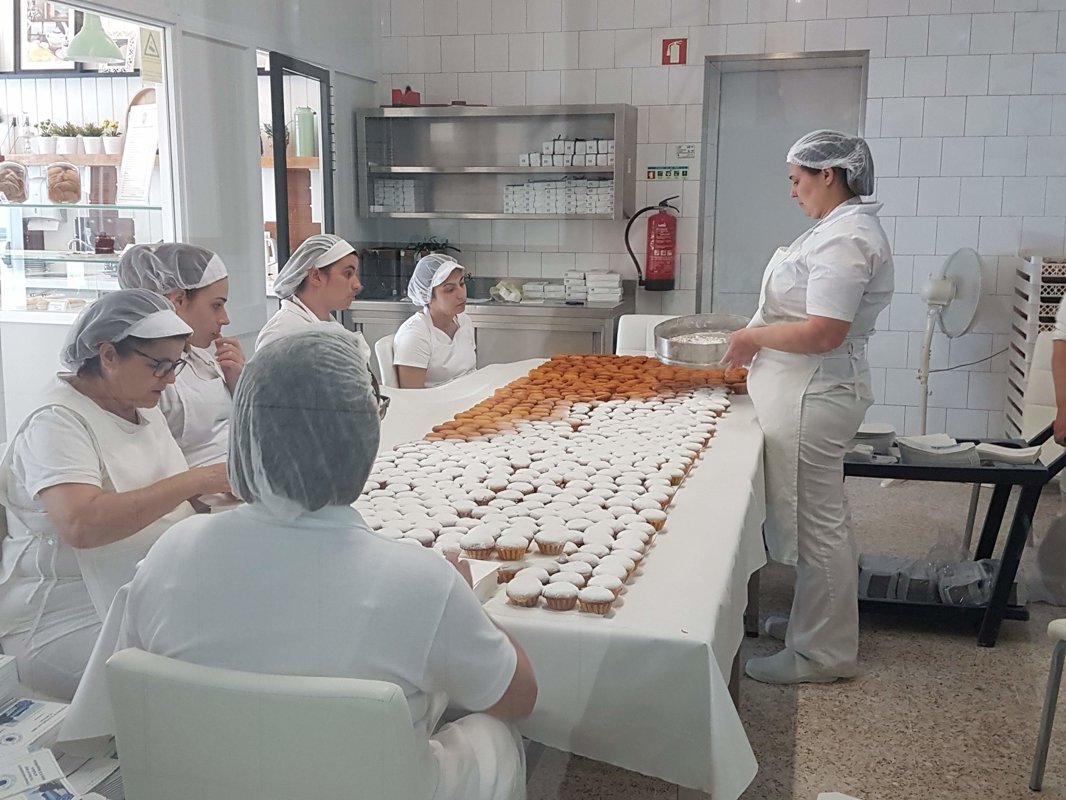 For the sunset we went to Mosteiros, it was definitely our favourite spot. Just the sea and waves, could spend hours there. Locals and tourists were hanging around the small bar there, a very nice feeling. Chill chill chill...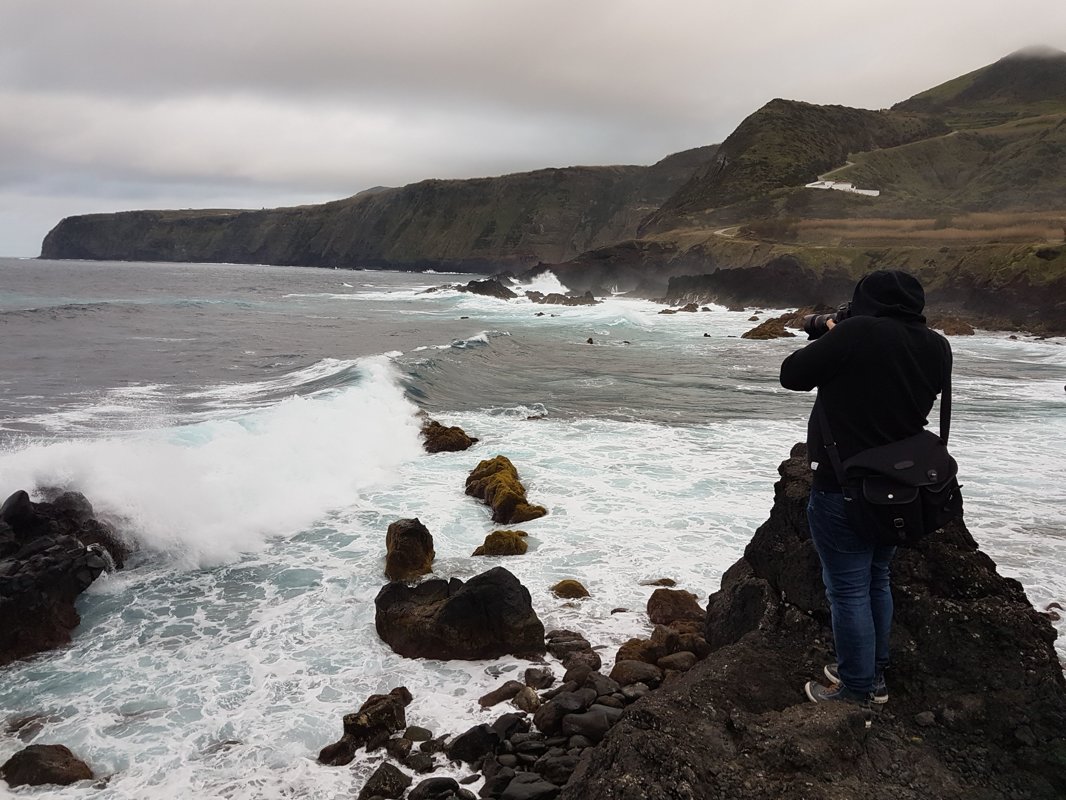 This is how the most amazing bananas are grown. I'm not a big fan of bananas but these ones were wow... better than the ones in Costa Rica or Bali...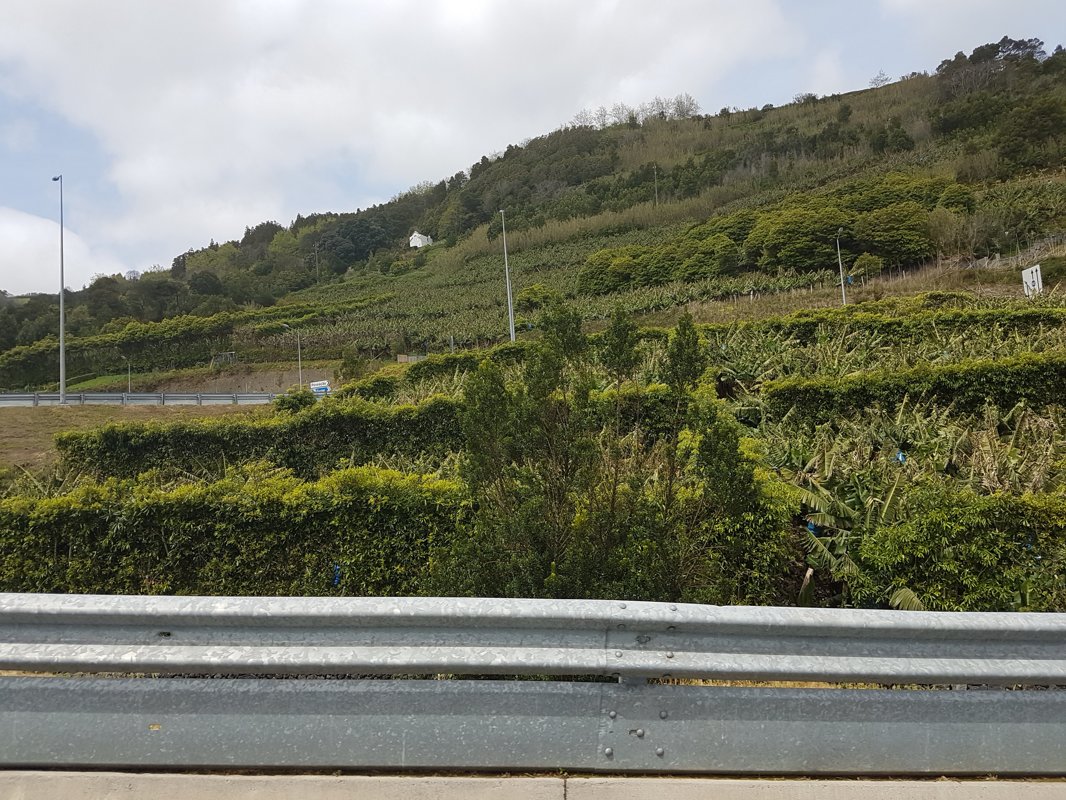 On our way back in Lisbon we saw the world's biggest fresh water aquascape masterpiece by Takashi Amano. The ocenarium was totally full and people were everywhere but we did manage to catch a bit of a magic in this place.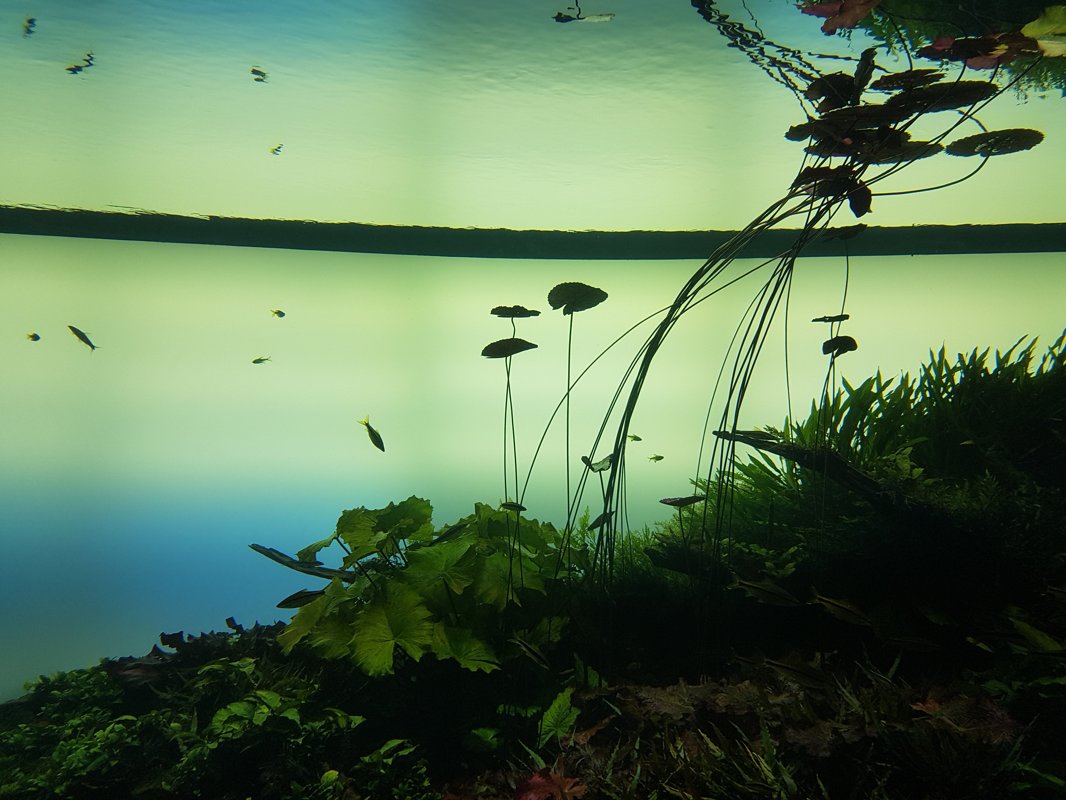 And so the holidays were over... Azores is definitely a must destination before they become too touristic. And I want to go back and just sit in the hot springs and enjoy enjoy enjoy what this beautiful nature brings.
P.S. I have to admit there was one huuuuuge disappointment. Hydrangeas were not there in April... we were far too early. I had seen somewhere a blog post that they were coming early spring but apparently we were too early and I did not verify the info source... We could see all the old stems but not the flowers. We could only imagine, what if... well... it's one more reason to go back!
1 comment
- Azores - Sao Miguel - Adventure in the middle of the ocean
Rdv - July 19, 2019 at 3:21 pm
The detail in your reports really capture the atmosphere of the destinations you visit. Better than the travel guide books. Excellent, thanks
Leave a reply