Irresistible Greece: Naxos and Amorgos (and horrible Mykonos)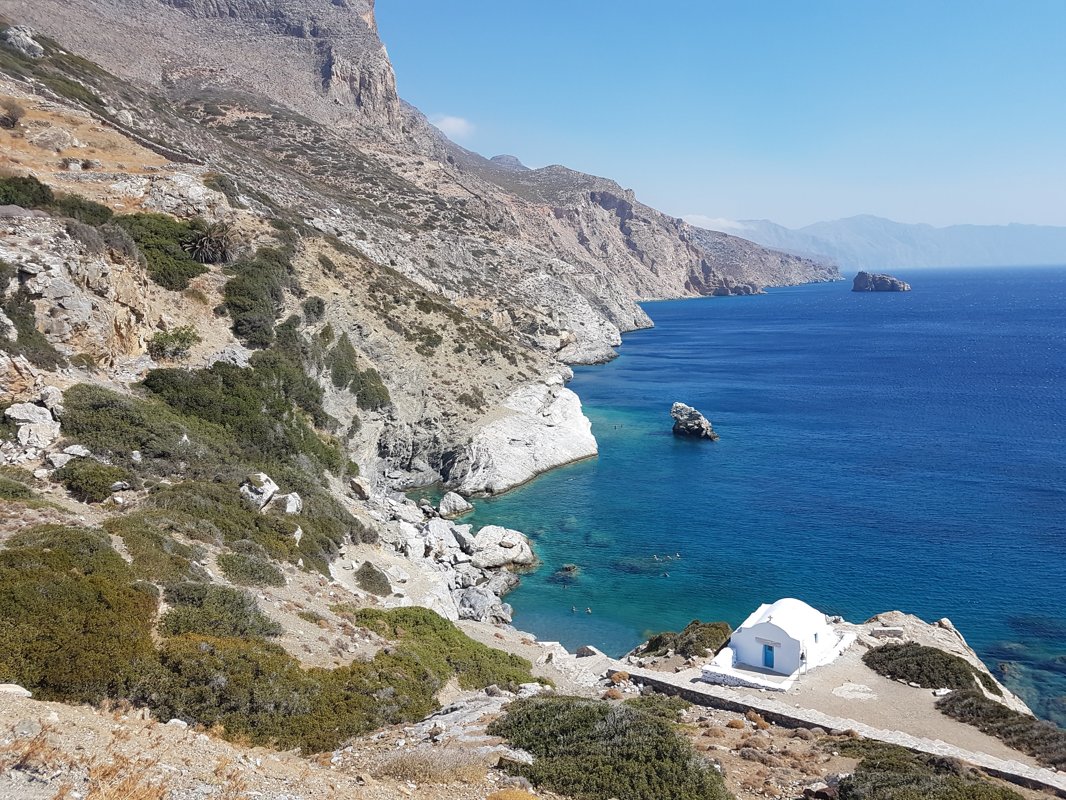 No need to guess where we went on holiday this summer - Greece, of course! In some kind of craziness I had also applied for a Greek summer crush course in August, so the month of August was all about holidays and getting ready. If you are considering learning Greek, well... good luck with that. Not easy at all, although I thought I was rather gifted with languages. The good news is what you actually manage to learn and memorize, It really stays in your head :)
---
Our plan was to take the plane from Brussels in the morning and make it to the 5 pm ferry in Piereus. With a delayed flight, it was a short call but after a heavy thunderstorm in Athens, we made it. Be aware that you can buy tickets from the airport to Pireus only at the ticket booth (and not from the drivers). Once we had stocked up Korres sunscreens, we finally made it to Blue Star. The trip was really nice and 5 or so hours simply disappeared while sipping freddo cappuccino and enjoying first greek salad in the canteen.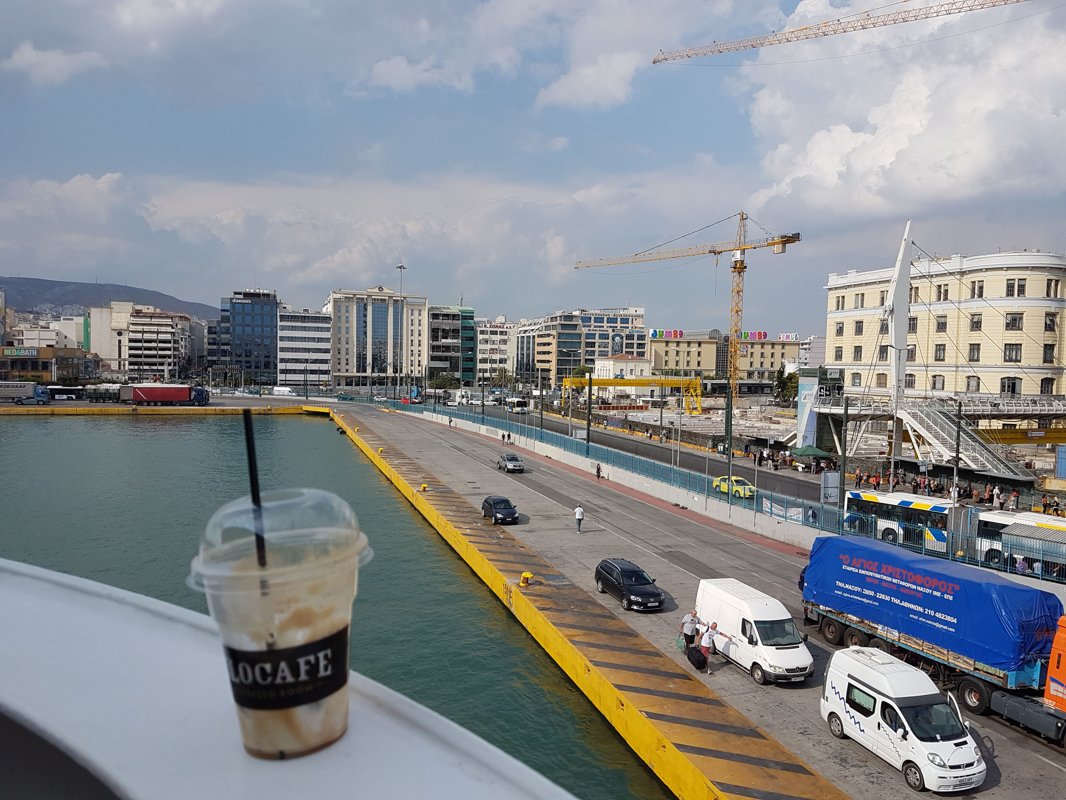 Our main island for exploration this year was Amorgos but as it's so far from Pireus (9 h by ferry), we had decided to enjoy 3 lazy days in Naxos. We stayed exactly in the same place as last time and it was as amazing as before - cannot recommend highly enough Dolphin Studion in Kastraki.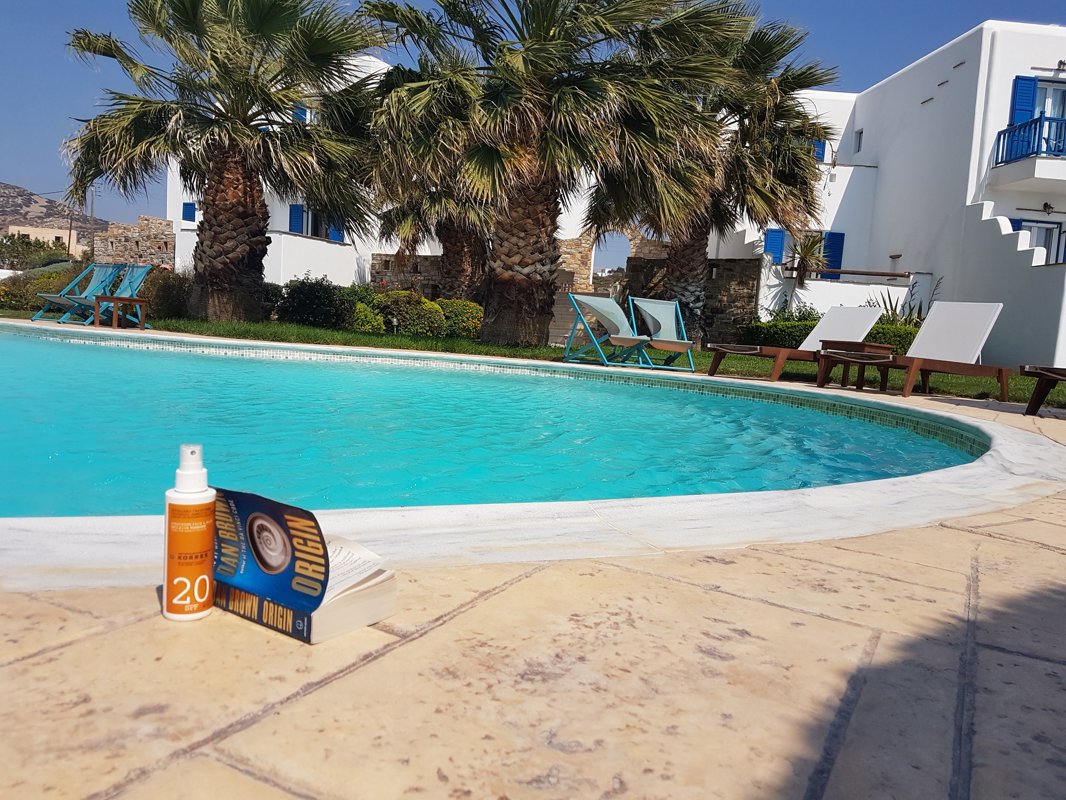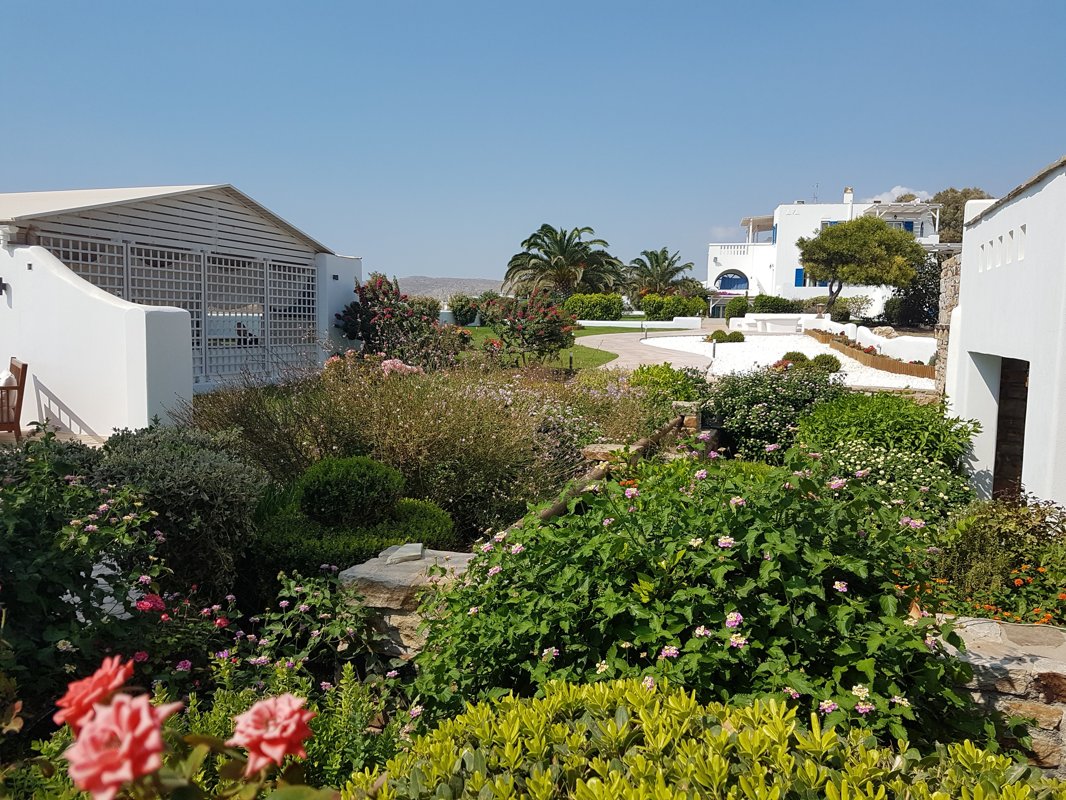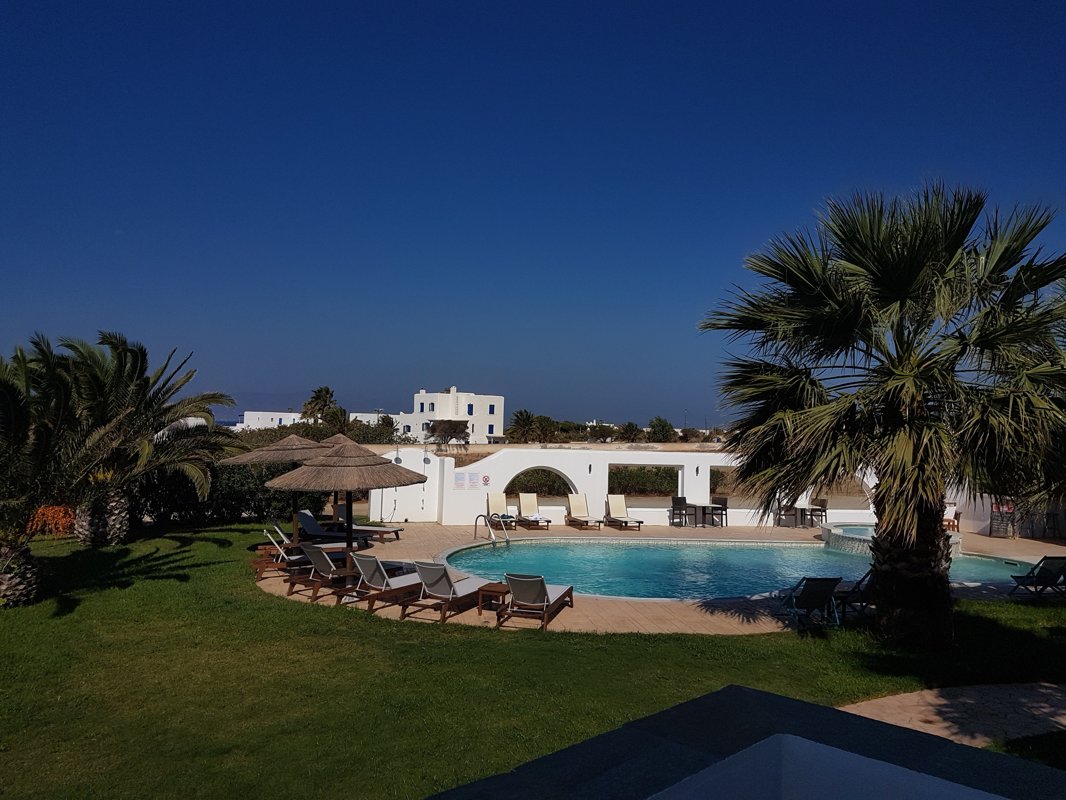 This time we did not rent the car, just made very long walks on the beach and enjoyed the surroundings.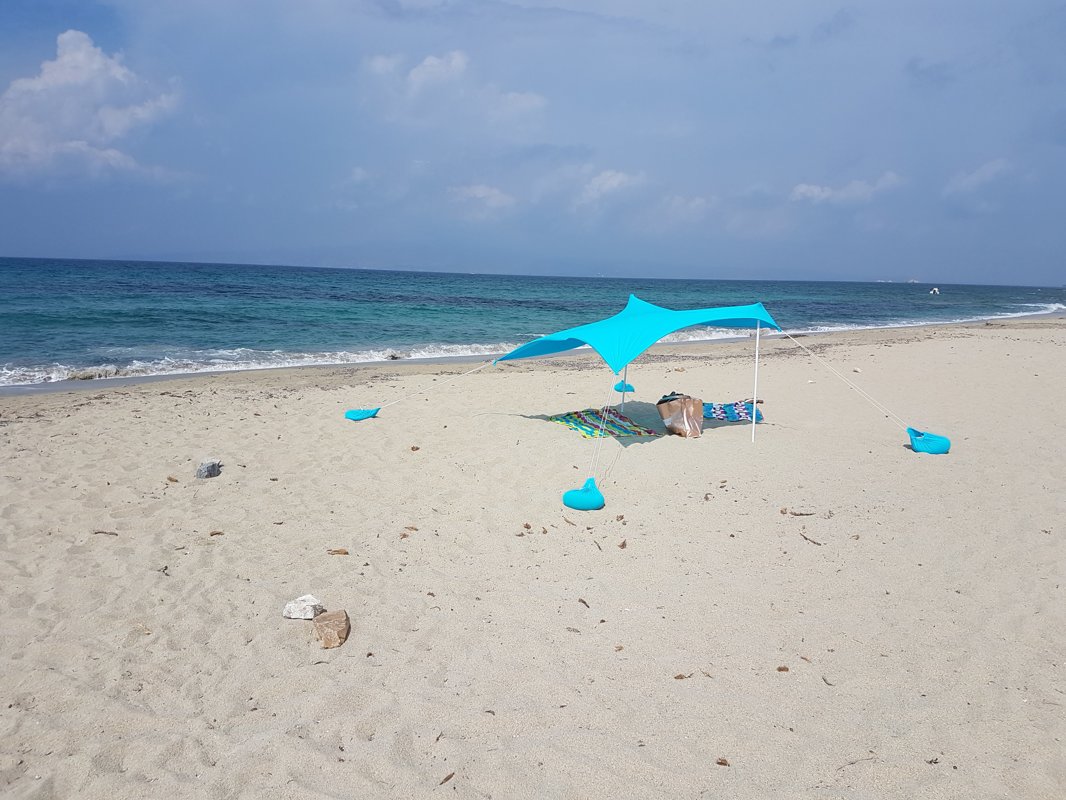 The beach was superb - just like we remembered. We had it all for ourselves at the end of August. I expected the water to be warmer comparing to last year in early July but I guess it was due to winds. Still, it was warm enough to swim and enjoy.
This time we walked again all the way to Alyko (but not through the dunes anymore - that was too crazy). We also explored much more the hotel ruins. New graffitis were available and there were quite many people around noon.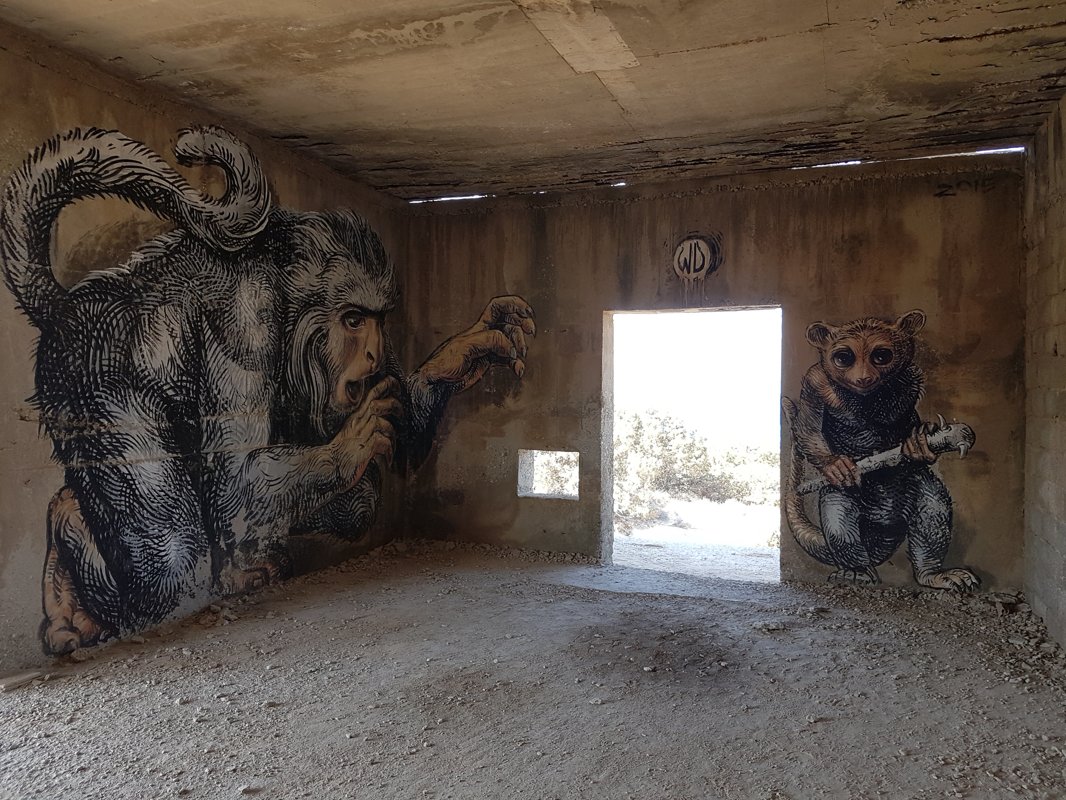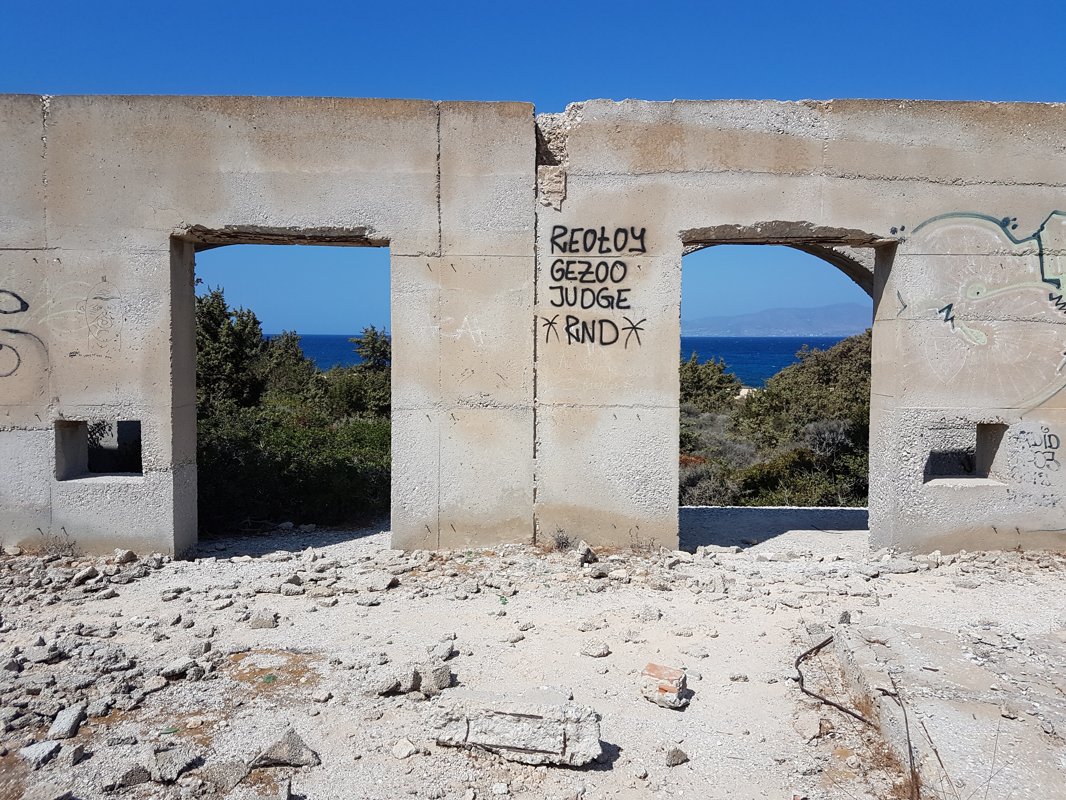 On the other side of Kastraki we walked all the way to Mikri Viglia, it's a quite a walk to and back but it was really beautiful.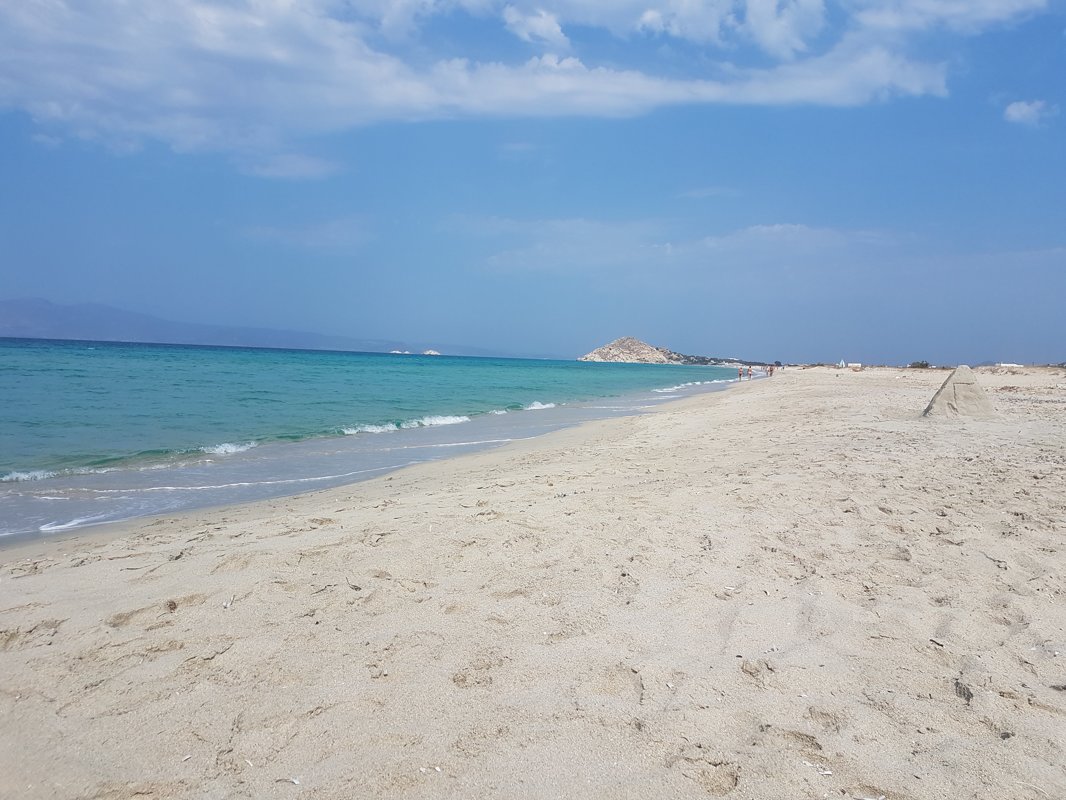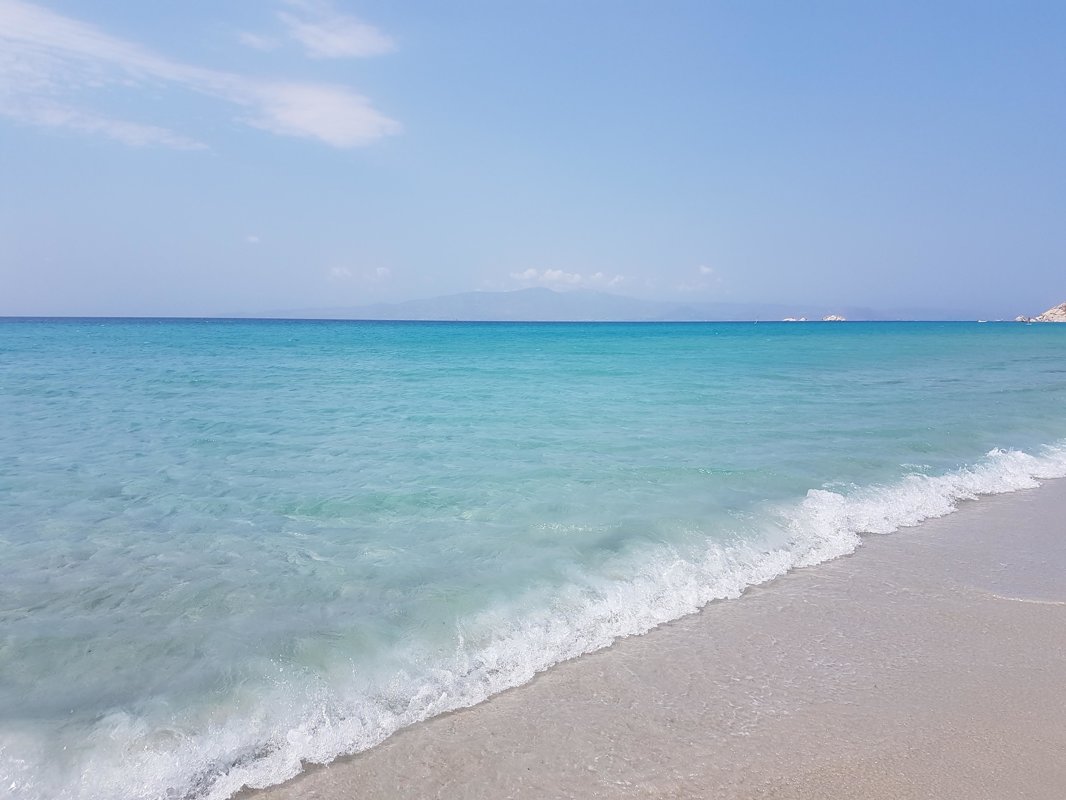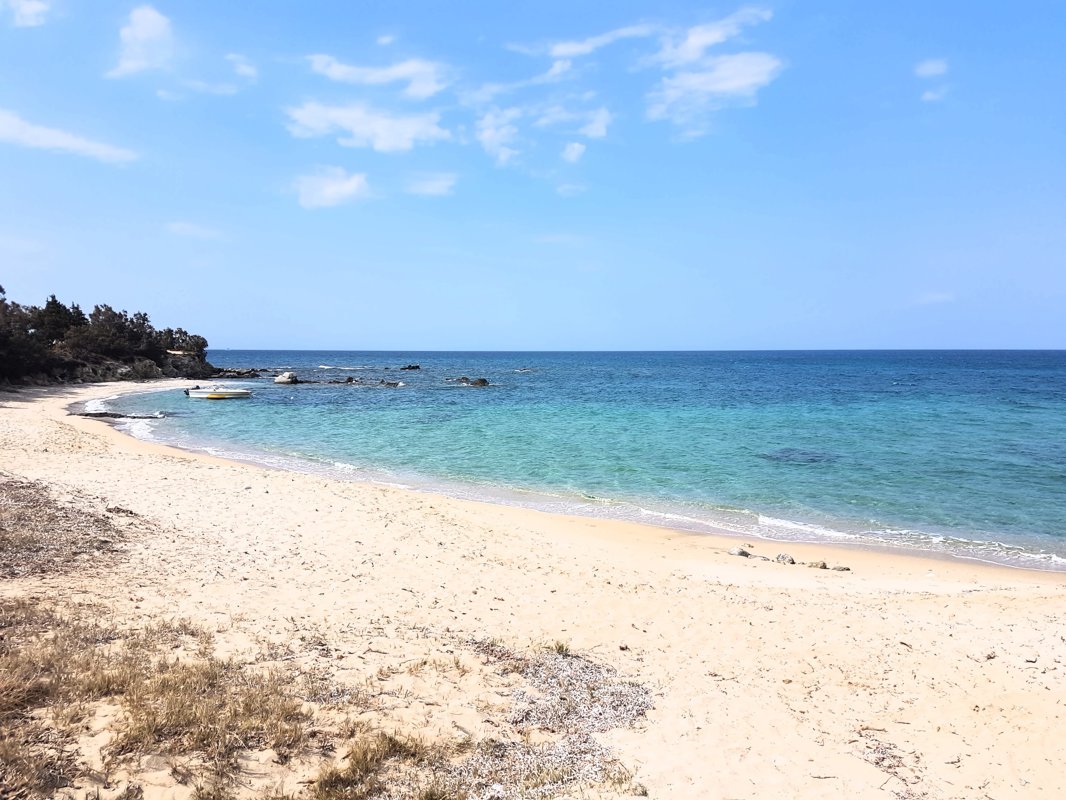 Just before Mikri Vigli we found an amazing spot for camping, it was not sing posted on google maps, so not sure if the location is legal, but the views were just wow... (so wow that I event forgot to take a picture...).
We were extremely happy to go back to our favourite restaurant in the world - Axiotissa. Booked the table for 3 nights in the row and had the same plate for 3 nights in the row - yes, that's how amazing the place is :) ant that's how crazy we are :)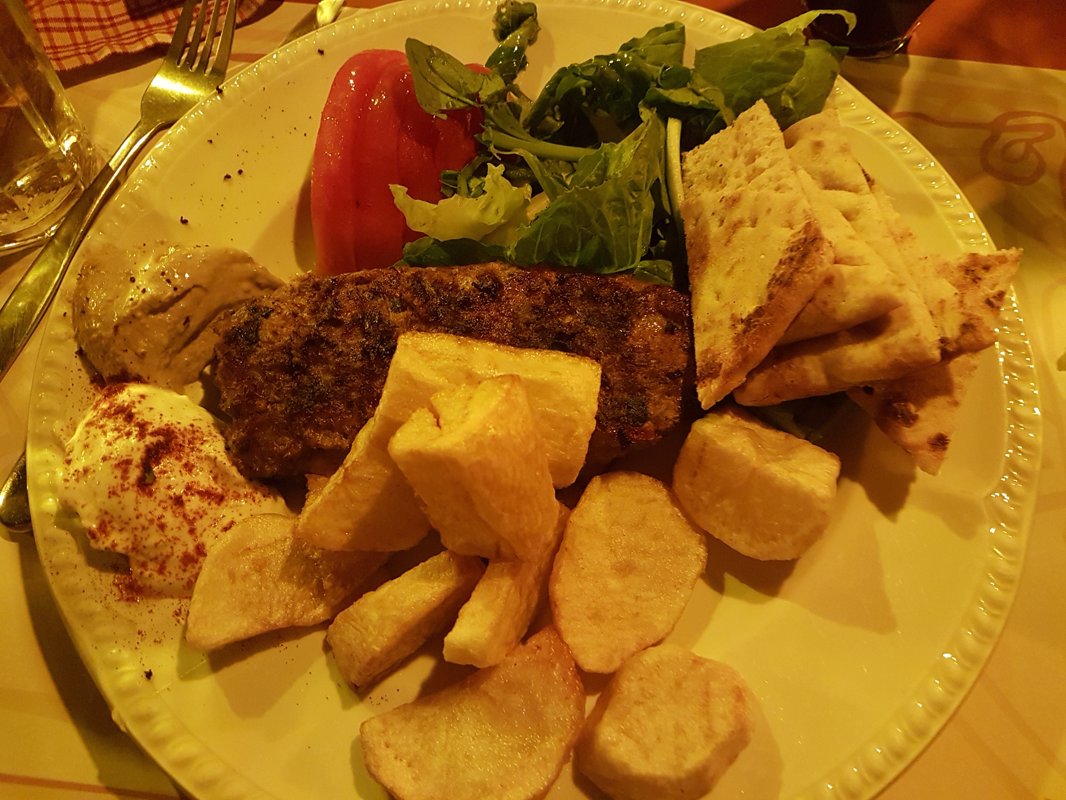 The best view on Naxos is actually from a ferry.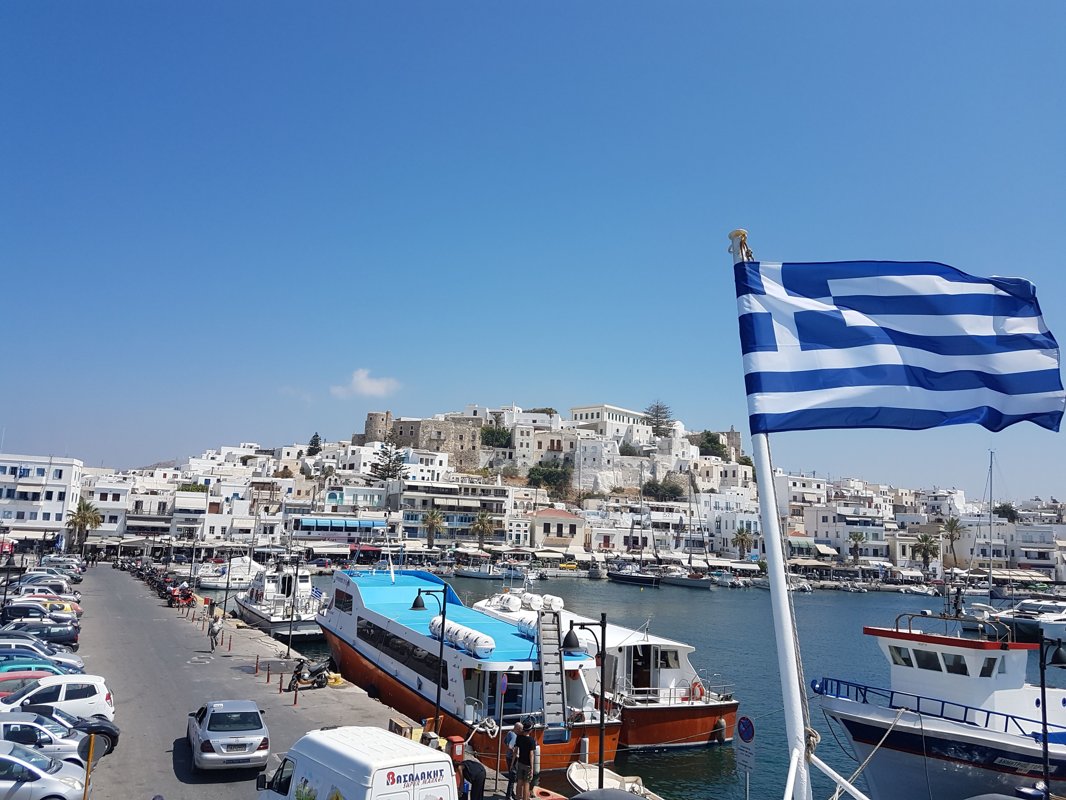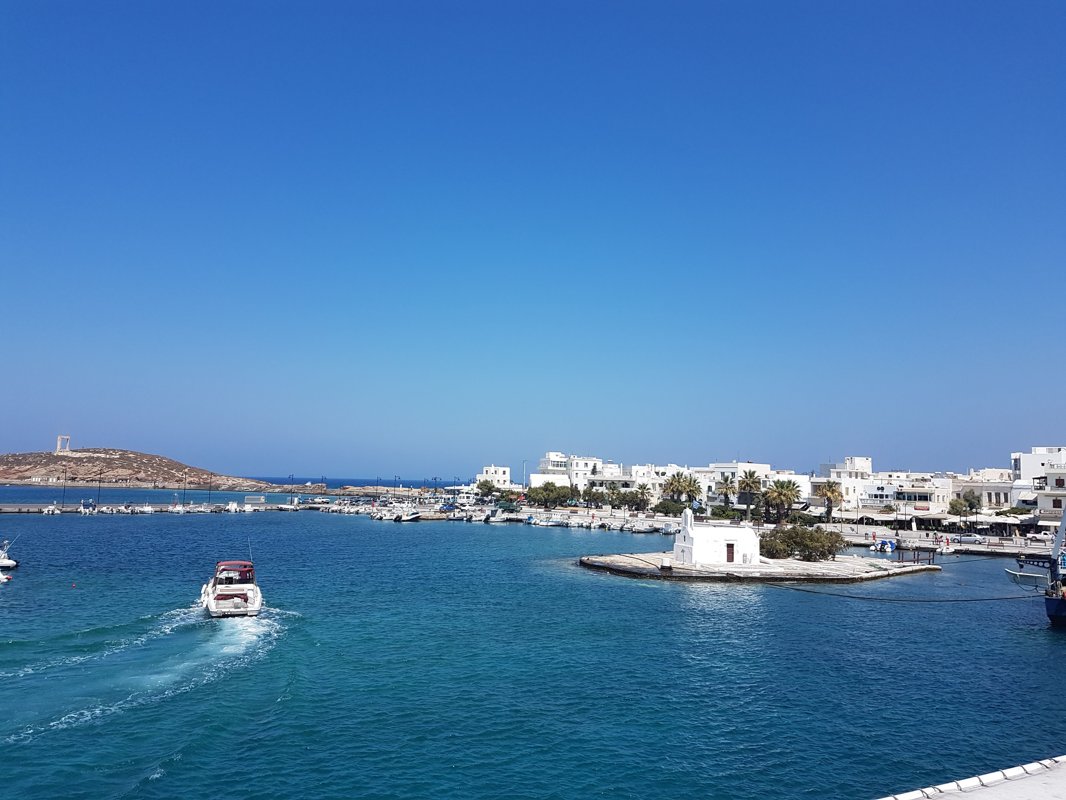 Our next destination after Naxos was Amorgos. We decided to go there by Skopelitis - a local ferry company. I had some doubts before whether it would it be Ok as I had read some stories that the boat runs in almost all weather conditions, meaning that it can get a bit crazy and scary. It was nor crazy nor scary bur the passage from Koufonisisia to Katapola was rather rough. If you get seasick, I'd advise to take Blue Star which is much faster as well but with less charm. We actually really enjoyed the ride as it passes all the coast of Naxos (and you actually realize how big the island is!), it also stops at small islands, so you get a bit of a flavor if you want to go there or not. Our trip was on Thursday I think, so Skopelitis did not go to Donousa which saves at least 1 h for the trip. I think all in total was like 5 h or so. But very interesting to watch as the boat is used by locals as well as tourists. A tip: get on the boat early enough, so you get a nice spot (good shadow and a view from the left side). And get your own drinks as they are super expensive on the boat.
The arrival in Amorgos is really impressive - not as impressive as in Santorini maybe - but still the cliffs are wooow.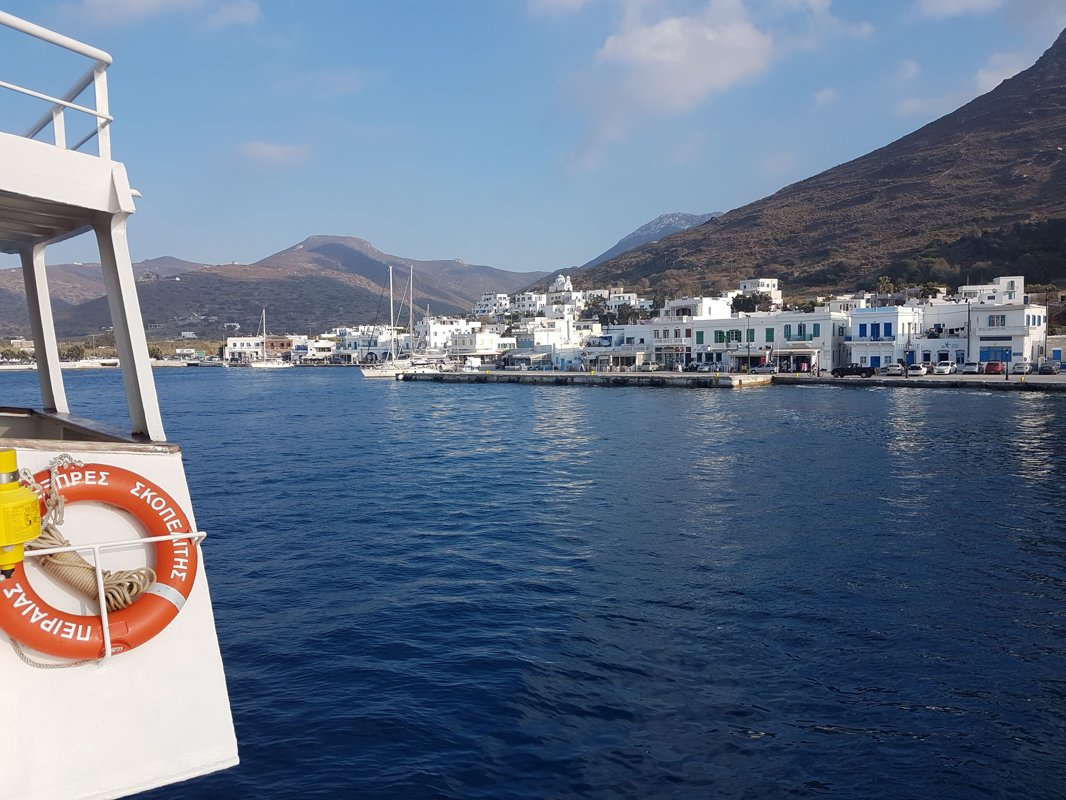 Katapola is really squeezed in between mountains but is a very nice village full of life. We stayed 3 nights there and 2 nights in Potamos (next to Aegiali) and we were super happy about our choice). Katapola really seemed a bit forgotten place, the rhythm of life was slow but the village had all you need - nice places for food, small grocery stores, bakery etc. We stayed in Kamara family house - a very spacious flat just 5 minutes walk from the port and it was great. Very welcoming people, we even got treated with home made bread and jam and dried fruit.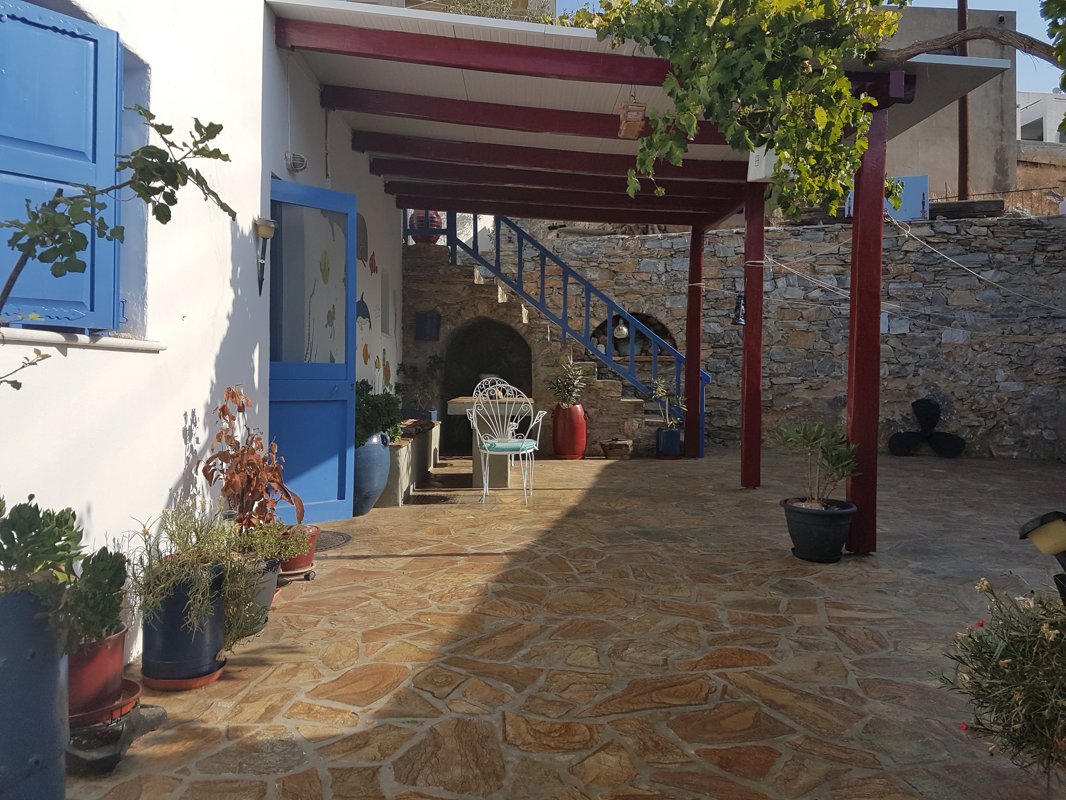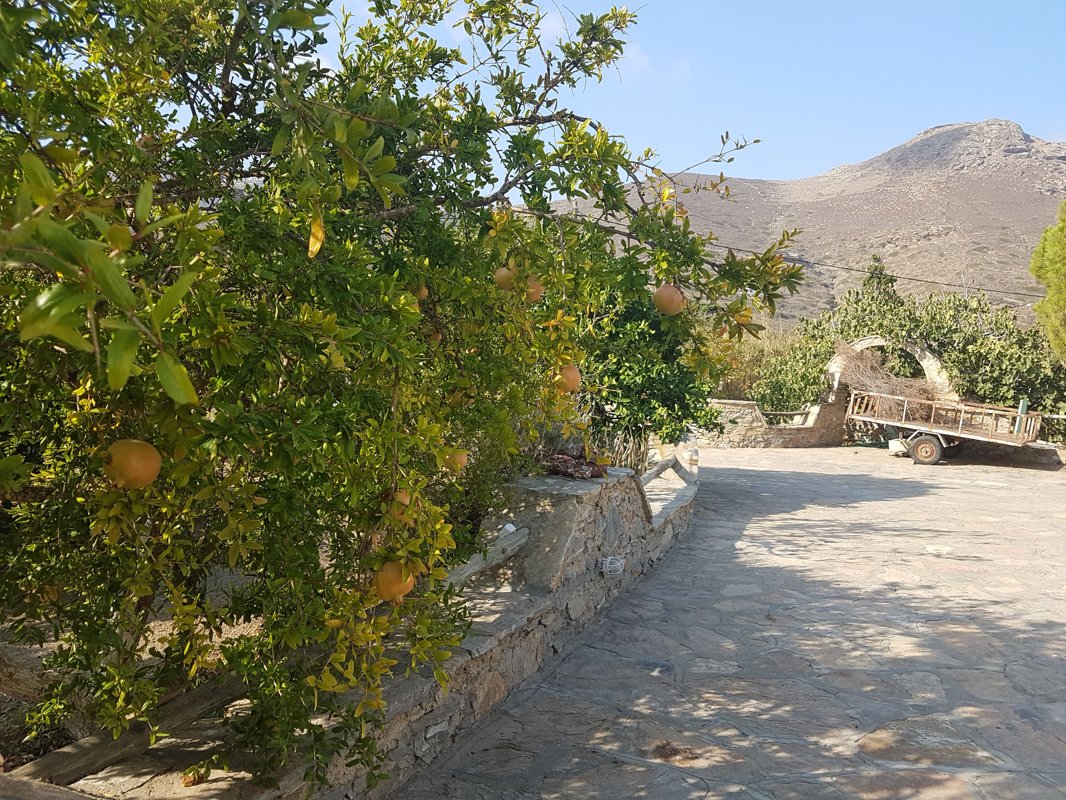 To explore the island we had rented a car for all 5 days. Our first trip was to the very western beach. A very beautiful ride but the beach was nothing impressive comparing to Naxos.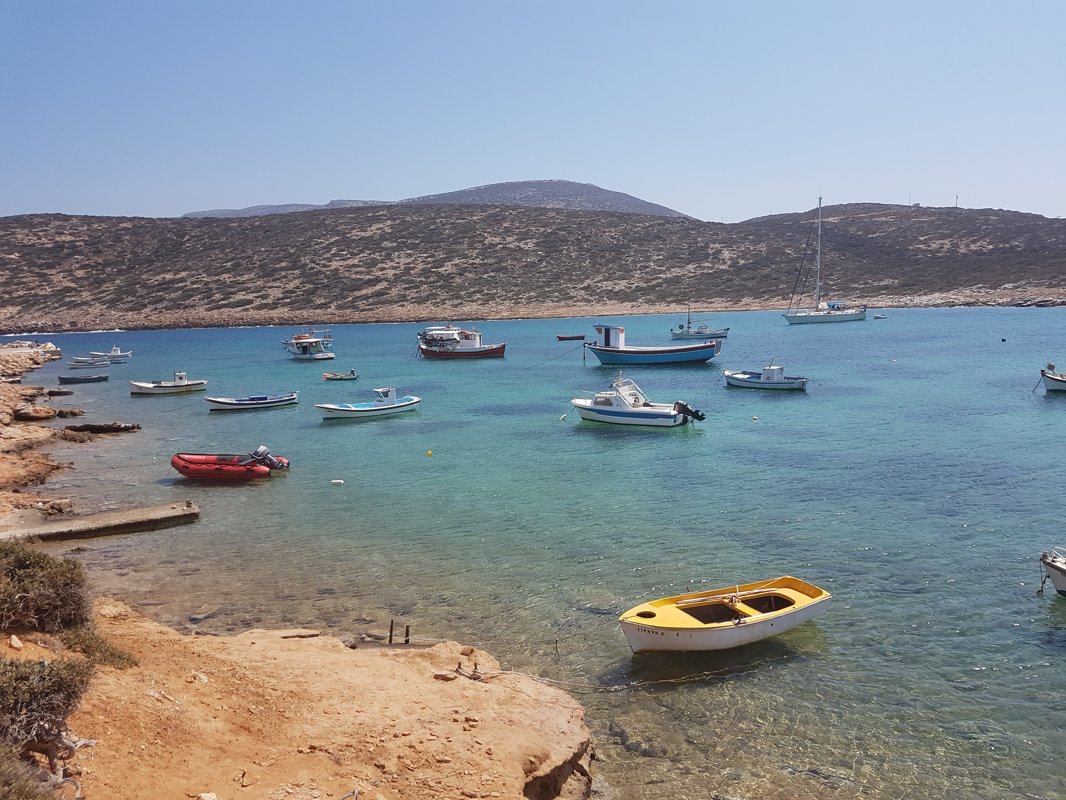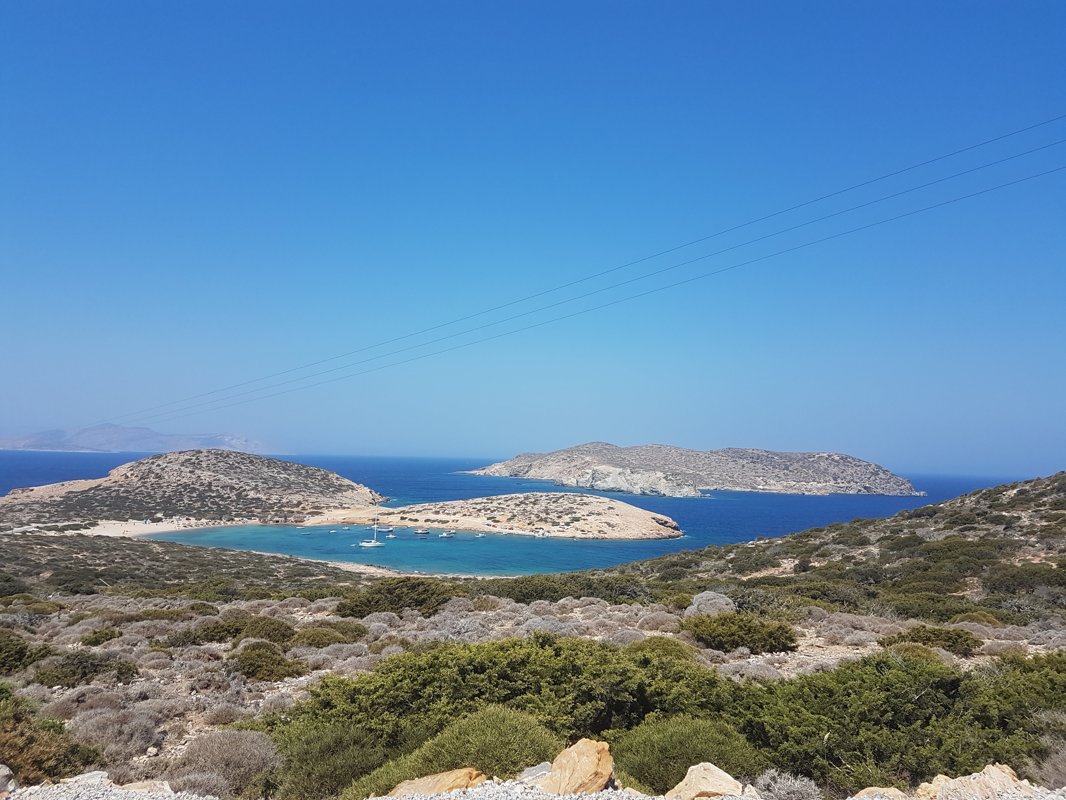 On the way don't miss an impressive shipwreck, it's just 15 minutes walk from the main road and it's really easy. Well, yes, it's hot, so take some water with you.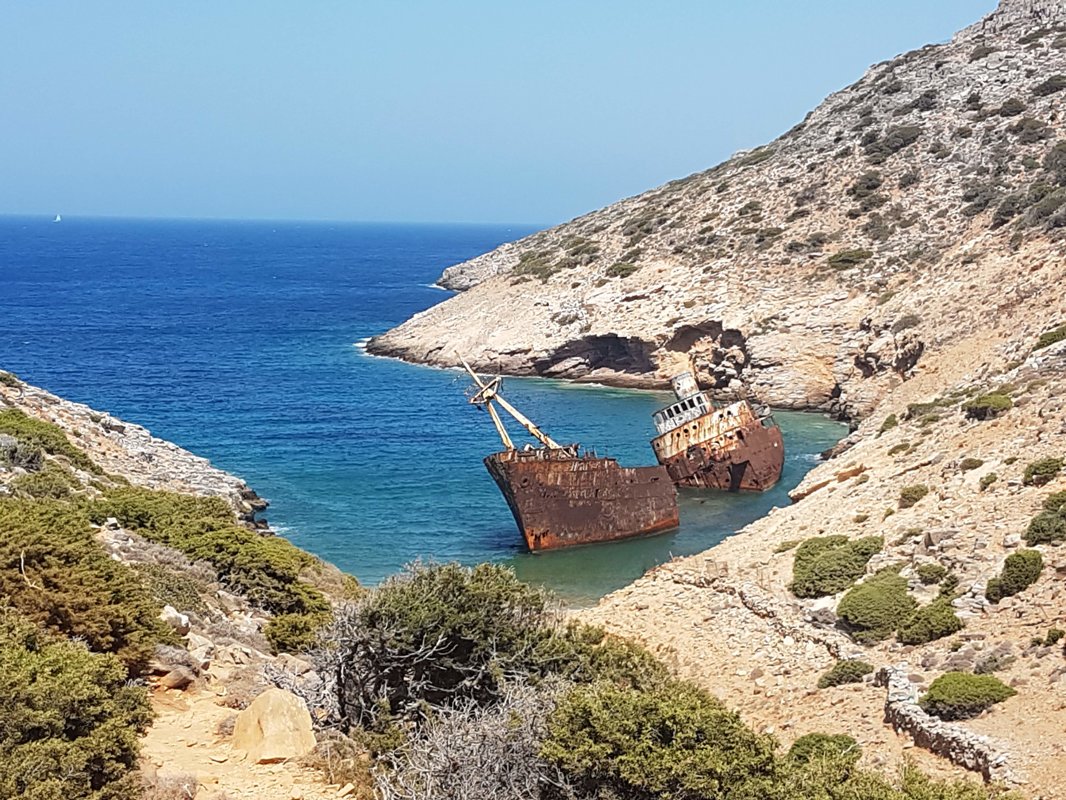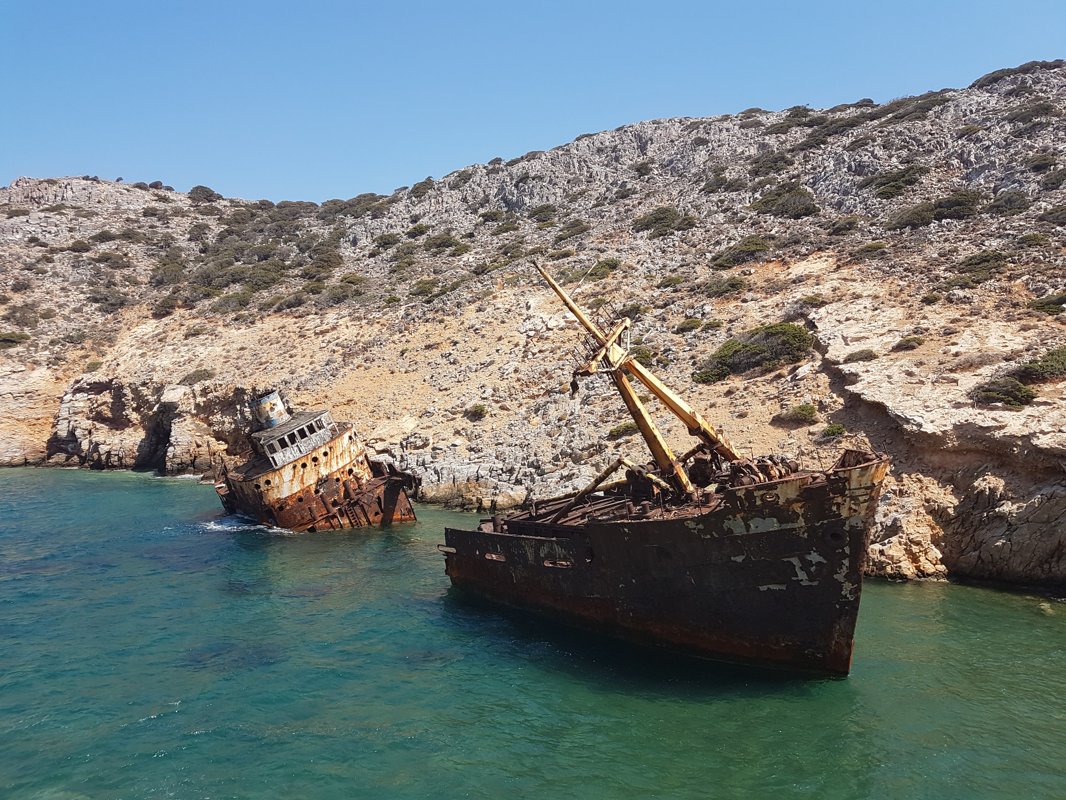 If you are brave and have good shoes, you can climb on the left on the cliff and get a nice view on the ship.
During the first 3 days it was quite windy. While reading some descriptions about hikes they would say that you have to pay attention not to be blown off the cliff. Well, we really saw what that meant. You have to be super careful, also with the door of the car - keep it well not to get your legs crushed.
But the views... OMG.. beautiful! Le grand bleu...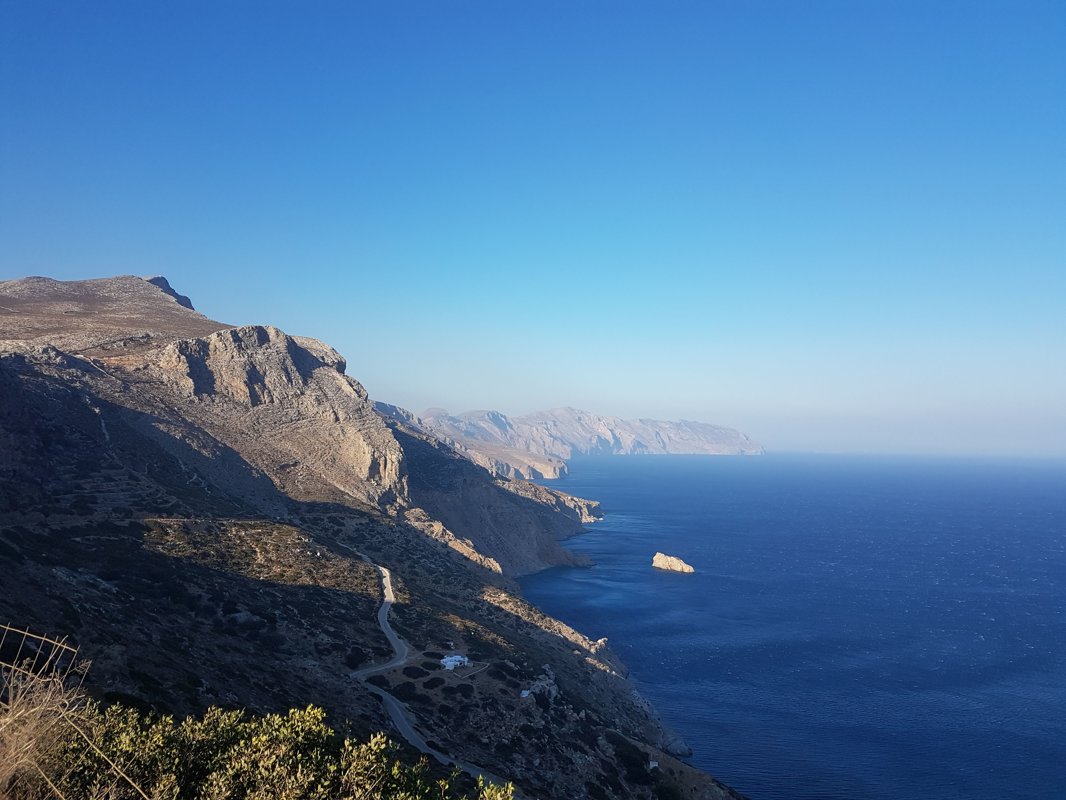 The good thing about Amorgos is that even if it's windy, the waters on the south are protected and you can swim easily. Mourou beach was really beautiful with amazing azure colours
One of the "must see" things on the island are, of course, the Hozoviotissa monastery. Although we went already rather early (around 9), it was getting busy. If you want to enjoy it for yourself, go as early as it opens. I promise - it's worth it.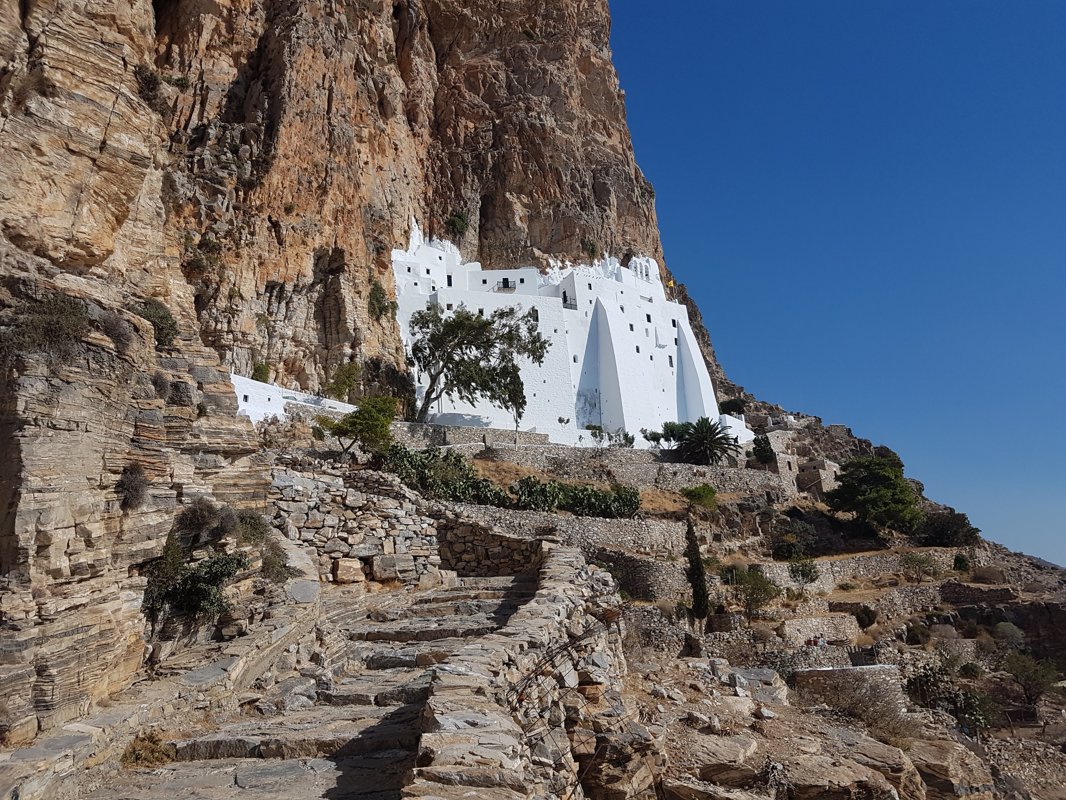 Everything is impressive about this place - the location where it's made (also the story why!), the cliffs, the sea, the dazzling white colour, the birds singing around and the fact that there are still 3 monks living there. The walk up is not that difficult. But make sure that you are properly dressed - men need shorts covering their knees and women need skirts that cover knees as well and something with long sleeves. There are some items that you can borrow to wear but because of the wind, they were all flying around. We were lucky that when we arrived we did not really have crowds, so we could explore the rooms on our own. All the guests receive a welcome glass of rakia and a coffee if you want. That was a very nice touch.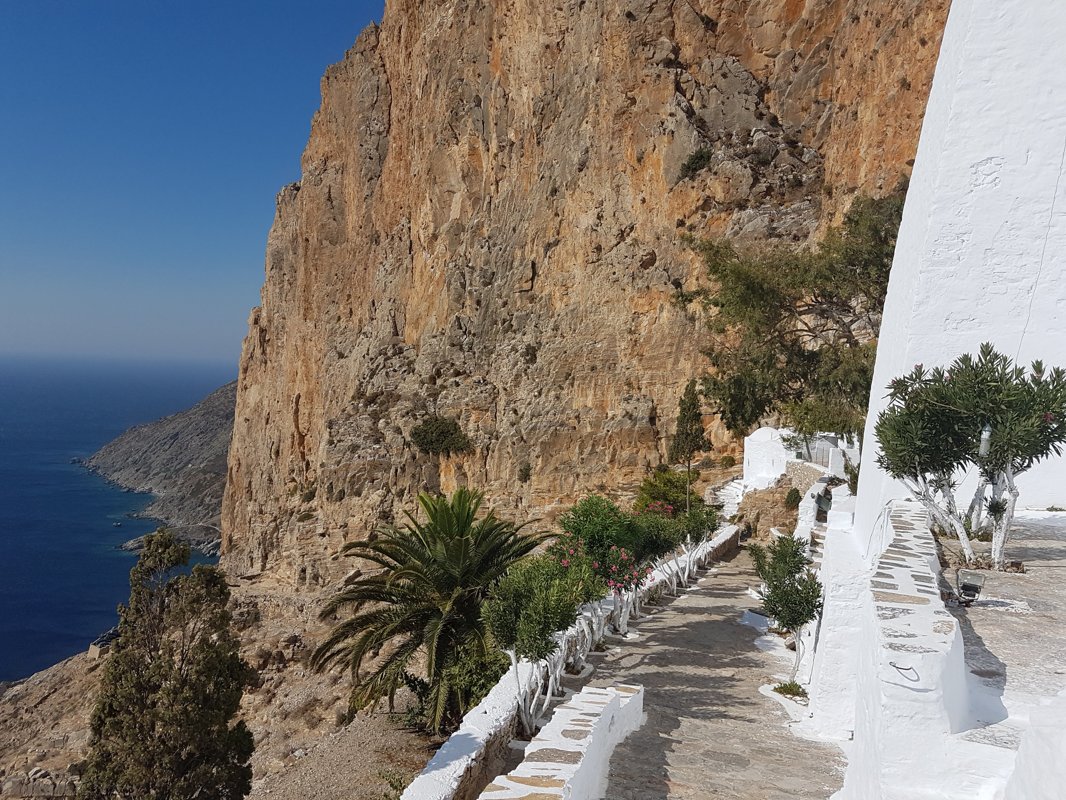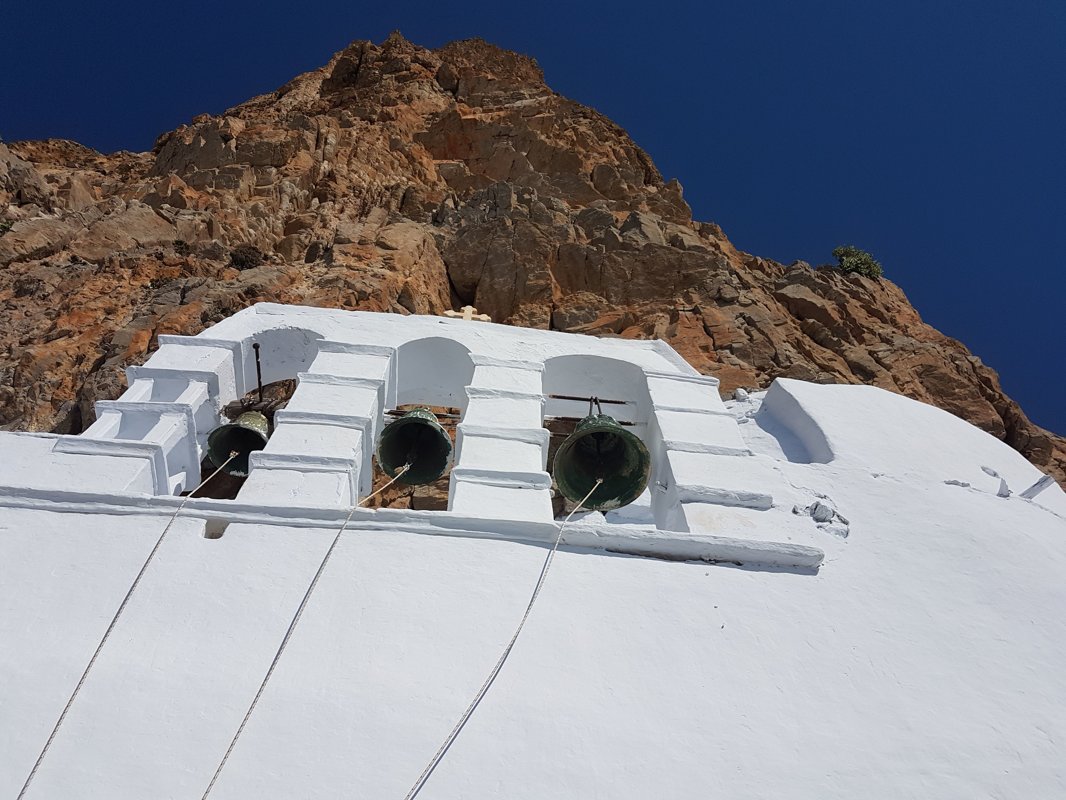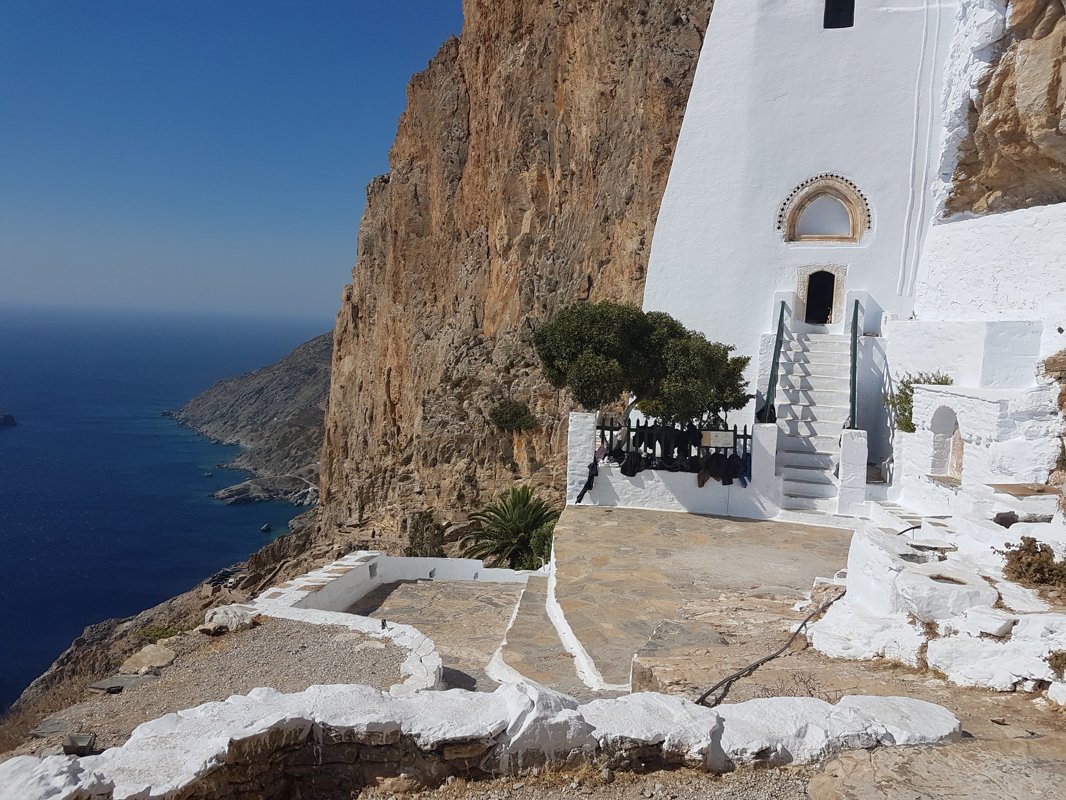 It was nice to observe also the everyday life of monks - they had their own tomatoes growing in a mini garden and chicken were running around and apart from wind and birds - no other sound. A perfect bliss...
After the visit we were going where everybody else goes - Agia Anna beach. Although I thought it would be very crowded and I would not like it, I actually enjoyed it very much. The views are amazing and so is the water. They say that if you swim out in the sea you can actually see the monestary, I did not try but it definitely seemed possible. Snorkeling was quite nice there.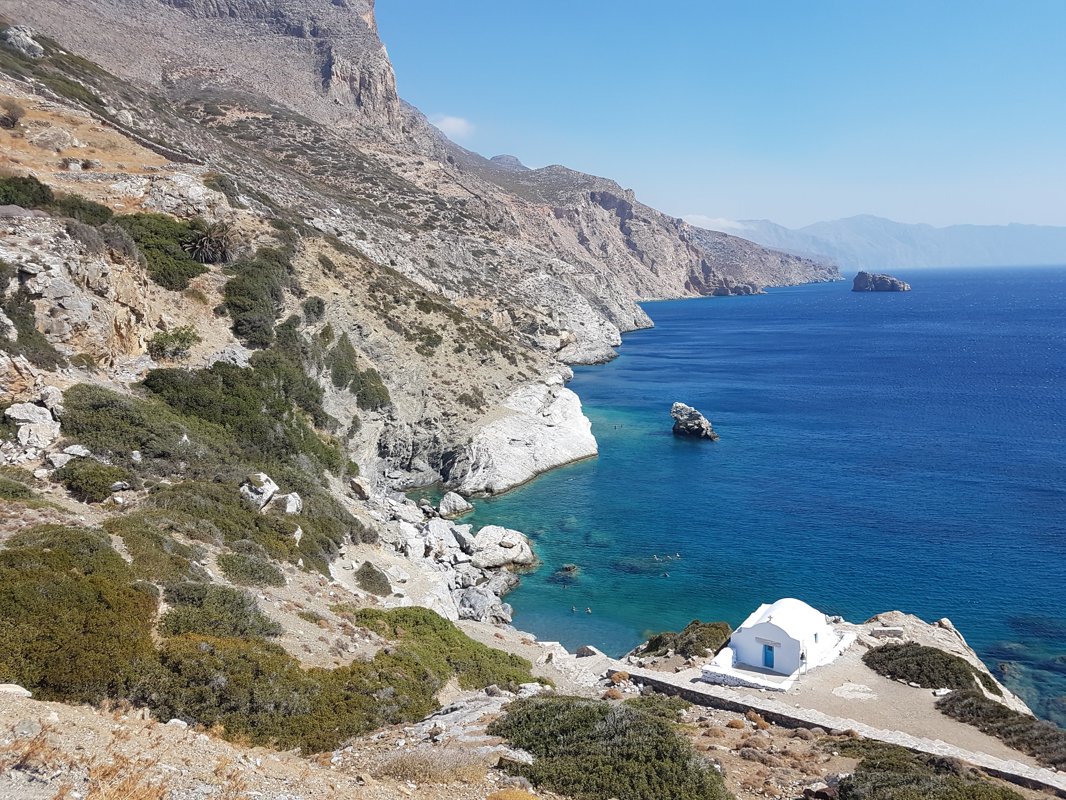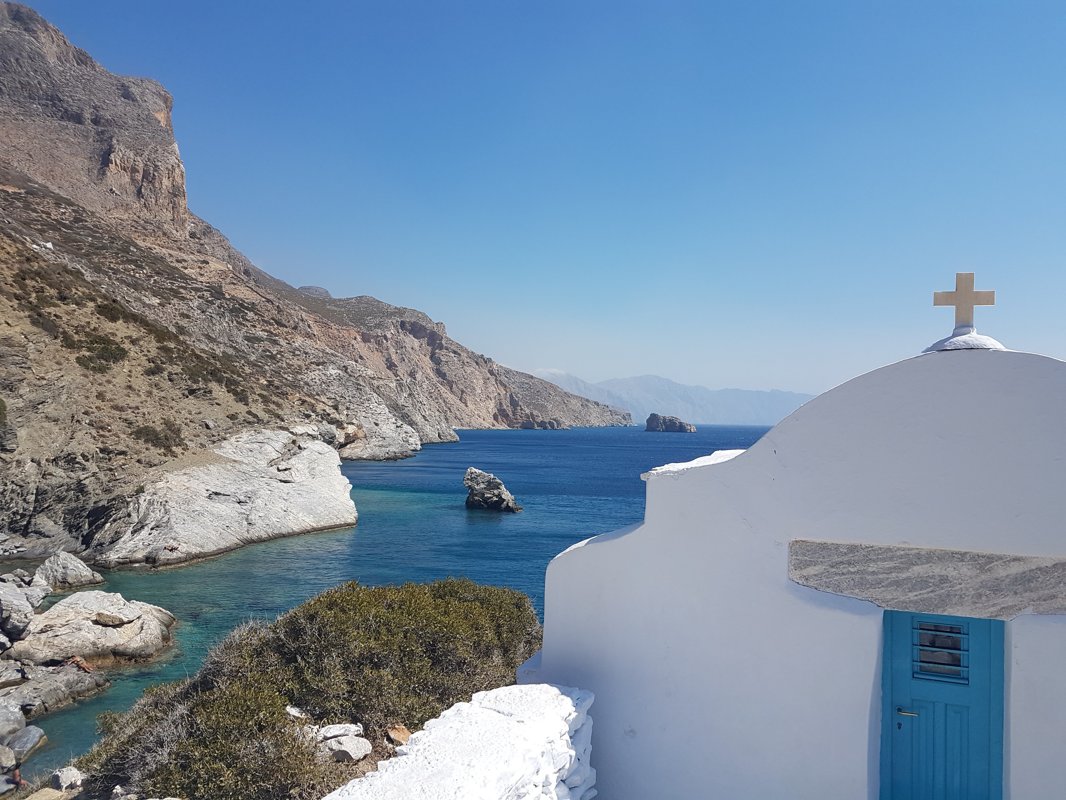 The main village of Amorgos - Chora is also very nice. I totally understand why many people choose this location as a basis for their holidays - it's super well located with amazing views.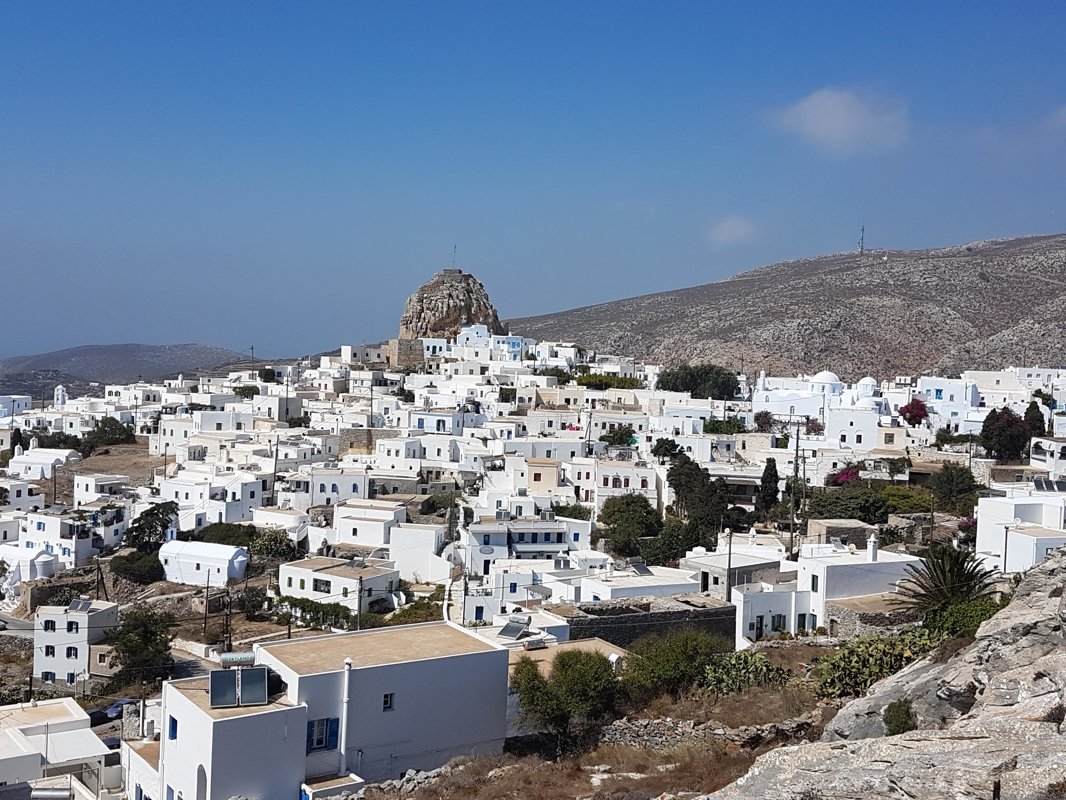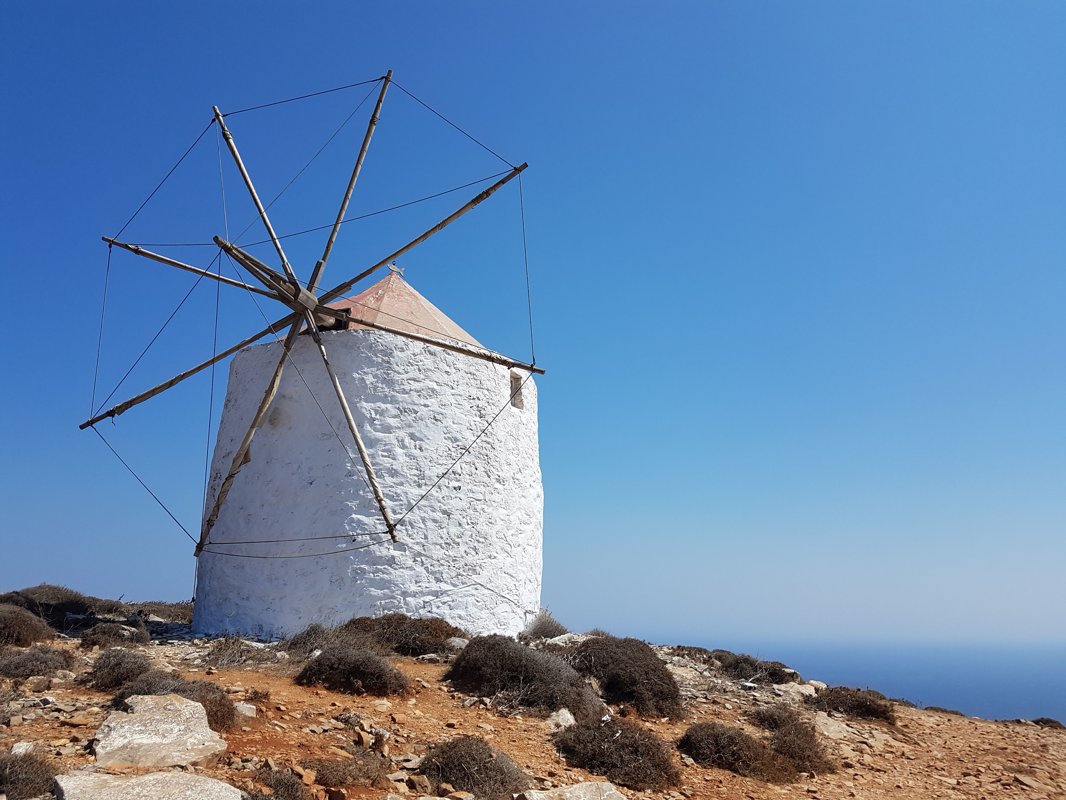 There are 15 or so windmills just next to the village - a lovely walk if not too windy. But you totally get the point why WIND mills are exactly there...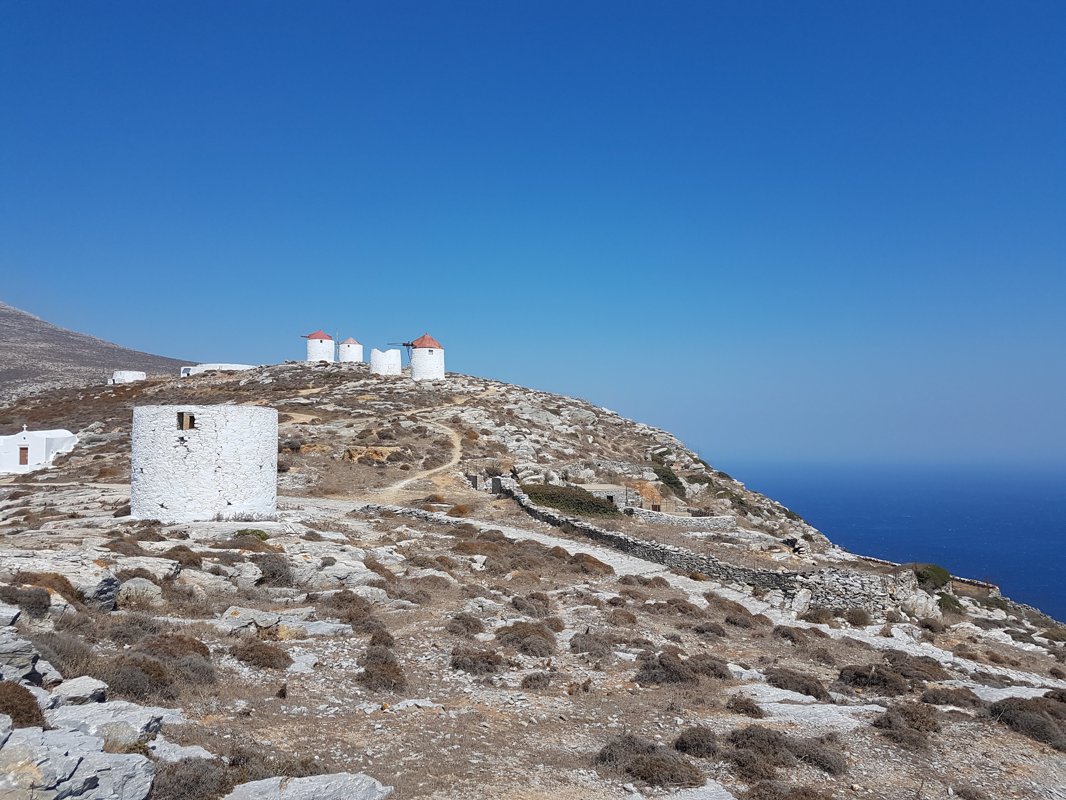 In Chora we found our favourite restaurant on the island - Transistoraki. A perfect service and wonderful food. The best aubergine salad ever ;-)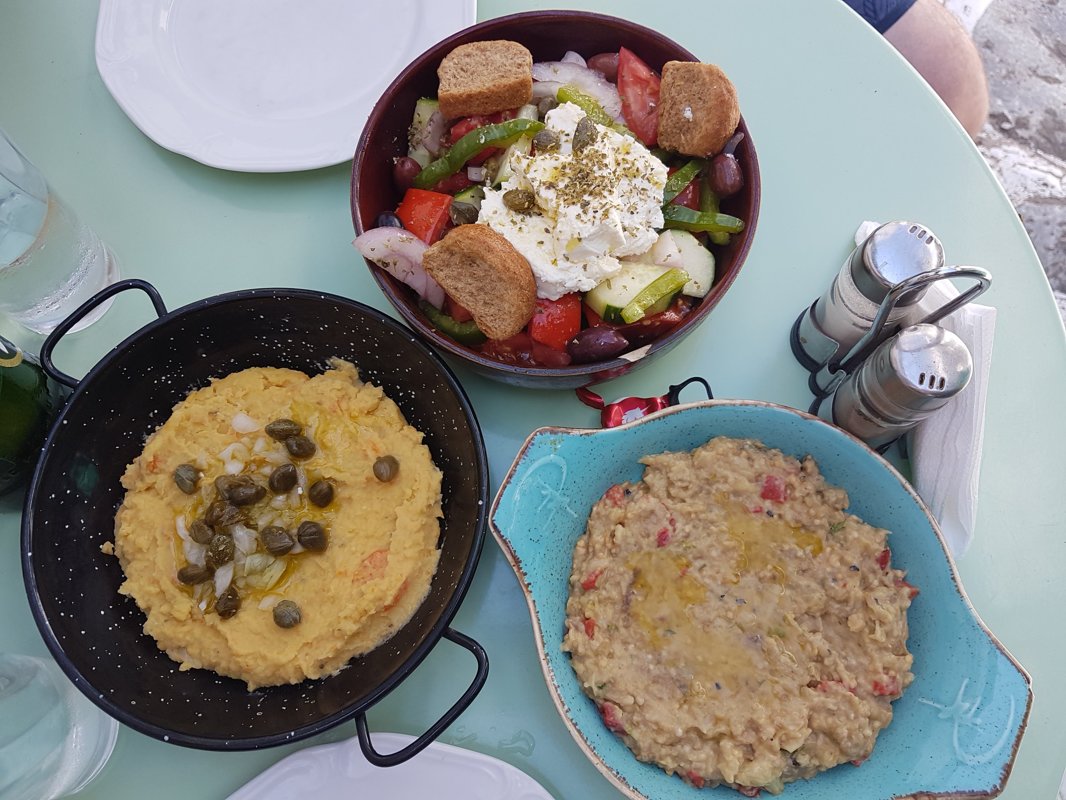 Now that we are talking about favourites, we found that Agios Pavlos beach was the best for us. It's very protected from the winds and very calm. The stones are big, so not necessarily very comfortable but very beautiful.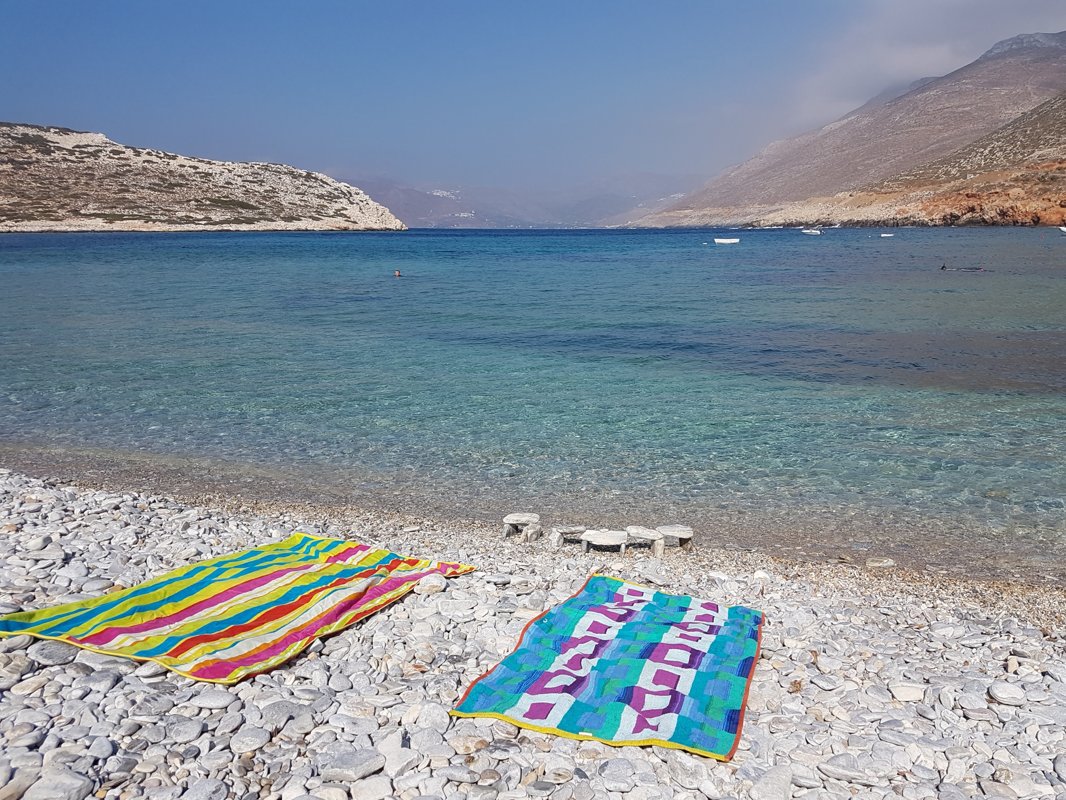 You can get easily also to the island just in front - Nikouria. There is a small boat that goes every hour or so. Looked very nice but we did not try.
Before we moved from Katapola to Aegiali we made a lovely morning walk to church of St. Panteleimon. You could see how the village is slowly waking up and how people slowly get into their daily chores. You also pass a beautiful cemetery with probably the best view in the world... The church was a perfect spot to have a freshly cooked spanakopita for breakfast.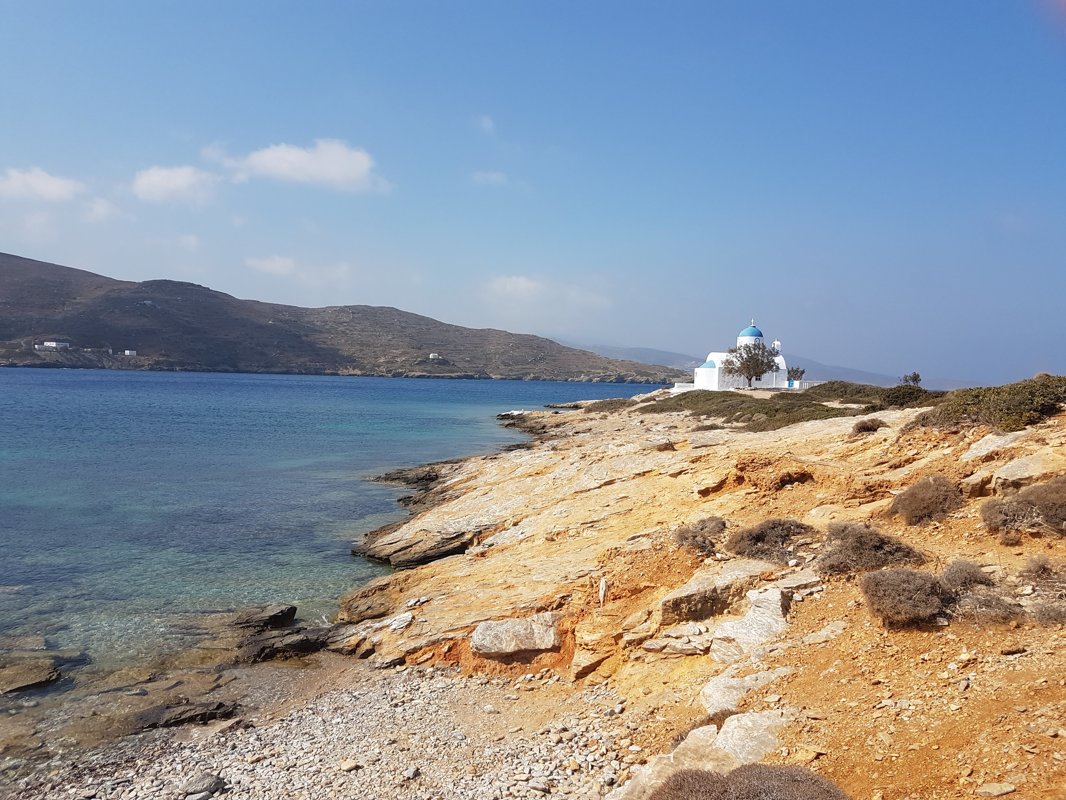 Afterwards we moved to Agiali, to Potamos to be precise - a super nice location and a perfect place to stay - Pano Gitonia studios. If you stay there, car is a big privilege.
The winds had calmed down and we could discover a totally different side of Amorgos.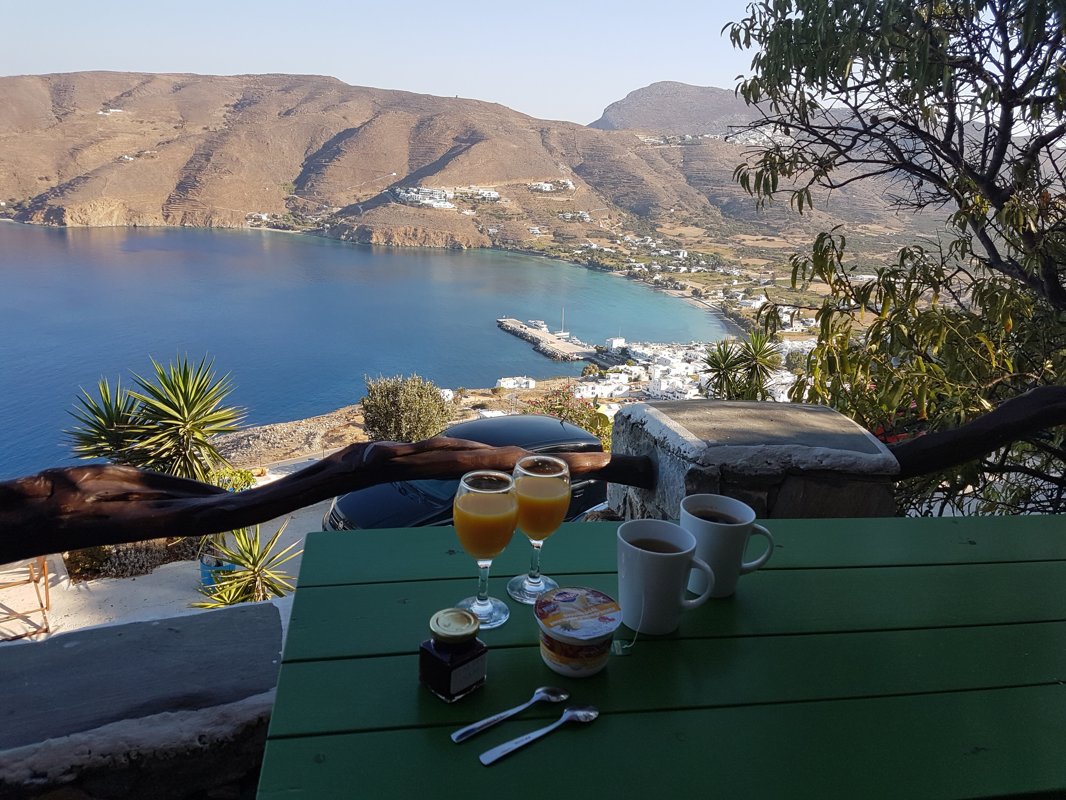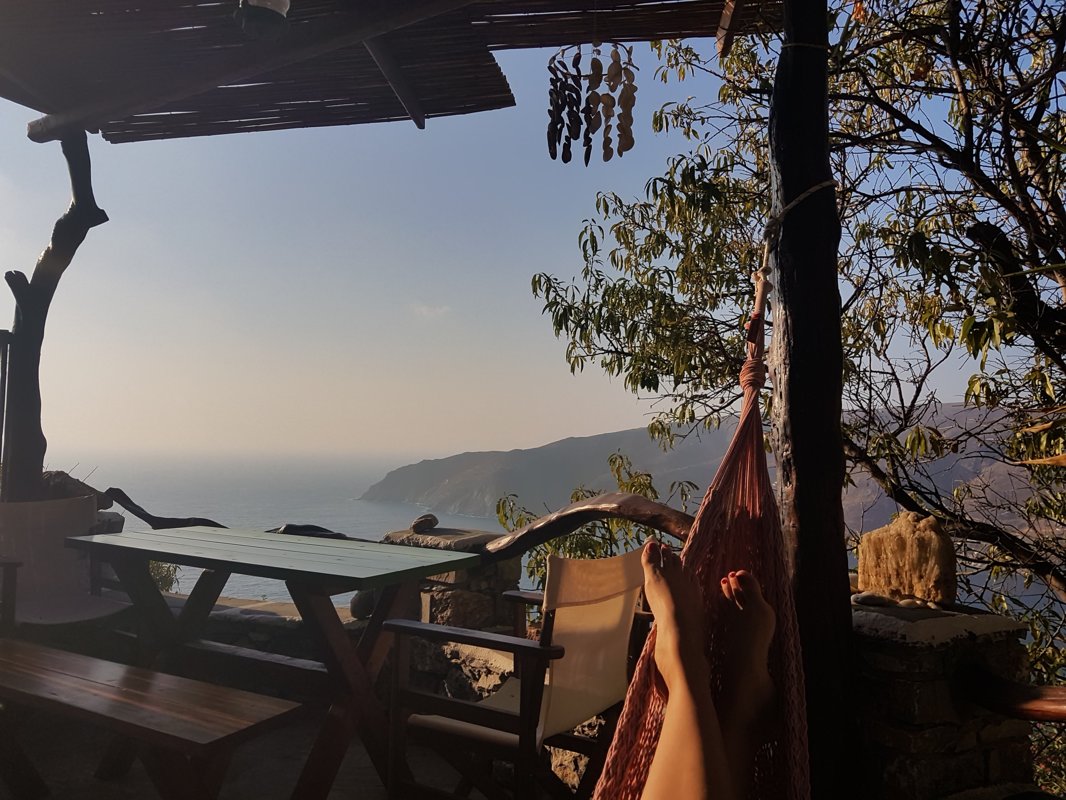 To be honest we were really happy we did not stay in the centre of Aegiali, it felt like everything was there only for tourists. While we were on the island, the ferries had gone on strike for 3 full days! Luckily it did not influence our plans but it did create a bit of a mess on the island.
Amorgos is an island for walks. Although I had researched a lot of passages, we did only one longer walk from Pano Gitonia to (almost) Asfondilitis. On the way we discovered an old settlement with a view on Agios Pavlos and a local farm with donkeys and even cows!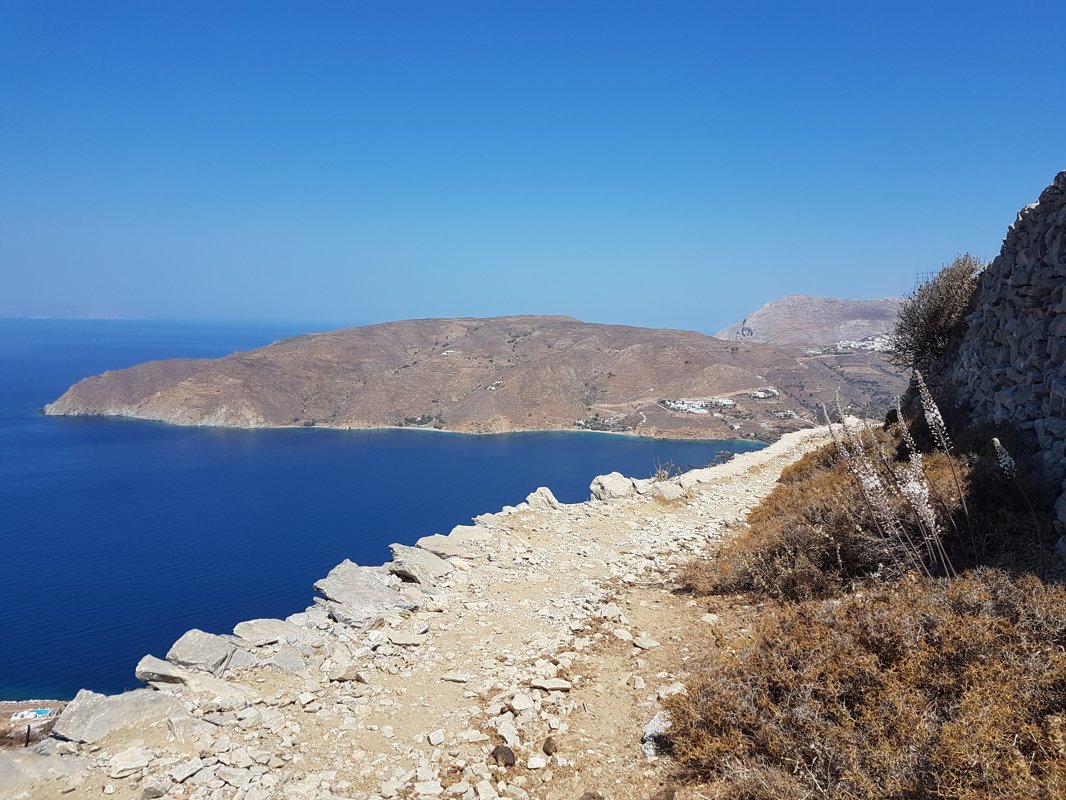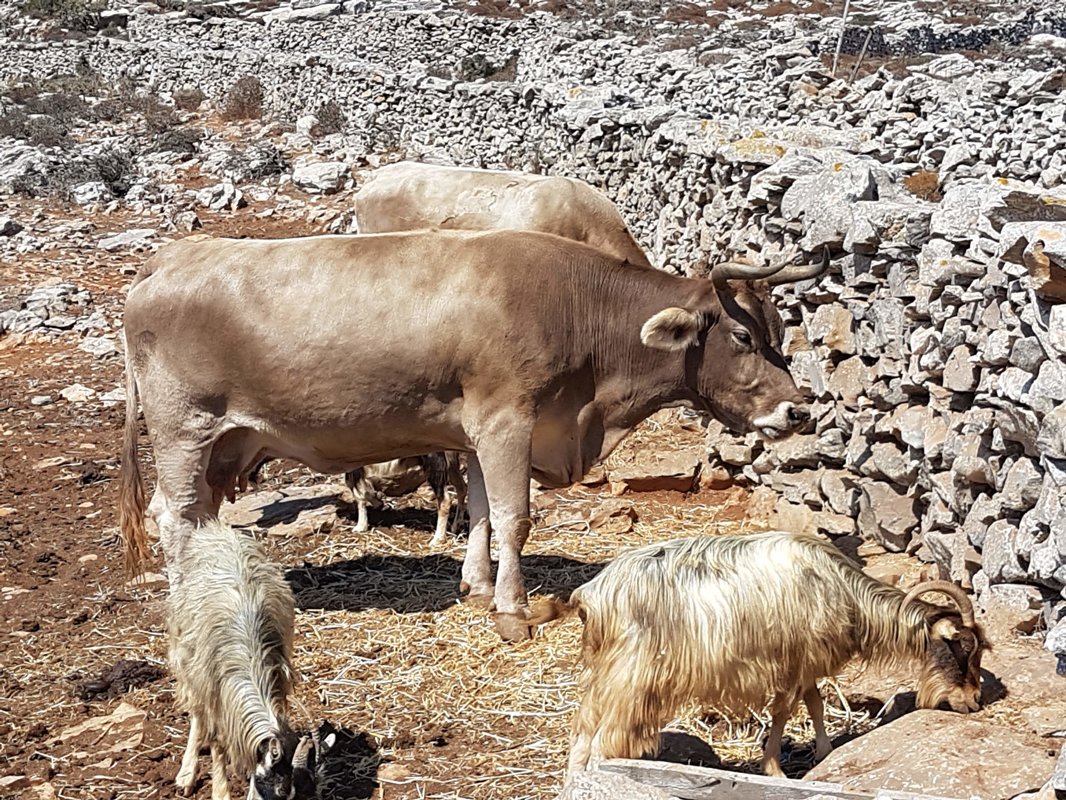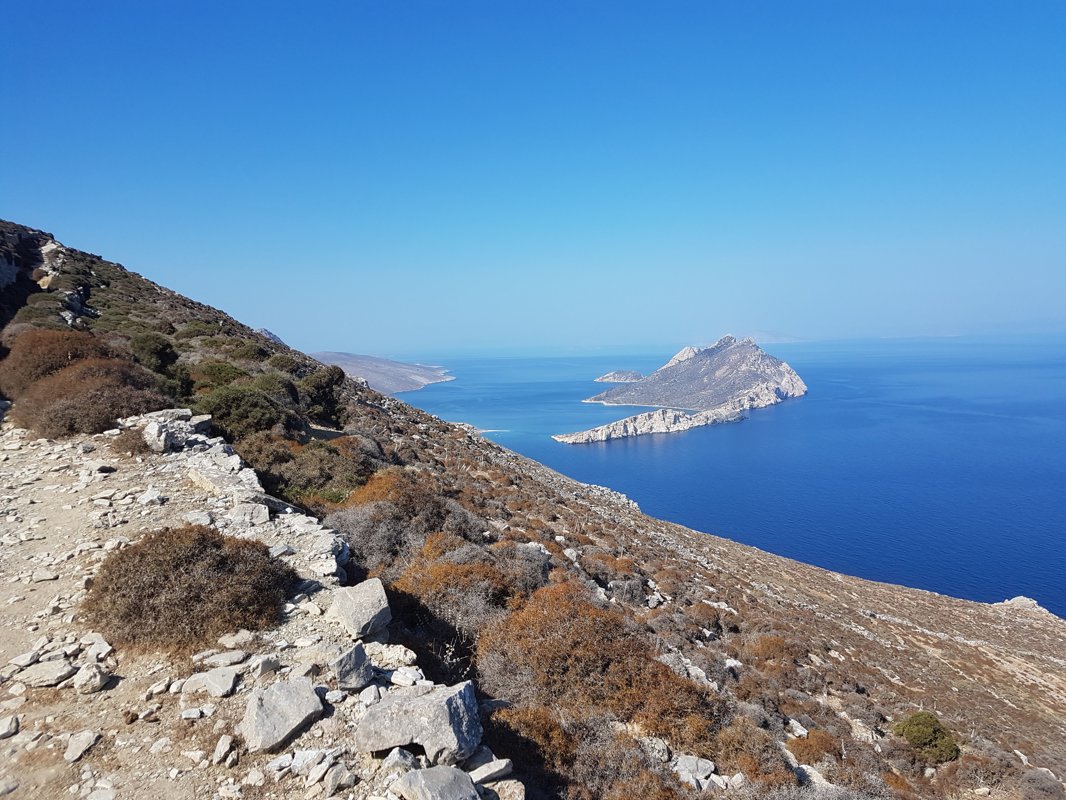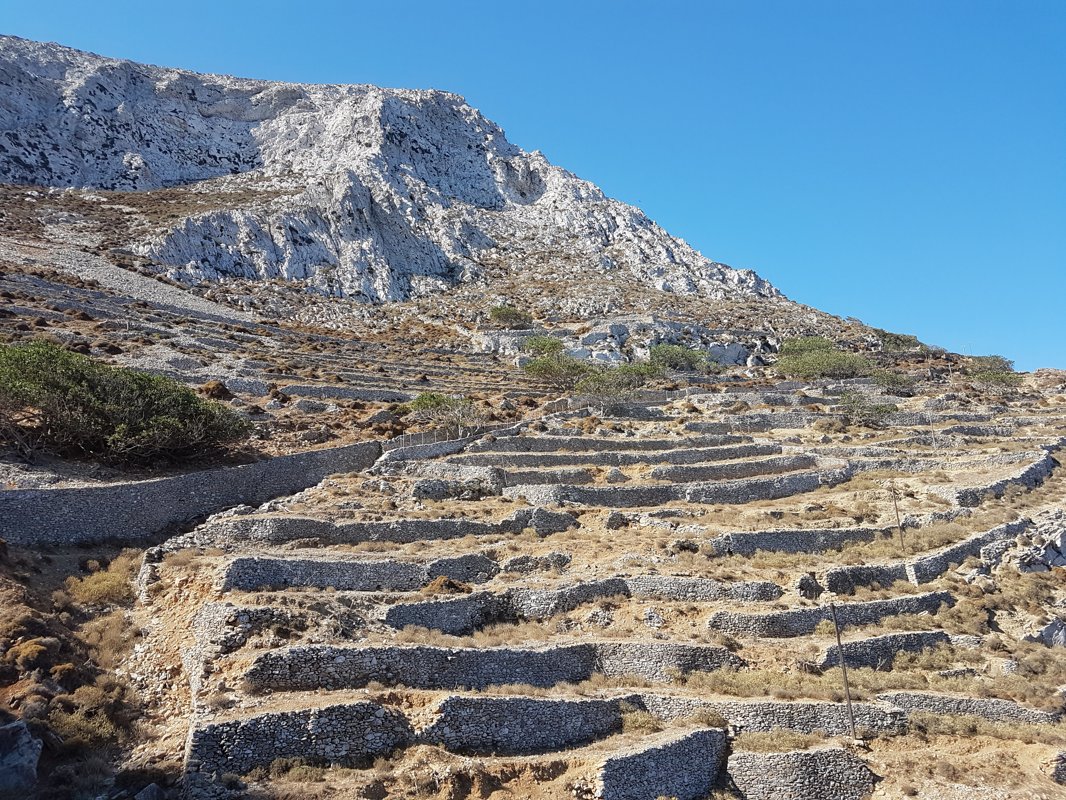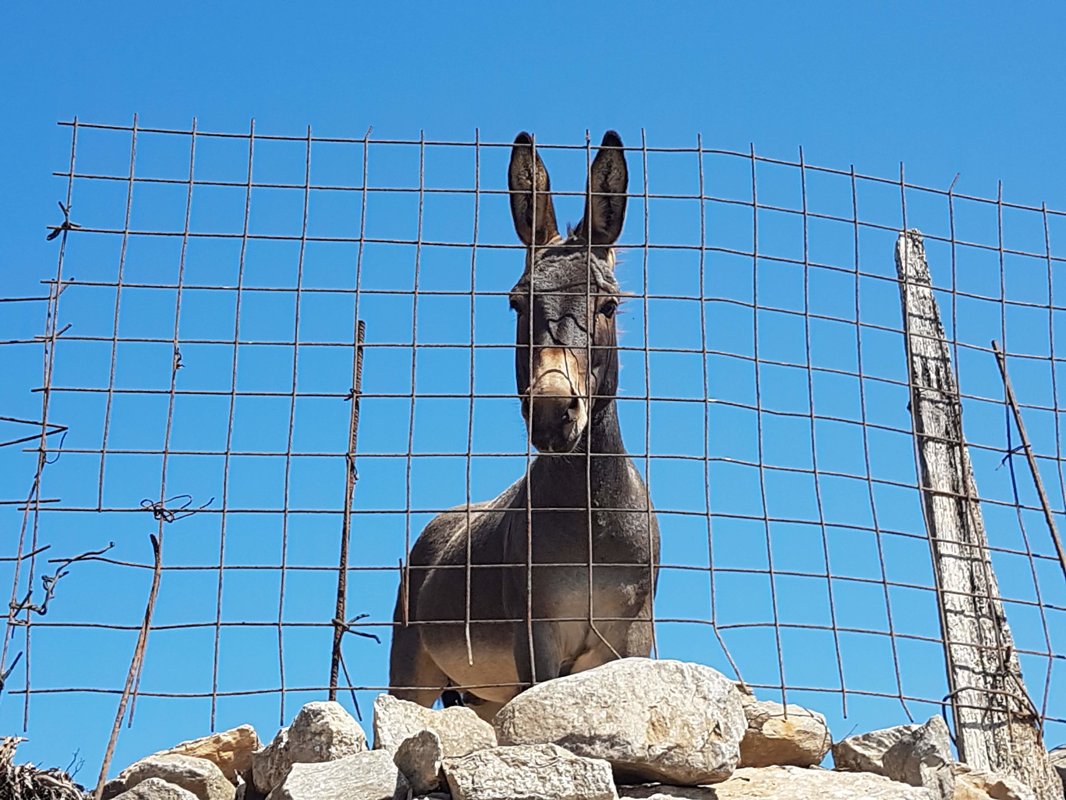 The walk was beautiful, rather easy but it would be better to have closed walking shoes.
In the afternoon we discovered villages above Aegiali but it was far too hot. The beach of Levrossos was a small refreshment but we did not find it very inviting. The water was fine and lovely but it was too busy for our taste and we had no strenght to walk further down to Psilli Ammos. And no surprise, in the evening I actually got a heat stroke! First time I had such a headache. But lots of water and cold towels did magic and I was up to enjoy a beautiful sunset!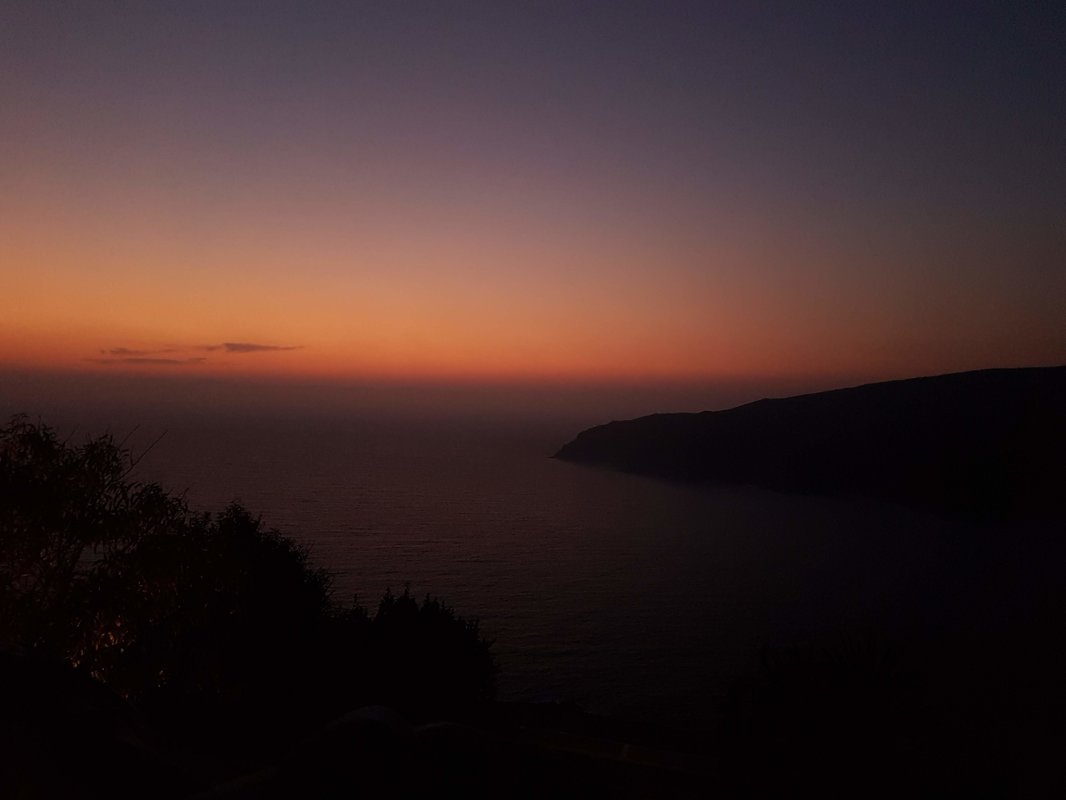 Our time in Amorgos had disappeared somewhere, 5 days were just gone. And there were so many things we wanted to do and did not manage - to climb the wind mills above Aegiali, go up to Prophet Elias Church and many other.
Our ferry was going from Katapola and we were happily back to enjoy for last hours this village, definitely one of our favourite places in Greece. People were really friendly and very talkative. I stocked up local products - oil for hair, salt, floral waters, had a wonderful pancake in To Teleiov (owners clearly live in their own cafe, it was full of kids' stuff and a baby was just sleeping there...). And off we went to Mykonos. Well, the ferry was like 2 h late (Sea Jet) but no surprise as it was the first day when the ferries were running and there were very many people. The sea was calm and the ride was fast and easy.
We did not have any expectations for Mykonos. We had to pass by this island as our flight home was from there. But oh my, what a horrible surprise it was! Of course, I expected many people, of course I knew the island was overpriced and over built but OMG OMG OMG. It's a never sleeping monster (maybe in January and February it's better? :-)) I think Athens felt less crowded and much more calm. The traffic never stopped, the cruise ships would come and go and super duper expensive yachts would stay for a day or so, fake babes would sip their 20 euro cocktails in Little Venice and take selfies nonstop. After isolated Amorgos it was a shock for us... But the worst was the noise everywhere on the island - being on the beach, city or on roads.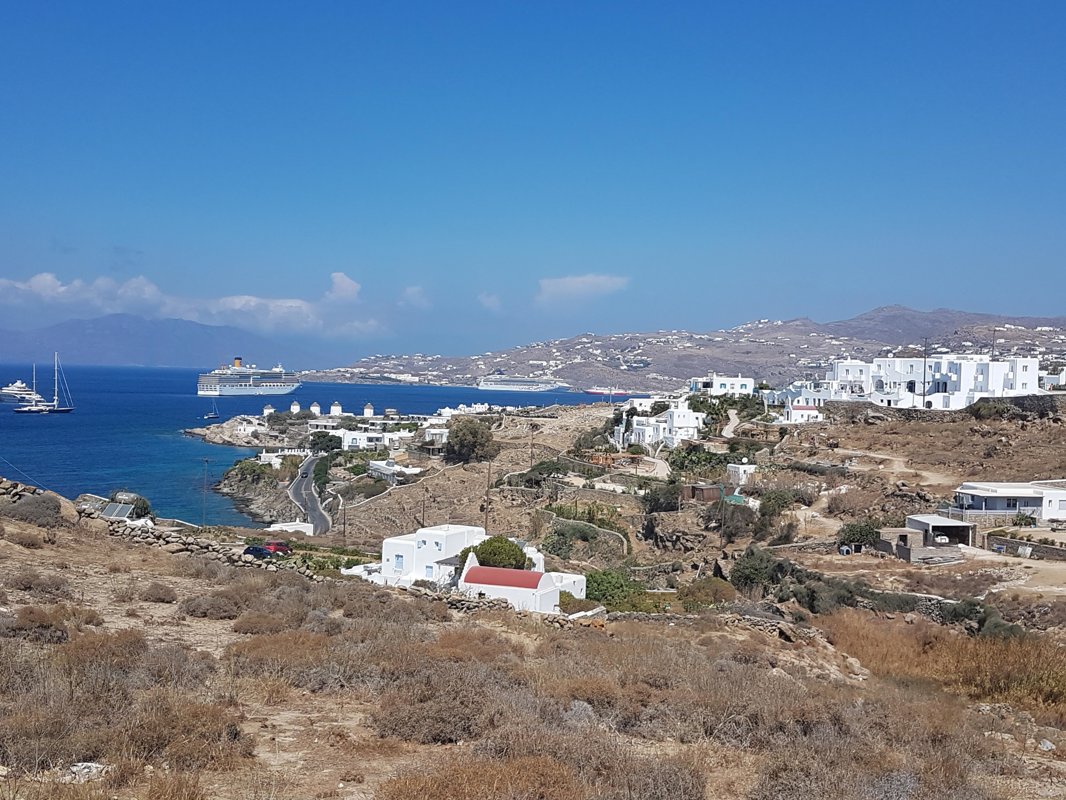 The good news is that there are busses running everywhere 24/7 and even the shops are open 24/7.
What we did like was the sunset - yes very pretty but it's nicer not to share it with thousands of other people, so if you ever go there, find a lovely spot further from the centre.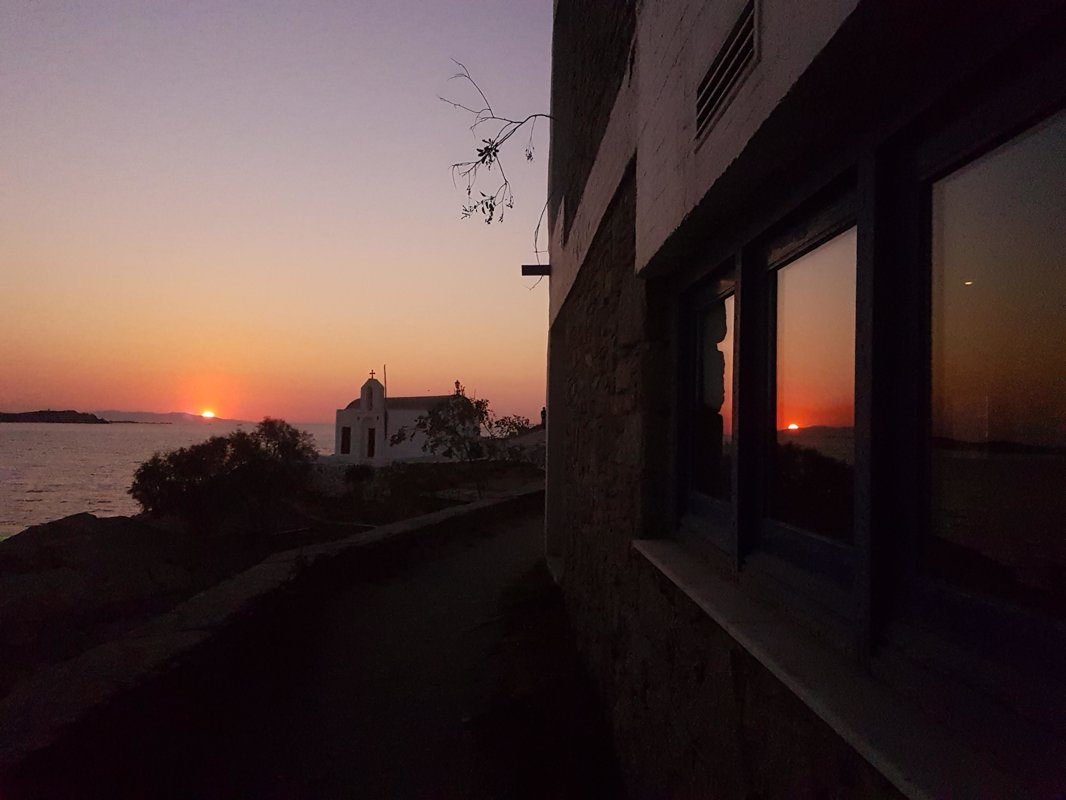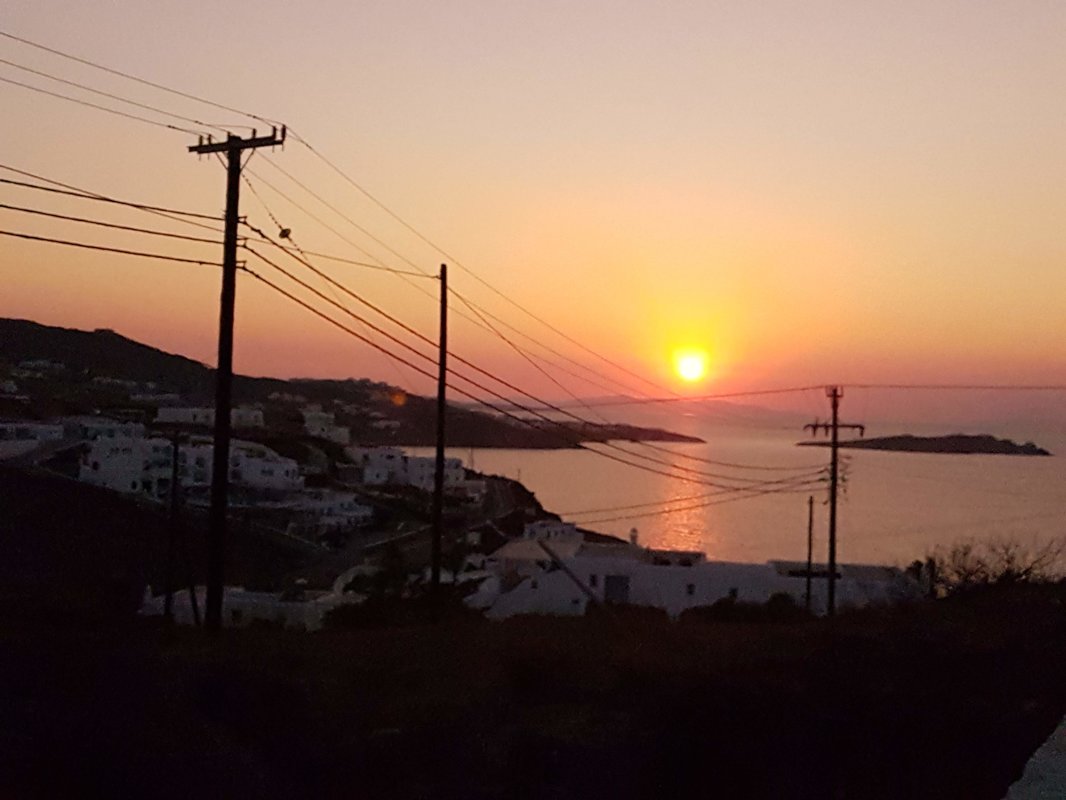 The island definitely has many environmental problems, lots of trash everywhere. Even the famous windmills come with trash as addition to the vibe.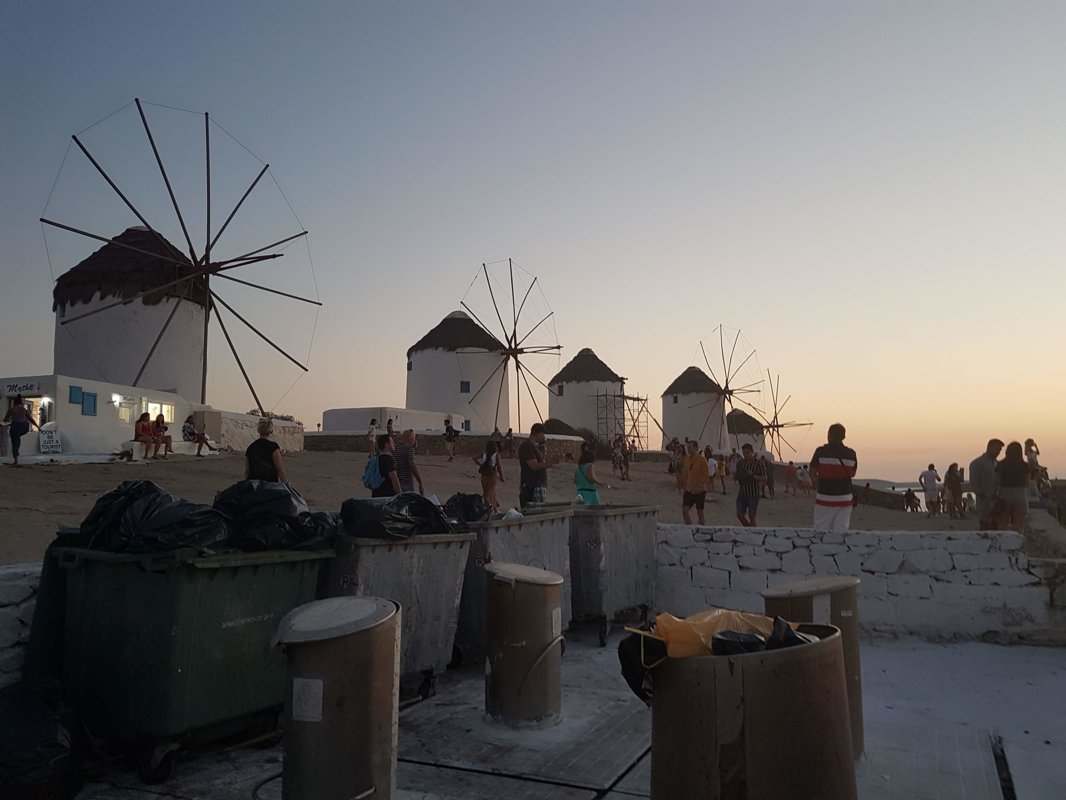 It also felt quite unsafe to walk on the roads, not because of crime but lots of quad and scooter drivers who had no experience and wanted to be cool.
One of our top entertainments on the island were to check out yachts (real time location) and check their owners - mostly princes from Emirates and Saudi Arabia... with private helicopters... The Mykonos town itself is well maintained and to our surprise was the only clean place we saw. You will find one million of different shops and one million of Asian tourists getting excited over a Prada shop. But if you look well you will also find some gems like locally made shoes and excellent pastry shops.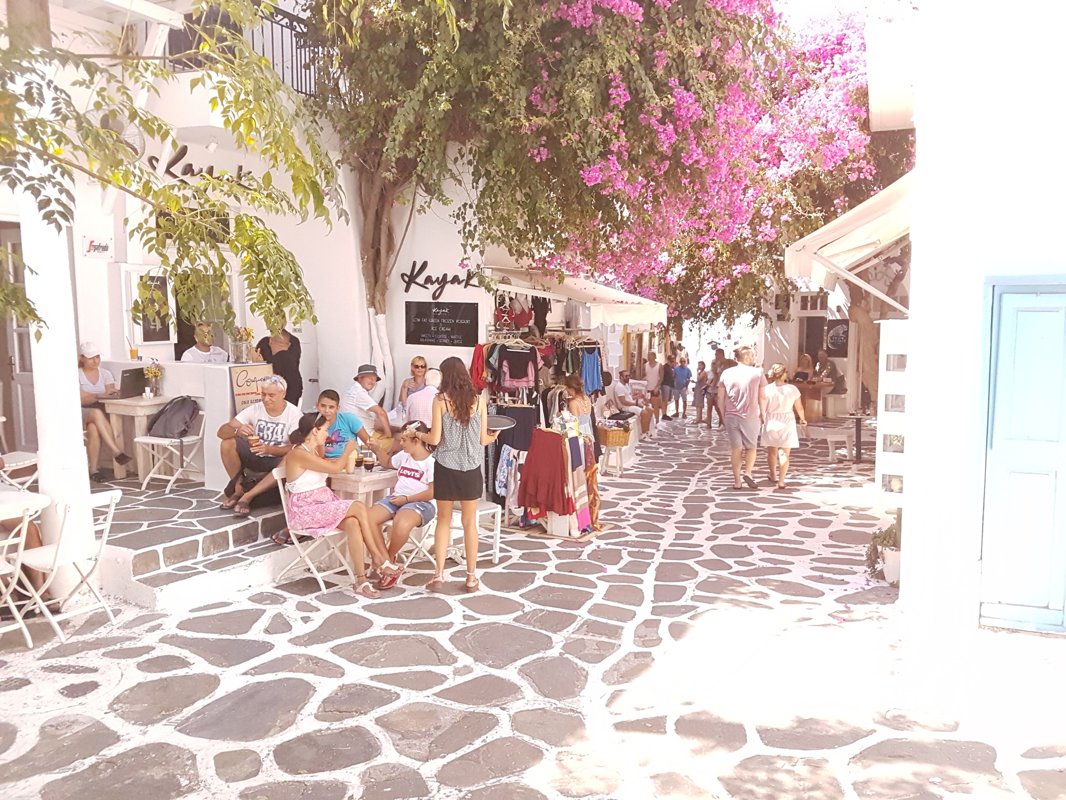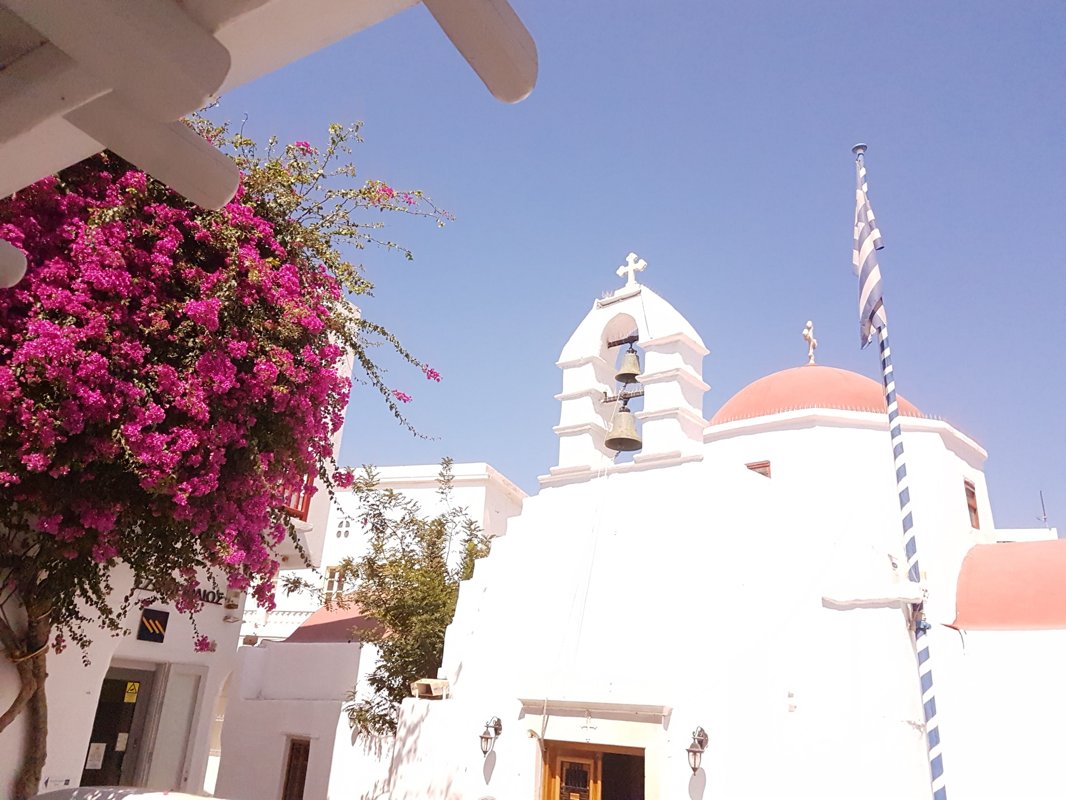 We stayed in Nico's rooms as the owner was offering a free pick up and drop off from/to ports. Nothing special but I guess it was a good deal for Mykonos. Nico is a real business man and can arrange anything for you. If I had to stay again, I would try to stay away from the road (if that is even possible in Mykonos).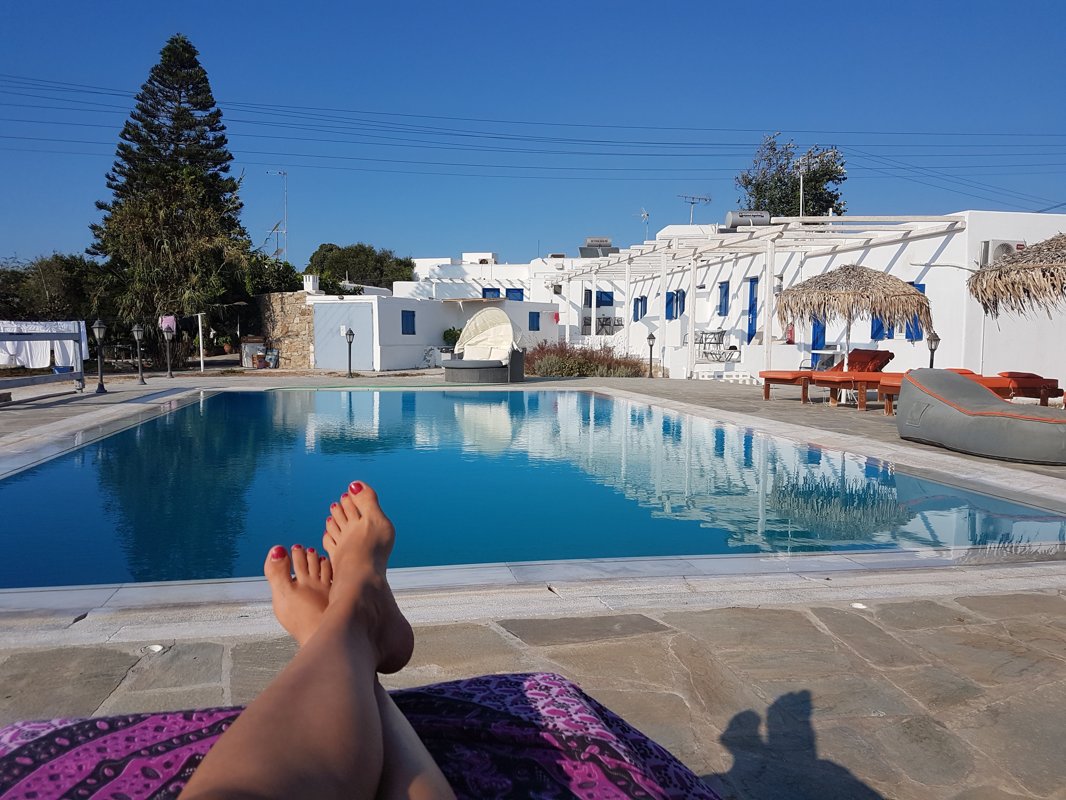 We did not feel too sad to leave Mykonos, we were actually quite happy to get back home or to any calmer place. The airport is rather small and messy. No screens announcing anything, just people shouting out flights or their delays and good luck understanding... There are two terminals - internal one for domestic flights and one for non-Schengen area serving also Schengen countries (so it can be a bit confusing).
Anyway, overall we managed to soak up Greek sun and energy to prepare for a loooong Belgian winter :-) So now the question is - where to go next year?
3 comments
- Irresistible Greece: Naxos and Amorgos (and horrible Mykonos)
Andrea - May 3, 2019 at 5:41 pm
Hi
We are planning a trip to Amorgos and I really appreciated reading your blog about your experience.

We are trying to work out how many days we should spend on Amorgos before we head off to Paros. We only have a total of 5 days so Im trying to work out do we spend 2 days in Amorgos and 3 in Paros, or the other way around.

If you have any thoughts on this I would love to hear from you

Many thanks

If we had to compere the pros and cons of the two islands, which would you suggest is
Dace - May 16, 2019 at 8:05 pm
Hi Andrea, it's a tough call. First of all you have to ask to yourself - are you ready to spend 1/2 day (or even more) on traveling between islands? Personally I think that two days would not be enough for any of them. I would choose one and explore it in more depth. As for the choice, it depends what you prefer. Amorgos is a wild beauty. Paros is a tamed beauty. Amorgos has more impressive coastline and mountains, the beaches are mostly with stones (but there are some with sand) and water is fabulous. Nightlife is very low key. Paros is more hype, beaches are with lovely sand, there will be more people too. It's your call to decide what you prefer. You cannot go wrong with any of them. If you cannot decide, go to Naxos :) Hope it helps. Let me know what you have decided.
RDV - June 19, 2019 at 9:22 am
Hello Dace,
Arrived here in Aegiali last night from Naxos. Read your blog (again!). We are going to find it very useful. We are in the Aelia Studios, what a location. Thanks for the info,
Bob.
Leave a reply