Zanzibar: A true paradise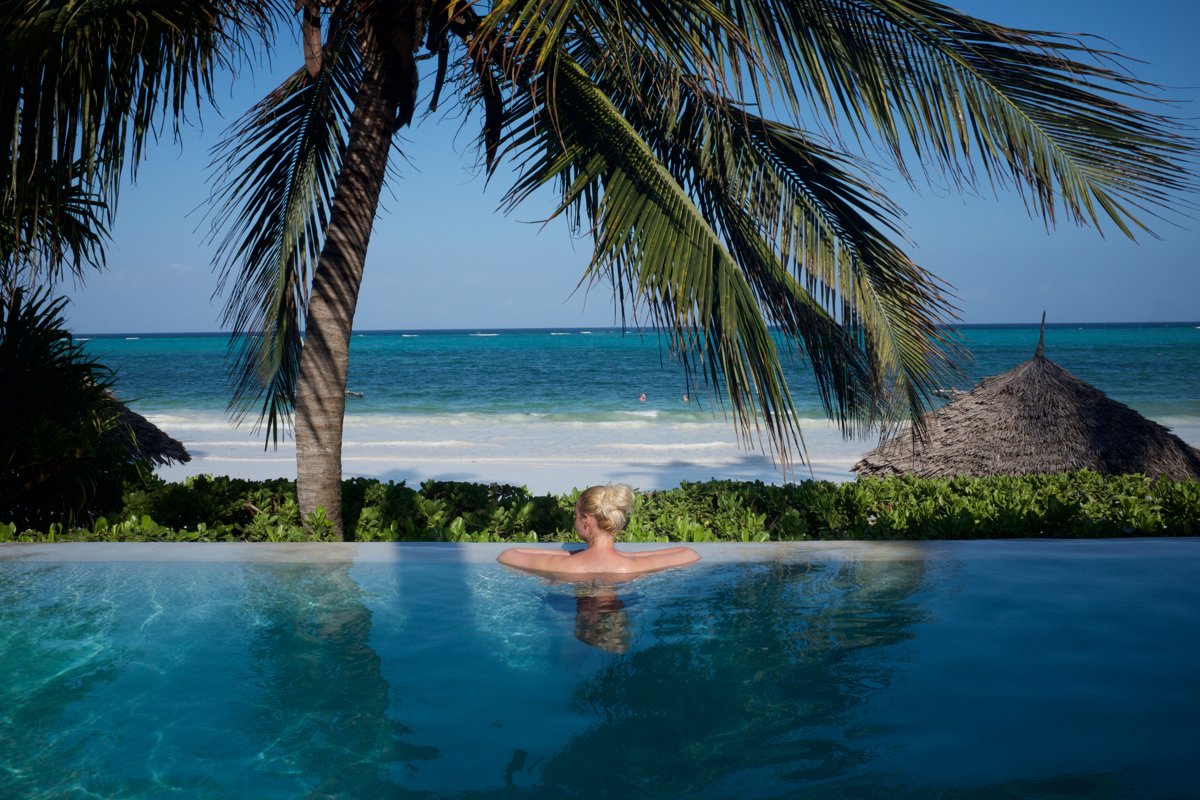 Zanzibar had been on my travel list for years but it always seemed to be too far and too expensive. Years ago I had already bought a book and had made a plan what to do and where to stay but it somehow stayed forgotten in the bookshelf. When looking for good offers for a winter escape, my attention was caught by TUI offer - Zanzibar - 400 euro trip both ways for one person! It's a deal! After just a couple of clicks, the tickets were in my pocket. And here started my favourite part - research - what where and how. I did not use my book as I thought info would be outdated and just used all the possible blogs and forums to get inspiration. Funny enough, when I later checked the book, it turned out that I had chosen exactly the same places as years ago!
---
TUI flight from Brussels lasts 11 h, it is not too long and not toooo unpleasant. There is enough space but like in cheap charters you have to pay for everything - decent movies - pay, more space for legs - pay, a glass of wine - pay. But Ok, knowing the price of the ticket, everything seems to be perfect anyway. The flight itself turns out to be super interesting as most of the time the sky is clear and we can observe snowy Alps, rolling hills in Italy, Saharan desert and we even see the Nile twice with impressive agriculture happening around! Luckily the map in TUI screens works and we can also refresh our geography knowledge of Africa.
We arrive around 11 o'clock in the evening, the airport is tiny tiny and the mess is as expected... it takes around one hour to get the visa. Somehow in the plane we did not receive all the papers to be filled, then chose the wrong queue and in the end I think we were the last ones to leave the airport. Advice for fellow travelers - make sure you get 2 papers that you need to fill in and immediately go to pay for the visa (on your left) and then immediately go to get the visa. Luggage is just collected in one place, there is no belt, so just pick it up. We had arranged a pick-up from the hotel to ease the organisation but once you are out of the airport you are a prey for all the luggage boys. Usually I'm very good at saying no and just carrying suitcase myself but here I had no chance. In one sec my bag was gone in somebody's hands... If you are traveling immediately to other parts than Stone Town, make sure you take enough of cash with you. There is a cash machine at the left corner of the parking and luckily it worked. You can withdraw up to 650 000 shillings at a reasonable rate. I was also smart enough to have some 1 dollar bills with me as you have to tip for everything...
Jambiani
Our first stay is between Jambiani and Paje in Sharazad hotel. Oh.... what a perfect place with a perfect concept! It turns out that the hotel is one of the first villas built at the coast by expats and only later it has been enlarged to a boutique hotel. Everything is just perfect - the room, the service, the breakfast, the food in general, the pools, the location, the feeling, the decoration... cannot complain about anything! Free cold water is available everywhere and it is a huge advantage as shops are far and you will not find one with a fridge in a fishing village. A special attention is paid to recycling which makes this place even more perfect.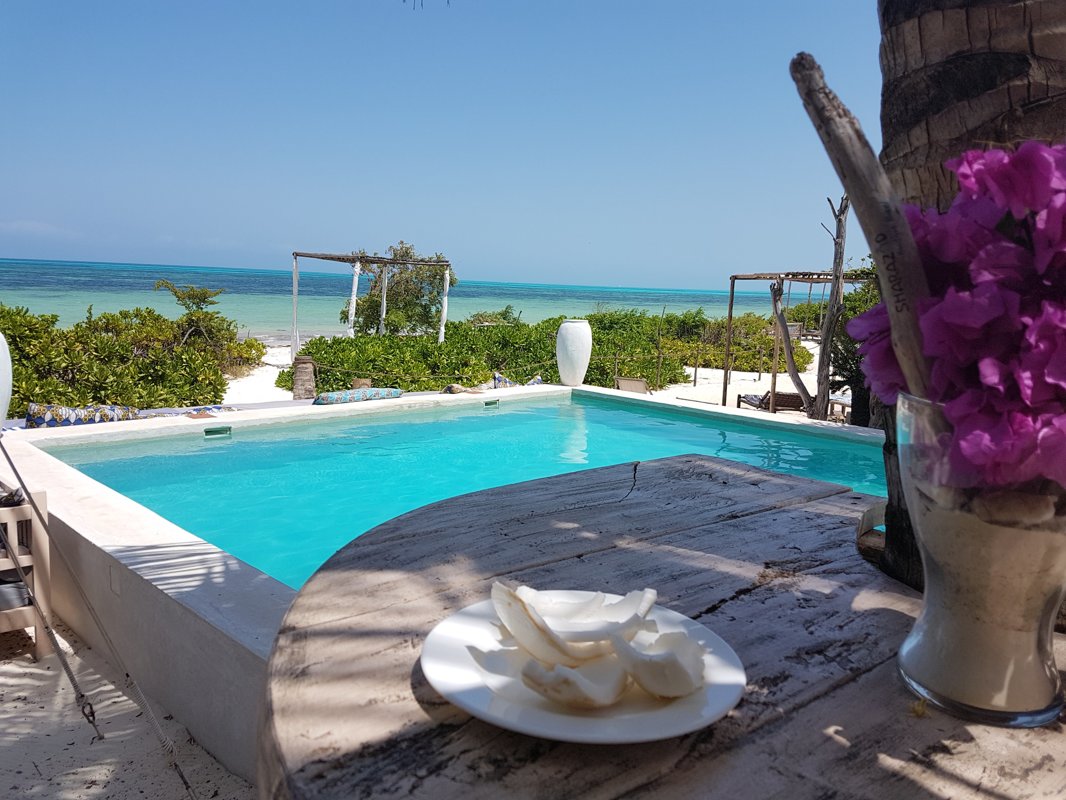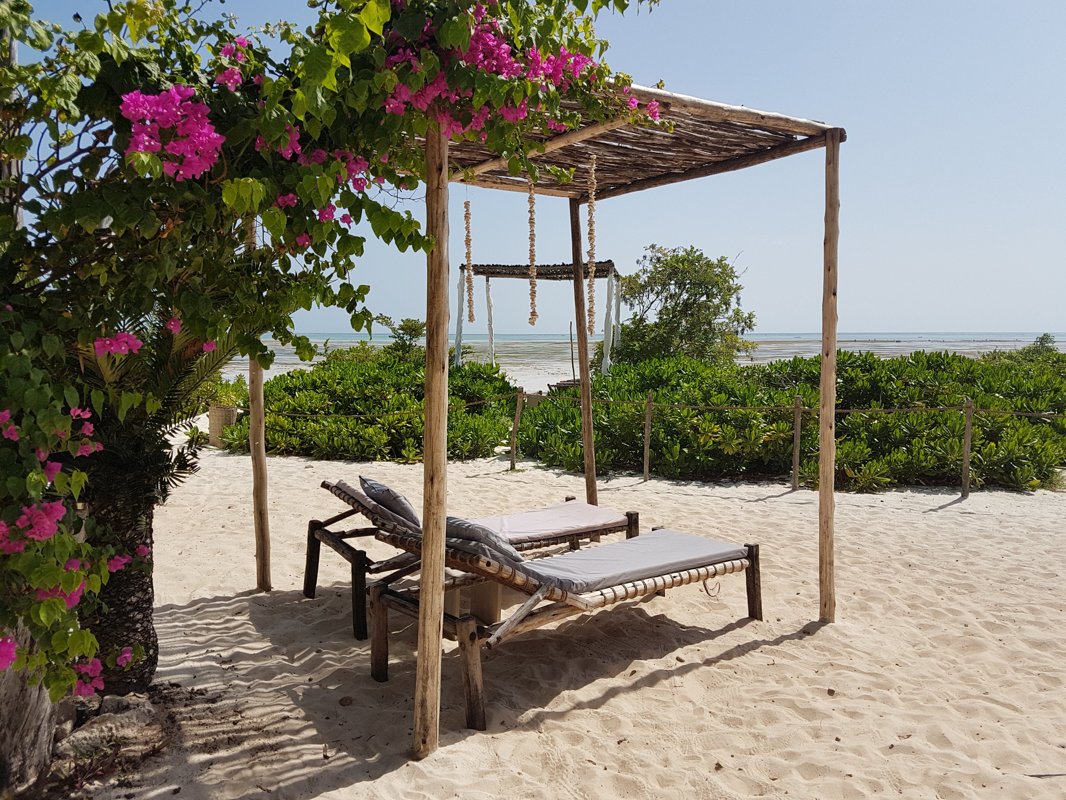 The breakfast was divine and every morning a different choice - all food with a local touch. And the passion fruits... Fruits in general, were superb, the best we have ever tried in any of our exotic trips.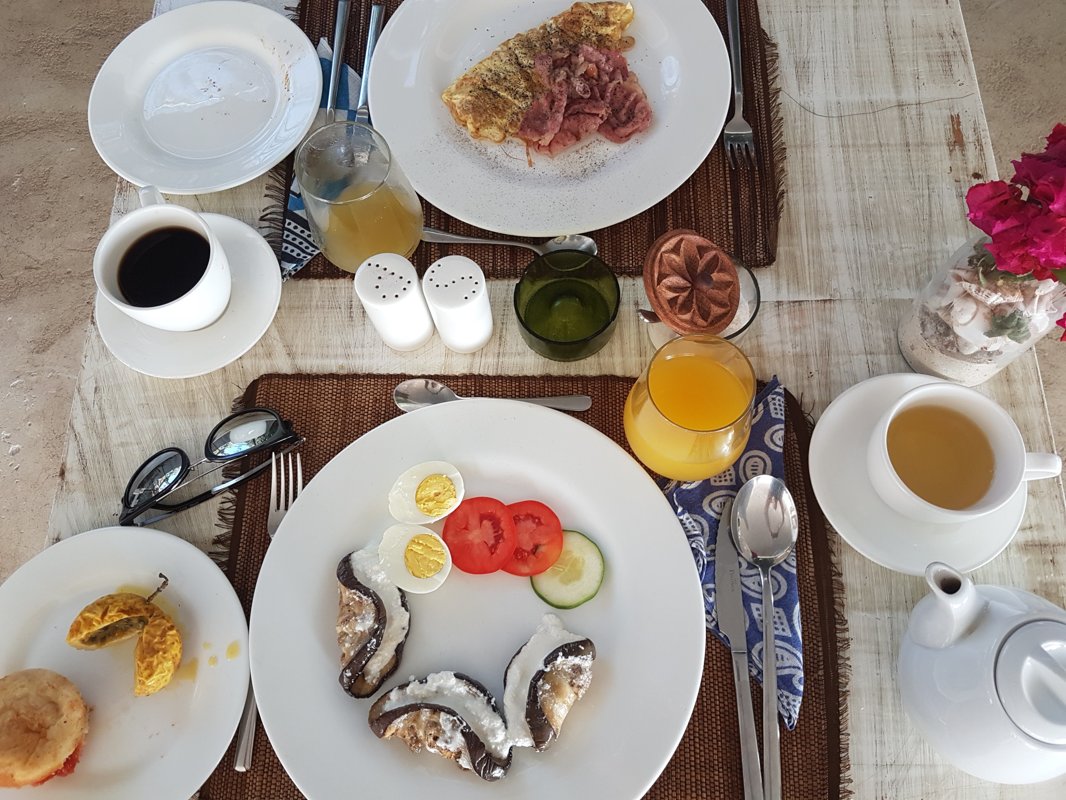 We even had a semi-private pool!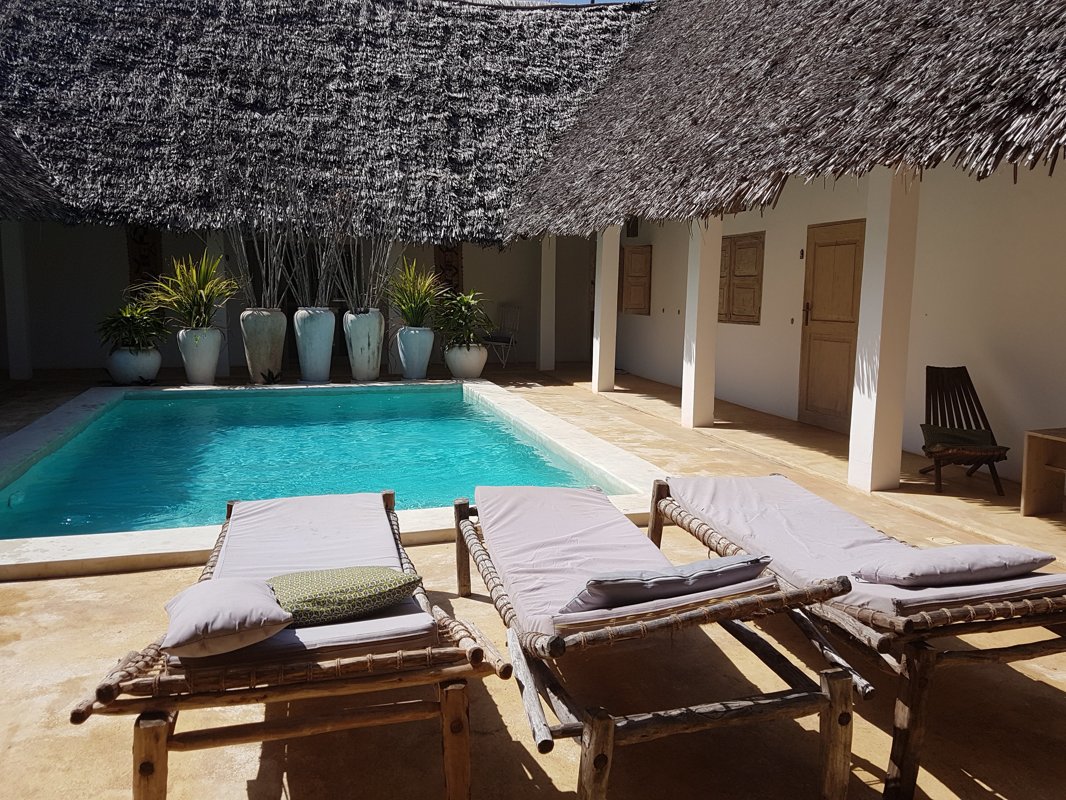 The hotel was a perfect place for observing the life on the beach, reading a book and relaxing. The tides are very strong and all life in the village depends on it. When the tide is out you can see women picking sea weed and small crabs. When the sea is up, men take their boats and go fishing. Just 500 m walk from the hotel and you would be in the middle of the village.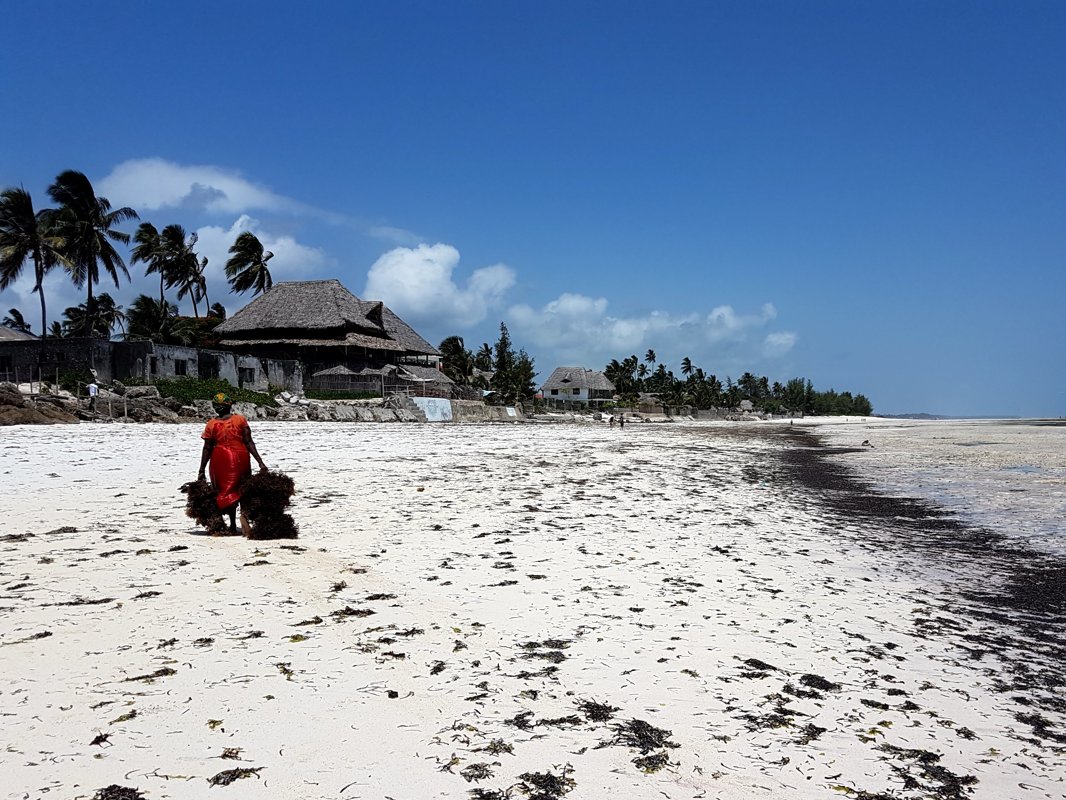 Jozani forest was also on our list to visit. Although I had researched a way to visit it on your own, in the end we opted for a trip organised by the hotel - it was just faster and easier. Jozani is the only place in the world where you can see Colobus monkeys. Although the area of the park is not so small, the tour itself was super short. So short that we were even disappointed. We were ready to walk for hours and discover the jungle and in the end we spent an hour or so in the whole park. Our guide Juma (you are obliged to have a guide with you) was not very enthusiastic and the first thing what he said was that if we liked the visit we could give him a tip... hm... an interesting start. Luckily Juma knows where to find monkeys and we are alone for a while to observe two monkey families.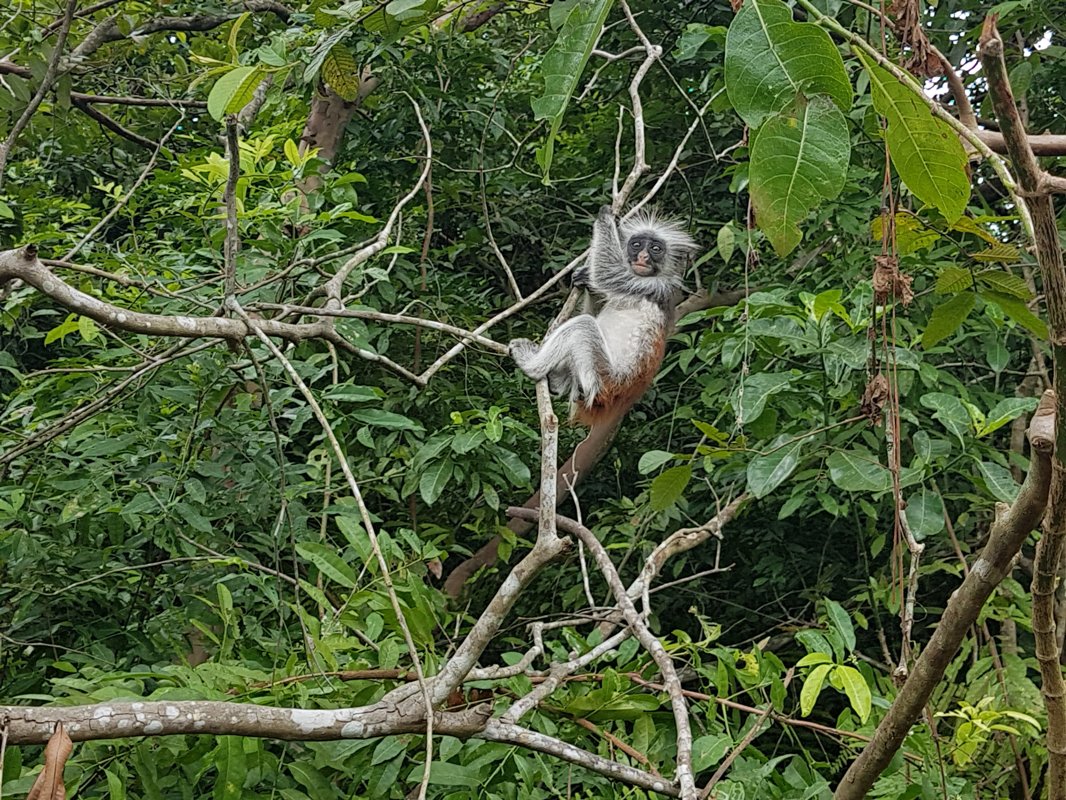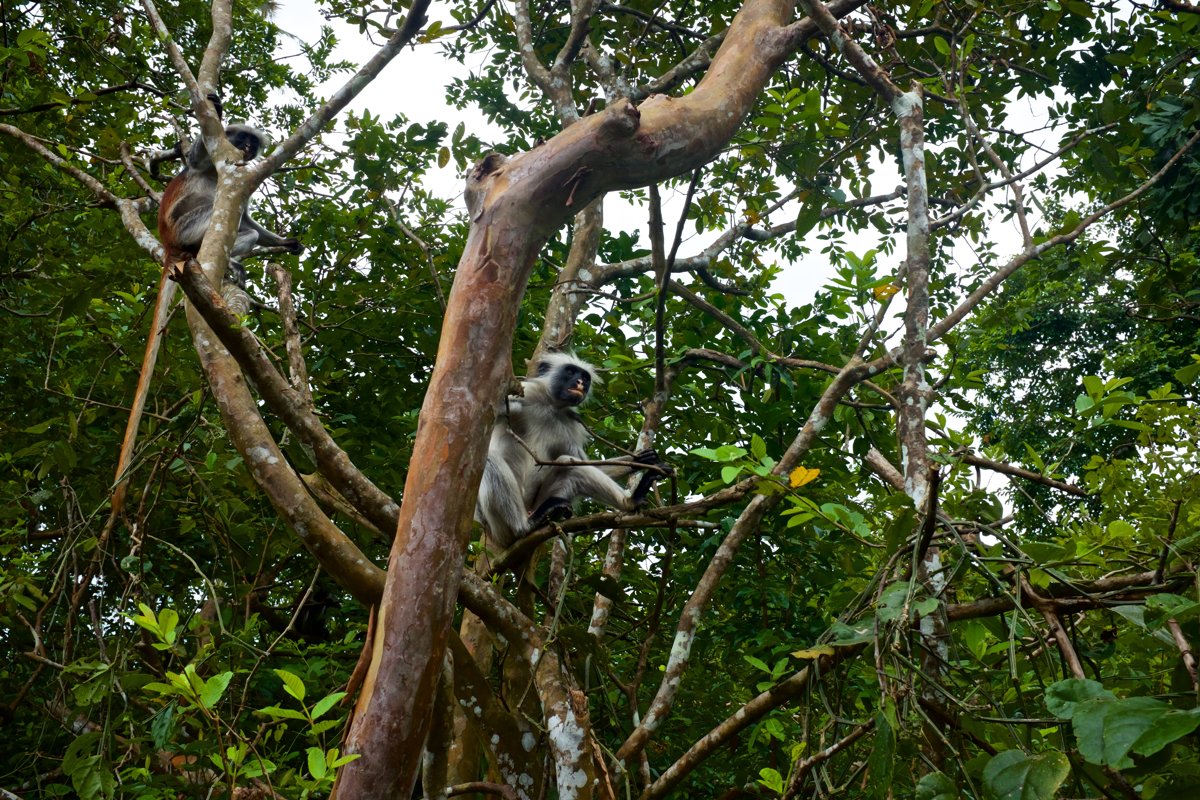 After a short round in the forest and explanation about some trees, we are going to see mangroves. My husband is fan of them - we even have them growing at hour home, in an aquarium, of course. :) Again Juma does not show any joy of the activity and most of info I get from my husband.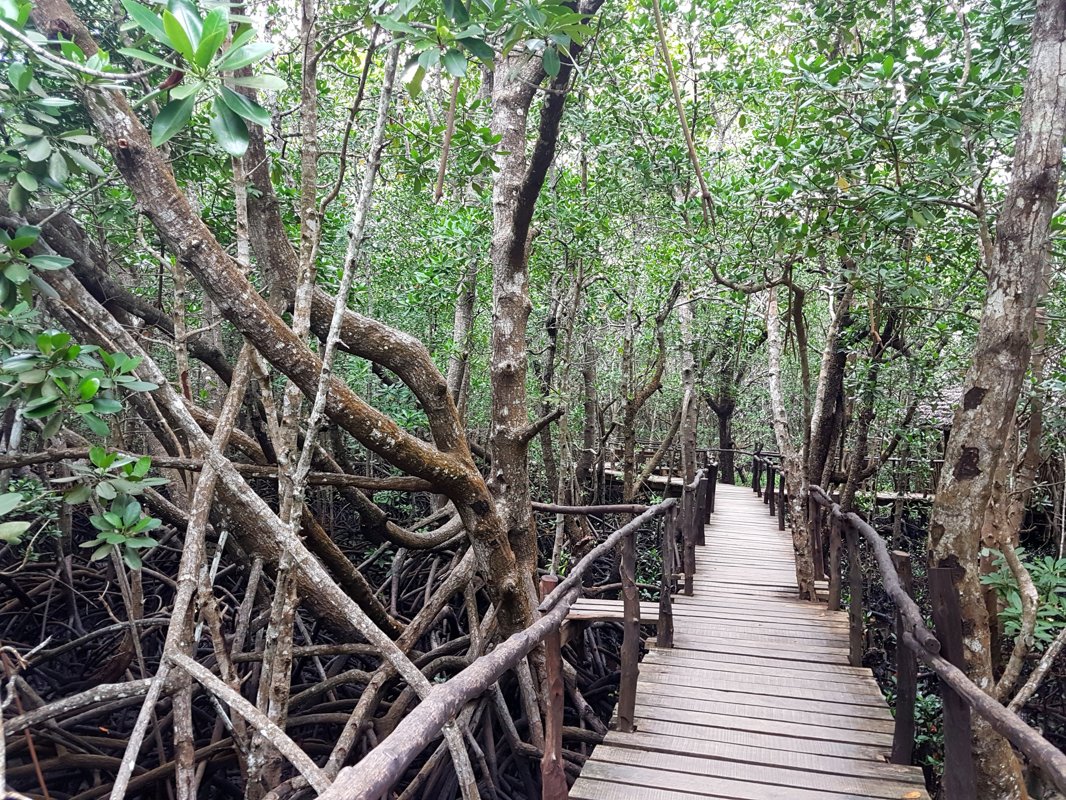 In addition, one part of the path is closed and we cannot see everything. So the trip is quickly over and it feels like we did not get out of it everything we could, meaning, I would have liked to have a 2 h walking with a looooot of info about eeeeeevrything. We are heading home around 9 am already and the whole area has become a huge traffic jam, all the tourists from the island are in Jozani, so make sure you arrive as early as possible, it opens at 7 am I think. The good news is - we have more time to explore the beach!
The beach is simply amazing! The water, the sand... so dazzling white! Time to time some beach boys approach and offer to buy some small things but if you say you are not interested, they leave you alone.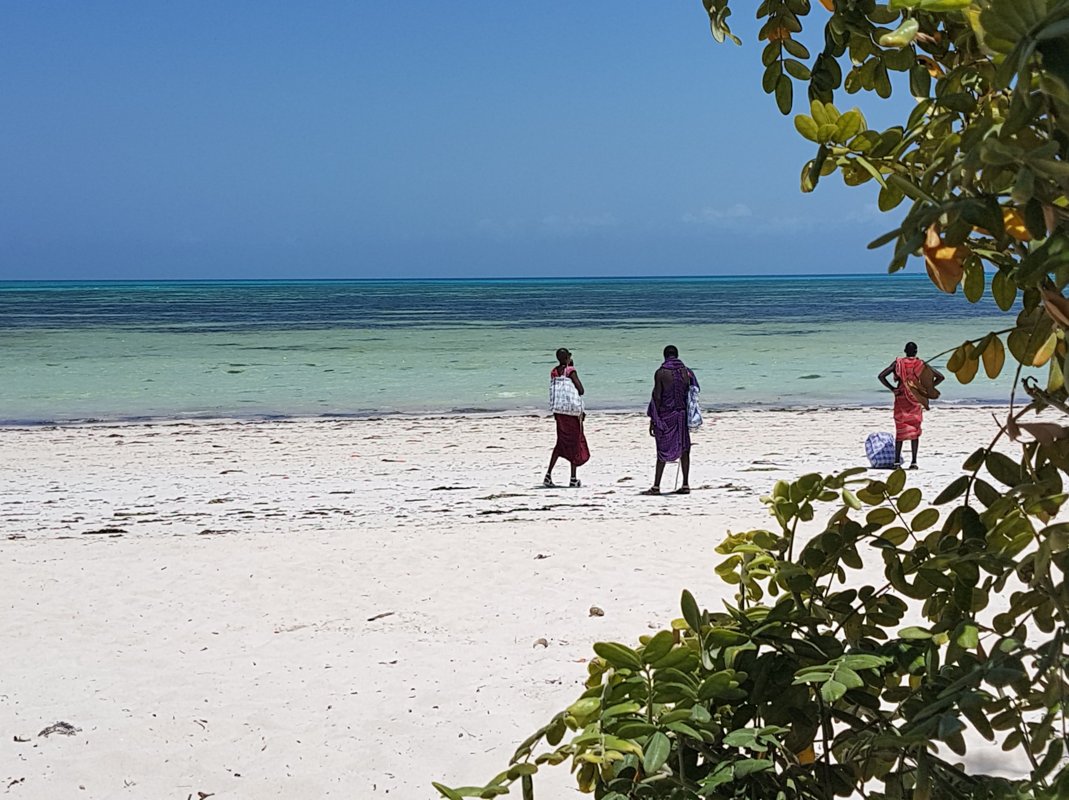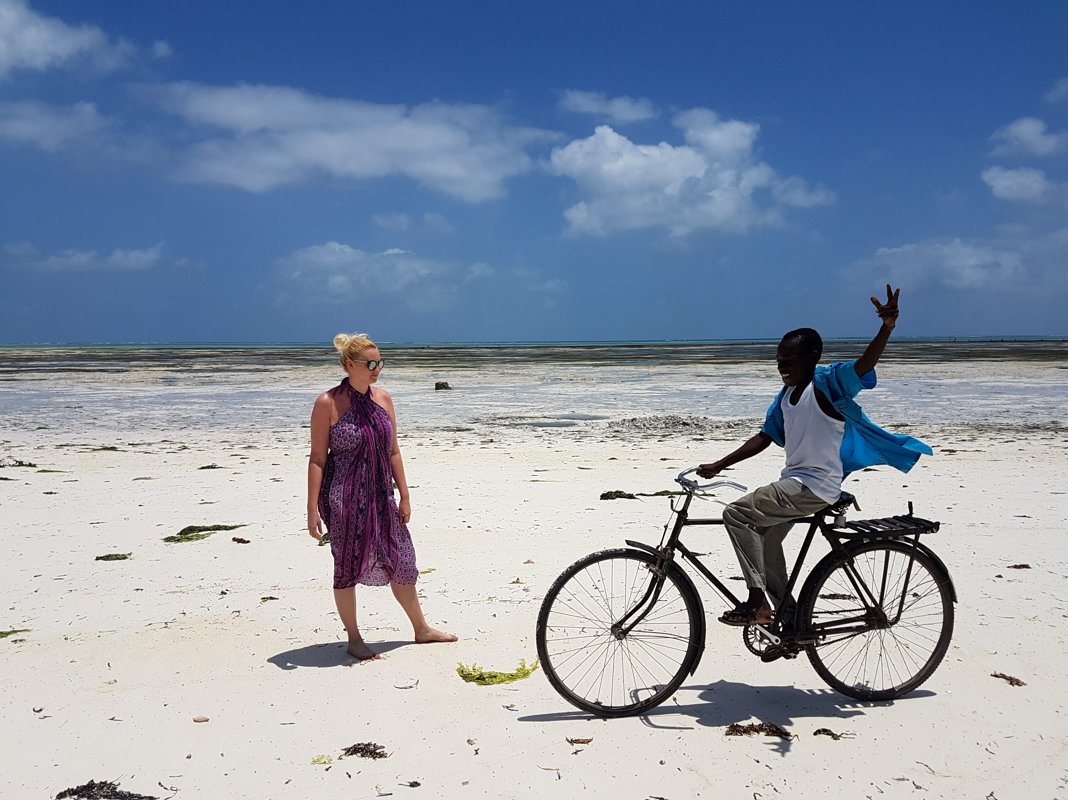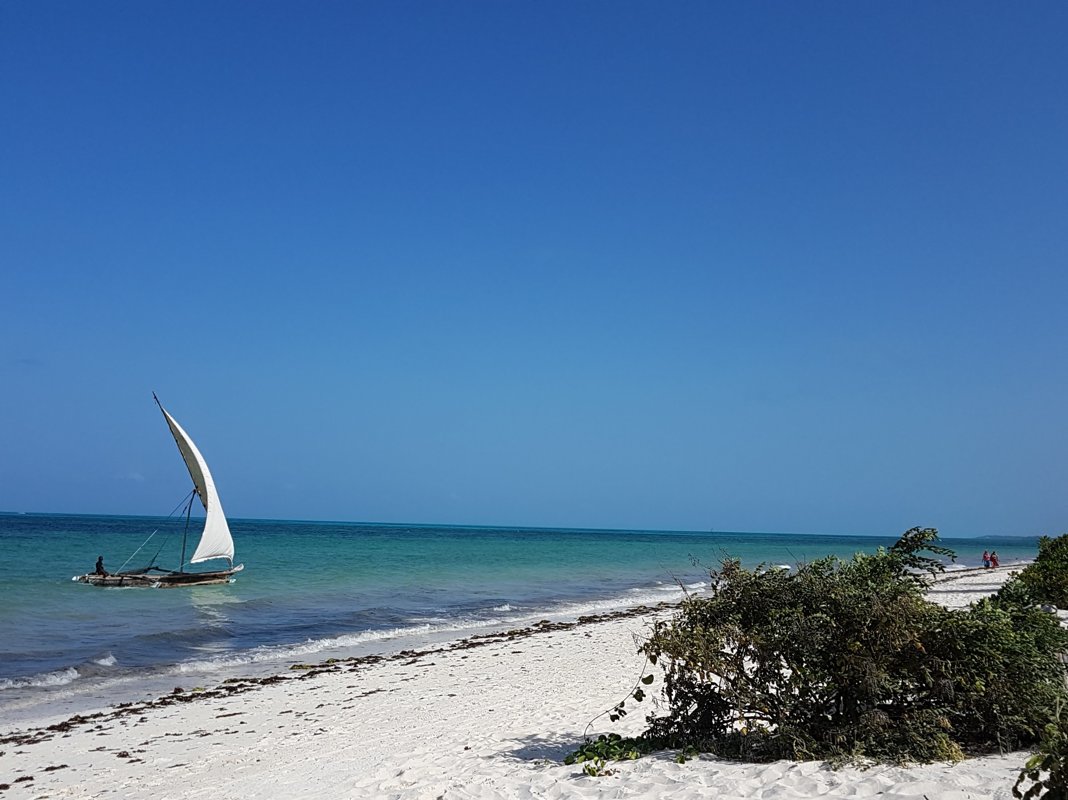 Being on the eastern part of the island means that we have no luxury of the sunset. Well, it means that you have a sunrise from the sea at 6 am... Indeed, what a beautiful moment!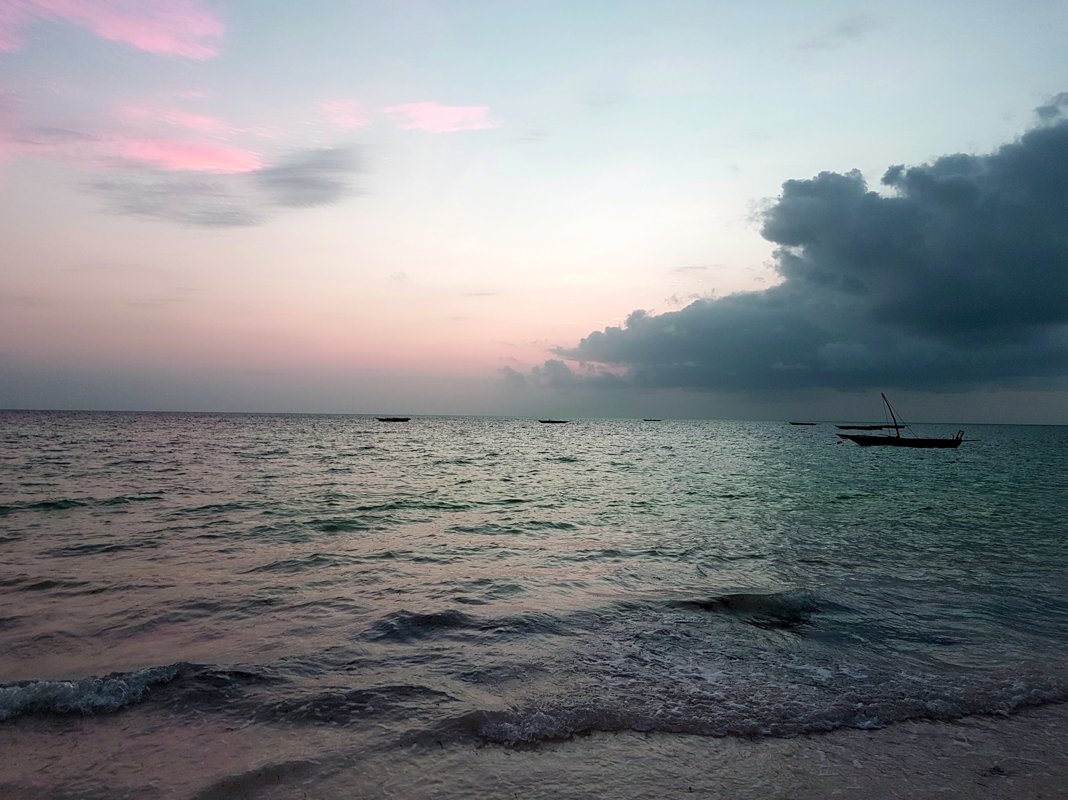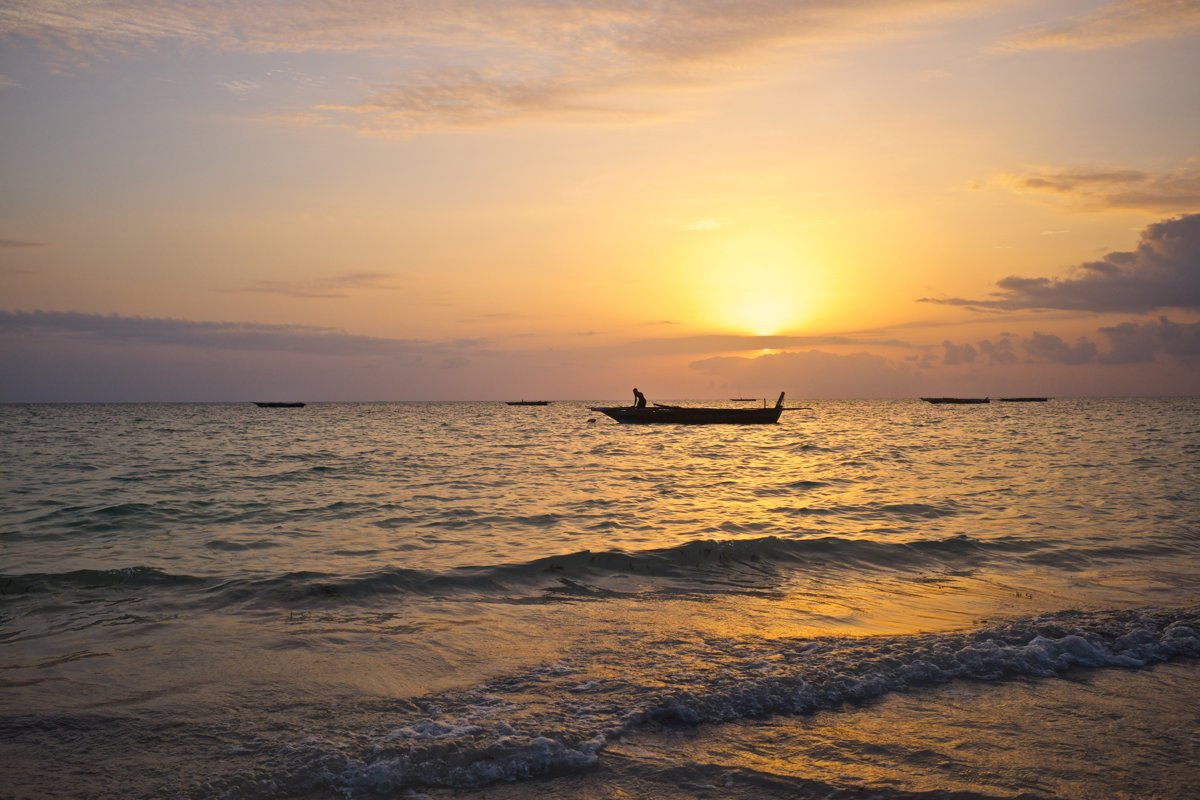 And you have the privilege to see how the fishing village is starting its morning, boys and women prepare the nets, men hang around and chat. It's a moment to enjoy before the scorching sun hits the beach.
We really hoped that we could snorkel just off the beach but we could not. When the tide was low the reef was too far to reach and when the tide was up, there was nothing much to see anyway. So we opted for a ride with a local dhow boat. Finally we could see all the possible shades of emerald and azure and deep blue. What an experience. The boys were quite skilled to manouver the boat with the strong wind, a bit scary sometimes but we survived :) definitely an experience to recommend!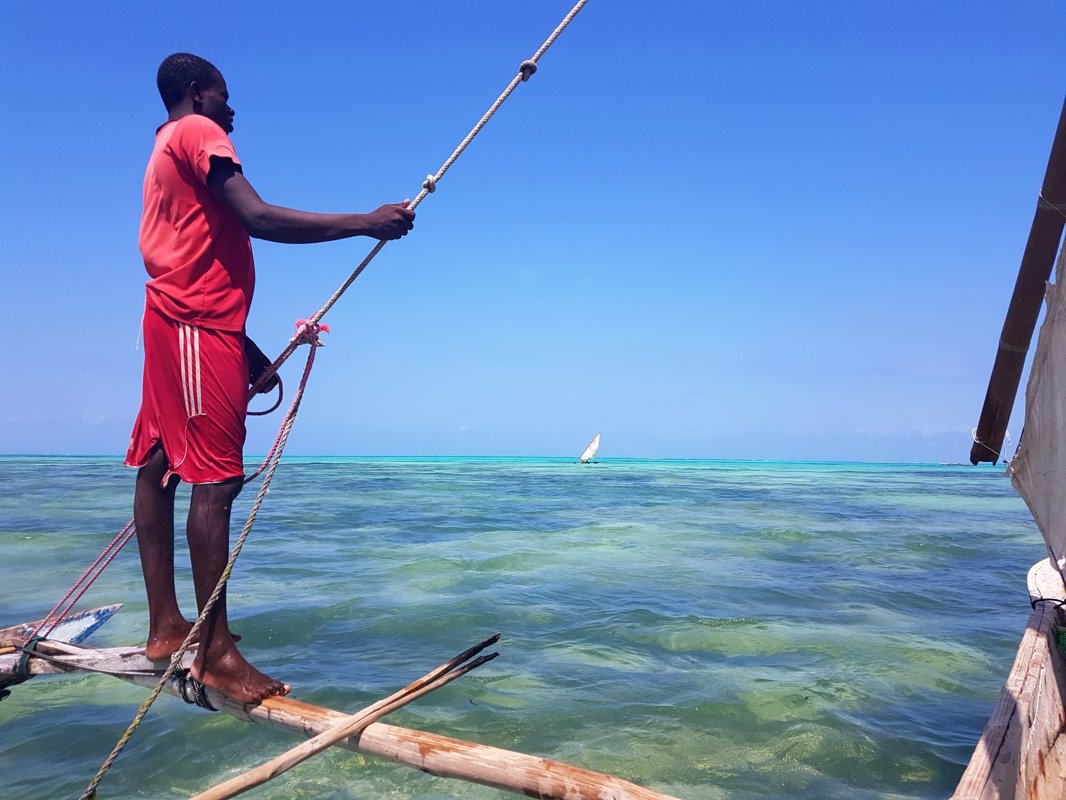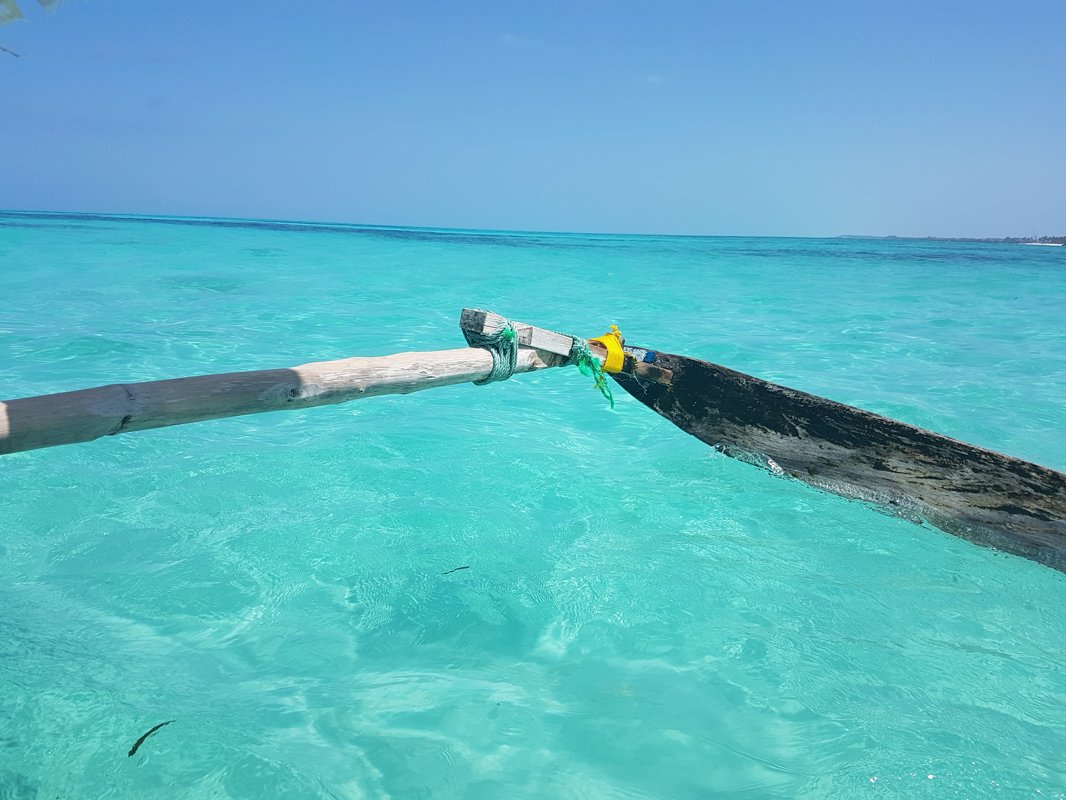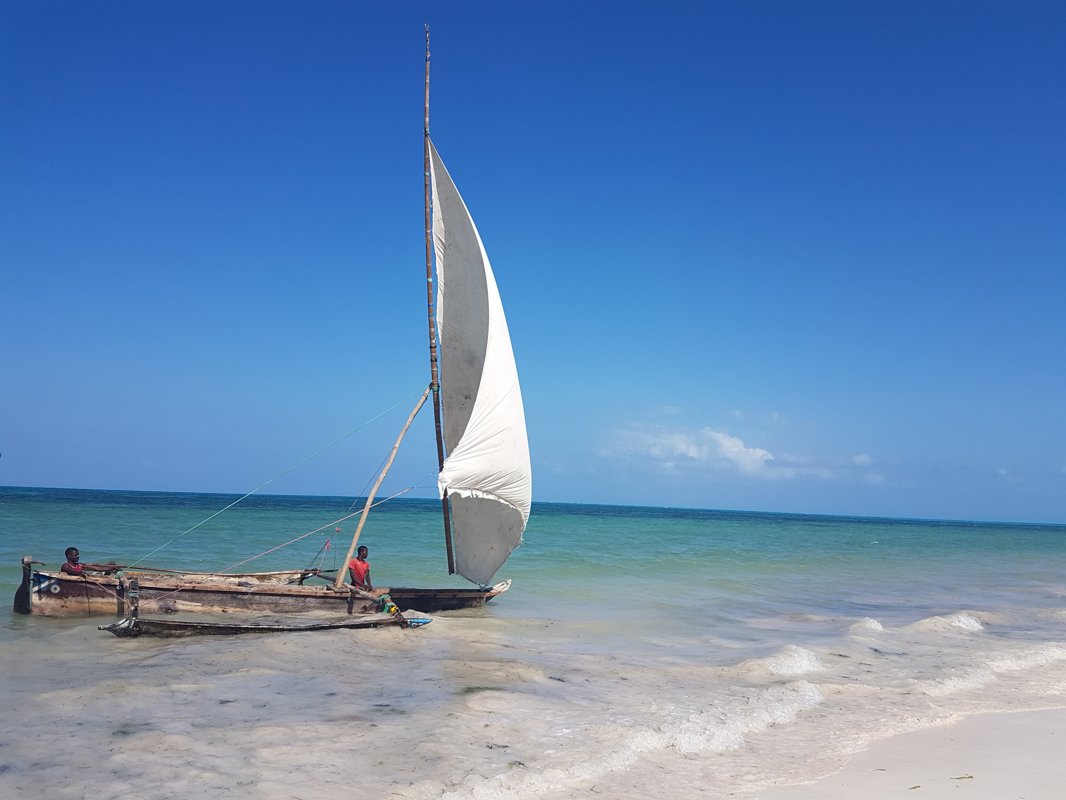 I wish we had spent a bit more time in the Jambiani village itself but it was sooooo hot that we could last there only for couple of minutes. The contrast between life on the beach and the village is very drastic - once you are on the streets in the village, it's a totally different feeling... it's like you are intruder (and you kind of are...)...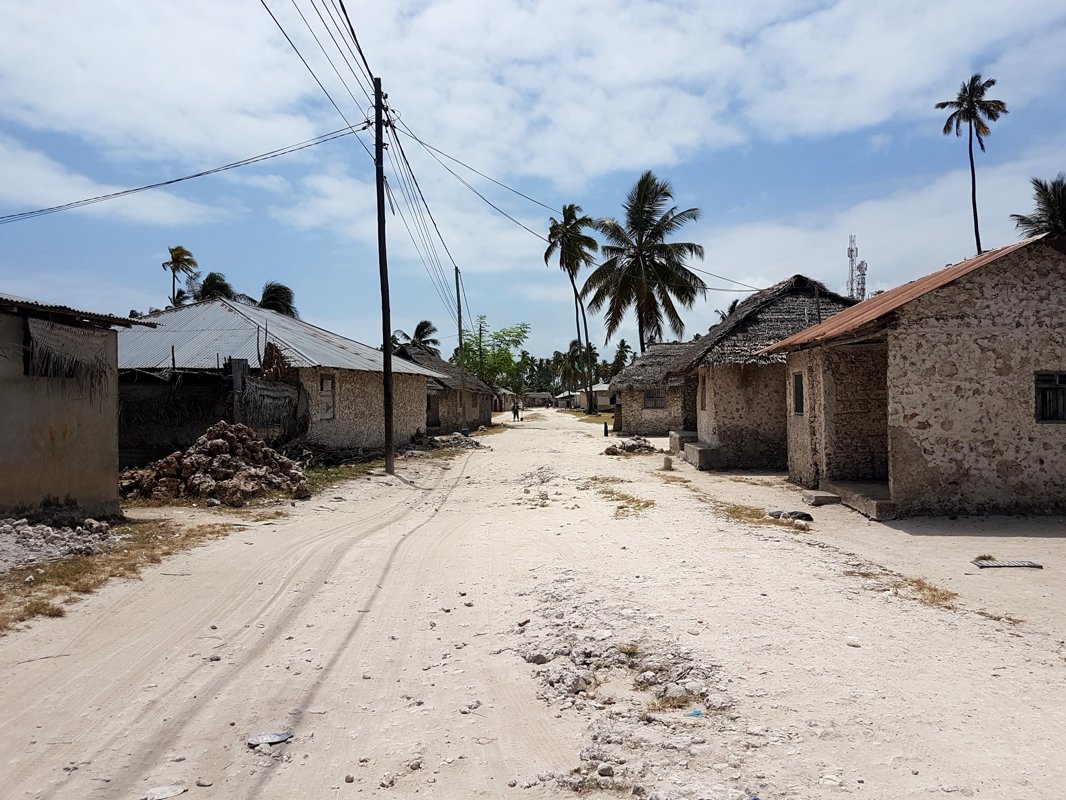 Four night is Jambiani disappear super fast, we just manage to see a moonrise from the sea and try 3 - 4 different cocktail places on the beach. Pina coladas... mmmmm... the best were on the jetty next to Sharazad ;-)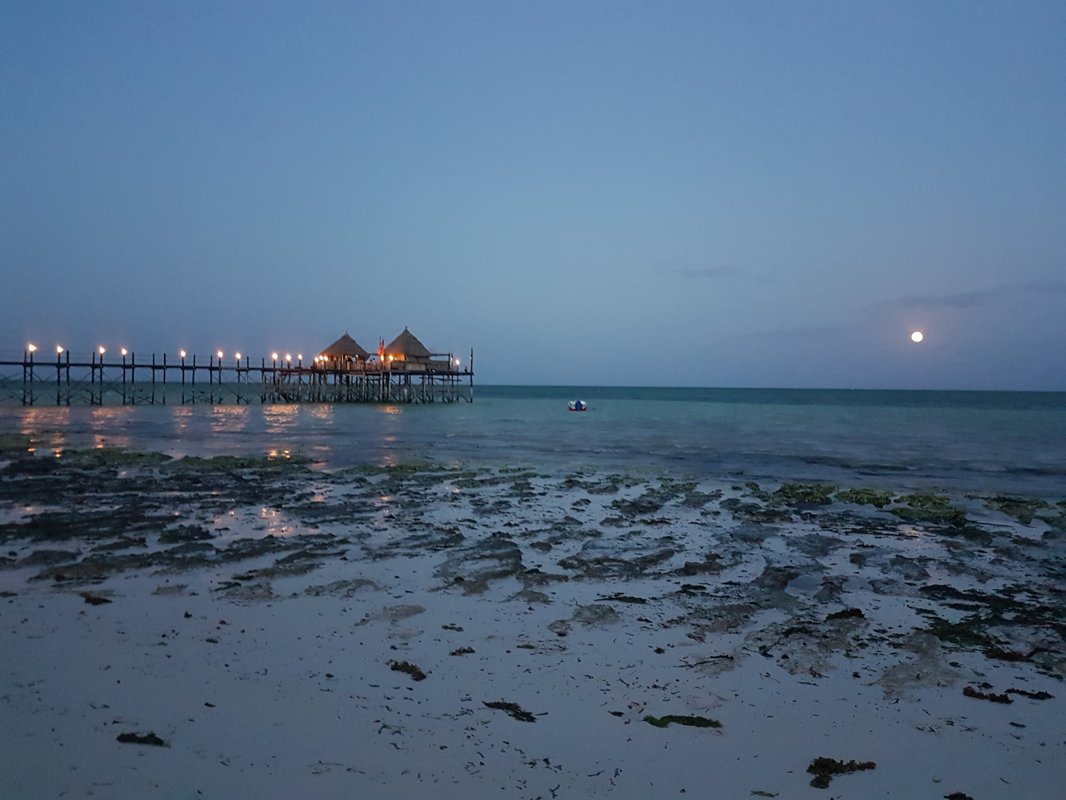 Matemwe
Our next stop is Matemwe village. Taxi costs us 60 dollars and we also manage to stop at Paje to buy sea weed soap and try hibiscus juice. I wished we had time to visit the soap making centre, perhaps next time... The ride to Matemwe is very nice and lots of things to observe, villages change one after another and the change is drastic - the inland is very fertile and lots of farming is going on. Houses are made from clay, chicken and children play along and in general there is a very relaxed feeling around. All the fields are are taken care by hard work, everything done with hands, no tractors to see. To our surprise the roads are of a very good quality and after one hour ride we are in Matemwe. We are staying in Sunhine hotel Zanzibar.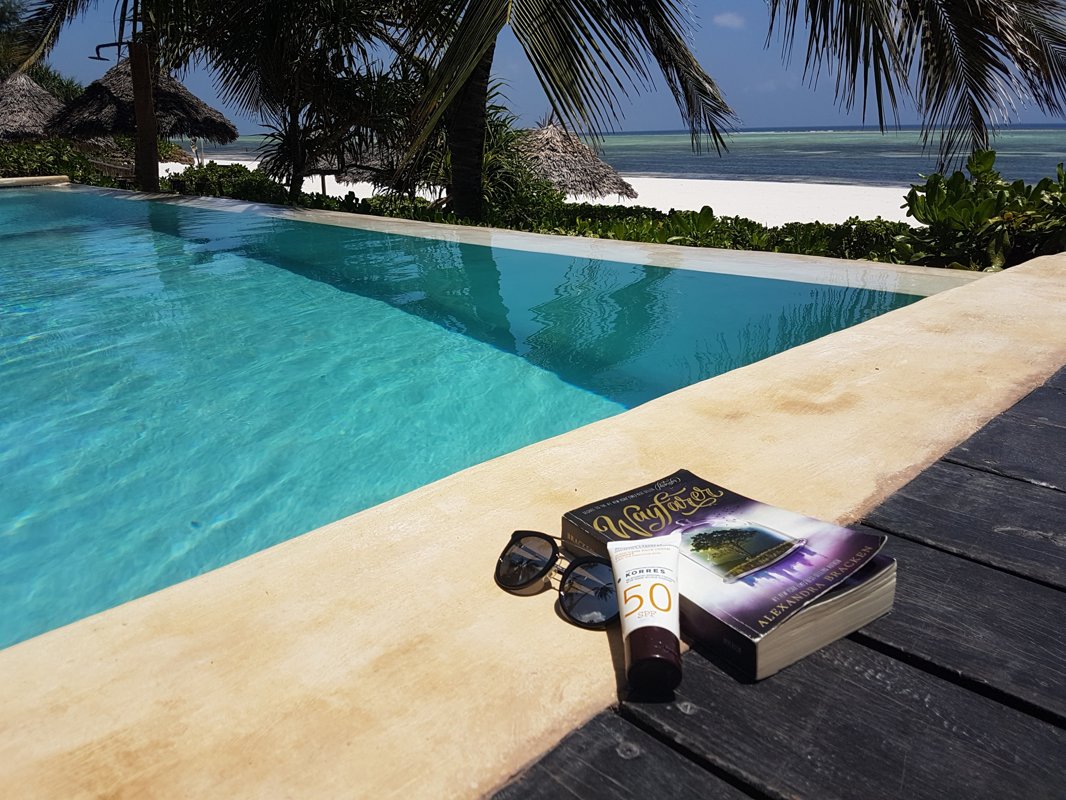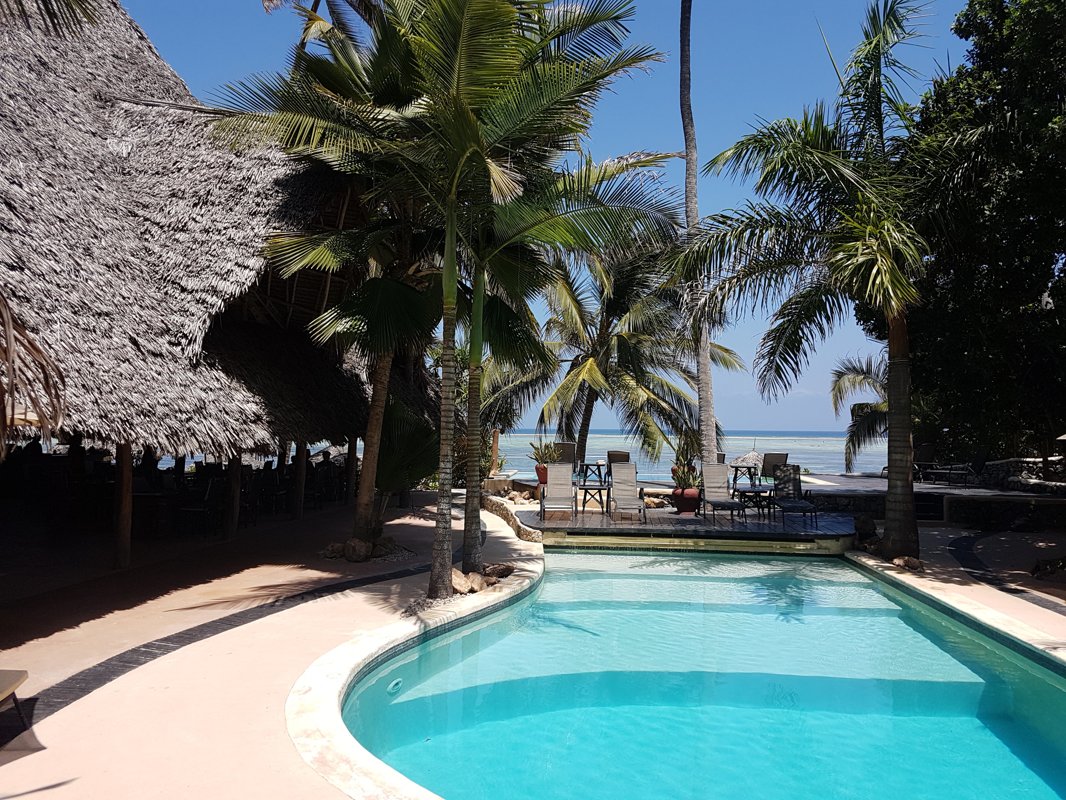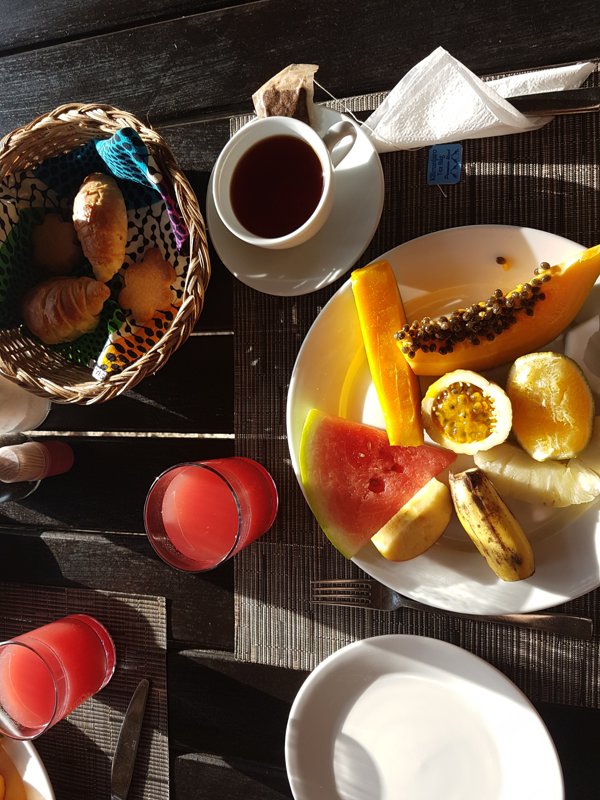 We though that the beach in Jambiani was amazing, well, here it is even larger and as dazzling white and beautiful!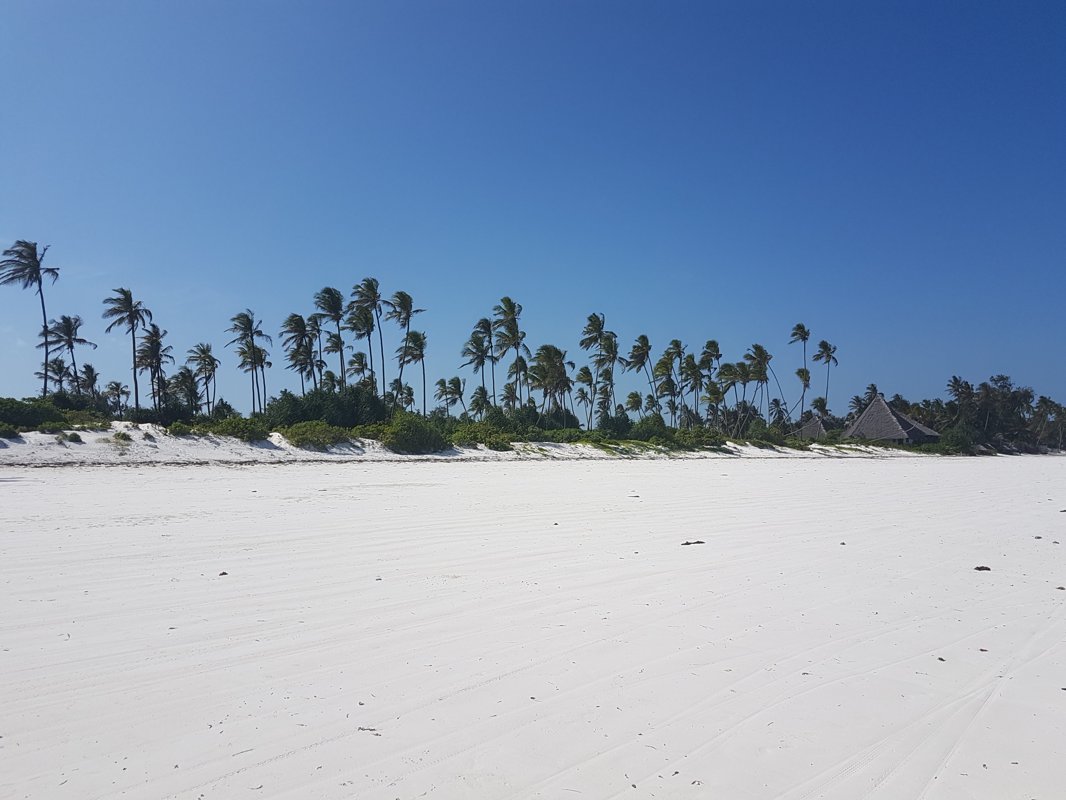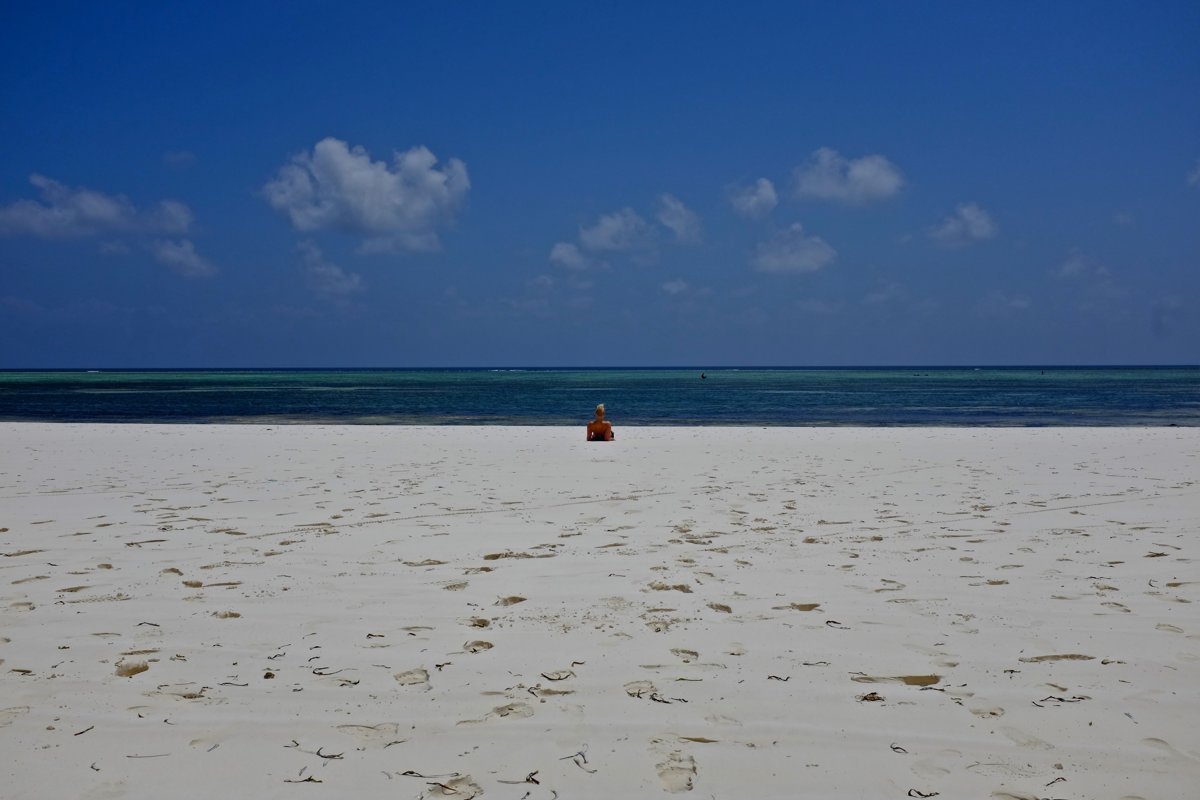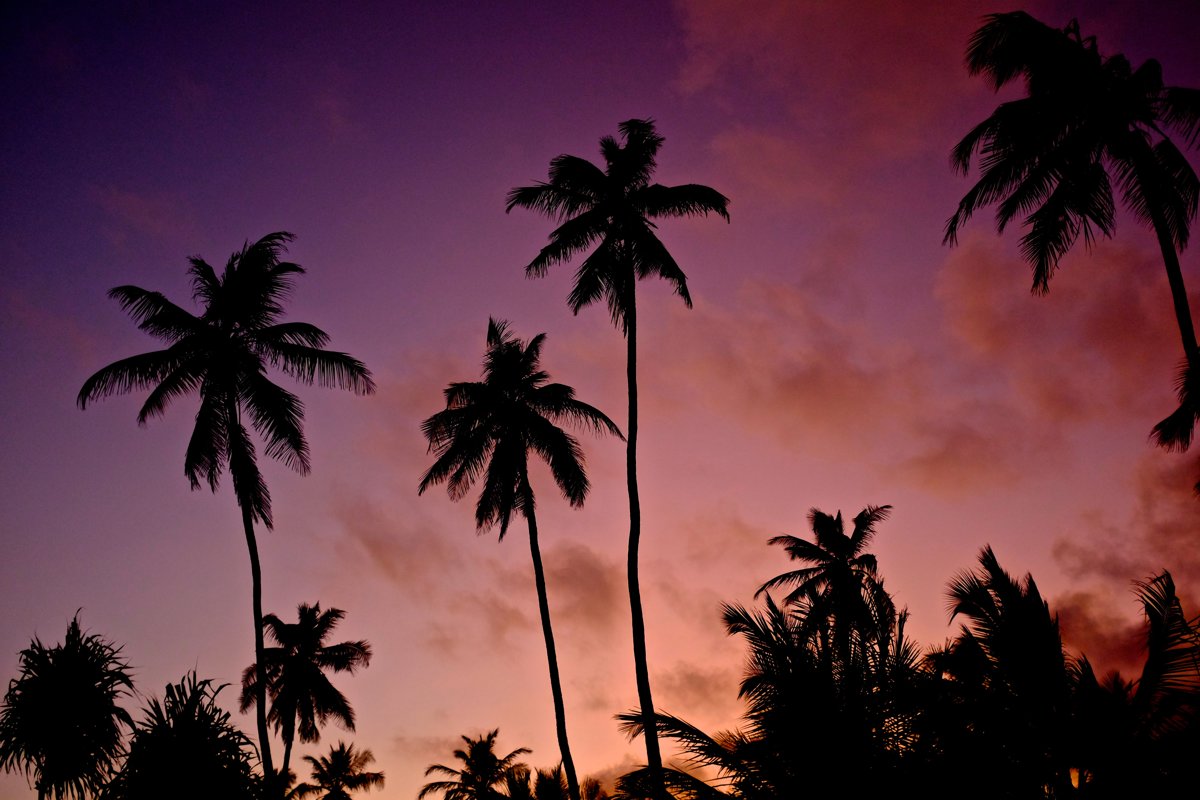 The difference from Jambiani are the sea urchins and the reef which is much closer. We could observe less local activity in the sea but there were more kids playing around, so felt a bit more mixed than in Jambiani.
For the next day we arranged a snorkeling trip to Mnemba atoll. We were so lucky to go with the Dive Point - they were super professional and helpful. I was not so keen in getting in water but they assured me and helped to put flippers. On the boat we met a lovely Canadian lady and Austrian couple, it was a great day! Snorkeling was great, a bit crowded for my taste but with many different fish, less interesting for corals. We could also see under people who were diving. The divers said they had seen turtles and even a shark.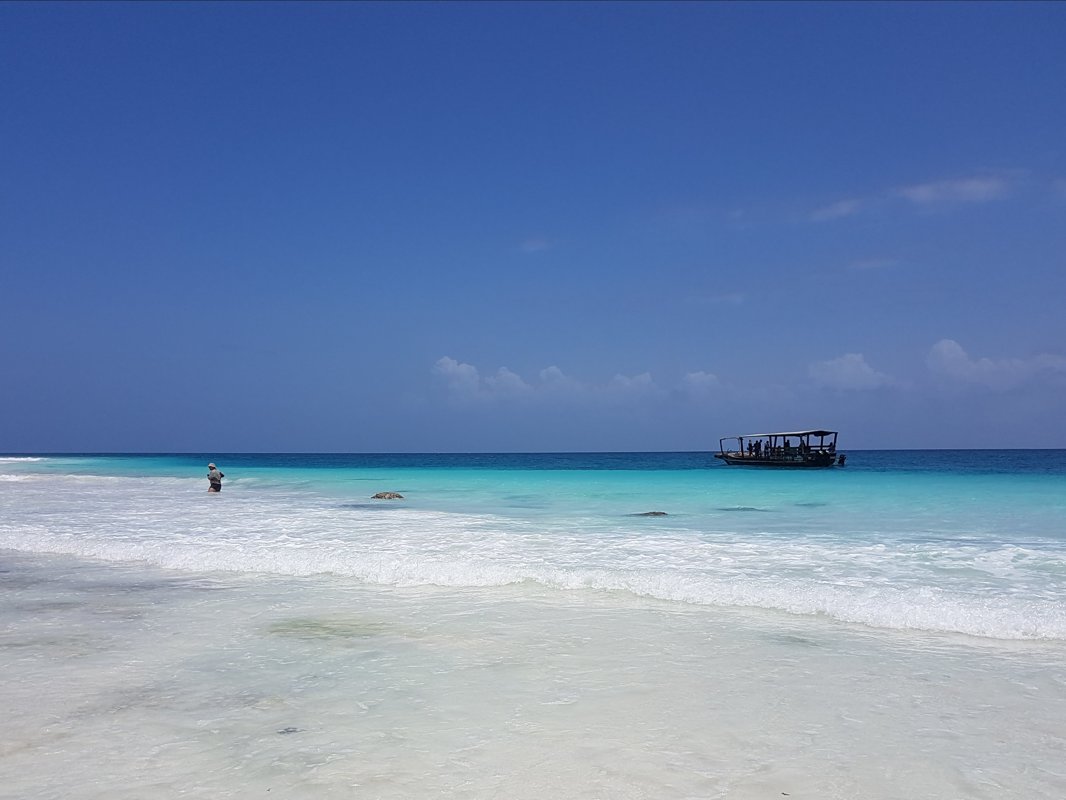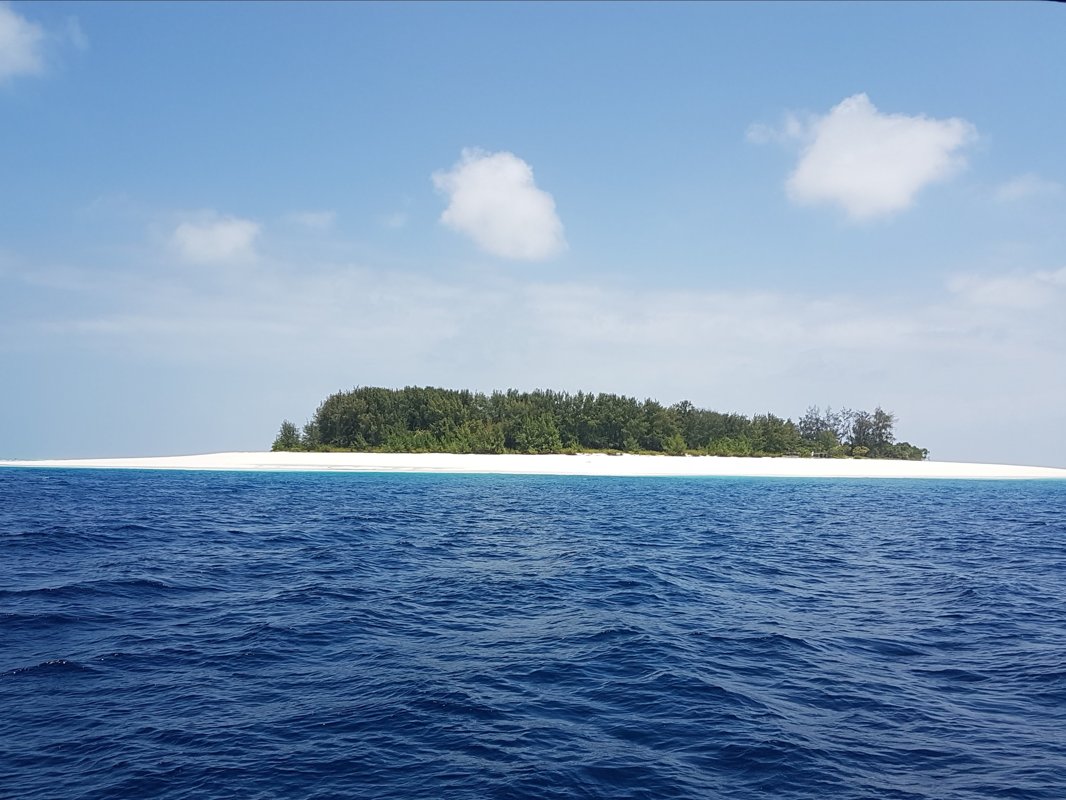 I had heard about the fish market in Matemwe and definitely wanted to see it. In Sunshine Zanzibar you can borrow bikes for free, it is around 15 min ride on the beach. The market was really colourful: people, fish, kids, boats... and we were the only tourists... well, we could not really blend in and kids were running behind us with crabs and fish and asking for dollars... so we had to get away rather quickly :)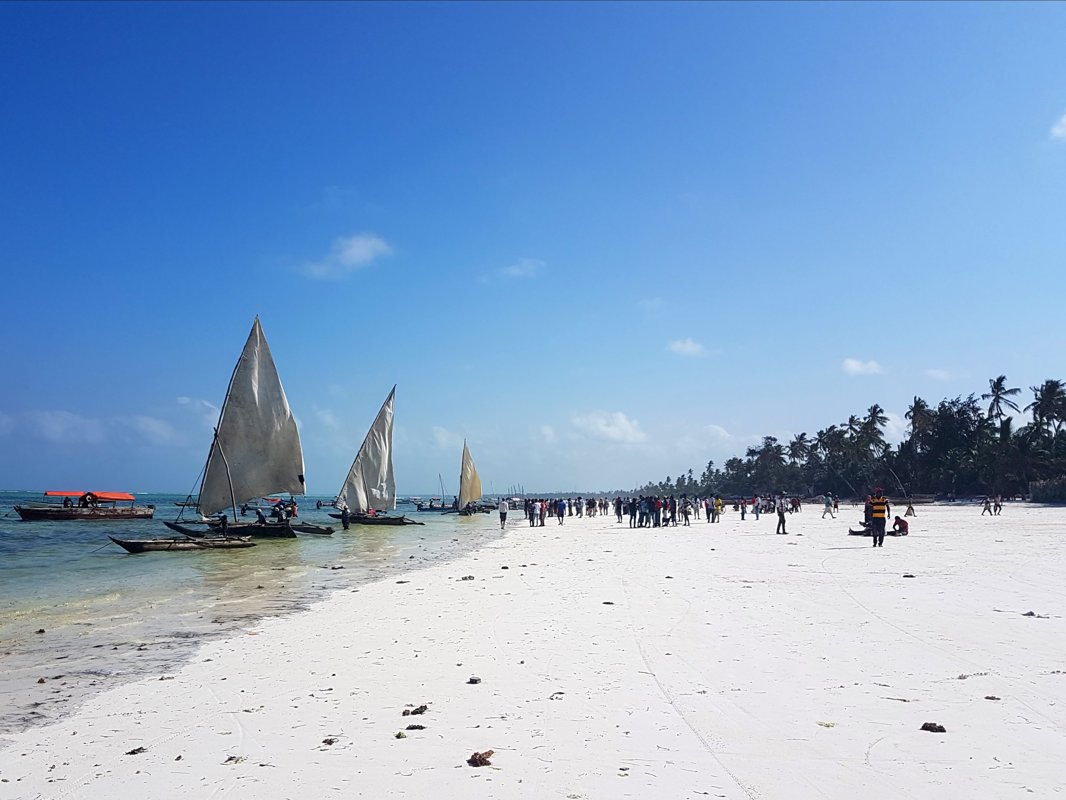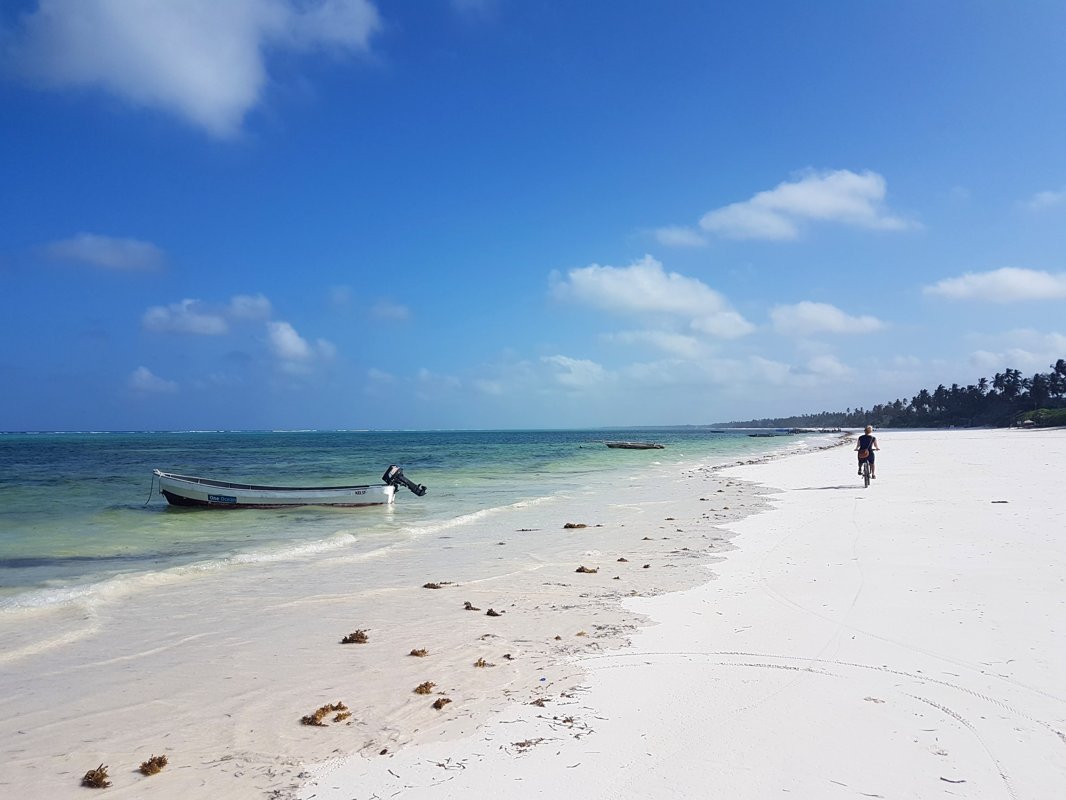 The highlight of our trip was a visit to the local village to understand a bit more about the local life. The contrast between posh hotels and local huts is huge, of course. It was interesting to find out that most of people actually don't work in the hotels but are farmers or fishermen. Staff in the hotels come from the mainland of Tanzania.
Life seems easy and simple as everybody is following Koran. The bigger the family - the better, the more wives, the better. Fishermen go to mainland to buy fruits and vegetables and vice versa. Schools are many, very basic, just a black board in the room and nothing else but education is encouraged. Sanitary facilities are close to non-existing. According to our guide, hotels don't invest in the local infrastructure at all. Villages are arranged according to families because families are soooo big. The land is free but it takes some time and money to build a family house. We had an opportunity to see one, felt very fresh! Like a natural air conditioner!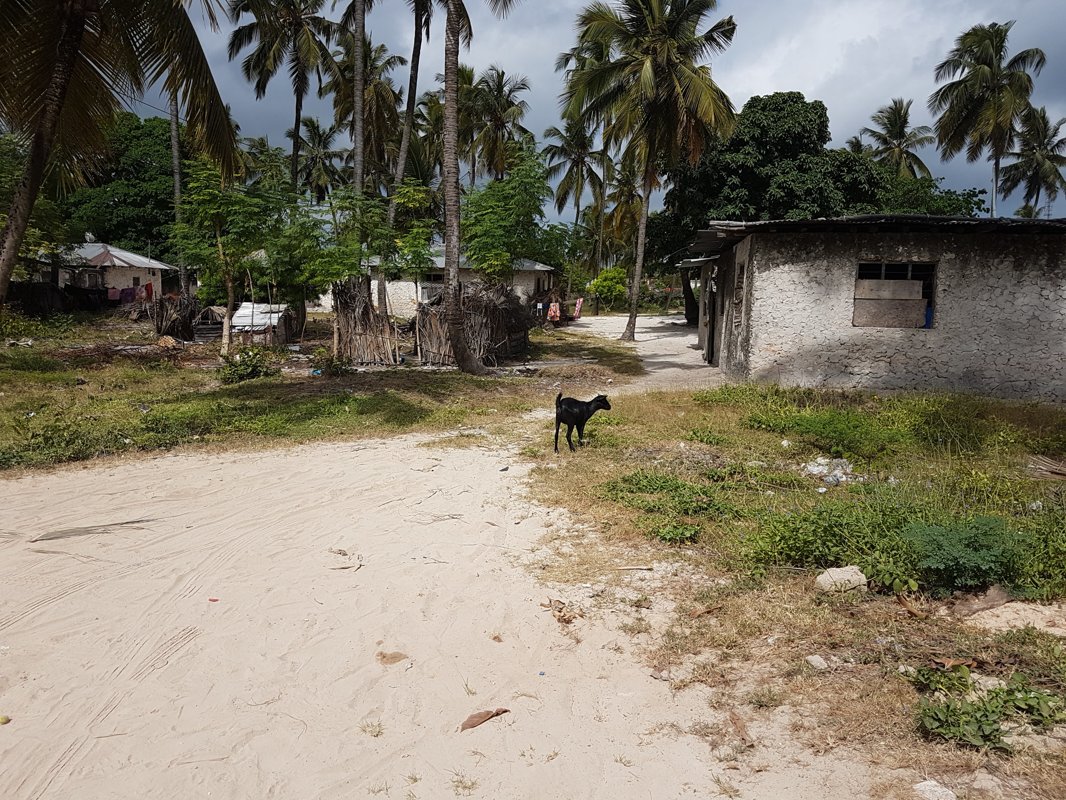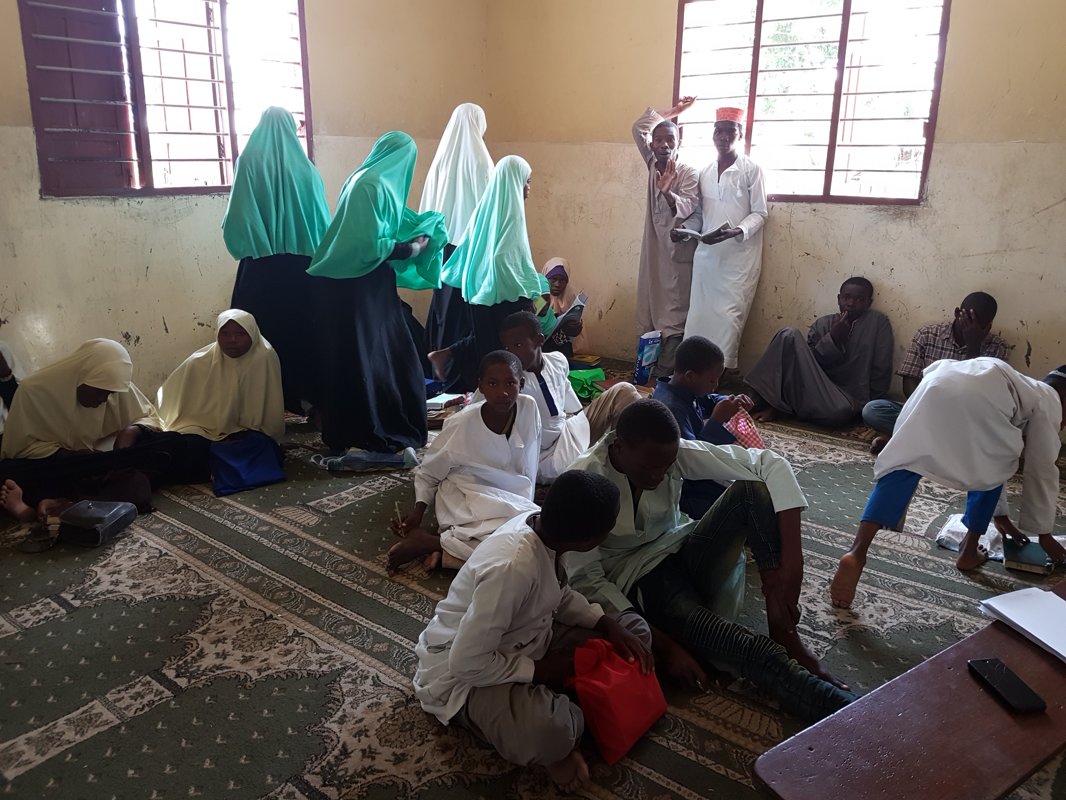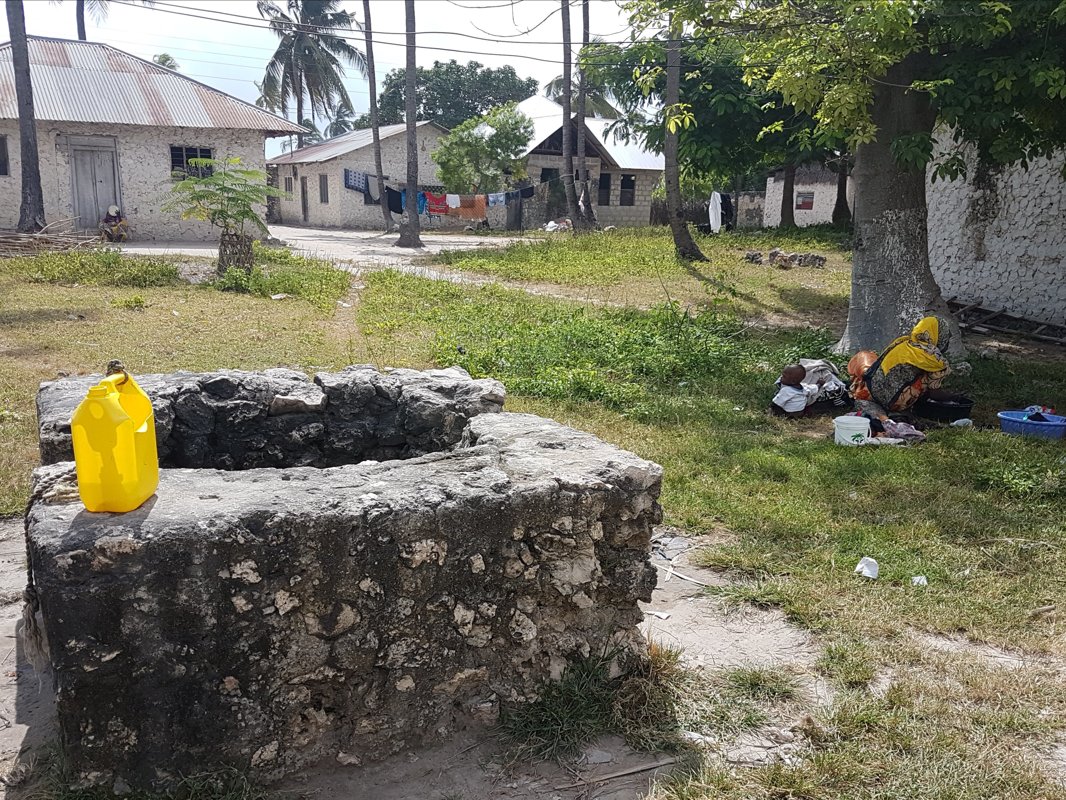 If you are interested to have a simple local tour, contact Makame Haji Baya via whatsup +255 773 820 172. He can also help to find driver Musa who has a reasonably priced trip to Stone Town (if you negotiate ;-)) We got ours for 40 dollars.
Stone Town
Our guide from the village came also with us to Stone Town, so we had one more hour to discuss - how is it in your place - and how is it in your place? So much fun to have these conversations about cars, road, electricity, government, people, religion. We could really learn a lot from this.
In Stone Town we stayed at Forodhani park hotel - a small hotel perfectly located, could not wish for better. After so relaxing days Stone Town feels like a total mess. People are everywhere, cars are everywhere and everybody tries to sell you everything... Luckily we are rather tanned and our excuse is - we already did it, no thank you :)
Stone Town is a UNESCO heritage and some building are really amazing. Some are recently renovated but some, like the House of Wonders, is left to rot. Very sad... Even the renovated ones are not used to its full potential.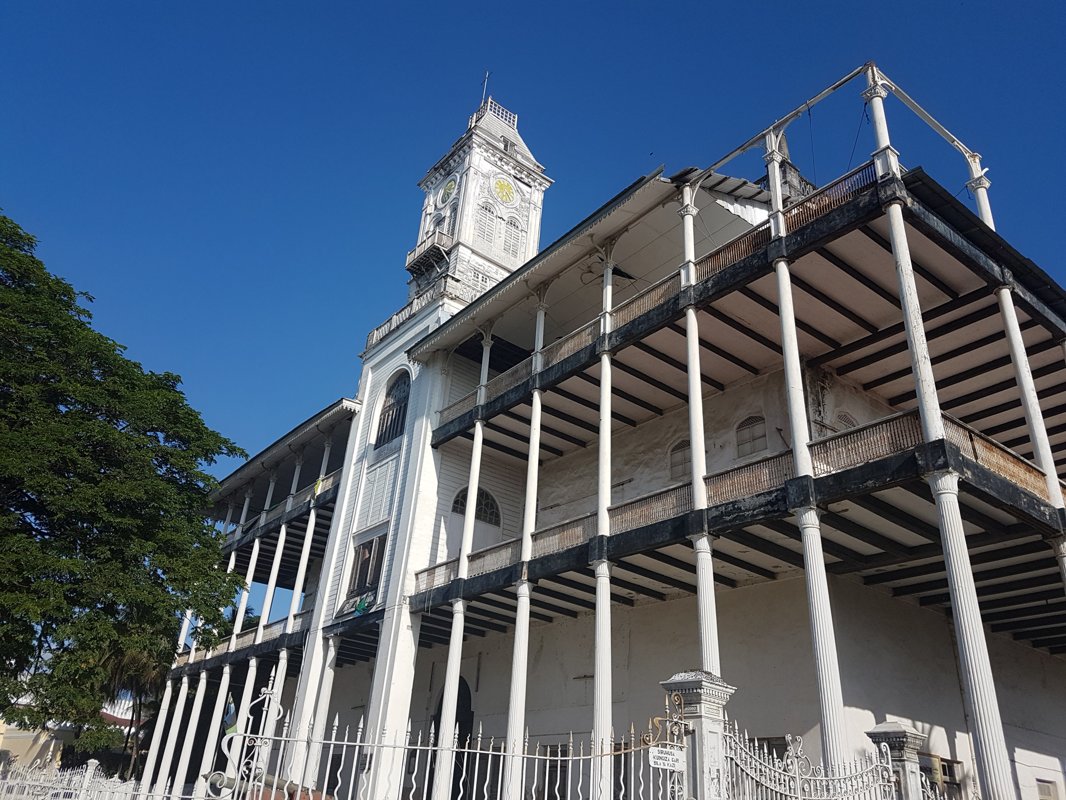 Everybody says that a visit of Stone Town is a must, well, yes, kind of. If you don't want to be bothered by anyone, just a get a guide. We didn't and still were fine. Darjani market is a great place. The meat section is for the strong ones or for the ones who did not have any breakfast ;-) There were also some cash machines available which actually worked.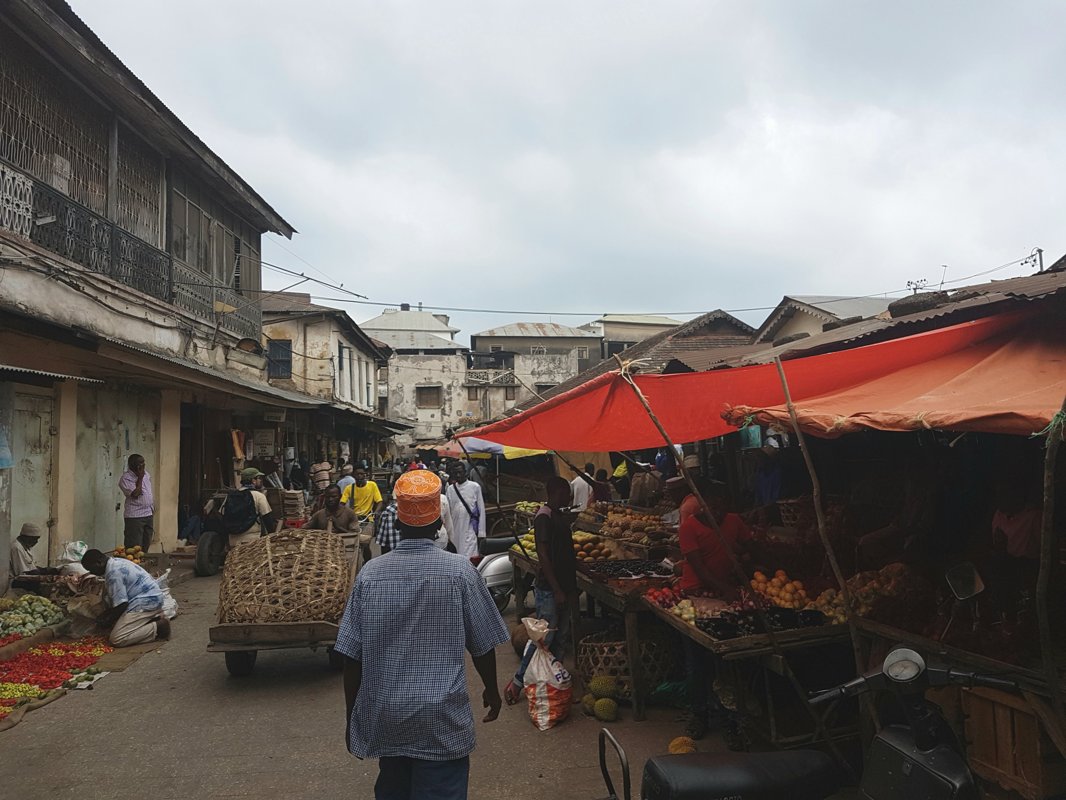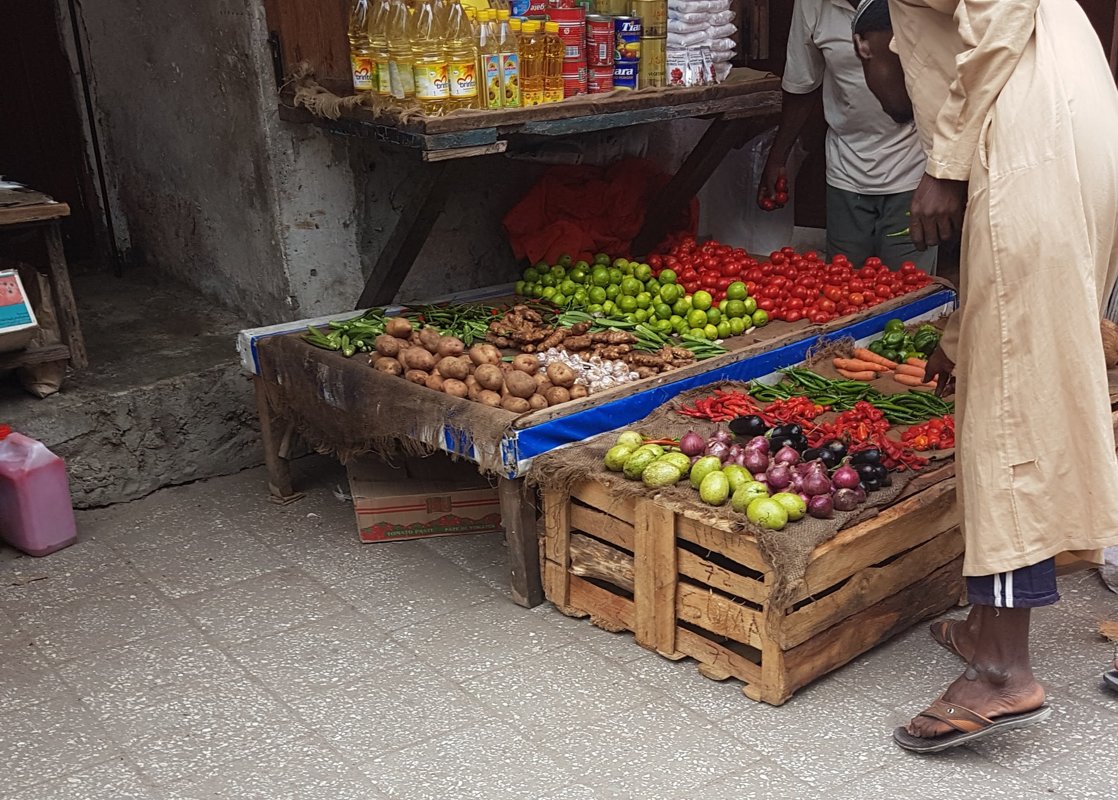 At the sunset all the people were at the beach, lots and lots of people, kids were jumping in the water and making tricks. We noticed that not many tourists were at the beach, most of them were watching sunset from the posher sea side hotel terraces.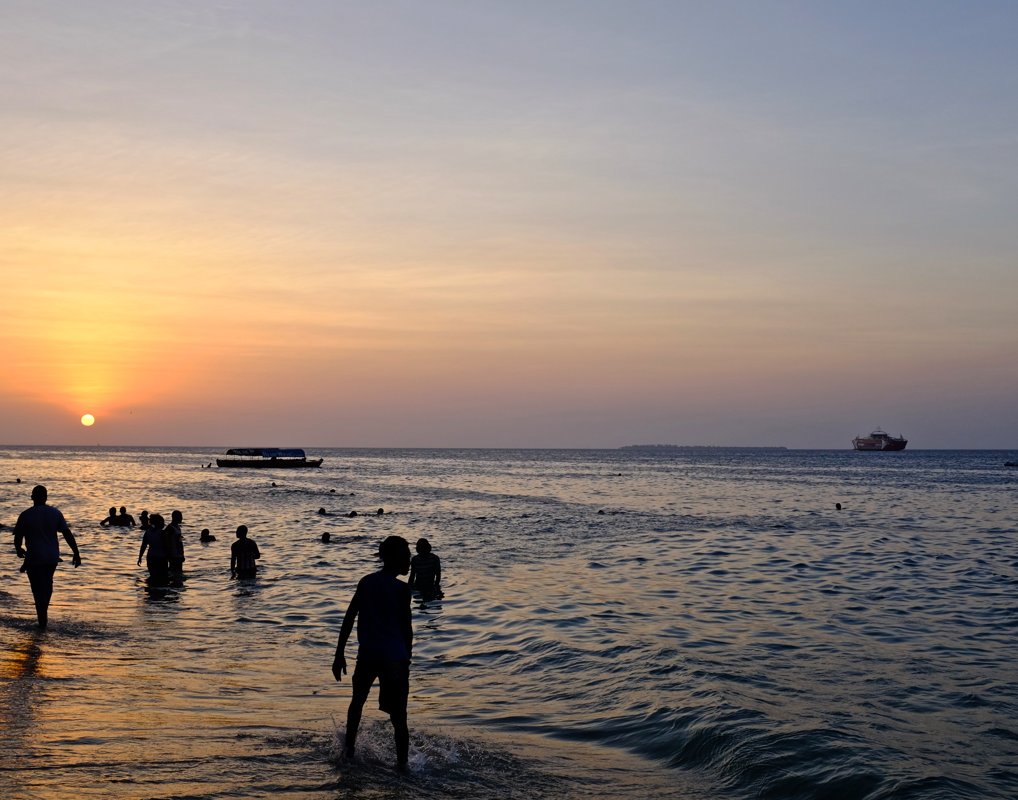 As all the tourists, we also went to the Forodhani food market. Well, nothing really special apart from crows of people. Only tourists were eating, so we had difficulties to choose the most decent place. In the end we got Zanzibari pizza from Mr Nutella, was edible and did not get sick, so we called it a success.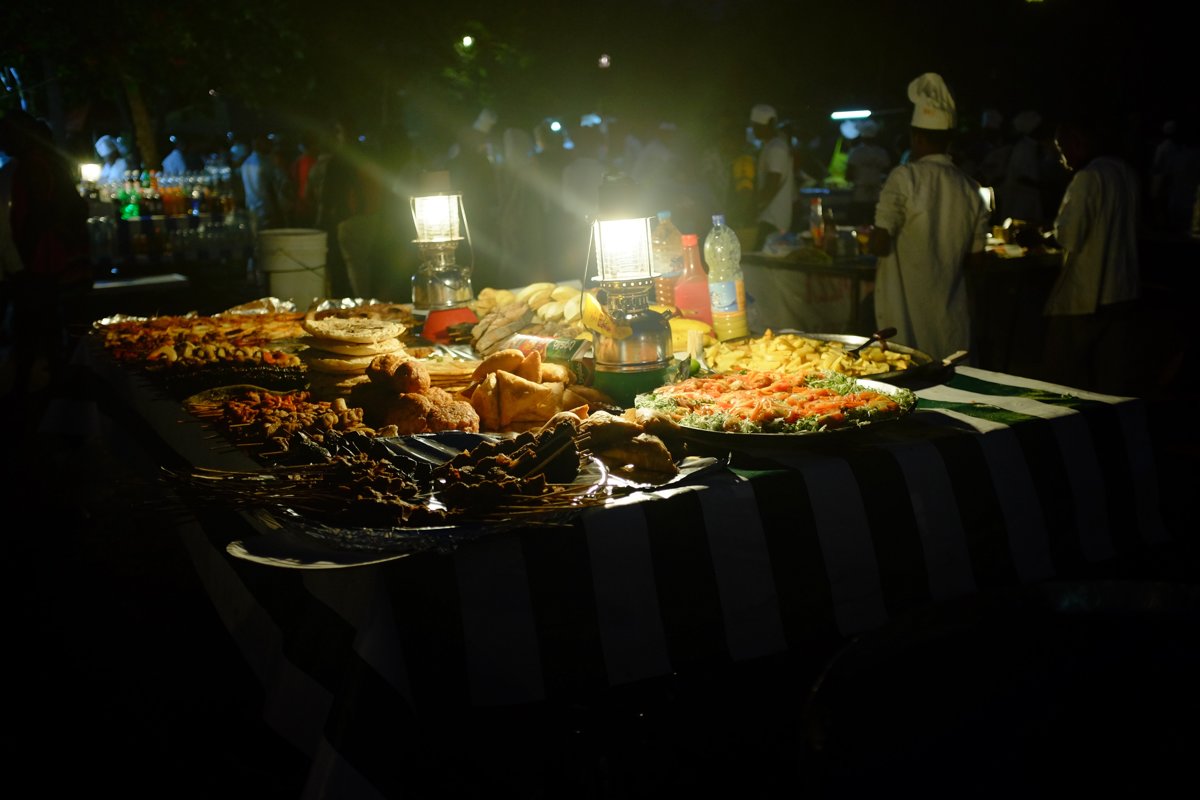 We did not take any trips like the Prison island as we thought it would be too crowded and instead preferred to explore the neighborhood. I had read about an old dhow harbor not too far from Forodhani gardens and we just decided to go and check it out. On our way we saw beautiful buildings and could see how big the port was.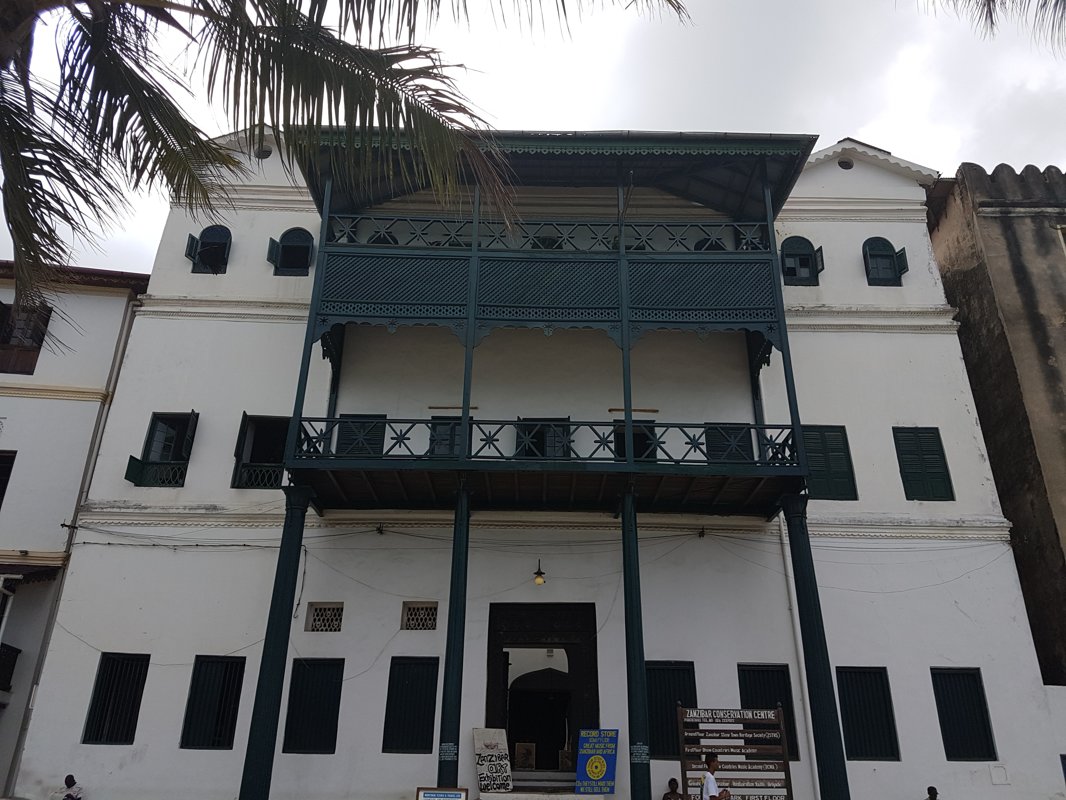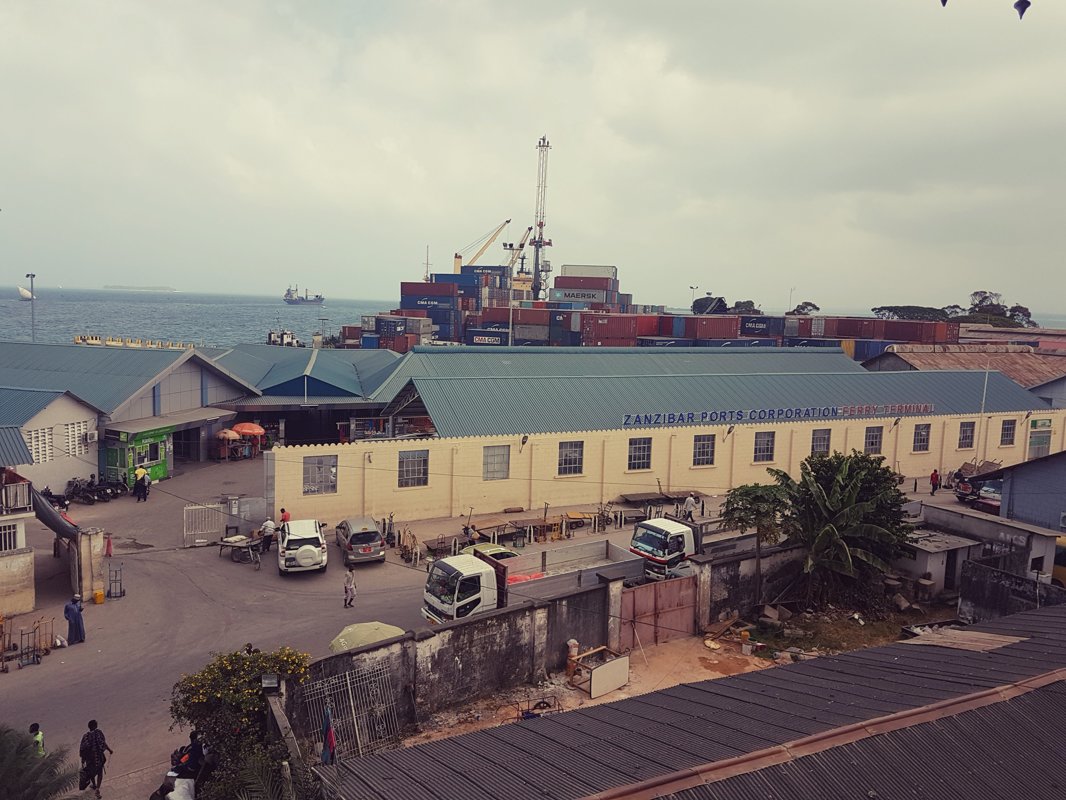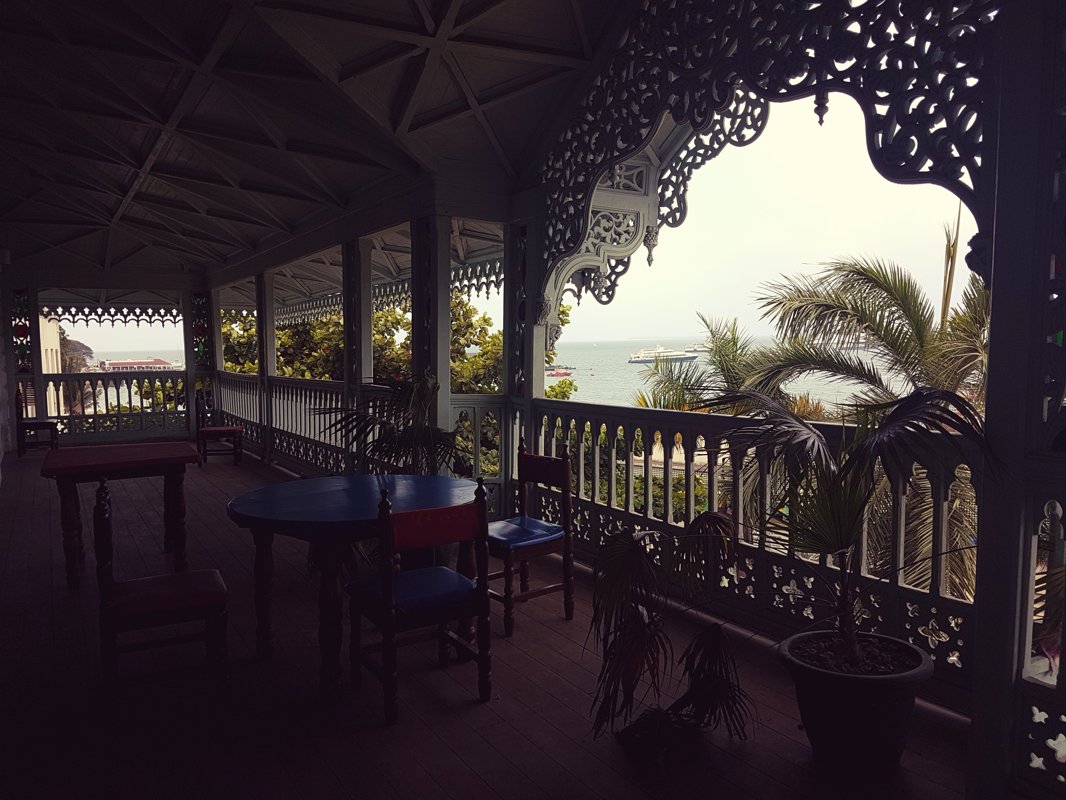 The more we would go towards the port, the less tourists were visible. And again we had a million offers of all the possible tours and the somebody said - oh, do you want to go to the fish market? No, we don't. But hei, did you say a market (I'm a fan of markets)? So we just continued walking and I was wrapping my scarf even more around shoulders as were the only westerners there. And then what a sight - the old port! OMG they were selling everything there - fish were thrown out of boats, their heads were chopped off and insides torn out... wood was sold just next... The ground felt like a bog, I could feel plastic of different layers under my feet. I could also feel that we were total strangers there. I just dared one quick picture and then off we went... People were not hostile or anything, I just felt we totally did not belong there... and no surprise, this market does not event exist on google maps...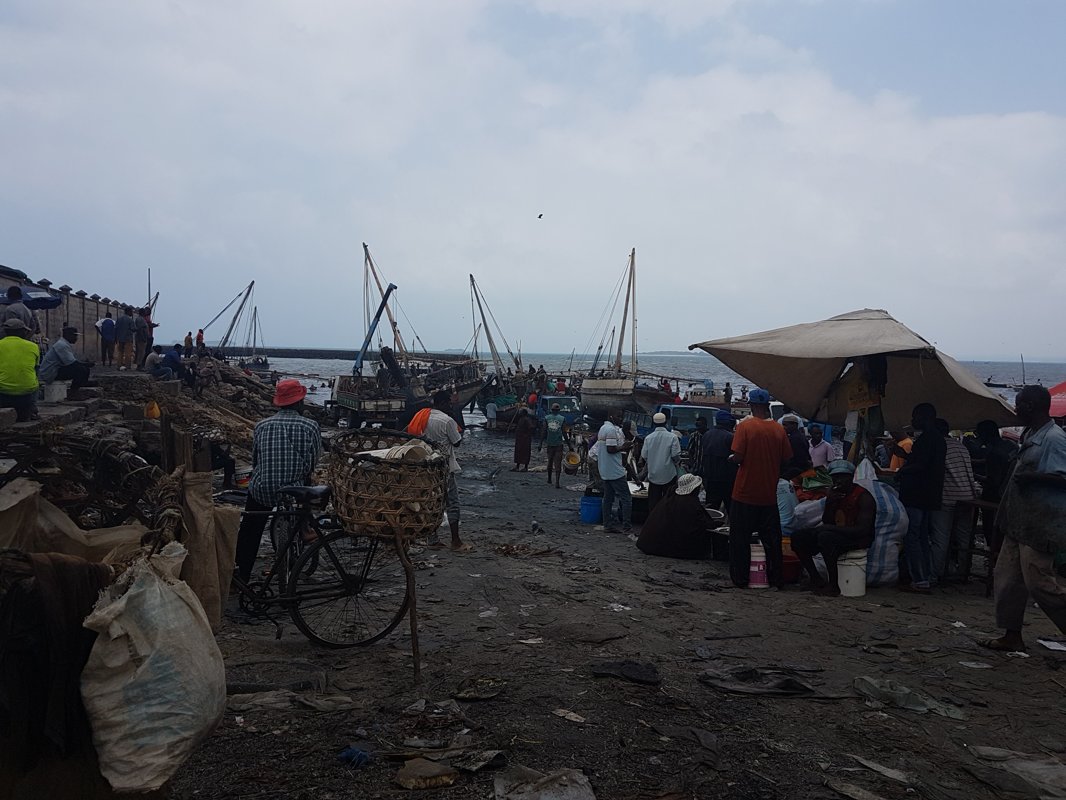 The day after the only thing on our list was the memorial for slavery. It is very small and the visit is over in 15 minutes but the explanation written on boards was very useful, even more than the guide.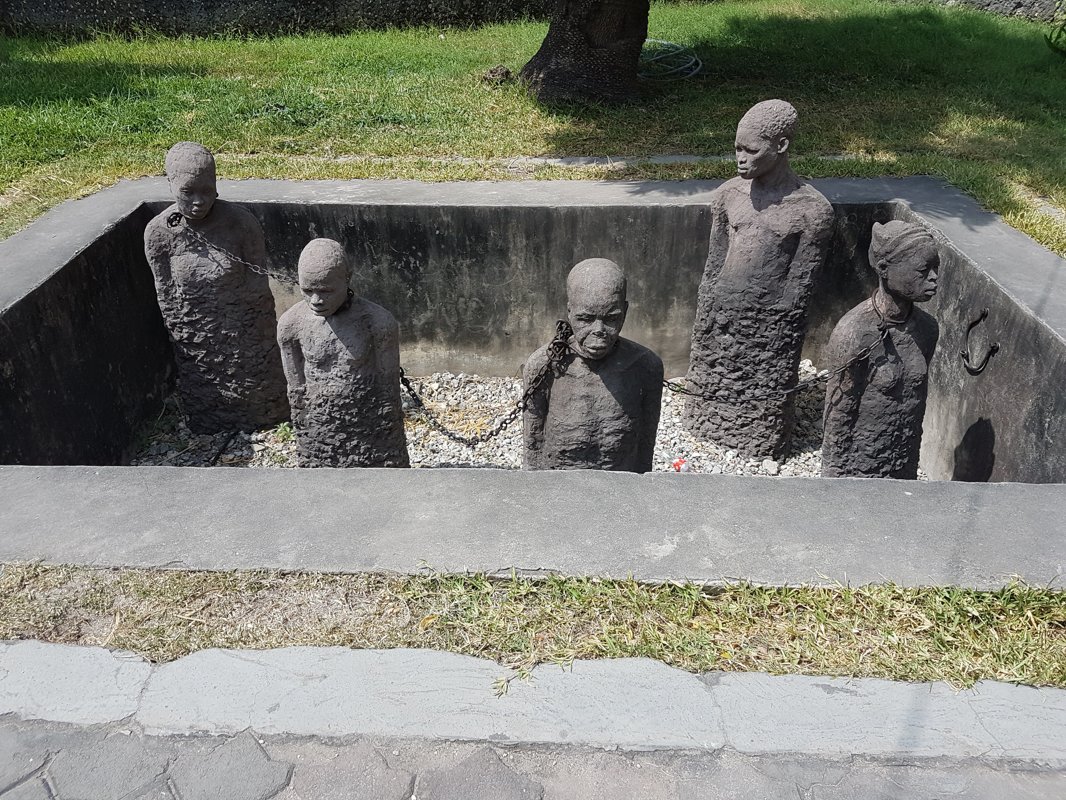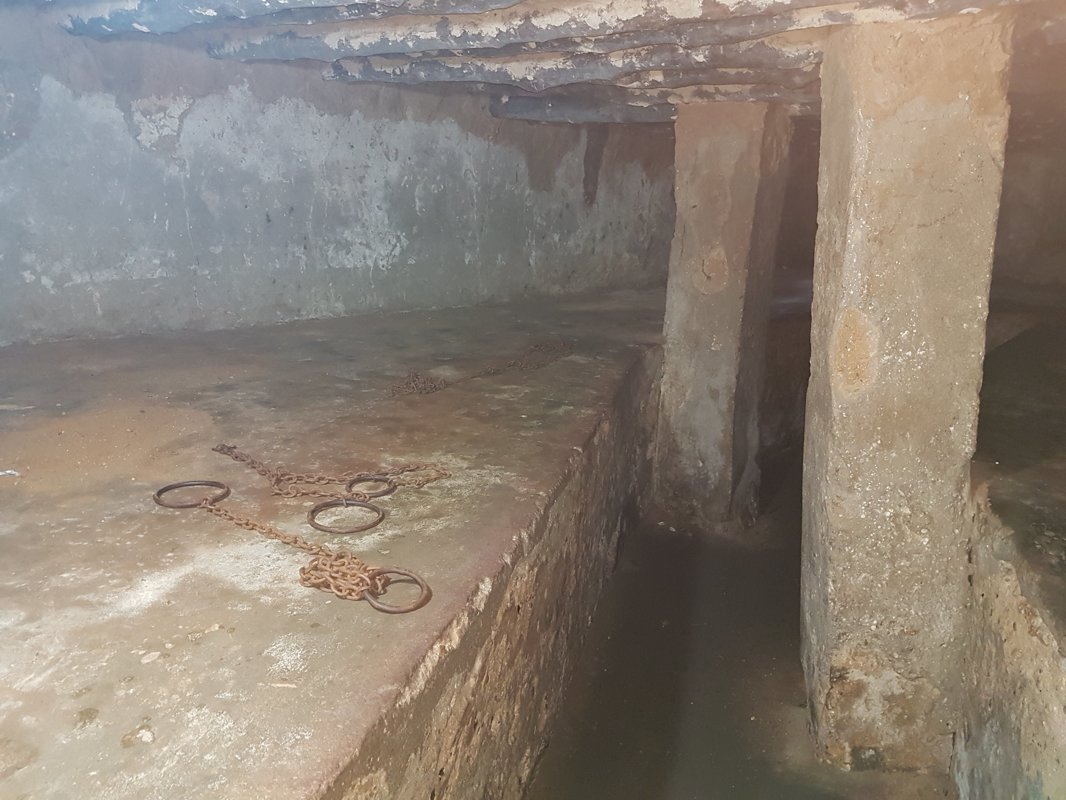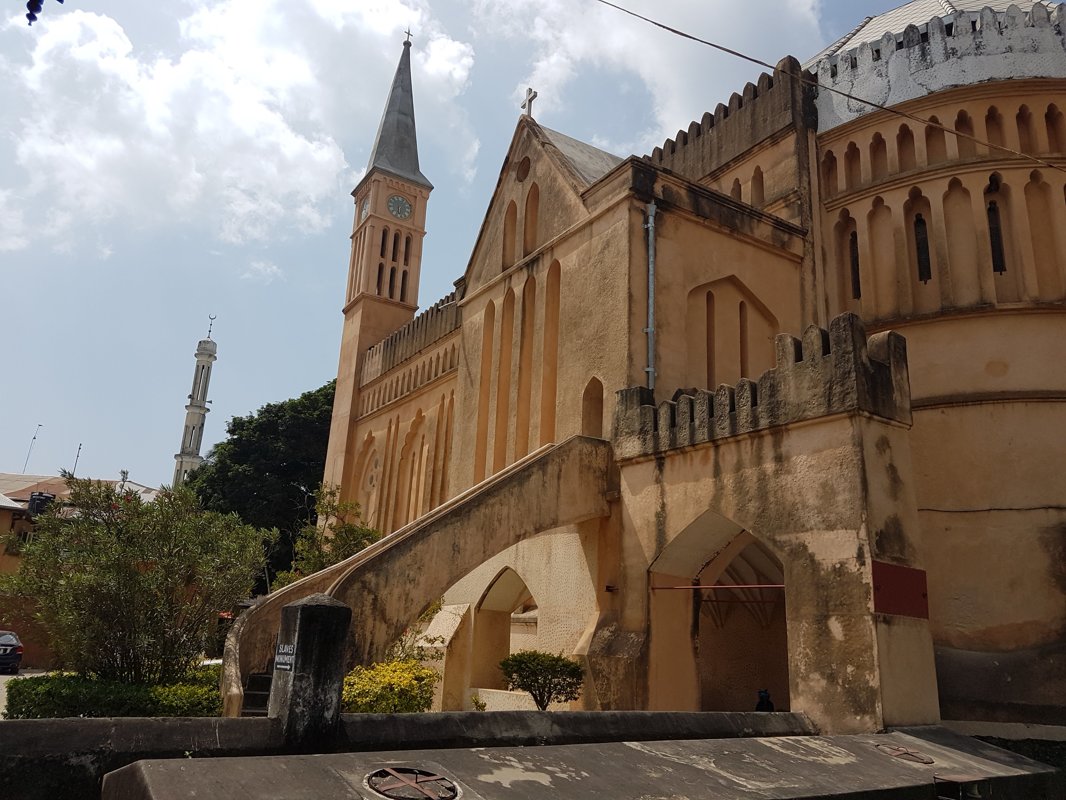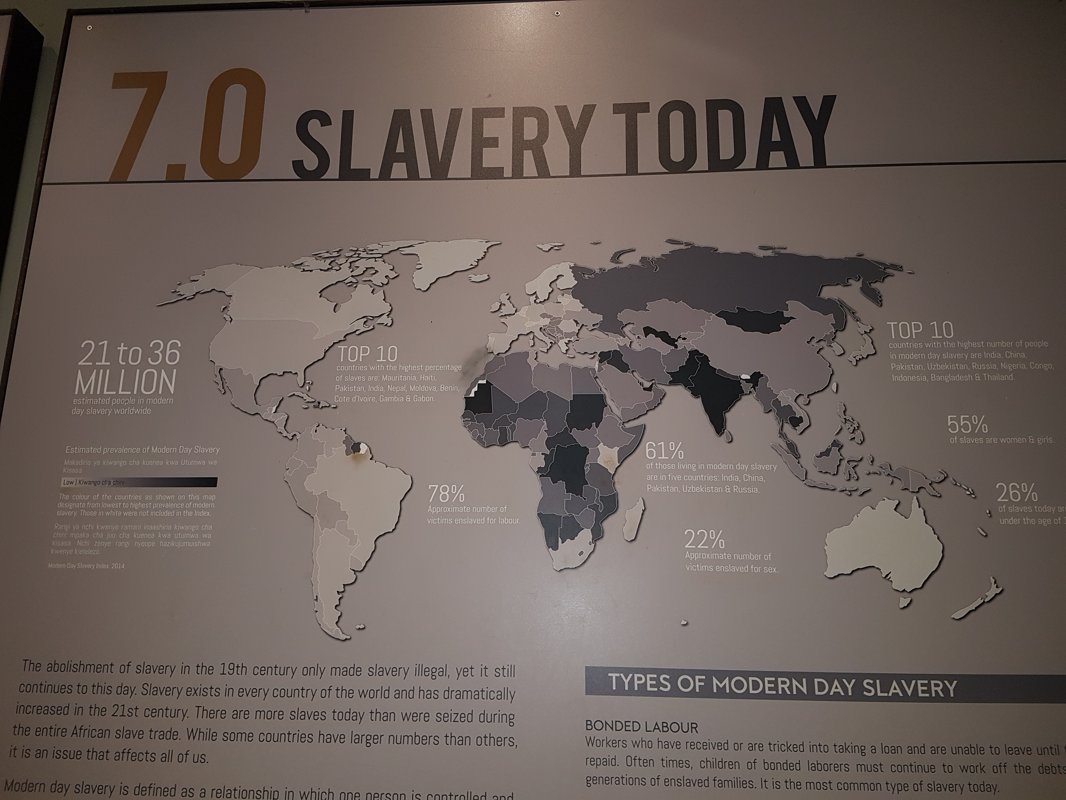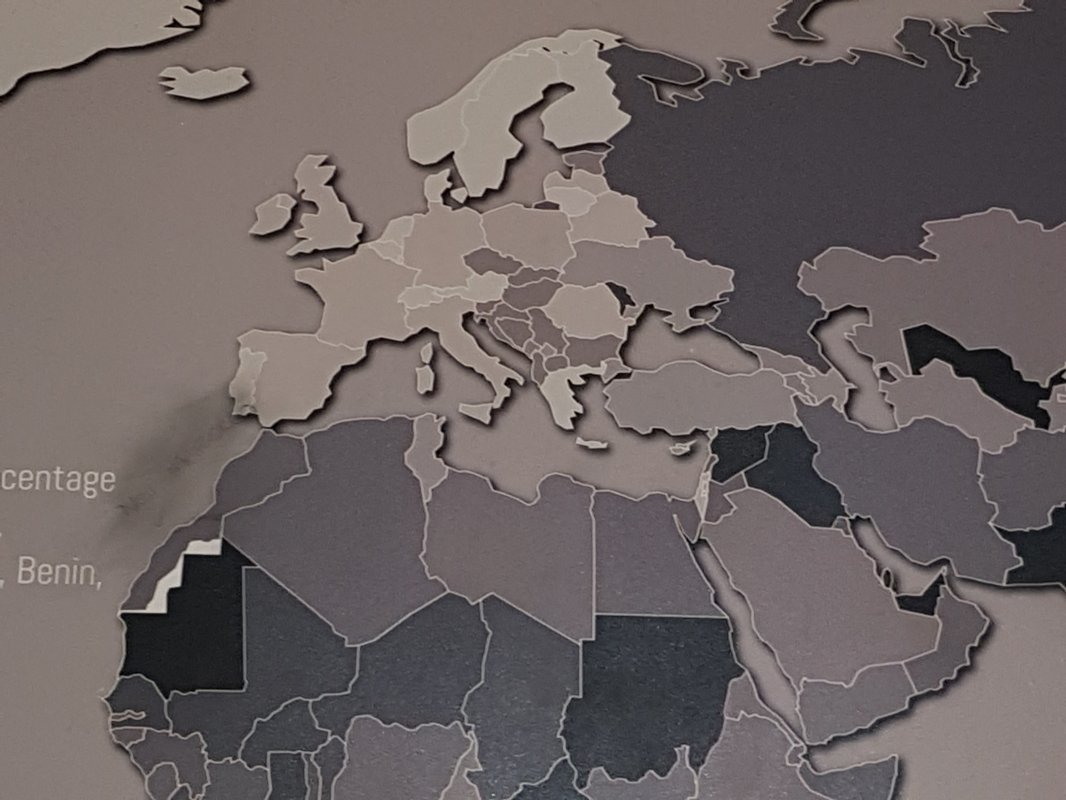 I had to admit that I was a bit surprised to see the slavery map - why is Estonia so grey?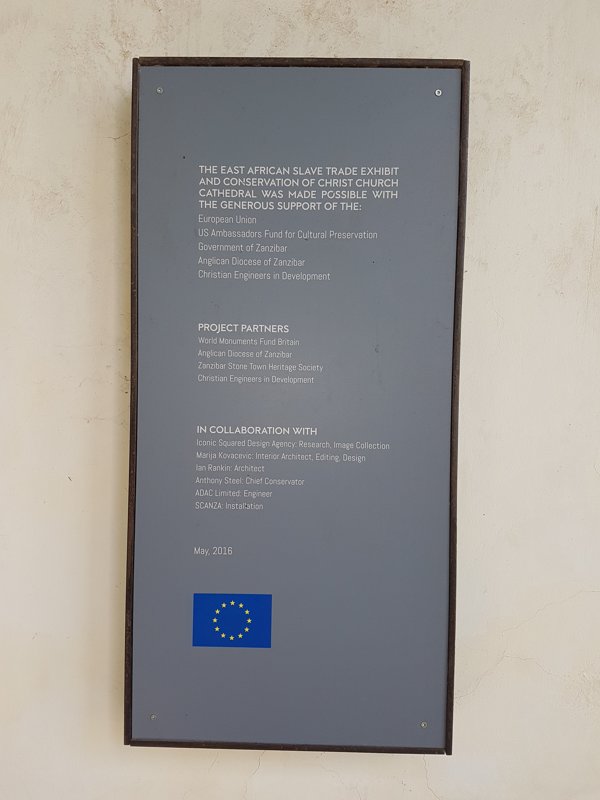 To my very big surprise I saw hat the memorial was supported by the European Union. EU even in Zanzibar! Cool! :)
The rest of the day we just spent chilling, sipping mojitos and exploring rooftops.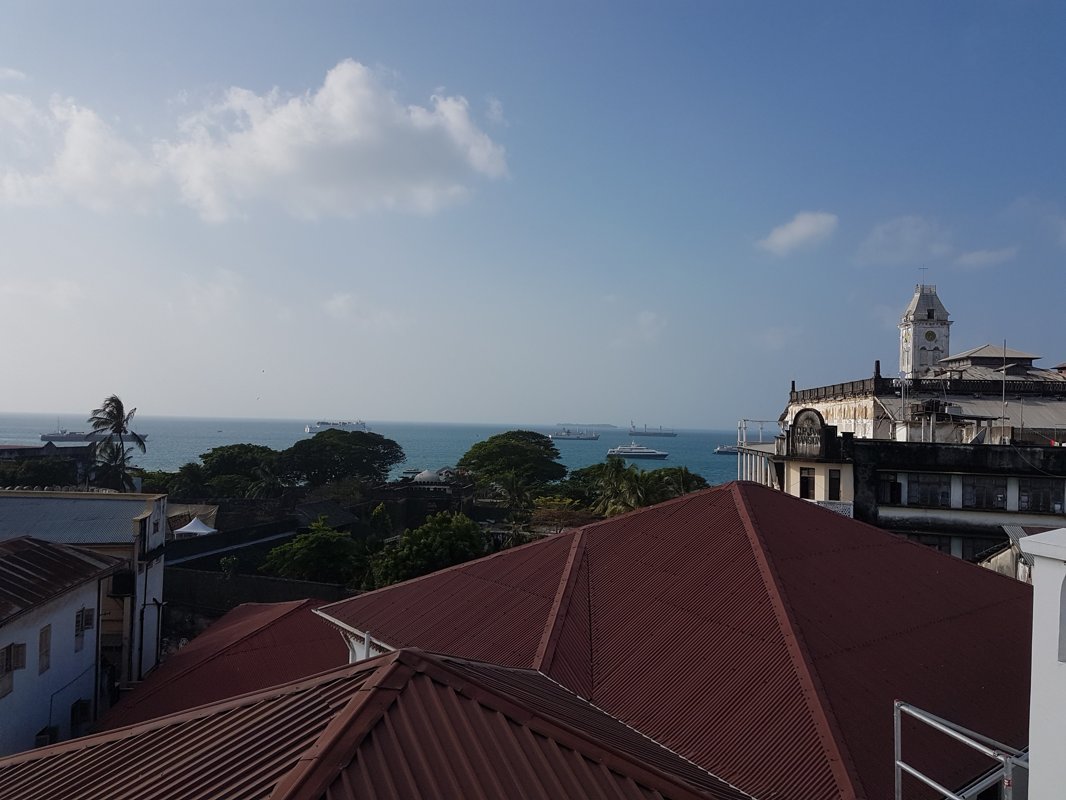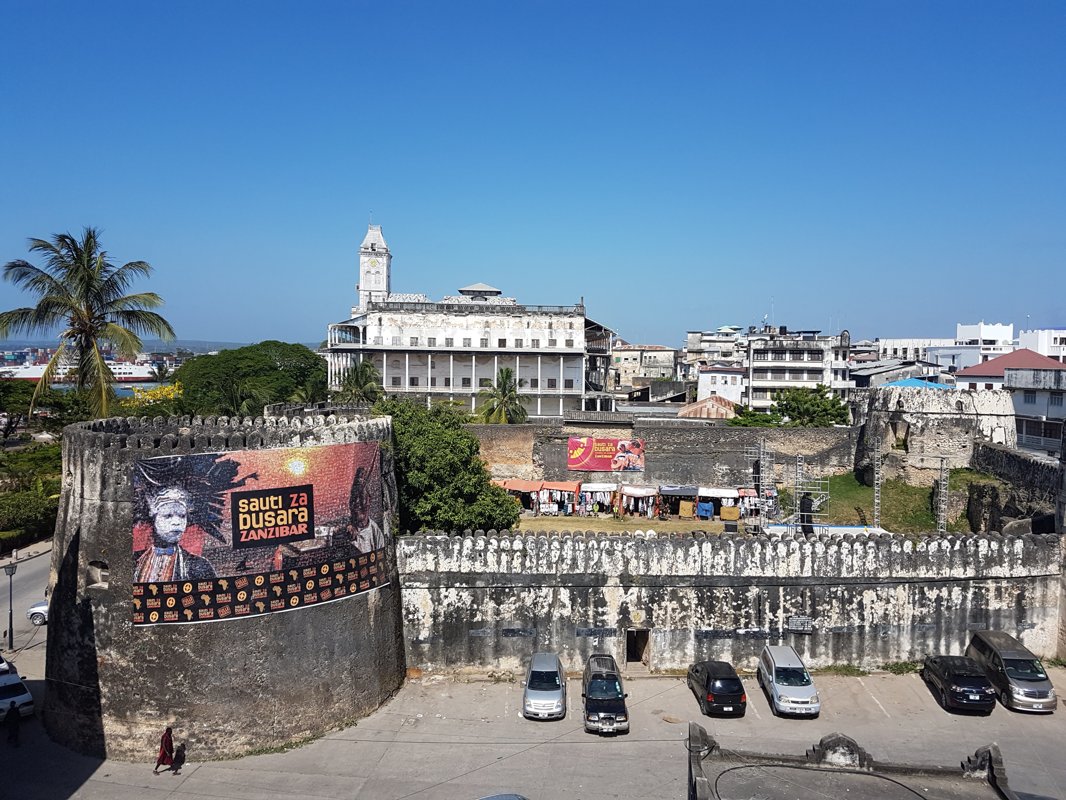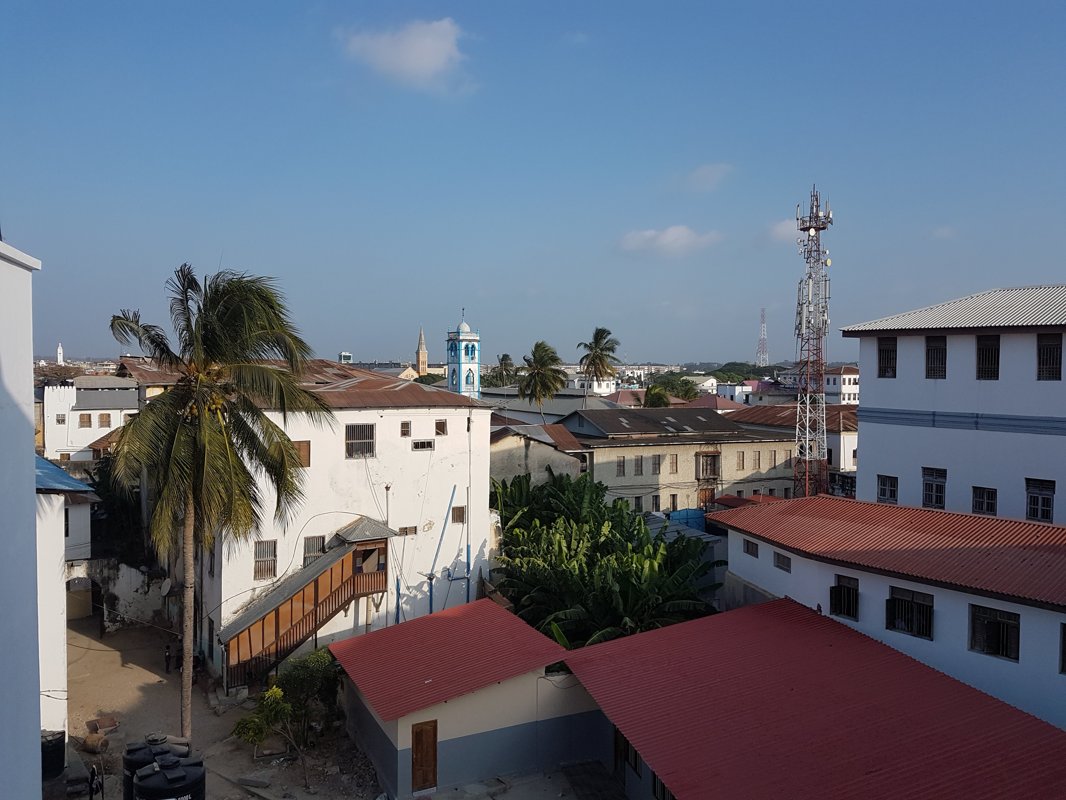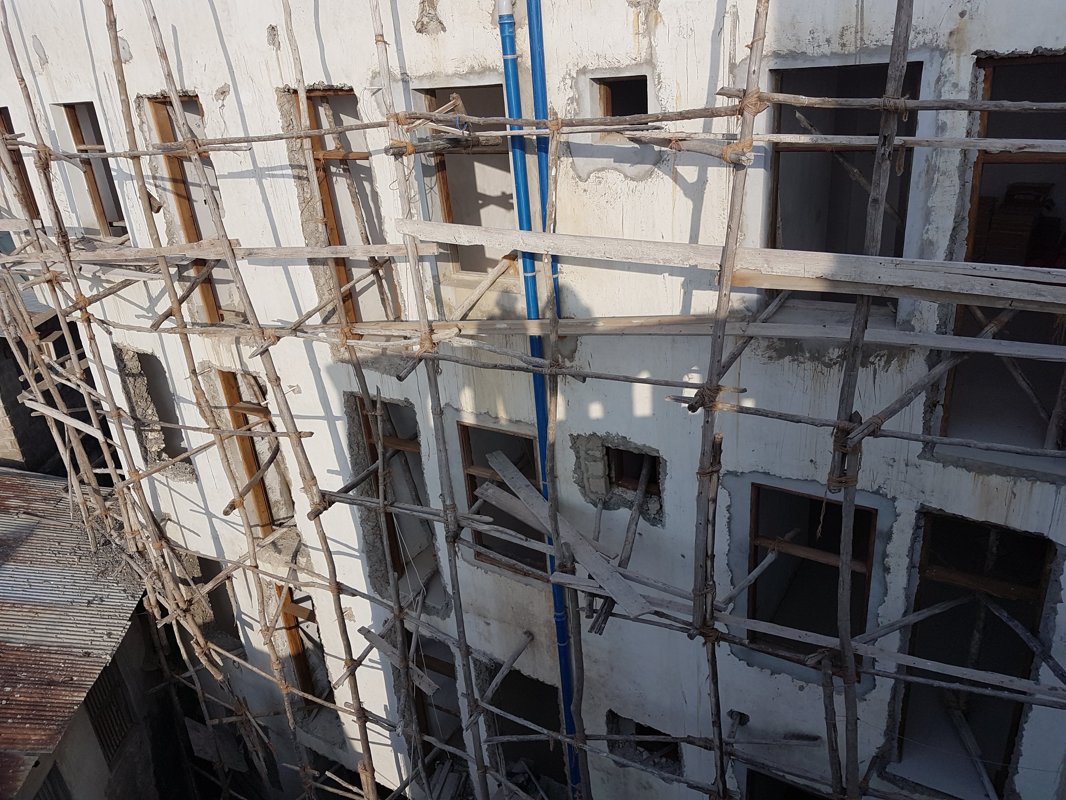 I can really recommend 6° South. Everything was excellent there - good food and wonderful cocktails. We could observe that it's a place for expats, they were gathering there every evening to celebrate, to discuss business, to watch the sunset...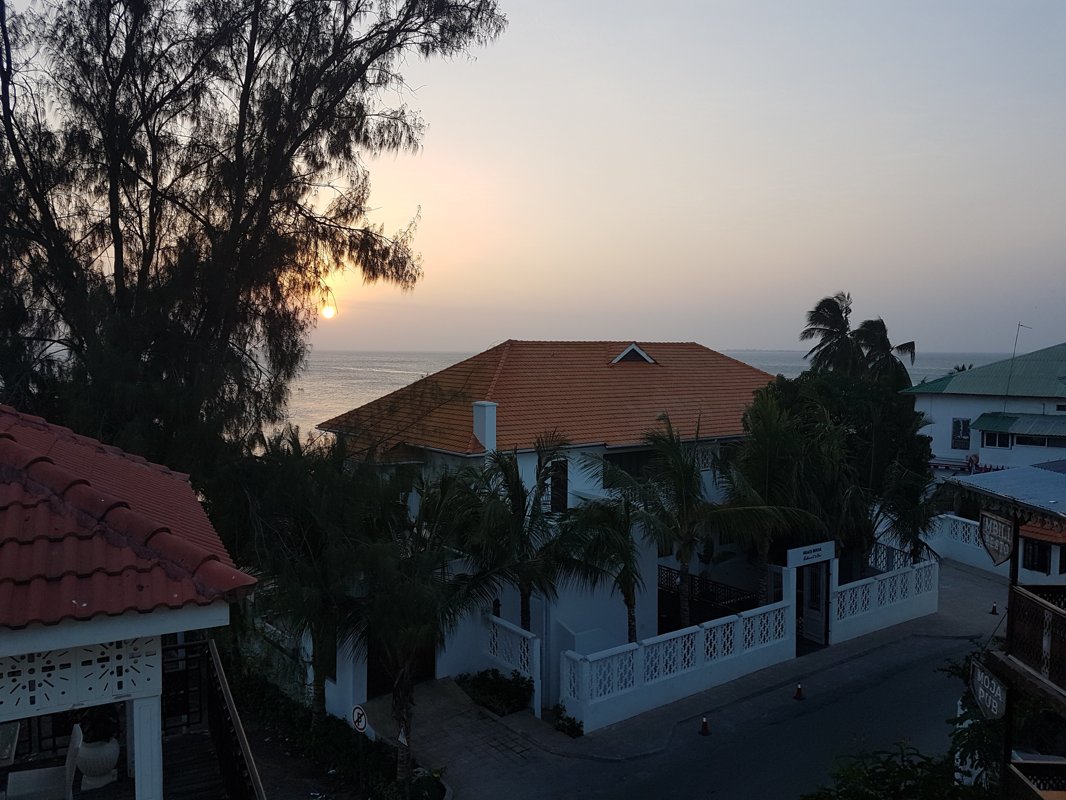 We had only one dinner in Stone Town and we went to the Silk Route - perfect Indian food!
Some observations:

- Prepare well your finances. Cash machines are ONLY in Stone Town and they are not always working. We had withdrawn some shillings but had taken also dollars with us. In Jambiani most of prices were in schillings (with a possibility to convert to dollars) and in Matemwe everything was in dollars.
- Take lots of sunscreen with you. I don't remember when is the last time we had used 4 bottles of cream in 1 week. And go for 50, don't even think about 30. If you run out of it, it will cost you around 20 dollars for a reliable sunscreen from the hotel.
- Oh those coconuts... mmmm... Just be aware - if you buy them at the hotel - it will cost you 5 dollars, if from a local guy - 1 dollar or even less...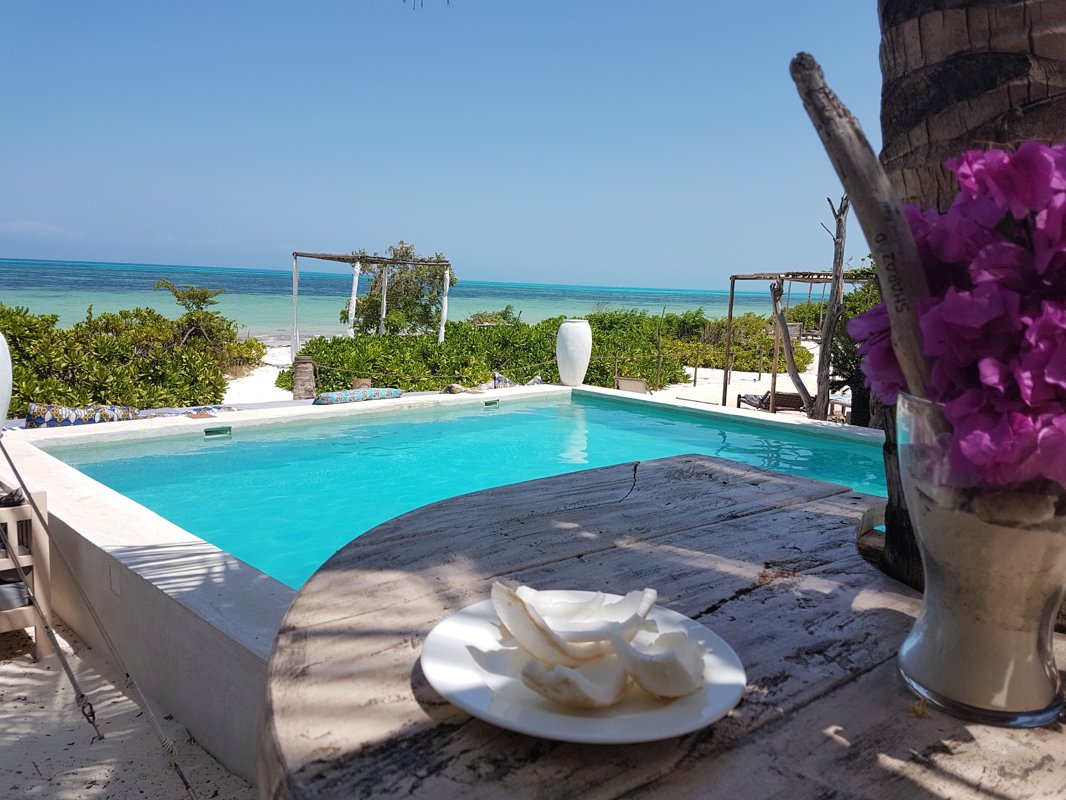 Inspiration:
Zanzibar buzz - a very complete blog
Facebook page - Zanzibar residents
6 comments
- Zanzibar: A true paradise
India - July 24, 2018 at 2:57 pm
This trip report is amazing and so so useful!
I have just booked a 7 day trip to Zanzibar in September. My itinerary is very similar to yours, spending 2 days in stone town, then Jambiani and then Matemwe.

I'd love to find out what your favourite area was, as we are unsure how to divide our time.
We prefer the untouristy areas. I'm considering both Sharazad and the Sunshine Hotel, and I'd love any further tips you have!

Thanks so much : )
Dace - July 24, 2018 at 10:21 pm
If I had to plan again the trip, I'd stay only one day in Stone Town and the rest of time would divide equally between Jambiani and Matemwe. Have fun!
irene miller - November 6, 2018 at 1:58 pm
I truly enjoyed reading about your trip to Zanzibar. Thank you so much for all the amazing details. This will be a giant help to me as I travel their with 2 teen girls this summer.
Lloyd - February 18, 2019 at 8:06 pm
Hi there! I found this blog post really helpful when planning my own upcoming trip so thanks for being so detailed! Two quick questions:

1.) How much did you pay for your trip to Jozani from Jambiani organised through your hotel?

2.) How much did you pay for the dhow trip in Jambiani, how long was it and did you actually go snorkelling?

Thanks again!
Michaela - May 16, 2019 at 1:15 pm
Hello there. Also wanted to thank you for some very useful tips! I just bought tickets for my and my daughter for next February, will be also travelling from Brussels ;) Hope we will enjoy it as much as you did!
Naomi - June 16, 2019 at 8:03 pm
Hi,

How much US dollars do you recommend bringing for a 10 day trip in Zanzibar for 2 people? Should I bring large bills like hundreds or small bills? Should I exchange them to shillings or will places accept the US dollars? I'm so confused about this and don't know how much cash to bring...
Leave a reply