Naxos - a hidden pearl in Cyclades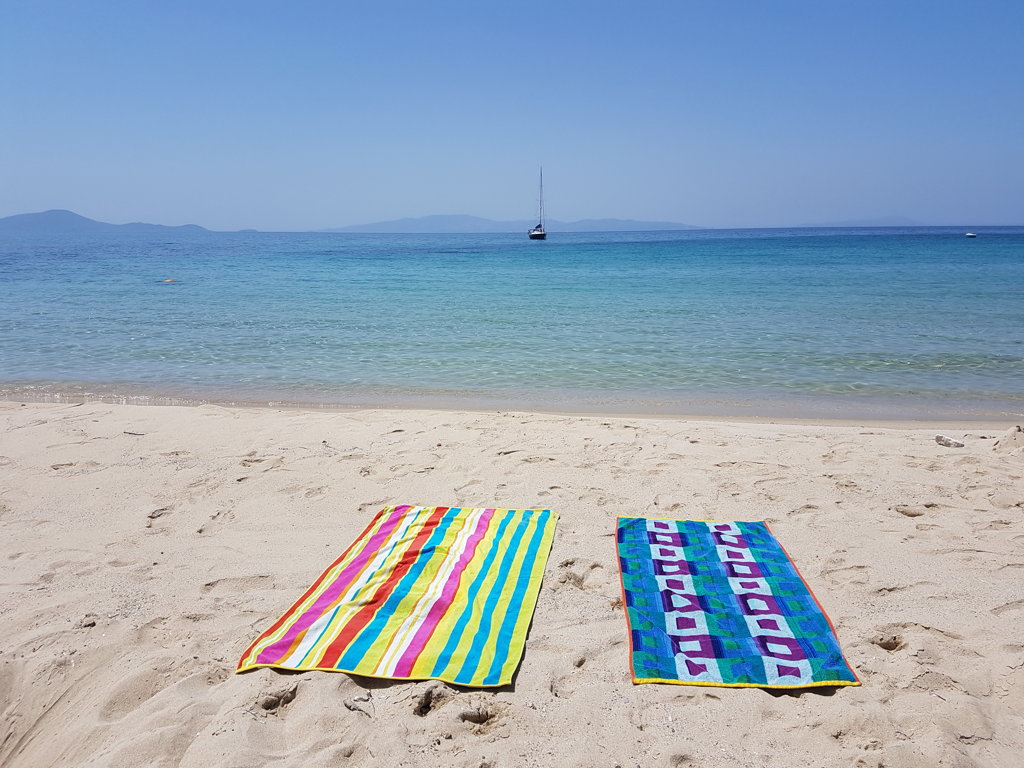 To choose a new holiday destination is not an easy task. At least the first criterion for us is easy - has to be Greece ;-) Stuart Thorpe in his book "Hidden Naxos" writes that "Greece is a kind of a drug, a delirium and once she gets under your skin and into your heart she will never, ever completely let you go. You will be somehow under her spell for life." Could not agree more! This year we felt a need to go on holiday already in June, could not wait till September and our choice was Naxos. Why? It's one of those islands which is not a top destination, therefore a true gem for us.
---
The Ferry from Pireus (Blue Star) takes around 5 h to arrive in Naxos. It's a huuuuge one with 8 or so floors. Our entertainment was was to change the seating place every hour and just enjoy first freddo cappuccinos. To our surprise, even the self restaurant was of a very good quality. It was fun to follow the route of the ferry on google maps just to see where we were. And thanks to EU no more roaming, so we could really enjoy our relationship with smartphones :)
On our way we saw the port of Syros - looked very impressive with all the sparkling lights. Some people came on board to sell some kind of pies - looked good but everything happened so fast that we could not even understand what was happening on board and we missed this opportunity to try whatever that was.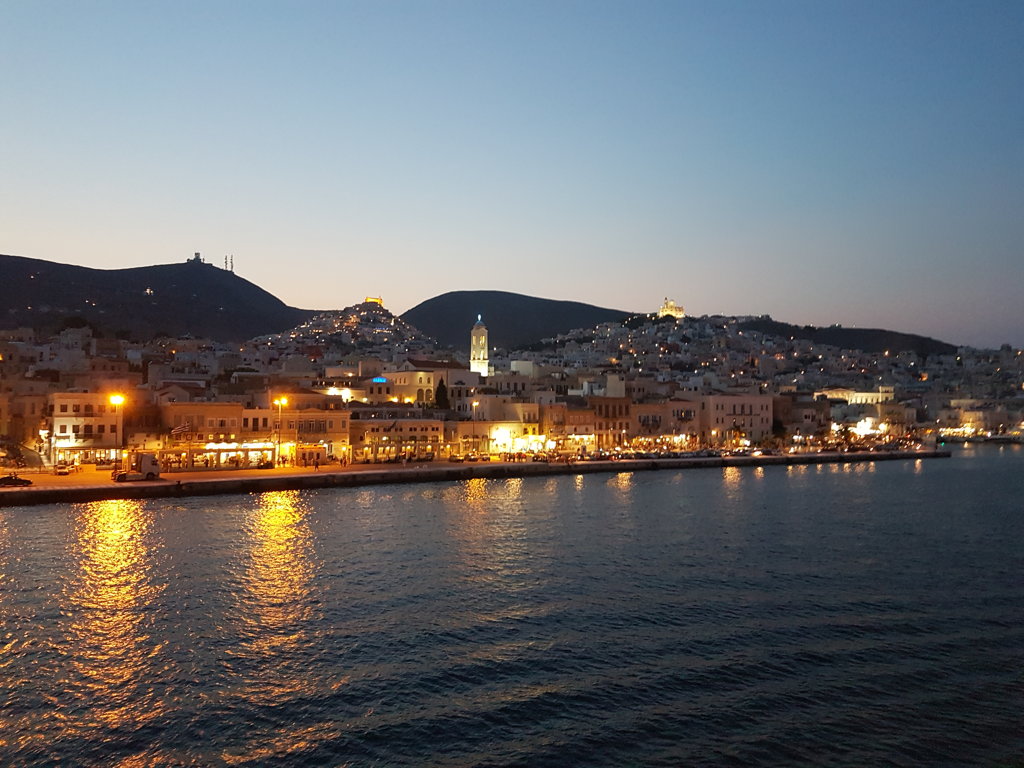 We arrived at the port around 23.30. First surprise - the well known temple of Portara seemed super tiny! We had arranged a transfer to our hotel in Kastraki and that was a good idea.
We were staying at Dolphin studios hotel - what a wonderful place with great owners! I could not praise enough! The location was perfect - 2 min from the best beach which felt completely private, amazing breakfast with everything you could imagine, nice pool, amazing freddo cappuccinos and the best mojitos in Greece (for a reasonable price - 7 eur) ;-)! Chill Chill Chill ...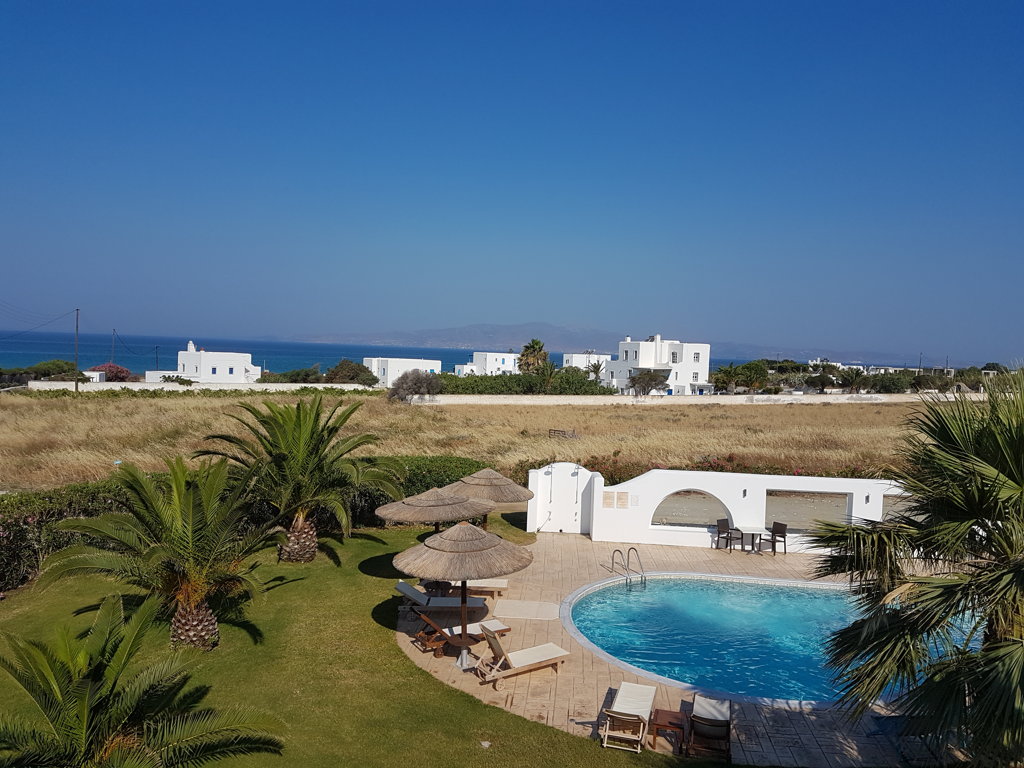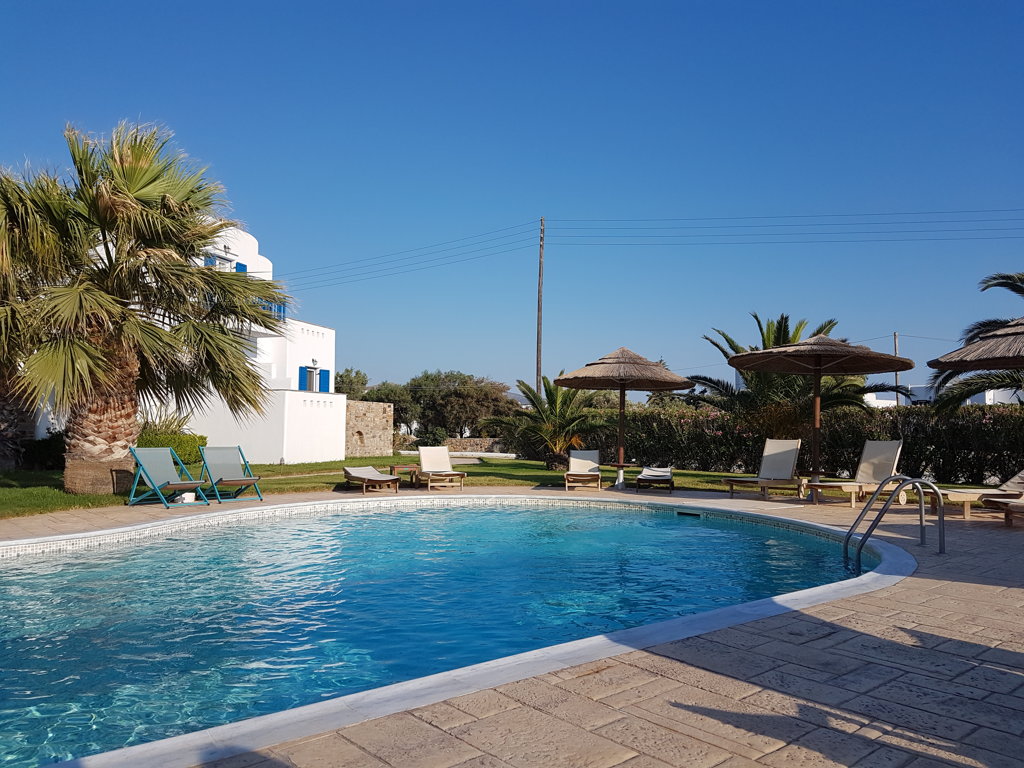 Although I love to sit on the beach and read my book, the explorer part is always active, so we decided to do a walk to Alyko beach. We walked all the length of Glyfada till the dunes - amazing views. Yes, also on some nudists ;-) But they did not bite.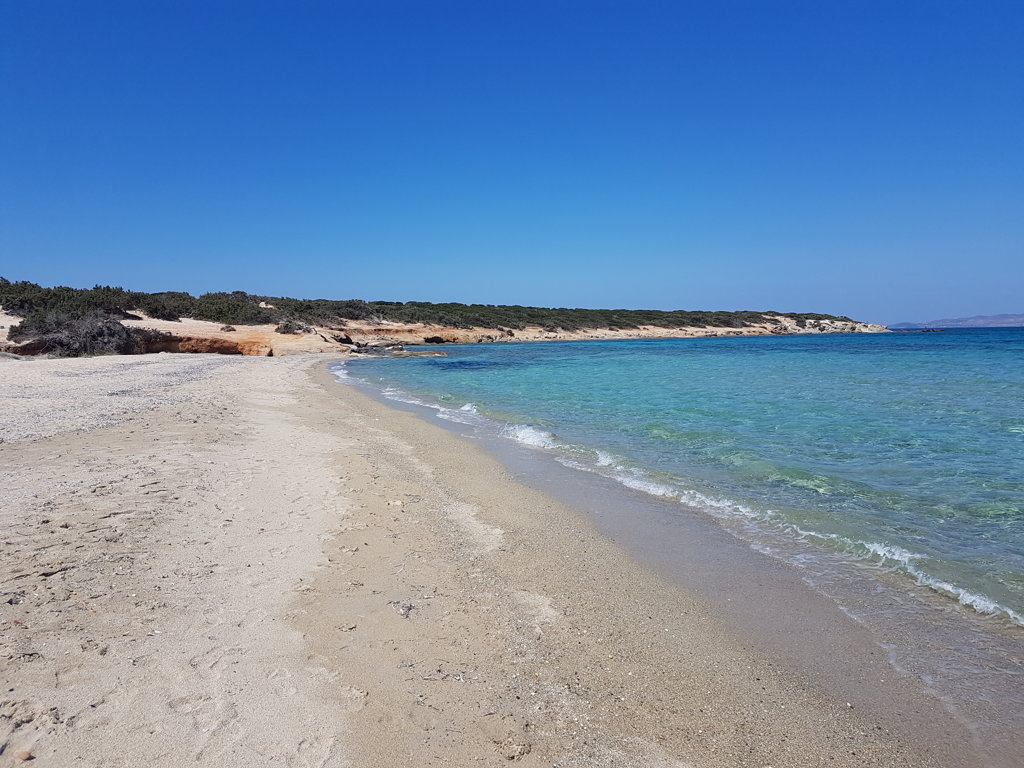 Then we had the crazy idea to cross the dunes of Alyko... also known a frying pan experience. Oh it was hot there! And it was not a short walk! And the come back was even more difficult but definitely a great experience.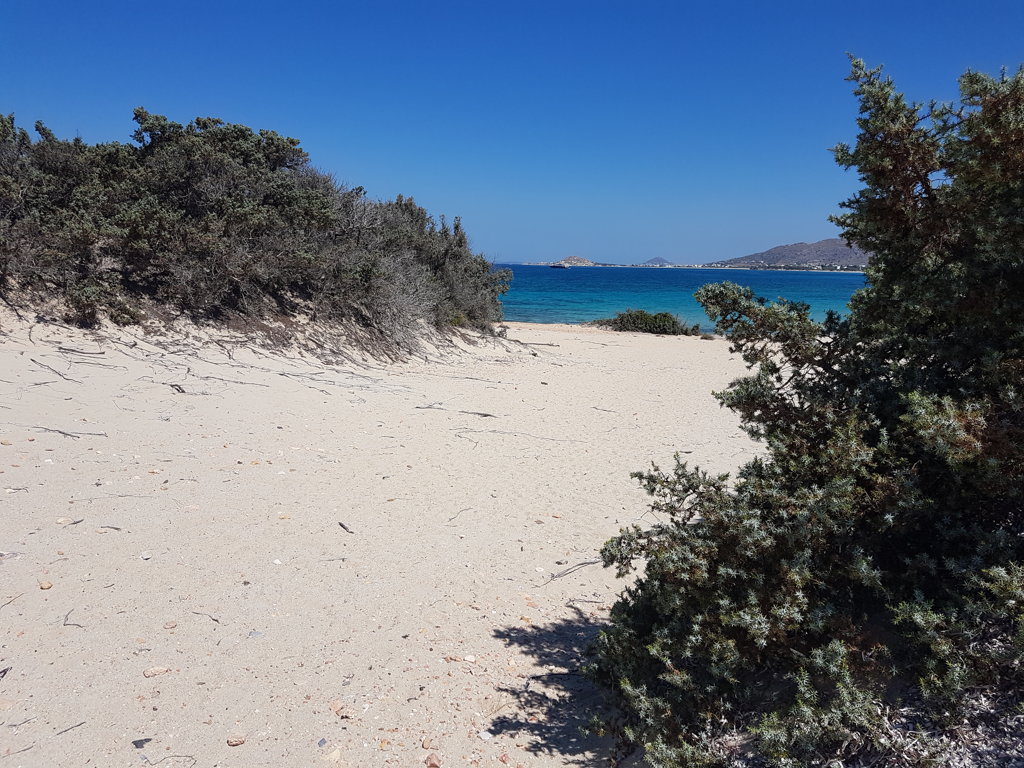 We had also rented a car for couple of days. The renting service was amazing! The car was delivered the night before to the hotel and we left it there after 4 days with keys in the car! No hustle at all!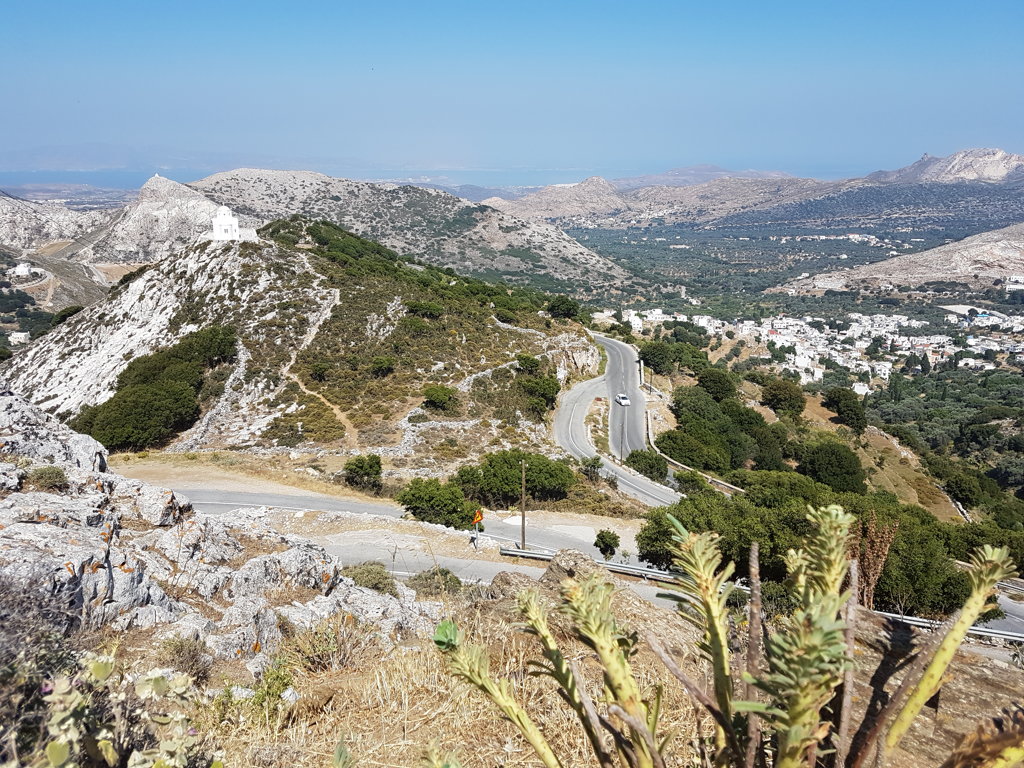 Our first visiting object was the Monastery of Fodoti. We did not dare to take the dirt road so just parked the car at the parking on the top of Danakos and did the walk up the hill. To get to the passage you have to walk a bit back on the road and the passage is on the right hand up and up...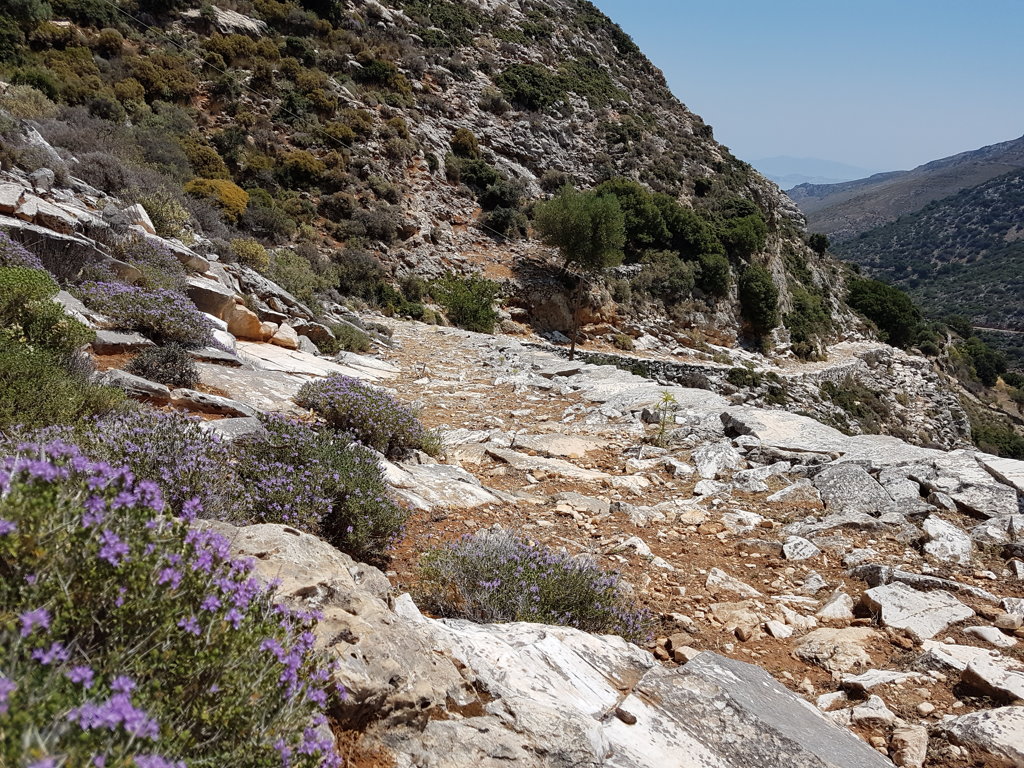 Oh jeeez it was hot there!!!! And we were not even be sure to be on the right passage but Google maps confirmed it all the time and finally we made it! It's an amazing place, there is something magic around it and inside it! Make sure you go when it's open!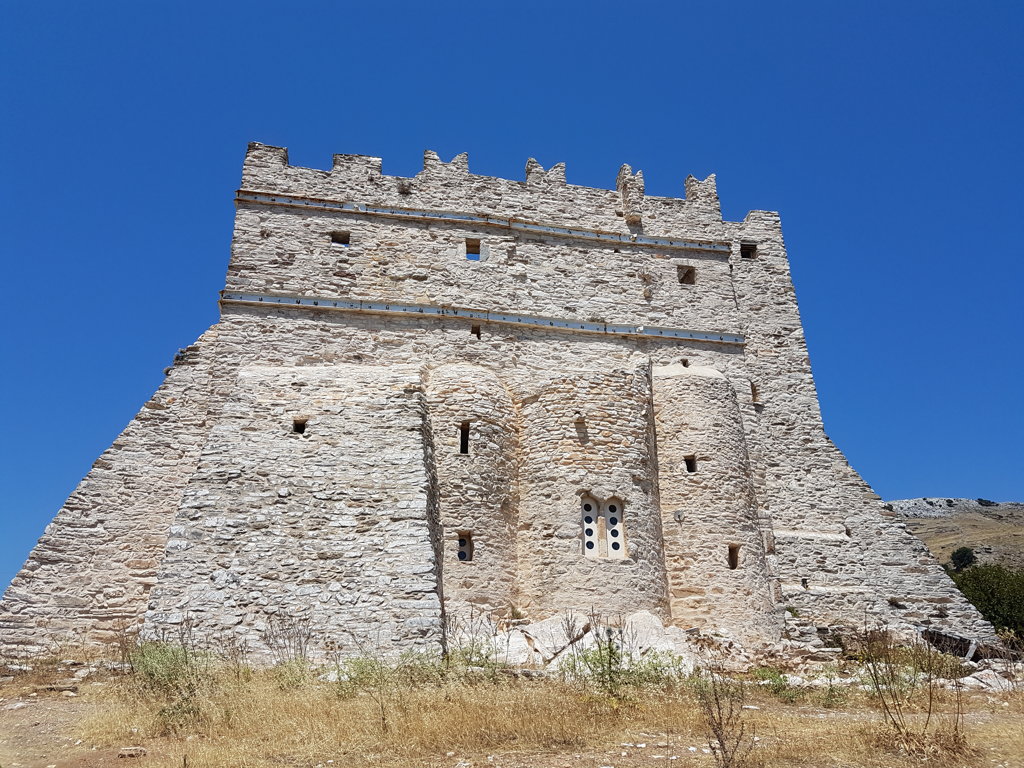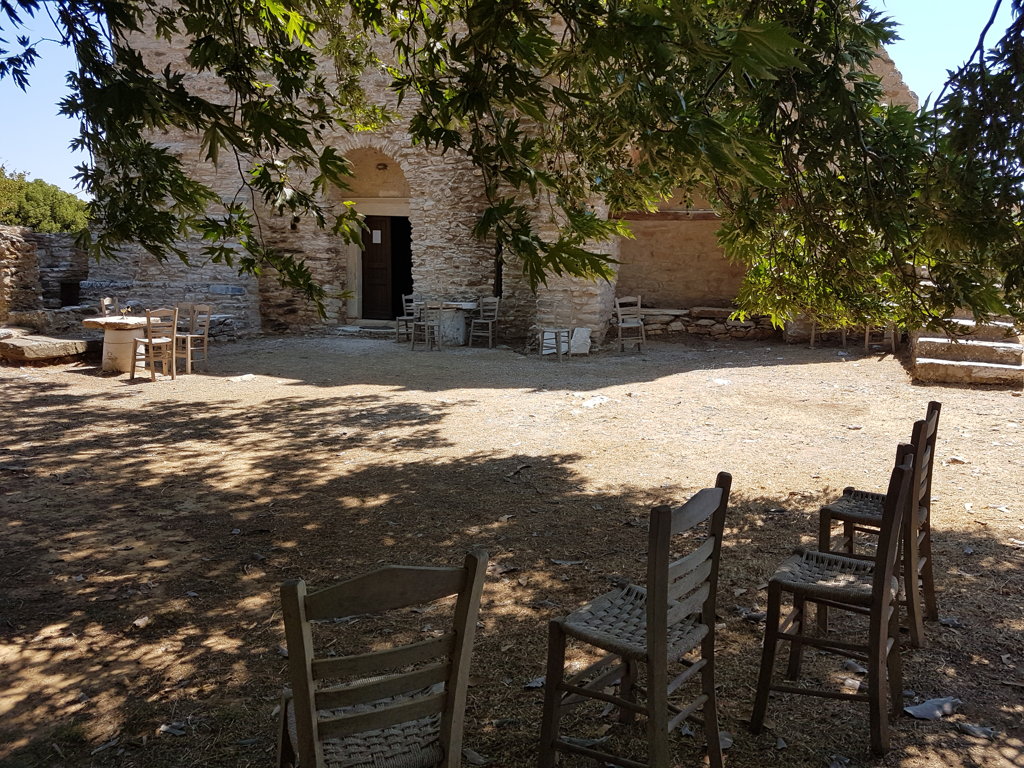 Our next stop was the little sea village of Moutsana. Nothing much to do there, we just wanted to see emery mine line and the old port. Check!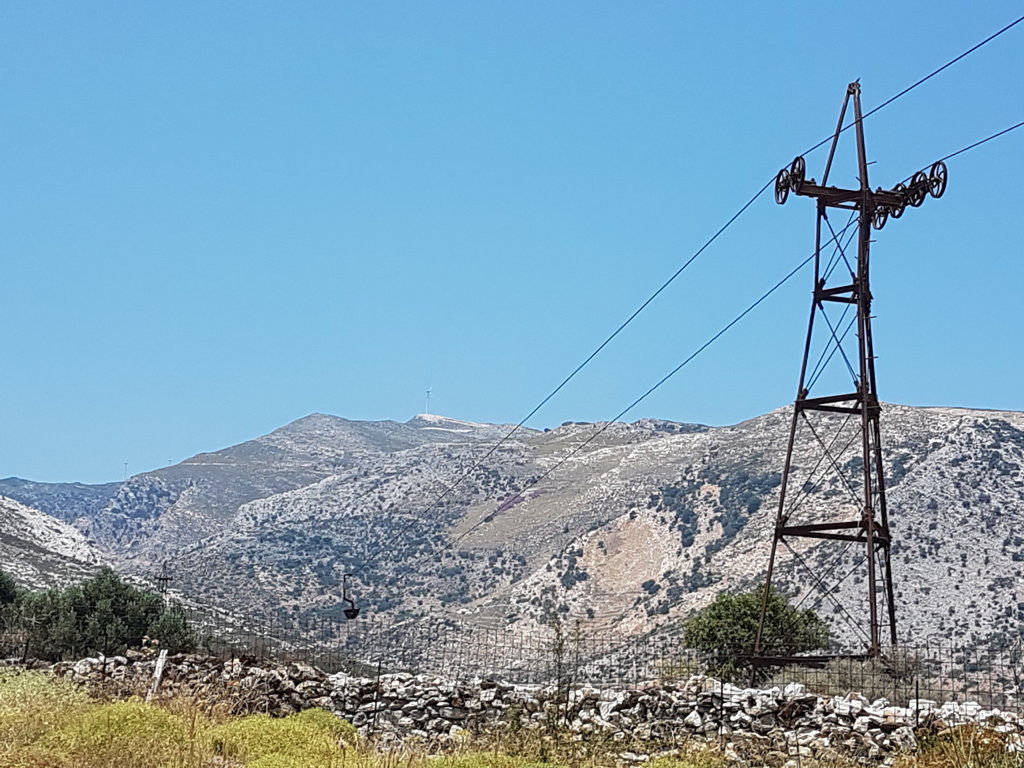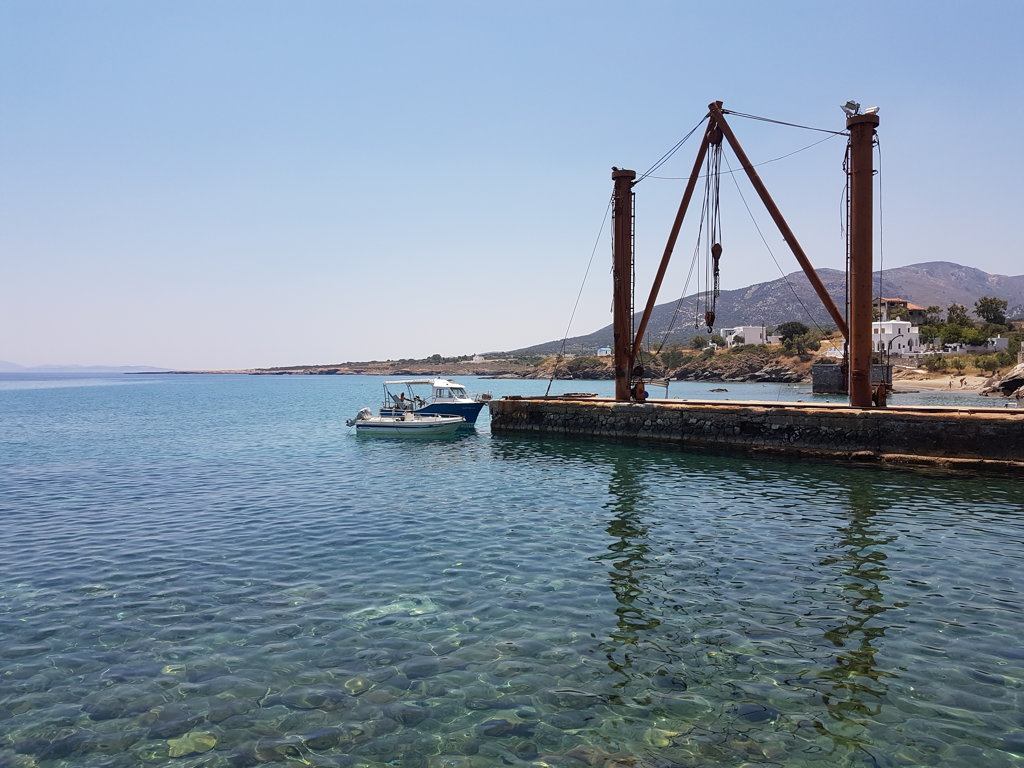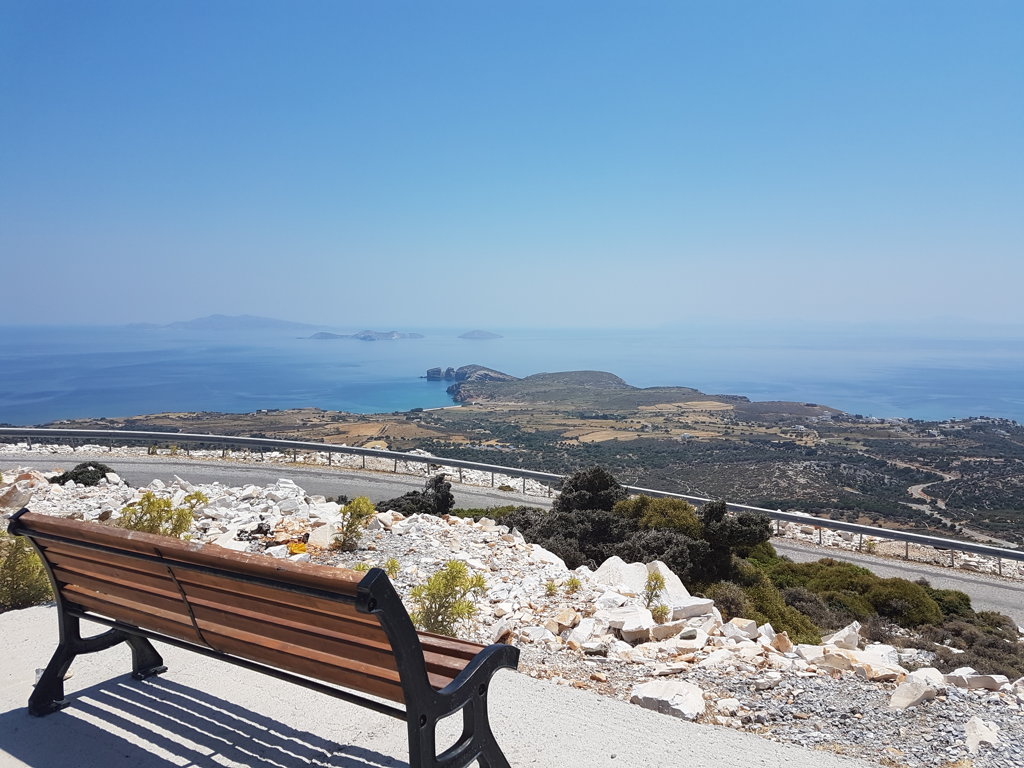 On our way back we pass Apeiranthos, Filoti and Chalki. They all look like charming villages. Chalki is actually super small. But we don't spend much time there as it's time for some beach time! We also spend some time while finding a pharmacy that is open at 15:00. Difficult... so in the end we went to Chora. And we got a good stock of our favorite Korres sun screen!
The next day we go on another day trip through the island. We stop at Eggares to check out the oil museum. Well, it's more of a shop actually with amazing marmalades! Our way on the east north side goes through lovely scenery. We stop at Agia Tower and to our regret it's all sealed off, so no way to get up the small stairs... but it's lovely anyway. We just soak in wonderful views and summer.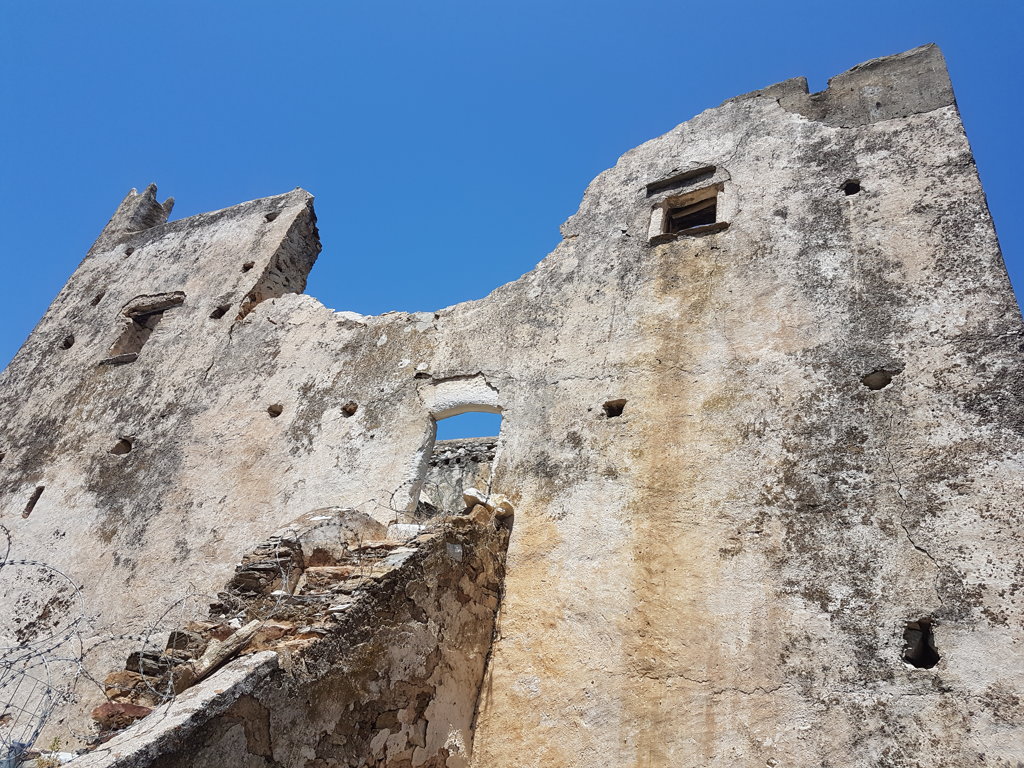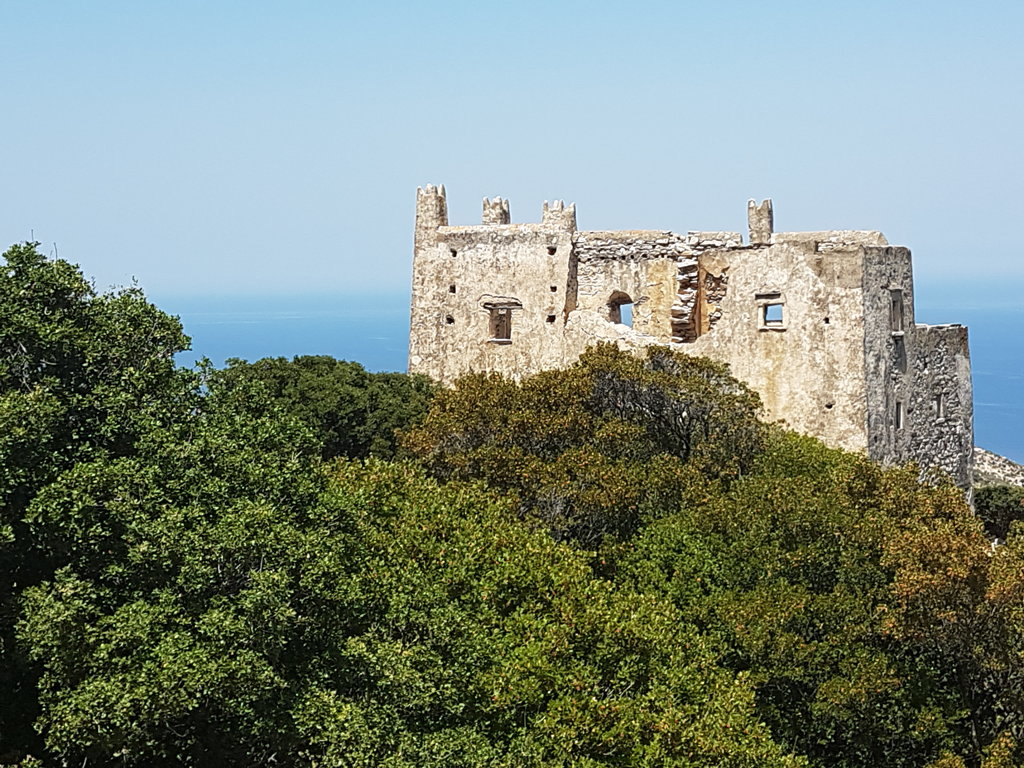 Just next to Apollonas there is the biggest kourous of the island - this man cut in the stone has been there since 7BC!!!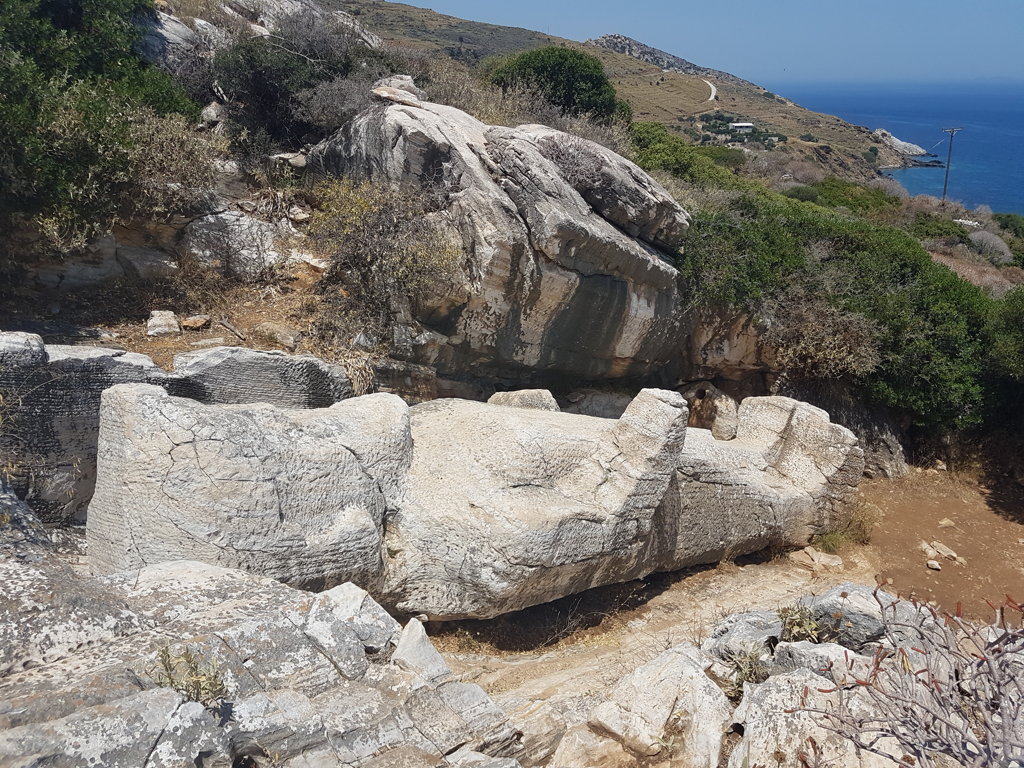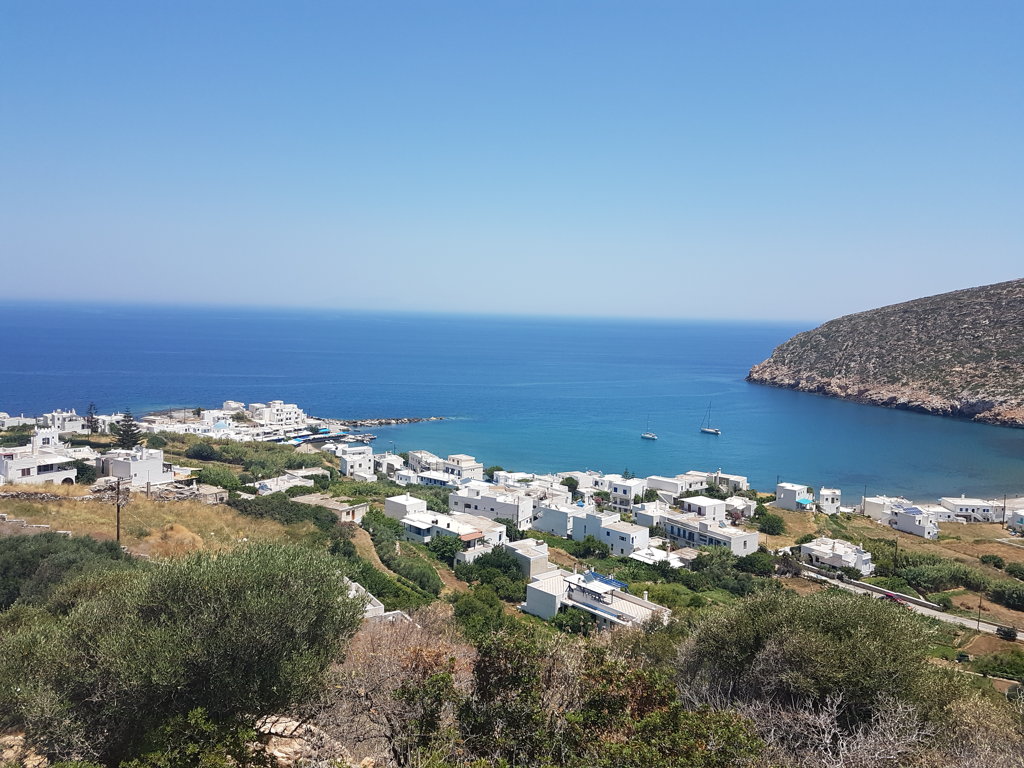 Koronas is an amazing village in the middle of nowhere... Our task is to find a restaurant there - Stavros and Matina. We have to go down a very steep route just before the turn to Lionas and it looks very scary but my husband has become an expert in with Greek routes, so easy peasy! And thanks again to Google maps we found the restaurant! There are no real roads in Koronos, just stairs and passages! We had a wonderful lunch there! Could see it was a family place where kids (ok, teenagers) were working hard to get their summer cash. :) There they serve fresh water that comes directly from the mountain... and water is all you need once you arrive there :) It was funny to observe each and every couple how happy they were when they finally made it to find the taverna. Definitely worth the effort! Food was amazing!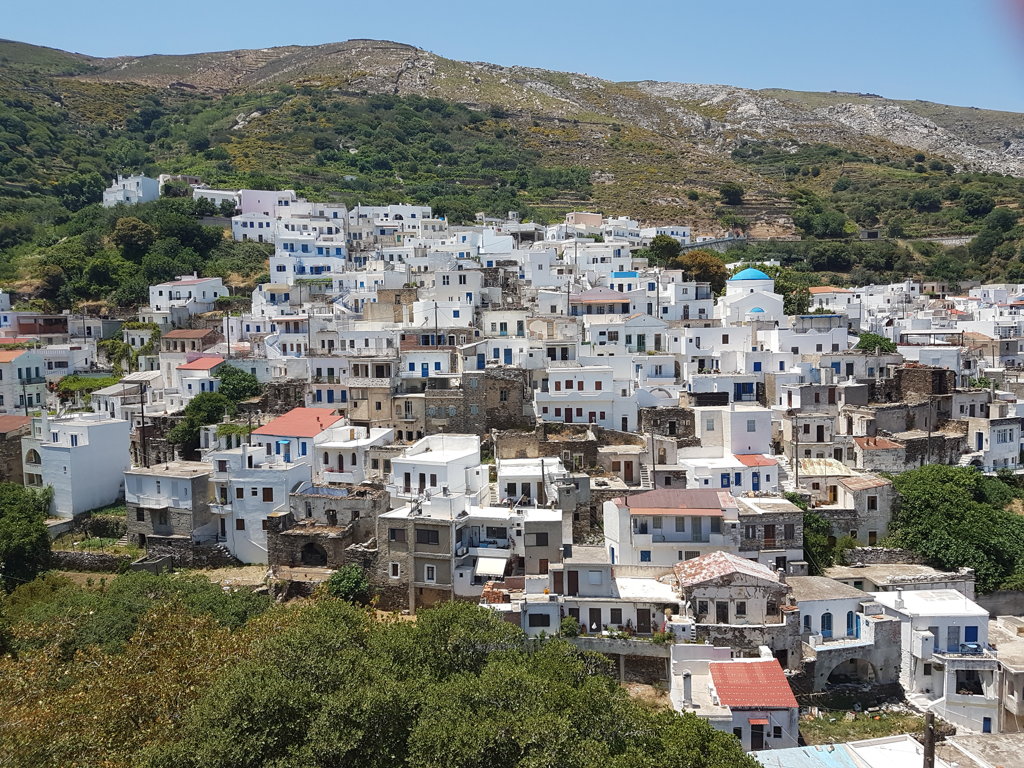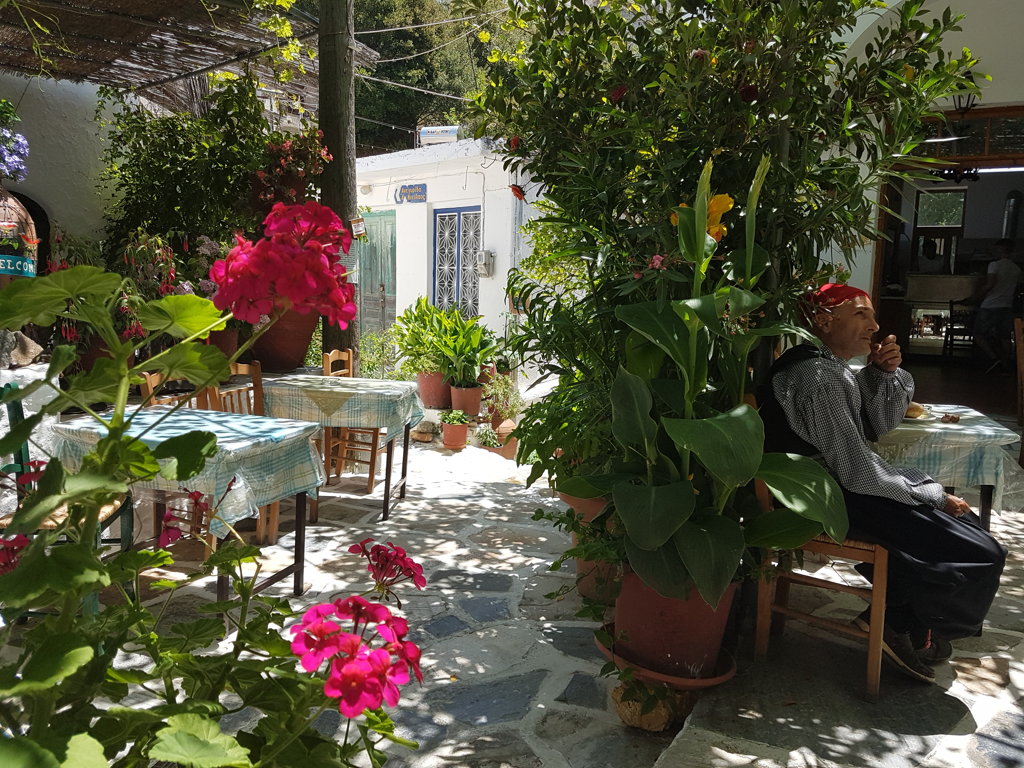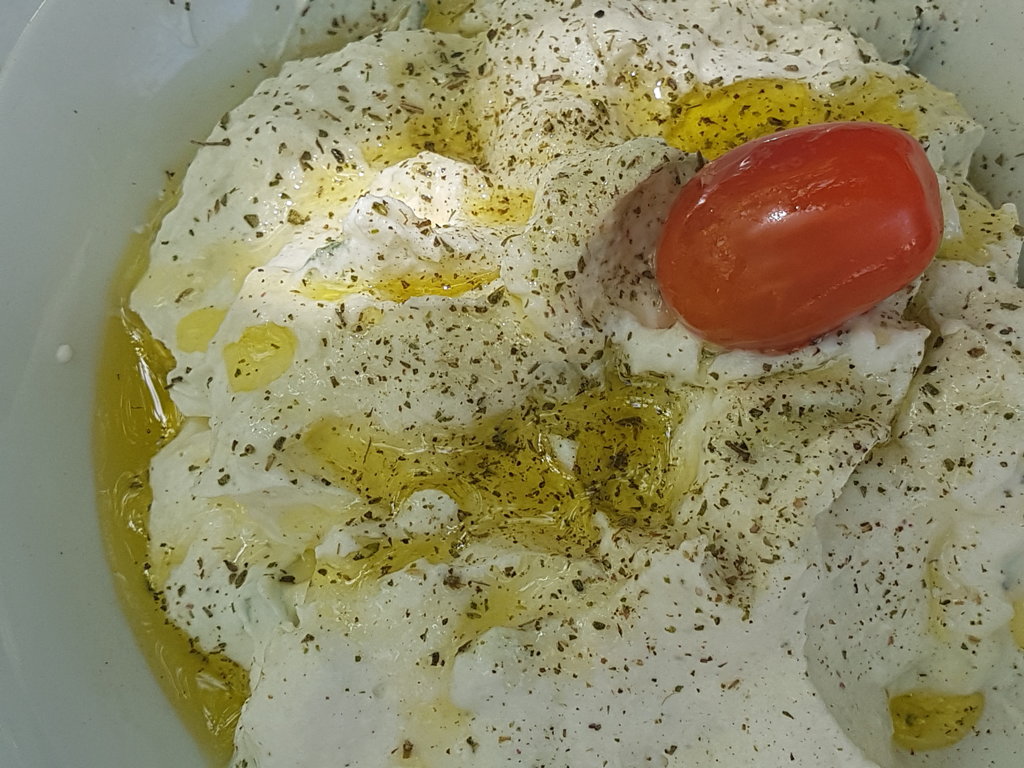 After the lunch we head down to Lionas to see what is left of Emery mines and see the village. The road is impressive and beautiful. Time to time you can see the old mine cabins. The village itself is a bit weird and feels like the end of the world. People from restaurants wave to every tourist that arrives there... Luckily they wave also when you leave :)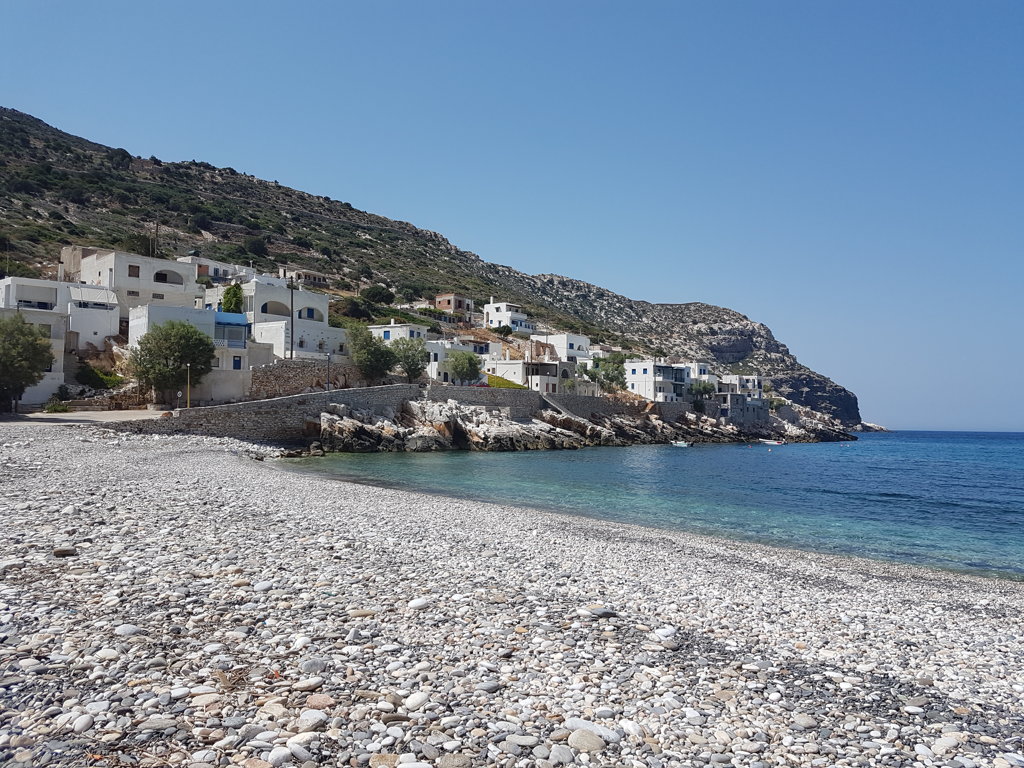 Emery mine museum can be visited only upon appointment and I did not manage to arrange one as the persona managing it does not speak any English. But you can try to contact him anyway.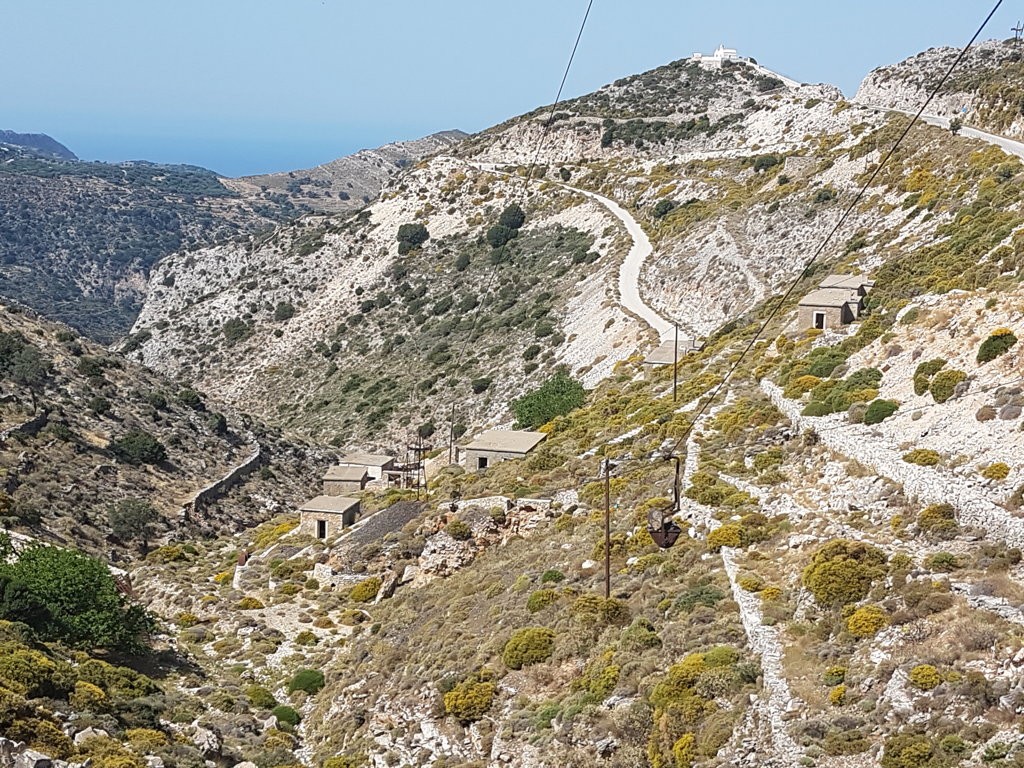 Sunsets in Kastraki beach are amazing too! With water warm like milk and no wind, one can spend hours and hours there... even when the sun is gone...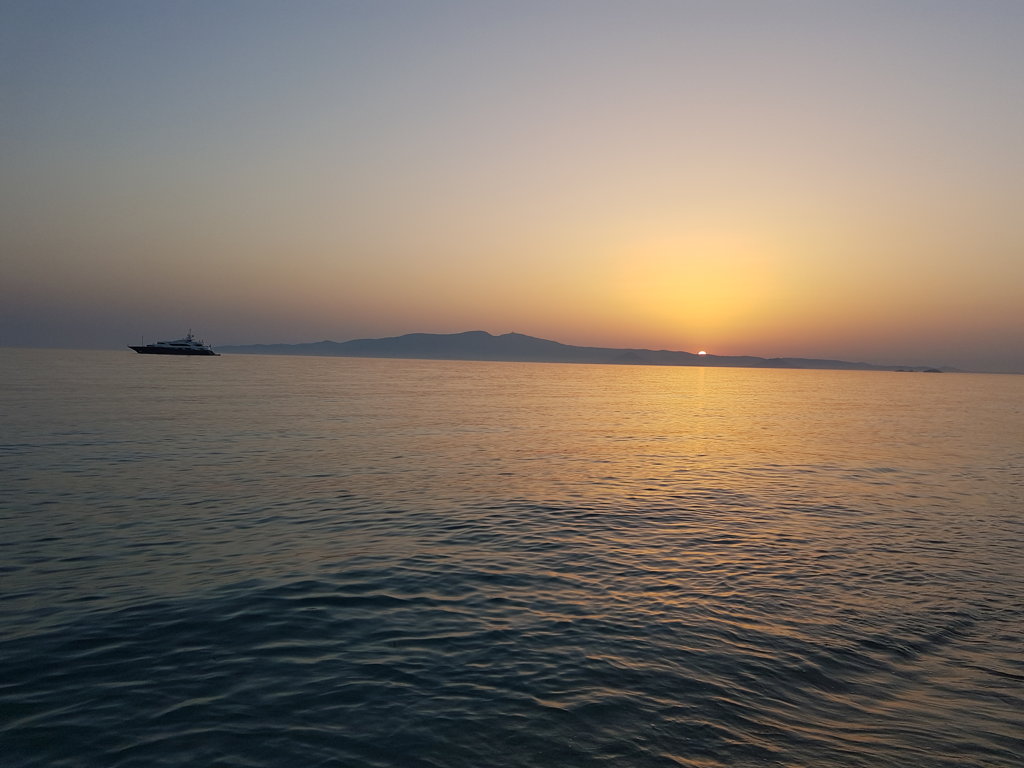 The next day we explore different beaches around Alyko, this time by car. Lots of small private beaches to find tranquility. Water in slightly colder than Gyflada but the scenery is 10 / 10.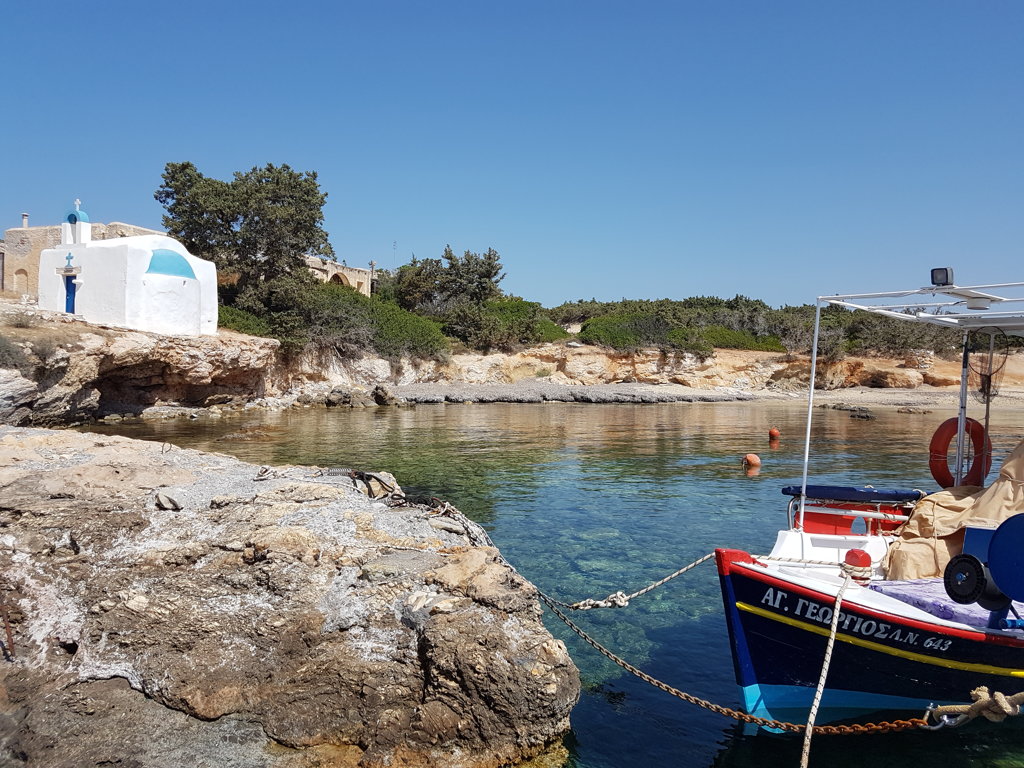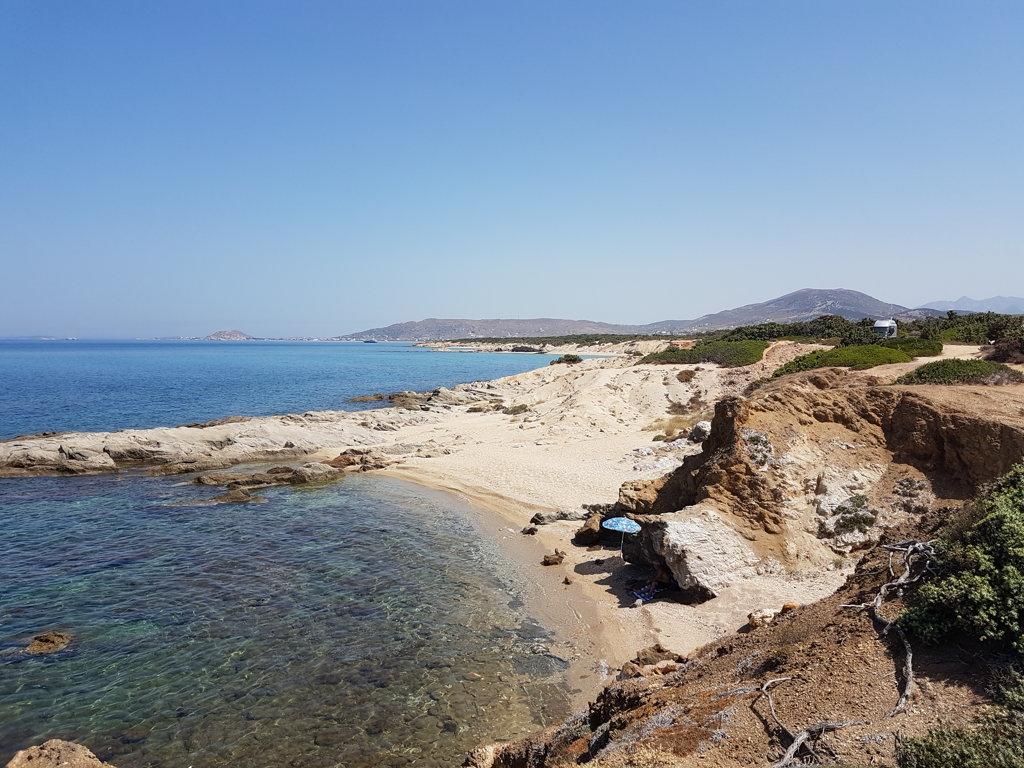 In Alyko there is a huge empty hotel complex from 70ties. As we found out, military government wanted to make Naxos a tourist paradise just like Mykonos but local people refused and therefore the island escaped huge soulless hotels all over. Thanks God! Ok, thanks smart people :-)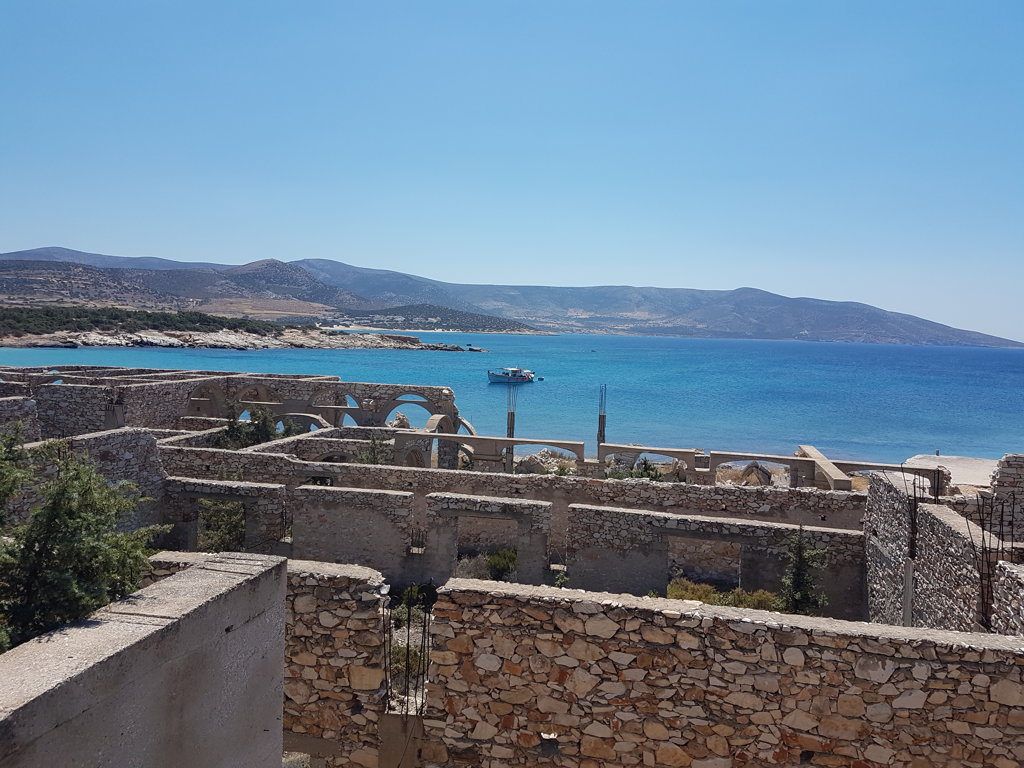 We also take a day to explore better the Chora. It's a lovely port town and there is everything for tourists. We are happy that this time we have decided to stay directly on the beach and have escaped the hustle and bustle of a town.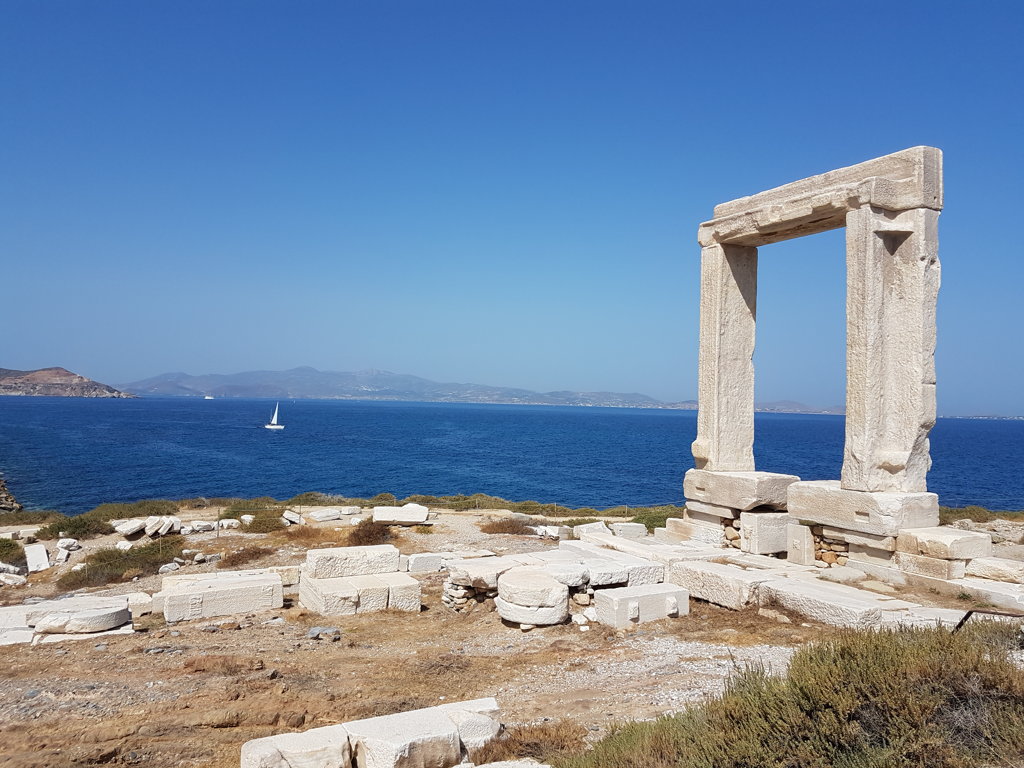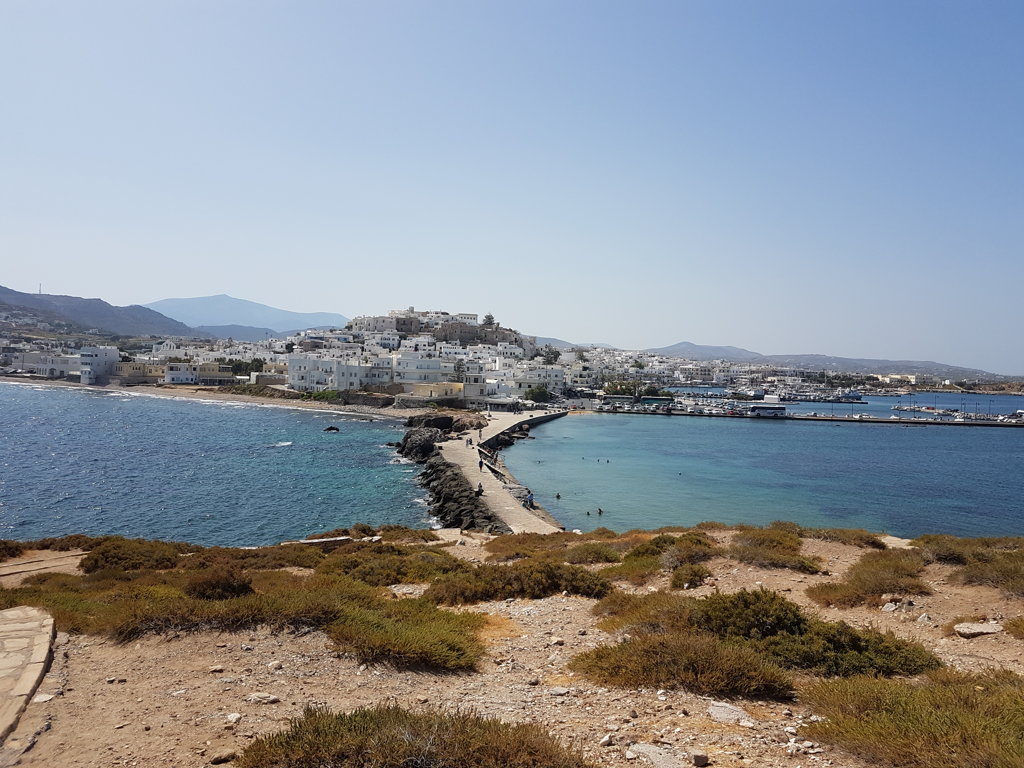 On our way back we check out beaches of Mikri Vigla - a paradise for windsurfers on one side but on the other side there is an organised beach, a bit crowded to our taste but water looks nice.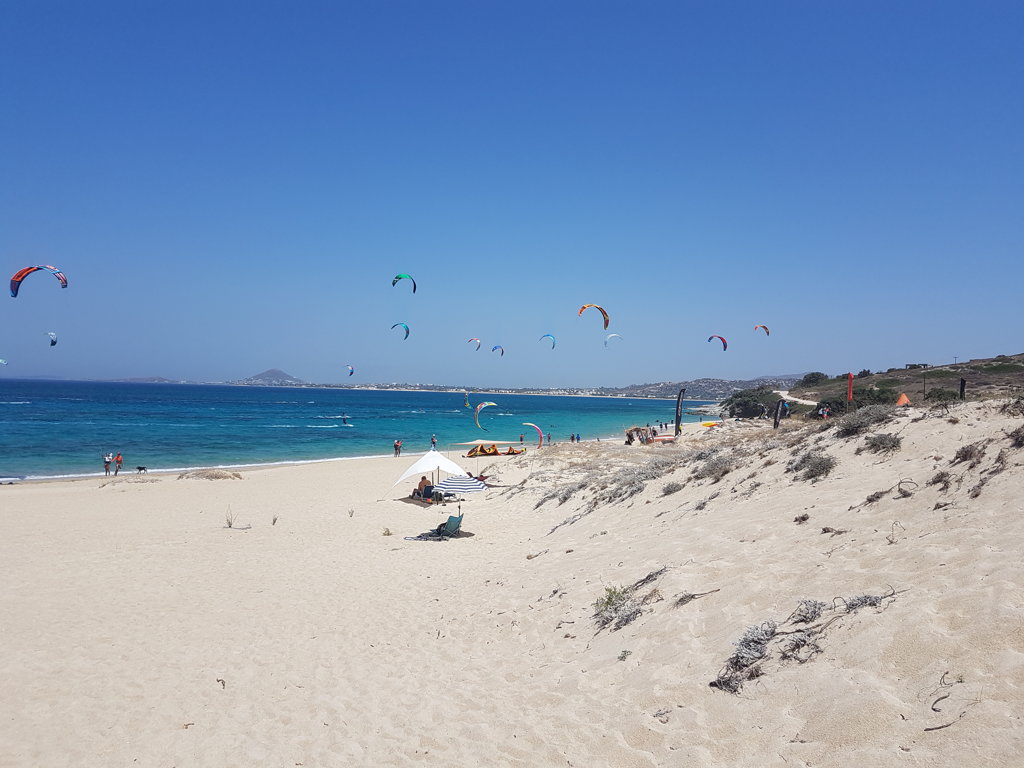 It's difficult to realise but holidays are almost over, last cocktails and a sunset... and an amazing meal at Axiotissa. We ate there twice. In hight season you have to book even days in advance. The food was simply A M A Z I N G! It's traditional Greek food with farm ingredients but with a twist. Syrian burger and humous were wow wow wow! It was so good that I forgot to take pictures :)
We are going back to Athens with Hellenic Seaways - the ferry is nice with lots of space on the deck, so it's like extra beach time :)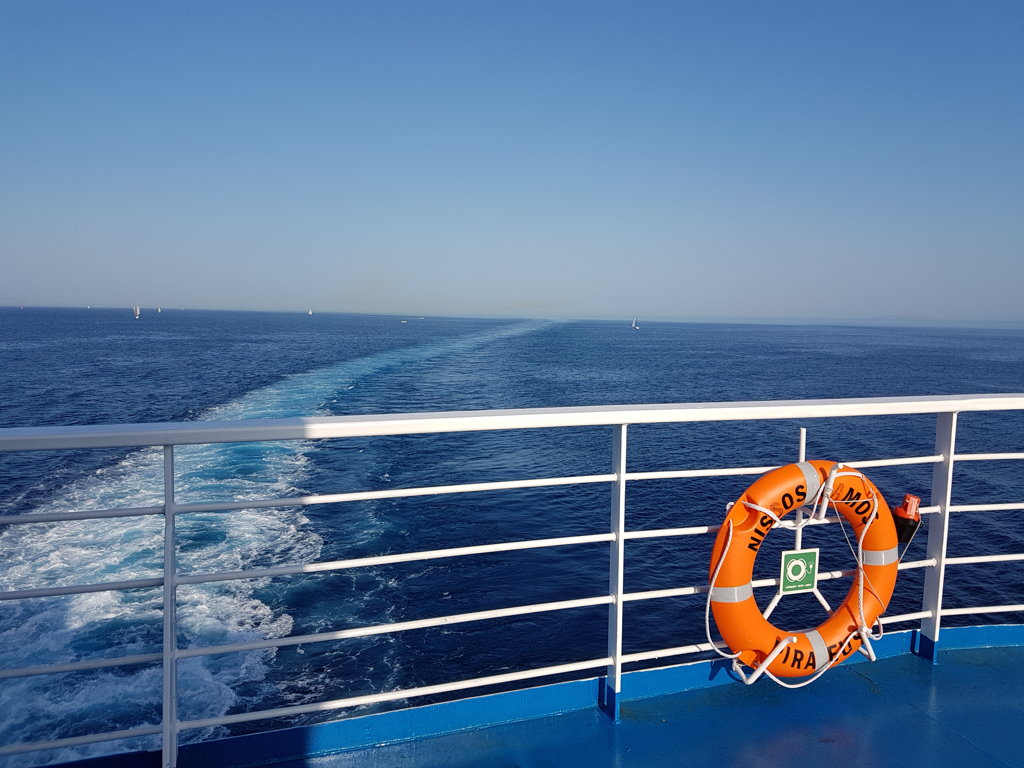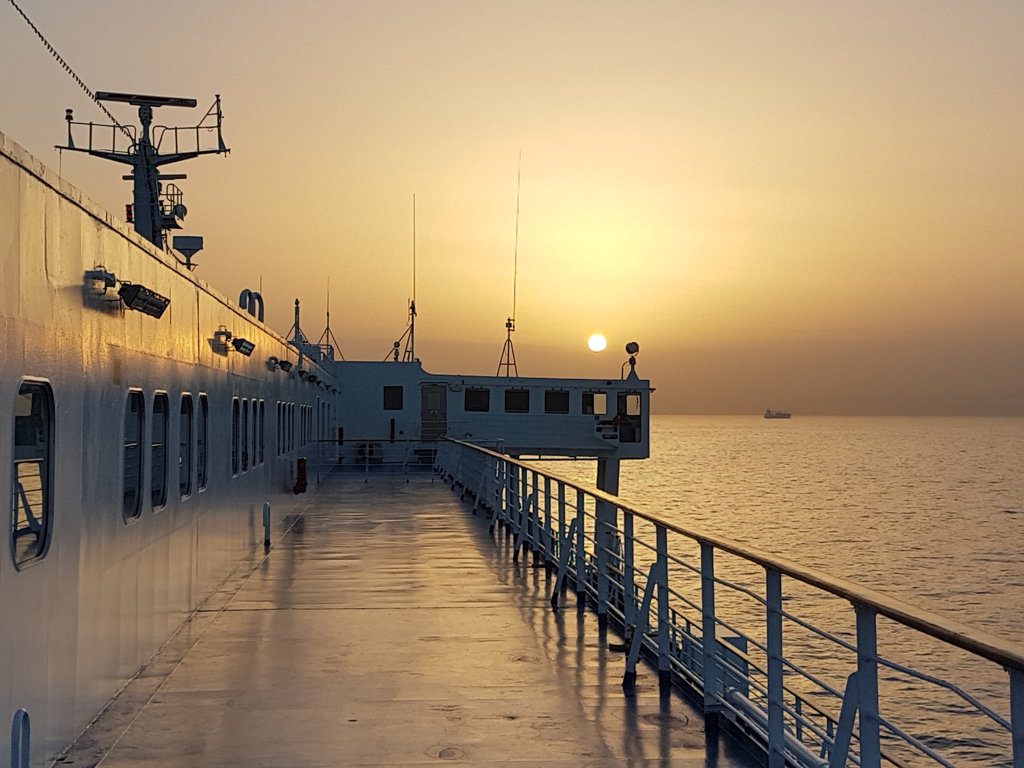 We have only one day in Athens and we do the usual tour - view on Acropolis - this time from Gazi, market to buy garlic, get some oil and check out the antique and shoe shops in Monasteraki. And here we are... off to Belgium!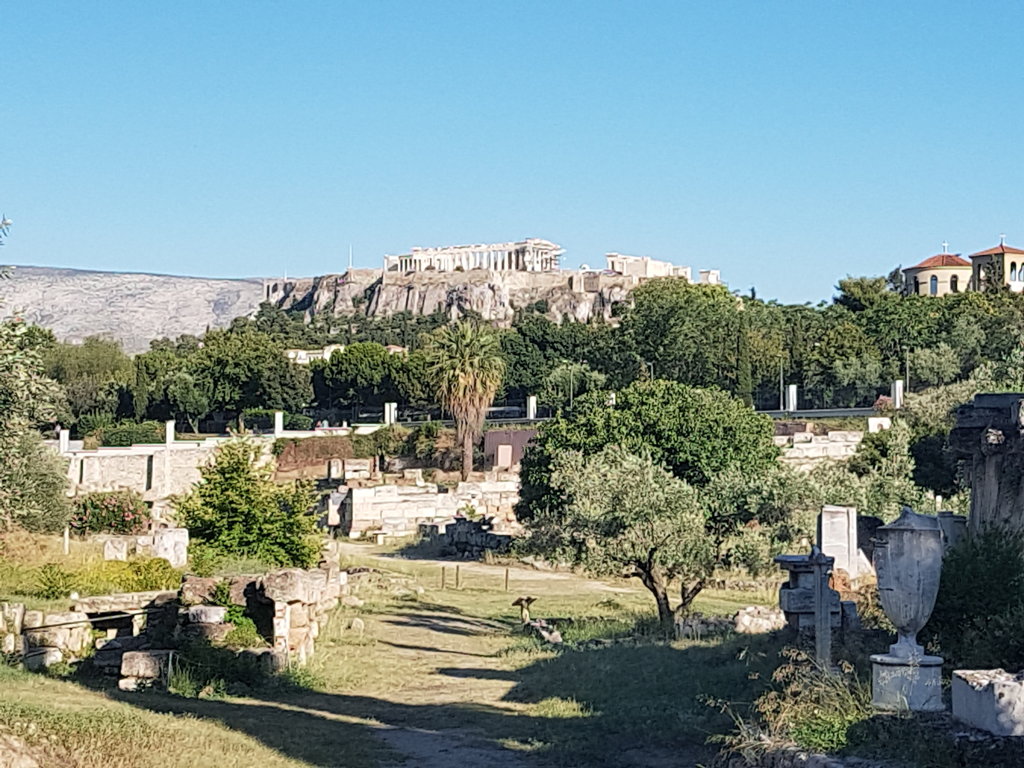 Observations
- The ferry ride is really long. And although it seems much cheaper than the flight, when you count all the frappes and beers, it's not that much cheaper. I'd probably go to the island by ferry and come back by a plane next time.
- People in Naxos were super friendly, always smiling and ready to help or have a conversation.
- The best food was definitely in Axiotissa, then followed by Faro in Alyko (try their marinated zucchinis) and Stavros and Matina in Koronos.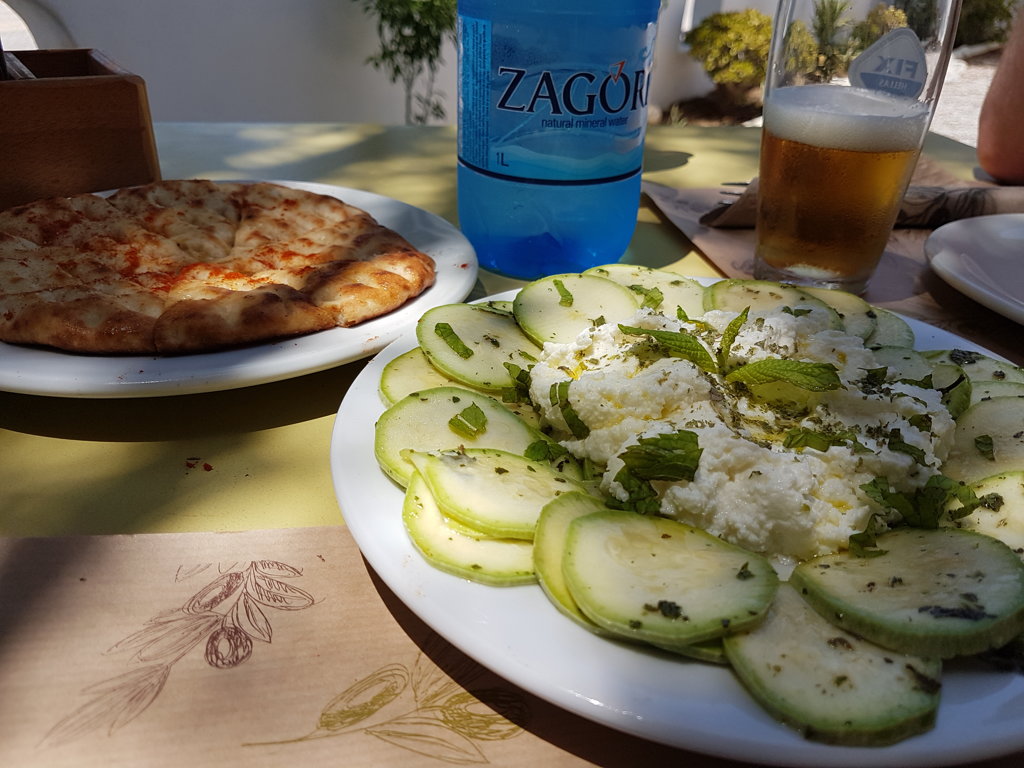 Avoid Glyfada - the owner was very friendly but the food was sooooo salty... Kastraki Paradise was good for a lunch but the service was not the best. BLue Lagoon had nice drinks (and reasonably prices - 7 eur for cocktails) and the scenery is perfect for sunset watching.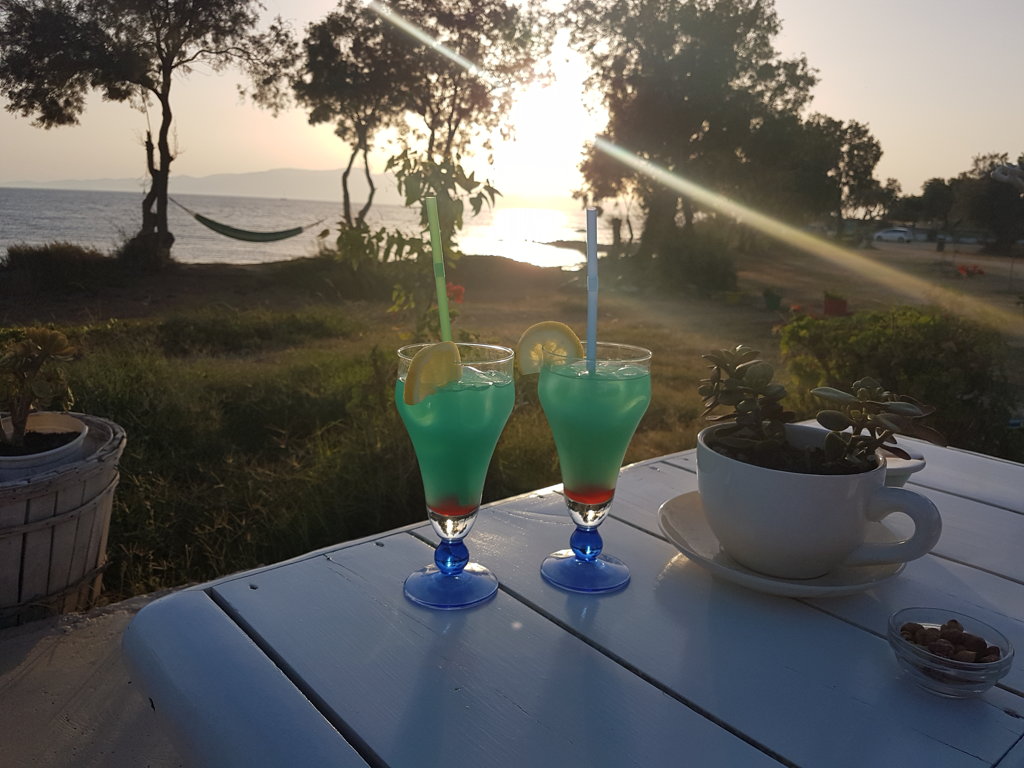 - I'd definitely stay again in Dolphin studios. These young Athenians have made a lovely place, you see and feel that they care about their place and clients. Everything is well thought over.
- There are really many many things to see in Naxos, we just scrapped the surface, more time is needed! I wish we had done the walk to mount Zas or the fishing trip with but that's why we will come back :) and maybe retire in Naxos one day... ha ha... but then I better start learning Greek now! Halara!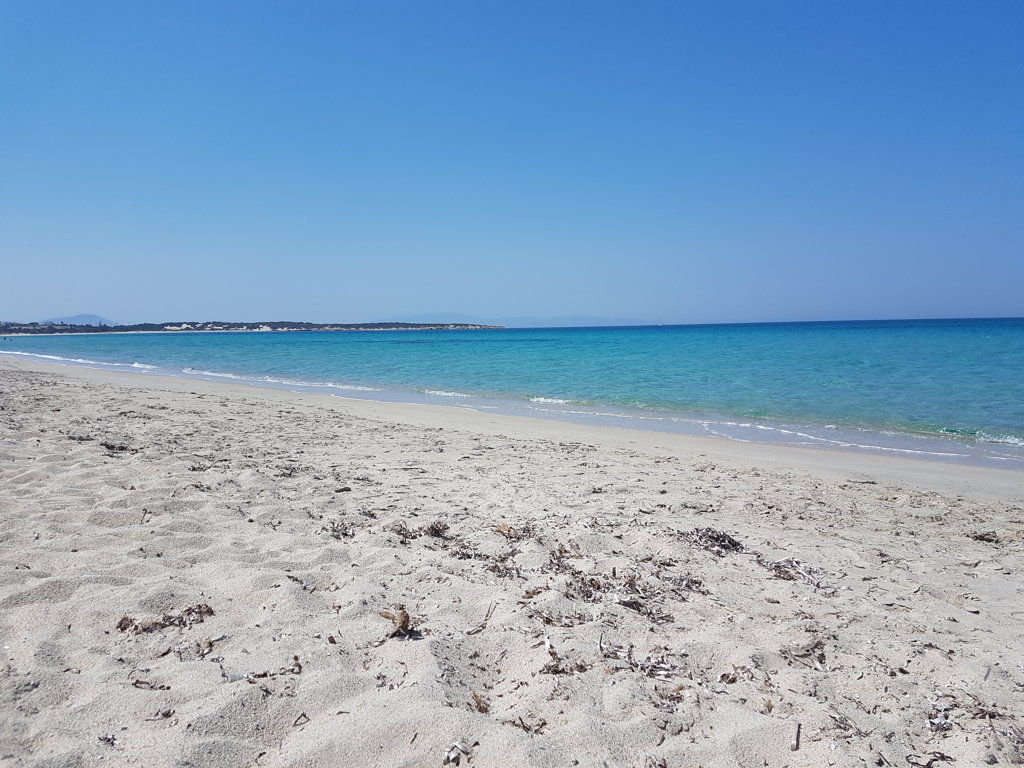 4 comments
- Naxos - a hidden pearl in Cyclades
Flavia - August 7, 2017 at 12:52 pm
Hello,
Very nice article! And with lot of information.
But i want to understand exactly if you've been in Naxos in the end of june/begging of july? How is the water temperature in this time of the year? You can go for swim?
Best regards,
Dace - August 10, 2017 at 2:08 pm
Hi Flavia,
The water temperature was really Ok but I'm from the north, so anything warmer than 20° seems good :) We noticed that on some days when there was less wind, the water was much warmer but when the N wind kicked it, it bacame less warm but it was still Ok to swim.
Stuart Thorpe - August 14, 2017 at 12:42 pm
What a pleasure to read this well illustrated piece. Interesting and full of information, and of course, I am happy to know that you have read my book. Or at least the prologue!
Thanks for sharing this with us.
Dace - August 17, 2017 at 7:24 pm
@Stuart - The book is really great! A real insiders info. Next time will rent a 4x4 to explore more.
Leave a reply